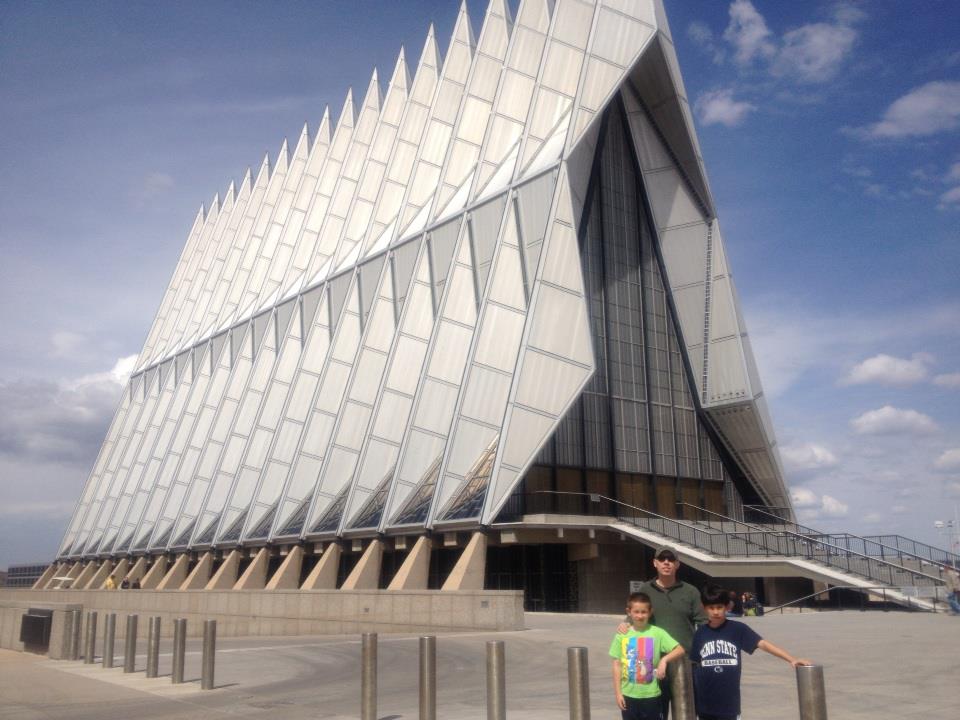 For those who might not have realized, my husband's new Air Force job will be as a faculty member in the Physics Department at the Air Force Academy.
On our house hunting trip to Colorado, it took us about 48 hours to choose our house and enter a contract. That was our goal. The rest of our time in the area was spent fulfilling assorted appointments, and we had a couple hours here and there to kill between appointments. In addition, both Dave and I had meetings on the Air Force Academy campus. Dave met with his new department, and I met with someone about trying to get a Reserve job.
The weather was beautiful, so we took some time to see the Visitors Center and hike the trail to the chapel and see the cadet area.
Most Americans are familiar with the Air Force Academy Chapel. Its distinctive design can be seen from all over the cities of Monument and Colorado Springs. There is symbolism to the colors, the numbers of spires — okay, not really, that was driven by budget — and many of the features inside.
The chapel was designed by Walter Nesctch of Skidmore, Owings and Merrill, the architecture firm that's known in recent years for its design of the Burj Kalifa in Dubai and the Freedom Tower in New York City.
Enjoy some of my favorite pictures from the chapel.