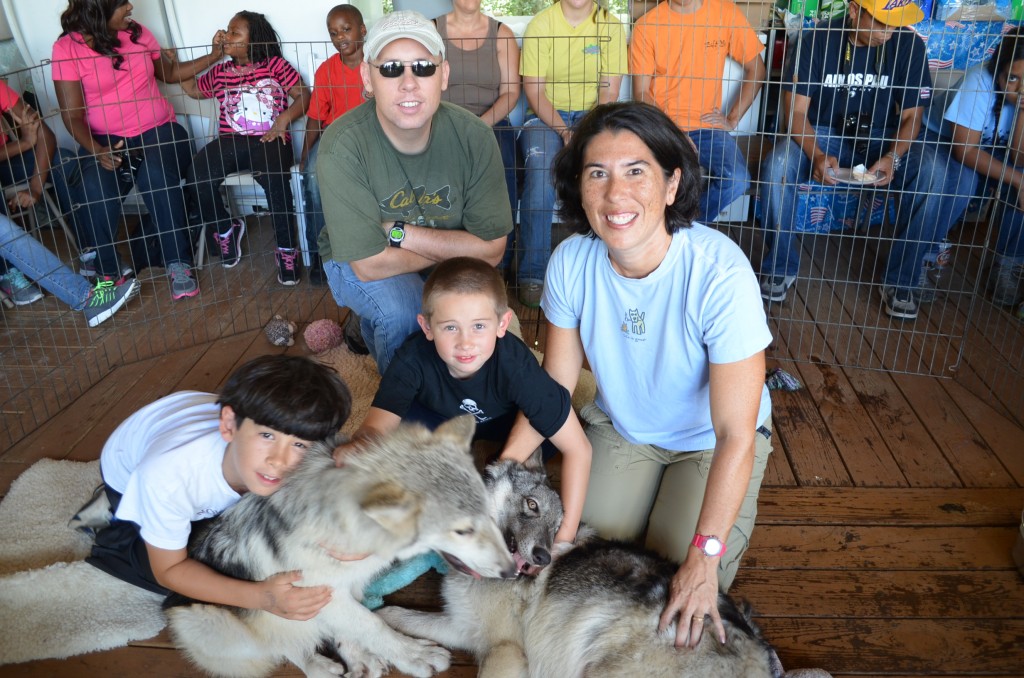 Earlier this year a Facebook friend (a friend from my childhood, actually) had visited the Seacrest Wolf Preserve on a recent weekend trip down from her Air Force home in Montgomery, AL.  The pictures of her with a wolf puppy were simply PRECIOUS.
For those who didn't know, our oldest son Jacob is a HUGE fan of wolves. He always gravitates towards wolves and other canis-type animals when given a choice. And he has quite the collection of stuffed wolves also.
With some simple research I figured this would make a great surprise for Jacob, especially for his birthday in September! Seacrest is the only wolf preserve in the southeast. There are others around the country, such as in Colorado, New Jersey and Ohio, but nothing this far south.  We were fortunate to live less than 100 miles away.
The Seacrest Wolf Preserve only offers tours to the general public on Saturdays (but private tours can be arranged for groups), and our September calendar was pretty full on Saturdays, between Jacob's birthday party and my being away for two Saturdays in a row for my Air Force Reserve work.
So we made the arrangements for this past Saturday and loaded the kids in the car at 9:30am and told them "It's a surprise!"
It was just under 2 hours' drive to the Oak Farm south of Chipley…about 30 miles north of Panama City.  Jacob absolutely LIT UP when he read the sign at the entrance gates.
Right now there are puppies to play with.  When they have puppies on hand, before they have been introduced into one of the adult packs, the public is allowed to come a couple hours before the tour and have play time with the puppies. So we arrived at about 11:30am and signed in, then prepared for the playtime experience.  This was the closest we could get to any of the wolves.
After we got to play with the puppies, we had some grilled burgers and hotdogs (they have a concession there grilling the food on site).
After puppy play time and lunch, we were able to take a walking tour of the rest of the preserve. I'll cover some of the specifics of how the tour works in the "tips" area below, but things were very well done in this part. About a dozen volunteers accompanied our group (about 50 people) into the pack enclosures.  There are numerous large fenced areas, with one pack living in each area.  The areas have water available, and each pack is able to dig out a den of their own underground.
The volunteers were phenomenal: they were incredibly well-educated about wolves, from their history to their lineage to their current statuses on endangered and protected species lists. They educated our group on their behaviors and each pack's nuances and love triangles (of which there seems to be many). Each volunteer carried a baggie of ground meat that they used to coax the wolves nearer to us.  In each of the enclosures, the wolves would surround our group and then walk with us as we traveled along one of the enclosures.
The owners, Cynthia and Wayne Watkins, are incredibly passionate about their mission, and are very involved in state and national efforts to bring the wolf population back to what it was before western civilization took out the entire population by the 1930s. You can read more about the history behind the wolf's near extinction in the U.S., as well as the story of "OR-07", an Oregon-born wolf who migrated into California earlier this year…California's first wolf in 85 years!
Only disposable film cameras are allowed inside the enclosures.  There are exceptions to this rule for amateur and professional photographers, you can pay a fee for VIP-style access into the enclosures with your own camera.
I will share the disposable film pictures when we get them developed.
At the end of the wolf tour, the guests have an opportunity to pose with the wolves for a photo that we can buy as a fundraiser.  We got one of the boys with the wolves, and I got a kick out of how it turned out.
After the tour of the wolf pack enclosures, we opted out of the final part of the tour, which was a hands-on experience with some other animals. Jacob only wanted to see wolves, and Timmy was pretty tired. We were all ready to go — we had been there for 5 hours and we had a long drive back to Navarre.
Do you want to visit Seacrest Wolf Preserve? We certainly recommend it! It's important you pay attention to their guidelines for a successful tour. They WILL NOT waive these rules:
Call ahead for a Saturday tour. They only have space for a certain number of people, and if you didn't prearrange, you might be turned away. Also, it's good to know whether another event might preclude the tour, such as on October 13, 2012.
All ages are welcome to visit the farm and see the "Small Animal Encounter" program which follows the wolf pack tour. But you must be 6 years old or older to participate in the Wolf Encounter itself.
Wear long pants and closed-toe comfortable shoes for walking on terrain (hiking boots are best). Recommend old clothing in general as wolves might come sniff you, or you might end up in the line of fire from some of the ground meat being tossed around to the wolves.
Leave ALL LOOSE MATERIALS outside of the wolf enclosures. You are given ample time to run your belongings out to the car right before the tour. No purses, sunglasses, real cameras, and especially no food/drinks. If these items get dropped inside the enclosures, they become fair game for the wolves. There is a concern of wolves accidentally ingesting these materials.
There are also many opportunities to volunteer at the preserve and also make donations through their "adopt-a-wolf" program.  See their website for more information.
Finally, if you don't live near Chipley and are interested in visiting some wolves, check out these other wolf preserves which all offer tours:
More facilities can be found through this website.