As you might imagine, being the wife of a train guy, I've been on a lot of trains. From the Amtrak Auto Train to dozens of tourist railroads, we've experienced rides that range from luxurious to utilitarian, with lengths from just 15 minutes to 7 hours.
We have been driving past the Royal Gorge Route Railroad depot for the past couple years on our numerous day- and weekend-trips to Monarch Mountain. We kept telling ourselves "We need to check out that railroad." but hadn't gotten around to it for a while. The Royal Gorge takes a 20 mile route along the Arkansas River that one can only see via this train or whitewater raft (or the Royal Gorge pedestrian bridge at the park).
In 2014 we tried to get tickets for a ride, but the Holiday Train route we were interested in was sold out. The boys are too old for the Santa Train that dominates the holiday season, and besides, it didn't take the complete route. Dave would have wanted the complete route.
Dave's parents visited during Christmas week and we got tickets for everyone for a daytime Holiday Train for the day after Christmas. We got the tickets nice and early (around Veteran's Day) and were very pleased with the number of options available to us. We choose to do a 12:30pm trip so that we could see the beautiful gorge.
There are several levels to how one can experience a ride on the Royal Gorge:
Coach Class: There is comfortable seating and access to snacks, drinks, and bar service. $34-44 per person
Club Level: These cars have table seating with full-service diner-type service for an addition cost. Snacks and bar beverage service is also available. $44-54 per person
Vista Dome Level: These offer seating in special passenger cars that have windows that extend all the way into the roof. I highly recommend this way to see the spectacular scenery. Full service dining is available such as what Club Level has. $59-69 per person
First Class: This is premium seating with a gourmet menu and wine pairings. There's a minimum age (8) to participate in this level of service. $79-99 per person, with the cost of lunch being prepaid.
Based on some recommendations from friends and the travel agent on base (mostly that the pre-paid option wasn't necessarily worth the cost), we opted to purchase Vista Dome tickets and order lunch through their lunch menu for a separate cost.
It was a very chilly day, so we were grateful for the nice warm seating on the train car.
As soon as we boarded, we were able to order lunch and drinks.
Once we were on our way, we thoroughly enjoyed the views out our dome windows.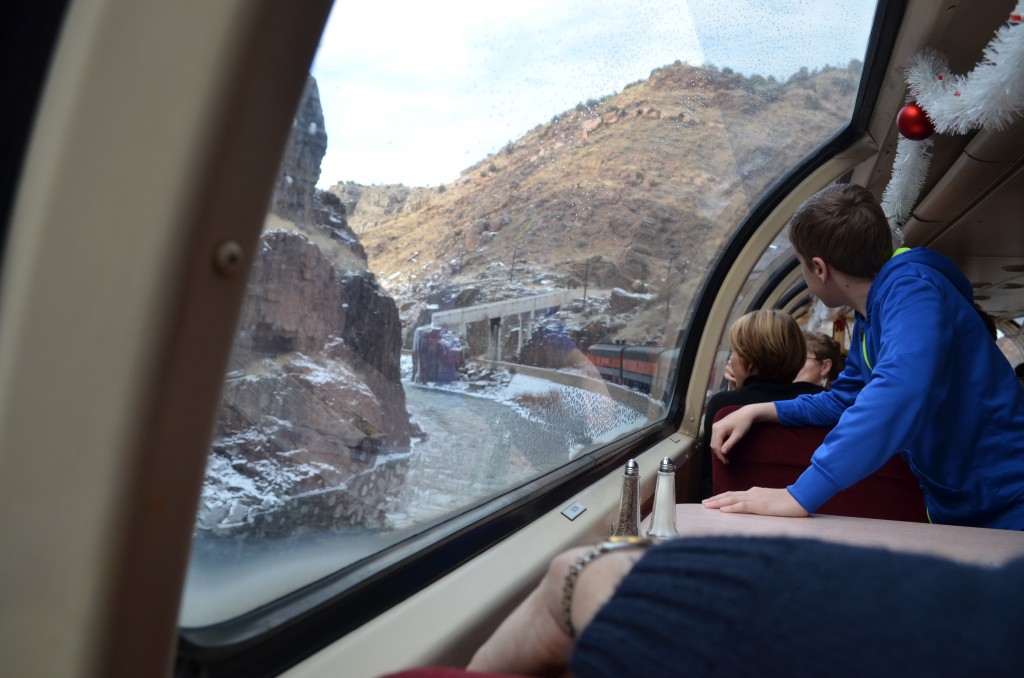 I highly recommend the Royal Gorge Route Railroad for visitors to Colorado. It's a gorgeous route, it isn't nearly as lengthy as the Durango & Silverton or Cumbres & Toltec (and therefore doesn't have the same kinds of prices), and if you're visiting Colorado Springs it isn't that far a drive.
The train runs year round, but be sure to check the website for the specific dates. The Santa and Holiday trains are really pretty, but you can enjoy seeing the whitewater rafters if you take the trip during the warm season.