Our family took a Spring Break trip at the end of March to Crested Butte, Colorado. It's home to Mt. Crested Butte Ski Resort, which is a family-friendly, classic ski resort, a far departure from the day-tripper-friendly ski mountains we'd been visiting this season. Enjoy the pictures I took with my brand new iPhone 5S's kick-butt camera!
Why did we pick Crested Butte? Frankly, I'm not quite sure. I think I had started with Jacob's 5th grade ski pass and checked out the list of resorts at which he had free skiing. Dave and I discussed how far we were willing to drive, and we made a point to avoid the resorts right off I-70: we felt we could get just as fabulous a ski experience sticking to the southern resorts. We had narrowed ourselves down to Crested Butte or Wolf Creek.
Crested Butte had a number of family-friendly lodges nearby and I did some pricing. I decided — in a rare move — to talk to the Grand Lodge on the phone rather than booking online because I wanted to get some information on bringing pets. I had a stroke of good luck when I found out in the conversation that the Grand Lodge had a 15% military discount, which saved us over $100 for the visit, and more than made up for the cost of bringing Howie with us.
We booked three nights at the Grand Lodge at Crested Butte, which was very close to the resort base area and express lifts. Our plan was to drive up Monday, ski for two days, then return home Thursday.
We took our time driving through the Royal Gorge and across the Monarch Pass. It was a gorgeous day, and we had a very lovely drive.
The hotel was quite nice. Being that we have two kids and a dog, we weren't looking for the lap of luxury necessarily. We appreciated the complimentary concierge service for our ski equipment and free parking. Our room had a king bed and pull-out sofa, along with a small fridge/freezer, single burner stove, and sink so we could eat some meals at the room. The rooms were clean and elegant, and Howie was allowed to remain in the room uncrated without the humans necessarily being there. Many hotels don't allow that anymore.
We took the town's free shuttle buses (with most of the other resort guests) down the hill to the town to eat dinner out. The first night we enjoyed dinner at a pizza joint called "Secret Stash" then enjoyed a walk around the small downtown.
Tuesday morning, it was time to ski! Compared to all of our other days of skiing on our day trips, it was quite relaxing to not have to wake up until 8am to be on the slopes by 9am…ish. We had to still trade our military vouchers in for the lift tickets, as well as go over the "Outpost" ski storage right by the lifts to pick up our skis that the hotel concierge had arranged to go from the hotel the day before. Boy was that nice, by the way!
But from there, it was cake to head over to the "Red Lady" lift and express our way right up to the trails. Click here if you'd like to see a trail map.
It was so much fun skiing with the boys! They did great on the first day, with good weather and great ski conditions, I couldn't ask for anything more!
After spending the morning on numerous green trails, we started venturing into the intermediate trails after lunch at our room.
On one of the last runs of the day, we stopped at the bar partway down the mountain. Since it's the end of the season, we caught the remnants of the "Ice Bar". The boys couldn't stop cleaving sheets of ice off.
During all this fun, Dave and I were watching a developing winter storm with an eagle eye. It was predicted to be a "biggie" with the possibility of shutting down Monarch Pass during our drive home.
Uh oh. Dave and I had some decisions to make. Just like any big decision, we not only had to weigh the weather information coming in, but we also had to decide with enough time to make sure the logistics were worked out. Since we had Howie with us, it was nice to not have to worry about extending a kennel visit. But we still wanted to give ample time to secure an extra day in the hotel, and Dave had a couple of work appointments he had to reschedule.
We decided by Wednesday dinnertime to stay the extra day. We could stay in our room an extra night, Dave was able to reschedule all of his work obligations and take an extra day of leave.
This is what we had awakened to:
I took Howie for a walk at about 7am and could see the crews working so hard to prepare the base area for what was to be a banner day of skiing with all that fresh powder!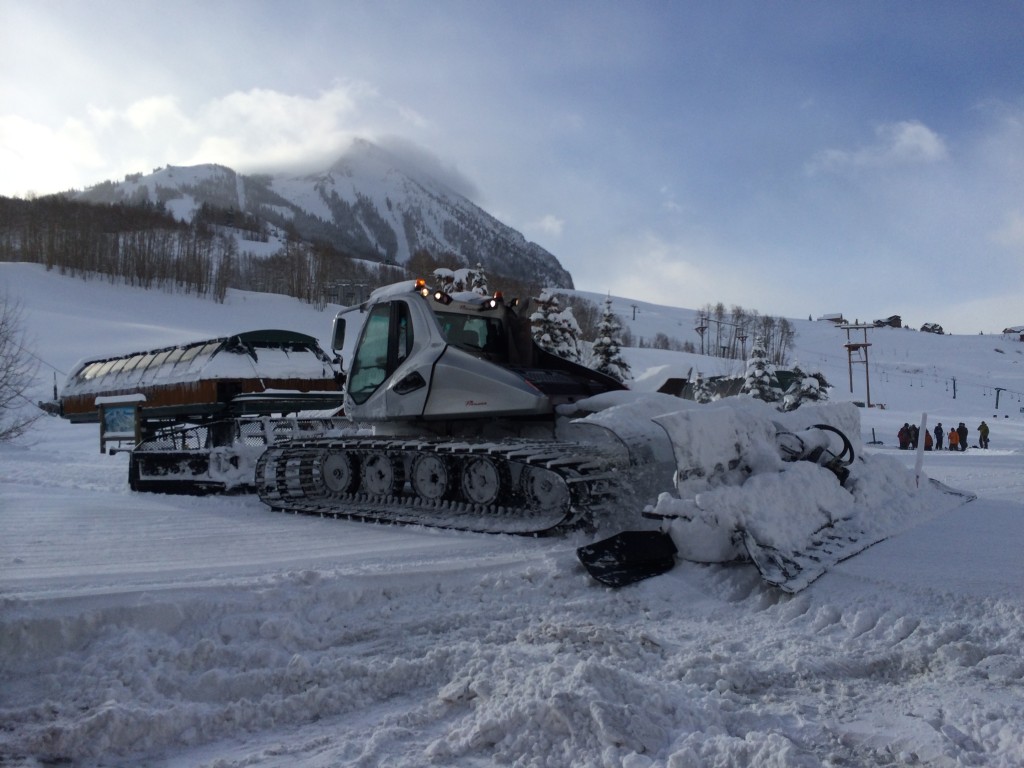 Since the kids were right at the bottom of the mountain, and because they were sore from skiing the previous two days, and since Jacob had just finished his babysitting certification through our local YMCA the weekend prior, we let the kids stay at the room while Dave and I got in one more day of skiing.
For me, it was TOUGH in all that fresh powder! Early in the day we were carving trails through over a foot of powder, and I'm not particularly skilled at doing that. I would simply fall over out of nowhere! And falling into that powder wasn't that pleasant…you inhale the ice crystals, which is the equivalent of inhaling water down the "wrong pipe". Ugh!
However, without the kids, Dave and I were able to hit some expert trails and we had an enjoyable day, especially after the trails were worked down a little bit — which meant MOGULS!
Dave and I, once again, visited the Ice Bar at Uley's Cabin after lunch on Thursday. I decided to try their signature drink, called a Yeti. I've yet to find the recipe, but it was like a White Russian with cinnamon schnapps, among other things. We met some very nice people and we ended up spending a bit more time there than we had planned, and three Yetis later, I somehow had to make my way down the mountain.
It's a miracle I made it. I had a pretty indisposed afternoon, but was okay by dinnertime.
In the meantime, Monarch Pass didn't have to close, but we saw this on their webcam and decided that staying the extra day was a good idea.
On Friday, after some substantial snow clearing from the truck, we packed our gear and made the drive home with no problem.
We had a great visit and I highly recommend Grand Lodge and Crested Butte Ski Resort to anyone looking for a not-so-overwhelming, but still somewhat-luxurious ski vacation.