After nearly two weeks straight of having steamy-hot mornings and thunderstormy afternoons, it was time to simply take a gamble and head outside on a day trip.
This is the time of year in northwest Florida when the Gulf of Mexico water temperatures get so warm, trips to the beach become somewhat unpleasant.  Even swimming pools aren't cutting it.  Many folks will head north towards places like the Blackwater River to legitimately cool off.
A fellow AF spouse shared a recent trip she took to Morrison Springs, a county park about 75 miles east-north-east of Navarre, and about 10 miles east of Defuniak Springs, not far off I-10.  It looked very interesting.  The cold water certainly caught my attention.  Today I decided to pack a lunch, our swim tubes and swim noodles and headed out with the kids.  None of us knew what to expect.  I warned them that if the place was icky enough, we'd turn right around and I'd take them to a cool lunch spot for their trouble…but it was quite nice.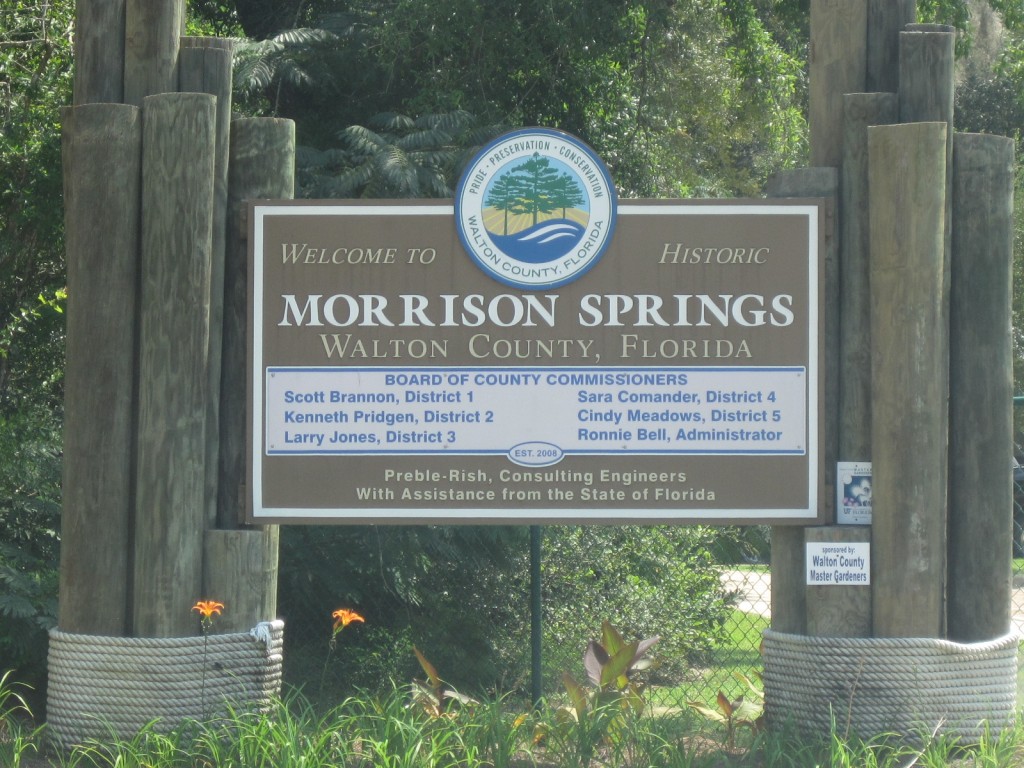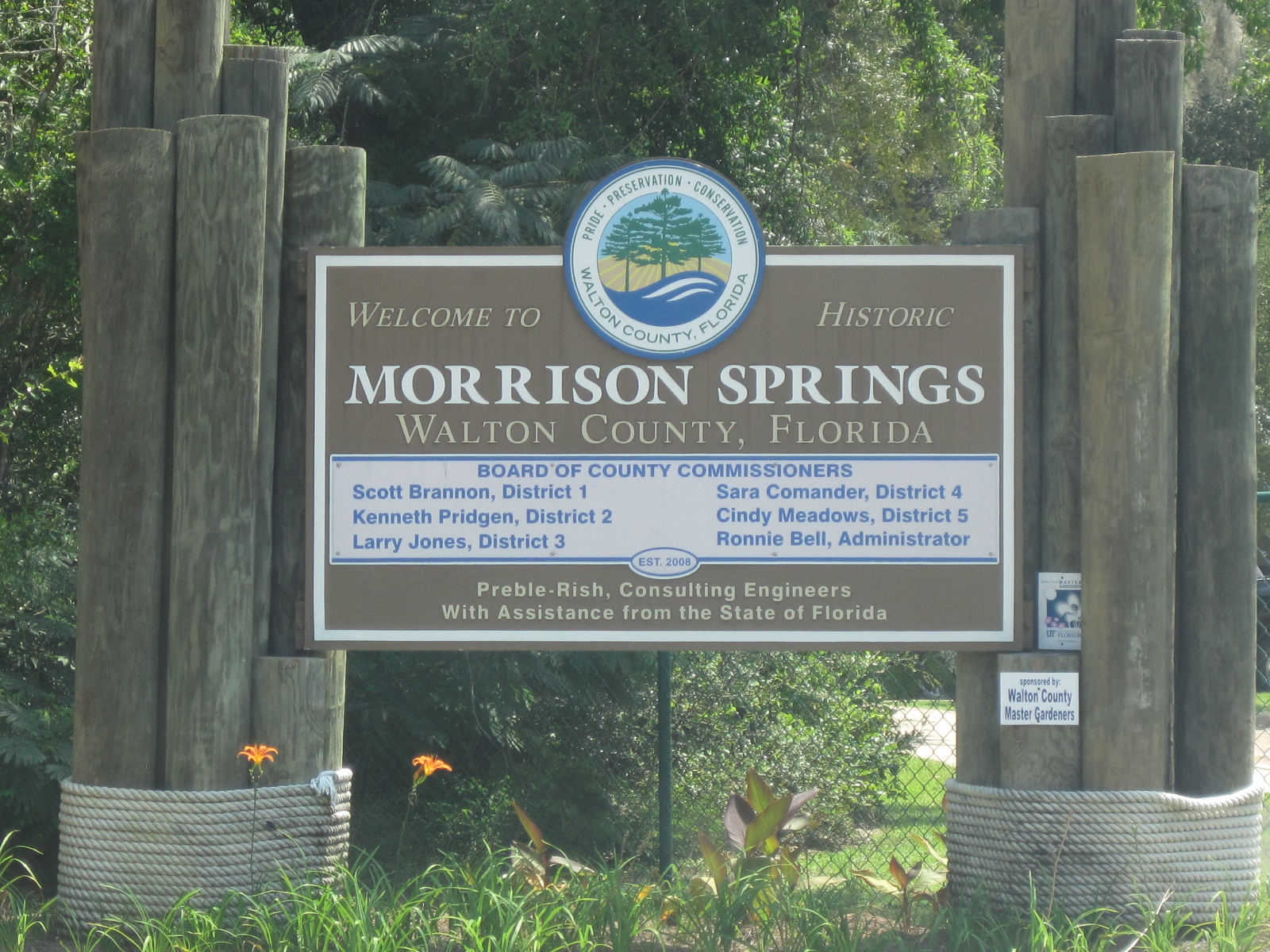 A little about Morrison Springs.  The website explains it well:
Morrison Springs is one of the most popular diving spots in northwest Florida and well-known throughout the southeast.  This 161-acre park was acquired by the state in 2004 and has been leased to the county to maintain and preserve.  The highlight of the park is a 250-foot diameter spring pool that produces and estimated 48 million gallons of crystal clear water each day and has been recorded to produce up to 70 million gallons a day.  Three cavities allow Morrison's frigid waters to surface from the underground aquifer.  The deepest of these cavities, at approximately 300 foot in depth, eventually terminates in an underground chamber of unknown dimensions.

The new Morrison Springs Park includes large boardwalks overlooking the springs, a diving dock and a new boat ramp away from the diving location.
Other cool things about Morrison Springs: the water that wells up from the aquifer is 68F.  Year round.  I find that very fascinating.  The park is a VERY popular scuba* and snorkeling destination.  Not to sound like I'm all worldly or anything, but I've snorkeled in Key West, the Bahamas (Nassau and Disney's Castaway Key), and Guam (more or less).  Visibility and water conditions were outstanding at Morrison Springs and I could have stay there all day just swimming around exploring.
*Scuba diving is on my bucket list, but it's pretty far down right now…even though I'm in Florida, I think I'll be saving it for either when the kids can join me, or when they're out of the house.
The park was acquired by Walton County, Florida in 2004 from a private endeavor and the county coverted the space into a nice recreation area.  Over the years improvements have been made to the restrooms, boardwalks, picnic paviliions and they moved the boat ramp a considerable distance from the scuba diving area.
When you're accustomed to much warmer Gulf of Mexico, Santa Rosa Sound and swimming pool water for the past several weeks, bounding into 68F water is quite shocking!  Timmy bounded right in with his ring float (as seen in the top picture) without comment, but Jacob promptly declared the water was "too cold" and kept to the shallower areas, exploring the minnows and building sand castles.
So let's talk about "the hole".  I'm sure there's some sort of official name for it, but in the middle of the 250′ diameter swimming area is this, well, hole.  The bottom of most of the swimming area is about 20′ deep, and the hole goes down from there…pretty profoundly.  Those more familiar with diving will appreciate this description of the area, and a profile map of the caverns down past where we could see.  This review is the most comprehensive I've found so far, when I Googled "fish at Morrison Springs".
There are aquifers down below all this and the water we were swimming in was upwelling from those aquifers.  As the description above describes, millions of gallons of water are upwelling, all at 68F.  Here's a little bit of a tutorial about how artesian springs work.  Looks like there might be some others to explore.  Considerably cooler than the Gulf right now!  And when it's 95F outside you feel pretty refreshed when you come out of the water.
I donned my — okay it's Jacob's, but with his big head, he needs an adult set — snorkel and mask and swam over to the hole.  A pair of divers had gone down and you could see the bubbles traveling up from inside the tunnels.  When the sun was shining, and not behind a cloud, you could see down very clearly.  I went back and got both kids and brought them out over the hole — with float rings — so they could get a look for themselves.
Then, as Jacob remained near the shore and Timmy stayed near the floating platform, I was able to swim around and check out all the nooks and crannies where the fish hid out.  Since this is freshwater, it goes without saying that I wouldn't see the same beautiful colors as in the ocean.  But I still saw so many varieties of fish.  It was such fun to watch them swim around.  Most of what I saw were bream, a type of sunfish.
I saw the two scuba divers that were in the tunnels while I was snorkeling.  A gentleman near me inquired with the divers about what they could see while they were down in the hole.  They mentioned some sort of eel, catfish, perch and bass.  He said they were pretty large down in the caverns, but the largest fish I saw while snorkeling was only about 18″.  I think it was a mullet.
After drifting aimlessly among the seaweed and cypress roots observing fish for several minutes, a loud clap of thunder alerted me that I'd better check the weather.  And there was a text from Dave waiting for me: "Severe Thunderstorm Warning for your area".  Luckily, it had come in about 2 minutes prior to my seeing it, and I had enough time to collect the kids and our stuff…and toss everything into the car before we were hit with a gust front and sheets of rain…which followed us all the way home!
We had arrived a little after 11am, and the area got very crowded with swimmers by 12 noon.  The thunderstorms arrived at about 1:15pm.  So we got two hours of play: Timmy could have stayed forever, but Jacob was ready to go by 1:15pm.
So if you're looking for a water-fun diversion while the Gulf Coast is warmer than your bathtub, give the colder waters in the northern FL Panhandle a go!