Dave and I took a drive on Saturday.  It's something we hadn't done in YEARS — as the kids get older they don't really have the patience to just sit in the car and enjoy the scenery.  We got into the Mustang, put the top down and headed eastward!
Much of what I had written about Florida recently has been in areas around Pensacola and Destin.  Unfortunately, there is so much congestion in Destin, we rarely get to go east.
I had a brainstorm this week to head down Florida Highway 30A, which is a beach highway between Destin and Panama City Beach.  U.S. 98 is the main route connecting the cities, but if you have the time, check out 30A for some serious beauty…
Of note along Highway 30A is the town of Seaside, made famous by the 1998 film The Truman Show with Jim Carrey and Laura Linney.  The made-up town was actually the center of Seaside.
The town is very beautiful.  Dave and I parked the car and enjoyed a seafood lunch right on the beach.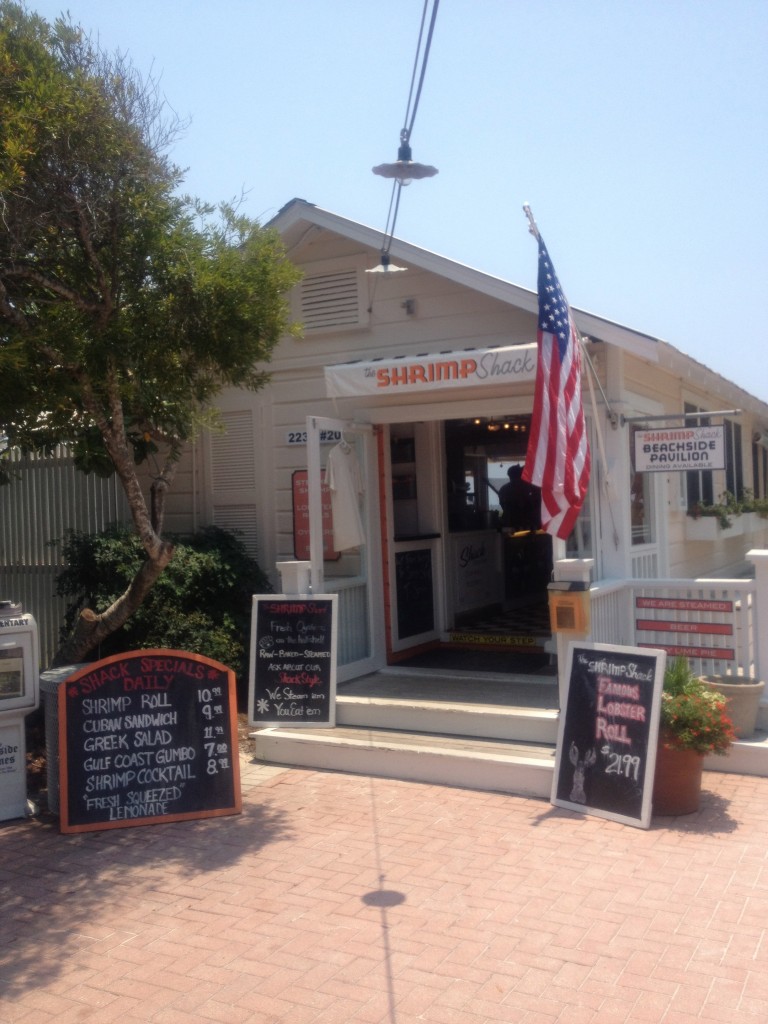 After walking around the center of the town, exploring a toy store, a gourmet grocery store and a fudge/ice cream shop, we walked up and down several of the streets with residences on them.  While at first we thought the houses were seasonal homes, such as what we saw on North Carolina beaches, we noticed housekeeping vans in front of several homes…with "Cottage Rental Agency" on the vans.
OH!  They're vacation RENTAL houses!  Wow!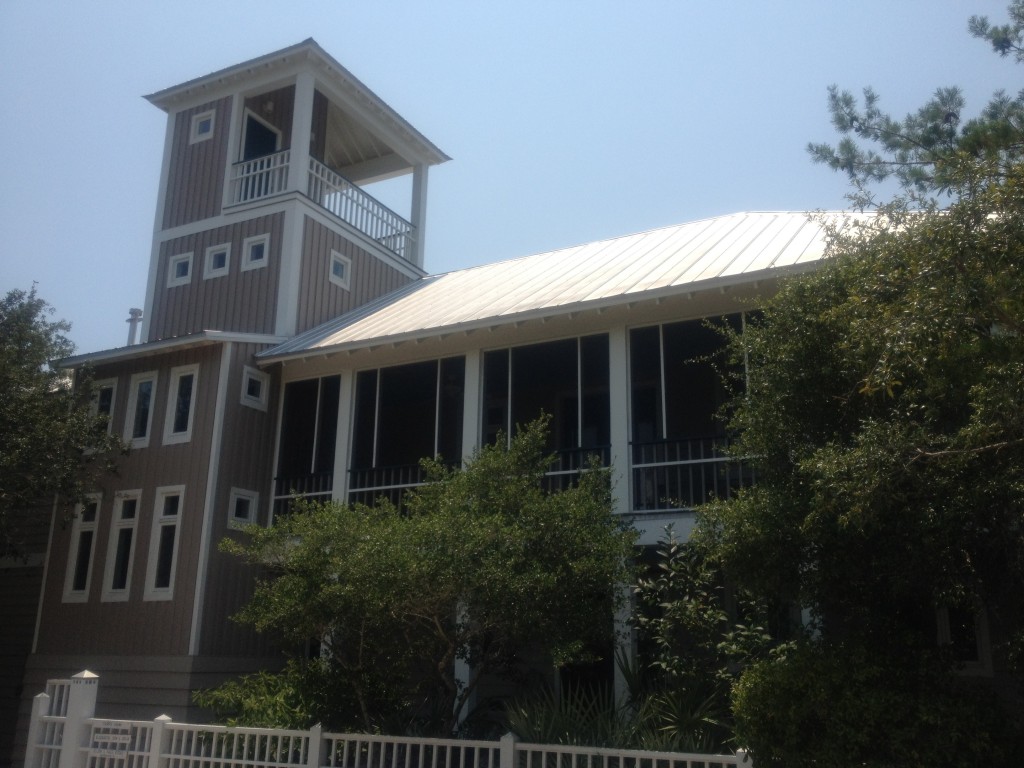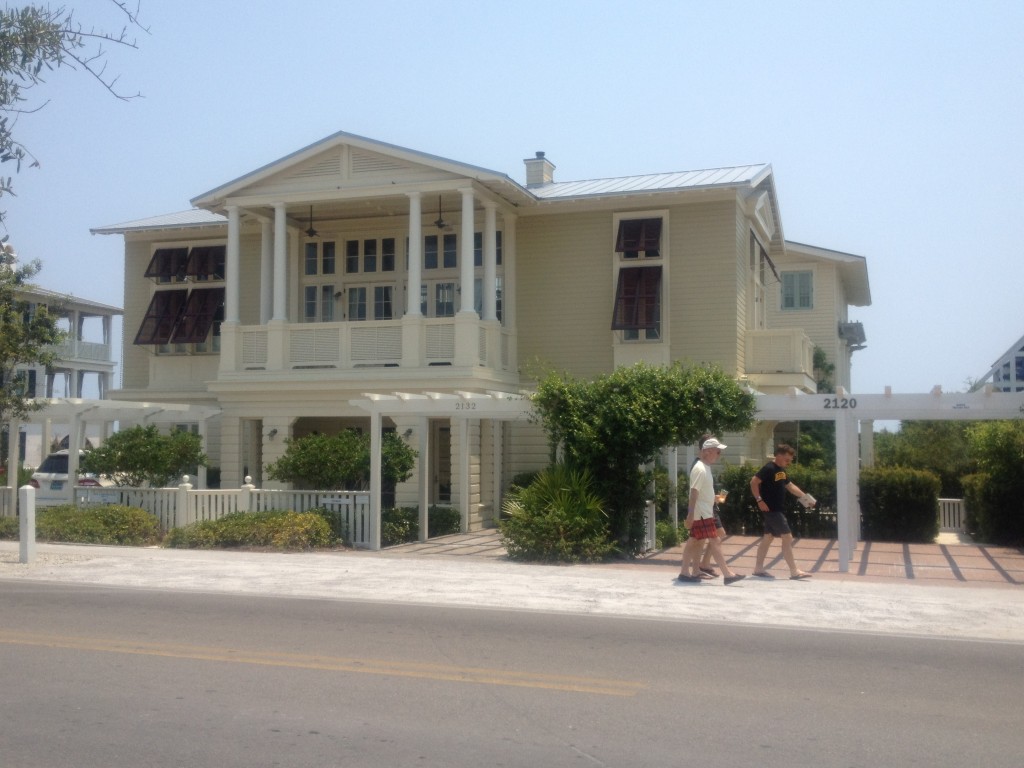 Dave and I found the check-in area for those houses and got a brochure for renting the houses.
Um…yeah.  I don't think we'll be doing this for a while.  While it'd be fantastic for several families together to rent one house (we saw a truck pull up to a house and there were two families uniting for a vacation…apparently the families hadn't seen each other for a while, judging from the "Wow, the kids have grown!"-type comments)…this town is incredibly luxurious and we will simply have to admire the town as a passing fancy for now.
On 30A through the center of Seaside is a row of Airstream trailers: gourmet food stands!  They were very neat!
We continued our eastward drive through the towns of Seagrove, Alys Beach and Rosemary Beach.  These towns were similarly beautifully groomed.  Here's our picture of Alys Beach, which reminded me of those classic scenes of the tall palm trees in Beverly Hills.
Along the gulf, off in the distance, I saw this STUNNING house!  Waves of glass and concrete.  Because I was driving I asked Dave to take a picture, but we couldn't get a good one.  So I found this website of pictures.  I also learned that the house is owned by a man named Charlie Hilton.  My first thought was "those Hiltons"?  But no, this Hilton is a Panama City-area entrepreneur who got started in the asphalt paving business and later ventured into hotels (ironically) and cattle ranching.  Beautiful house…
Highway 30A reunites with U.S. 98 just west of Panama City Beach, and we took state route 30 along the beach road in Bay County all the way to Pier Park, which is a shopping mall, amusement park and entertainment complex just north of the Panama City Beach pier.  We enjoyed beers and a giant pretzel at the Hofbrau Bier Garten, which we didn't know existed.
We had a fun afternoon…