This week we've been painting the great room and kitchen of our house.
Yes, it's a rental, but all this time it's been sterile white in color…EVERYWHERE and frankly it was getting on my nerves.  For starters, it shows EVERYTHING.  Every smudge, every scuff, every bump by a backpack, piece of furniture, etc.  Secondly, I like color.  I just do.
It took us a couple months of phone and e-mail tag with our property manager and homeowners, but last week we got a go-ahead.  Dave and I didn't waste any time getting the paint on Sunday.  As of tonight we've done about half of the job.
Enjoy this before-and-after of our north wall, which includes the fireplace.
Before:
In progress: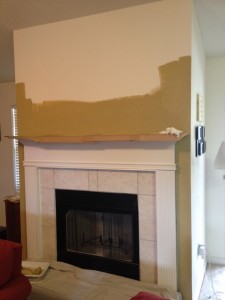 Finished:
With everything back in place (except for that bookcase on the left).