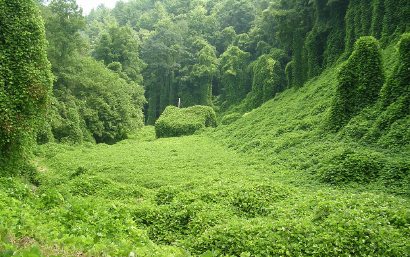 This is what much of my drive up I-59 and I-81 looked like last month.
If you're unfamiliar with the southeastern U.S., you might have never seen this. Having lived in North Carolina for 3 years, there were areas where we came to expect it.
So…what is kudzu? You can read the details, from the taxonomy to the history, on Wikipedia. To summarize, kudzu is an Asian-native vine that was introduced to the United States in the late 1800s and was encouraged as a soil-erosion control near interstate highways. Today, the vine is significantly invasive, covering complete mountainsides throughout the Appalachians.
I saw it all over the place on our drive up I-59 and I-81…and it was disturbingly fascinating seeing it in its prime after living in non-kudzu-infested Nebraska for 2 1/2 years. The vines allegedly can grow one FOOT per day…and there are even legends of folks hearing the vine as it grows! It covers hillsides, meadows, trees, buildings, power poles and even electrical lines like an enormous plush green blanket.
Kudzu is indeed edible, and on Alton Brown's 2006 television special Feasting on Asphalt, Brown stopped in Cashiers, NC and demonstrated how you can cut the youngest leaves for salad. Kudzu is also used to make jelly, soaps and lotions. The Asians have claimed kudzu's medicinal benefits.
There's been recent research about letting cattle graze on kudzu, both as an attempt to control the plant, but also for the benefit of the cattle, since it would be cheap, nutritious feed. Others have come up with ways to profit from kudzu.
This biking blogger offers some more history and perspective on the weed. In particular like the map he cites showing the kudzu growth areas in the U.S.