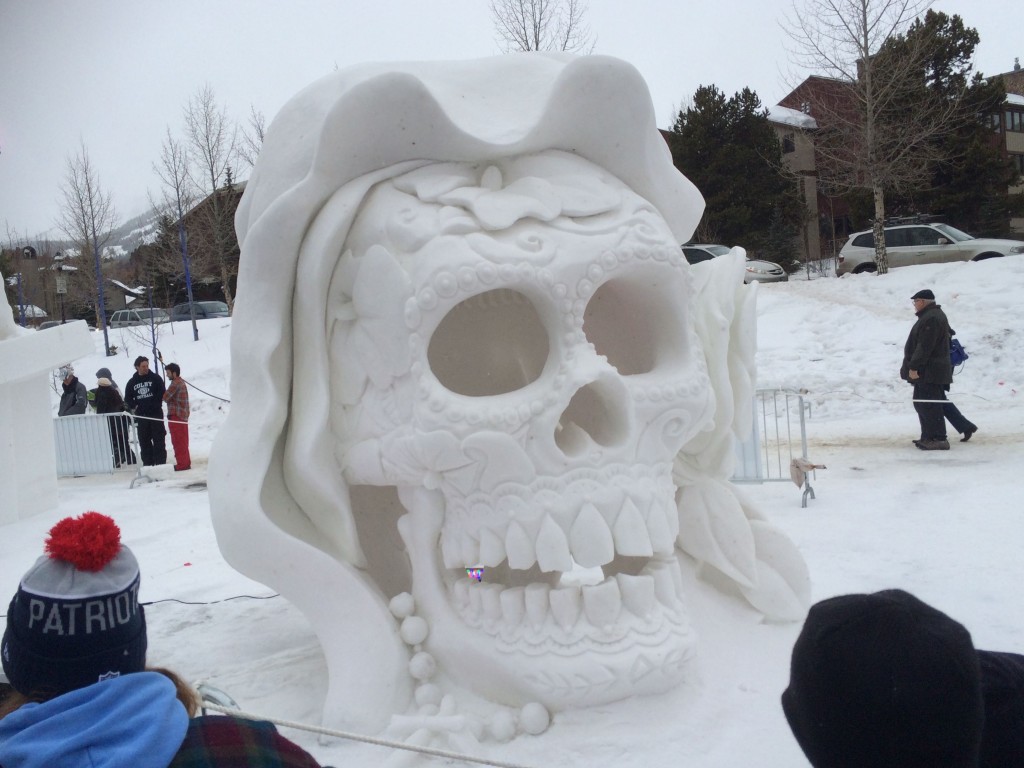 I know, it's been a while! I'm here, really, but with my full time work and the kids' activities, I have had to re-prioritize my blogging. This also goes for GeekMom, where my writing is now at a bare minimum (despite having ideas for posts all the time), but I still do editor duty every few weeks.
I have numerous things to write about here on the home front, including a stunning ride on the Royal Gorge Railroad back in December but for now I want to share what a fun weekend our family had in Breckenridge. We didn't ski (I'll explain in a minute) but we found many other things to enjoy without spending much money.
Breckenridge Ski Resort is like the Walt Disney World of skiing. Tourists come in from all around the world for some amazing skiing, and the town of Breckenridge keeps up with that tourism industry with premier shopping, restaurants, and lodging options for their guests.
Dave and I were with some friends at a local Octoberfest here in town back in September, and there was a representative from Breckenridge Grand Vacations offering $149 full-weekend condo stays on the condition we attended a time share pitch. Dave and I had somehow survived the Disney Vacation Club pitch back in July without committing so I figured we could handle this. We booked the last weekend of January, which is the weekend of the Snow Sculpture festival.
We had a tough decision — do we ski or not? The Snow Sculpture festival was appealing to us, but if we were going to pay $80 per person (military rate for Dave, Jacob, and me) for a day of skiing, then we wouldn't really get to explore the town at all. We elected not to ski and instead focus on checking out the town of Breckenridge. Jacob was very disappointed, but we promised him that one day we'd take a trip.
The condo complex the company put us up in was pretty nice, especially considering the cost. It wasn't the fanciest one-bedroom condo in town, but we had plenty of space and a full kitchen so we could prepare our own meals. We had access to the pool, hot tubs, and fitness center. The location couldn't be beat: everything we wanted to do was in walking distance.
We arrived around 8pm Friday night, and after a dinner in our condo, we set out to visit the Snow Sculpture Festival to see the artists in their last hours of hand-crafting their sculptures from a 20-ton block of snow.
I have pictures of many of the other sculptures in progress, which I will share in my Picasa album.
The following morning we walked out to see the completed sculptures. It was amazing to see how much work had to be done on some of the sculptures to be finished by the 10am deadline. It was also sad to see that numerous sculptures had collapsed.
The Ukrainian "fist" sculpture had suffered some damage also, with several of the fingers on the open hand collapsing.
You can read about the winners of the sculpture competition here.
We had lunch out on the town with our friends, at a restaurant called "Ollie's Pub & Grub", which boasted the best burger in Breck. Timmy had a classic burger and I tried it out. It was very good indeed, but I enjoyed the ahi tuna tacos instead. I couldn't possibly eat a 1/2 lb. burger these days.
We are very proud that that particular lunch was the only restaurant meal we had that weekend. All of our other meals were in the condo. Bringing pulled pork and grilled chicken from home made things very easy.
After we visited the completed sculptures and enjoyed lunch in town, we did another free-of-charge activity in Breckenridge: sledding at Carter Park. This was also in walking distance from our downtown condo. We tossed some dish-style sleds into the car before we made our trip and we're very glad we did. The park was but a couple blocks from the downtown area, near the town's elementary school. We were able to walk.
Snow had started falling in earnest that afternoon. If it weren't for the snow, we'd have had an amazing view of Breckenridge Ski Resort from the top of the sled hill. Here are videos of the boys sledding. The sled Timmy's in belongs to our friends who joined us on this trip.
I think the sledding partially made up for not skiing.
After the sledding, dinner (in our rooms), and some time in the hot tub, we adults headed out for a night on the town while the kids hung out together. We had done this Friday night also, visiting Breckenridge Brewery, home to a couple of our favorite brews: Avalanche amber ale and their seasonal Christmas Ale. Another thing I like about Breckenridge Brewery is their geek love: they brew a custom recipe for Denver Comic Con each year.
On Saturday night, we wandered northward. We were headed towards the Breckenridge Distillery Tasting Room, but took a diversion. In addition to the snow sculpture festival, we found a Fire Arts festival!
It's only open till 9pm, but it's a great place to check out their bourbon, vodka, and spiced rum. You can try about a 1/2 shot of each of their offerings free of charge (tips are welcome!); they had five offerings available the night we visited. If you like what you taste, you can buy it there on site. I recommend the bourbon, it's available in town here so we have a bottle on hand.
The distillery itself was further north out of the main part of town, but they have tours from 11am to 6pm daily.
We visited a bar called Blue Stag Saloon and enjoyed Manhattans and hot beverages while it was dumping snow outside. We didn't order food, but we were complimenting all the meals that were going past us for other customers. They have a fun-filled, mining-town-inspired drink menu, plus plenty of beers to choose from.
Finally, on Sunday it was time for our time-share pitch. We were anxious about the weather that day, the sooner we hit the road, the better. That experience was exactly what you might expect — and I have to admit they were VERY persuasive. The deal they were offering was very appealing, if only we would want to make Breckenridge our home mountain. But I don't think we can. Breckenridge doesn't offer the same deals as many of the other mountains around and our family can ski for less at other mega-resorts such as Keystone, Copper, Winter Park, Arapahoe Basin, Crested Butte, or Loveland.
To conclude, our family was able to really explore Breckenridge with a minimum of cost. The Snow Sculpture and Fire Arts festivals are free to the public, and the sledding hill was among the best we had experienced since moving to Colorado. One day we do plan to return to experience the skiing, but that will take a little more planning, reminiscent of planning a trip to Disney World.