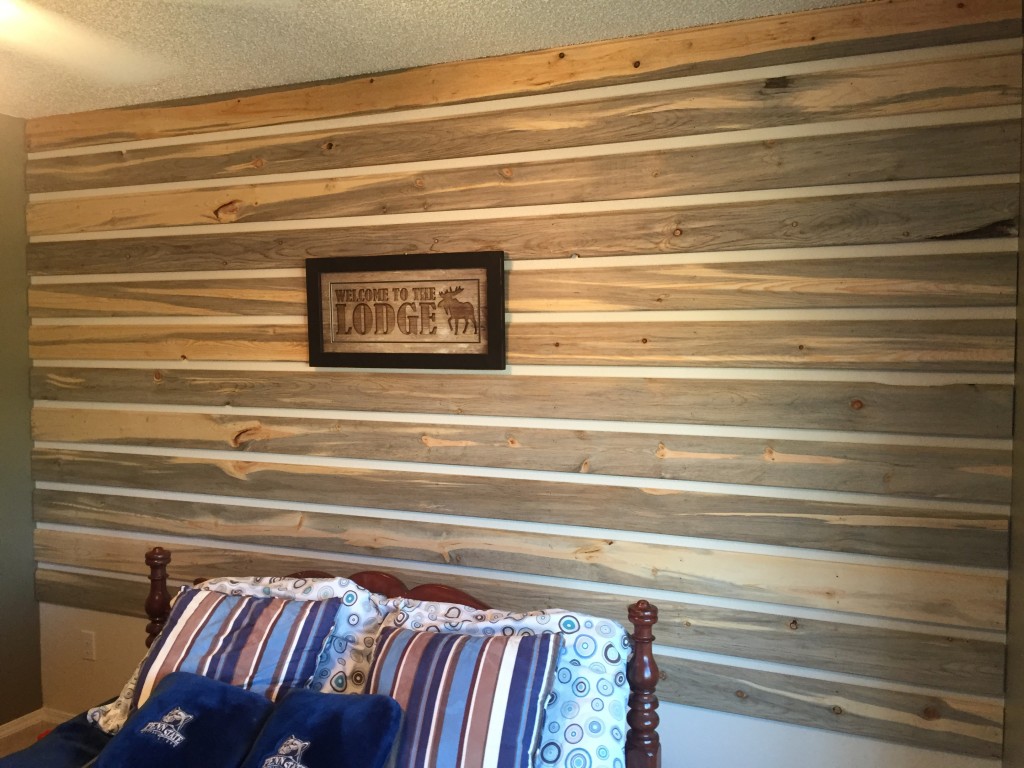 I'm not sure it's actually called "planking", since my first thought would have gravitated towards this kind of planking. But it's what I'm calling the process Dave and I went through today, putting the planks up on the wall in our guest room.
We picked up the wood, called blue stain "beetle kill" ponderosa pine, at our local Home Depot. The planks are actually cut for paneling on the opposite side, and there are tongue-and-groove cuts on the long edges…for vertical paneling. I'm sure Home Depot was happy that we were picking the most beat-up planks for our project. We purposefully took the pieces with holes and gashes.
We got twelve 12′ planks at about $7 per plank, and we had to lob off 8″ off each piece to fit squarely on the wall in question. Then we had to walk it up the stairs, zigzagging the plank into the guest room via Jacob's room.
Dave had bought some adhesive to glue the planks in place before nailing them, but we elected not to use the glue. We marked the studs (there are 9 of them on the wall, 16″ apart) and put two 2″ finishing nails at each stud location, for a total of 18 nails per plank.
We made a cursory effort for each plank to be evenly spaced and parallel to the floor, and I like to think we did a pretty good job, but they aren't perfect. We are okay with them not being perfect. Part of how we did this decently was with the use of this inexpensive level we have:
This afternoon we put up the first 12 boards we had purchased. It took us about 3 hours. The hand-hammering was quite a workout. Once we put up 2-3 nails on each plank, Dave would take the right side and I'd take the left to put in the rest of the nails.
Unfortunately, we came up two boards short. We are also still contemplating what to do when we get to that electrical outlet (see the lower left corner of the top photo in this post). I'm about to head out to Home Depot now to pick up two more. In the meantime, enjoy these closeup photos of some of the details in these boards. We'll keep you posted on the end result later this week!