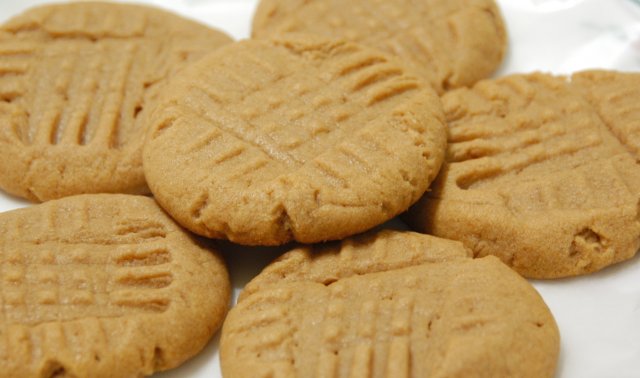 This past weekend I made peanut butter cookies. In part because I had a jar of peanut butter that needed to be finished off ASAP. It was "natural" peanut butter that had separated during our move to Colorado and didn't look so hot. I figured mixed into the cookie dough well enough it'd be fine.
The recipe I have for peanut butter cookies is adapted from a basic recipe I saw on the All Recipes website. It's very basic. However, I added in some techniques that makes them almost melt-in-your-mouth! I was very pleased that this recipe worked at my home's higher altitude also.
It's science, my friends! See below in the instructions.
***************************************
Peanut Butter Cookies that Melt in Your Mouth
1 cup unsalted butter (you may use salted, but then you should halve the salt)
1 cup white sugar
1 cup packed brown sugar
1 cup peanut butter (creamy or crunchy, it's good either way)
2 eggs
2 1/2 cups flour
1 teaspoon baking powder
1/2 teaspoon salt
1 1/2 teaspoons baking soda
Mix together the flour, baking powder, salt, and baking soda. Set aside.
Using the whisk attachment on a stand mixer, cream the butter, peanut butter, and both sugars. DO NOT SKIMP on this step. You want to beat this for 5-7 minutes until the mixture is light and fluffy. Walk away for a few minutes, catch up on your mail…fold the laundry.
Stop the mixer every once in a while to scrape down the sides of the bowl.
You are incorporating air bubbles into the mixture which helps give the cookie dough a lighter texture when baking.
With the mixer still running, add the eggs, one at a time. Beat mixture until it lightens in color, another 1-2 minutes.
Stop using the mixer now! You will now want a large spoon or spatula to slowly mix the dry ingredients into the butter/sugar/egg mixture. Stir until all the dry ingredients are incorporated.
Cover with plastic wrap and chill the dough in the refrigerator for at least 1 hour.
Roll the dough into 1 – 1 1/2″ balls and place at least 2″ apart on an ungreased cookie sheet. Using a fork dusted in flour, make the ubiquitous waffle-like fork-tines pattern on the ball of cookie dough, flattening it just a little.
Bake in a 375F oven for 10 minutes. Do not overcook.
*****************************************
As much as I love the texture of this cookie, I'm still trying to tweak the recipe to bring out more peanut butter flavor. This past weekend's recipe had dark brown sugar and I think it subdued the peanutty flavor some. Also, this peanut butter was sort of old, dating from this past spring.
I would like to try this recipe with light brown sugar and fresh-made peanut butter. I might be doing that as soon as this weekend, Dave requested peanut butter chocolate chip cookies and I have a bag of Wilbur chocolate chips for him!
What's your favorite peanut butter cookie recipe! Share it with us!