Good morning everyone! It's the Monday after "Jacob Birthday Weekend" and I'm enjoying a relatively relaxing morning as a carpet installer is taking care of Dave's train room. Jacob seemed like he had a nice weekend, and for that I'm glad. As the boys get older, I'm convinced that their birthday parties are getting easier and easier.
I have Cake playing right now on Pandora radio through the TV, and it's apropos today because I'm going to be talking about CAKE!
As I've discussed before, I enjoy making my sons' birthday cakes. I'm not a professional by any stretch, but it's a fun hobby I've had since the boys were toddlers (2006) and we had bought an awful tasting cake for Timmy's 1st birthday in North Carolina.
I have a public album on Facebook where I drop pictures of my finished cakes. For the most part, I'm happy with my work. They're never perfect, but folks tell me that the cakes taste at least as good as store-bought, and that's enough for me.
Jacob requested a Minecraft-themed birthday party this year. I did my usual Pinterest spree, quickly dropping brainstormed ideas onto the "board". This pin was the inspiration for the cake I would attempt. Jacob was thrilled with the prospect of a Creeper cake. In this post I will discuss the de-evolution of the Creeper cake.
This is the first cake I made in Colorado (Dave got a cookie cake that was much easier). Colorado's high elevation makes baking very challenging.
This would also be the first cake with homemade fondant icing. In the past I had relied exclusively on store-bought Wilton-brand fondant. This can get expensive, and the colored fondant has some strange flavors that I didn't want again. Another inspiration for homemade fondant was that I needed several shades of green for the Creeper tiles.
I crowdsourced for a good fondant recipe, and the responses I received all pointed to a popular marshmallow and powdered sugar fondant. Here is a link to a variation on the recipe I used. This was a fantastic recipe and for the cost of 1 1/2 bags of marshmallows and 2 lbs. of powdered sugar (about $5 total) I had 3 lbs. of fondant. About 40% the cost of the Wilton stuff.
Making the fondant was very easy, but also very messy. I was covered in powdered sugar, my kitchen island the surrounding flooring was also covered. I wanted to take pictures, but the clouds of powdered sugar dust made me nervous about bringing a camera into the kitchen.
After letting the 3 lb. ball of fondant cure overnight, I divided it into fourths and applied variations of Wilton leaf green, kelly green and lemon yellow gel food coloring. This was also easy — and also messy.
The night before Jacob's party, I baked the cake layers. We used Betty Crocker "Butter Recipe Yellow" cake mix, which uses butter instead of oil for the fat. My plan was to bake two 9 x 13 layers, then cut squares out of them.
I learned quite a bit from baking the cakes. While the mix doesn't have a high altitude recipe change (except for a Bundt pan), there are a couple things you need to keep in mind when at high altitude.
You cannot use a toothpick or cake tester while baking. This deflated my first layer and I ended up with a bowl down the center.
I attempted to alleviate this issue with the second layer by first not poking the cake for doneness (I just pressed the top for springiness), but also I added a heat conductor to the center of the layer to help cook it more evenly. I've never had to do this for a 9 x 13 layer (anything bigger I would have done no matter where we live). This helped the second layer turn out really well.
I cooled the layers and then stored them for the following morning.
We assembled the layers with dowels so it would maintain its semi-cube shape. I then applied thin-consistency plain white icing to the layers.
It was time to cut out the "tiles" with the green fondant! This was fun and easy. I have a Wilton fondant roller which has rings that let you roll out a consistent thickness, and I used a pizza cutter to cut the uniform squares.
Unfortunately, the cake started sinking in parts and the uniform tiles weren't uniform on the cake.
Powdered sugar continued to fly all over the place, including all over the cake (see the image at the top.)
After placing the tiles, our family went out on a Cub Scout outing downtown. I had planned to put on the eyes and mouth and write "Happy Birthday" when we returned.
When we returned, this is what greeted us.
I went ahead and finished the cake, but I couldn't bring myself to put candles in this cake so we ran to the grocery store and bought a small one for the candles.
Now, let's trace its continued de-evolution while we made the 15-minute drive to the party place.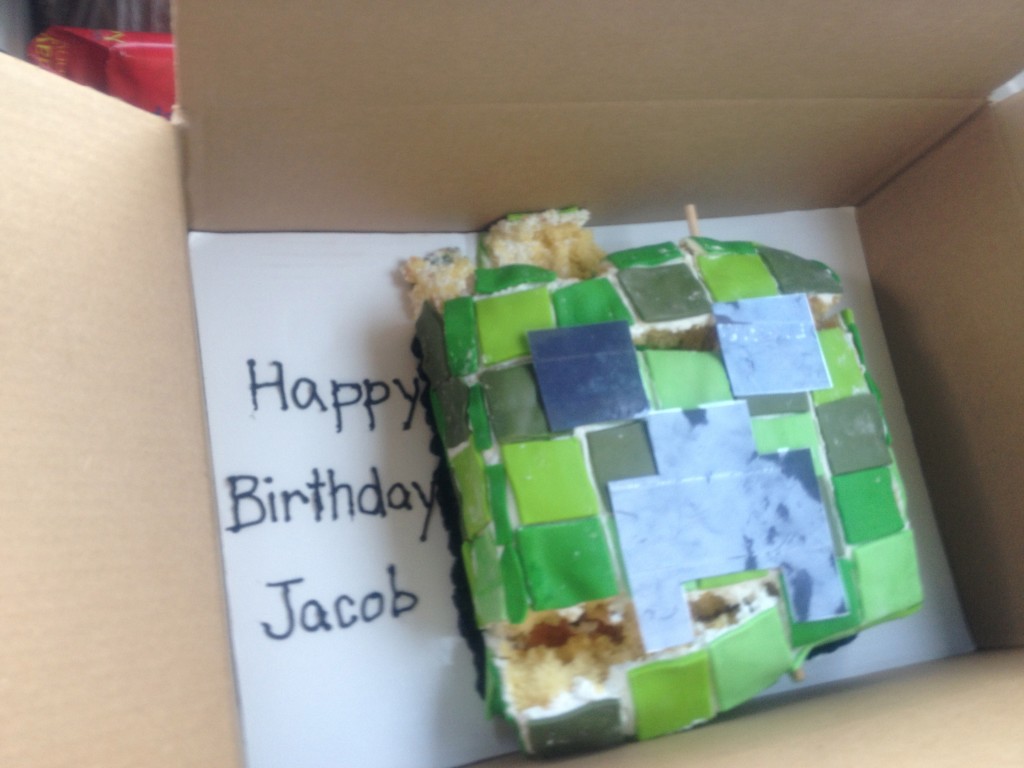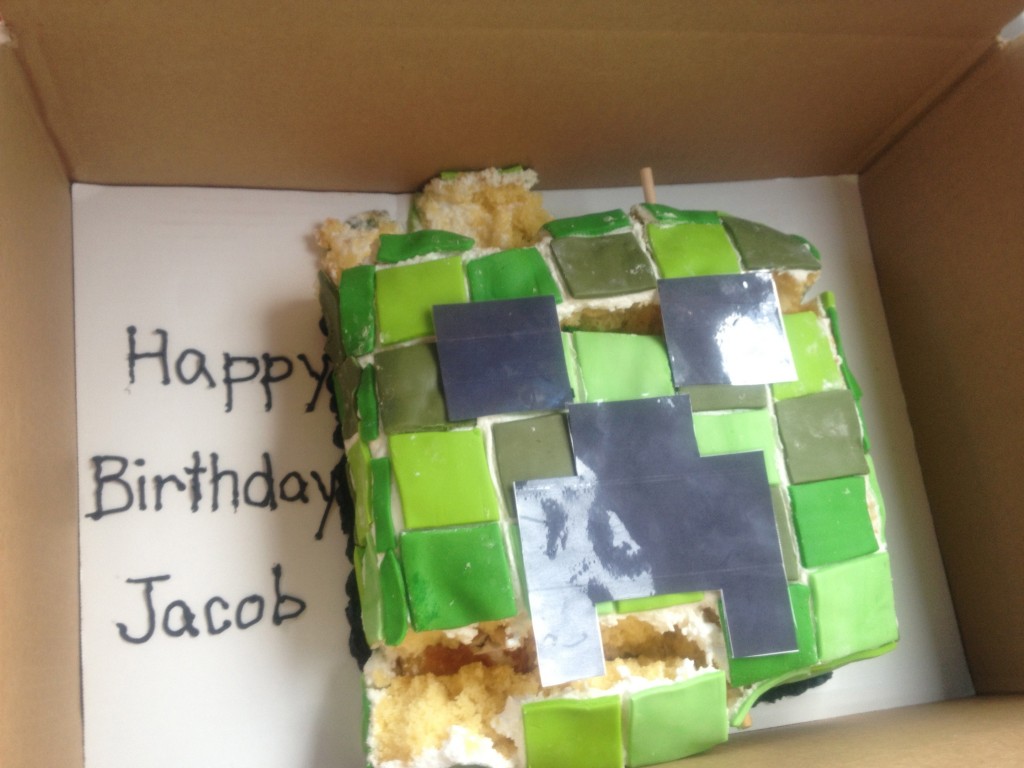 Jacob was a sweetheart the whole time. He assured me that the cake would still taste delicious and he was happy I had attempted it. He's turning out to be a pretty great kid, isn't he?
As for the "alternate cake", here it is. After Jacob blew out the candles, we served the Creeper cake.