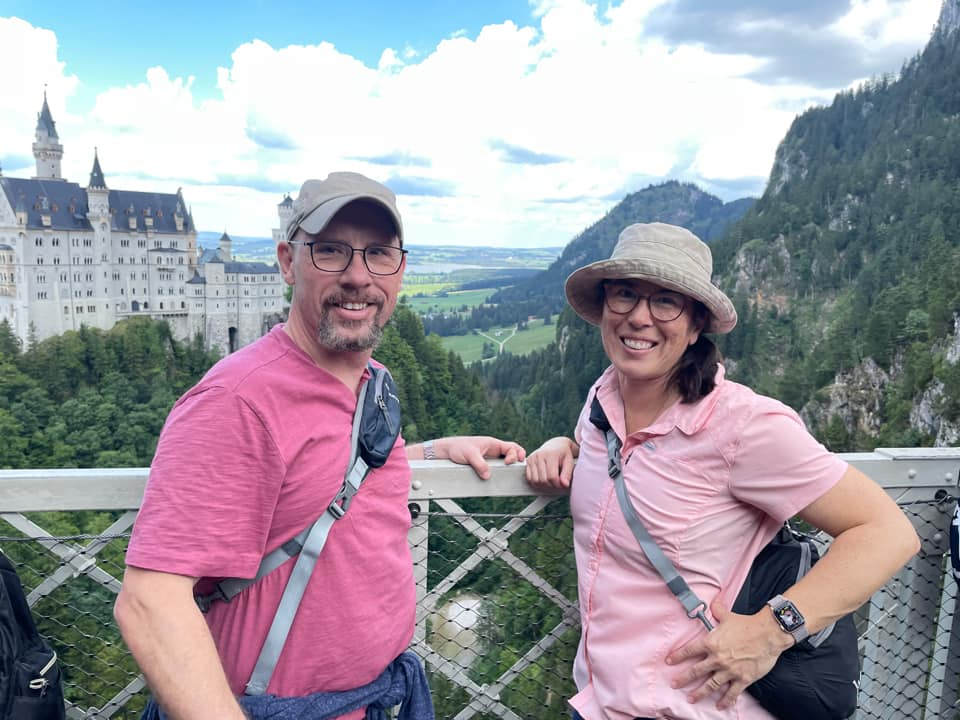 30 July 22: We took a guided tour — arranged through the Edelweiss Resort — of Neuschwanstein Castle, King Ludwig II of Bavaria's fanboy ode to the composer Richard Wagner. The king perished mysteriously before it was completed, in the 1880s, and the castle was left unfinished.
Our tour guide, Kristen, made a funny comparison: "Pick the genre you're most a fan of and imagine building your dream mansion with each room themed after part of that genre." Star Trek? LotR? Harry Potter? Naruto? Kristen picked "Avatar, The Last Airbender"
In this case, the rooms were modeled after Wagner's works: "Tristan and Isolde", "Parsifal", "Lohengrin", etc. The stories from those works were told in paintings around the rooms. (No photography allowed inside the castle).
The castle is pretty amazing, and you get quite a glimpse into Ludwig's isolationist personality during the tour. As many of you probably know, Walt Disney's inspiration for Disneyland's Sleeping Beauty castle was based on Neuschwanstein.
In addition to seeing the castle, we saw the Wieskirche, built around a miracle statue in the 1700s, and is now part of the Romantichestraße pilgrimage route and is a UNESCO World Heritage site. We stopped for some special "Wies Doughnuts" after seeing the church.
We did a LOT of hill walking today and I'm definitely starting to feel the 2 weeks of walking around. Ow…
We had a late lunch at the base of the castle before heading back to the hotel.
Tomorrow we bid farewell to Garmisch-Partenkirchen and we head a few kilometers up the road to Oberammergau for our next adventure.