Yes, we are preparing for Issac.  We've been through this routine before — in 2004 with numerous storms, and we've already had a couple near misses here.
Dave, the kids and I took care of a lot of stuff last evening (after a wonderful afternoon boating with our friends the Scotts), to include burning the enormous pile of palm fronds and branches that had been sitting much of the summer in a corner of our backyard.
Today I will be attempting a trip to my local Walmart just for some groceries.  I'll toss our 10 gallon gas can into the car just in case.  Although Facebook friends are saying that only premium gas is left in our community.
The kids don't really know what to expect.  The 2004 storms impacted us right around Jacob's 2nd birthday, and I was pregnant with Timmy at the time.  For Hurricane Jeanne, while I was evacuated with my Air Force unit, Dave stayed home with Jacob and Howie…and Jacob slept through the whole thing.  Dave says he doesn't wish staying home in a Category 3 storm on anyone!
We have plans to let the kids "camp" in our living room Tuesday evening if need be…to get the kids away from the exterior walls of the house.  All the bedrooms are on exterior walls, and not knowing whether the storm will make landfall to the east or west of us makes it tough to predict what kinds of problems to expect here: winds? flooding from storm surge?
Here are some random tips I threw on my Facebook page earlier today:
Make sure you have your loose items inside the garage/shed/back porch
Put your emergency lighting, first aid, etc. in a place that everyone is familiar with in case of a power outage in the middle of the night
Designate an interior room to run to for maximum safety.
Attempt to fill your refrigerators/freezers with as much as you can, if it loses power, it will slow down the warming of the foods inside. Many renters'/homeowners' policies have special riders to compensate for thawed food…USAA has a deductible-free rider (but I can't promise whether you have it or not….you have to check for yourself).
The track of the storm is wavering quite a bit, with the latest track forecast (as of this writing) centering around Biloxi MS and the "cone of uncertainty" extending from Port Morgan, LA to Destin, FL.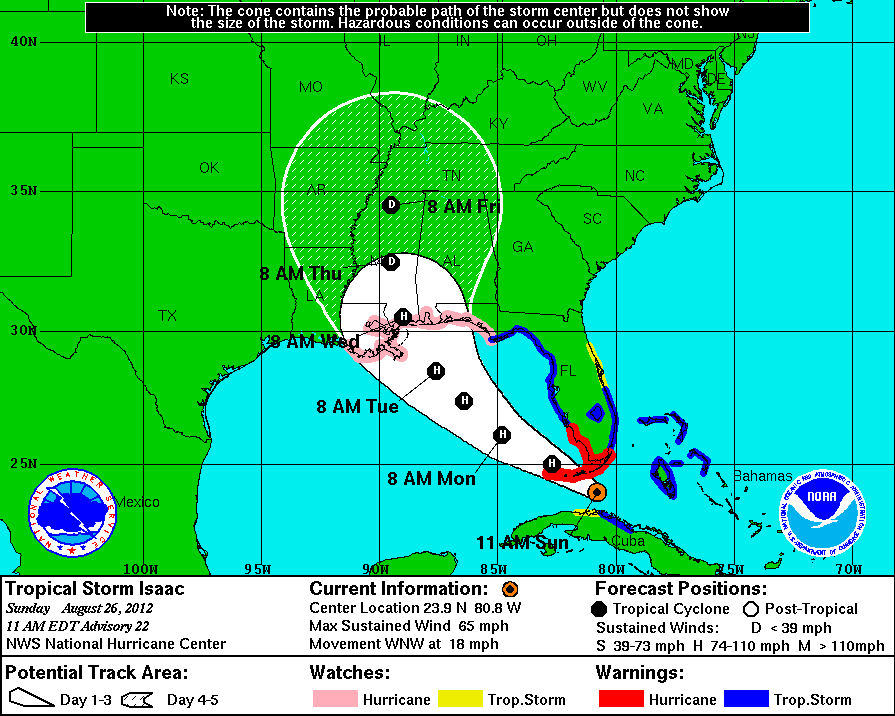 It's important to note that as the storm's intensity changes, its ability to impact surrounding weather systems can change.  A strong hurricane will work its way under a high pressure system, while a weaker storm would keep to the periphery of a high pressure system.  Issac's intensity is so uncertain right now, all we can do is wait…
…and be prepared!
I've written several blog posts for GeekMom about weather preparedness, I will share them here so you too can be prepared:
The Semantics of Weather Awareness — featuring a plea by Dr. Jack Hayes, the head of the National Weather Service, for citizens to take personal responsibility for weather awareness.
The March 2nd Tornado Outbreak: Well Predicted, Well Warned — the 2nd half of this article discusses the importance of NOAA Weather Radios.  If you don't have one, it could be the best $20 you ever spend.
Tips for Atlantic Hurricane Season 2012: A one-stop shop for all things hurricane-preparation related.
Good luck to the readers along the Gulf Coast!