A small British grocery store opened up right up the street, called The British Pedlar. The ladies who are running the store are very kind and they have just about everything that I remember from my childhood, when my mom would frequent the British grocery store in Virginia Beach OR she'd bring things back from our trips to Hong Kong when I was a kid.
The store has everything I remember except one thing: Bovril! Click that link to read more about Bovil not being available in the U.S. The ladies said it's just too complicated and the FDA is really slow-rolling the customs approval process even for the non-beef version.
On my last couple of visits to the store, I'd pick up some treats for the family: locally-made banger sausages (Mom, we'll hit the store and I'll get you some while you're visiting next month, they have THREE brands to choose from!), McVitie's Digestives, Cadbury's Dairy Milk bars and Smarties candies. I'm accustomed to the Smarties being sold in small cylindrical containers like this:
Ha ha! Fooled many of you, didn't I? Perhaps the introduction about British food tipped you off…but I'm sure many of you were still thinking about "American" Smarties: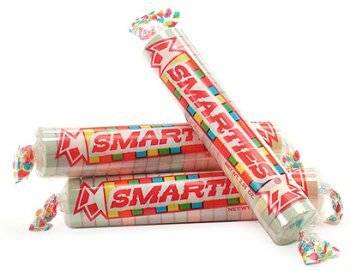 For the unfamiliar, Nestle's Smarties are very similar to American M&Ms. Chocolate drops covered in a hard candy shell. But there's a…well…fruitiness to the Nestle Smarties that I've always enjoyed.
Anyway, on my most recent visit this week, the store was out of the smaller packages of Smarties, so I picked up a bigger box. I'd never seen the bigger box in detail, so I was intrigued by the picture on the back.
Love the "colours"!
I knew there was a fruity flavor (flavour?) to the Smarties but I never realized I was tasting the all-natural coloring to the candy shells! The kids got a kick out of the picture and the information, then got a bit squirmy about eating any more of the green ones, ha ha!
Eating Nestle's Smarties brings back so many memories, and I enjoy sharing these things with the boys.