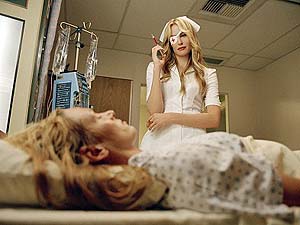 Okay, maybe I'm jumping the gun a little by considering it dead already since technically it's still serving its purpose.
For those who had been following the adventures of my poor dilapidated Dell Inspiron 4100 "Kitchen Laptop" (yeah, I'm sure I'm so popular that you guys are following my laptop), yesterday was another step in the eventual death of a computer that I REFUSE TO LET DIE! After getting my Macbook in April 2009, the "Kitchen Laptop" (as it was fondly named when we got to NC in 2005), actually became the "Living Room Laptop" as it hosts our weather webcam pointing out our front living room window.
The screen stopped working. I had made a point to nix all screen savers/sleep/hibernate modes on this laptop a couple of rebuilds ago because of its inability to come out of sleep. Like it went into a coma, and the only way out was a cold restart. So when I walked past our laptop in the living room yesterday, I should have seen the webcam image fully across the screen. It's the only non-critical software on the laptop now, in fact. A copy of "TinCam" runs in full screen with the image in real-time. Every minute, the current image is FTPed to Weather Underground for posting to our weather station's website.
If you're reading this via my Blogger page, that image is to your right. If you're on Facebook, you can see the image here.
So I know the Kitchen Laptop is working. It's sending out the webcam images. In fact, I'm sure if I hauled our desktop's monitor over to the laptop, I could plug it in, hit "Function + F5" and see the screen just fine. I know what the problem is.
But I don't feel like taking the time to continue to troubleshoot. I feel like a caretaker for a very old pet, or a very old human even. Once the computer, pet, person gets too old, is surgery going to really help the individual get better? Does the risk of surgery outweigh the benefits of the surgery?
Instead, I'm goin' SHOPPING!
I've been interested in the new Dell Inspiron Zino for it's stylish appearance and ability to customize to exactly what we want. I think this is what we'll end up getting, thanks to Dell's Military Employee Purchase Program. Free shipping and decent discounts on the Zino.
As for hosting our webcam, Dave's 4.5-year-old Gateway laptop can do that. The hinge supporting the screen is broken, so one has to prop open the lid to do work on it, but it's otherwise a good computer.
NOTE: I took some time the other night and was reading through my first blog posts from January 2008. Boy was I funny! And boy was the posting profuse! I need to do better than I have been. Perhaps I need more going on in my life than all this snow. Now that some of my blog posts are contributing to another website, I'll definitely be keeping my eyes out for more weather items to post about. Another snowstorm coming up this weekend???