I'm a huge fan of beans.  All kinds of beans.  Unfortunately, I married a man who doesn't like beans.  So I didn't have them very often until Jacob was old enough and he loves them as much as I do.
This recipe I'm about to share came from an apron that my Mom bought as a souvenir on a family trip to New Orleans in 1987 or so.  My Dad was there while ship spent some time near New Orleans for some work in a shipyard.
Here is the apron, which I now own.
A close up of the recipe is in order.
Dave was TDY to Arizona this past week, so it was a great opportunity to make this recipe for the kids and me. The only fat in the recipe is in the ham bone (or ham hock in my case) and in the sausages.
Living in the deep South, it wasn't hard to get everything on the list. I made a half recipe with just one pound of beans, and for the smoked sausages, I tried a local brand: Conecuh Cajun Smoked Sausage.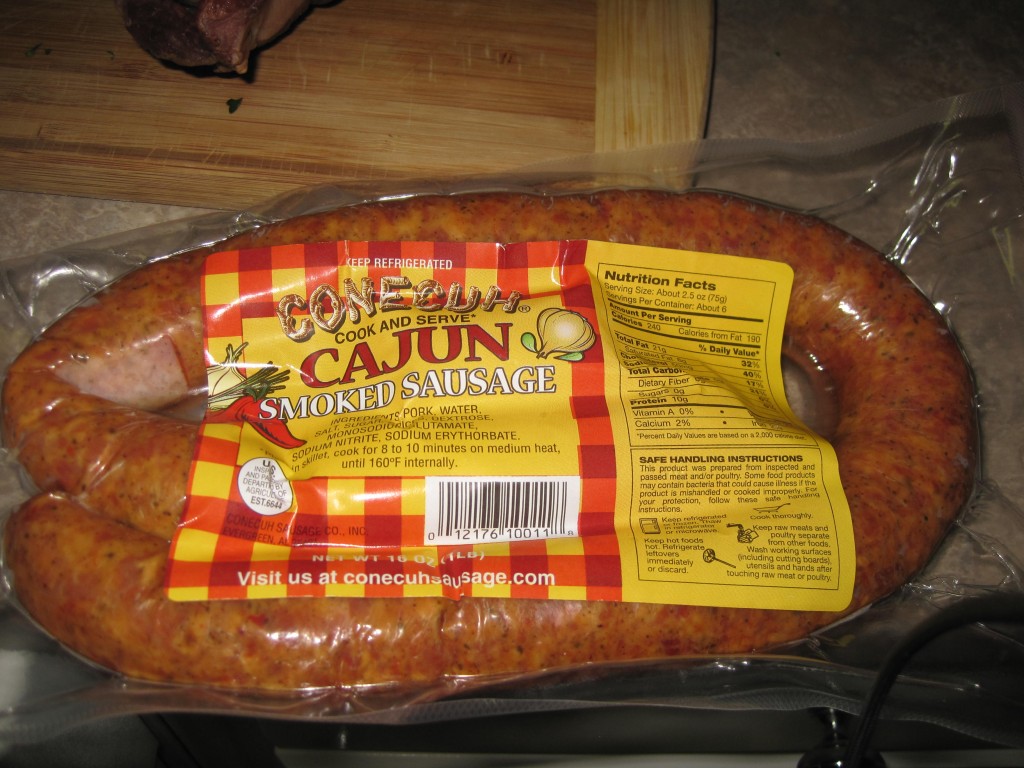 Serve it up on a bed of white rice with Tabasco at the ready. Want to be healthy? Use brown rice, but the colors don't seem the same when it's brown rice…
One more thing — this meal freezes up SO WELL!  It's also great for pot lucks and for when you're cooking for friends and neighbors.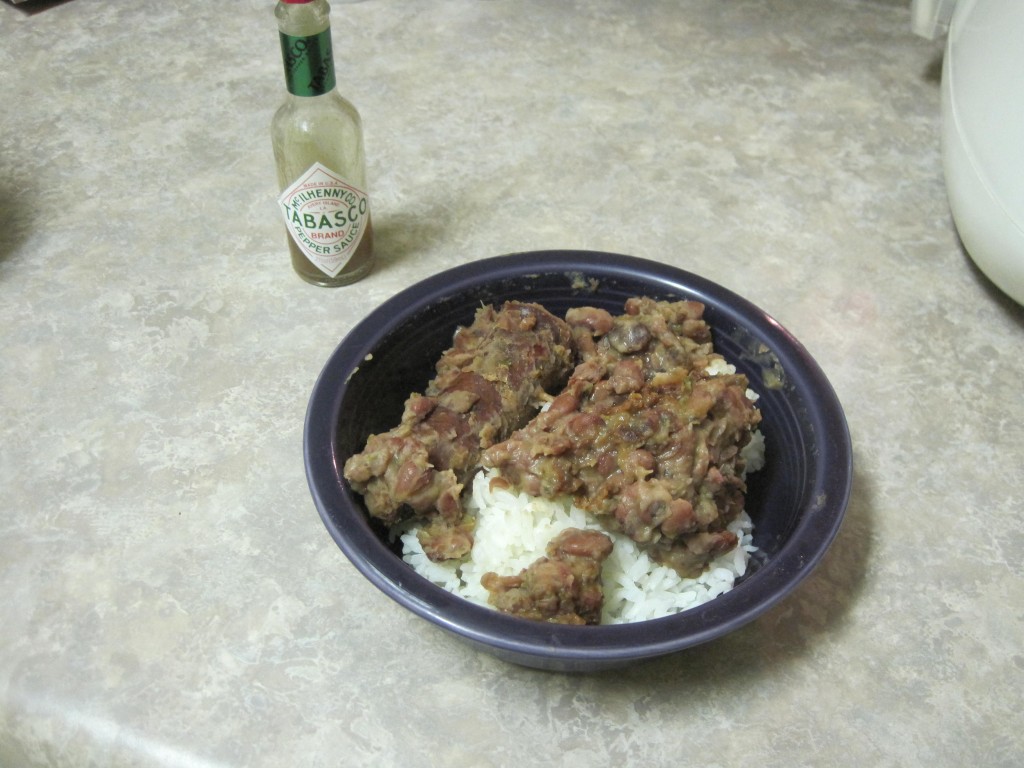 If you want a copy of this recipe for your own use, I'll type it out here instead if you having to print out a picture of an apron.
"New Orleans Style Red Beans & Rice"
2 lbs. dried kidney beans, soaked overnight (I use "small red beans")
2 c. chopped onion
1 Tbsp salt
1/2 c. chopped shallot tops
1/2 tsp. black pepper
1/2 c. chopped bell pepper
1/8 tsp. cayenne pepper
1 1/2 Tbsp. garlic (chopped or pressed)
1/8 tsp. red pepper flake
2 Tbsp. chopped parsley
2 bay leaves
6 smoked sausages
1/2 tsp. thyme
1/8 tsp. basil
1 meaty hambone (or 1 large or 2 small ham hocks)
2 c. boiled white rice
Combined all ingredients (except the rice) in an 8 qt. pot with enough water to cover.  Bring to a boil.  Reduce heat to a simmer and cook for 3 hours.  Stir often to prevent scorching.  Serve 1 1/2 c. of beans and meat over a serving of cooked white rice.