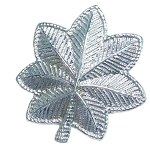 I think Dave is going to look outstanding in these!!!!
Yesterday afternoon Dave received the news from his commanders that he has been promoted to Lieutenant Colonel. Yippee!
The family is so proud of Dave. Yesterday we went out to one of our local favorite restaurants, Quaker Steak and Lube in Council Bluffs for some wings and beer to celebrate. Nothing huge, since it was a school night.
I had bought a greeting card in late July, and even had the boys sign it along with Dave's birthday cards about 4 weeks ago. The card had been sitting, sitting, sitting, while we waited, waited, waited for this list to come out. I got nervous that I had jinxed things by having everyone preemptively sign the card.
Dave has a line number of 833. Every month Congress and the Air Force designates how many of those selected for promotion will get to put on their new rank. It's a budget thing. Currently about 130 selectees get to put on their new rank each month. At this rate, I don't expect Dave to wear his new rank (or see his new paycheck) until at least next summer sometime. And that monthly increment can change according to budget needs…so folks don't really know for sure what month until 1-2 months prior.
And the goober I am, since I wrote that title up there, this song has been stuck in my brain, so I figured I'd share it with the rest of you. Even though the song itself is totally unrelated to military promotions.