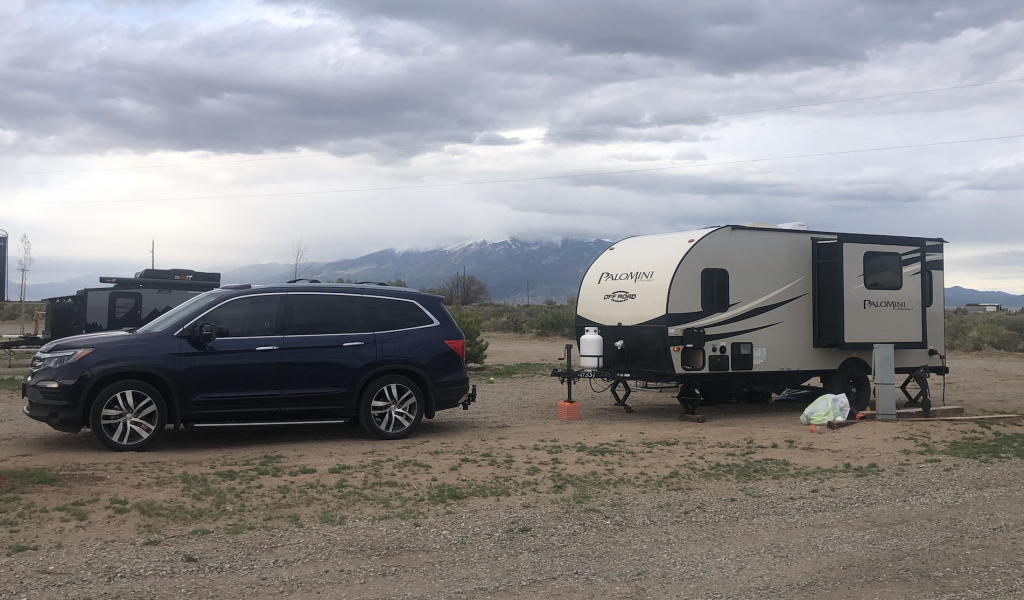 Statistics
Name of Campground: Base Camp Family Campground
Location: Approximately 7 miles east of Alamosa, Colorado.
Miles Traveled: 170 each way
Dates Stayed: Friday, May 21 – Monday, May 24 (3 nights)
Cost Per Night: We paid $45/night: rates vary depending on season, holidays, etc. The rates go up to $53/night starting Memorial Day weekend.
Site #: 5, Pull-thru
Hookups: Full hookups, with 50/30/15 amps available
Amenities: Small campground, but growing // Massive 112'x40′ pull-through sites // Sites are angled strategically such that your camper door faces northeast, shielding you from the prevailing southwesterly winds // Currently only 13 sites, but the owner has plans to expand // Opportunity for overflow dry camping (boondocking) to accommodate busier times, such as if you can get a Friday and Sunday reservation, but not Saturday // New shower/laundry building: 4 large private individual shower rooms that include toilets and sinks, too
Needs Improvement: No shade: the owners have planted numerous ponderosa pine and aspen, but it will be a while before those provide useful shade // No playground for the kids (there is a basketball hoop on the premises but the wind knocked it over)
Cell Signal/WiFi: Good but not great. WiFi is transmitted from the roof of the shower building. The closer you are to the building, the stronger the signal. Signal deteriorates during high usage (such as in the evenings when everyone is back at camp). We were able to use our Roku TV and laptops well, but our cell phones struggled with the WiFi. There is a cell tower less than 1/2 mile away, but our cell signal was hit-or-miss.
Who Came on This Trip: Dave and Patricia.
Continue reading "Camping Trip Review: Base Camp Family Campground, Alamosa, CO"