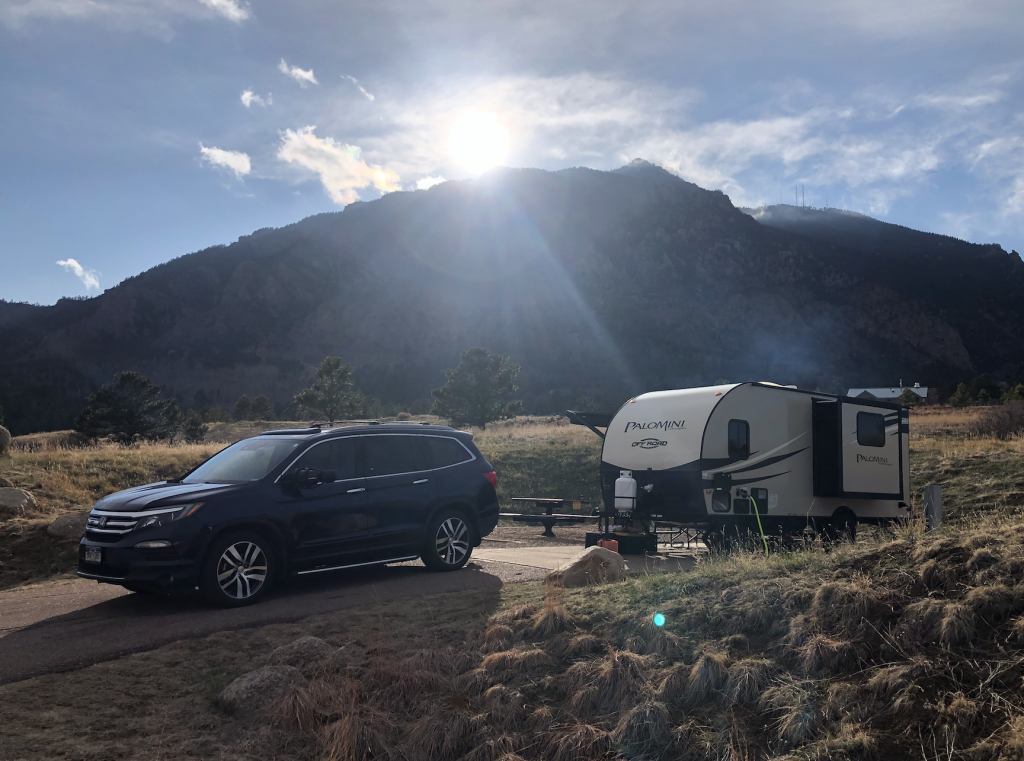 Statistics
Name of Campground: Swift Puma Campground, Cheyenne Mountain State Park
Location: Colorado Springs, CO, just west of the Fort Carson Army Installation.
Dates Stayed: Friday, April 23 – Sunday, April 25 (2 nights)
Miles Traveled: 23 each way
Site #: 22, Back-in
Hookups: Full hookups!
Amenities: Full hookup at all 51 of their RV sites // Numerous walk-in tent sites // All the of park's RV and tent campgrounds surround a very new, very nice camper services building with showers, laundry, and activities // Each of the campgrounds also has their own flush toilet building // Hiking trails are woven throughout the campsites, making it easy to access the more challenging hiking, bike, and equestrian trails // The best marked, best mapped hiking trail map of any Colorado State Park I've visited.
Cell Signal/WiFi: Virtually non-existent. There was no WiFi, and most of the time Dave and I had 1-bar with our Verizon cell service. It was enough to upload the occasional photo, and send texts to the kids and friends, but little more than that.
Who Came on This Trip: Dave and Patricia. The boys and Ranger stayed home but were right up the road.
Continue reading "Camping Trip Review: Cheyenne Mountain State Park, Colorado Springs, CO"