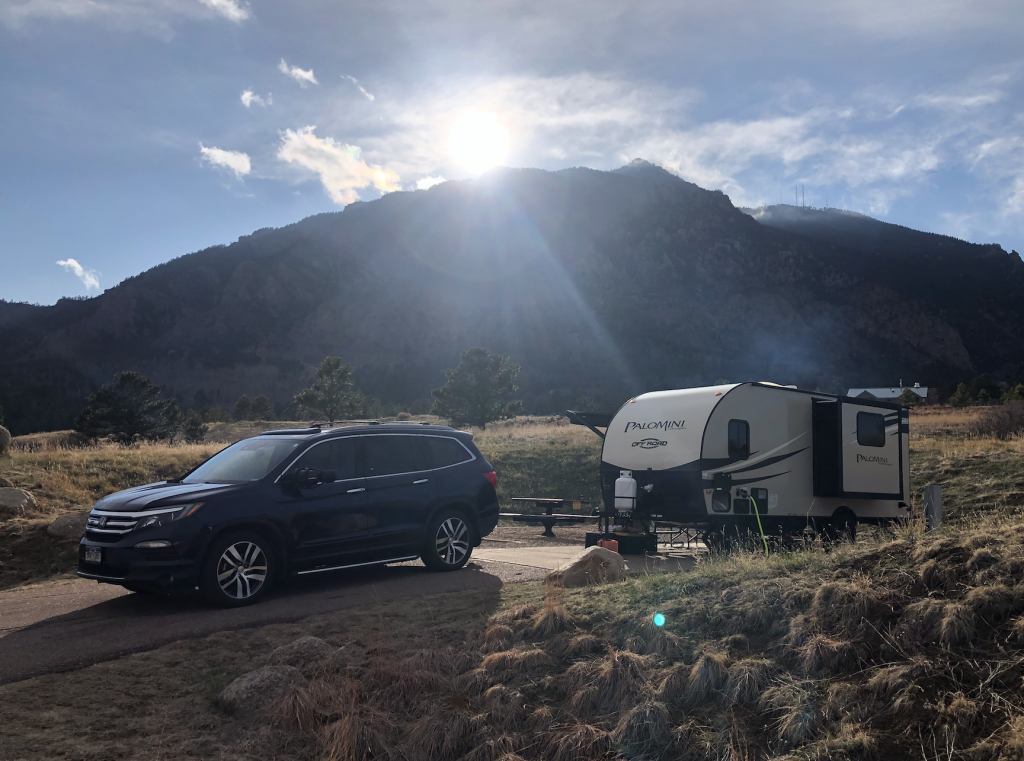 Statistics
Name of Campground: Swift Puma Campground, Cheyenne Mountain State Park
Location: Colorado Springs, CO, just west of the Fort Carson Army Installation.
Dates Stayed: Friday, April 23 – Sunday, April 25 (2 nights)
Miles Traveled: 23 each way
Site #: 22, Back-in
Hookups: Full hookups!
Amenities: Full hookup at all 51 of their RV sites // Numerous walk-in tent sites // All the of park's RV and tent campgrounds surround a very new, very nice camper services building with showers, laundry, and activities // Each of the campgrounds also has their own flush toilet building // Hiking trails are woven throughout the campsites, making it easy to access the more challenging hiking, bike, and equestrian trails // The best marked, best mapped hiking trail map of any Colorado State Park I've visited.
Cell Signal/WiFi: Virtually non-existent. There was no WiFi, and most of the time Dave and I had 1-bar with our Verizon cell service. It was enough to upload the occasional photo, and send texts to the kids and friends, but little more than that.
Who Came on This Trip: Dave and Patricia. The boys and Ranger stayed home but were right up the road.
De-Winterizing
This was our spring "de-winterization" campout. We purposefully chose a close location so we could run to the store if we needed something (as you'll read momentarily, we did need something).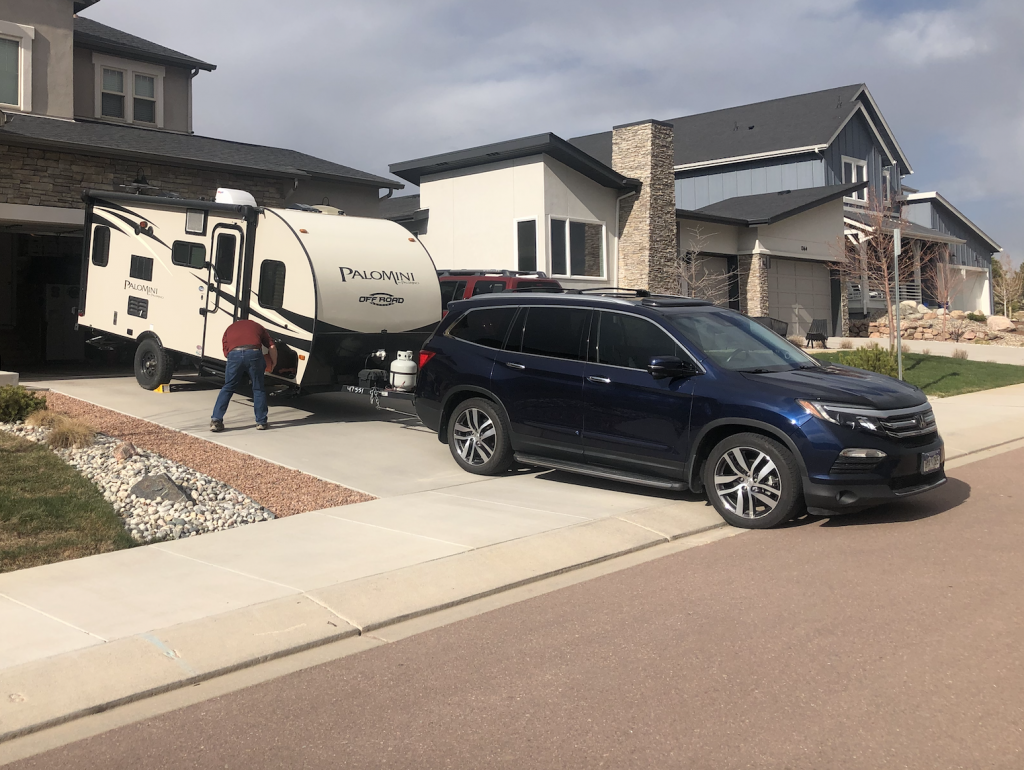 What is winterizing? It's the process of preparing a camper for a long, cold, dark winter. For many RVers, it's not an issue if they live in warmer climates, or they have a flexible lifestyle and can just move southward towards warmer weather in the wintertime. For the most part, it's a series of steps taking to drain and purge as much water as possible from the plumbing systems to avoid freeze damage. Dave and a friend did the winterizing themselves, and before we took Bojack out for his first 2021 campout, we need to "de-winterize" him.
There's a series of bypasses to the plumbing system that need to be put in place before a non-toxic anti-freeze* goes into the system, and to de-winterize, we flush out the anti-freeze and then set up the plumbing to redirect the water to where it needs to go (filters, hot water heater, etc.)
We were able to bring Bojack to the house and we took care of most of the anti-freeze flushing and bypass-redirecting at the house. Then, the next day, we packed him up and set out for Cheyenne Mountain State Park.
*If you didn't know, RV anti-freeze is very different than automotive anti-freeze. Do not interchange the two! 
The Camping Weekend
The Drive
The drive there was pretty nondescript. Which is a good thing, right? It was Friday afternoon commuter traffic on Interstate 25 going straight through downtown Colorado Springs, so the traffic was a little heavy, but Dave did great.
We were at the park within 30 minutes, and Dave did a great job backing into our site with little-to-no drama.
The Setup
This was our first camping trip with full hookups. Remember, last fall at Chatfield State Park we couldn't get a full hookup site, so we dealt with external water sources and dump stations.
But this time? Oh happy day! It was so easy to connect the power, a water hose, and the sewer hoses right there at the site!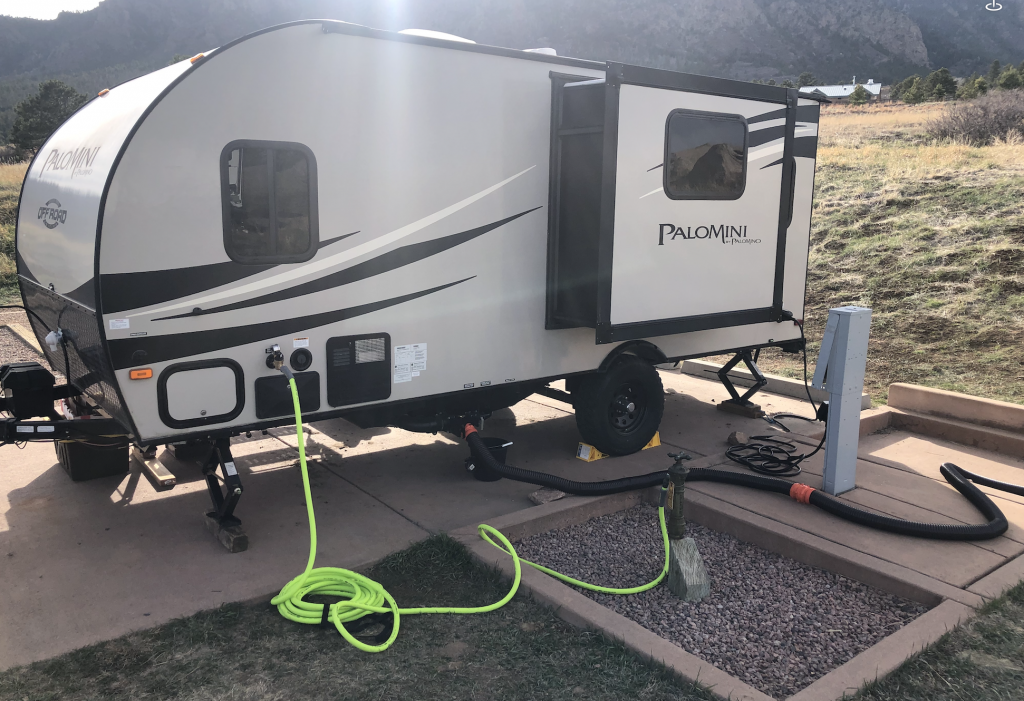 The site was level so it was also very easy to level off the trailer with little drama.
The Shakeout
The point of this weekend was to make sure all of our systems were working. So we make to point to test out as many things as we could:
Electrical
The electrical shakedown went very well. The lights, fans, outlets, and A/V systems all worked as required.
Plumbing
This got a little more complicated. Since we were on a "city water" hookup on this trip, we needed to get to know some of the other nuances compared to the last trip. This included testing a water pressure gauge that keeps the city water from entering Bojack with too high a pressure. That seemed to work well.
One of the tasks for de-winterizing is to re-install an anode in the hot water heater; this prevents corrosion of the interior walls of the tank. Dave had planned to install a new anode, which required some Teflon plumbers tape to create an effective seal. We really struggled with that seal, and the anode outlet kept leaking water. It wasn't a monumental leak, so we decided to visit the local Camping World up the road and see if there was a better option for the threaded anode rod. We tried a different one and it seemed to do the trick. Phew!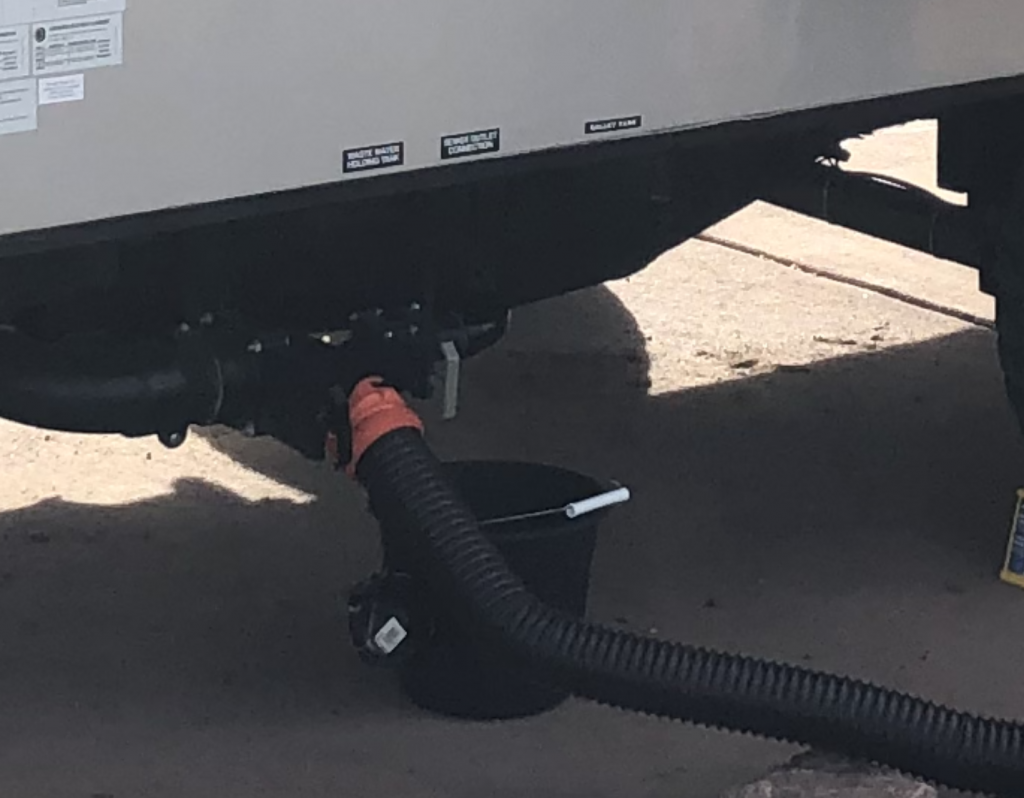 We saw a very slow leak appear near the grey water release valve, a small crack in the PVC. Super slow…like, 1 drop of water every 5 seconds. Dave likes solving these problems as soon as possible, but in this case, we decided that one drip every 5 seconds wasn't a showstopper and we put a bucket under the drip for the rest of the weekend. Dave got some products this weekend and plans to make the repair to the pipe by the end of the week.
We struggled with the hot water all weekend. The hot water spigot at the sink and shower would run warm briefly, then turn cold again. It was so strange. There were no problems with the hot water heater itself. It turned on when it was supposed to. Fortunately, the weather was warm enough that we did okay without the hot water. I had to boil some water to wash dishes and I ended up taking a pretty cold shower, which was my test of the on-board shower….the shower works great, and I'm sure it will be better when the hot water heater is working fully….hopefully on our next trip!
It wasn't until the very end of the trip — on the drive home! — that Dave realized the culprit. During de-winterization, lots of valves get turned to resolve the bypasses to keep water from freezing in the water lines. There was one bypass valve that might not have been returned to the original setting for the season. As soon as we got Bojack home, he checked, and that was exactly what needed to be done! Hopefully things are better for us on our next camping trip in May.
Appliances
This shakeout trip also was meant to check appliances. So we made sure to use the fridge, stove, air conditioner, and microwave. All seemed well.
We also set up the TV, connecting it to the HD antenna, to make sure it still worked. Unfortunately, with no WiFi, we couldn't connect to any of the Roku channels, but the HD antenna worked well: Dave and I spent one of the evenings watching the parade of Law & Order episodes that dominate NBC on Saturday nights.
Other Systems
Bojack has a "weight distribution" hitch. We were very fortunate to get one included when we bought Bojack last summer. Dave and I have been dealing with constantly setting up the hitch a little too loosely. Last fall at Chatfield State Park, we had one of the sway control bars drop out and drag on the ground after filling our water tanks. On this trip, one of the sway bars fell off while taking a tight cloverleaf turn on I-25 when first bringing Bojack from the storage lot to our house. Scrambling to fix the sway bar on the side of the interstate was somewhat freaky.
Dave and I have come up with a new technique to tighten the sway bars and so far things have been okay. It takes a lot of strength to get them as tight as they need to be, and we need to be sure they're tight enough to overcome changes in weight, tight turns, and dips in the road. Not easy.
Hiking
Cheyenne Mountain State Park's biggest attraction is the network of hiking trails woven throughout the park.
Dave and I spent most of Saturday, in between ops-checking systems, hiking the park. There was an ultra-marathon on many of the trails on Saturday, which disrupted our original plans. Dave and I were able to hike about 3 1/2 miles in the morning on the far-northeastern trails, then after the ultra-marathon was over, at about 4pm, we were able to hike another 3 1/2 miles before dinner.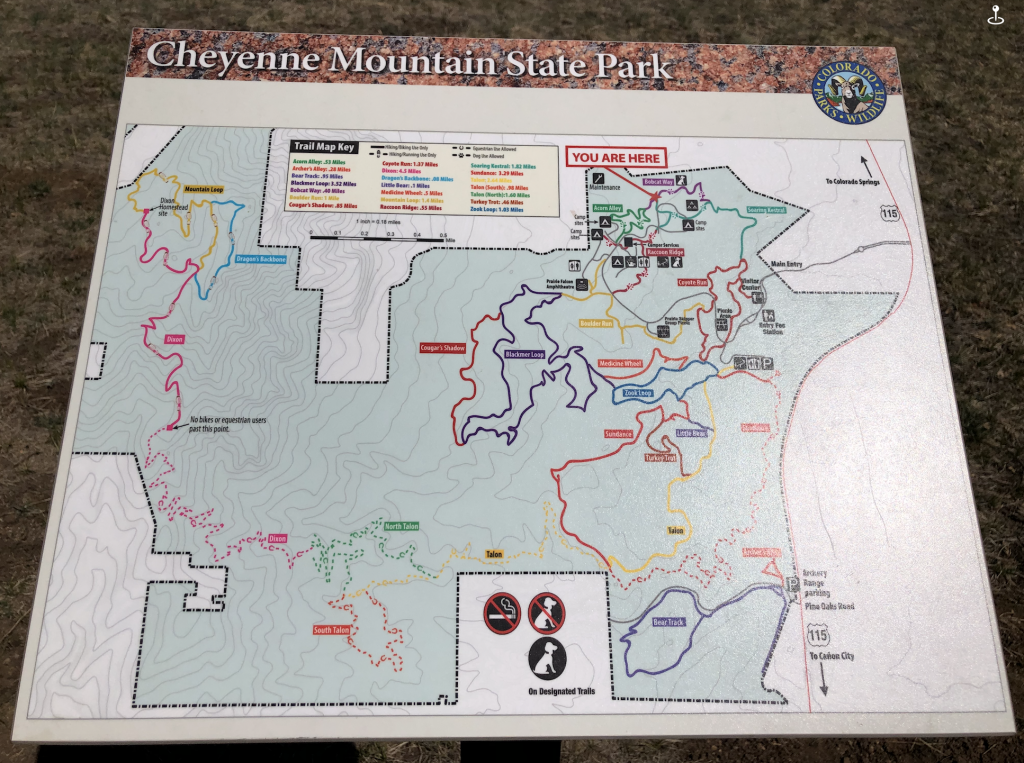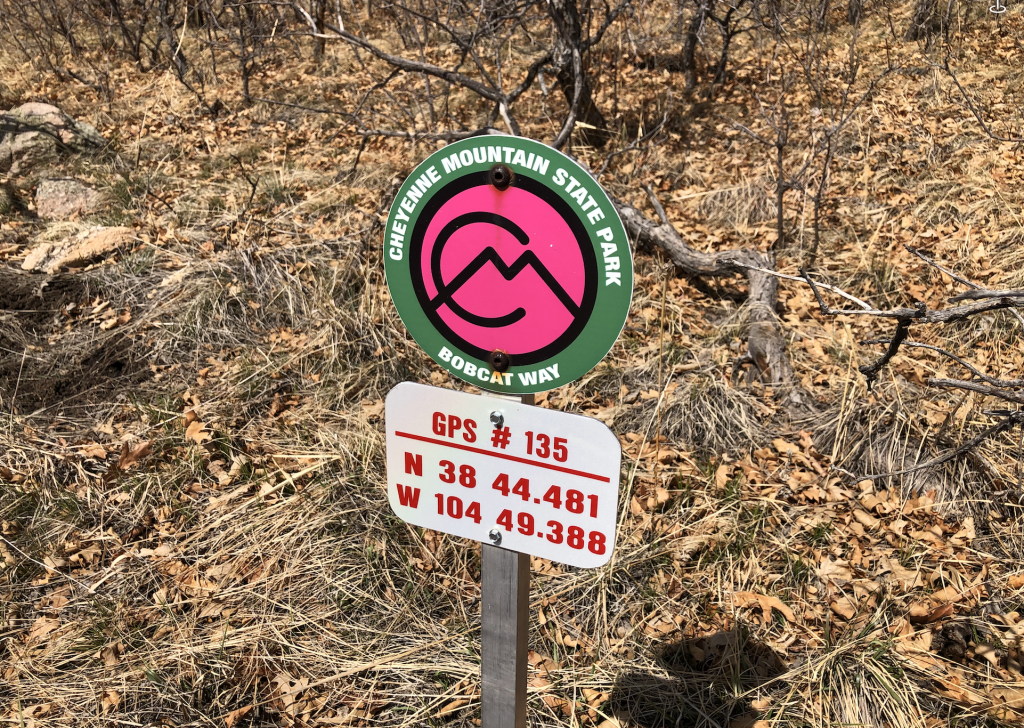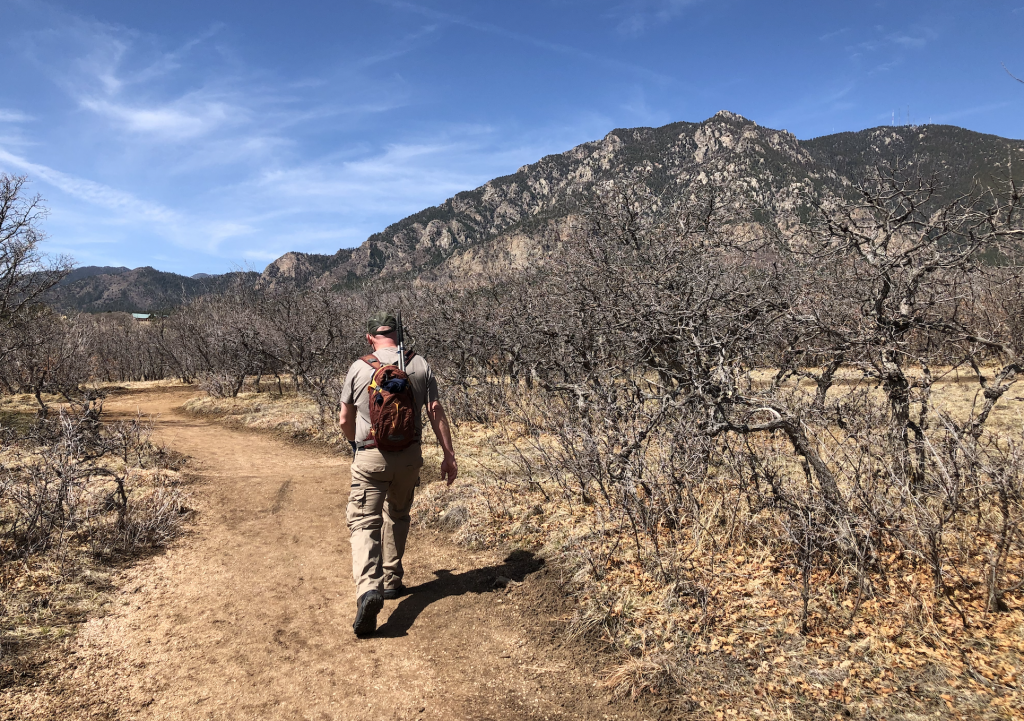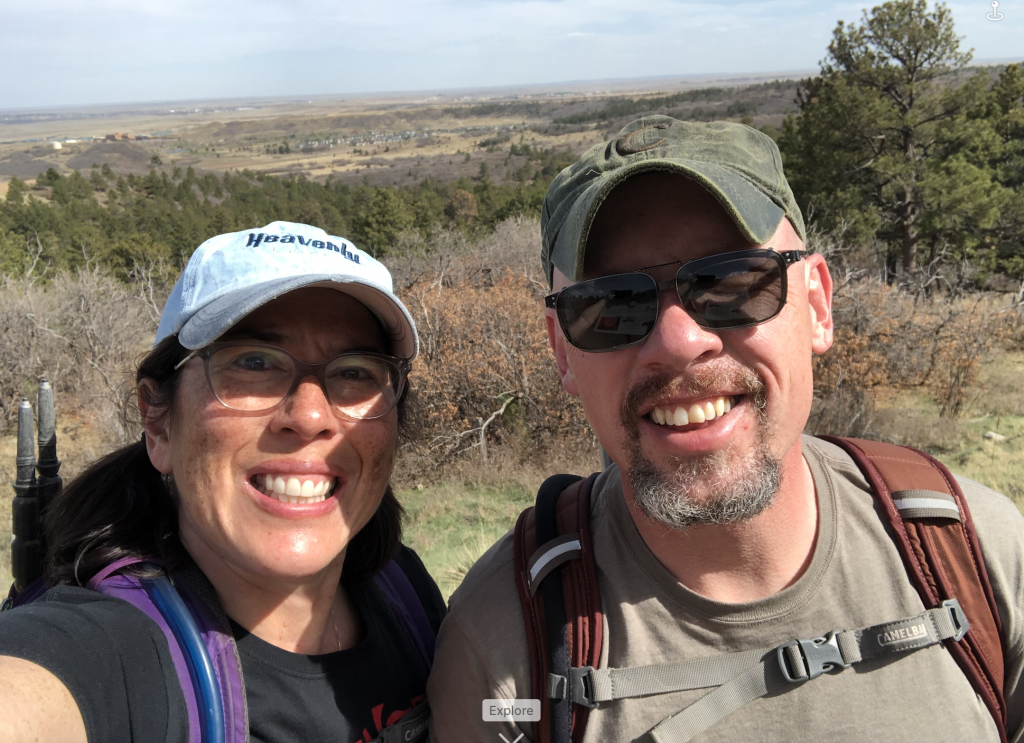 Lessons Learned?
The big issues seem to be related to fully de-winterizing the water systems. We hopefully will have more hot water on our subsequent trips.
Also, we are getting better with the weight-distribution hitch.
Next Trip:
We're opening up Bojack's aperture a little, with a more ambitious trip to Base Camp Family Campground, Alamosa, CO, May 2021. It'll be about a 2.5 hour drive, including up and over La Veta Pass. We plan to visit the Great Sand Dunes National Park.
In addition, Dave and I made a couple more reservations as autumn dates became available to us: Royal Gorge (near Cañon City) in September and Mueller State Park in October with some friends. We continue to remain in Colorado.