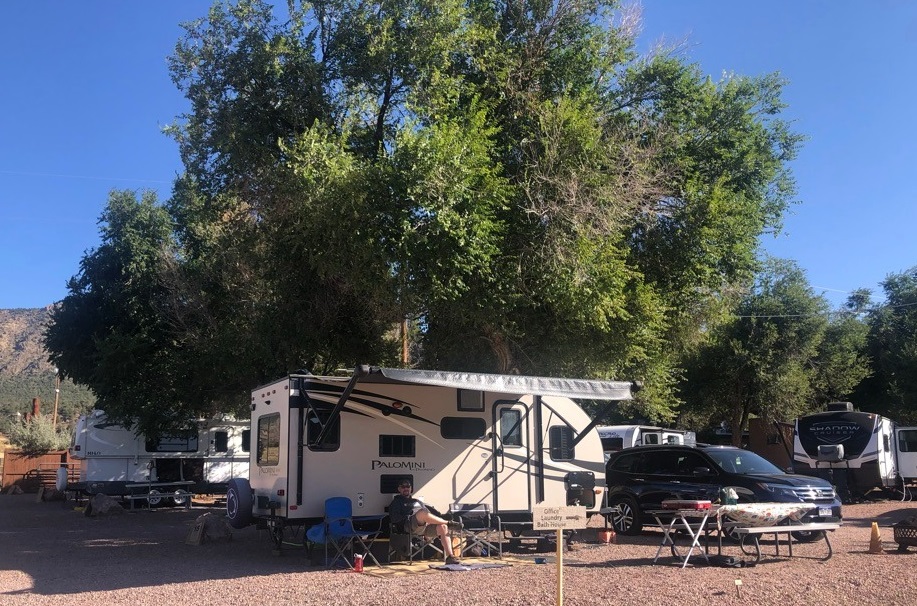 Hello!!!
We're here! As Bojack sits at his parking spot at the USAF Academy, we here have been planning our camping weekends for the year. I need to update our map too.
Since 2022 is also the year that we're able to start traveling in other ways, after two years of no significant travel, our camping season is a little less than before. It's still not bad, though. Usually our goal is one camping weekend per month, between about April and October.
As of this writing, we have reservations for April, May, July, and August, with the April trip right up the street at the USAF Academy FamCamp, an RV campground on the military installation itself.
Like last year, we keep our April camping trip local, and we have no plans except to make sure all systems are working. We identify problems that need to be solved, and try to take care as many of those problems as possible during the weekend itself. There's a Walmart right outside the USAF Academy South Gate, and that'll be quick and easy to pick up parts.
After the August trip, which will be Bojack's first trip to Mueller State Park, we left our plans up in the air. We may just do a random "Find a Campsite" thing later this summer. Read more about that below:
Colorado State Park Reservations
A cool capability on the Colorado Parks and Wildlife Website is the ability to simply input the dates during which you want to camp, along with some attributes of what kind of site you need (i.e., RV site with 30 amp electric and water). Hit "Search Campgrounds" and it will quickly filter out what's available on a particular weekend. Use the "Advanced Options" to further filter. We will likely do something like this later this summer as our autumn plans fall into place.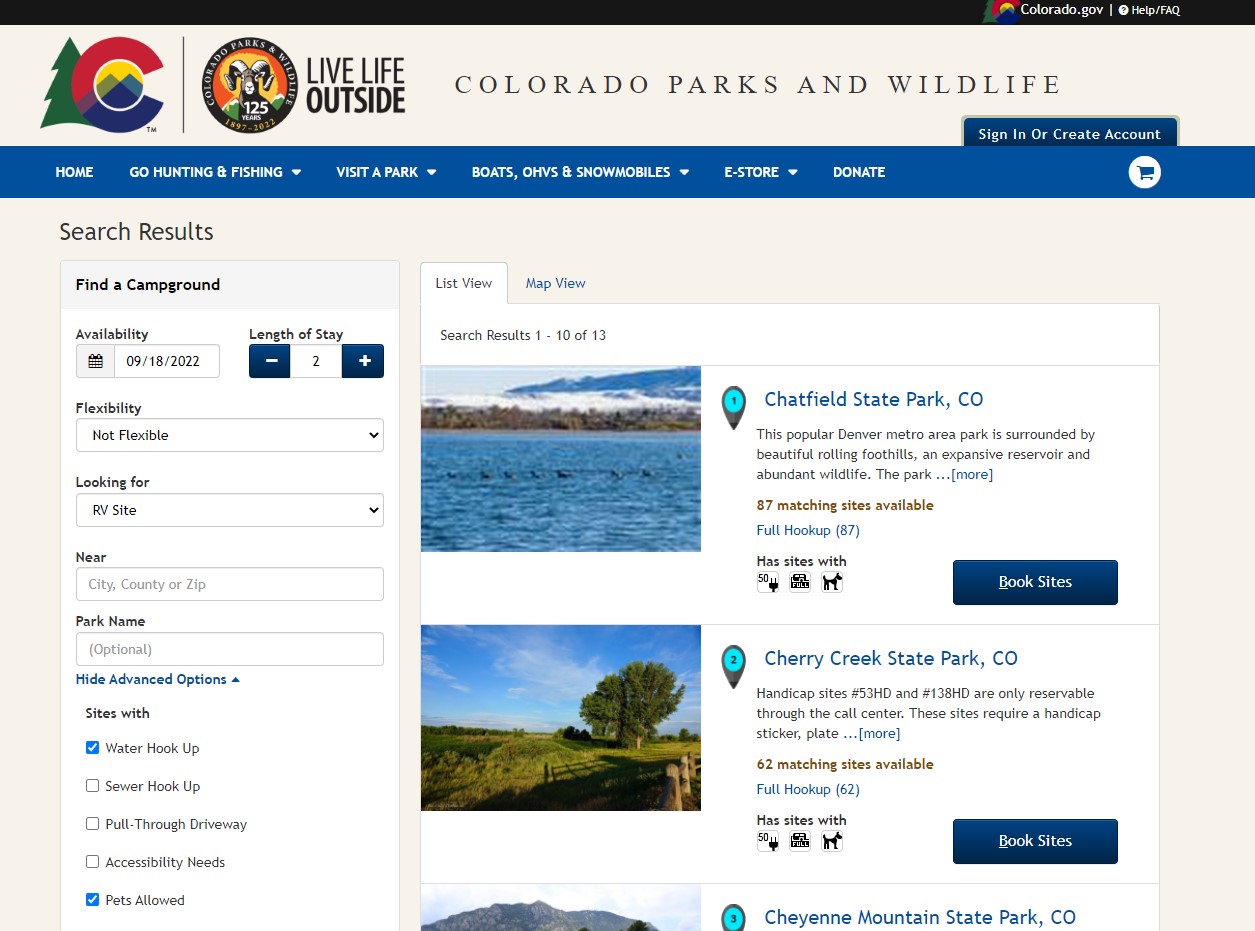 You can reserve in Colorado State Parks 180 days out, for up to 14 days per reservation.
This can get complicated, especially in a place like Colorado.
For example, today (March 18, 2022), I can start a reservation on September 18th, and I'm allowed to reserve 14 nights of camping from that point. Therefore, if I'm interested in a camp site for the weekend of September 30th and October 1st, today is the first day I can take that site. Effectively 194 nights in advance.
This happens all the time. You can see the sites getting snagged up currently for that first weekend of October, which will be in the heart of aspen season for many of Colorado's state parks. If someone only needs the nights of 9/30 and 10/1, and if their checkbooks allow, they can reserve 14 nights and later release nights 1-12.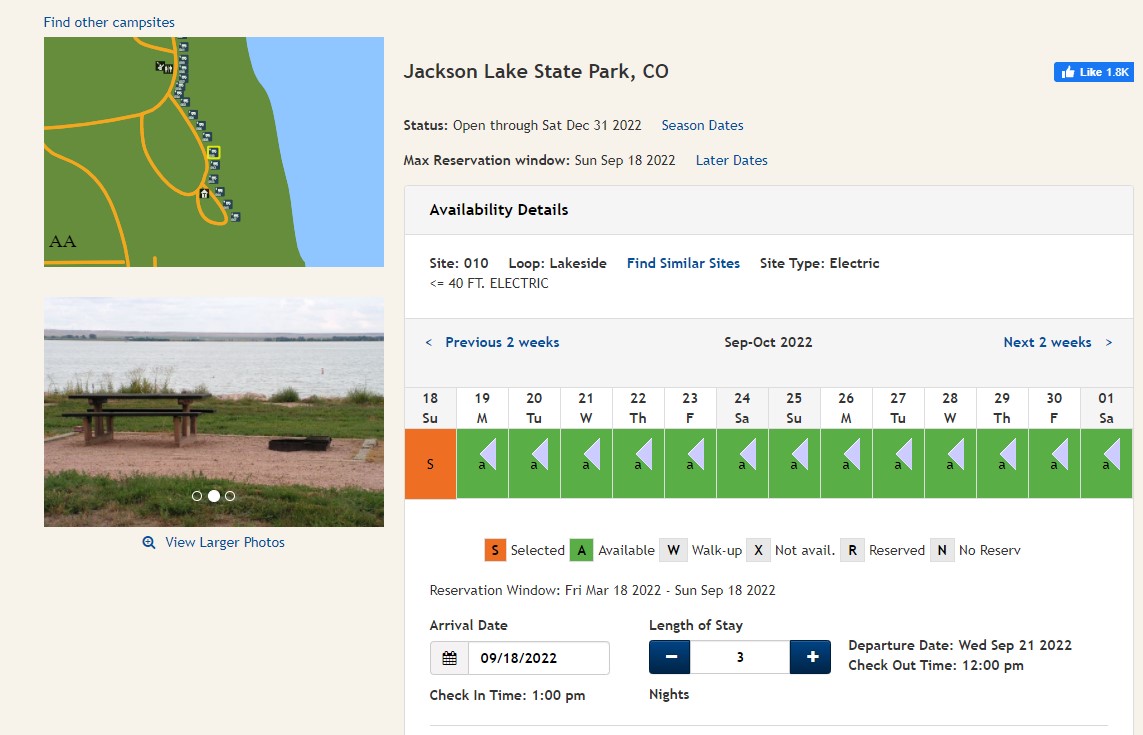 How to Plan for a Prime Campsite in a Colorado State Park
Repeat after me:
"I have to plan well if I want to camp in a state park in Colorado!"
This is what I had to do to get a prime RV spot at Mueller State Park the first weekend of August (the nights of 5-6 August). I had to back up 14 nights (first night = July 24th), and then 180 days before that night (January 24th), I got onto the CPW website at midnight and took the 14 night reservation.
About a month later (around February 24th) I went into the reservation online and released the first 12 nights. Sometimes there's a modest fee to make the change, on the order of $5, but this year I wasn't charged that fee.
This makes my head hurt, every year. It's easy to assume that 180 days in advance is the same calendar date, just 6 months sooner. Be careful with that! Use a website or actually break out an old school calendar and actually count it out. A couple days before I made the reservation I actually checked what the first available date would be from, say, January 22nd. I thought I'd have to go online on January 25th to make the Reservation to end on August 6th, but it turned out to be January 24th.
We have camped at Mueller State Park every August since 2018. We join our neighbors, up to 9 additional families, completely overtaking the tent campground in a prime location in the park. This year we changed things up a little, taking an RV site adjacent to the tent camping area. We grabbed a tent site for our sons, since adjacent tents are not allowed at the site we reserved.
AITA?
"Am I the Asshole?" (The term's origins are from Reddit.) I'm on a number of RV forums and Facebook groups and there has been some angst from people who try to reserve exactly 180 days before the first camping date they want, rather than 180 days before the first 14 days that include the camping date they want. And there's nothing available. If you can see this discussion on Facebook, you can see the disappointment, particularly from those who are coming from out of state and very particular weekends are important to them.
I don't think what I'm doing is wrong. I'm working with what the rules are in Colorado currently. I've heard that other states charge higher rates to change the reservations, and in other states there's a more complicated process: you have to cancel your entire reservation, give a few minutes for the site to get opened up for a new reservation, and then you re-reserve. Of course, someone could come in and snag the site right out from you.
In Wyoming, their state's residents get a one week head start on making reservations for their state campsites, which I think is a nice benefit as a state resident. In addition, in Wyoming state-run campgrounds, if you don't show up at your campsite by 11am the day after the reservation begins, it's automatically canceled (with no refund) and the site is released back into the reservation system.
Be sure to clean up your reservations — release the unused dates — as soon as you can to avoid penalty.
I think this cutthroat stuff is more prevalent in Colorado than in other states. I've seen plenty of availability in other states.