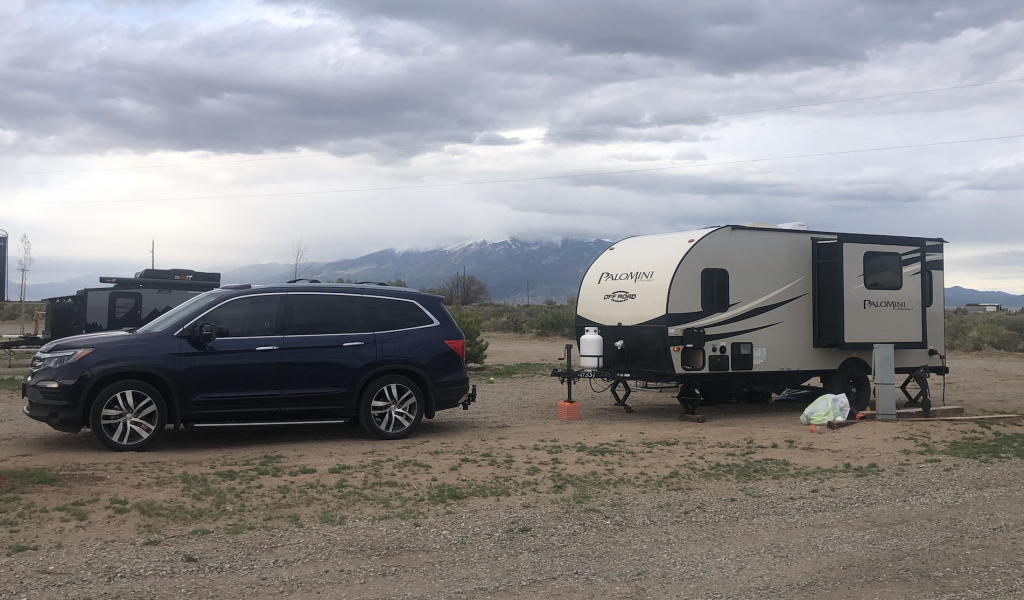 Statistics
Name of Campground: Base Camp Family Campground
Location: Approximately 7 miles east of Alamosa, Colorado.
Miles Traveled: 170 each way
Dates Stayed: Friday, May 21 – Monday, May 24 (3 nights)
Cost Per Night: We paid $45/night: rates vary depending on season, holidays, etc. The rates go up to $53/night starting Memorial Day weekend.
Site #: 5, Pull-thru
Hookups: Full hookups, with 50/30/15 amps available
Amenities: Small campground, but growing // Massive 112'x40′ pull-through sites // Sites are angled strategically such that your camper door faces northeast, shielding you from the prevailing southwesterly winds // Currently only 13 sites, but the owner has plans to expand // Opportunity for overflow dry camping (boondocking) to accommodate busier times, such as if you can get a Friday and Sunday reservation, but not Saturday // New shower/laundry building: 4 large private individual shower rooms that include toilets and sinks, too
Needs Improvement: No shade: the owners have planted numerous ponderosa pine and aspen, but it will be a while before those provide useful shade // No playground for the kids (there is a basketball hoop on the premises but the wind knocked it over)
Cell Signal/WiFi: Good but not great. WiFi is transmitted from the roof of the shower building. The closer you are to the building, the stronger the signal. Signal deteriorates during high usage (such as in the evenings when everyone is back at camp). We were able to use our Roku TV and laptops well, but our cell phones struggled with the WiFi. There is a cell tower less than 1/2 mile away, but our cell signal was hit-or-miss.
Who Came on This Trip: Dave and Patricia.
Other Notes about Base Camp Family Campground
It's brand-new! The campground opened for the season in spring 2019, and they're doing very well, but not overwhelmingly so, since word probably hasn't spread too much, and they maybe haven't developed a suite of "regulars".
We liked the location, since it was squarely between the turn off for Great Sand Dunes National Park and the town of Alamosa.
We thoroughly loved the spaciousness of the sites, with 40′ between spaces. We saw some of the other campgrounds in the Alamosa/Hooper/Mosca area that were really packed in there like sardines.
Since the campground is sitting right on U.S. 160, one of the east-west arteries across Colorado, this is a good option for thru-travelers. Case in point, each of the 3 nights we spent there, the site just north of us had a different traveler…just passing through.
The Camping Weekend
The Drive to Alamosa
I often say, "You can't have nice things in Colorado." Because of the wind.
This past Friday was no exception: there was a very strong southerly wind all day on Friday, and we had to take Bojack 100 miles southward straight into the wind.
Because of that wind, and listening to our Honda Pilot revving much more than usual, as well as the longer distance for this trip…for the first time we truly paid attention to our fuel economy while towing Bojack.
And it was crap. Around 10 mpg.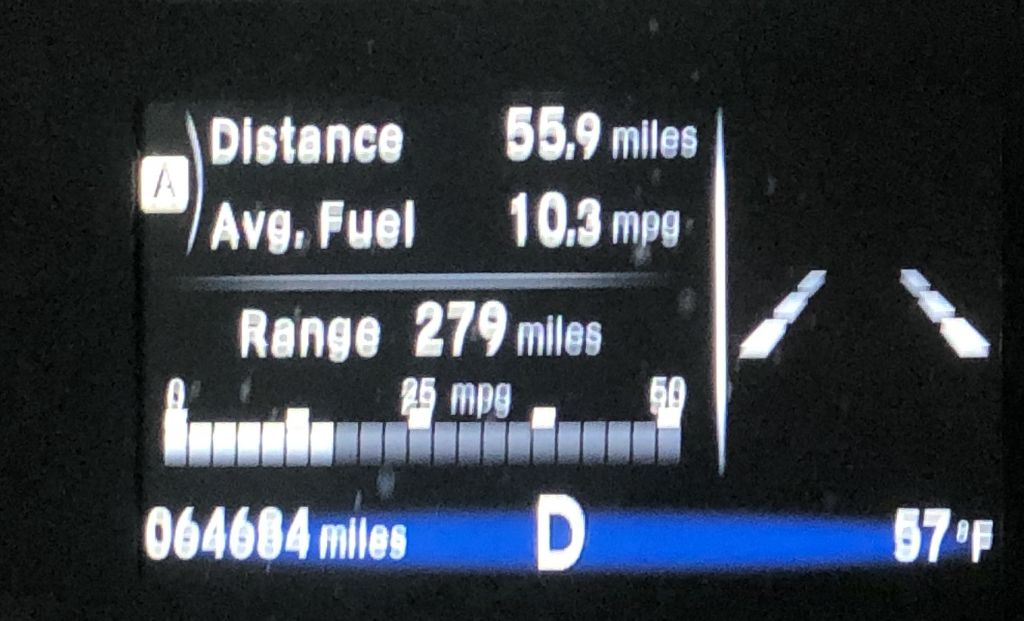 Dave and I were pretty stressed about the mileage all the way to Alamosa, wondering whether this investment was a good idea, especially now with our gas prices just over $3 a gallon here in Colorado. We pondered the longer trips we were planning, such as to Utah, Wyoming, and possibly North Dakota.
Fortunately, we'd find out that the return trip, once the wind subsided, would be much improved: closer to 14 mpg.
In addition, Dave and I got to play, "Guess the source of the strange sound" during our trip. we were dealing with a clunking sound in the vicinity of the hitch. I was thinking it was the propane tank rocking in its bracket. I got paranoid that the propane tank was going to rock right off the hitch and cause an accident on I-25. Dave wasn't so sure it was the propane tank. He wondered if it was the sound of the hitch clunking in the Pilot's hitch receiver. Since we continued to hear the sound even after disconnecting Bojack and leaving the hitch ball in the receiver, Dave was right.
As mentioned before, we continued to experiment with the settings for the stabilizer bars for our hitch, and it seems we found a successful way to keep the bars in place nice and tight. For the first time, we had a trip with no problems with the stabilizer bars.
Our drive took 3 hours on the nose, which included a stop in Walsenberg, CO for fuel and restrooms at the TA Travel Plaza at Exit 52.
Setup
Dave and I continue to hone our setup skills, and on this trip we were able to go from pulling into our spot to serving steaks for dinner in only 90 minutes!
As I mentioned above, the site had full hookups that were incredibly easy for connecting. Dave's tweaks of the hot water heater were successful and it was wonderful to get to wash the dinner dishes with nice hot water. Also, Dave's repair of the grey water drain pipe held up well.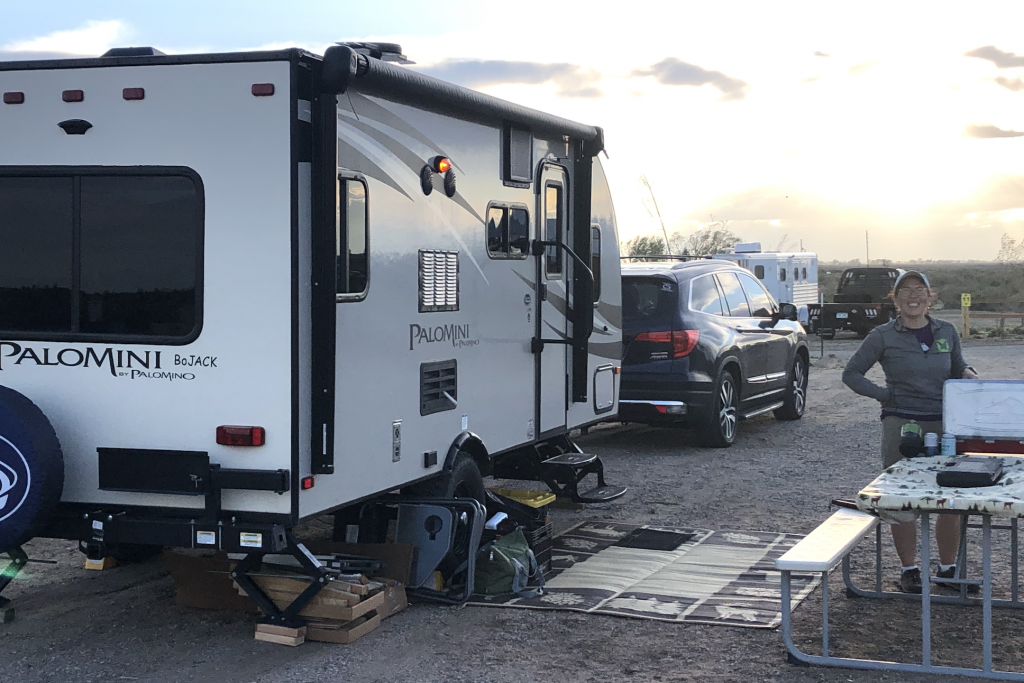 One of the things we need to get used to is that our fridge takes a LONG time to cool down. We put the outdoor thermometer sensor in the fridge to measure the temperature while it cools. Once it gets below 50F, we transfer the food into the fridge. That took about 3 hours. Things could stay in the cooler until then. But we need to figure out how to get the fridge cooling before we get here….so as soon as we arrive as can load it up? Can we run it via battery? Via propane? We haven't tried these options, maybe we'll experiment with it on our next trip.
We had a light fixture go out in the camper. The bathroom light, which is a more complicated fixture because there's a waterproof seal around the housing. We haven't figured out how to DIY change the bulb, so we tossed a small LED camp lantern in the bathroom for the overnight hours. During the day, lighting isn't an issue since the bathroom has a nice skylight. We aren't in a hurry to make the formal repair.
Activities While Camping
The San Luis Valley is a delightful place to visit. We did several things worth talking about…I want to write separate posts about two of our activities, but I'll summarize everything here.
Saturday morning and afternoon: Great Sand Dunes National Park. I'll write separately about our day at the park, but we did rent sand sleds, attempted sand sledding, disliked sand sledding, so spent the rest of the afternoon in camp chairs on Medano Creek watching kids and dogs play in the running creek while drinking hard seltzers. It was a fun day.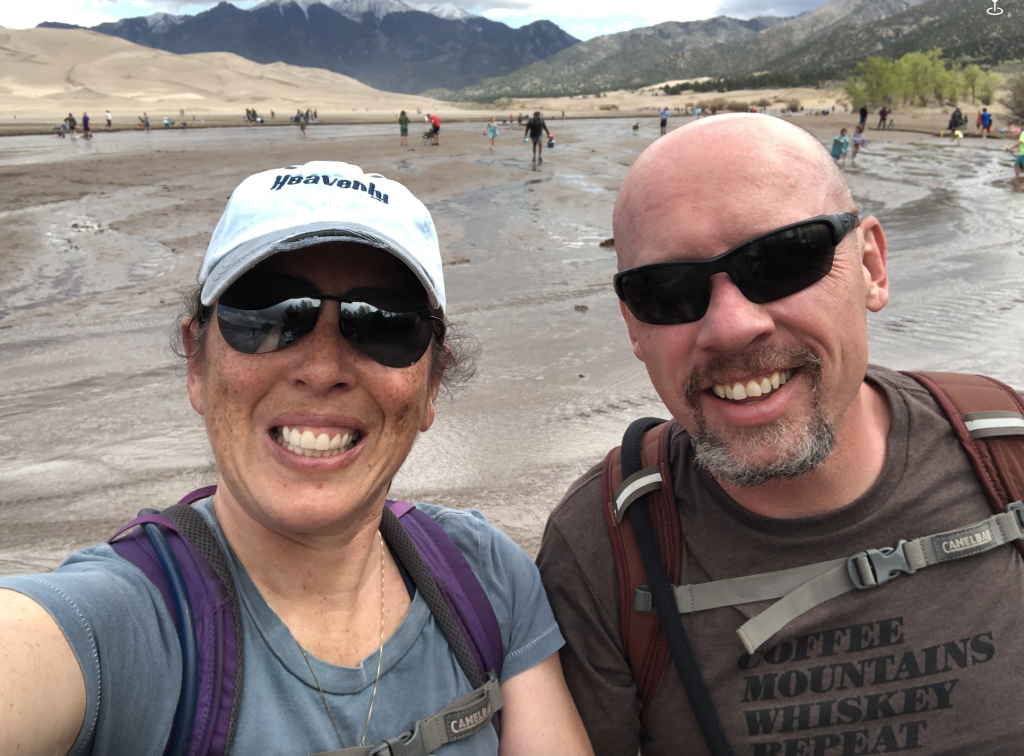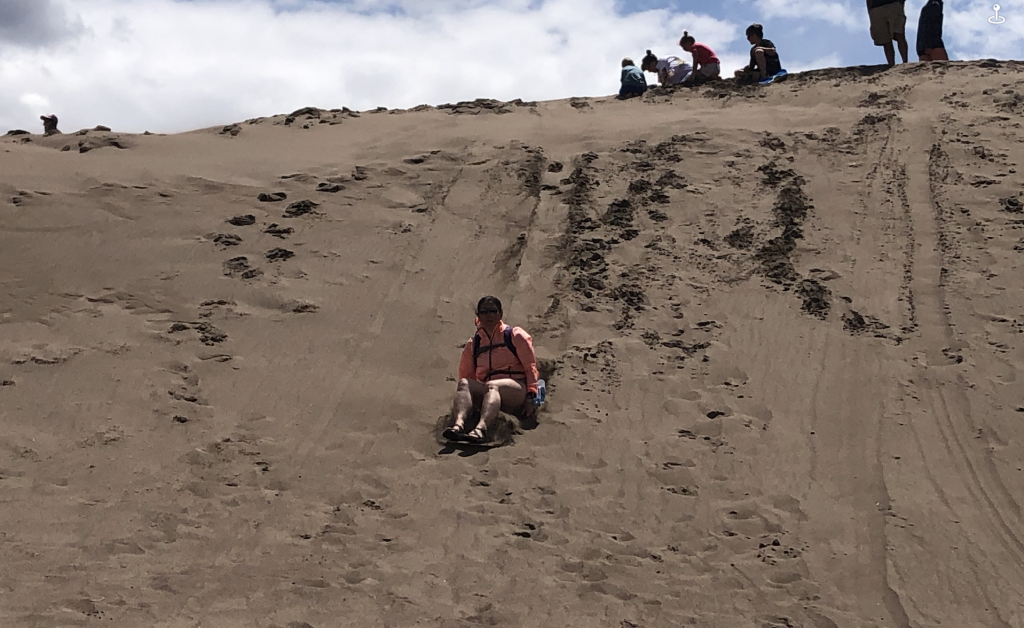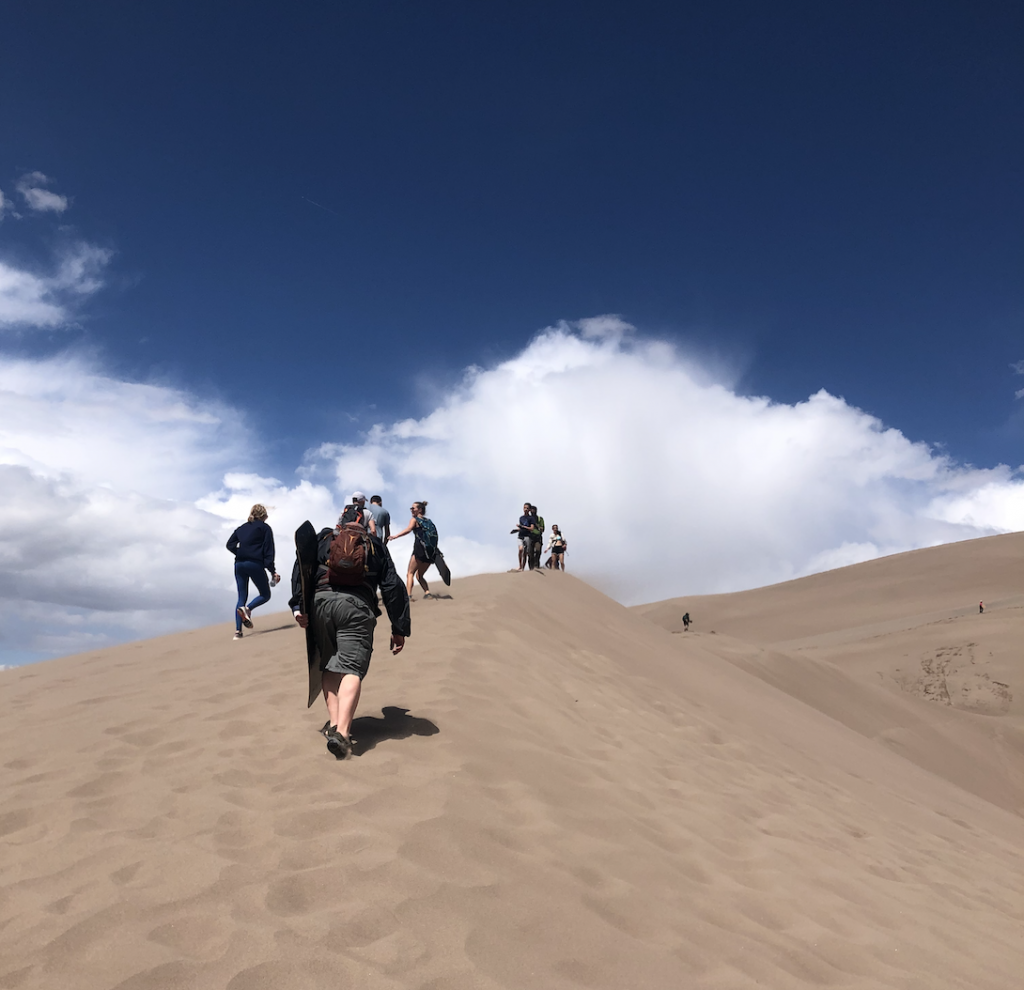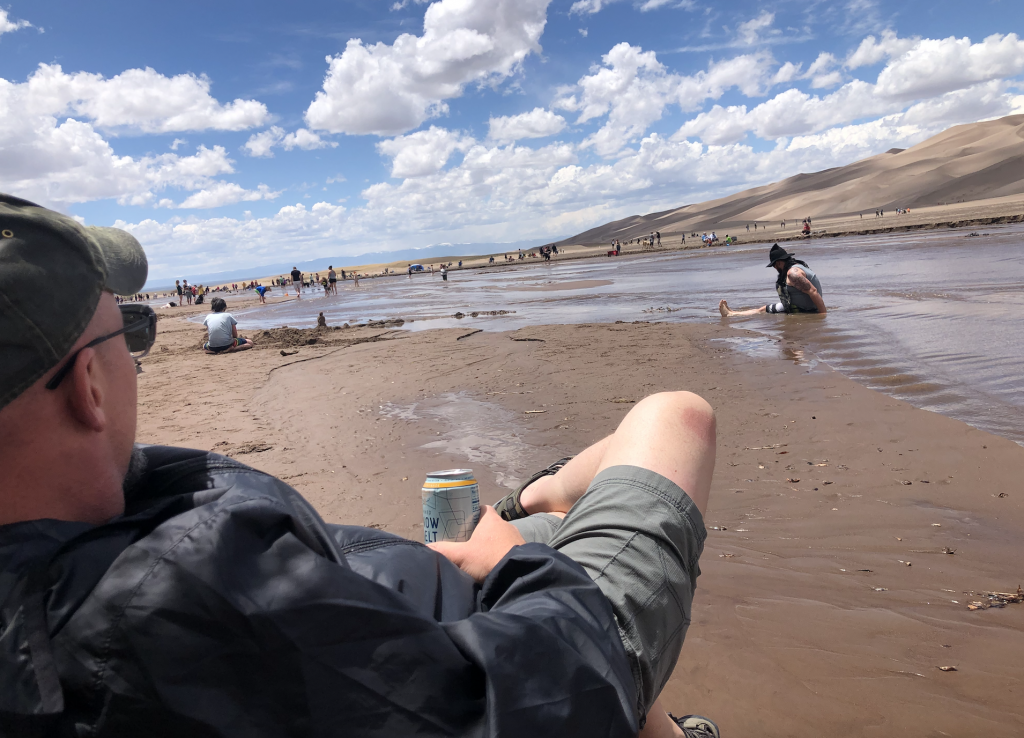 Saturday evening: Dinner at San Luis Valley Brewing Company, then a walk around downtown Alamosa, where Dave got to see some cool historical passenger cars.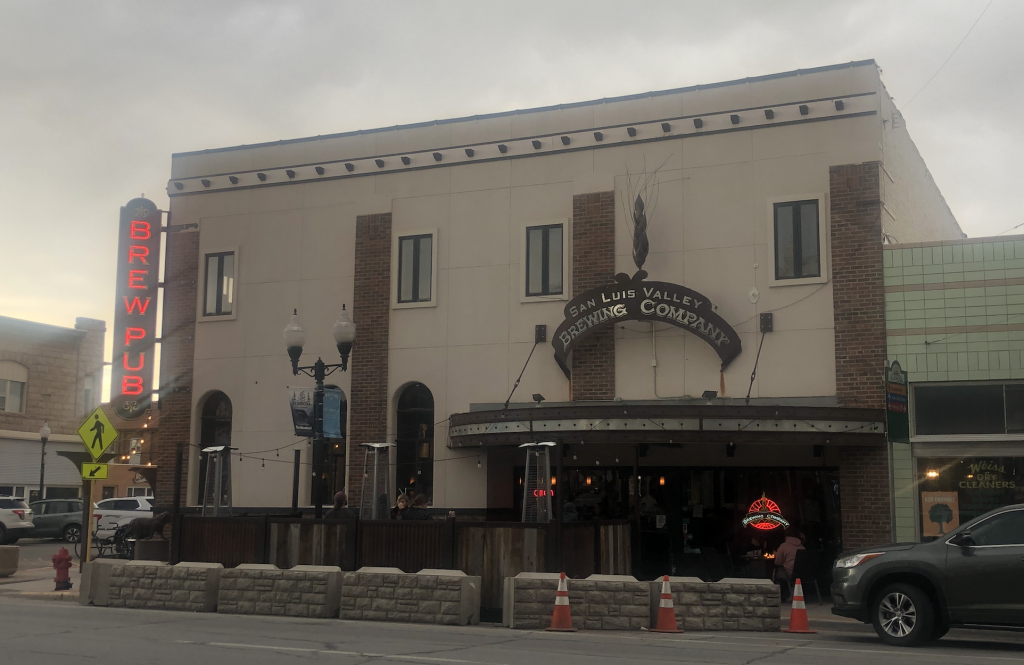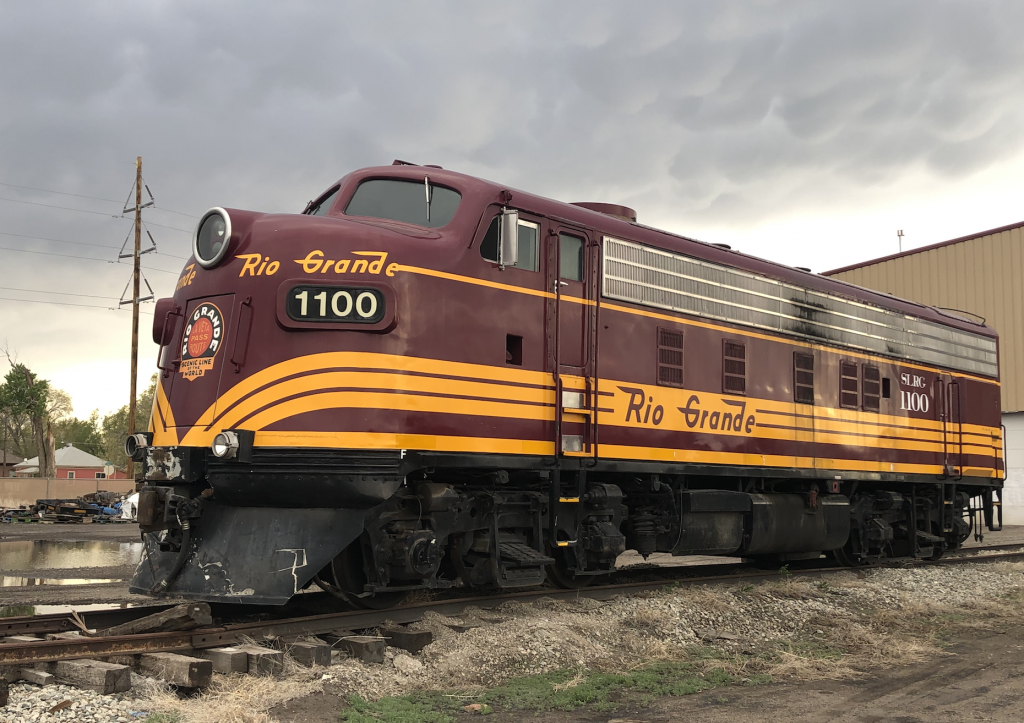 Sunday morning: Zapata Falls hike. Our neighbors, as well as the campground owner, said it was an easy quick hike. We had a tip to wear water-friendly shoes since there is a creek, but we had no idea how much "creek" we'd be walking in. I'll write more about it in a separate post.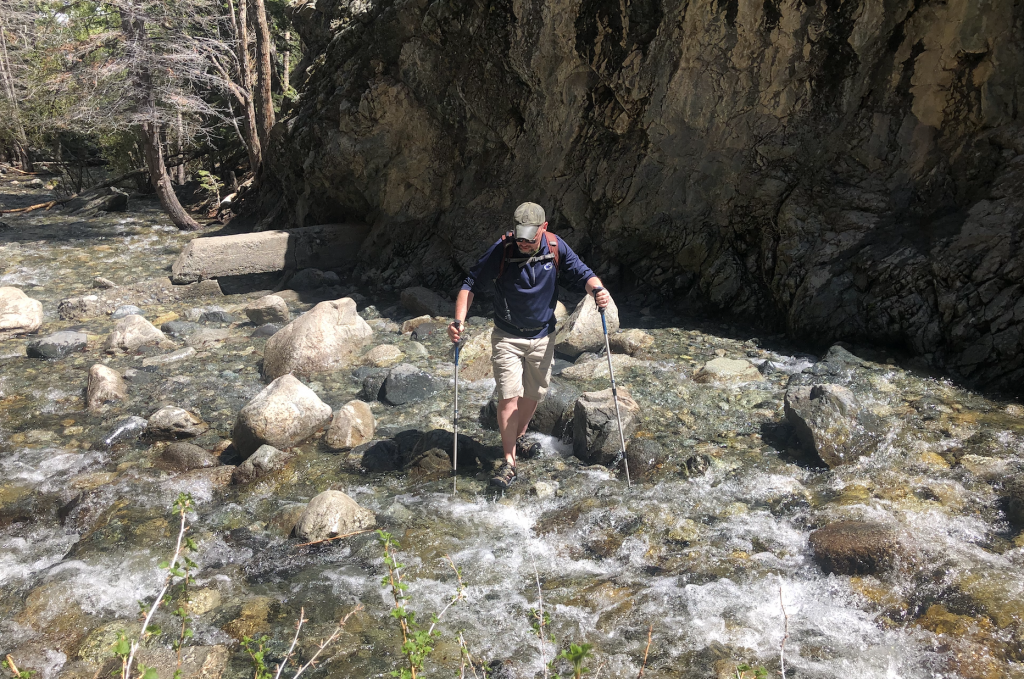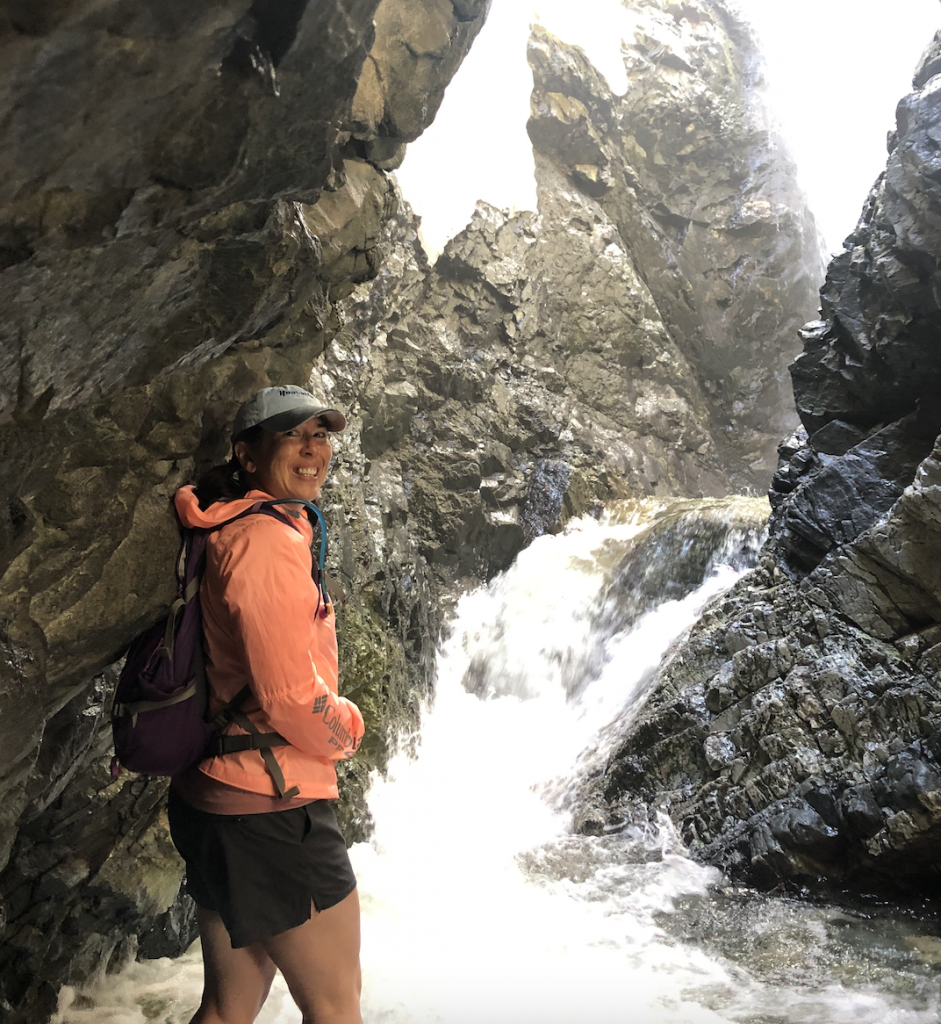 Sunday afternoon: Sand Dunes Recreation mineral hot springs. I stumbled across this quite by accident, when I was on the Base Camp Family Campground website, "relax in the natural springs that gush from the desert floor". I thought, "What?" and started looking for the natural springs nearby. I found the Sand Dunes Recreation area and Dave and I, just before bedtime on Saturday, decided to go check it out. We are very glad we did.
Sand Dunes Recreation has a public outdoor pool, which was 94F when we visited. This is an all-ages areas complete with diving boards, water slides, and numerous water features. On the day we visited, it was very windy, so the outdoor pool wasn't quite so pleasant.
However, for adults age 21+, there's an area called The Greenhouse that consisted of several pools of warmer water, from 97-112F.