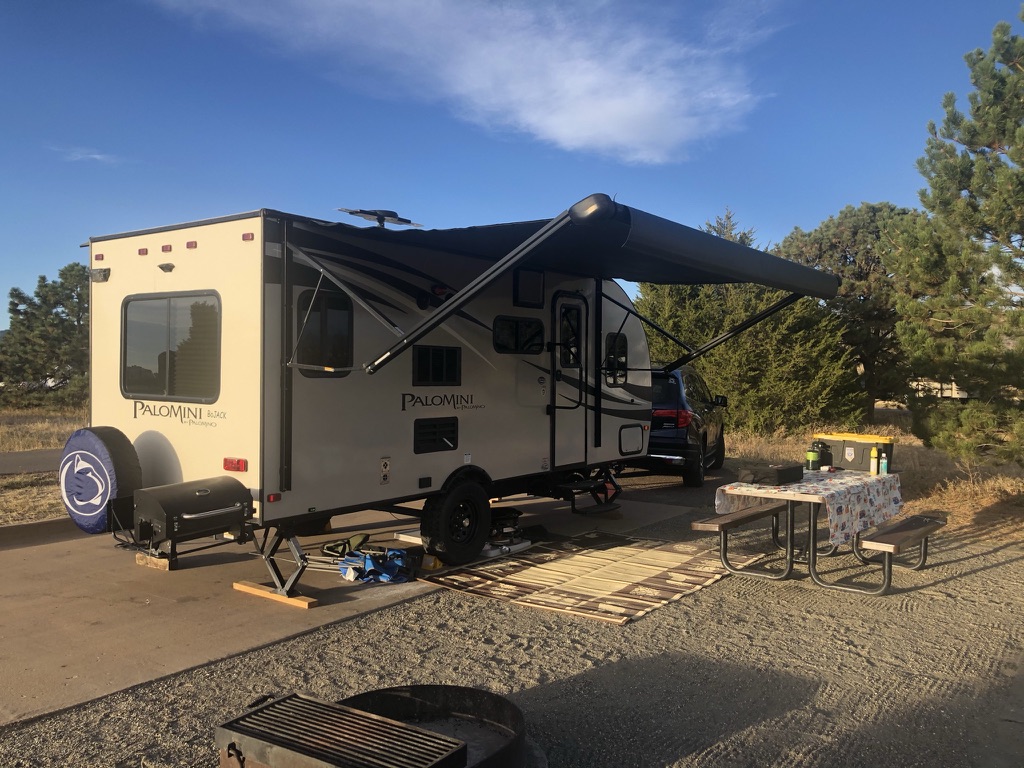 Statistics
Name of Campground: Chatfield State Park, C Loop
Location: Littleton, Colorado (southwest of Denver)
Dates Stayed: Friday, October 16 – Sunday, October 18 (2 nights)
Miles Traveled: 50 each way
Site #: C Loop #132 (pull-thru)
Hookups at the Site: 20/30/50 amp electrical only (no water or sewer)
Amenities: Minimal water availability mid-April through mid-April // Numerous toilets nearby // Full bath facilities w/ coin-operated showers // coin-operated laundry // playgrounds, volleyball, horseshoes, and multi-use trails in walking distance // boat ramp if you want to bring your boat // large dog park in driving distance (for additional fee)
Cell Service/WiFi: Our Verizon cell service worked well, and we had strong WiFi at our site, with enough signal to stream television.
Who Came on This Trip?: Dave, Patricia, and Ranger (our dog)
Thoughts About the Campground
Dave and I chose Chatfield State Park near Littleton, CO because it's close. This was meant to be Bojack's "shake out" camping trip, so made a point to find a location that was close to stores like Walmart, Home Depot, and some small RV stores in Littleton.
We took a more scenic route to the park instead of just interstate, which took us in via Titan Rd, Chatfield Lake Rd, and then Roxborough Park Rd. This brings us in via the southern entrance, called the "Plum Creek Entrance", which has no height limit and brings you straight into the campground loops.
All of the campsites at Chatfield are pull-through, which made parking a breeze. The sites are also quite spacious. Compared to other campsites we've seen, such as parts of Mueller State Park near Divide, CO and Lone Duck Campground near Green Mountain Falls, CO, there was well over 50′ between sites, so there's plenty of space to spread out. If we had brought our sons, they would have had plenty of space to pitch tents just outside. The sites are all flat, with a few trees, most of which are coniferous and don't offer a ton of shade.
Chatfield has 197 campsites available, of which 146 has full hookups. We were in Loop C, and due to how late we made our reservation, we could only get one of the 50-or-so electric-only sites, which meant we had to fill our freshwater tank….which I will address momentarily. All sites have 20/30/50 amp electrical.
Even though the state park is right off Colorado Route 470, which is the beltway around Denver, you don't hear a thing. Off in the distance you can see a sliver of traffic which is quite heavy most of the time. But you don't hear it.
The park is dominated by a lake. The lake is available for fishing, boating, jet skis, and paddle boarding much of the year, and swimming between Memorial Day and Labor Day. Dave and I walked around the marina, but we didn't participate in any of the boating activities. So if you want to bring a boat to this park, go for it!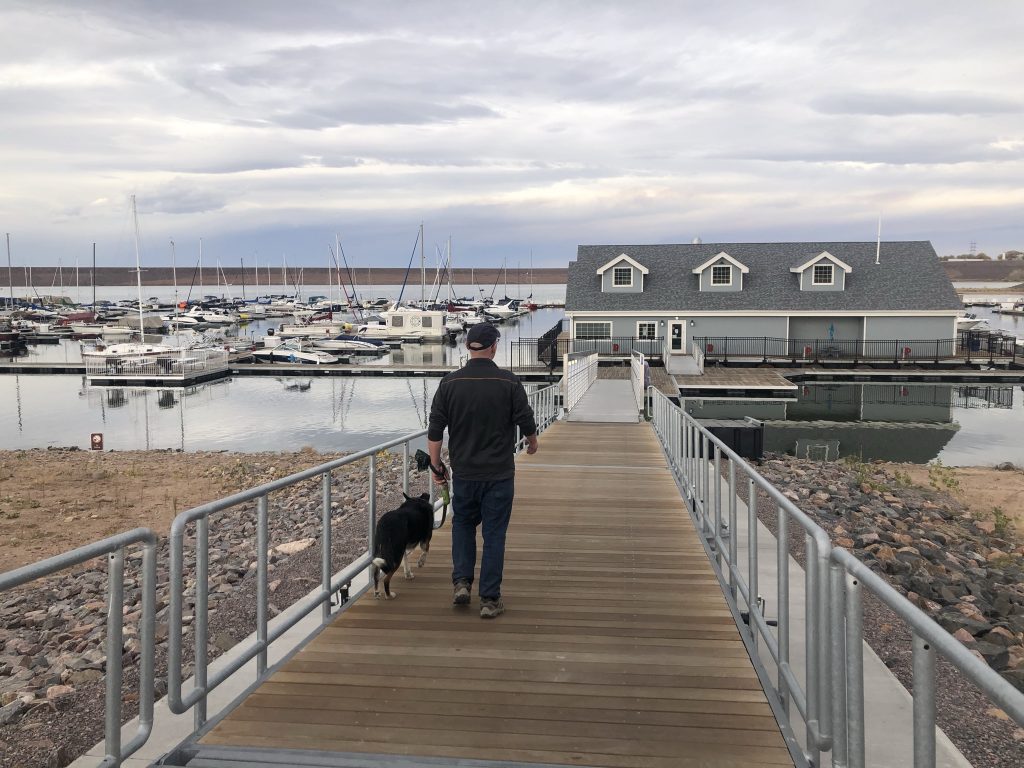 Chatfield is also popular for cycling. Don't forget to bring your bikes! There's a 10-mile paved multi-use trail that circumnavigates most of the lake, and it's possible to go all the way around, upwards of 24 miles. Dave and I walked about 5 miles of the trail, and it's quite lovely. It's mostly flat, but there are some areas with up/down hill terrain. None of it was particularly difficult. You can see a map of the trail here.
Chatfield is also a great place for hot air ballooning, model aircraft flying, and horseback riding.
Finally, I'd like to address how dog-friendly Chatfield is. Leashed pets are allowed on all trails, and there's a 69-acre off-leash pet area as well. In addition to the park pass fees, users of the dog park need to purchase either a day pass or annual pass. Even though we had our dog, Ranger, with us, the chaos of dog parks makes Ranger anxious so we elected not to head over there.
Bojack's Shakedown
Dave claims he's going to write more about the specific lessons-learned Bojack gave us, but I will use this space to address the things we had to figure out on this first trip.
Arrival and Setup
First of all, we stopped at the dump and water station that was just past the park entrance. We filled our 19-gallon fresh water tank.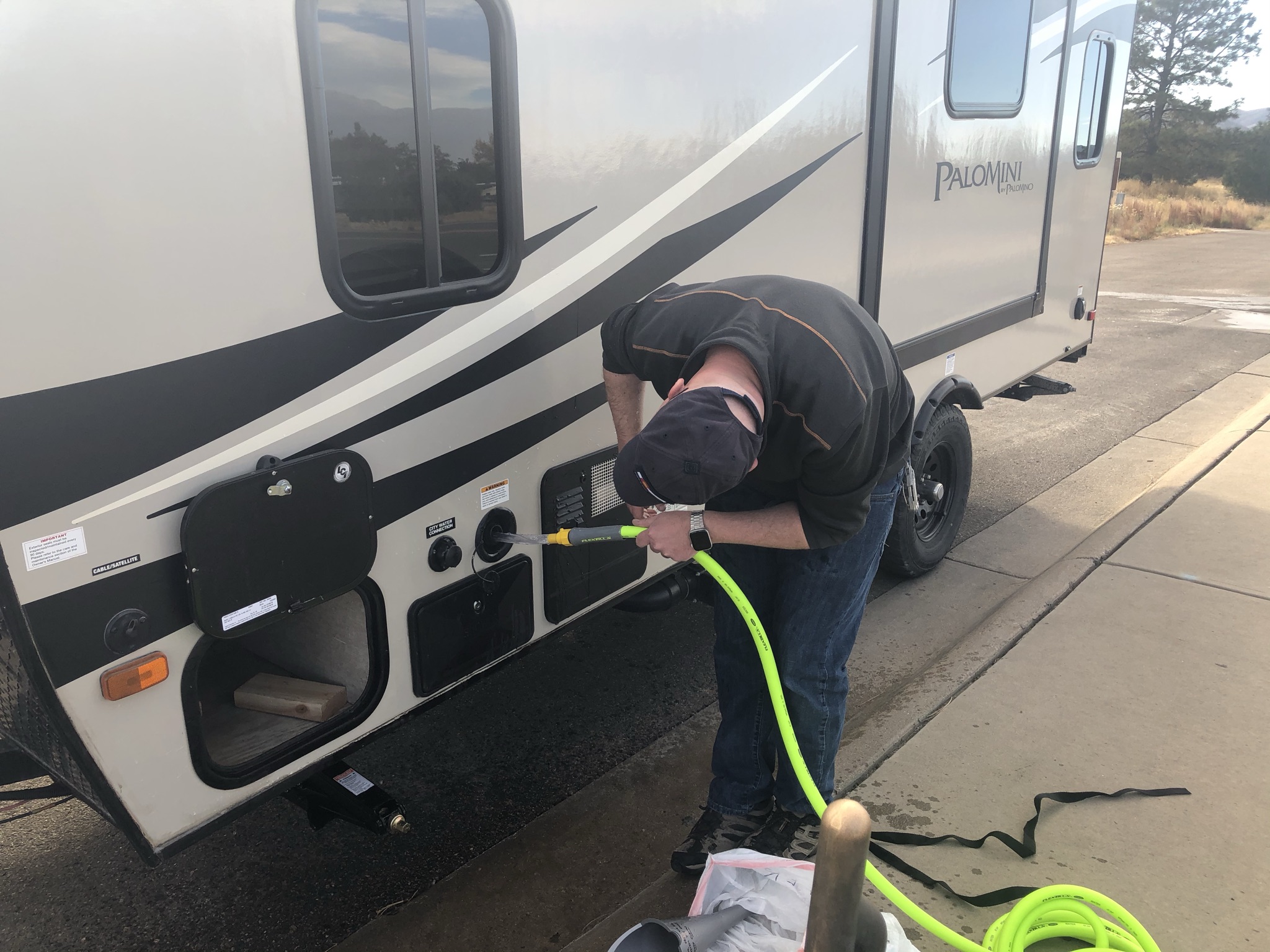 It was very straightforward to fill the tank. We bought a hose just for the task (as opposed to the hose we use to clean up during and after the dump station process).
Then we drove the short distance to the campsite…and at some point in that distance, we lost one of the arms of the stabilizer hitch and were dragging it as we came into the loop. A fellow camper stopped us and told us. We briefly pondered why that had happened, when the stabilizer bars performed perfectly well for the 50 mile trip to the park from Colorado Springs.
Then we remembered — we added about 150 pounds of weight when we filled the water tank! The hitch probably sank down a few centimeters and that loosened the stabilizer bars.
Once we were in place, disconnecting the hitch was straightforward, as was lowering the four corner stabilizer jacks. Dave uses a drill with a socket that fits the nuts on the end of the jack. We were able to plug into the campsite's power without incident, and had electricity flowing to Bojack in short order.
The next thing we dealt with was the refrigerator. It was able to turn on just fine, but we didn't realize how slowly it cools down. We had bought a weather station with an outdoor sensor, and we tossed it into the fridge thinking we'd see it cool down pretty quickly. Well, it wasn't quick at all. It was about 4-5 hours before we were comfortable moving our cold foods from the cooler to the fridge. By after-dinnertime, things were in good shape. In fact, on shore power, the fridge cooled nicely, and even our reusable ice packs in the small freezer compartment remained frozen.
Our refrigerator is allegedly able to run on DC power, AC power, or propane power. We haven't tried it with the propane yet….
Even though Bojack has a full-fledged gas furnace, I think Dave and I are a little skittish about sleeping with gas flames so close by. In addition, we only have a 20 pound gas tank and we weren't sure how long that was going to last. So to heat our interior cabin, we brought along this oil-filled electric radiator that Dave had bought many years ago to keep warm in the basement while working on his model railroad projects.  It did great! Check out one of the photos below to see where we kept the radiator overnight.
Cooking with Bojack
So let's talk about our cooking on this trip. For those who don't know me, I absolutely love camp cooking! All varieties! From Dutch oven meals to just boiling water over a Jet Boil stove! Thanks to Bojack, I have been introduced to a whole new world of campground cooking!
We had a number of bonus items tossed in when we bought Bojack in a private transaction in September. One of the things we got to try out on this trip was this rear-bumper-mounted grill: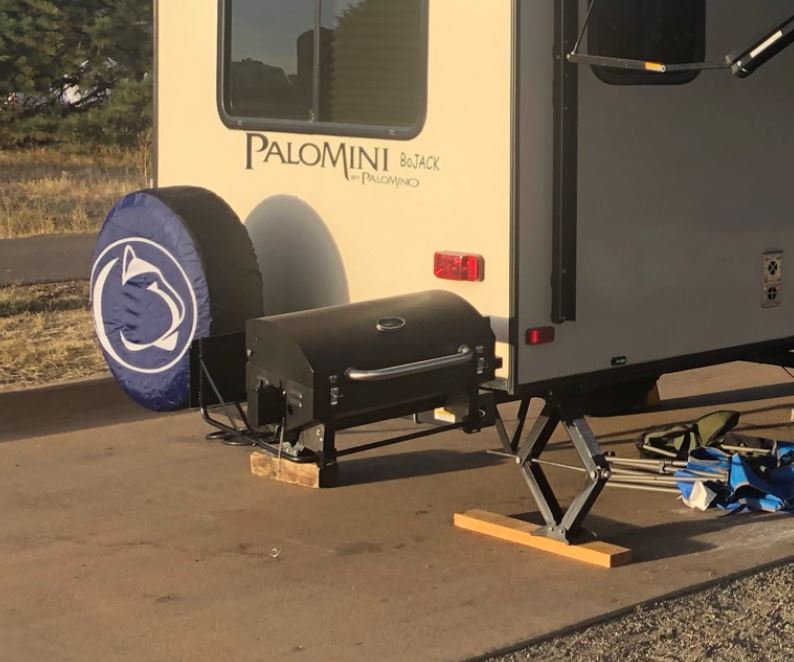 It's an Aussie portable grill, that easily slides onto the swinging grill mount. Assembling it was easy enough, and it was pretty straightforward to connect the propane hose to the valve that's at the back of Bojack. We fired her up and prepared to cook a big sirloin steak for us to split for dinner.
We were able to cook the steak, but it was slow-going. You see, the weight of the grill (plus steak, ostensibly) caused a pull on the mount so there was a lean to the grill. This caused the gas to pool in the burner at one end more than the other, and the flame spreader had a hard time staying in the right place. in the end, the steak ended up grilled to near-perfection and Dave and I had a delicious dinner: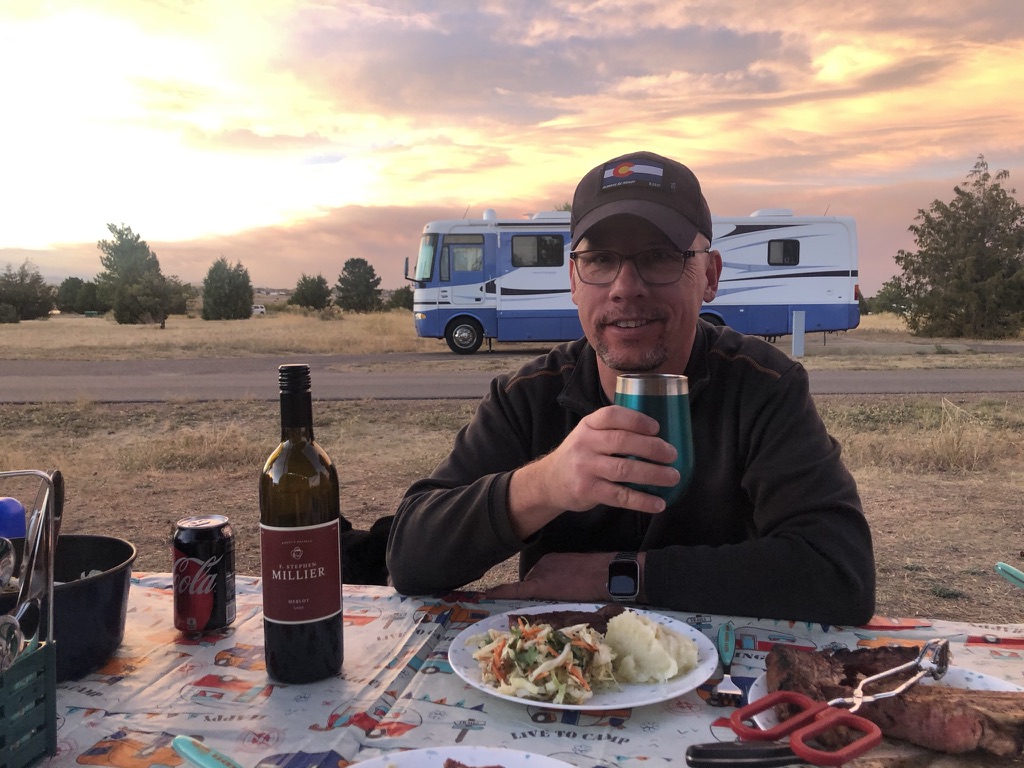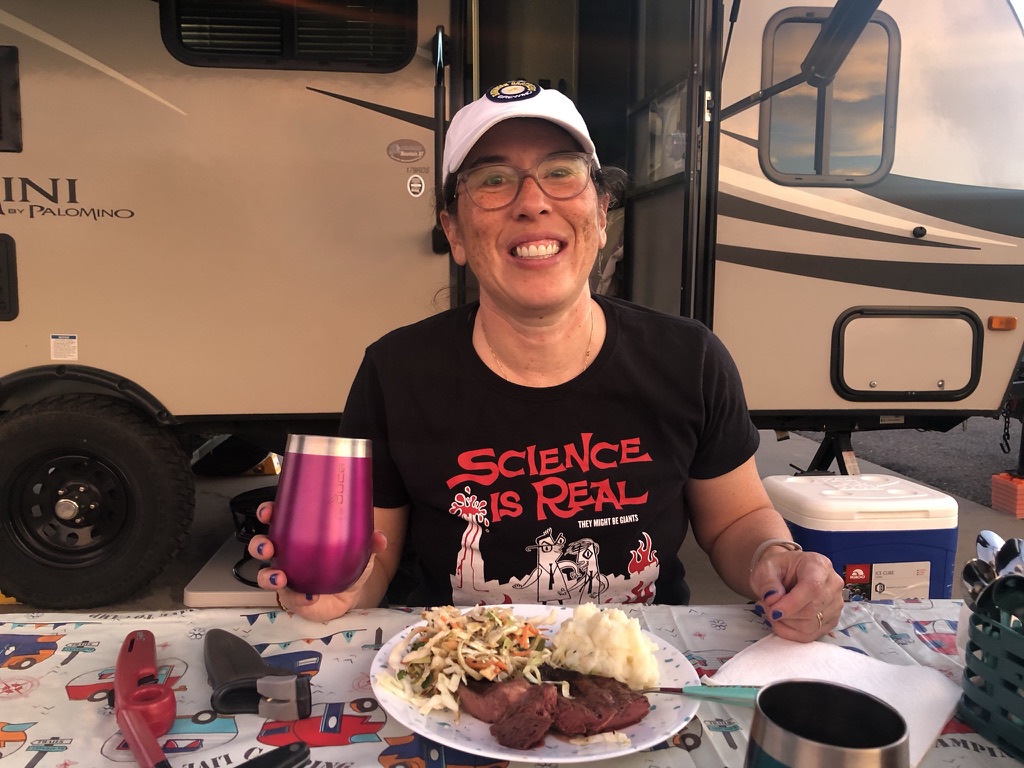 We cooked outside for breakfast the following morning: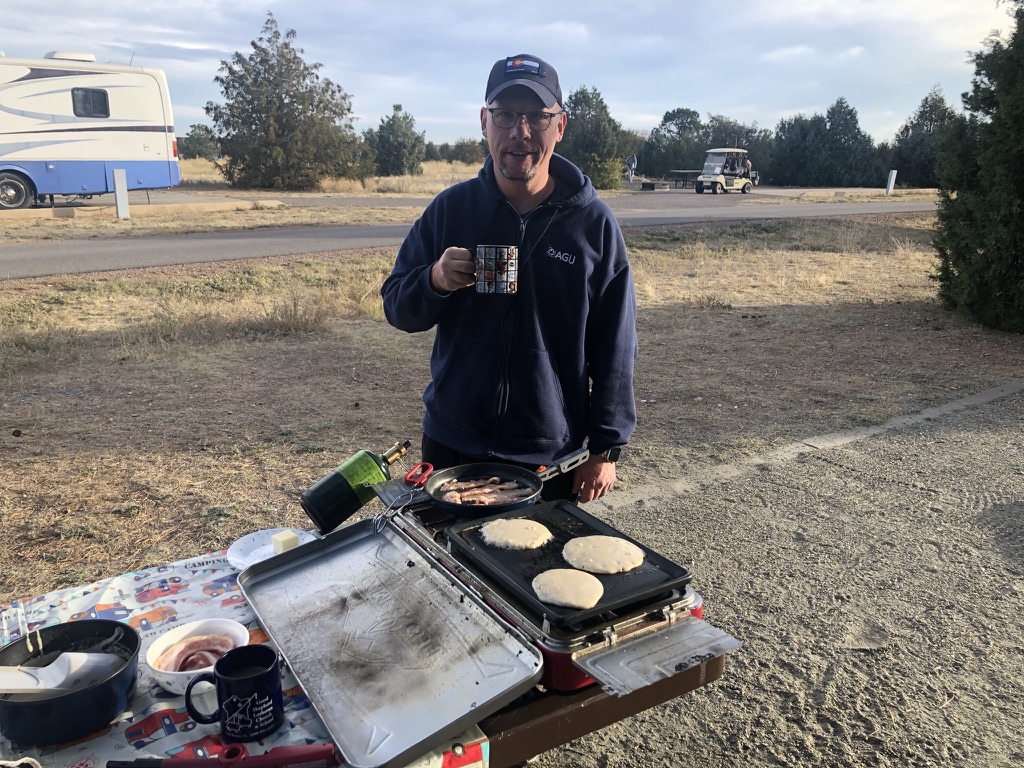 The coffee Dave is enjoying is brought to you by our small Keurig Mini coffee maker that we had stashed in the back of our pantry these past couple years. Dave had kept it at his office, and once he retired from the Air Force in 2018, it was essentially sitting in our pantry and now has a new home with Bojack!
For dinner on Saturday, we decided to check how easily we could use an Instant Pot — we tossed some boneless chicken thighs into the IP with some chicken broth and barbeque sauce and set it to slow cook for about 6 hours.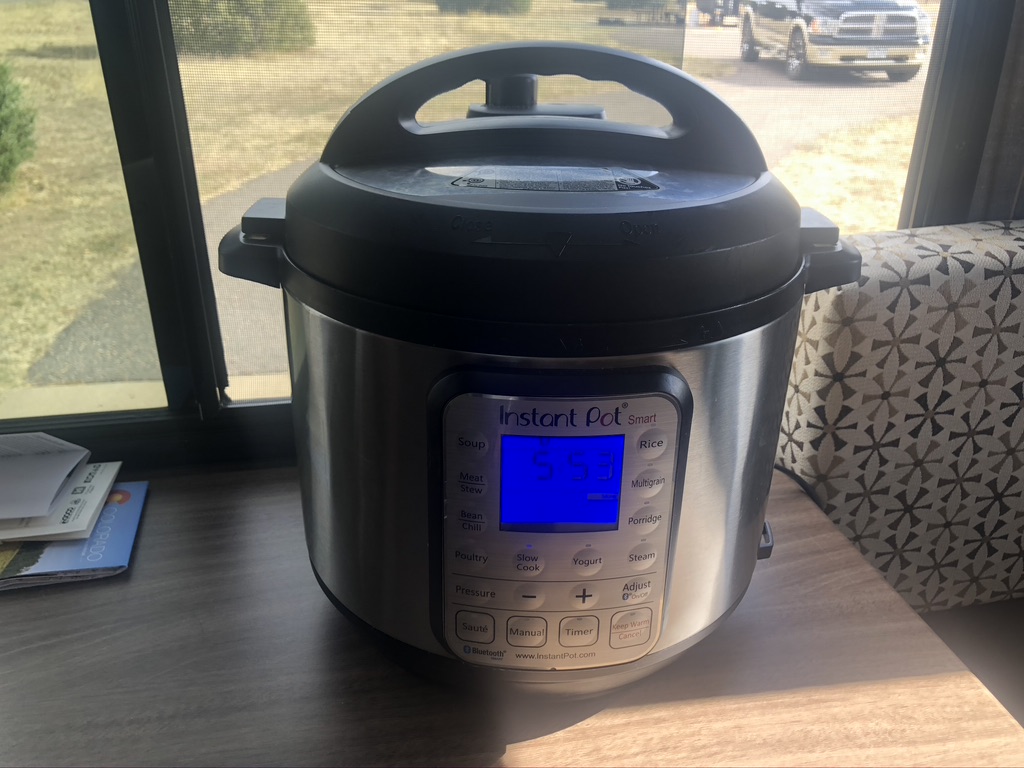 The sandwiches made a great simple dinner for Dave and me, and we had it with leftovers from our other meals over the course of the weekend.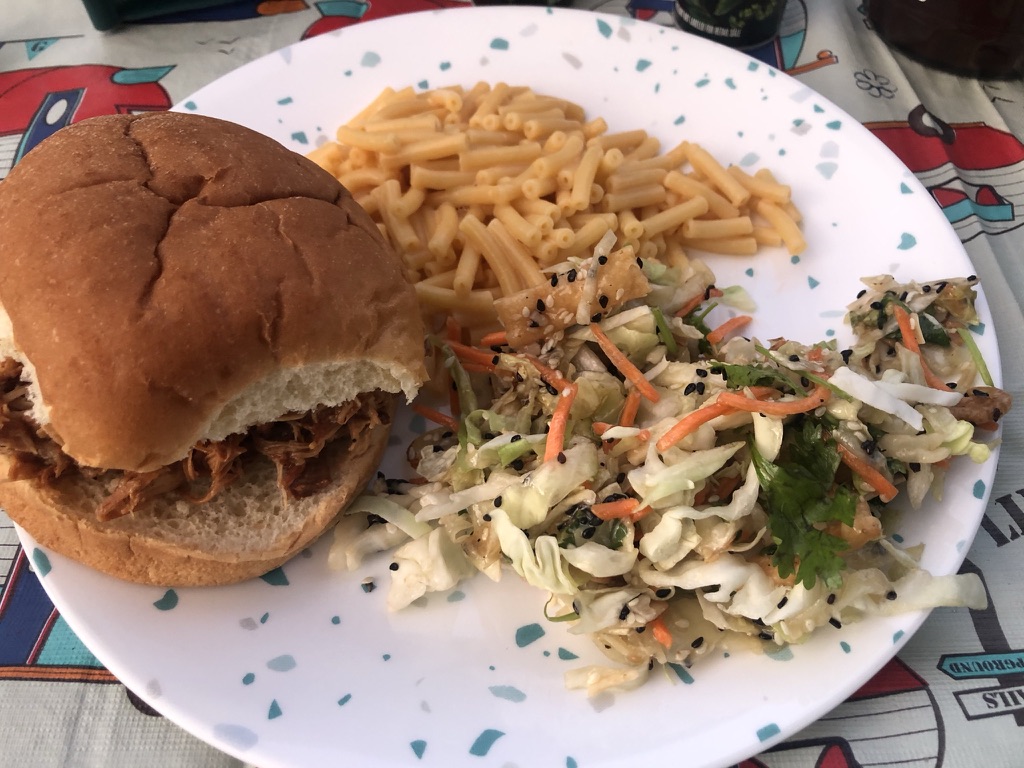 Our last meal on the trip was breakfast on Sunday morning. By this point, a windy cold front had come through, and it was too cold and breezy to cook outside. So I cooked up some eggs inside — thus testing our two-burner propane stovetop — and served them up with more of our leftovers. Easy peasy. Kind of.
Pro tip: Don't forget to turn on the overhead vent fan when cooking on the stove top. At least we know the smoke alarm works!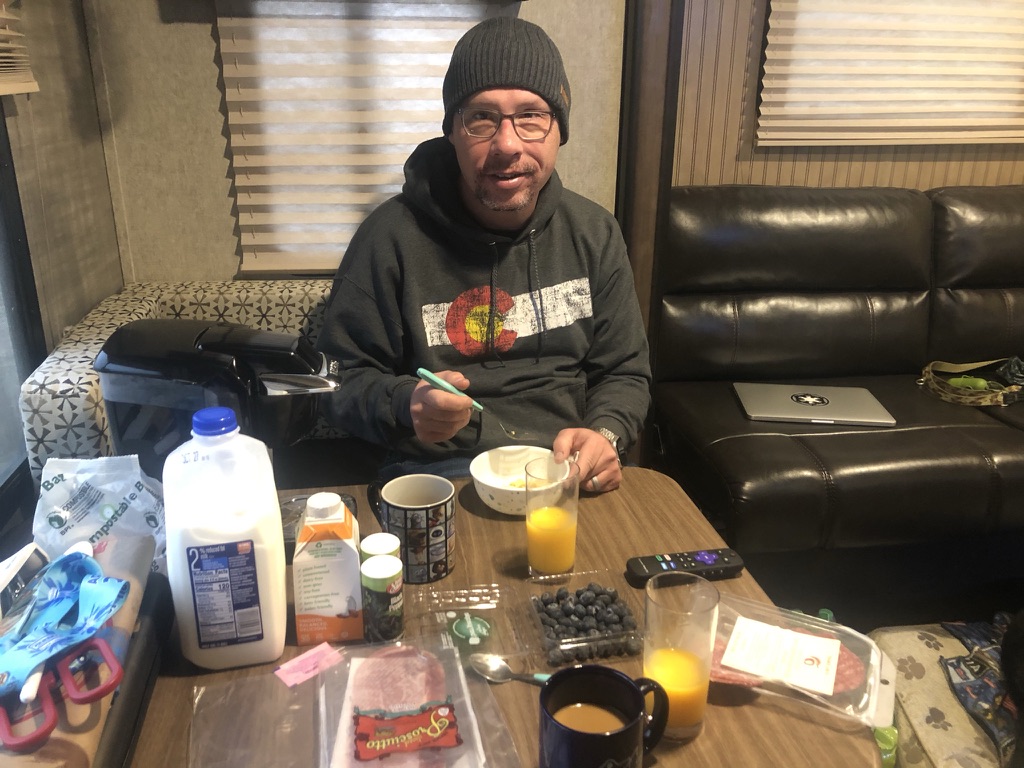 Television Set Up
One of our tasks on this trip was to set up a TV. Another of the bonus items Bojack came to us with was a TV mount over the refrigerator. The previous owner kept his TV, so we picked up an inexpensive Roku "Smart TV" at our local military exchange and got to work setting it up.
In addition to Roku's internet-based television capabilities, Bojack is outfitted with a rooftop HD antenna (another bonus!), so even if we didn't have internet, it's possible to receive local channels over the air if we're near enough to HD signal.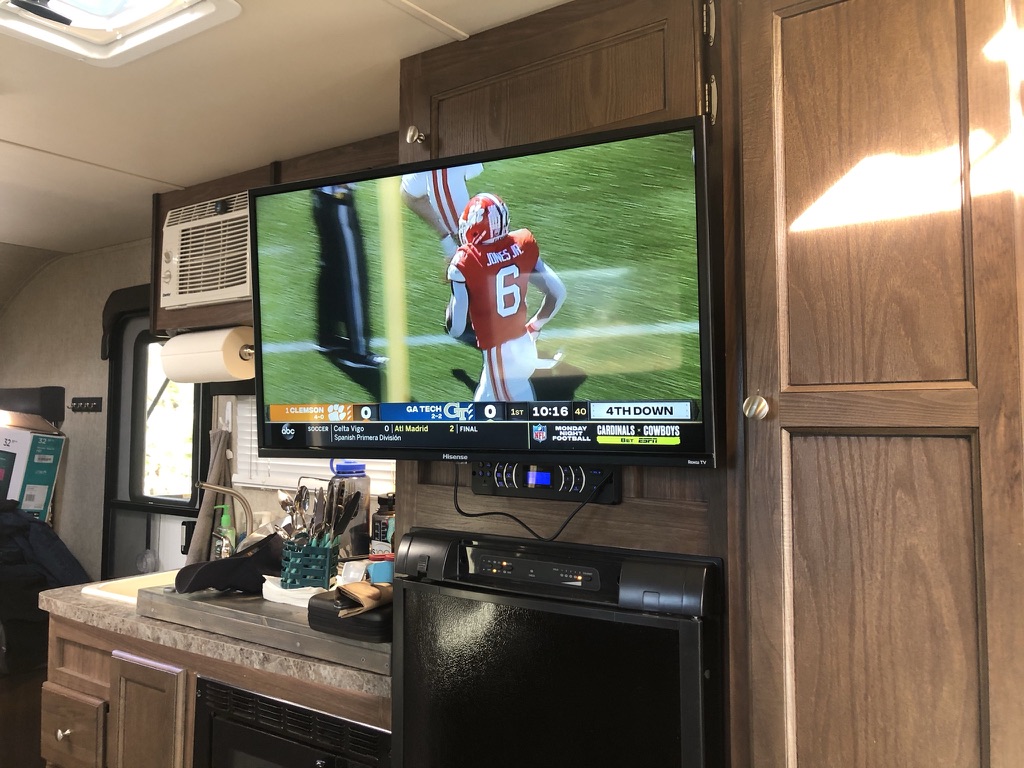 Organization
So let's talk about how crowded things are inside Bojack. This is going to take some getting used to. On this trip, it was just Dave, me, and our border collie Ranger. We still struggled with cramped spaces, and we started to worry about how we're going to fit four of us plus Ranger on our next trips in the spring and summer.
We purposefully wanted a smaller travel trailer. We have paid off all of our vehicles, and wanted to stick to trailer sizes that would work with our Honda Pilot. In addition, we looked for something that could accommodate our sons, but we recognized that they won't come with us on many of our trips, nor would they even want to stay inside when they did come along. They're both seasoned Boy Scouts, they're perfectly happy in a tent outside if it meant some privacy from Dad and Mom.
The smaller size would obviously require some sacrifices.
On this trip, Dave and I each brought a duffel bag. We knew that a cold front would be coming through so we made a point to pack our bags full of coats, hats, gloves, and plenty of thick socks. This made for a lot of personal gear.
Bojack, for all the wonderful things included when we bought him in September, does not have a lot of generic storage space. So we didn't have a place into which we could unpack our personal belongings. Dave and I have hanging toiletry kits, so that was easy, but as for the pants, socks, shirts, etc. we just had to rummage through our duffels to get what we needed.
This results in us stashing our duffels on the bed during the day (as seen in the above photo), and then moving our duffels to the dinette area before bedtime. Back and forth…
Sigh…at the moment we don't know what else to do. If the kids choose to stay with us in the camper overnight, we will end up with FOUR personal gear bags.
Packing Out
On Sunday morning, after we let things warm up a little, we prepared Bojack for the trip home. It was essentially the setup in reverse, and we were able to button everything up without incident. The part of this trip we were dreading was soon coming up…dumping the black water tank! Let's just say it's where the toilet water goes.
One of the things we were preparing for was the possible long lines at the dump station. Fortunately, the line was minimal…Dave had to pull a hairpin turn to orient Bojack properly, but he did it successfully and we were able to get things going quickly.
I guess I should mention here that since we were so inexperienced with the black water tank, Dave and I had agreed from the onset that we'd only use Bojack's onboard toilet for "number one" on this particular trip. We didn't know where there might be leaks or possible issues with "poop pyramids", we figured we'd take this particular task nice and slowly over a few camping trips.
For those who don't know, managing the black water tank is an art and science in and of itself in the RVing world. I'm sure there will be a future blog post forthcoming when we get into our groove about this, but there are a few things that apparently are critical to easy and successful black water tank usage:
The only water in the black water tank is what you put in there. It's wise to start with  about 2 gallons of water in the tank at the start of camping trip. *Any* solids that go into the toilet need water to break it down. If you want to be precise, measure out two gallons and send it straight down the toilet. It's easier to just press the foot pedal on the toilet and send water down. I have yet to figure out how long to depress the foot pedal for one gallon of water, though.
In addition to the water at the start, a dose of enzymes should go in, as well. The enzymes will break down the solids so they flush out with the water at dump time. Even though Dave and I didn't go "number two" into Bojack's toilet, there was toilet paper going in and that needed to get liquefied.
I don't have pictures of this process, which is fine, but suffice it to say that our dumping experience seemed as expected. We forgot to attach an elbow fitting which might have helped things, but it wasn't a show stopper.
After the dump station, we drove home, put Bojack back in his spot at the Air Force Academy, and later that week, Dave winterized him. We don't plan to camp again until about April.