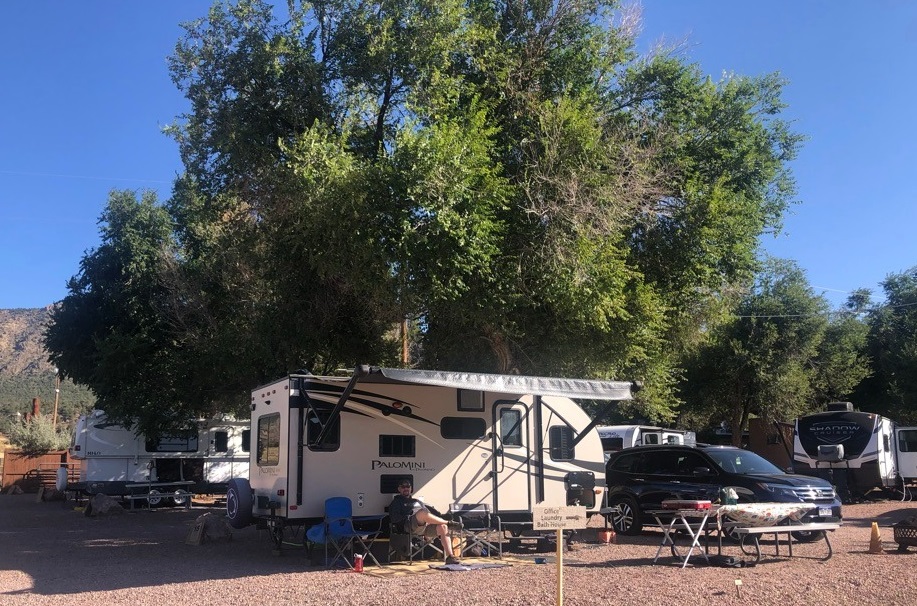 Hello and Happy Thanksgiving! I can't believe I forgot to write up our experience in Cañon City, Colorado from the end of September.
This trip inadvertently became our last camping trip of the season, thanks to COVID-19 running rampant through our family the following week, taking us out till mid-October. We ended up having to cancel our Columbus Day weekend trip to Mueller State Park, which was heartbreaking: it was going to be with friends and right around the peak golden aspen time of year. Maybe another year we can try it again.
Name of Campground: Mountain View RV Resort
Location: About 8 miles NW of Cañon City, Colorado, on U.S. Highway 50.
Dates Stayed: 24-26 September 2021
Miles Traveled: 65 miles.
Site #: 15, which was considered a "deluxe pull-thru", but it was a somewhat tight, complicated pull-thru.
Hookups?: Full hookups!
Cost: $60/night + $10 for our 16 year old son
Amenities: Nice bathrooms with free showers, small playground in the shade, two dog walk areas
Cell Service/WiFi: There is WiFi, but it was very weak from our site. We ended up using our cell phones to stream Netflix in the camper.
Continue reading "Camping Trip Review: Mountain View RV Resort, near Cañon City, Colorado"