Many folks give nicknames to their campers. We decided to do that right away. We know many people who give names to their automobiles, but we've never done that. So this naming this is kind of a first for us.
Our Palomini camper is a form of the Palomino brand by Forest River. So Dave and I figured a "horse"-themed name would be appropriate. We started with "famous" Palomino horses:
Mister Ed. Dave and I both remember watching reruns of the 1960s comedy Mister Ed on the Nick at Nite channel when we were kids. I'm guessing those who would have gotten the most joy out of meeting a camper named Mister Ed would have been few and far between. Our sons had no earthly clue. But Mister Ed is indeed a Palomino horse — perhaps the most famous of them all.
Trigger. Trigger is actor, singer, and cowboy star Roy Rogers' horse, also a palomino, and has been referred to as the "smartest horse there ever was." He was a movie star and was just as famous as his owner!
Bucky the Bronco. I actually didn't talk about this one because it isn't a real horse. It's a statue of a horse that sits at the top of the Denver Broncos Stadium. The mold for the Bucky statue is based on Trigger.
None of those characters/horses appealed to us. Dave and I are not "cowboys". We definitely enjoy living out west, but picking any of those above names seemed to give off a cowboy-vibe…we didn't want to mislead.
We bailed on the palomino idea and started coming up with generic "famous horse" names*. Here is a horse our whole family could agree upon to name our RV.
*We live in a neighborhood where all the street names are named after famous thoroughbred race horses. But none of those names appealed to us. "This is our camper, Sir Barton."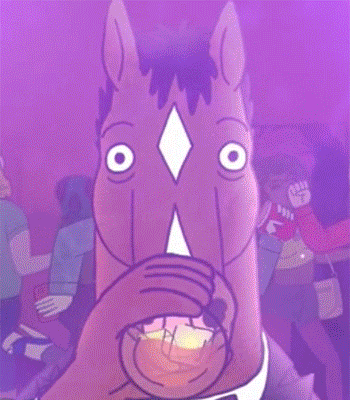 Bojack Horseman is the lead character in the eponymous animated Netflix series. It's definitely funny, but also has some deeper, darker themes, including PTSD, addiction, commitment issues, and exploring one's sexuality. I can't recommend the series enough — we watched it all with our sons, but I don't recommend this program for children younger than teen-aged.
It's an easy name to say, and we will have a great time with him!