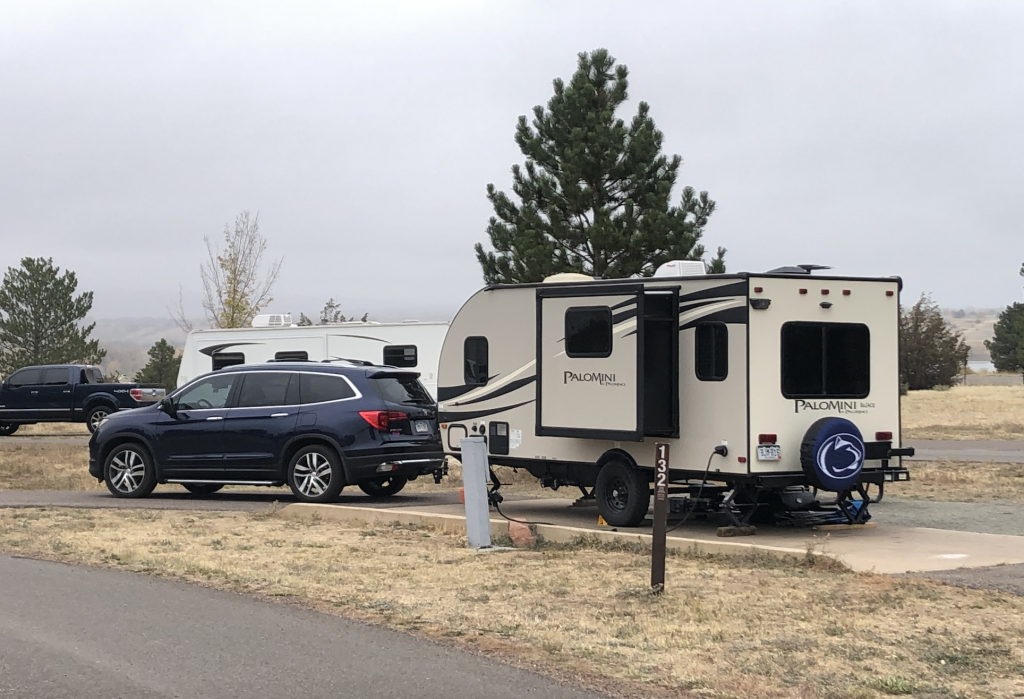 Dave and I have now taken four weekend trips with our Bojack. Wow…four. We have two more trips planned this season, but not till September and October. Bojack's on a break these next few weeks as we focus on our sons activities, including moving our oldest to college in August.
We're slowly feeling like we're migrating out of the "newbie" phase and starting to get used to things. Dave and I seem to have a great groove going, we communicate to each other what parts we will play in setup and teardown, and so far that has worked well. And our marriage is still intact after numerous back-up-the-trailer experiences.
As we get more comfortable and confident, we have started discussing being able to take longer trips, as well as venturing into boondocking: camping without electricity, water, or dump hookups.
But sometimes I still get nervous that we might forget something critical…either a physical object left at home, or a step in setup/teardown that results in damage. I'm guessing if that feeling ever goes away, then I might get complacent and that's BAD, mmmkay?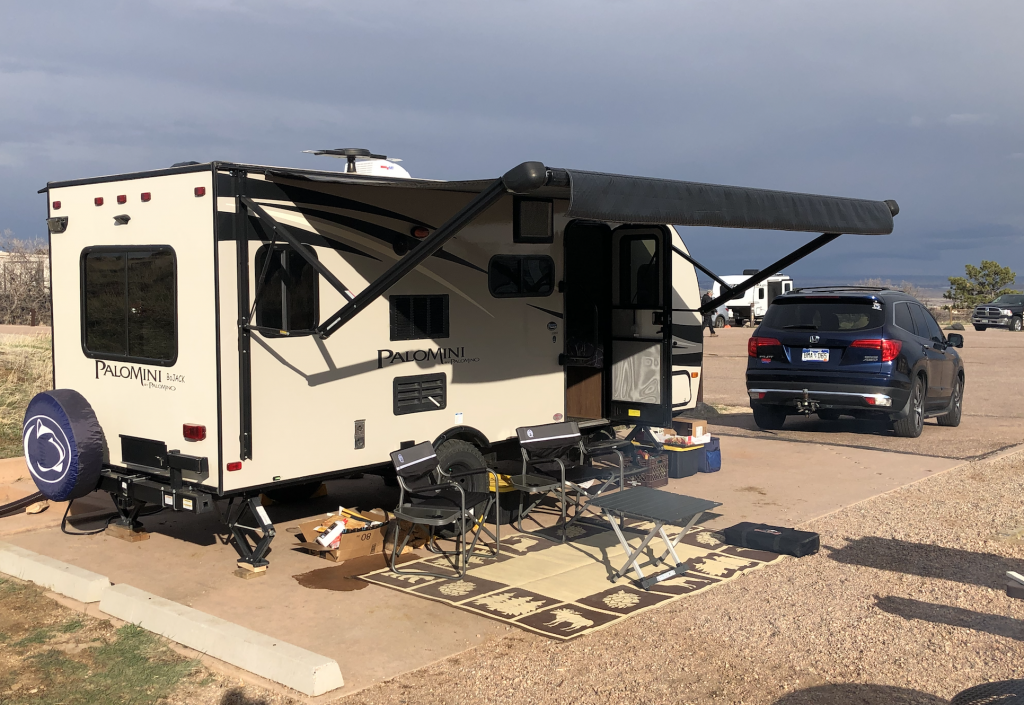 We have learned so much! So here are some lessons we've learned from our adventures in setting up and tearing down.
The Good
Checklists are your friend! Pinterest has numerous examples out there; Dave and I browsed dozens of options and settled in on two sets of checklists: an example from an RV group we're part of on Facebook, and a set that you can download from The Crazy Outdoor Mama blog. Dave and I converted those PDFs into Word documents so we could customize them to Bojack's specifications. And once you have good checklists, USE THEM! ALWAYS!
Make the checklists easy-to-use. Dave and I invested in an Air Force Flight Crew Checklist binder, which keeps your checklists waterproof. A dry erase marker makes for easy checkmarking. This is kept with our bigger binder of manuals, which also includes the TT's insurance and registration paperwork.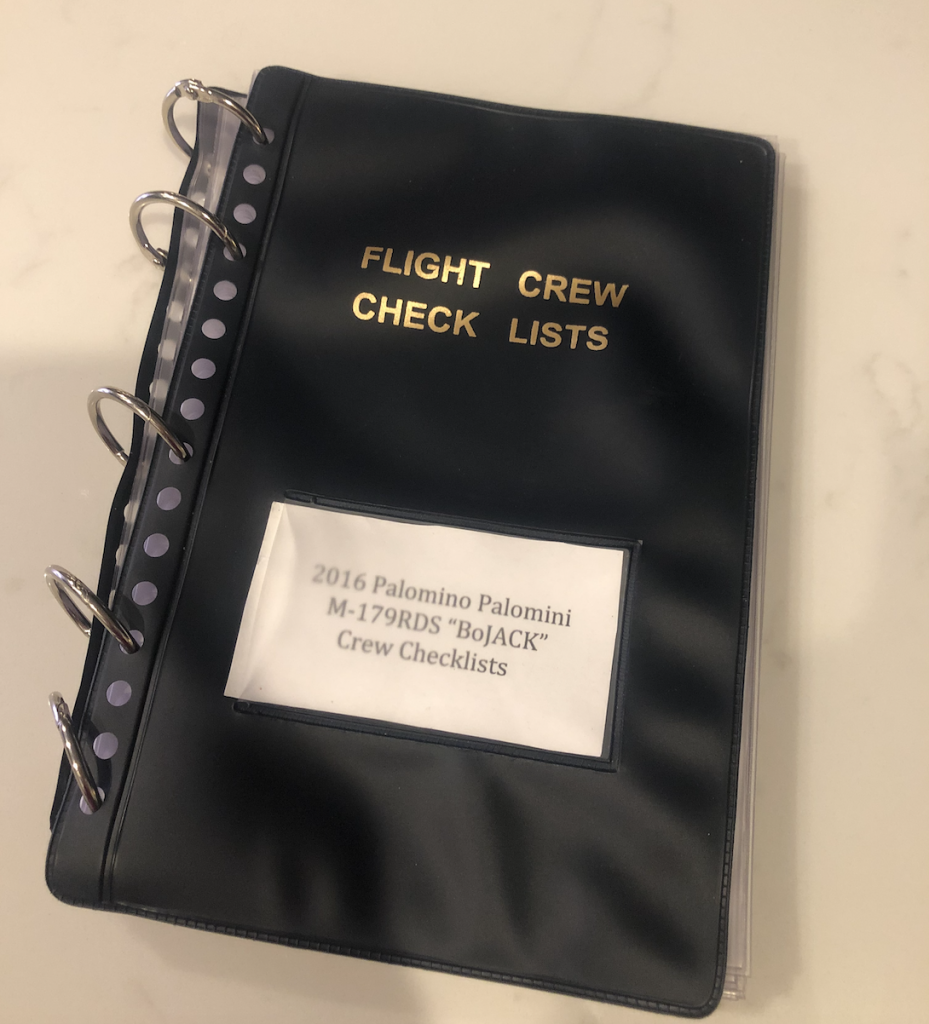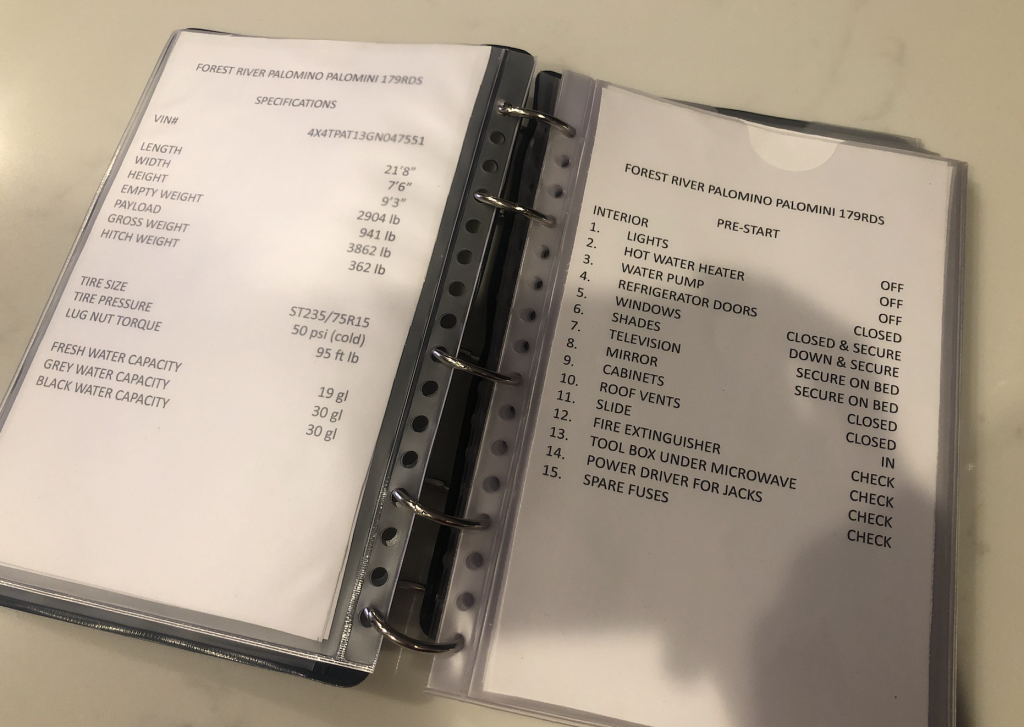 Make the investments in those "little things" to help monitor the statuses of your hookups: a water pressure gauge when you're on a water hookup and a surge protector for your electrical connection. We also picked up a propane tank gauge, even though many will tell you that you can use hot water on the exterior to get a sense of how much propane is left in the tank. And finally, a TPMS (Tire Pressure Monitoring System) kit, which involves special tire valve caps that can transmit tire pressure and temperature data to a receiver that you can keep in the car. These give us easy indications that things are going as expected…or not.
Quick leveling tip! If you haven't thought of it before, invest in a drill and drill bit bolt receiver for the stabilizing jacks. Amazon has many leveling bits to choose from, many for under $10. This will make adjustments in leveling your TT much much easier.
The Bad
Towels Towels Towels. In Bojack, we have a rather shallow sink. If the water pressure is too high, water splashes out. After the 2nd campout, we realized that water was oozing under the wooden stove-top cover. I keep a stack of old towels in Bojack so we can easily get ahead of mishaps such as this. Those towels are also great to clean up the floors, especially if you track in mud or dirt.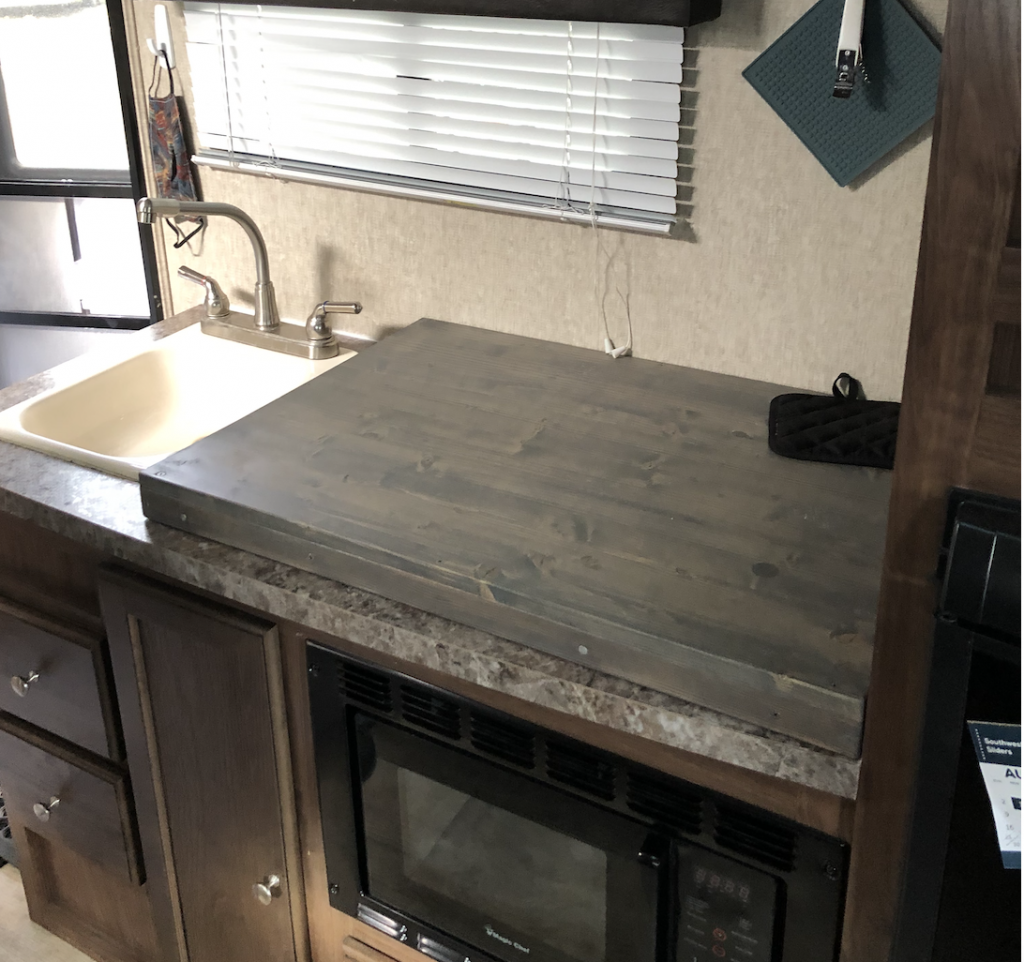 Storage Solutions. For a camper as small as Bojack, storage has been a challenge. Dave and I have agreed that with the need for food, homewares, and linens storage, there's absolutely no place to store clothing. Bojack wasn't really meant for full-timing, so Dave and I have to do some fancy back-and-forth-ing with our clothing: we pack duffels and hoist them back and forth between the bed and the couch each night and morning. It's kind of sloppy, truth be told. As of now, we don't have other options for clothing storage yet. We are trying to strategize what we plan to do for 1-week+ length trips, which we are just starting to plan for future years. But for things other than clothing, Dave and I have been trying to take advantage of the wall space and any other unused space in the cabinets:
Dishes. We bought Corelle dishes to keep on board, and I have to make a point to pack them well with every trip. I found some quilted storage bags that include felt pieces to insulate every piece.
Other Kitchenwares. For flatware and shatterproof drinking glasses, we found options that include storage and the ability to let the pieces air dry easily.
All the while…we kept things fun to use and practical to own. We have enjoyed the teal-colored "Happy Camper" theme.
The Ugly
Don't skimp on the grey and black tank care. This is NOT the place for your tree-hugging side to come out…to keep odors down, take time to treat the black tank preemptively (I'll address this next), and use LOTS of clean water to flush things out at the end of a camping trip.
To treat the black tank, Dave and I have been doing a few things.

(1) NEVER let the black tank sit completely empty. Always have about a gallon of water in there…this can be done easily by flushing the toilet for about 10-15 seconds right after a black tank dump.
(2) We use Happy Camper, an enzyme treatment, as soon as we put that gallon of water into the black tank….in between daily black tank dumps (our tank is pretty small, so we typically have to do it daily). Happy Camper is easy to use, but it's pricey. We got a canister before our first campout last October and we're barely put a dent into the container…so far we're happy with it.
(3) After we completely flush out and rinse the black tank at the end of a campout, we pour in a gallon or two of water with 1 cup of blue Dawn dish detergent and 1 cup of liquid Calgon water softener. We drive out of the campsite with this in place, and let the concoction slosh around in the black tank on the drive home. Keep it in there while in storage…it won't hurt anything. Google "The Geo Method" to learn more…different users have little adjustments to this.

The weight distribution hitch. I'm putting this topic under "ugly" because it took our 3rd camping trip before we could eliminate the drama with that daggone hitch! First of all, here the hitch we have, which generously was included with our Bojack purchase:
I don't even know how to use words to describe how this works with just the picture on the Amazon ad, but suffice it to say that proper setup before driving with the hitch takes quite a bit of strength and physics skills.
Dave and I simply were NOT getting it right at first. We had adjusted the side bars to a "comfortable" tightness, and with tight turns — as well as that time we filled our tanks with water and the hitch came loose as a result of adding 19 x 8 = 152 pounds of water, thus changing the weight that needed to be distributed by the hitch — well, we were struggling.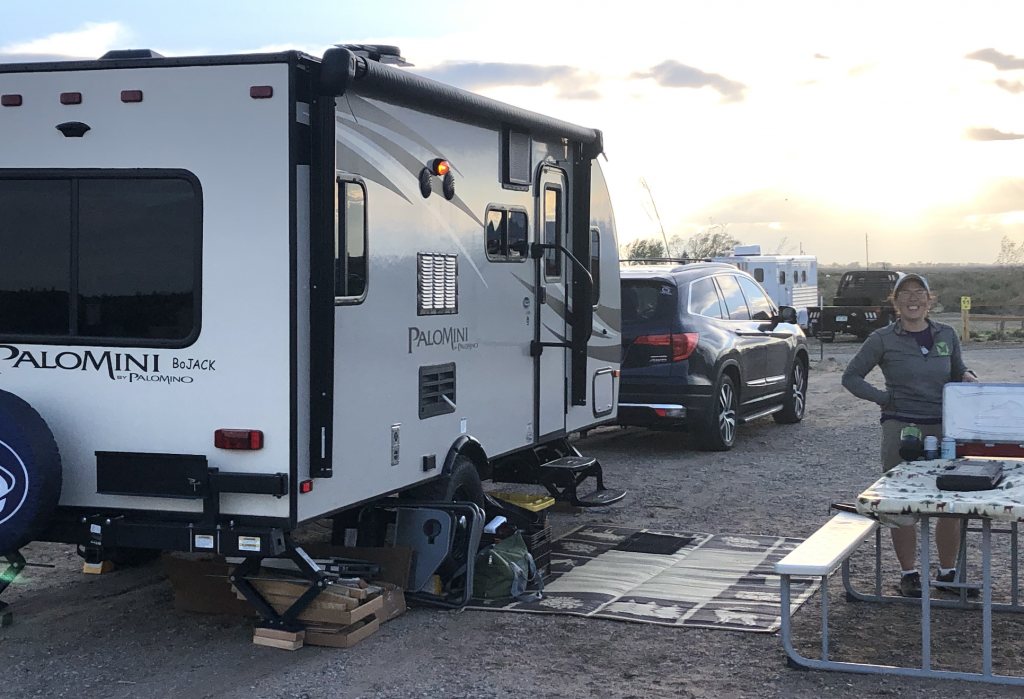 After another dragging weight distribution bar incident, this time on Interstate 25 when bringing Bojack to our house to load, we started to discuss getting professional help for this issue. This was just before our Great Sand Dunes trip in May 2021. Out of frustration, Dave and I used all of our strength and made the weight distribution bars extra tight. Sorta like a "F*** you!" to the hitch.
And the issues stopped. Lesson learned: extra tight weight distribution hitch installation. If we didn't struggle to install it, we did it wrong.
To Conclude…
Owning a travel trailer is a lot of work. As of now we're learning quite a bit and having fun in the process. Each setup/teardown cycle is becoming easier and easier for us…but we need to be sure we don't get complacent. We have checklists, we need to remember to run then with each and every trip.
I hope you enjoy the product recommendations, too! Enjoy!