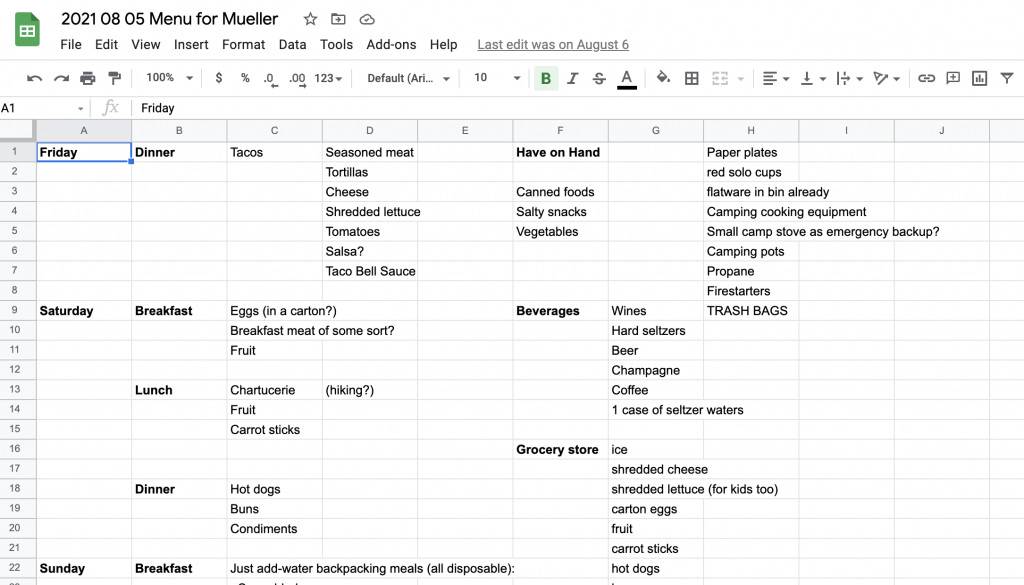 I wanted to share our primitive method of meal planning. One of the big perks of camping is that we can take our own food and cook it how we see fit. When the electricity situation allows, we can even take things like an Instant Pot or an air fryer. Depending on the menu choices.
Since our storage space is very limited in Bojack, we need to be deliberate about the meals. For a long weekend, we can take all the food we need: it will fit in the fridge and cabinets. But if we used Bojack for any longer, we probably need to figure out periodic trips to the grocery store. No big deal, so long as we're near a grocery store.
The image above shows one of our meal planning spreadsheets. I make a new one for each camping trip, but I think over time we can just recycle these menus. There's really nothing special about it. I have a Google Drive folder for all things Bojack, and I just make Google spreadsheets in that folder. They're easy to share, and oftentimes Dave and I will work on the spreadsheet concurrently.
As for the kinds of things we will tend to eat while camping, we have some standards that we fall upon over and over again:
Hamburgers
Hot dogs
Tacos <– in this case, you can prepare the meat ahead of time, or brown/season it on site
Instant Pot BBQ chicken
Steaks
Grilled chicken
We have to figure out what ingredients are required. Then we have to assess which foods are on hand, from there, we can make a grocery shopping list. Then I have to figure out what kitchen tools might be required; I don't have the space to keep everything in Bojack all the time, so we have to do some planning in that way, also. This may include things like:
Spatulas
Whisks
Measuring cups
We're slowly working our way towards stocking more kitchen utensils in Bojack but that's been a slow process. Again, storage is a concern.
We have an outdoor camp stove, and cooking many of the above foods outside using the camp stove is ideal. It helps keep Bojack from getting too greasy, hot, or just generally messy.
We also have a microwave on board, so we will sometimes pick up those easy-to-microwave meals, often found near the hot dogs and sausages at the grocery store: pot roast, shredded BBQ, mashed potatoes, potatoes au gratin, etc.
I like cooking hearty breakfasts while camping. Even when tent-camping. So I always want to bring eggs, bacon or sausage, and plenty of fruit. For this trip we're on right now, I brought a can of corned beef hash and cooked it up nice and crisp.
This is not normally how we cook at home. But when it comes to camping, sometimes these meals are just as much a treat as eating in a restaurant.