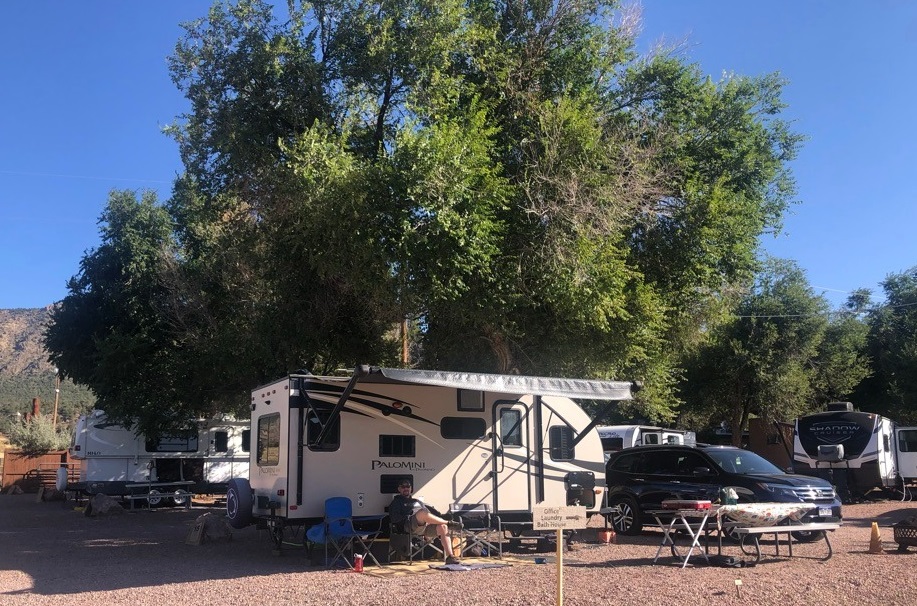 Hello and Happy Thanksgiving! I can't believe I forgot to write up our experience in Cañon City, Colorado from the end of September.
This trip inadvertently became our last camping trip of the season, thanks to COVID-19 running rampant through our family the following week, taking us out till mid-October. We ended up having to cancel our Columbus Day weekend trip to Mueller State Park, which was heartbreaking: it was going to be with friends and right around the peak golden aspen time of year. Maybe another year we can try it again.
Name of Campground: Mountain View RV Resort
Location: About 8 miles NW of Cañon City, Colorado, on U.S. Highway 50.
Dates Stayed: 24-26 September 2021
Miles Traveled: 65 miles.
Site #: 15, which was considered a "deluxe pull-thru", but it was a somewhat tight, complicated pull-thru.
Hookups?: Full hookups!
Cost: $60/night + $10 for our 16 year old son
Amenities: Nice bathrooms with free showers, small playground in the shade, two dog walk areas
Cell Service/WiFi: There is WiFi, but it was very weak from our site. We ended up using our cell phones to stream Netflix in the camper.

Travel to Canon City and Setup
As can be expected, hooking up Bojack at our USAF Academy RV storage lot site is getting easier and easier. We are getting better about using our checklist, and we have learned exactly how to set up the weight-distribution hitch for no trouble on the drive down.
The drive to Cañon City is very simple: the hardest part is navigating the Friday afternoon traffic through downtown Colorado Springs, and we did that sort of drive when traveling to Alamosa back in May. Once you're through Colorado Springs, it's a straight down down CO 115, then U.S. 50, the rest of the way.
The contract that came with our Mountain View RV Resort reservation made clear that you aren't allowed to arrive after dark (so as not to disturb other guests), and the office only stays open till 6pm for check-in. You have to pre-coordinate for check ins between 6pm and dark (which was around 7:30pm on that day.)
Some other things that caught our attention about this resort's policies:
You will reserve to one of 3 types of sites. However, you do not know your Site # until check in, unless you pay a "Lock Site Fee" (I do not know what that fee is, it's not on the website and we didn't ask to do this)
No refunds. With 15+ days notice, you can receive an account credit (less $20) for changed plans
Holidays and Friday/Saturday stays have a 2-night minimum
We ended up getting a call from the office on our drive down asking what time we would check in. I think we arrived a little after 5pm, so that was fine for them.
As I mentioned above, we had a "deluxe pull-thru" site, but it was a very tight fit. Once we disconnected Bojack, we had to park our Pilot perpendicular at the front of the camper.
Hookups went without incident. We spent some time on this trip teaching Tim how to set up Bojack, including water, electrical, and sewer hookups, as well as how to lower the corner jacks to make Bojack sit evenly.
The Campground
This is a decent enough commercial RV park. We liked the numerous trees, and the owners were nice people.
Mountain View RV Resort seemed to  have a number of permanent residents, their sites having these engraved rocks to label their spots. Unlike what we saw in Buena Vista, the permanent sites were scattered seemingly randomly throughout the park.
I was worried that being right on U.S. Highway 50, a somewhat significant east-west thoroughfare across Colorado, we might have traffic noise. In particular, I wondered if we would hear loud compression brakes but it turned out not to be an issue: the large hill — the descent into the Big Horn Sheep Canyon — where trucks might need those brakes is just west of our location.
The bathrooms were very nice. Spacious showers that didn't cost anything to use! There is also a playground for the kids and a laundry room, but we didn't use either of those amenities.
I was pleased with the two expansive pet walk areas, complete with a baggie station. We did have Ranger with us and there were plenty of other dogs walking around for him to cry at.
One of the things we enjoyed was the pretty west view from the pet area. Dave got some nice photos of the sunset view towards the Sangre de Cristo Mountains.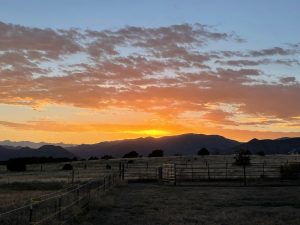 As mentioned above, we were disappointed with the anemic WiFi. There were numerous hotspots for us to connect, but none of them allowed for streaming video, either on our laptops or on our Roku TV, which was disappointing. We could do other, more basic, internet tasks, such as email and social media. Tethering our smart TV to our cell phones was slightly better, but still not great.
Perhaps we were spoiled with our first couple of camping trips, having great WiFi. We figured we could take advantage of streaming our favorite shows after it's too dark, too cold, too windy in the evenings. But the past two trips didn't make it easy. Time to adjust our expectations for 2022.
Would we recommend Mountain View RV Resort?
Yes, we recommend it, if you are feeling confident in your trip's plans. As is the case with many of the commercial RV parks in Colorado during the high tourist season, the modification and cancellation policies are pretty strict. Also, the costs for the sites are pretty high, compared to camping at national/state parks and other public lands.
The location is wonderful. You are only about 10 minutes from the Royal Gorge Bridge and Park to the west, and about 10 minutes from the city of Cañon City to the east, which has the Royal Gorge Train and other cool activities. I will write about our afternoon at the Royal Gorge Bridge and Park in a subsequent blog post.
And finally, for a commercial site, the price is comparable to the other RV parks nearby. In fact, the KOA that's a little closer to the Royal Gorge Bridge and Park is showing for $75/night in the off season, and I can't even see the high tourist season prices!