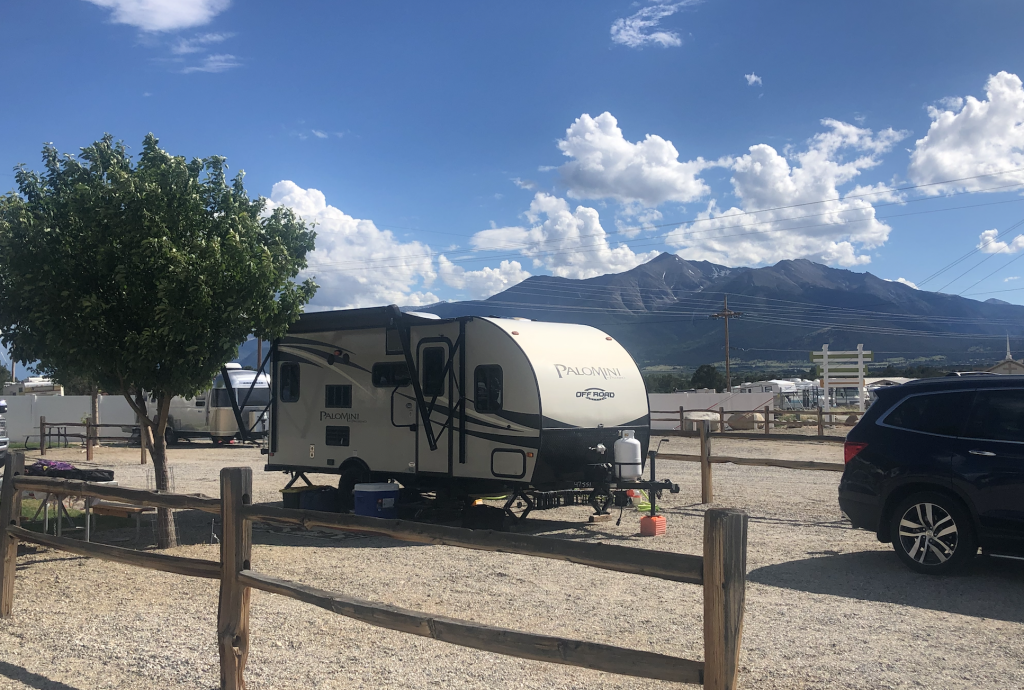 Statistics
Name of Campground: Mt. Princeton RV Park
Location: About 1 mile north of Buena Vista, Colorado, just off U.S. Highway 24
Dates Stayed: 2-5 July 2021 (3 nights)
Miles Traveled: 108 miles each way
Site #: B1,  Pull thru
Hookups: Full hookups!
Amenities: Playground, pay showers (50 cents per 3 minutes), activity room with books and puzzles, very active social scene, dog park
Cell Service/WiFi: The park has WiFi, but the further you are from the central part of the park, the weaker the signal is. Cell service was hit or miss.
Travel to the Campground and Setup
Smooth as silk this time, save for one hiccup. When Dave and I picked up Bojack from the storage space, our left tail light wasn't fully cooperating. The regular light worked, but braking and turn signaling was in-op. So we stopped at O'Reilly Auto Parts on the way to our house and picked up a replacement bulb, changed it out, and had the same results.
We brought Bojack to the house and Dave made some phone calls to see if someone could help out. It turned out our local Camping World put one of their maintenance professionals on the phone with Dave and talked him through some troubleshooting. After a couple options, the tail light was back in business! Woot! It didn't take long to solve, thank heavens.
The loading and drive were quite painless. With little to no wind, we were able to climb Ute Pass, Wilkerson Pass, and Trout Creek Pass and make it to Buena Vista with 14mpg. Much better than the 9-or-so we got driving to the Sand Dunes in May. We made it to our campsite in about 2 hours. The traffic was heavy, but not horrible. So many campers, boats, and ATVs on the road.
On this trip, we had our 16- and 18-year old sons (and our dog Ranger) with us so we were able to show our sons what is required to set up Bojack: connecting the electric, water, dump line. Turning on the propane for the fridge, heat, and stovetop. We showed them how to put the chocks down (and why that's important), how to lower the stabilizing jacks. We showed them how the slide out opens…and how to check that lights, plumbing, and gas are working inside. They helped us set up the TV.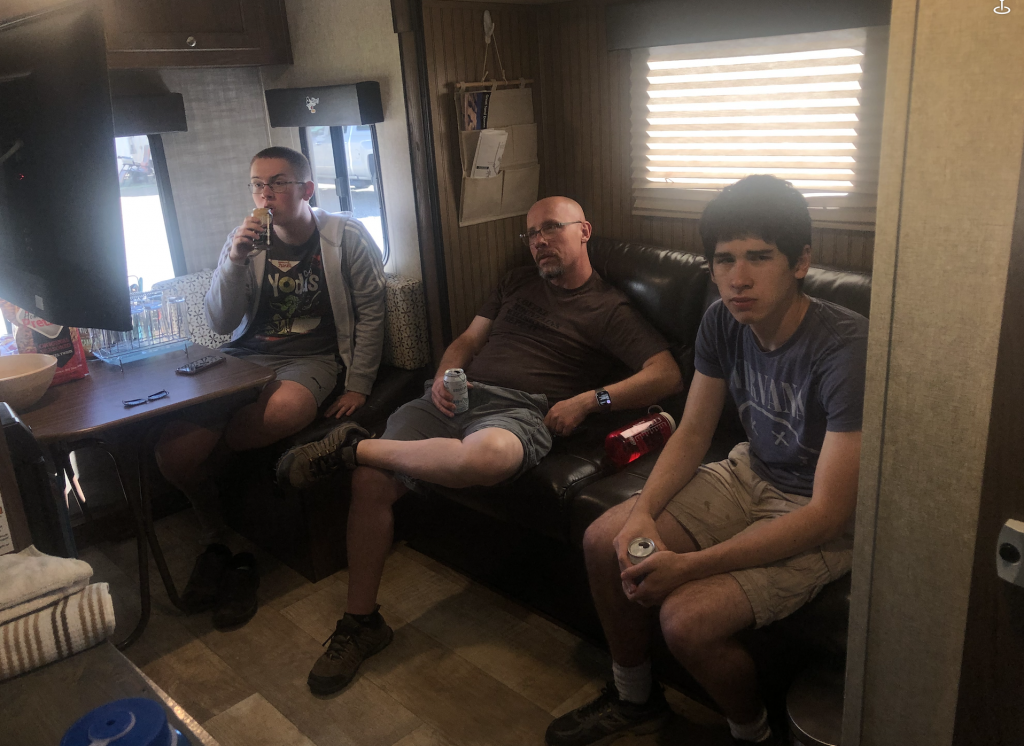 Setup was a breeze.
The Visit
On this trip, some Colorado Springs friends joined us. We've known them nearly 20 years now, thanks to the Air Force,  and Colorado Springs is the 3rd place we've lived in the same community. They are MUCH more seasoned RVers than Dave and me, having traveling extensively this way since they were kids. They took a year of their lives, after retiring from the Air Force in 2017, and traveled the country, homeschooling their three kids, and they blogged (most of) the experience here.
We had neighboring pull-through sites, and our kids could hang out together and run back and forth between our two campers.
Well, mostly their camper, since they have a 42′ Newmar ALL STAR. It's twice as long as Bojack! It has so much space!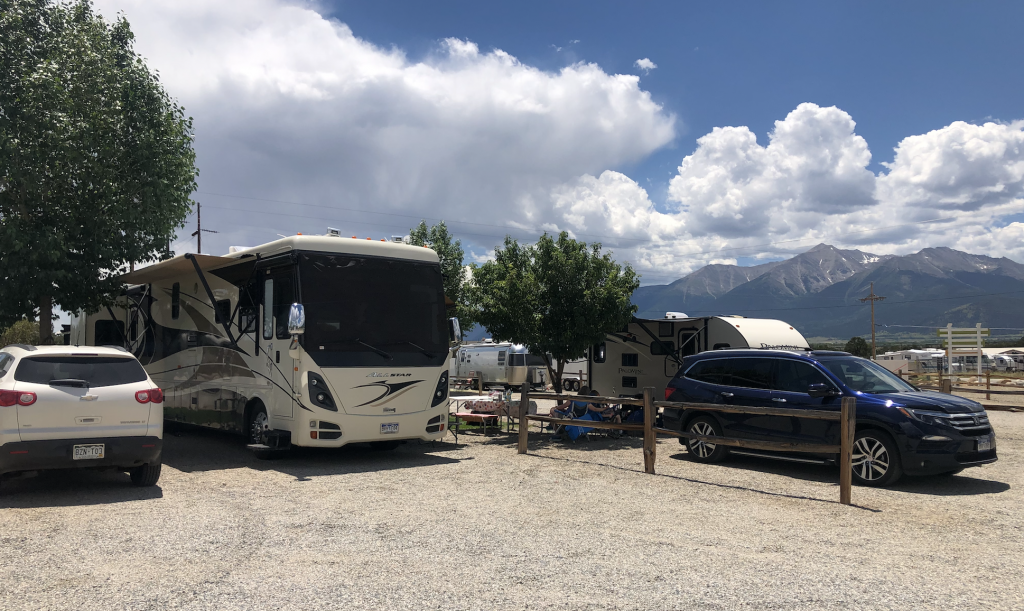 Dave asked the front office about seeing July 4th fireworks from our campsites, and the woman told him there were some options. We ended up sticking around our campsites playing cards and watching a movie, after a few minutes of watching the show.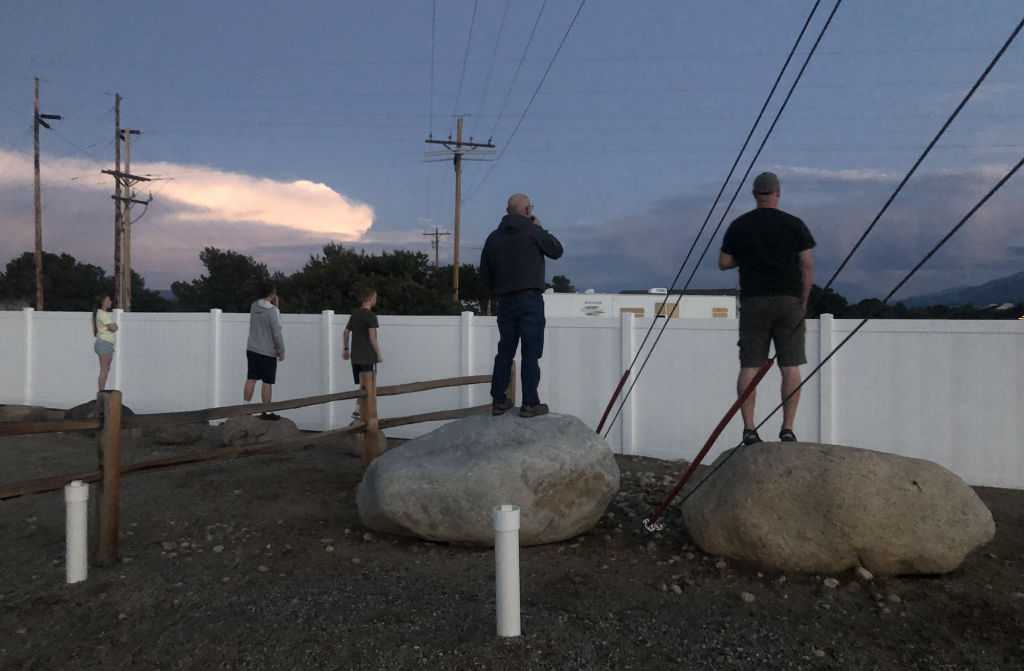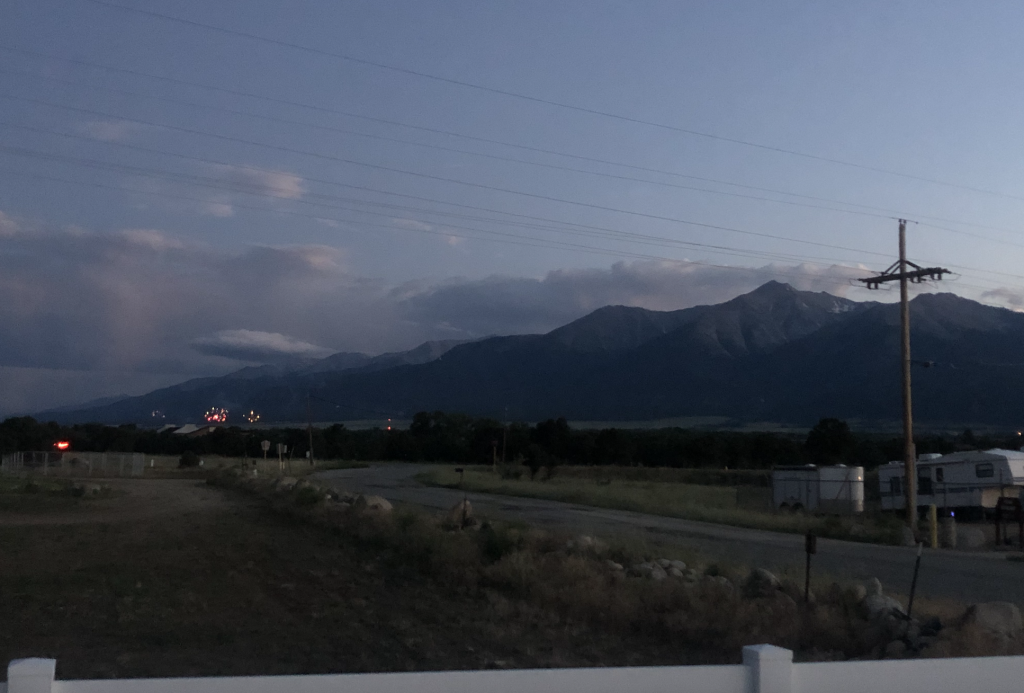 In addition to the fun we had just hanging out at our campsites, we also took a couple excursions to explore things around Buena Vista. I'll write more about this in subsequent posts.
The RV Park
Mt. Princeton RV Park is a clean, well-kept RV park in a great location just north of Buena Vista's "downtown". You're near the Headwaters of the Arkansas recreation areas, amazing whitewater rafting, hiking, and the charm of a small (but quickly-growing) Colorado town.
This is our first noticeable experience in an RV park that hosted a large full-time/long-term guest community. I'm fairly certain we've tent-camped in locations that had that, but we didn't really pay much attention at the time. The park appeared to be divided into two parts — the north side was mostly longer-term visitors, evidenced by the numerous golf carts and protective wheel covers on folks' rigs. We, and others who were on shorter visits, were on the south side of the park. The spaces on the south side (south of the clubhouse/bath/laundry buildings) seemed a little larger, but I could be wrong…perhaps the long-term guests just filled out their sites a little more and gave the illusion of being packed in more tightly. I'll let you decide:
The full-timers have a busy calendar of activities posted in the community room, including games, pot lucks, bike rides, and morning coffee socials. I'm sure non-full-timers could participate, too. We saw some of the activities occurring during our visit and the sense of community was nice to see. If we had chosen to stay one more day, we might have been able to get into that mahjong group: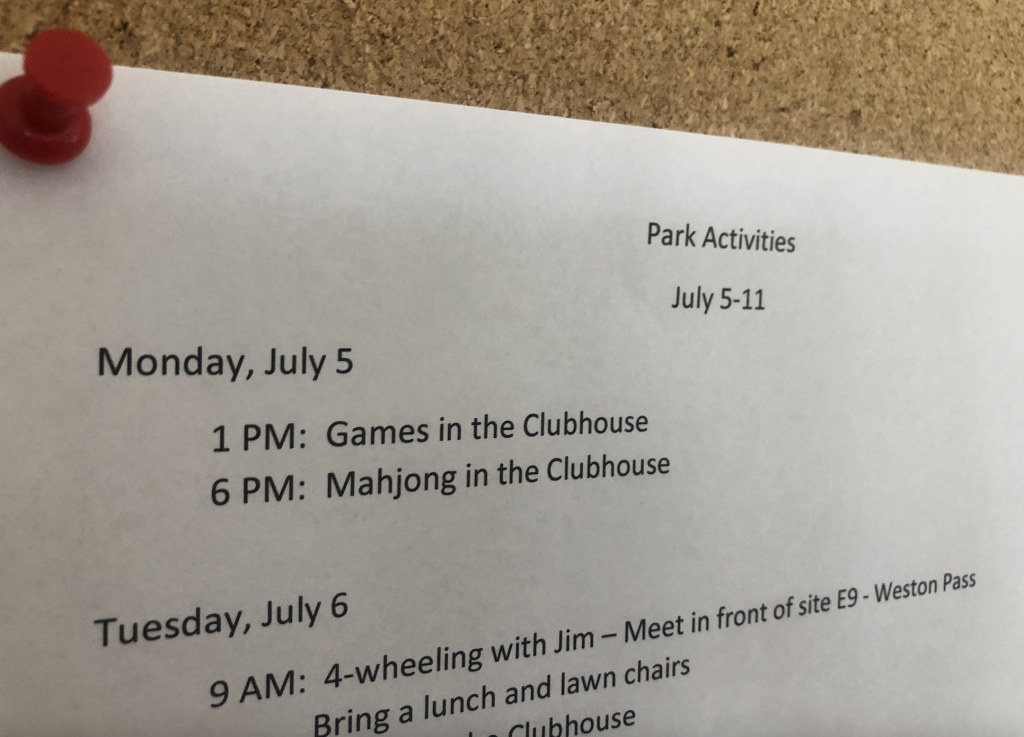 Pricing for sites at Mt. Princeton RV Park varies. Pull-thru sites cost more than a back-in site (but are the same size), and staying in the warm-weather months costs more than in the cold-weather months. Expect maximum pricing between Memorial Day and Labor Day: $57-59.50 per night. For prime summer camping in central Colorado, this isn't bad at all.
Part of this being such a nice RV park is their rather strict set of policies. I get it. The strict rules make for a nicer experience for everyone. They are very particular about check-in times: they want you checked in before 7pm so as not to disturb neighbors trying to set up after dark. They do insist on physically checking in. They strictly adhere to their quiet hours.
The pet policies are the most strict I've ever heard of: one dog per site. This made things tough for our friends, who had one dog when we made our reservations last fall, but had acquired another dog by the time it was time to take our trip. They were able to make last minute arrangements to kennel their dogs, but they did bring their cat.
The bathhouse is very nice: it looks somewhat new and was very clean each time I used it. The showers are coin-operated, but the least expensive I had seen: 50 cents for 3 minutes, $1 for 6 minutes. There's a change machine near the laundry area in the same building. The water pressure was good, but there was no temperature control that I could find. I found that odd. Luckily, I don't mind very hot showers.
Unlike other commercial (and even national/state park) RV sites we've visited, Mt. Princeton RV Park doesn't have an online reservation system. Their website will encourage you to give them a call to make a reservation. Alternatively, there is a form you can fill out online, and someone will call you up to refine what you need and take a credit card for a deposit. We didn't receive any email confirmations, either. This isn't the end of the world, and I don't think it's a reason to not give them business; a simple phone call took care of any questions we had.
Would we stay there again? Were it not for the dog policy, and the impact that had on our friends who didn't get to enjoy their weekend with their dogs, we probably would. The location is good, it's well-kept, and the sites are spacious. We and our friends are already planning on returning to Buena Vista next summer to celebrate Independence Day, and we may be exploring other options, so we can bring all the pets.