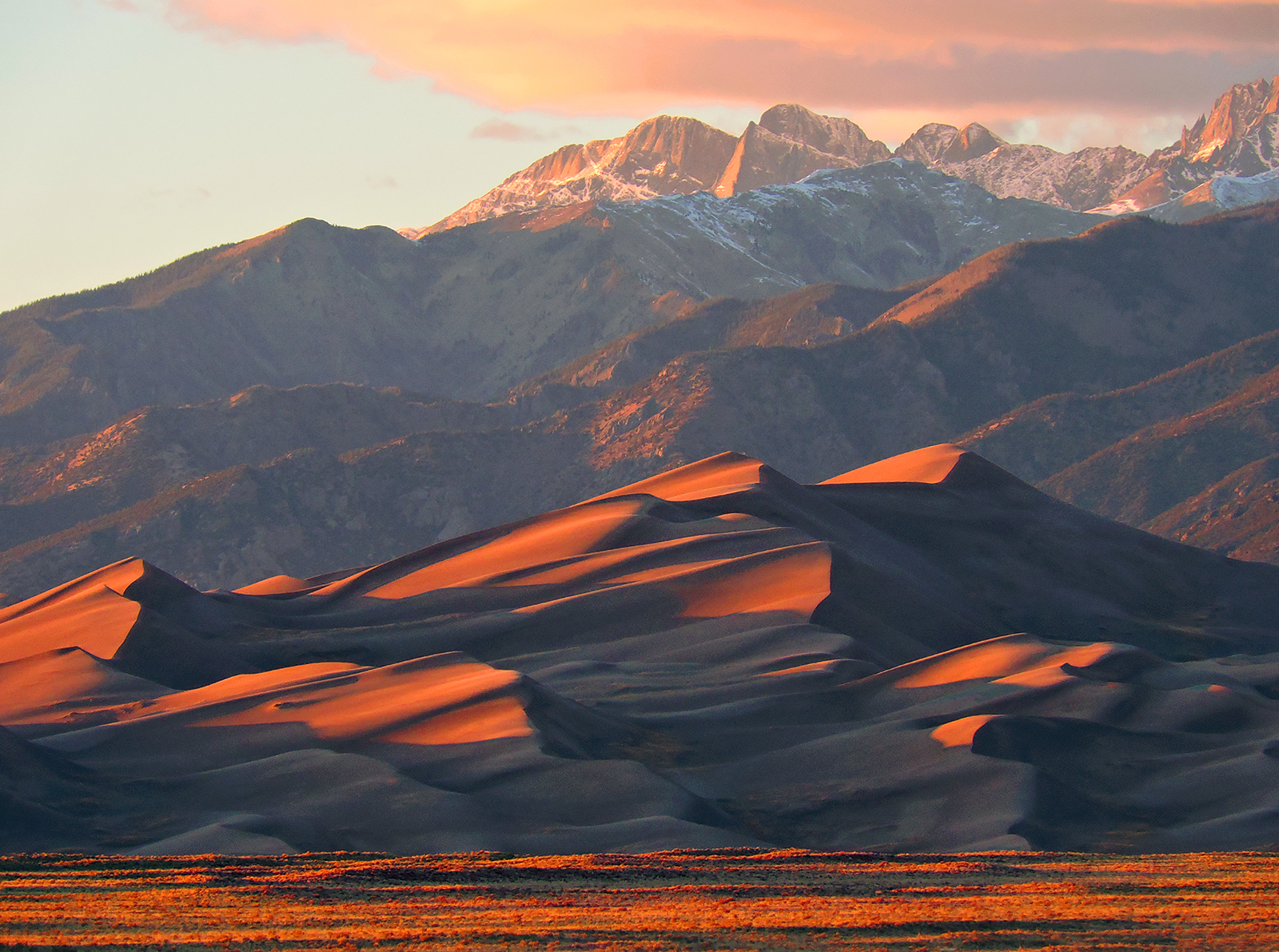 Hi! This is Patricia! As I'd said before, Dave and I have reserved weekend camping trips with Bojack for almost every month during the "warm season"…April through October.
Our 2nd trip of the year is coming up this weekend, and I'm getting excited for it! This will be the longest trip Bojack will have taken with us, to Base Camp Campground east of Alamosa, Colorado. Alamosa is a 2.5-3 hour drive from Colorado Springs, in the heart of Colorado's San Luis Valley, home to many of of the state's potato, lettuce, and (interestingly) quinoa farms.
While we're in Alamosa, the headliner activity will be spending time at Great Sand Dunes National Park, about a 30 minute drive from our campsite.  We got a ton of tips from our neighbors, who have already camped there this month. We know the place to rent sleds, hike, and hang out along Medano Creek, which runs pretty actively during the month of May. The geology to why these huge sand dunes ended up in the midst of the Rocky Mountains is so fascinating and we can't wait to see them and learn more.
This trip was originally scheduled for Memorial Day weekend, but we had to do some last-minute rearranging to the weekend prior when they announced our oldest son's high school graduation date. Luckily, the campground was able to accomodate our change in weekend with just two months notice. This year, getting reservations, let alone those sorts of date changes, haven't been easy for campers. At first, our rescheduled reservation was split across two sites, and then the campsite contacted us and said, "Good news, we can keep you on the same site all weekend!". Hooray!
As mentioned above, this will be Bojack's longest journey. We are grateful for the longer days, since we aren't leaving on Friday until after school's done for the day…it's the last day of school here! Dave wants to allow for at least 4 hours of travel, in case things are slow going over the higher traverses, such as La Veta Pass on U.S. Route 160 west of Walsenberg, CO. As far as Colorado mountain passes go, it's a good road, not nearly as treacherous as the Continental Divide passes. Just the same, we want to take our time and make sure we don't overtax our SUV.  I'm sure we will still have enough sunlight to do the basic setups once we get there.
Also, this will be Bojack's first visit to a commercial campground since we got him. We've tent camped at commercial locations many times before; so we know what to expect. Bojack's next 3 trips will be to commercial campgrounds.
Between the last trip and this one, Dave has made a couple of small repairs to the weight-distribution hitch, and he did a full ops check on the TPS (Tire Pressure System), and realized he needed new batteries for the sensor. Hopefully those two systems don't give us any problems this weekend.
We are also looking forward to the hot water heater working properly. I need to contemplate photographing the "winterized" vs. "ready for prime time" settings to the numerous valves surrounding the water system.
Dave got us a pop-up shower tent that we will try out this weekend. We have an outdoor shower apparatus on the driver's side of Bojack. We know the water flows from the shower head, but we haven't tried it in practice. The shower inside is SMALL (and makes the whole bathroom space wet) so hopefully showering outside works out better.