Happy Holidays from the Vollmers - 2022
A return to normal...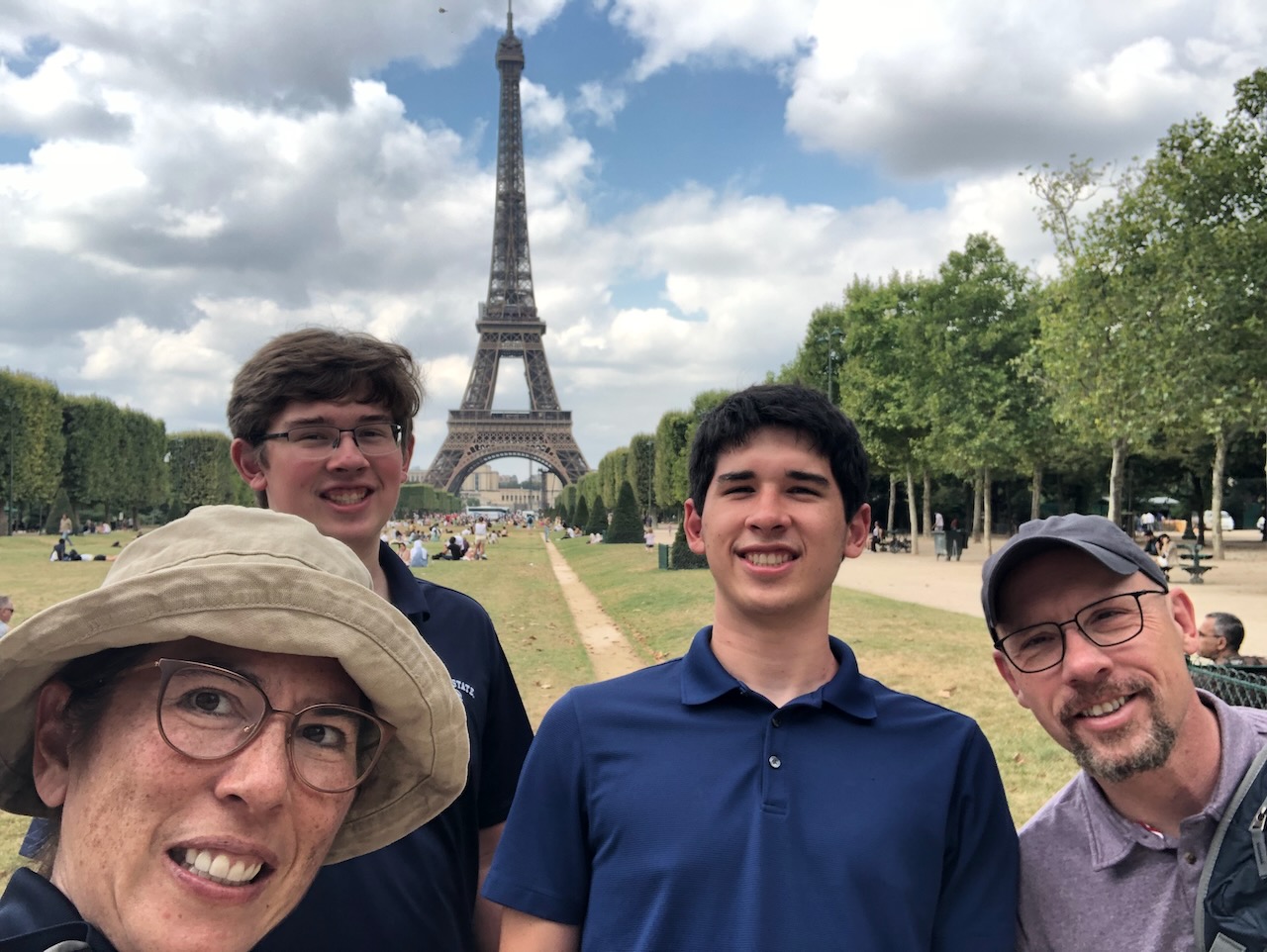 1350 Foothills Farm Way
Colorado Springs, CO 80921
(919) 749-5744/5544
2022 was a little more like the pre-apocalyptic times (other than Tim having a bad bout of COVID in November), so it was time to catch up on a ridiculous amount of travel! Travel will certainly be the theme of this newsletter. As you may remember, we were all set to take our dream vacation to Europe in 2020 (anchored by the world-renowned, once-every-ten-years Passion Play in Oberammergau, Germany). Well, COVID had other plans, and we had to punt to 2021...and then again to 2022. But, we did it! We also did a lot of other things, from college campus visits for Tim and a weeklong getaway for Dave and Patricia to Aruba to putting 26 solar panels on the house and an unexpected new (used) car. When a Prius dies, it really dies! Oh, and a wildfire nearly took out our neighborhood in April. It's been a wild ride!
Patricia and Dave are coming perilously close to being empty nesters. At this writing, Tim has accepted an offer of admission into Penn State's College of Agriculture, meaning our house will soon be home to three Nittany Lions (and, of course, a Colorado School of Mines Oredigger)! We know that the empty nest brings a mix of emotions from pride to sadness, but we're already planning new travels and activities to soften the blow. We're crazy proud of our boys...academically gifted, musically gifted, independent, Eagle Scouts, etc. Our home's loss is the world's gain!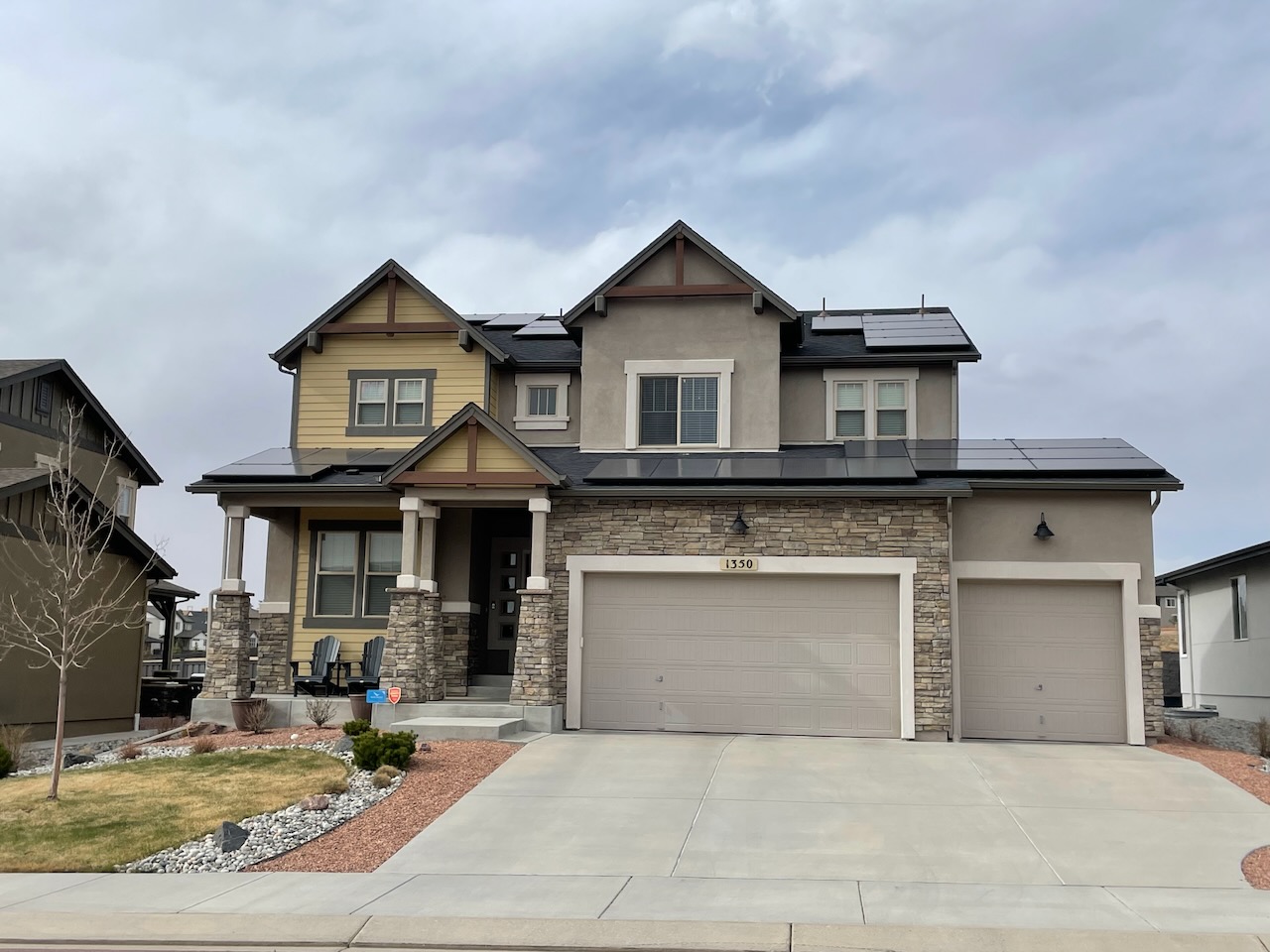 The Vollmerhaus with its 10.4 kW solar array, installed in January 2022. Dave took this photo as the family was evacuating the Farm community as a wildfire raged a quarter mile distant. The neighborhood survived unscathed, and our solar installation produces considerably more electricity than we use!
http://www.thevollmerfamily.com
Patricia's Blog (onto which most of our travel diaries reside): http://www.thevollmerfamily.com/MajorMom
---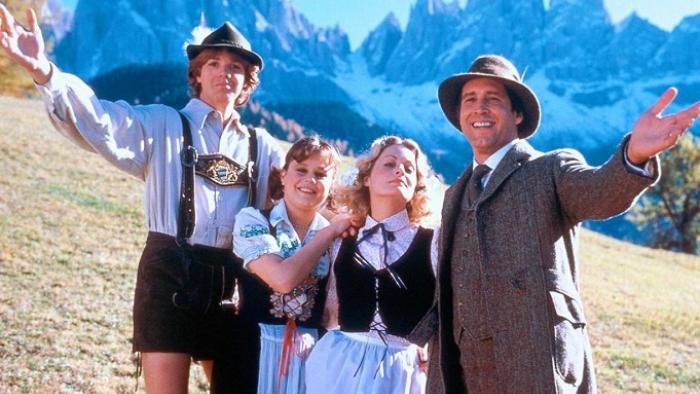 The hills are alive...with the sound of Griswold Vollmer...
All the detail you could ever want -- day by day -- about our adventures in Europe in the summer of 2022 can be found here in Patricia's blog: Vollmer European Vacation. Patricia was relentless with the selfies, at least one per day, for well over 50 selfies total over the 17 days. You can see an album of selfies that she made here (view in "Full Screen").
| | |
| --- | --- |
| Port-en-Bessin-Huppain, Normandy, France | Arc de Triomphe, Paris, France |
| Main train station, Berlin, Germany | Garmisch-Partenkirchen, Bavaria, Germany |
| Passion Play Theater, Oberammergau, Bavaria, Germany | Hofbräuhaus, Munich, Bavaria, Germany |
A selfie matrix from the Vollmer European Tour.
Back in 2010, members of our Nebraska church went to Germany to see the Passion Play, a day-long, deeply moving reenactment of the Passion of the Christ that is performed by the entire population of the Bavarian town of Oberammergau, Germany...a tradition that fulfills a promise to God, held every ten years since the town was spared from the plague in 1634. Dave and Patricia decided we wanted to bring the boys to see it when it was performed again in 2020, and we'd build a European vacation around it. Well...2020 came and so did COVID, and Oberammergau wisely pushed the play to 2022. And so we pushed our vacation as well. In the end, we spent 17 days in France and Germany (with lunch in Austria!), visiting famous battlefields in Normandy, enjoying the magic of Paris, touring Cold War relics in Berlin, climbing mountains in Bavaria, and drinking beer in the world's largest beer hall in Munich, with a spiritual renewal by way of the Passion Play.
We did take one other trip as a family of four... In March, we took our Spring Break trip not to a ski resort (as we usually would), but to tour college campuses for Tim. Tim had two top-choice schools back East he was interested in...Penn State and North Carolina State. Of course, if you're playing along at home, you know that Dave and Patricia both earned their B.S. degrees (the irony of that abbreviation is never lost on me) from Penn State and Dave earned his PhD from NC State. Tim wants to major in Food Science, and it so happens that Penn State and NC State have two of the best programs for that in the country. We tied the Penn State visit in with a visit to Dave's parents in Lancaster, PA, and the visit to NC State with a visit with Patricia's sister Peggy and her family in the Durham/Hillsborough/Mebane area. We also were able to visit Patricia's parents in Martinsburg, WV.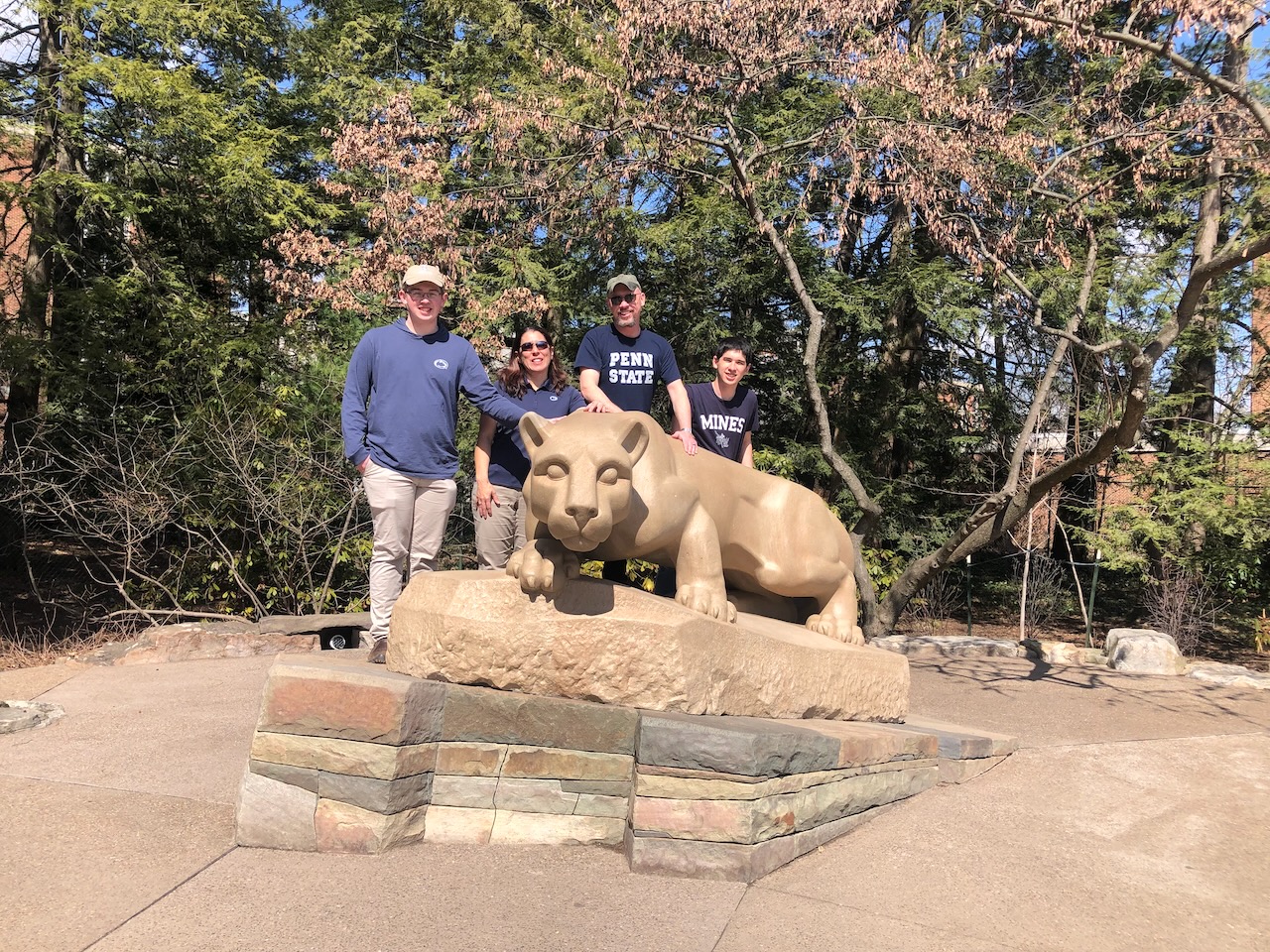 The nuclear fam at the Penn State Nittany Lion Shrine in March.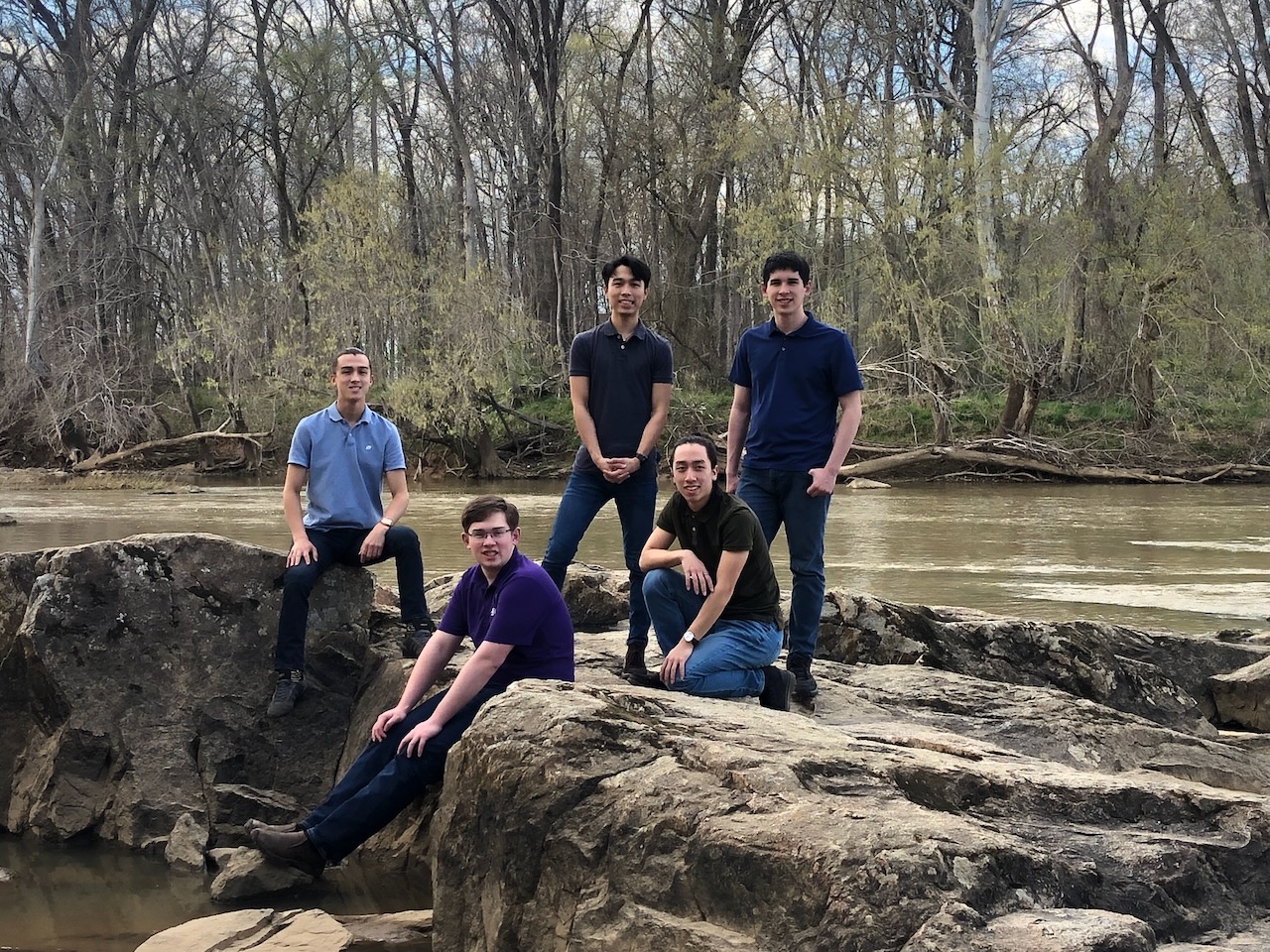 The cousins...our boys with Patricia's sister Peggy's three boys in North Carolina in March. They're all very close friends. This was part of a photo shoot for Patricia's parents' 50th anniversary, which was also this year.
So Tim essentially spent the summer in Europe, as he went to Greece with the Colorado Springs Youth Symphony in June! He had a spectacular time absorbing Greek history and culture while performing in multiple locations. The Colorado Springs group also did a combined performance with a Greek youth symphony ensemble.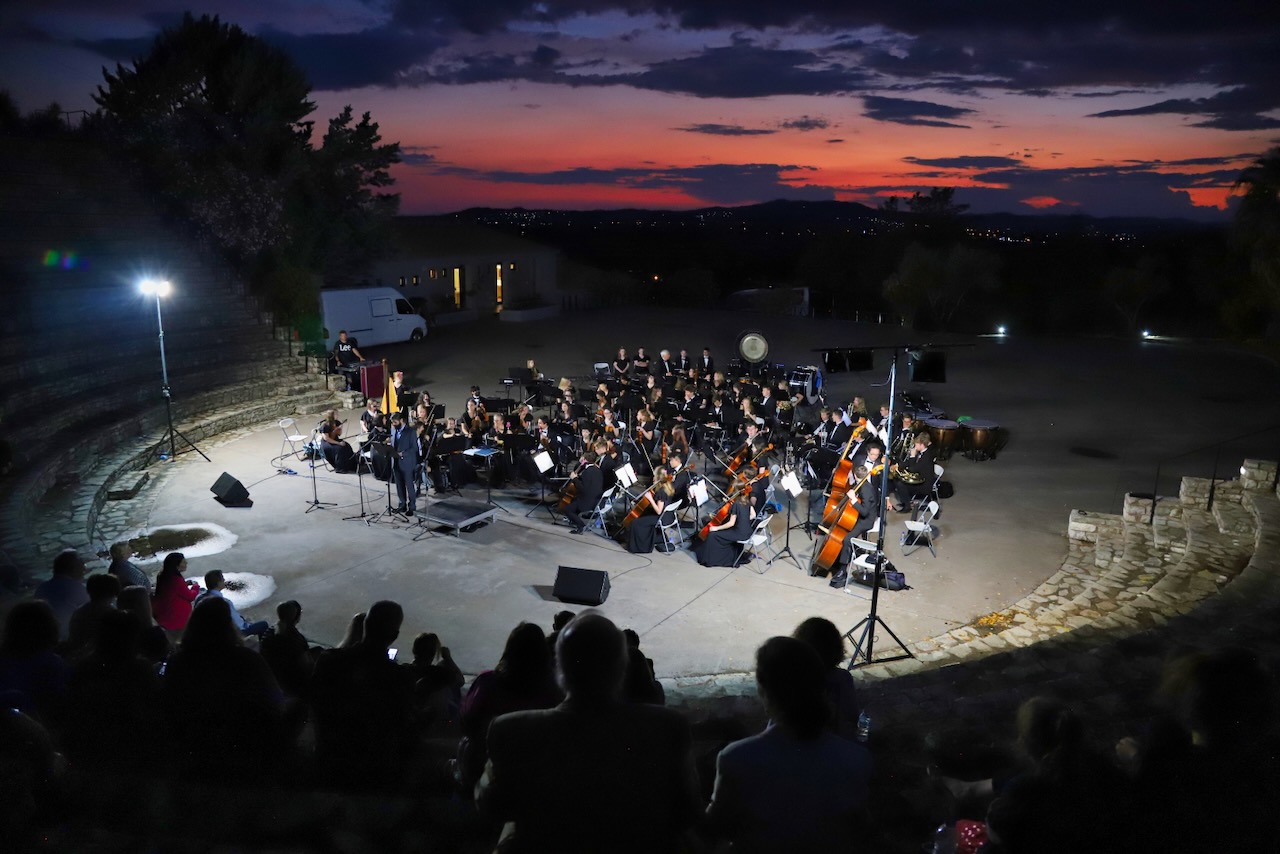 Tim and the Colorado Springs Youth Symphony Orchestra warm up for a concert in an ancient Greek amphitheater.
While Tim was gone in June, Dave, Patricia, and Jacob traveled to Michigan for the wedding of one of our former sponsor cadets from the Air Force Academy (Dave Mazza). We'd been to Michigan before, but this was really our first exposure to the famed lakefront resorts, and it was a beautiful setting for a wedding and reception. Along the way we also found some excellent Middle Eastern food in Dearborn!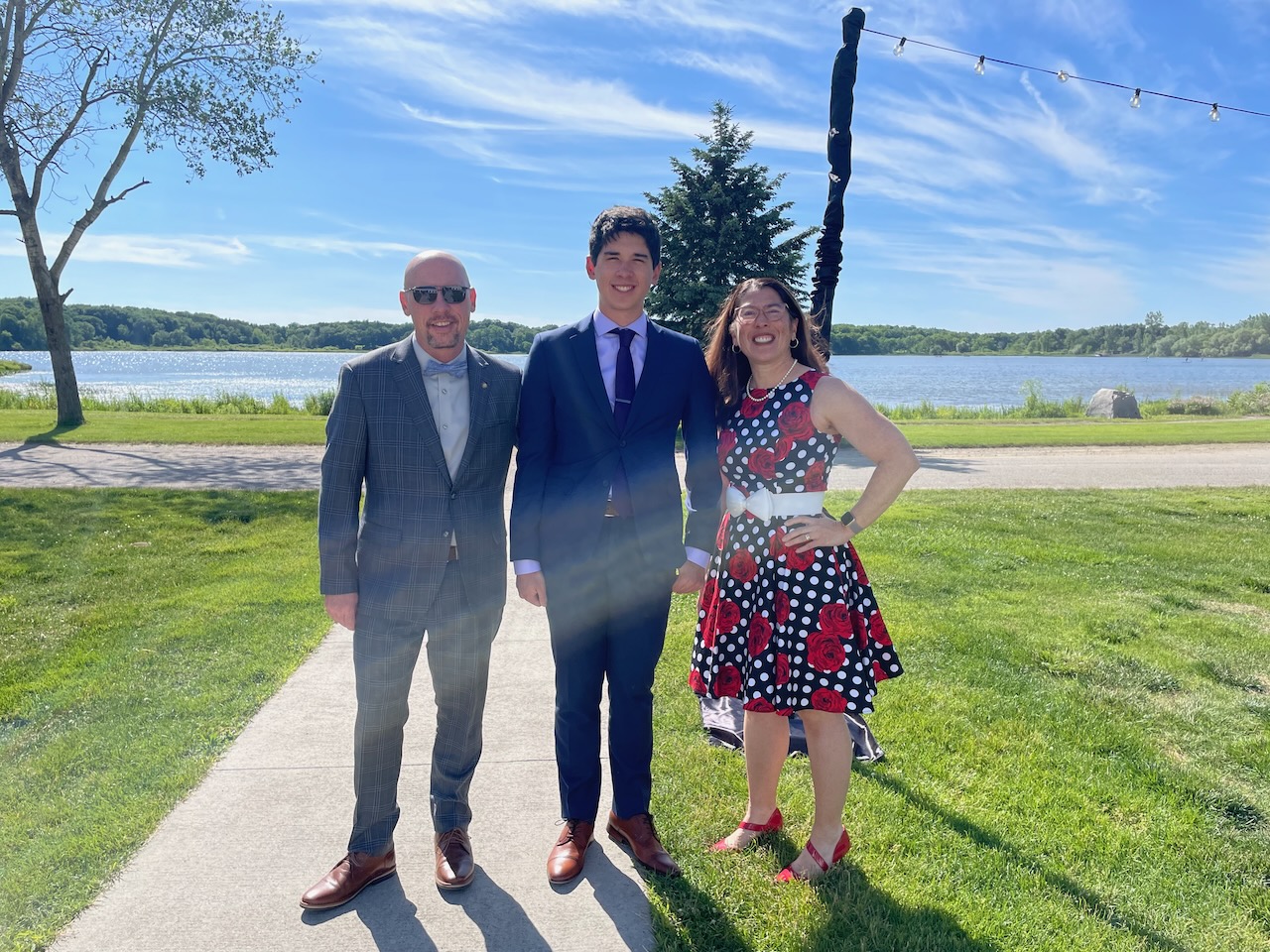 3 out of 4 Vollmers agree...Michigan is beautiful! At the Mazza wedding.
Bojack the RV got quite a bit of use this year. In fact, for two campouts, we were able to take all four of us. Sadly, though, we discovered at the beginning of June that Bojack had been suffering a leak that caused significant water damage to the floor and to the front behind the rock panel. It wasn't a cheap repair, but the team at Don's Body & RV Repair got Bojack back in shape in time for our Fourth of July campout with friends (the McNabb clan) in Buena Vista.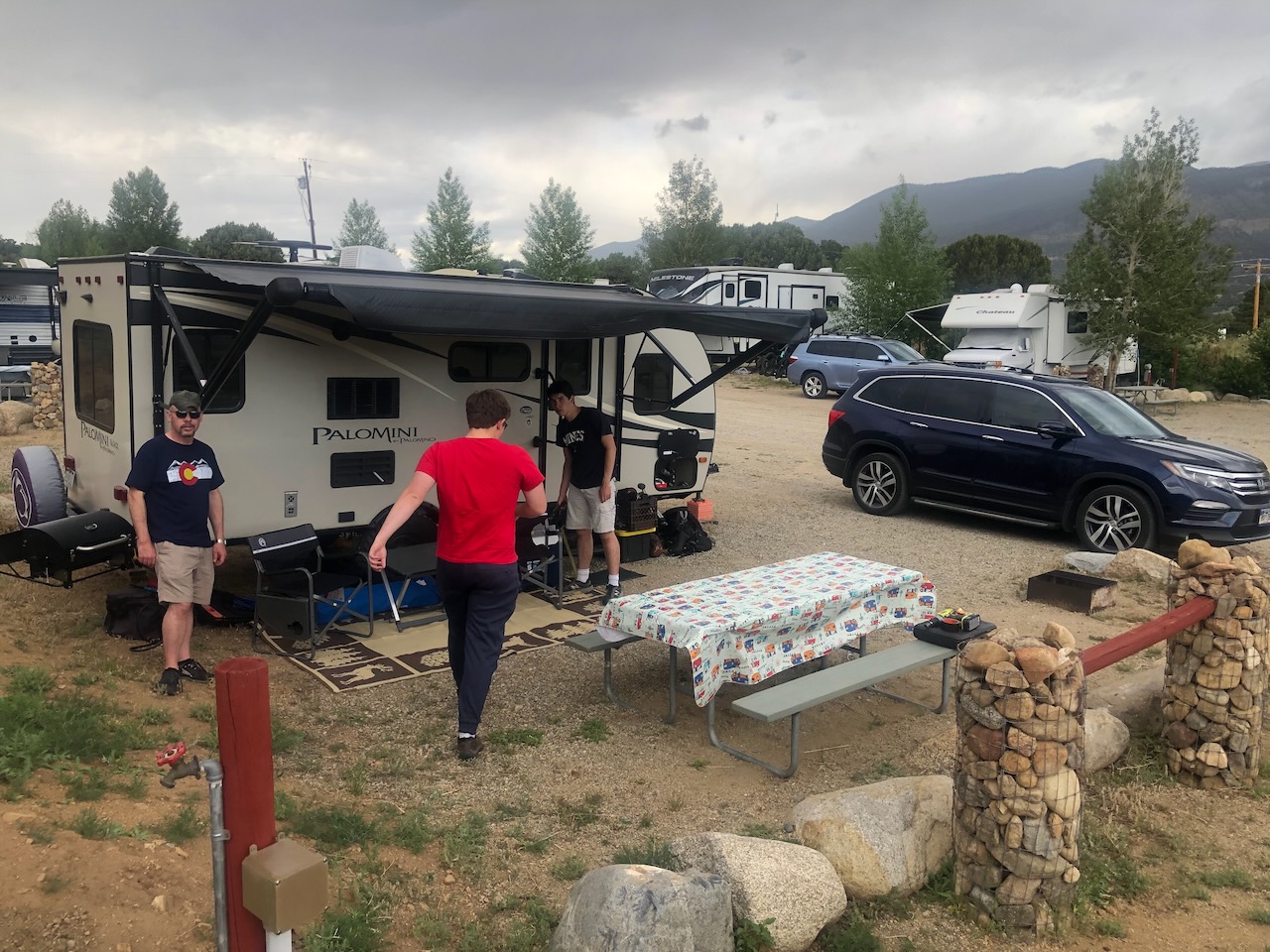 Setting up camp just outside of Buena Vista, Colorado.
Dave and Patricia are still dating one another after all these years. Whether it's lunch and a trip to Costco or an evening in Paris at the Moulin Rouge, we're lucky and blessed to keep finding time for one another. With one child already flown and the other with one with half a foot out the door, it's bittersweet to say the least.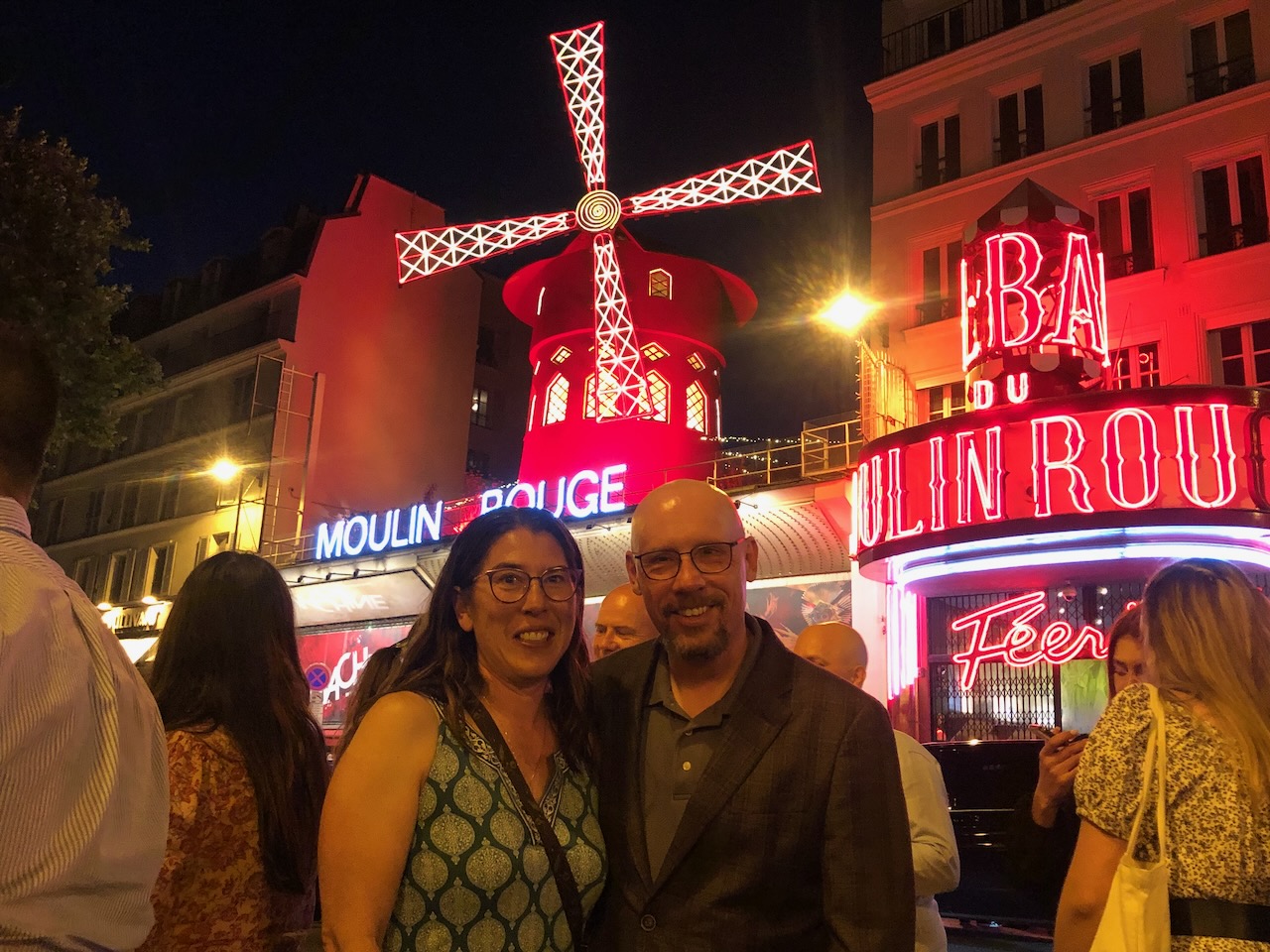 Touristy? Yes. Worth it? Yes. Because you only live once!
---
Dave:
I'm still working both with University Corporation for Atmospheric Research (UCAR) and Ascend College Prep School. This spring, Ascend College Prep graduated its first senior class. Among them were my Environmental Science and Physics students, most of whom received college credit for my courses through University of Colorado Colorado Springs. It was an excuse to finally wear my academic regalia!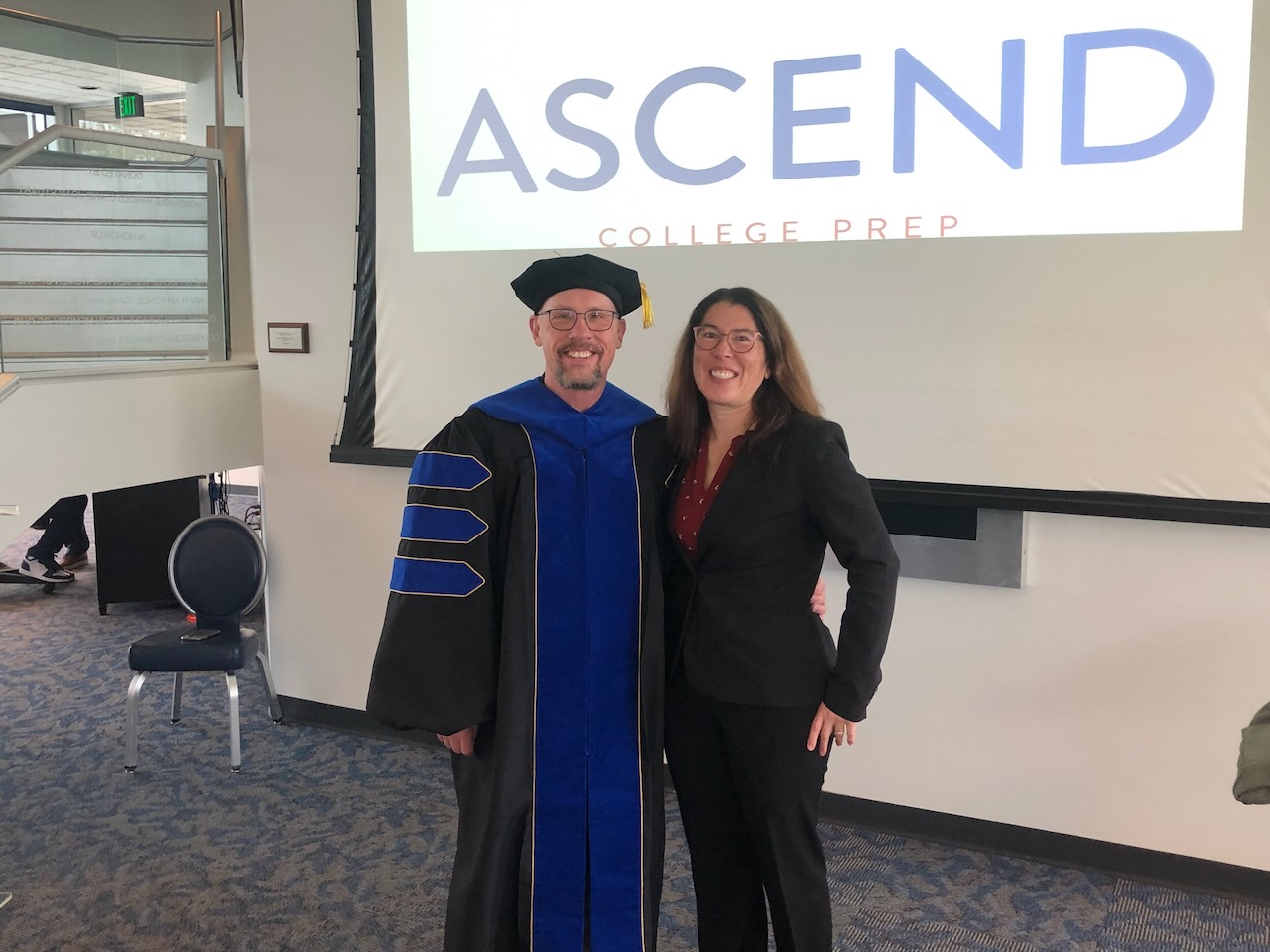 Dave and Patricia at Ascend College Prep's first-ever graduation ceremony.
On the subject of graduation, I was very honored to be asked to commission one of our USAFA sponsor cadets, Kate Fitzpatrick. My old 1996-era mess dress uniform still fit! I did have to shave, though...which I reluctantly did. It was a great experience and I'm humbled to have been asked to do this and to spend the weekend with Kate's awesome family.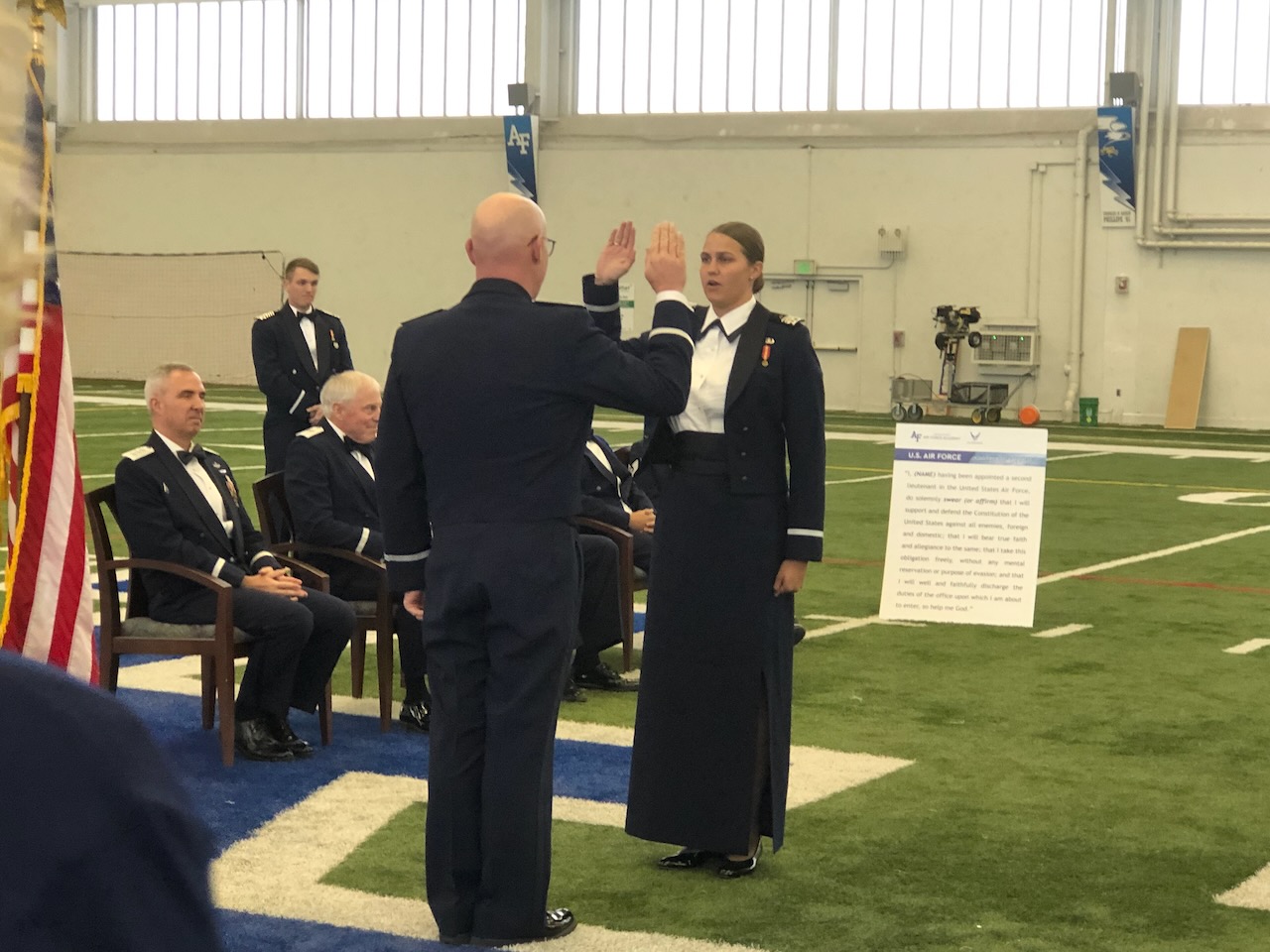 Lt Col (retired) Dave commissions 2d Lt Kate Fitzpatrick at the Air Force Academy.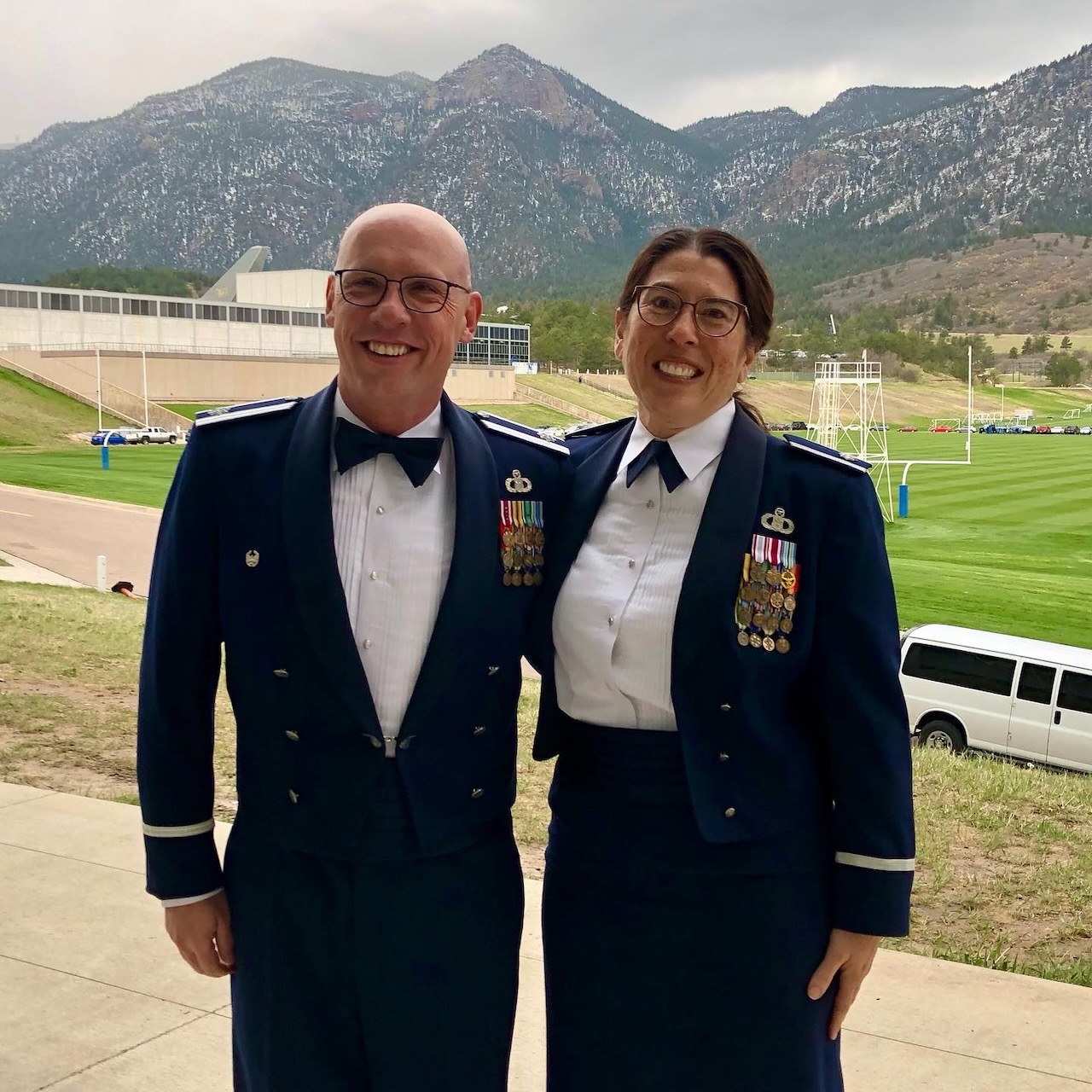 Dave and Patricia both got to dig the ol' uniforms out of the closet for commissioning. And Patricia was so thrilled to get to wear her hair in a fancy PONYTAIL, thanks to the USAF's new hair rules for women!
I'm still deep into the hobby of model railroading, as I assume I'll always be! Next year my HOn3 model railroad will be part of the convention tours during the 43rd National Narrow Gauge Convention in Denver. I've also managed--at this writing--to have accumulated over 11,500 minutes of Peloton workout time in 2022 alone (in spite of a hip surgery in August to repair a long-ago-torn labrum). I'm 48, but between clean eating and a faithful fitness routine, I'm in better shape than I've been in many years. Grateful for my health and for my amazing family!
---
Patricia:
I didn't around to writing my part until Dave was able to knock out all of the other sections. It's great having Dave's help, and his writing has always been superior to mine, so you readers are truly blessed. A perk is that I get to "fill in the gaps" with things we had done this year, that might not have been covered in the other sections.
I'm still working for NORAD, where I enjoyed helping train not one, but four new people who joined our 9-person weather team this year. Due to an interesting intersection of the economy, COVID, and it being the 20th Anniversary of US Northern Command this year, we've had a number of government civilians in my building decide that 20 years was good enough, and the retirements are rampant. So I continue to evolve into one of the "old fogeys" in the building, even though I've only been there for 2 1/2 years. What's kinda cool about that, though, is that I can also help set the tone of the place. I do my best to be cheerful...even when working an overnight shift on a holiday weekend. :-) I also volunteered to run my section's "swag" program, helping to design and sell NORAD-branded items for the command.
Dave briefly mentioned our travels above, including a getaway to Aruba with some friends. This was a wonderful opportunity, with part of the trip gifted to us by the realtor who helped us get our current house, as we had recommended her services to others who were moving to the area. Aruba was absolutely amazing; Dave and I could totally see ourselves returning there time and time again....and this is coming from a girl who ordinarily prides herself on never wanting to visit the same place twice!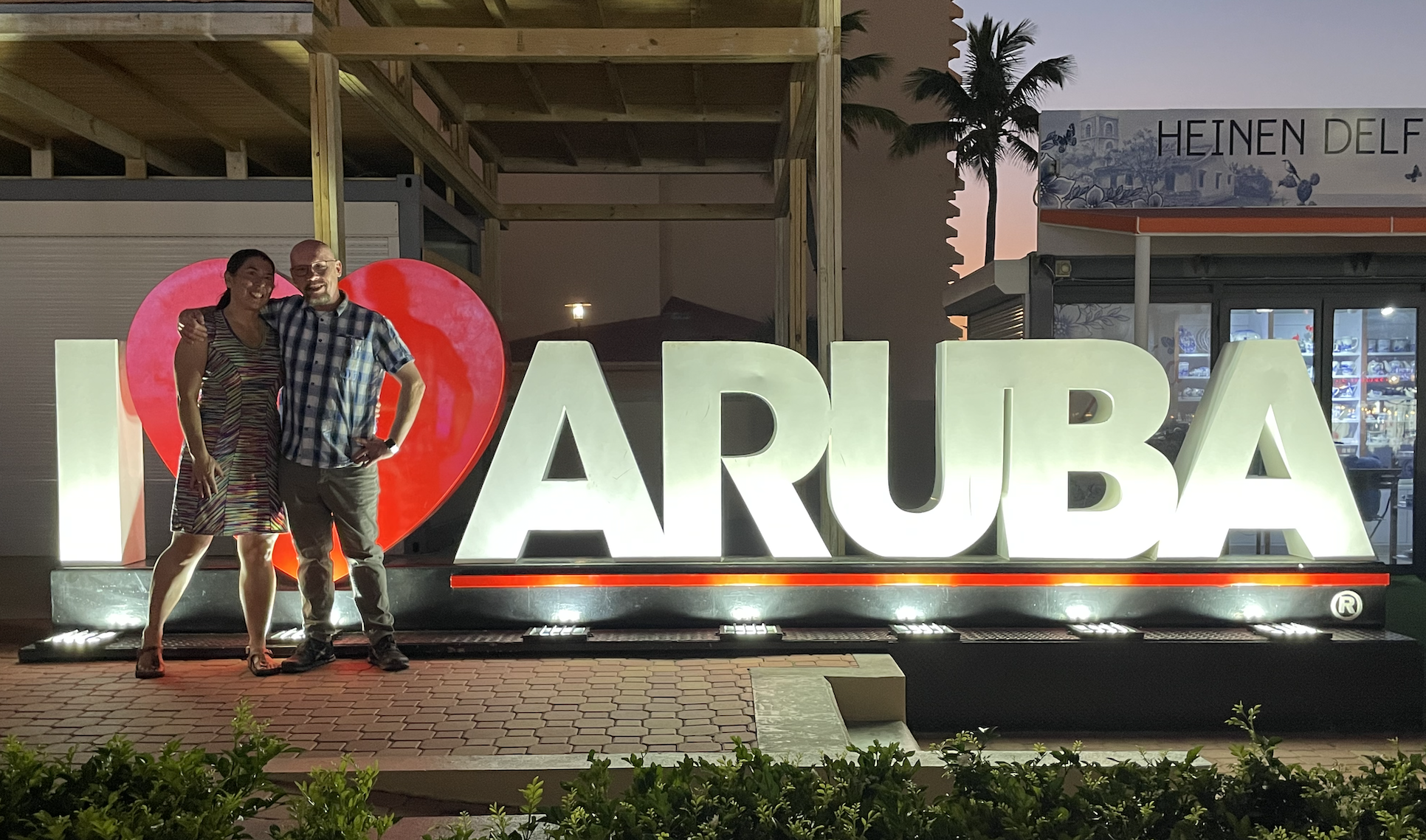 We did indeed love Aruba!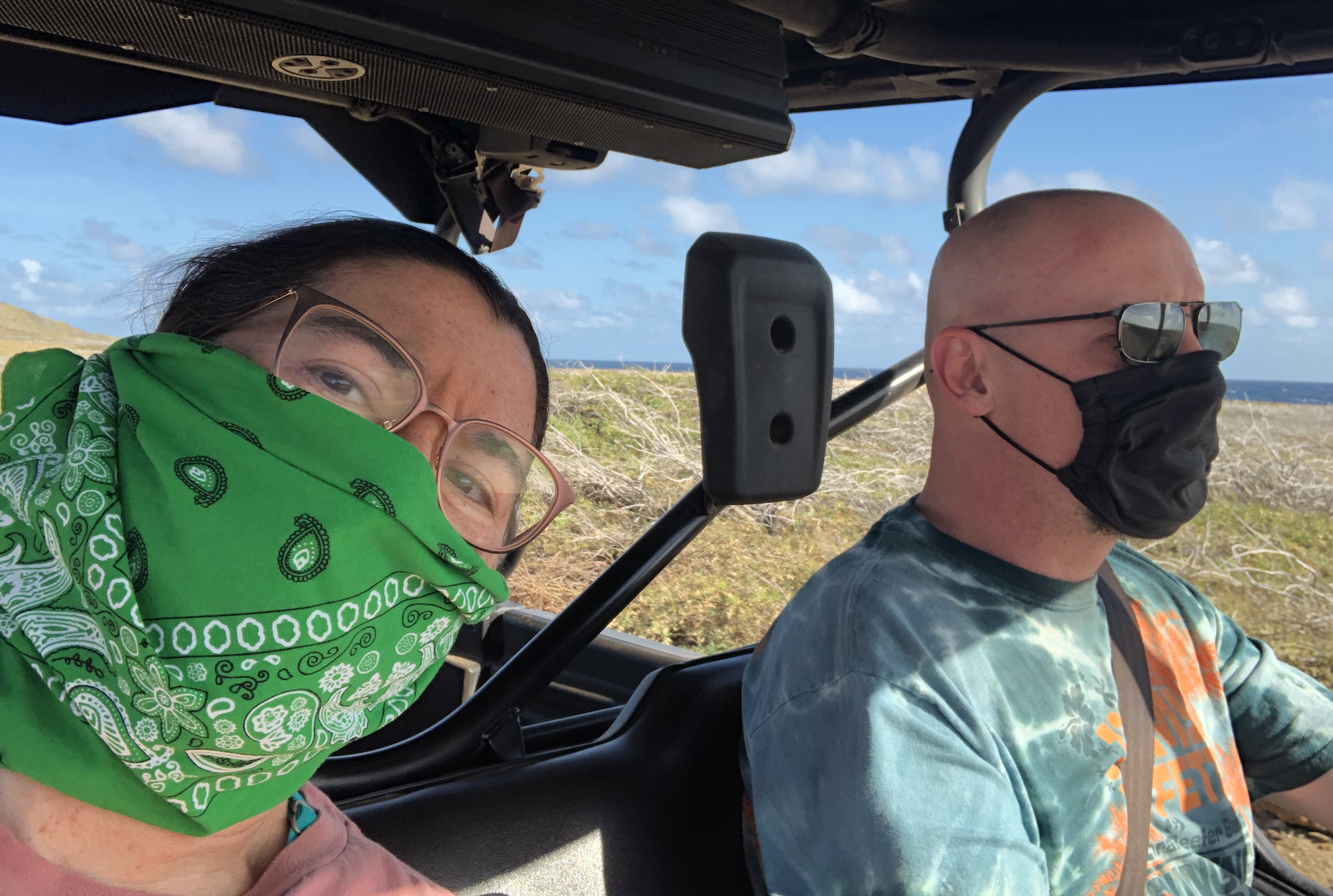 We rented a four-wheeler on one of the days to drive around the desert-climate northeast side of the island. In this case, we needed the face masks to keep from breathing in the dust.
Here are a couple videos from a sunset pirate ship cruise we took:
And one more video...showing how arid the northeast part of the island is, complete with cacti!
We also were able to take a couple ski trips this past season, and a few camping trips with Bojack (admittedly, I'm WAY BEHIND on writing about our 2022 travels on our RV blog; maybe during my time off over the holidays I can catch up).
I was so happy I could finally see both the Amache Relocation Center National Historic Site and Sand Creek Massacre National Historic Site this past Memorial Day weekend, on a camping trip to John Martin Reservoir State Park in the southeastern corner of the state. There really isn't much to either of these places, and there's a lot of restoration still to come. This past March, President Biden had designated the Amache site as a National Historic Site, so the money should be flowing soon to continue construction of replicas of the key buildings at the site. For now, if you make it to that part of Colorado, check out the property and the desolation. One of the interesting things I had learned was how the nearby community of Grenada allowed the Japanese to work the local farms, and allowed the encampment's high school to play sports against their local schools...a controversial move.
The Sand Creek Massacre site was particularly haunting. It's about an hour northwest of the Amache site (similarly desolate), a group of Arapaho and Cheyenne Natives were ambushed by U.S. volunteers and Colorado militia soldiers after assurances were made to the Native leaders for future peace.
Both of these locations tell important parts of American history, parts that I certainly didn't learn much about in high school. The boys learned something, too.

A view of the only buildings that have been reconstructed so far. The building on the left, on the horizon, is an example of one of the "dorm" buildings. A water tower is to the immediate right, with a guard tower further to the right. There really isn't much than this at the Amache Camp property, but getting to see that location, and how different it must have been for folks coming from the Seattle and Los Angeles areas, was very moving. Imagine the hot summers and the blizzard conditions in the winter. There is a very nice museum in the town of Grenada, about 1-2 miles from this site.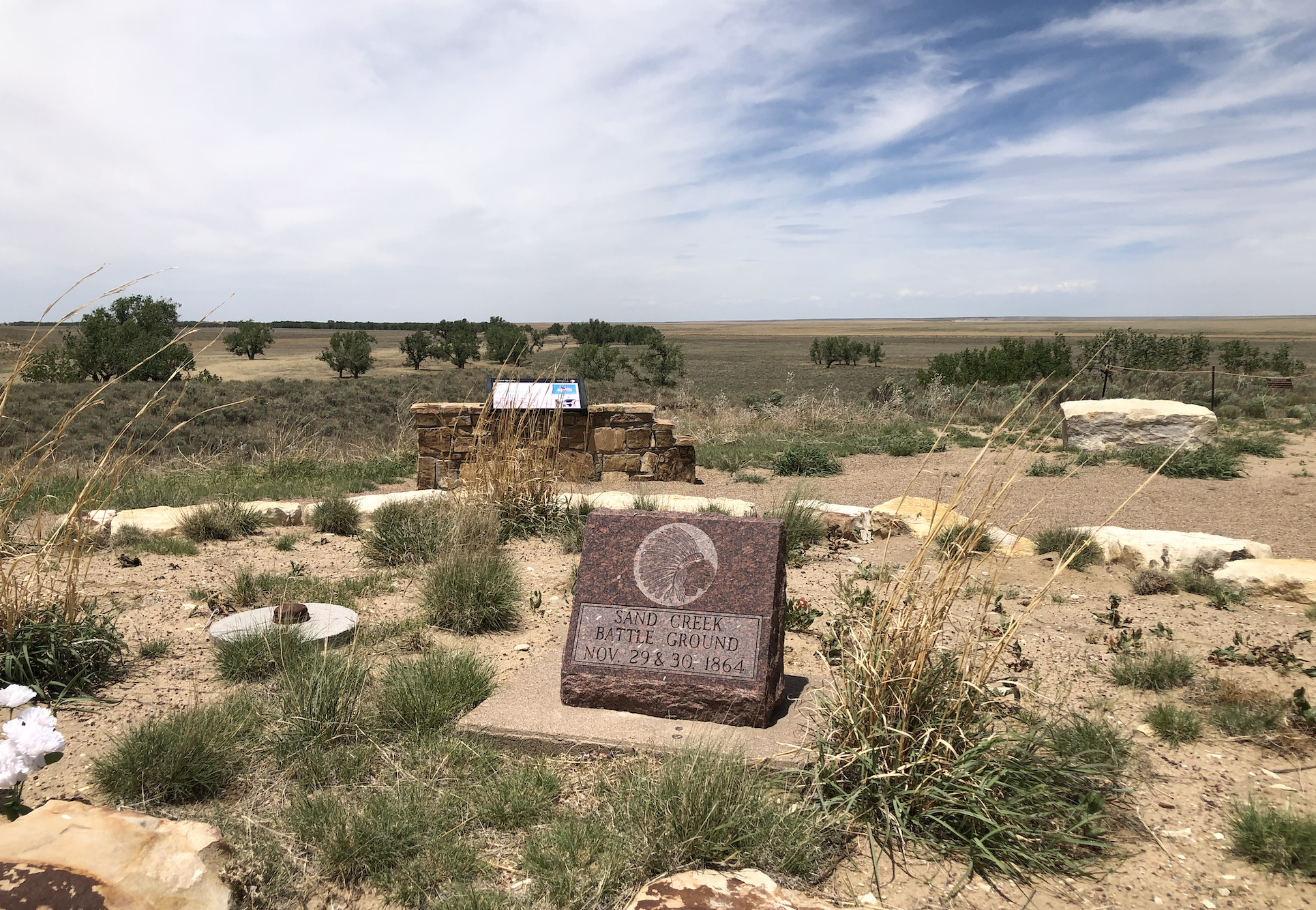 Similarly, there isn't much to see at the Sand Creek Massacre site, but standing there on-site, one can get an idea of how the weather and geography on November 29, 1864 impacted the element of surprise the U.S. soldiers had on their ambush.

I guess this is the part of my section where I start to think about what 2023's going to look like. As Dave has mentioned a couple times, this is the year that our youngest is leaving home. I am definitely proud of our sons as they prepare to be positively-contributing members of society. But I will miss their antics so much. At least we will have the holidays with them for the next few years.
This is also the year I turn 50. We were planning a Grand Canyon Rim-to-Rim hike to celebrate, but there's a lot of trail maintenance and construction planned in 2022 at the Bright Angel Camp down on the Colorado River. So we will do that another time. We now have reservations at the Bryce Canyon Lodge this fall, with plans to thoroughly explore Bryce Canyon National Park for a week.
---
Jacob: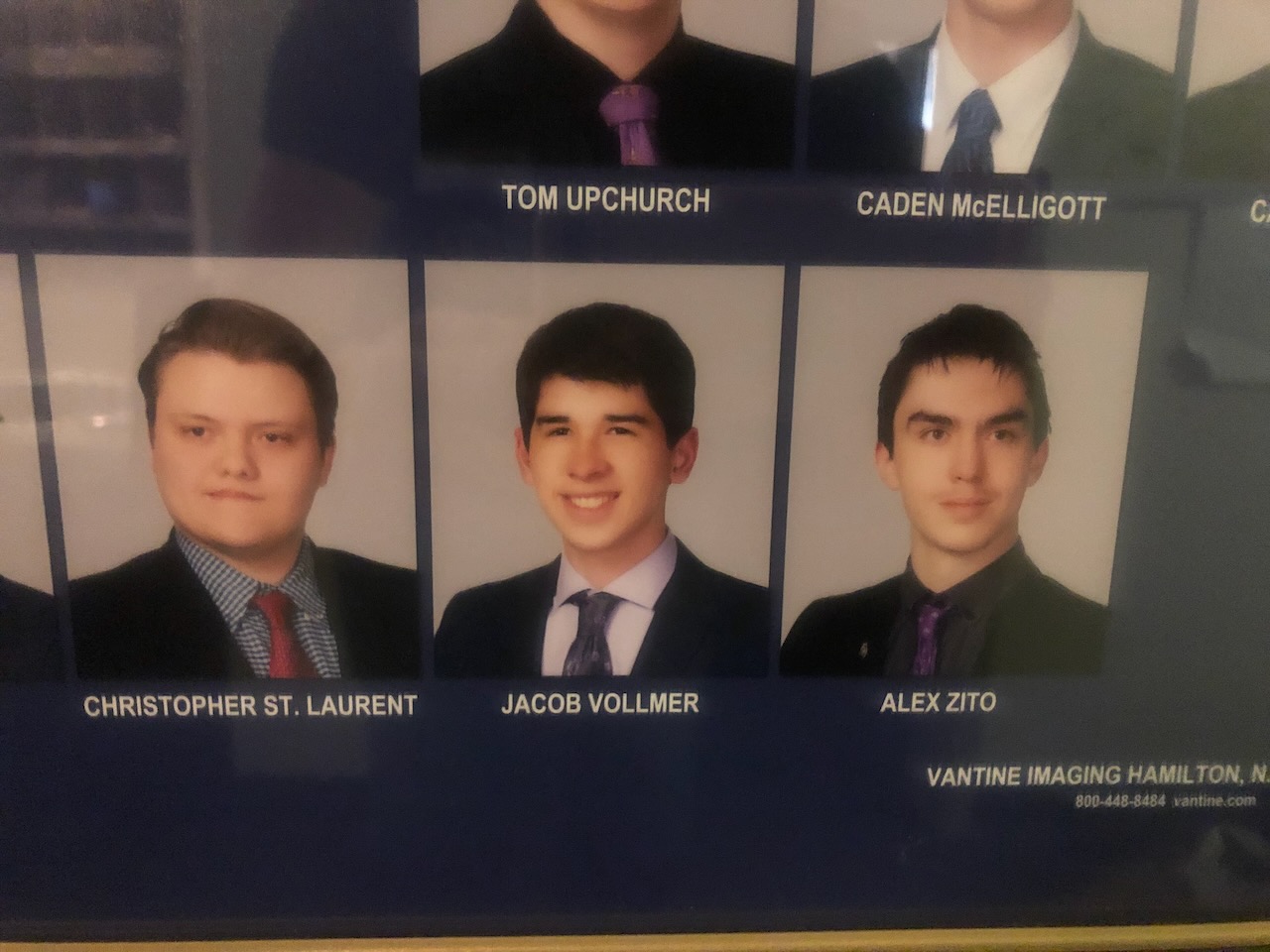 Jacob's photo as part of the 2021-2022 FIJI class at Mines. This is such a nice photo of him, don't you think?
Jacob finished his first year at Colorado School of Mines and began his second. And...he joined a fraternity. Our Jacob, the (former) introvert, joined a frat! Now, we know what you're thinking, because we thought that at first, also. Phi Gamma Delta had a "rep" at Penn State, but the Mines chapter is a different animal altogether. The average GPA for Greek life members at Mines is actually higher than the general student population, and FIJI at Mines has the highest average GPA of all. Their on-campus house also requires a dry charter (but, I mean, you know...). Jacob is really enjoying the frat life! We are so proud of his Dean's List grades in the chemical engineering program.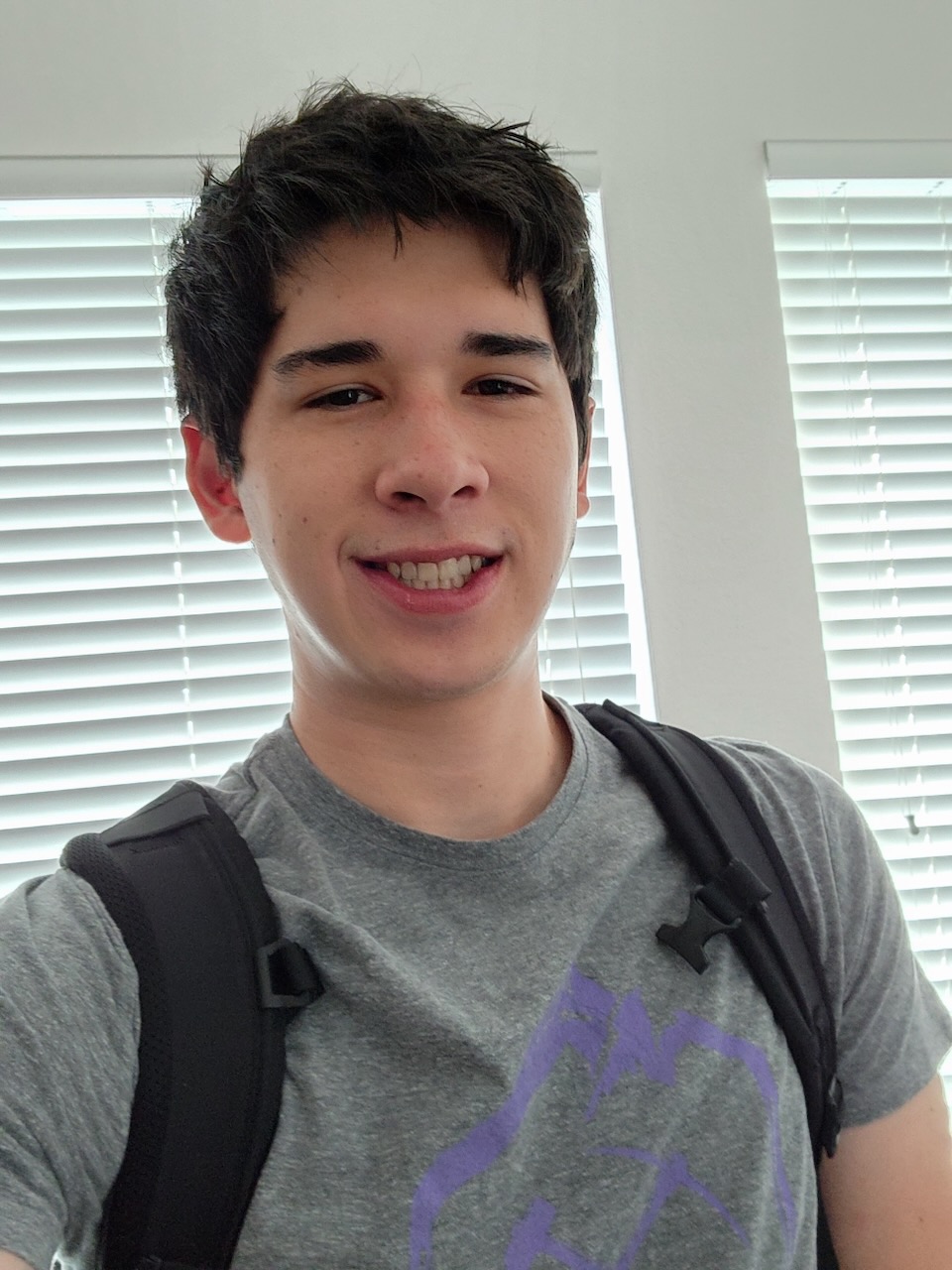 Jacob's back-to-school selfie on his first day of classes.
Jacob now shares an apartment in Lakewood, Colorado with some friends. He has our old Subaru Crosstrek and is essentially "adulting" full-time now. He has a heavy course load at Mines and is now on the hunt for internship opportunities for next summer. With his skillset in chemical engineering and his academic prowess, he should have no trouble getting picked up for one!
---
Timothy:
Tim is a senior now! So, of course that means it was senior portrait year. We had some excellent photos taken. Notice that Tim is growing out his hair now after years of buzzcuts! Tim is still all about the music. In 2022 he went from tinkering with an electronic drum set to having a full, real drum set and playing percussion in Discovery Canyon Campus High School band and the Colorado Springs Youth Symphony Orchestra! And..it was all self-taught! The boy has very real musical talent. All the while he has remained an accomplished cellist, serving as a student leader in his school orchestra. He will be traveling with his high school music group to Disney World in March.
A sampling of Tim's senior photos.
With senior year comes much of the senior high school "stuff," like Homecoming Dance. It's also the year for college acceptances. At this writing, Tim's gotten into Colorado State, Kansas State, and--his number one choice--The Pennsylvania State University. WE ARE...PENN STATE!!!

Tim cleans up nicely, doesn't he? I took some photos of Tim throughout our neighborhood the day he went to Prom. The area behind him was literally on fire the day prior, and we had to briefly evacuate. He was going for a George McFly-Enchantment-Under-the-Sea look this year. You can see for yourself if he pulled it off....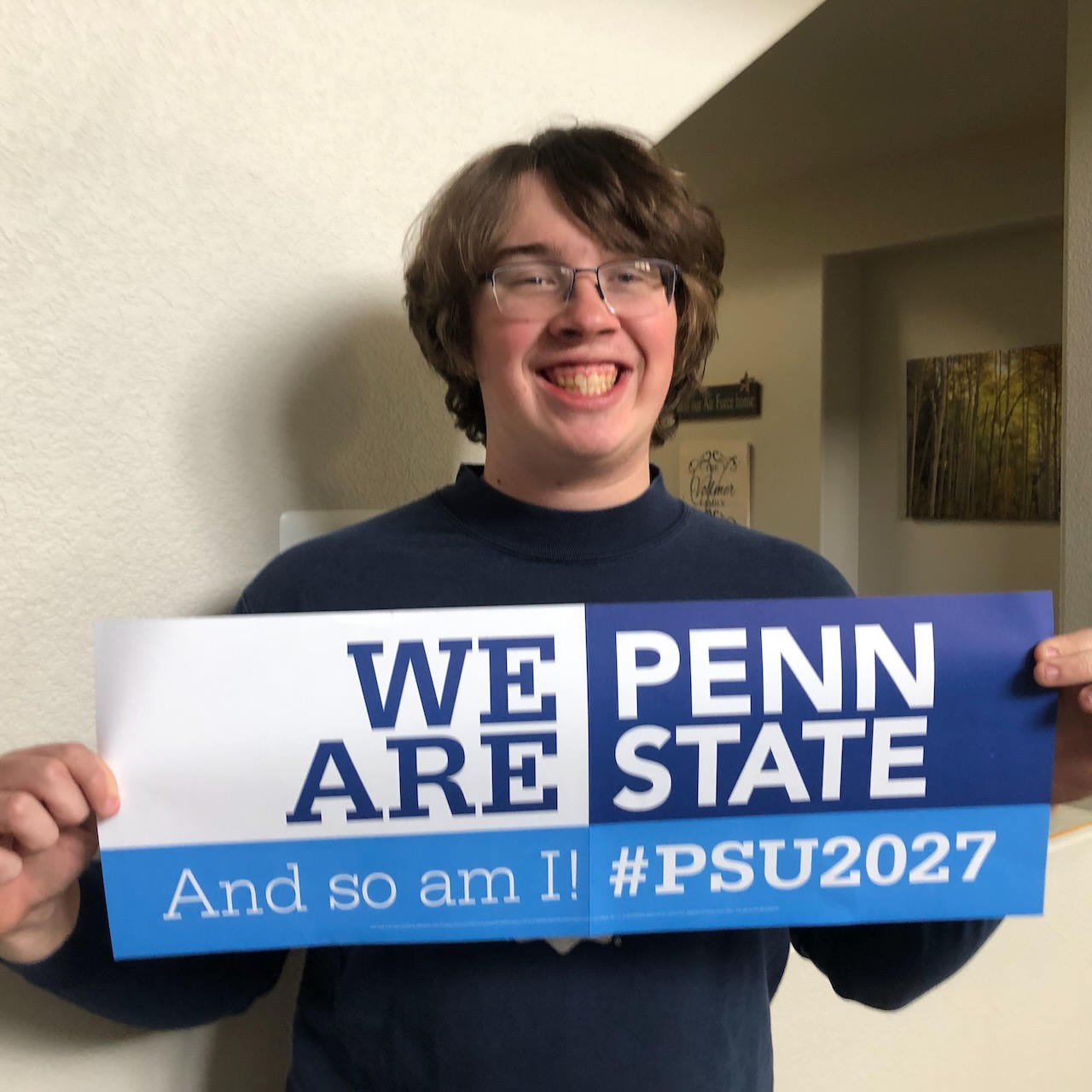 Tim shows off his acceptance to Penn State for the Fall 2023 semester at University Park campus!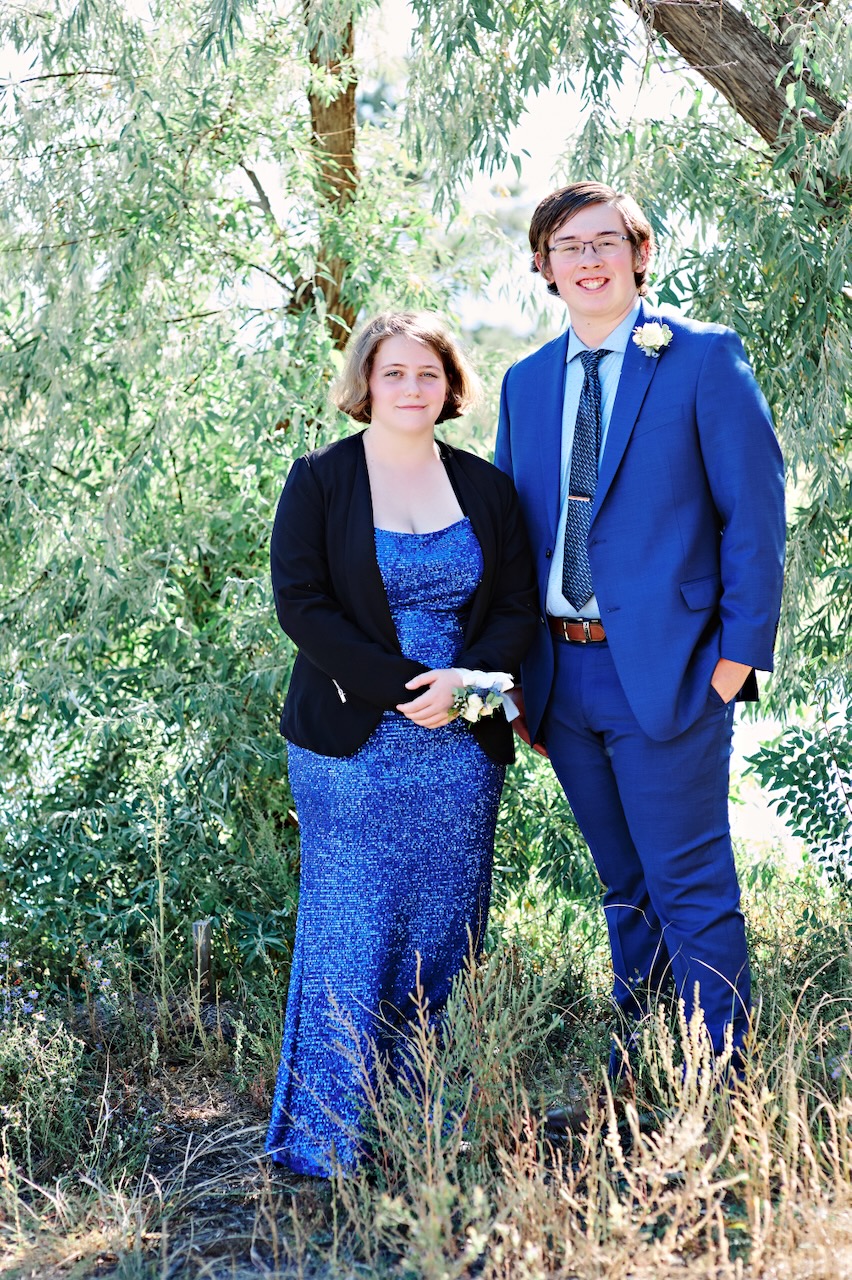 Tim and his girlfriend Emily before the homecoming dance.
---
Ranger
Ranger is still going strong. Such a good boy. He's still our camping companion. He still loves chasing the ball and going for walks. We honestly don't know how old he is since he's a rescue, but this will mark his eighth Christmas with us!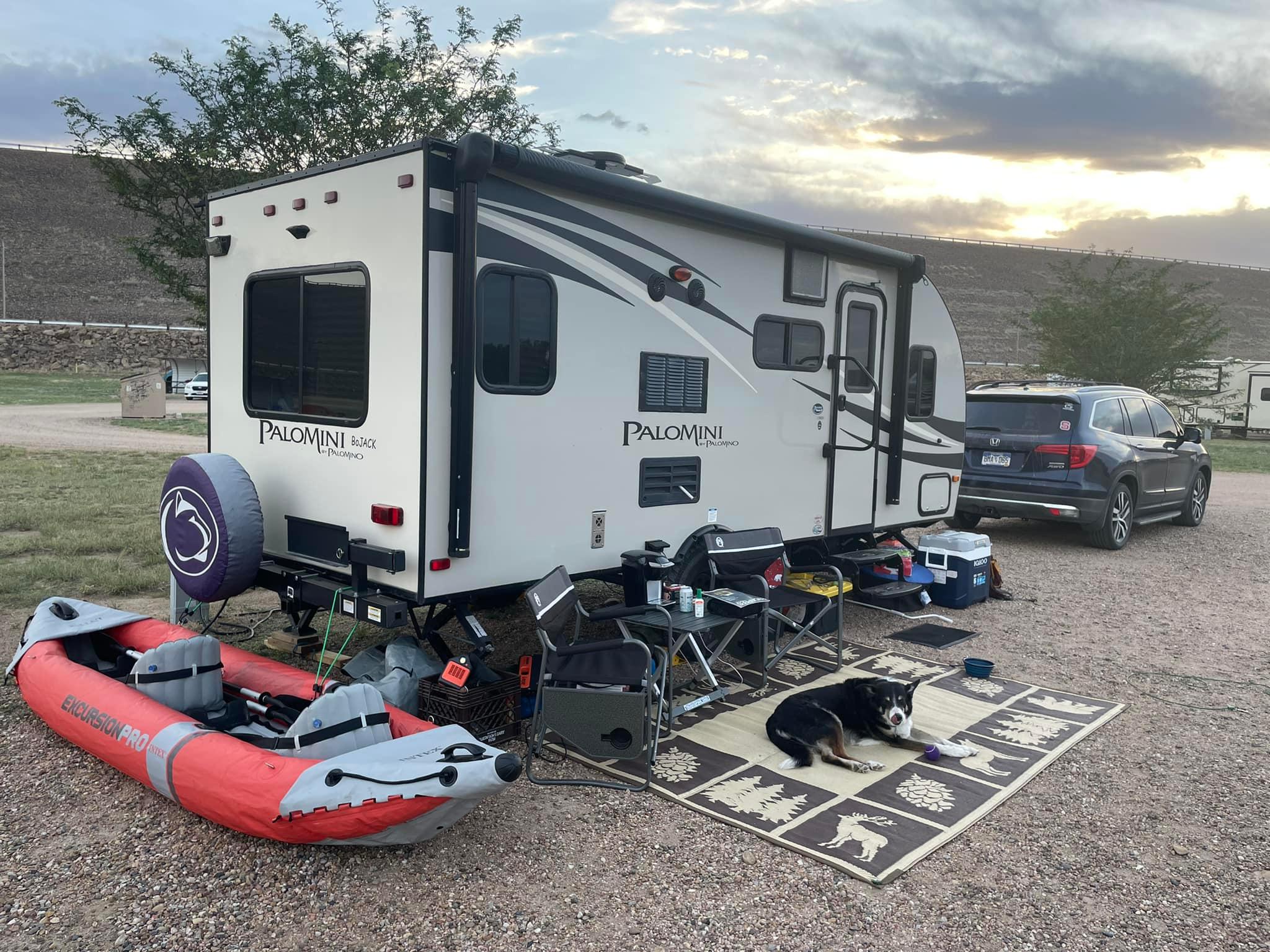 Ranger at John Martin Reservoir State Park in May.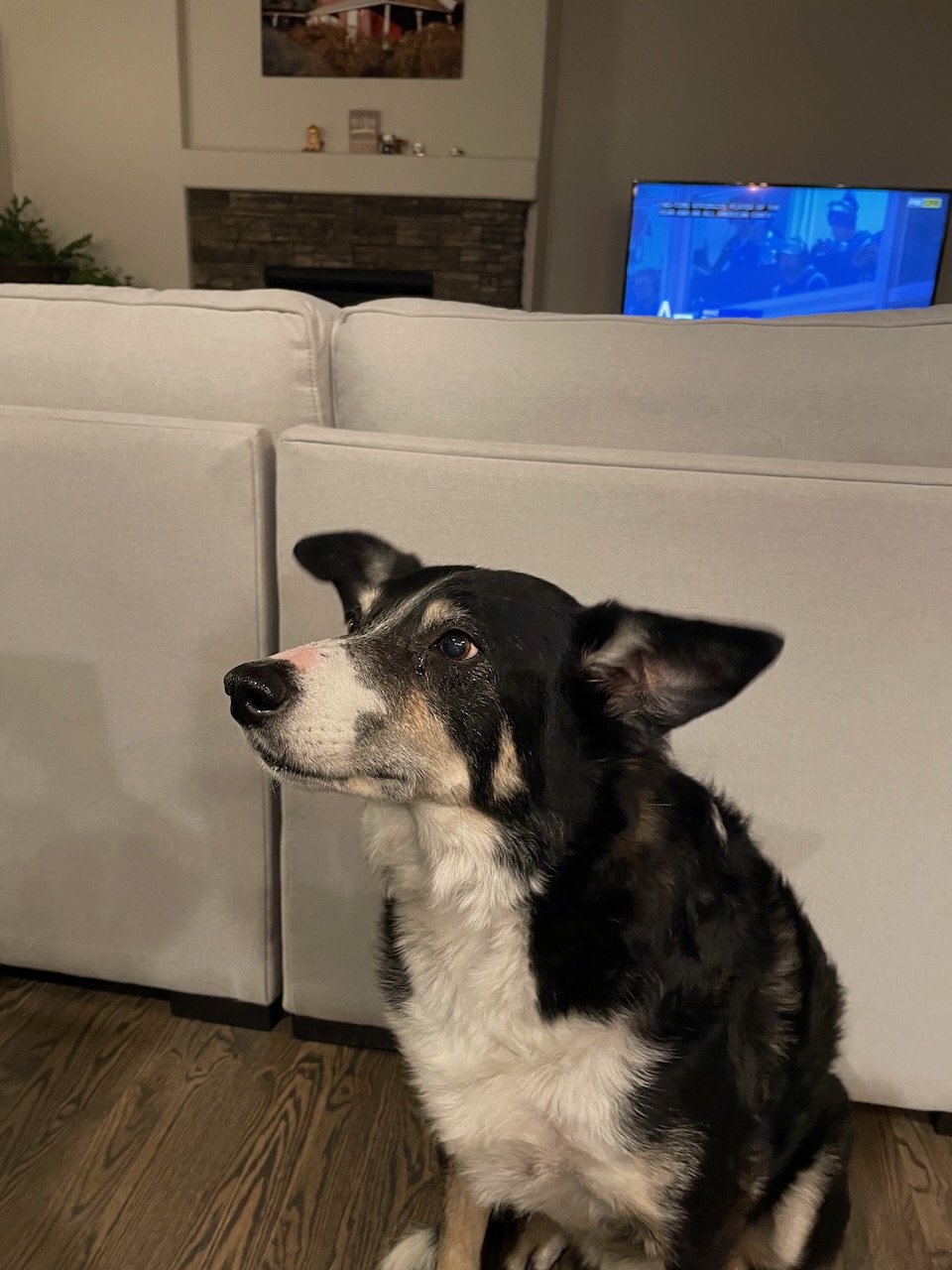 A candid shot of a very good boy.
Life with a border collie is better.
That's it for 2022 from the Vollmers! 2023 will be filled with more adventure!