Happy Holidays from the Vollmers - 2021
A Pandemic Christmas...Part 2!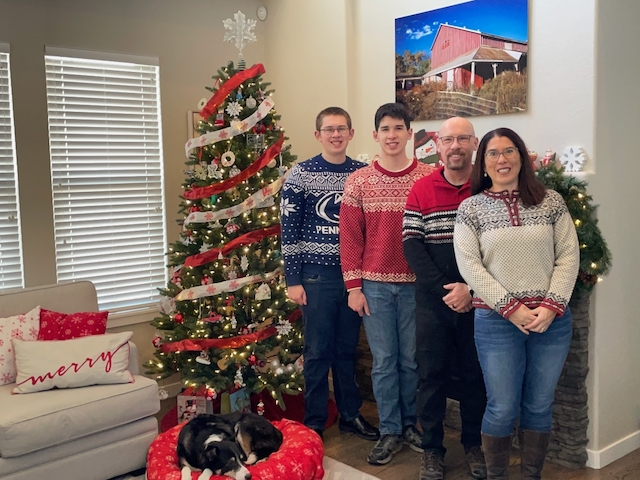 1350 Foothills Farm Way
Colorado Springs, CO 80921
(919) 749-5744/5544
Thank goodness 2020 is over, since 2021 is bound to be better, right? I mean, at least the COVID-19 pandemic should be over in 2021, shouldn't it? Well...it seems that 2021 was a lot like 2020 in a lot of not-so-good ways. For what it's worth, we have had a fantastic 2021 all things considered. On a simultaneously wonderful and sad note, our household went down to three this year as Jacob set off for college. Mom and Dad don't mind that he's only about an hour and a half away, but he's been so busy both with schoolwork and homework that you wouldn't know he was so close to home. Tim's been just as busy with music and his first part time job all while maintaining spectacular grades. Dave insists that their drives must come from Patricia's side!
We've decided that we plan to stay in Colorado Springs indefinitely. That we might have done otherwise may come as a surprise to most of you, but having spent essentially our entire adult lives in the military has made every home we've ever had a temporary one...until now. This one can be the forever home. With Patricia's job and the housing market having gone cuckoo for Cocoa Puffs, it makes sense to permanently plant the flag here. We love the house, but more importantly we love our neighbors and the area. In fact, we have arranged for a company to install a 10.4 kW solar system on our roof, we should know our installation date any day now, hopefully by the end of January. It's a big house, made bigger by Jacob's absence (and in just another year and a half, Tim will leave for college too!), so we have plenty of room to host friends and family if you're out this way. We're also still involved in the Air Force Academy cadet sponsor program, so on any given weekend there is plenty going on!
The Vollmerhaus showing off the only snow the Front Range has seen for the winter of 2021/2022 so far...the day before Thanksgiving. A record-setting snow drought continues for Colorado Springs through Christmas.
http://www.thevollmerfamily.com
Patricia's Blog: http://www.thevollmerfamily.com/MajorMom
---
One has flown... In May, Jacob graduated from Discovery Canyon Campus High School. And of course, he didn't just squeak by, but rather graduated in the top seven (it's a thing, this "top seven"; we don't know what his rank is among those seven): his photo is immortalized on DCCHS' Wall of Scholars. Commencement exercises were conducted outdoors in the district's football stadium due to COVID protocols. Luckily for us, it was an early morning ceremony, which gave us beautiful weather.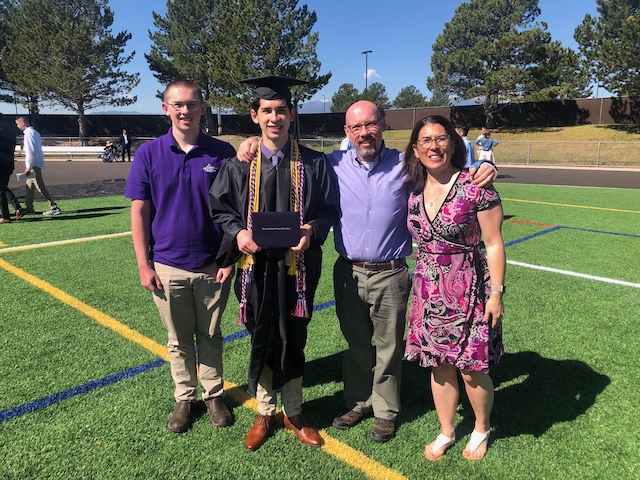 Jacob's high school graduation. Jacob has earned quite the collection of academic cords.

Jacob was immortalized on his high school's "Wall of Scholars".
A Gathering of Eagles! Both Vollmer boys are now Eagle Scouts and we couldn't be more proud. Whatever dreams we've entertained for our boys over the years, the only one really ever that mattered is that they grow up to be good men. We feel pretty confident that they're off to a good start in that department!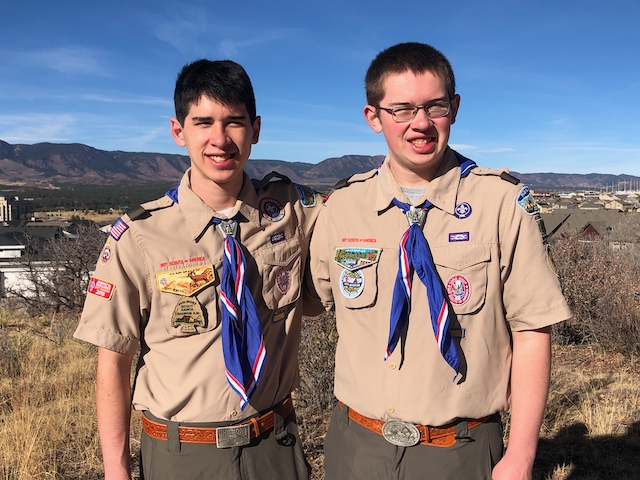 Brothers... Eagles... Leaders.
Tim made Eagle Scout in the closing days of 2020 (COVID slowed that process a bit as well), and much like we did with his older brother, we held out hoping we could hold his Eagle ceremony at such a time as we could bring family out from the East Coast. Unfortunately that wasn't possible, so in October we finally celebrated Tim's achievement with extended family attending via Zoom.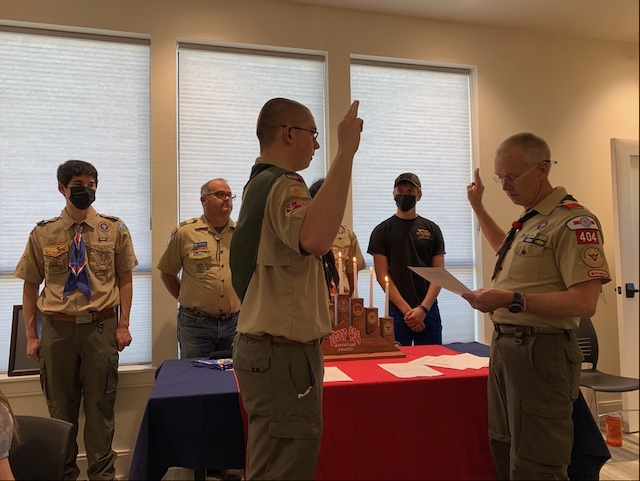 Tim's former Scoutmaster Dan Lee administers the Eagle Scout Charge.
If you've read last year's newsletter, you'll recall that we jumped head-first into the RV lifestyle with our 22-foot travel trailer, a Forest River Palomino Palomini we affectionately named "Bojack" (IYKYK). Anyway, Bojack covered a lot of territory within the borders of Colorado in 2021. We can tell you that pulling Bojack over La Veta Pass with a 35-knot headwind is neither good for gas mileage nor good for nerves. Nevertheless, we did manage to get all four humans and the dog out on one such journey to Buena Vista for the Fourth of July where we teamed up with our close friends, the much-larger-RV-owning McNabbs, whose land yacht actually absorbed the one Vollmer boy who didn't physically fit in Bojack.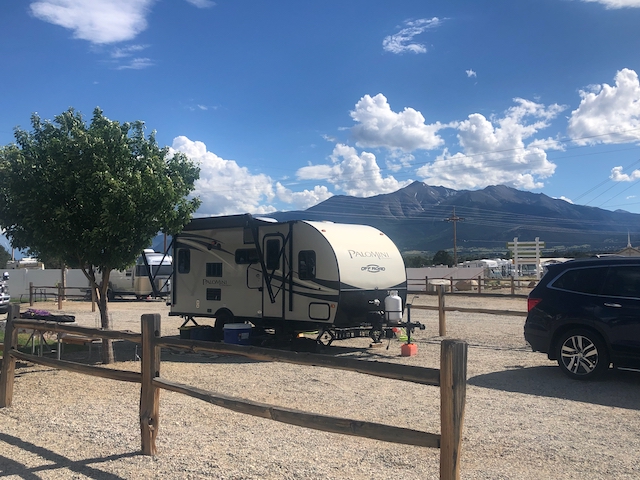 Here's Bojack in front of Mount Princeton in Buena Vista, CO on the Fourth of July.
We started the season with the shakedown campout at nearby Cheyenne Mountain State Park. Next, Bojack found itself in the San Louis Valley, buffeted by the same winds that created Great Sand Dunes National Park where Dave & Patricia got to sled on sand and then hike through an ice-cold creek to a spectacular waterfall. After the Buena Vista trip, Bojack took Dave, Patricia, Tim, and Ranger to the Royal Gorge. Each trip included lots of hiking! You can follow our adventures in our RV blog, which you can find here.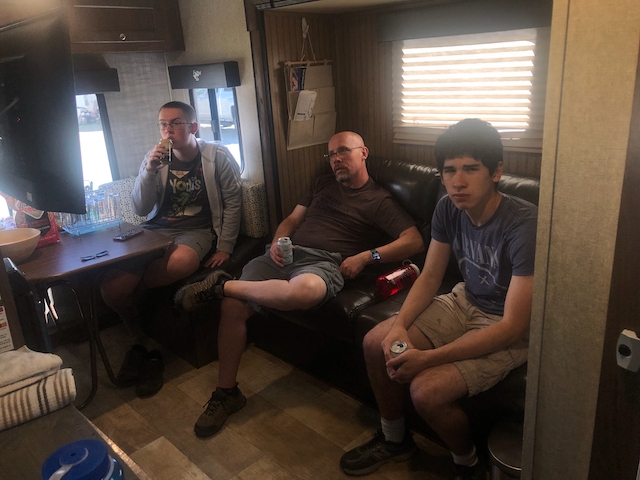 Enjoying the after-lunch slump in Bojack's homey interior.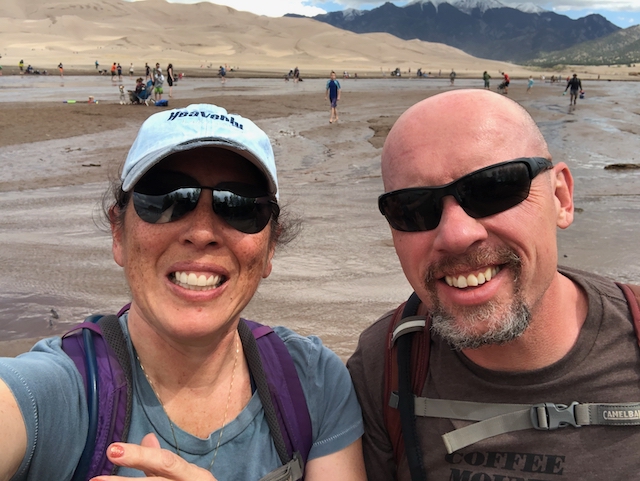 Dave and Patricia with the Great Sand Dunes behind us and the Sangre de Cristo Mountains beyond.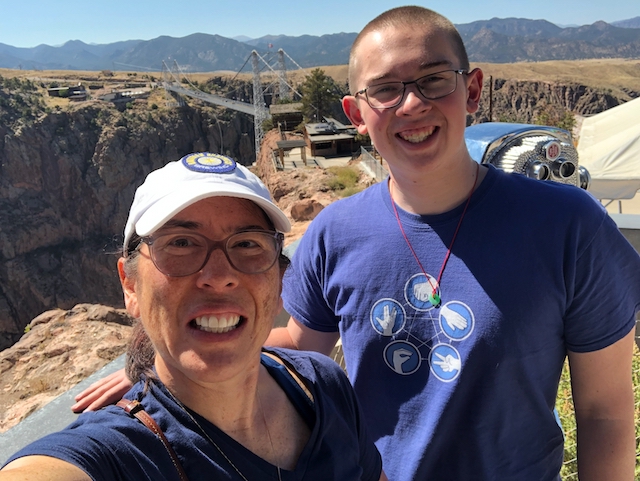 Patricia and Tim with the thousand foot deep Royal Gorge of the Arkansas River behind.
We're not quite empty nesters yet, but those days are coming quick. With Jacob already away at college and Tim driving himself to work and after school orchestra, we're getting a preview of that lifestyle right now. We've essentially been dating again, and it's been wonderful! There's so much to do even during this pandemic, from an immersive Van Gogh exhibit to an Alanis Morissette concert and everything in between. Our neighborhood's Gathering Place community center has also been catering to adult couples with wine and cheese tastings, bourbon tastings (theme anyone?), and even a Kentucky Derby Party. Yes, our neighborhood ("The Farm") is racehorse themed, because thoroughbreds--including a Kentucky Derby winner--were trained here before the Allison Valley Farm succumbed to the building boom just a few years ago. And when it's time for a hike, often times it's just Dave, Patricia, and Ranger...reminiscent of nearly 20 years ago when it was just the two of us and Howie, Ranger's predecessor.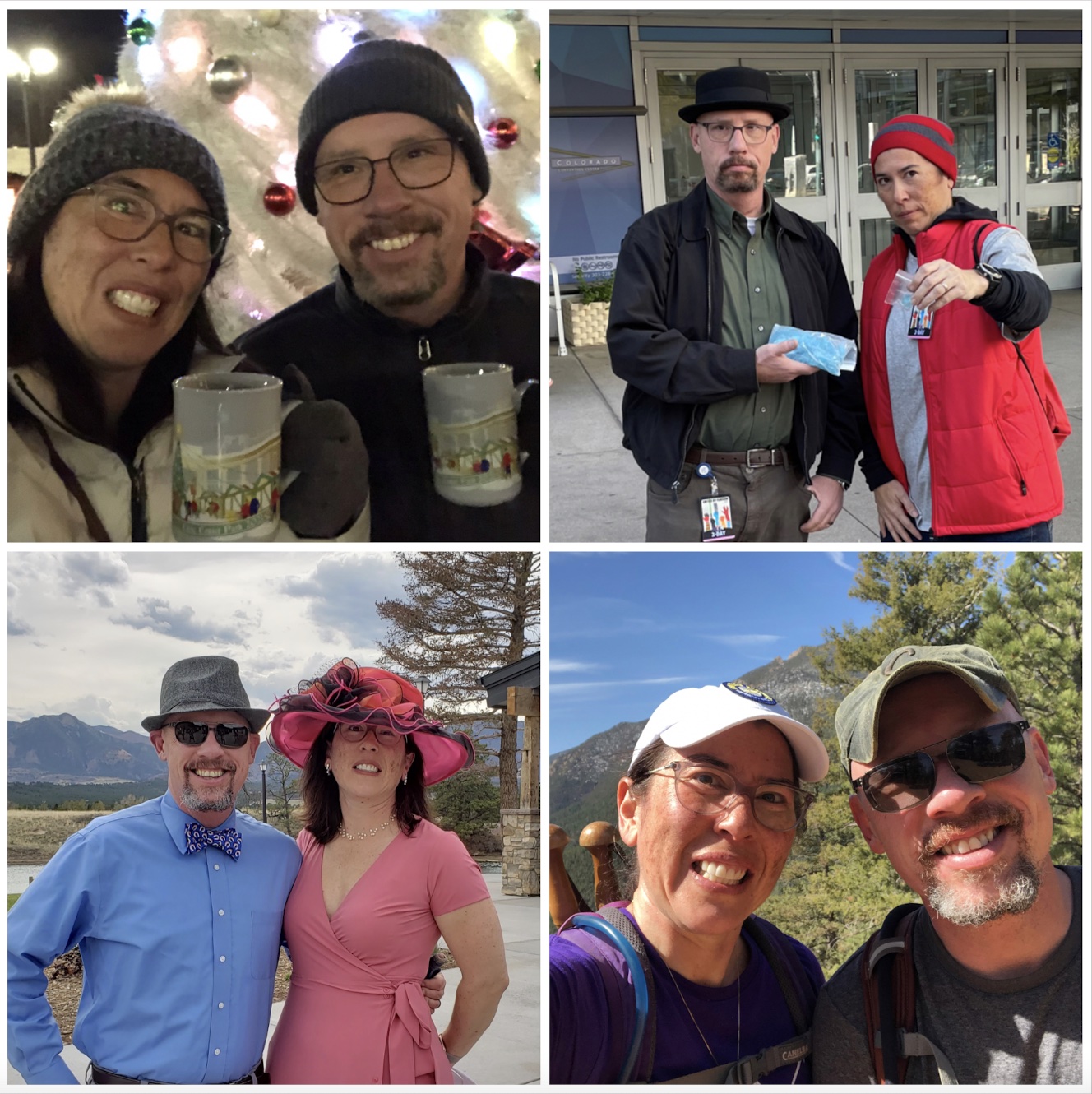 Clockwise from upper left: At the Denver Christkindlmarket, at Denver Fan Expo dressed as Walter White and Jesse Pinkman with rock candy "Blue Sky" from the AMC series "Breaking Bad," hiking along the flank of Pikes Peak, and the Kentucky Derby party in between mint juleps.
---
Dave:
Not gonna lie... I'm loving my post-Air Force life! I'm proud of my service and don't regret any of the over 22 and a half years I served, but these last three years as a civilian have been pretty great. In addition to my position with University Corporation for Atmospheric Research (UCAR) in their Cooperative program for Operational Meteorology Education and Training section (known as COMET), I also started as an adjunct instructor for Ascend College Prep, a brand new, tiny public high school for college-bound juniors and seniors, typically with advanced math skills. This school was started by an Air Force Academy grad and instructor, and she's hired so many of us former Academy professors that it's been a bit like "getting the band back together." All of our courses are offered as dual-enrollment with University of Colorado Colorado Springs, for whom I'm also serving as honorarium faculty. I'm teaching environmental science this fall and will teach Physics 1 (mechanics) in the spring. Since these are highly motivated students who've self-selected through their accelerated math trajectories, they're great students. Very respectful and insightful.
On the UCAR front, I was asked to create and deliver a 2-week remote learning course on convective (thunderstorm) forecasting for meteorologists and hydrologists with the Myanmar (Burmese) government. Myanmar has been in the news for human rights problems, and the United States doesn't even recognize the current government (still officially calling it Burma), but our mission (through the World Meteorological Organization) was to help save lives by improving the weather services. At the risk of sounding corny, that calling--to warn people of life-threatening weather--transcends political boundaries. My students ranged from interns to high-ranking administrators. I found they were exceptionally friendly and courteous, if only a little shy. I hope I could help them protect their people from the monsoon thunderstorm-driven flooding that was ongoing, even during our class. The brutal bit for me stems from our relative positions on the globe; in order for me to provide them a midday class, I was teaching in the super-early morning hours via Zoom. Thankfully my part was just two weeks, as my colleagues gave other short courses on other topics such as tropical cyclones and observing systems.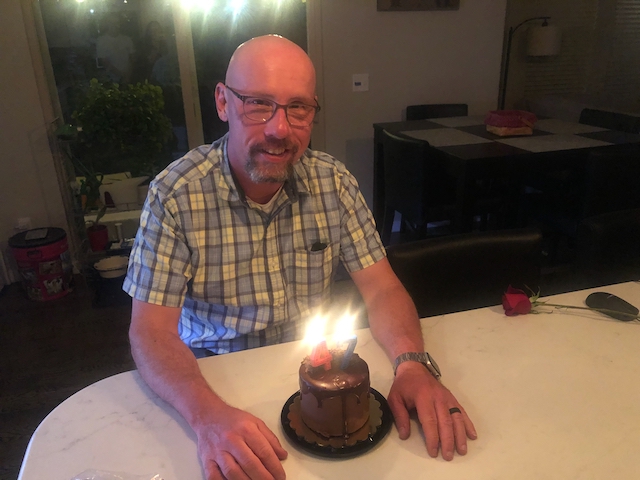 Dave reaches the Big Four-Seven.
And yet I've had plenty of time for camping, hiking, almost 9000 minutes on our new Peloton, and--of course--model railroading! In addition to completing a 2.5 by 5 foot N scale layout of vignettes of the Colorado Midland Railway, I continued refining the HOn3 Rio Grande Southern First District model railroad. I was asked by the editor of HOn3 Annual from White River Productions to shoot the cover photo for the 2021 issue on my layout. I also submitted an article on improving the look of commercial trackwork (i.e., the stuff with the plastic crossties). Lately I've also found myself being invited as a guest for various YouTube livestream model railroad channels.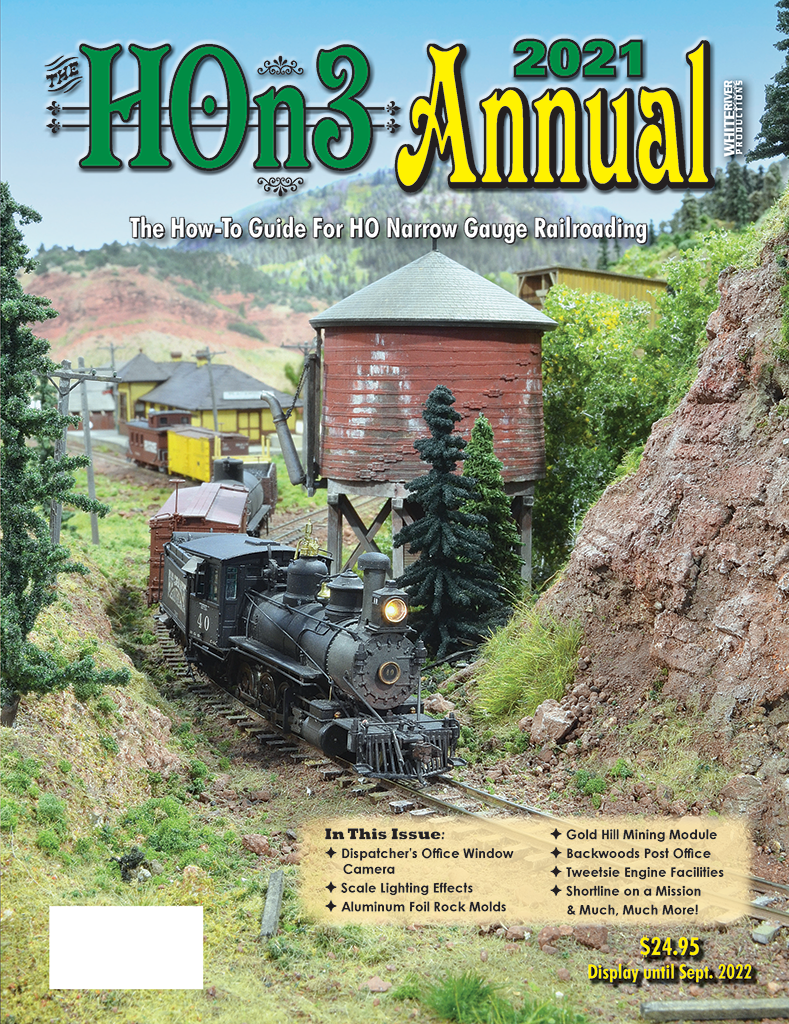 Dave's cover photo for the 2021 HOn3 Annual...Rio Grande Southern C-19 #40 passes the Deep Creek water tank south of Placerville with a Durango-bound mixed freight.
I also started volunteering at the Colorado Railroad Museum in Golden and am trained as a tour guide. I admit that in spite of Jacob being in Golden, I don't get to the museum as much as perhaps I should. But I was there in May for the historic, first-ever triple steam up of the museum's three operating narrow gauge steam locomotives, the oldest of which turned 140 this year. I bet I won't look or sound as good when I'm 140 years old.
OK, now for the bombshell. I've never made a secret of the fact that I was adopted, and have always been grateful that I was blessed to have been adopted by Russ and Lois Vollmer. Not every adoptee wins the lottery, but I did. That never stopped me from at least being curious as to who my birth mother was. Truth be told, it was in the waning months of 2020 that 23andMe--along with confirming that I'm 100% boring, Northern European "assorted crackers"--connected me with my birth mother via my cousin. I didn't say anything publicly about it at the time...I was still "processing." Well, in 2021 I got to meet Lorraine and her delightful husband Phil when they came to Colorado Springs! So, after 47 years, I was reunited with my birth mother! Funny how things work out...it turns out Lorraine is a PhD professor just like me.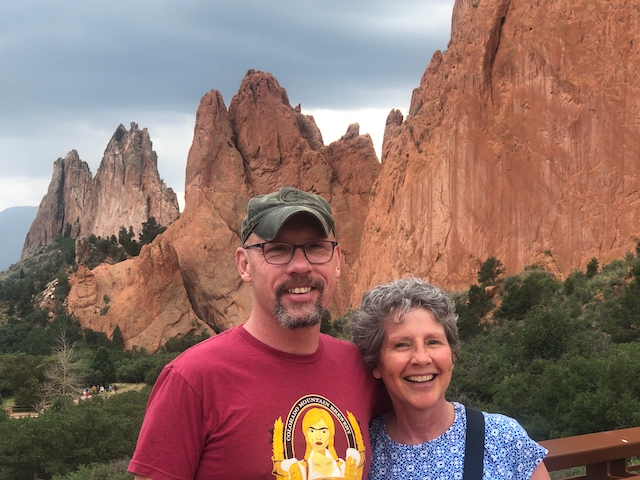 Dave and Lorraine at Garden of the Gods in July.
I've never been confused about who my parents are; Russ and Lois gave me the life that Lorraine never could. She expressed her gratitude for my parents and the amazing upbringing they provided for me. I'm so thankful though that Lorraine is not only still alive (that was never a given before I knew for sure) but that we now stay in touch. To this day I'm still not sure if I've completely processed it all.
In other assorted "Dave News"... After being cleared to ski in March following my 2020 shoulder surgery, I tore the ligament in my left thumb on a trail at Crested Butte, so had an unexpected surgery to fix that...and then in September I had three levels fused in my cervical spine. Yeah, I know, that sounds horrible, but it wasn't bad at all. The hardest part has been "taking it easy" on the Peloton and in the home gym. I'm kind of back to my normal routines but I'm not telling the spine doc...at last checkup I was healing fast. Oh, and I had COVID right after surgery. Thanks to the vaccine, it was merely an annoying cough rather than a life-threatening event. In spite of all of that, I'm probably in the best shape I've been in a decade or more, and I'm feeling pretty great. Clean eating and a Peloton for the win!
---
Patricia:
Normally, when we make these newsletters, we start by copying the previous year's text and photos into a new folder. Then we just type in the new words. I just now hit "delete" on my words from 2020 in this newsletter draft, but this last line caught my attention:
"We are (like everyone else, I'm guessing) counting the seconds until 2020 is finished, basking in the hope that 2021 brings happiness back to my friends and loved ones."
The jury's out on whether my friends and loved ones have their happiness back. Without getting too political, suffice it to say that there are still so many who won't leave their homes, and are risking their jobs, their friend/family relationships, and even their very lives, all because of this stupid virus. I can't wait for this fear, uncertainty, and frustration to be behind us...and yes, in my mind, we will put this behind us.
I'm now considered an "old, wise, sage" in the NORAD meteorologist job that I only started in May 2020, thanks to huge personnel turnovers among my weather forecasting colleagues. I do most of my work in-person. I enjoy what I do and the people I work with are pretty great. This past summer was busy: I am very proud to have had a part of designing the weather forecasting support for the numerous temporary camps housing the 60,000+ Afghans that our country helped rescue from the Taliban resurgence earlier this year.
As most of you know, I'm the extrovert in the family. The COVID restrictions had been tough on me. This year, most of my socializing has been with nearby friends and neighbors. We stuck with mostly outdoor activities, such as skiing, camping, hiking, and outdoor events at our neighborhood's community center.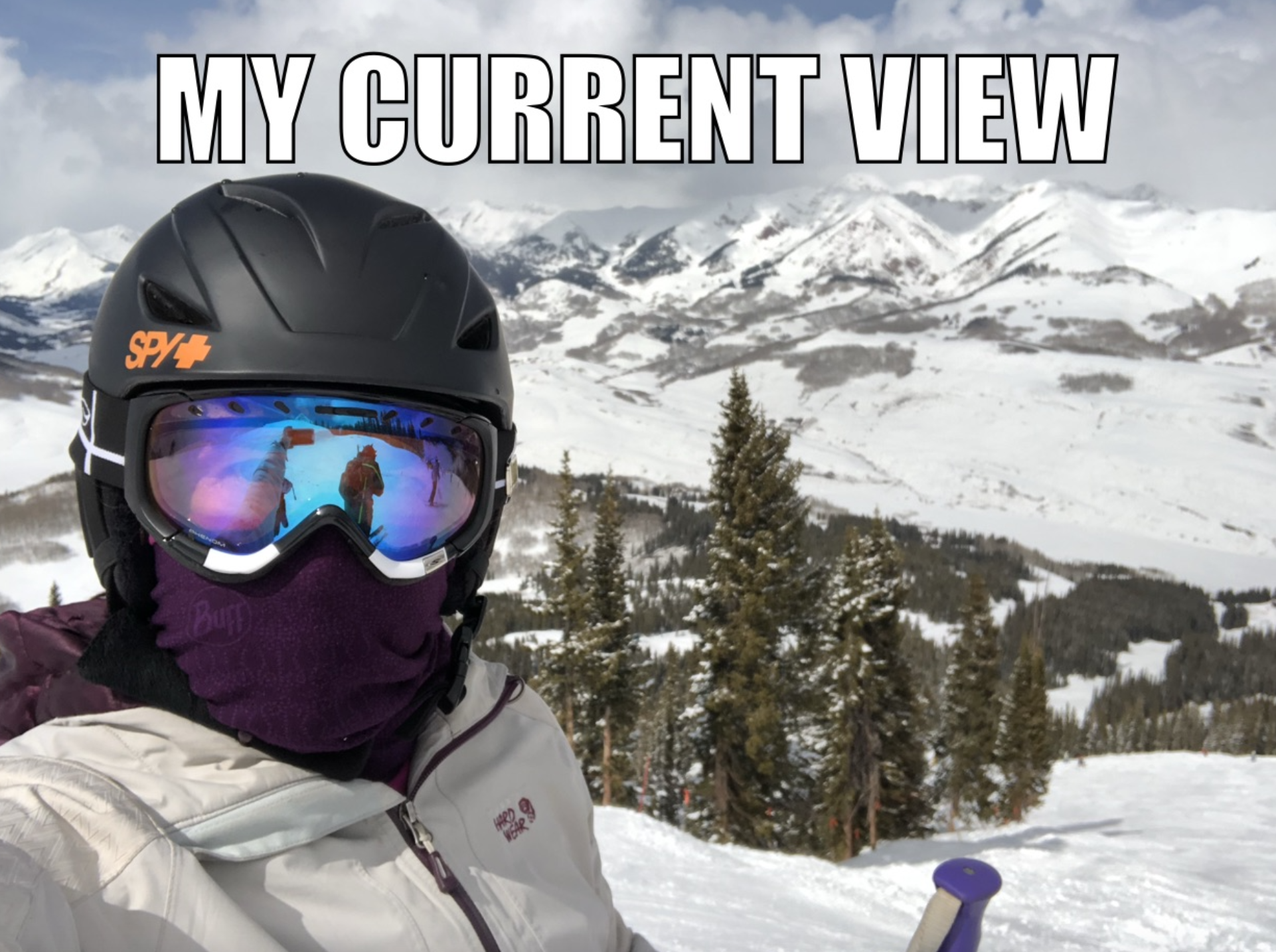 Patricia showing off beautiful ski conditions at Crested Butte, March 2021.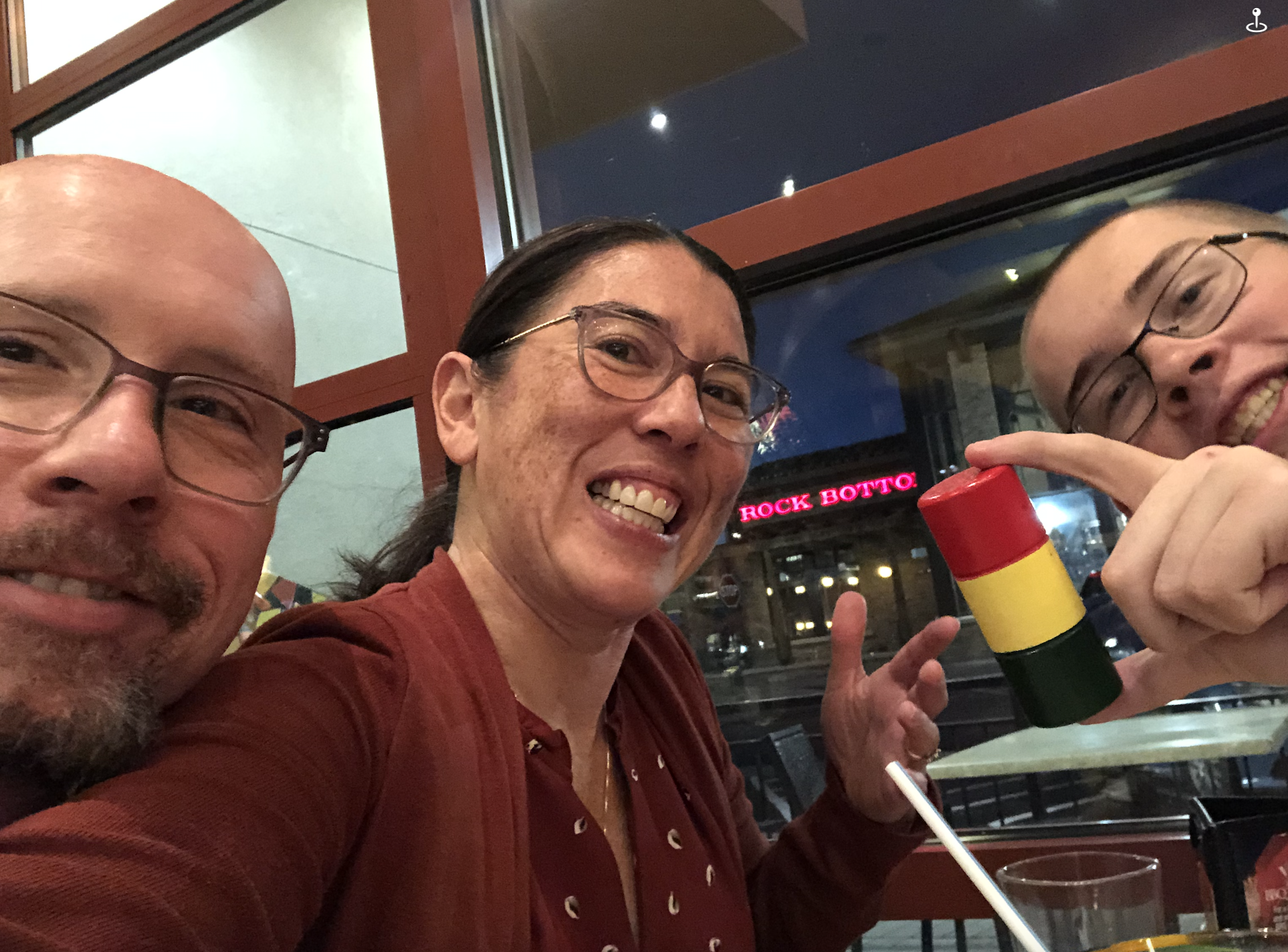 The picture we sent to Jacob at school, showing off good times at my birthday dinner at the local Brazilian steakhouse. No really, we were missing him.
Like Dave, I thoroughly have been enjoying our adventures with Bojack, our travel trailer. I keep my excitement contained to our RV blog, which is our way of journaling our travels and telling stories of the challenges that come with owning and maintaining an RV. I have really been enjoying planning trips around Colorado; Bojack took our family out five times in 2021; unfortunately our last trip of the season in October was canceled due to illness. We are busy with quite a bit of non-RV travel for 2022, including a trip or two to take Tim to visit out of state colleges, but I'm wondering if we can sneak in a trip or two with Bojack out of state. Bojack hasn't left Colorado since we got him in September 2020, and there are many places we want to explore...mainly in adjacent states, although the big western national parks -- Yellowstone, Theodore Roosevelt -- are on the list too.
As you can imagine, planning camping in Colorado during the warm weather months can be quite the undertaking. Everyone in America wants to travel here, and most of the cool things to see involve camping or backpacking. So I keep a calendar of when to work on camping reservations: six months out for our state parks, and 12 months out for national park campgrounds. As retired military, we can use military base RV parks, but we can only reserve 60 days in advance. Earlier this month we just reserved a campsite for May 2022 at John Martin Reservoir State Park, which is the southeastern-most state park in Colorado. It's not as cutthroat to get reservations as the parks in the mountains, being out on the plains, and there is some very interesting history worth exploring, including the Granada/Amache Japanese Internment Camp nearby. I've wanted to see this site since we moved here and I'm looking forward to doing so in the spring.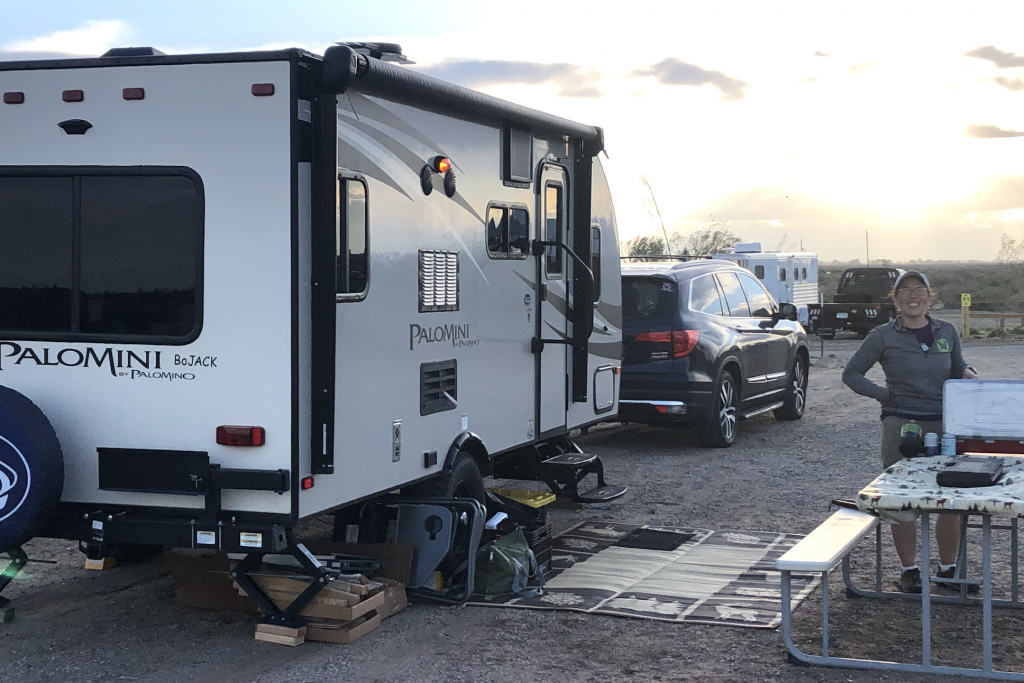 Cooking dinner among the sunset at Base Camp Family Campground, Alamosa, CO, May 2021. I have always enjoyed camp cooking!
As Dave mentioned above, we have decided to stay in Colorado Springs FOR GOOD. This wasn't a given: once Tim finishes high school in 2023, we were on the fence whether to stay in Colorado Springs or even stay in this part of the country. There would be some health benefits to living at a lower elevation, for sure. But we love our neighbors and community.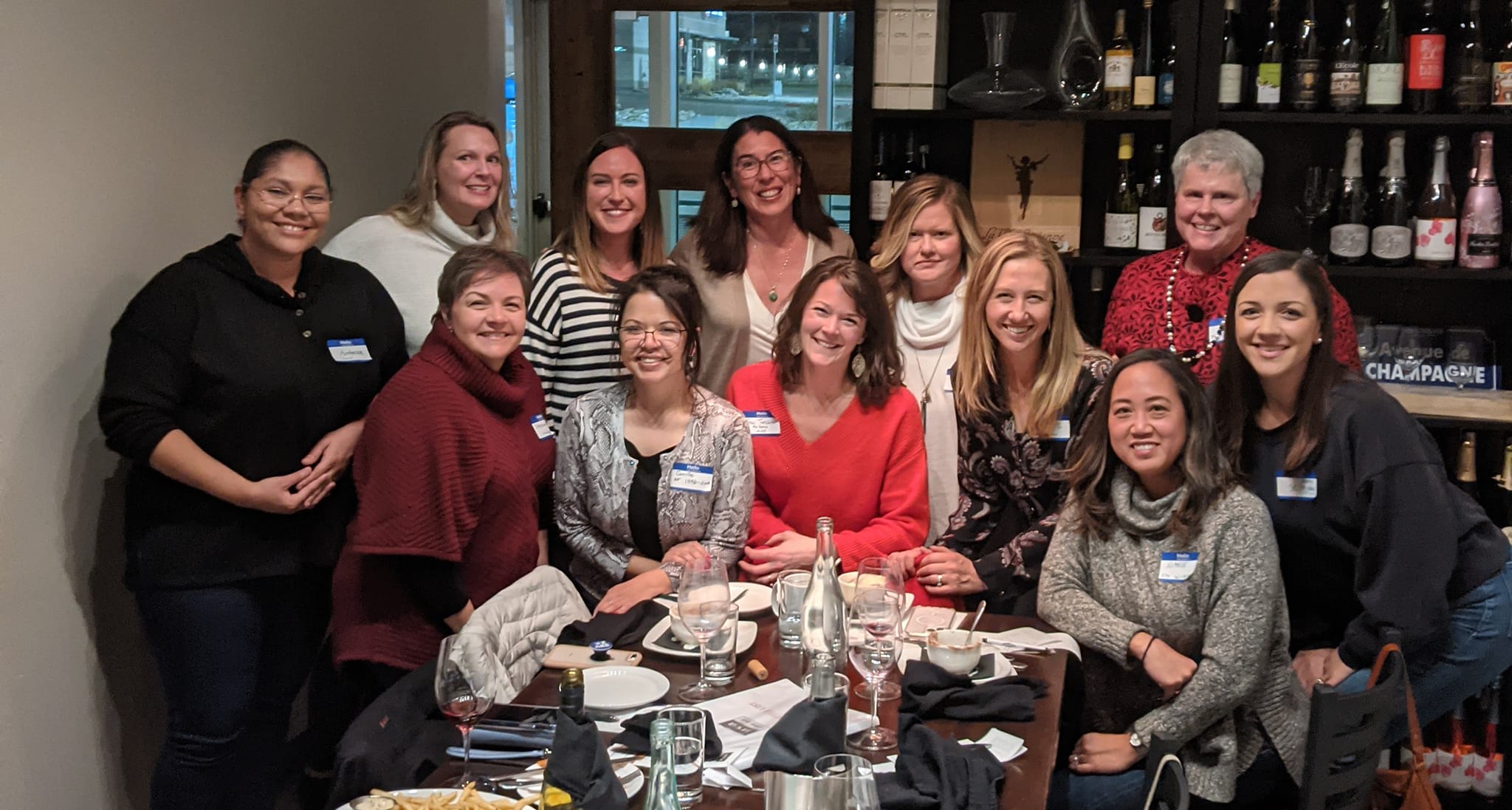 One of the women in our neighborhood started monthly Women's Veteran Dinners and December was our first meetup at a local wine bar! I'm loving all the ways we're finding community here.
I actually had set a couple goals in 2021 and am pleased at how well I did with them. I started by deleting all the numerous iPhone games from my phone, from 3 versions of Candy Crush to Bejeweled to Simpsons Tapped Out. That wasn't as hard as I thought. Before, I would just sit on the couch in the evenings with the TV on, crushing candy. What a waste of time. I didn't play any of those phone games all year.
I also set a goal to read twice as many books in 2021 as I did in 2020, and thanks to an Audible subscription, that wasn't so difficult either. I now have 30-40 minute work commutes in each direction and I use that time to listen to books. I also am usually concurrently reading a regular book -- in other words, either a physical book or Kindle book -- as well. I think I completed about 15 books this past year. It feels good to be back in the reading -- or listening -- groove again after several years of not having as much time while I was teaching at the USAF Academy.
Finally, let me offer some thoughts about one of the things I can do better in 2022. In April we will have been in our house for 5 years. For each previous house, moving every 2-3 years had forced us to be deliberate with our belongings. We had to look at each item and decide "do I need this in my new house?" Suffice it to say that without those checks and balances, the crap has been piling up. I have decreed that one of my goals for 2022 is to get better with organization. I have piles of paperwork, bins full of old charging and power cables, stacks of magazines, and so many old linens. I tend to want to keep a lot of this, thinking that perhaps one day it will come in handy...but most of the time that isn't true. Some of this can be donated....most of it will simply need to be trashed. Dave has graciously offered to help me with this, wish us luck!
---
Jacob: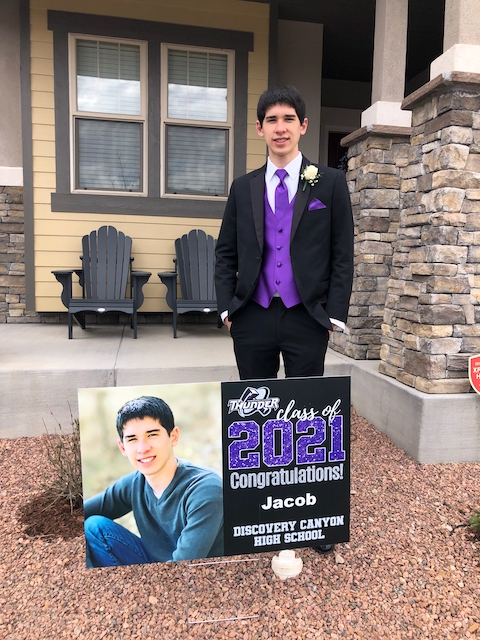 Jacob with his yard sign the school made for their seniors, ready for senior prom. He had a great time with friends.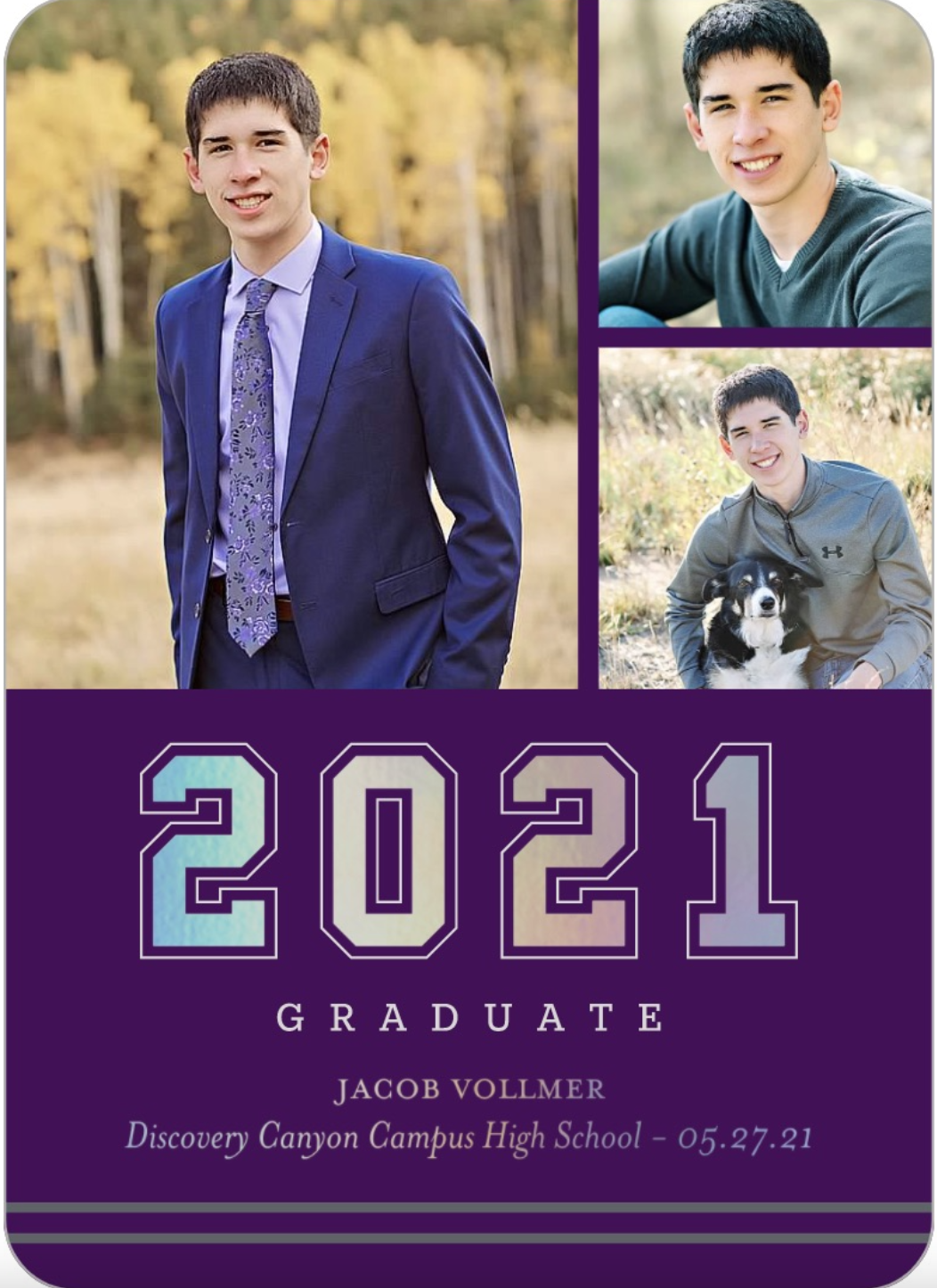 Jacob's graduation announcement.
The headliner for Jacob is of course his transition from high school to college. He's now a freshman majoring in chemical engineering at Colorado School of Mines in Golden. It's been an eventful year for him to say the least!
Much of early 2021 was awaiting college decisions. Due to the pandemic, there were record low acceptance rates at a number of schools as they worked through a year's worth of deferments. You'll also probably recall our tales of ACT and SAT scheduling nightmares in 2020. Well, thankfully it all worked out the way it was supposed to! Jacob's among "his people" at what clearly is the right place for him. With only 5500 or so undergraduates, Mines--one of the toughest engineering schools in the country--is the perfect place for him to thrive.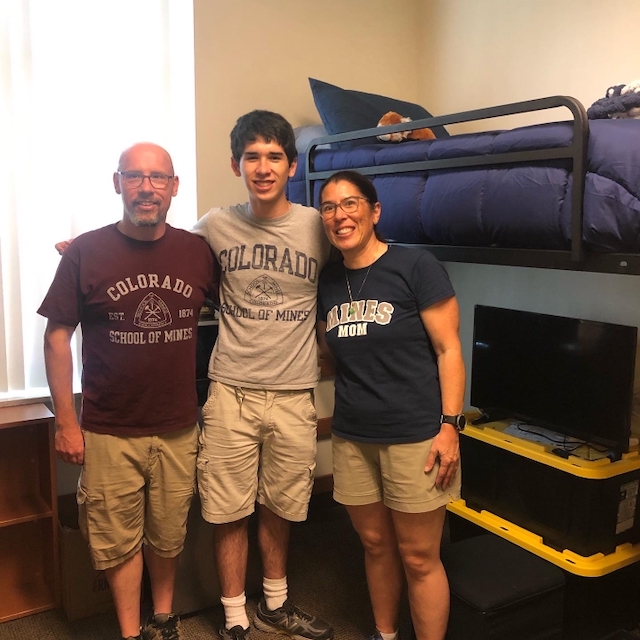 Jacob's move-in day at Colorado School of Mines.
If you remember Jacob at all, you probably remember a fairly subdued and somewhat shy young man. He's someone else these days. With an orbit of friends, he's pledging a fraternity (FIJI, the highest-GPA of any fraternity at Mines, and possibly the highest-GPA chapter of the fraternity in the country!), has joined Mine's ski racing team, plays on the school's varsity Overwatch eSports team, and spends his non-study time in the mountains, rafting on Clear Creek, or <gasp> at parties. Yet he's still earning top marks. With his dual-enrollment college, AP, and IB credits, he started at Mines effectively as a sophomore.

As we type this, we're getting ready to pick Jacob up and bring him home for Christmas. Tim wouldn't admit it aloud, but we know he's really looking forward to having his big (but shorter) brother home.
---
Timothy:
Of course Tim's -- he goes by "Tim" now -- biggest event was the Eagle ceremony this year. But there's so much more where that came from. Tim decided that he wanted more spending cash, so purely on his own volition he went around town and got himself his first ever paying job! He's working at the Panda Express just up the road on a not-to-interfere-with-school basis. That he earned his full driver license at the beginning of the year made that so much easier on mom and dad! He's been no slacker at school either, starting on Mandarin Chinese this year. And then there's music.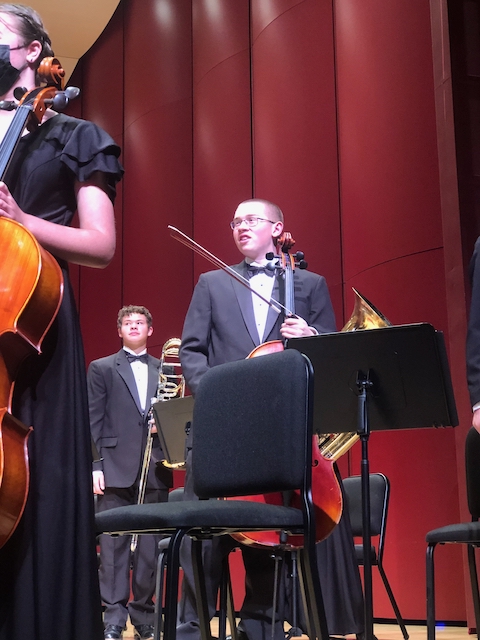 Tim at a Colorado Springs Ovation Youth Symphony concert at the Ent Center for the Arts. This is the only "good" still photo of Tim and his cello in all of 2021.
Here's Tim at a school solo recital playing "Sarabande" from Bach's 1st Cello Suite.
Tim was inducted into the Tri-M Music Honor Society at DCCHS because his peers are as impressed by his musicianship as his parents and music instructors are. But the bigger news on the cello front is that he auditioned for--and was accepted into--the highest-level Colorado Springs Youth Symphony and will be touring Greece in June 2022 with the orchestra's tour group! Meanwhile he's doing double-duty in the Ovation Youth Symphony, meaning his Mondays now include four hours of rehearsal. But making music isn't work, is it? Tell that to his calloused fingers! And almost as a footnote, Tim also made the Pikes Peak Honors Orchestra, which performs at the end of January.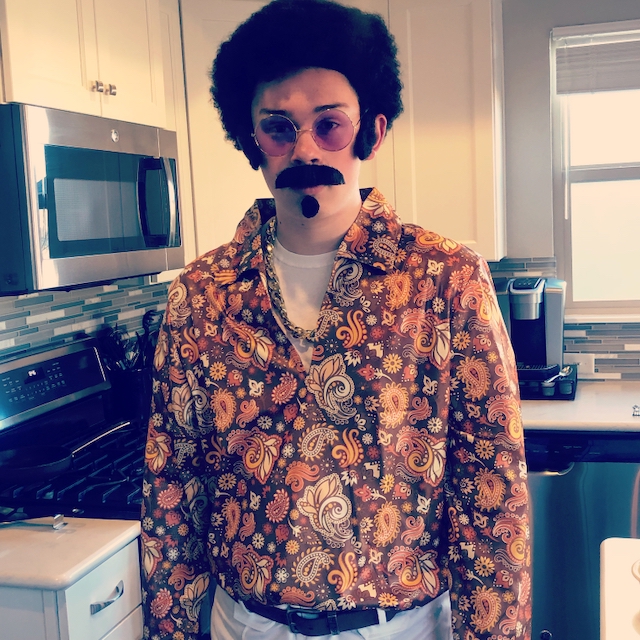 Tim decided to go disco for halloween.
---
Ranger
Good ol' Ranger the Danger Dog. He's not as quick as he used to be, but boy is he just as addicted to playing fetch. He's probably somewhere in the neighborhood of 12 years old, but we'll never know for sure. Nevertheless, his vet thinks he's doing great for his age.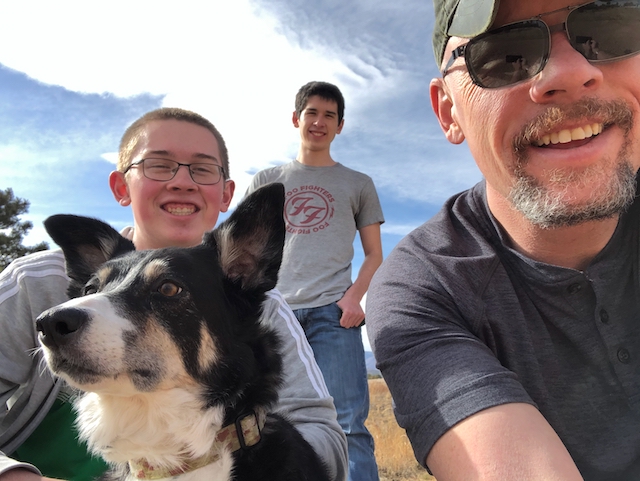 Ranger leads his herd.
Ranger was in a funk for a bit after Jacob went off to college. Thankfully, now that Jacob's been home a few times, Ranger seems to have gotten used to the idea that Jacob comes back, so he doesn't seem to take it as hard. Nevertheless, both boy and dog are invariably giddy at reunion. And...so Jacob doesn't have to miss Ranger quite as much, we had a Cuddle Clone made in an exact likeness of Ranger for him to keep at Mines.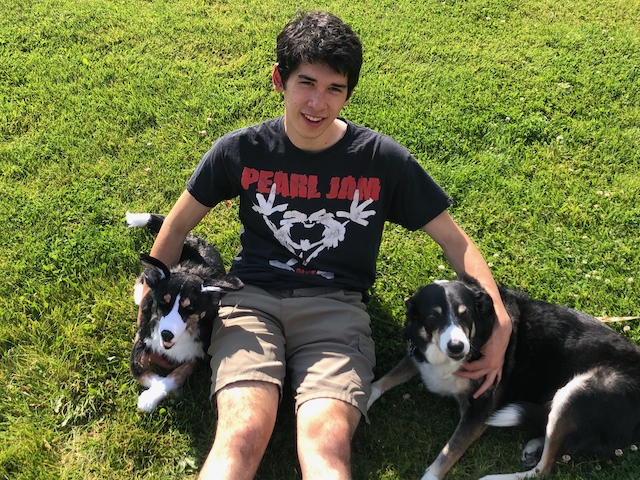 Jacob with the real Ranger (right) and a stuffed Ranger (left) on campus at Mines.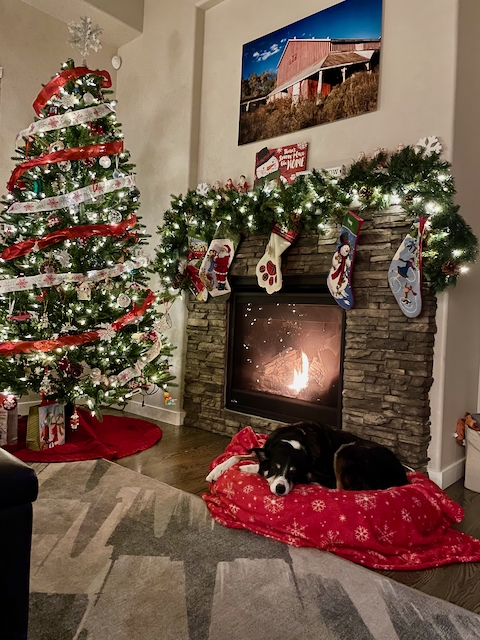 A very spoiled doggie waits for Santa to bring him another elk antler.
Life with a border collie is better.
That's it for 2021 from the Vollmers! Here's hoping life gets a little more normal again in 2022. Merry Christmas, happy holidays, and have a safe, healthy, and happy New Year!