Happy Holidays from the Vollmers - 2020
Christmas in the Containment Zone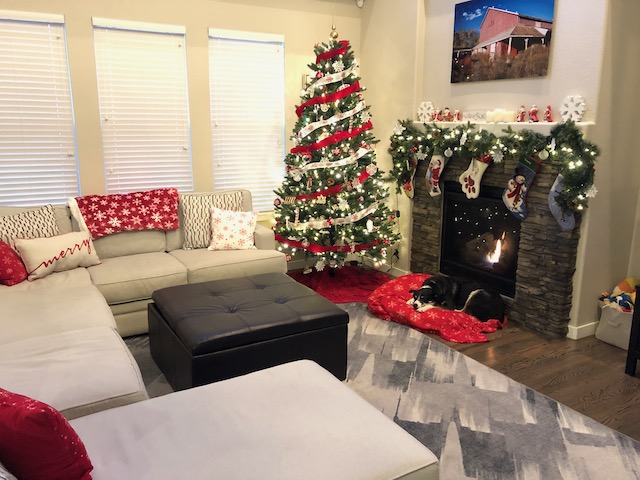 1350 Foothills Farm Way
Colorado Springs, CO 80921
(919) 749-5744/5544
Christmas already? It seems like 2020 just started...ten years ago. If ever a year needed to end, this has to be it. Now, we can't truthfully complain. Our COVID-19 inconveniences have been minor. Our long-planned two-week trip to Europe centered on the Passion Play at Oberammergau, Germany was the biggest casualty. We had some major celebrations--mentioned later--that also had to be cancelled, but we didn't lose income, we didn't lose our home, and--most importantly--as of December--we haven't lost a close friend or family to COVID-19. We pray in earnest that we stay that way and we humbly ask God to comfort, protect, and nourish those who have. It's been a crap-show of a year, no doubt. If 2020 were a bubblegum flavor, it'd be clam chowder with chocolate chips. If 2020 were toilet paper, it'd be 80 grit (but out of stock). If 2020 were a band, it'd be a Nickelback cover band.
So, we're sorry we didn't get back East this summer for obvious reasons and sorry to our local friends that there will be no annual Vollmer Family Christmas Open House (you'll just have to get blitzed on your own Scotch and peppermint schnapps this year!). On the flip side of things, we grew a little closer as a nuclear family, we learned that most of our work meetings really can be phone calls or emails, the dog got a lot more walking, and we absolutely appreciate every single person working the front lines of this pandemic. Whether you work in healthcare, first response, or are an essential worker, thank you for what you do. These two old retired veterans (spoiler!) salute you and thank you for your service to humanity.
OK, now on to the Vollmer stuff.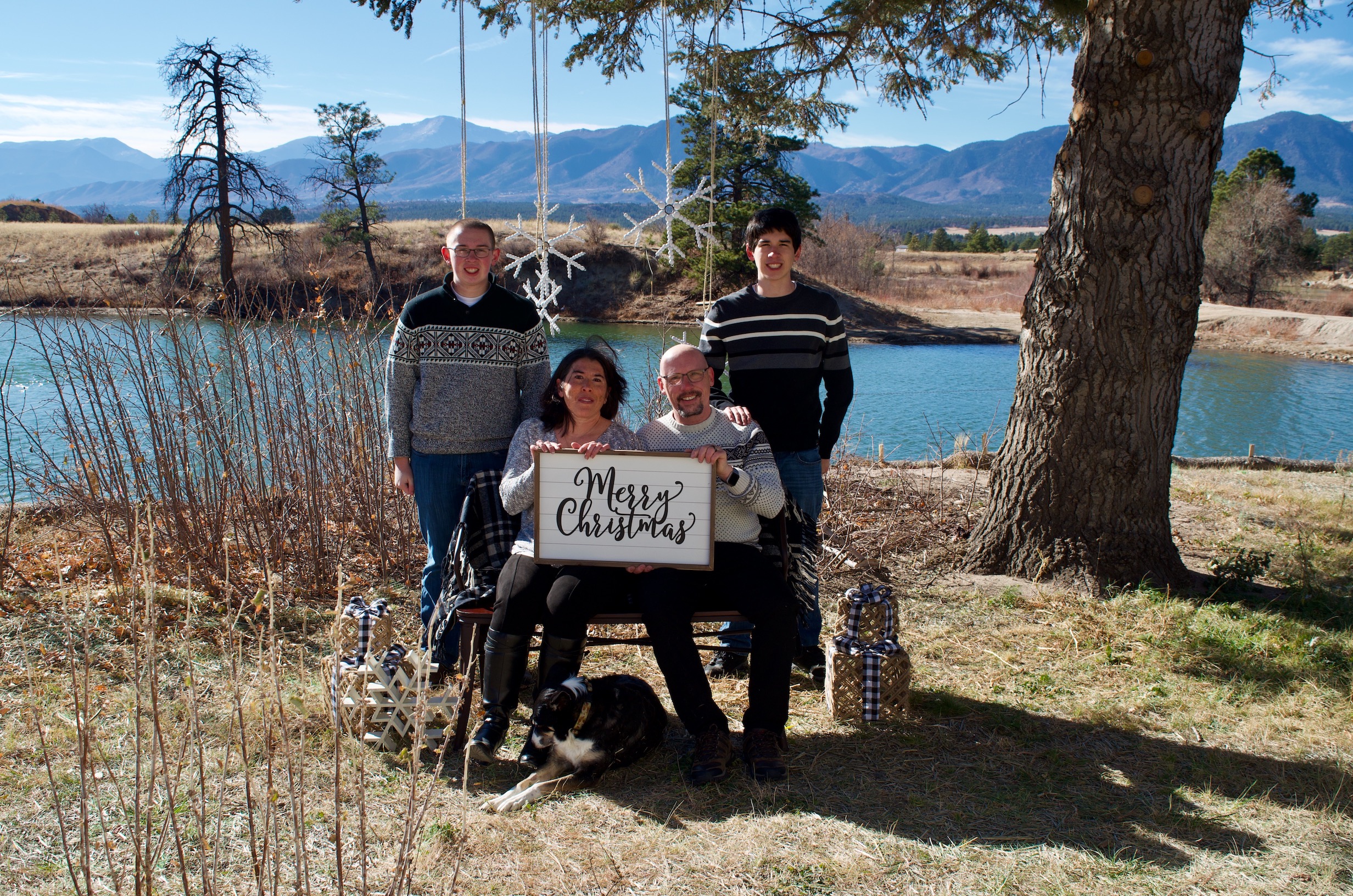 It's been a very dry winter here on the Front Range. Nothing like some extreme drought to go with a pandemic!
http://www.thevollmerfamily.com
Patricia's Blog: http://www.thevollmerfamily.com/MajorMom
---

2020... What else is there to say? Well, it hasn't been all bad. This marked our seventh year here in Colorado, and as we'll explain in a moment, it looks like we'll be here for years to come. We love it here even if it means snow in September and wild windstorms. We've grown deeper roots here than anywhere we've been stationed before.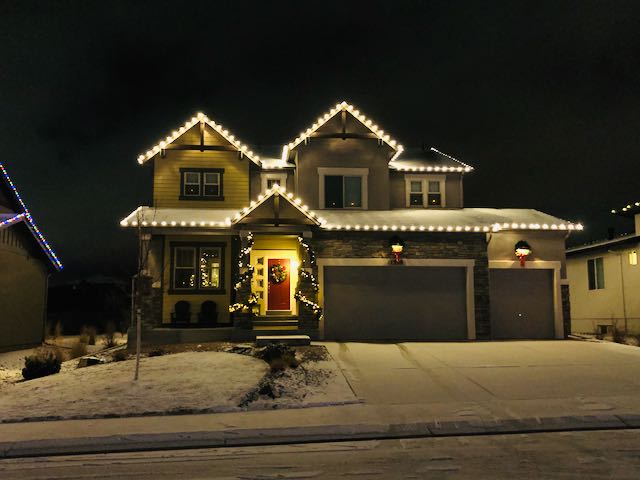 Christmastime at the Vollmer household!
We did something this year that may come as a surprise. We're veteran campers all and not afraid to rough it, but at the same time, why rough it if you don't have to? In our Army-support weather days we used to say "embrace the suck." Now it's time to embrace the retired life, which doesn't suck! So...we bought an RV. Yep. Meet Bojack, our 22-foot Palomino Palomini travel trailer!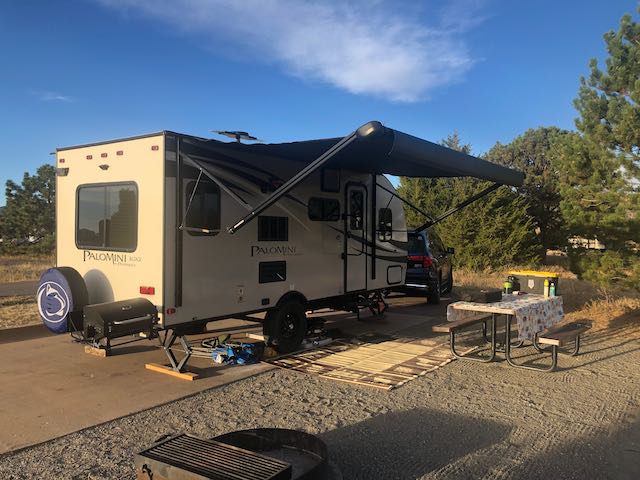 Here's Bojack on its shakedown campout at Chatfield State Park in October. We wanted a horse-themed name for a Palomino, so we settled on Bojack. If you get it, you get it! If not...oh well!
We even started our own RV blog (it's kind of obligatory in this hobby) which you can find here. We'll try to catalog our adventures so you can feel like you're packed into our little camper right there with us! Just please, please wipe your feet before you come in.
Jacob made Eagle Scout last year but we were hoping to hold his ceremony with out-of-state friends and family in the Spring of 2020. D'oh! At long last we decided to do his ceremony in August with limited in-person attendance and a Zoom meeting for family. His brother Timothy--himself on the cusp of Eagle--was master of ceremonies. Jacob's Eagle Court of Honor was held at the brand-new Gathering Place at the Farm, our neighborhood's new community center.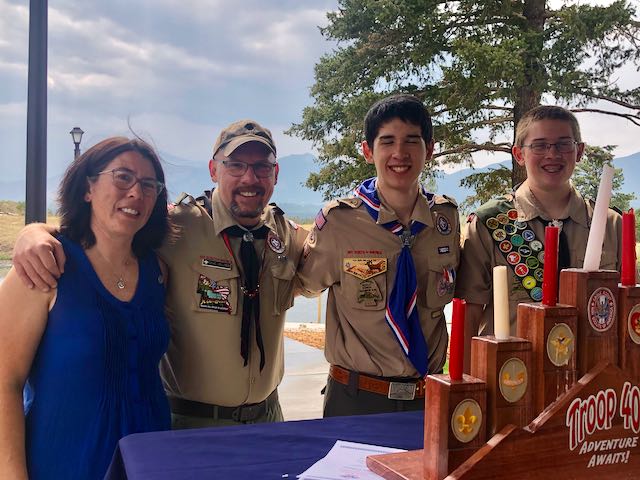 Jacob at long last had his Eagle Court of Honor a year after he achieved the rank. 2020...what else can we say?
Now, in local circles we're fairly well known for the parties we throw. 2020's perpetual isolation put a serious crimp in our party mojo. As the year draggd on, we decided we needed to do something social. So Dave put together an outdoor socially-distanced event, Foothills Farm Way's First Annual Oktoberfest bei dem Vollmers! Merzen and pilsner flowed, pretzels and bratwursts were consumed, and--to our knowledge--no COVID-19 was transmitted. Maybe the schnapps sterilized our insides, or maybe it was the 'kraut. Either way, we look forward to making this an annual tradition going forward!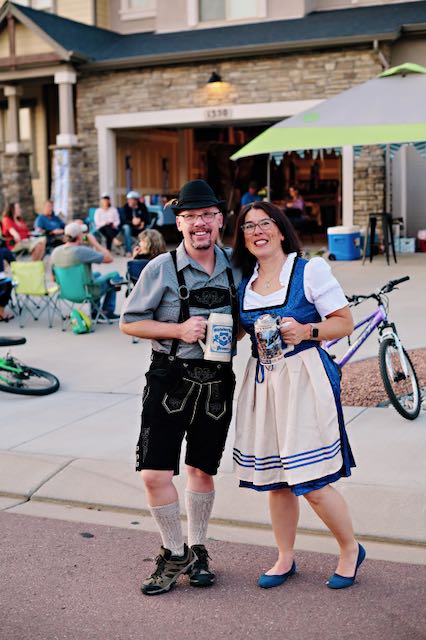 Prost! Ein Prosit Der Gemütlichkeit!
Frohe Weihnachten und ein glückliches Neues Jahr!
---
Dave:
This retired life ain't so bad. After two years as a civilian I can safely say that the identity crisis I was warned about at the end of a 22+ year military career never materialized. Perhaps it's because I spent my last five years on active duty in academia instead of operations, but either way switching from a military professor to a civilian instructor has been surprisingly easy.
Last year you may remember that I was hired by the University Corporation for Atmospheric Research (UCAR) in their Cooperative program for Operational Meteorology Education and Training section (known as COMET). I did some sporadic work last year on some of the famous COMET "modules" (computer-based training materials for forecasters), but this year it was déjà vu all over again as I found myself in the classroom teaching in person. My mission? Deliver the entire content of an undergraduate program's advanced meteorology courses to eight Saudi Arabian engineers and mathematicians to help turn them into forecasters for the Kingdom. To do this, I spent weeks at a time at UCAR's Boulder facility teaching morning and afternoon while staying in a hotel. Then came COVID-19 and a crash-course in teaching via Zoom!
We made it through the sixth-month academic portion, but frankly, teaching 12 courses' worth of class in six months is exhausting for student and instructor alike! For the second half of the course—the applied forecasting practicum—I was invited back to Boulder to teach in person again, although this time under distancing and sterility protocols that would make any hospital proud. After my five-week section, I bid goodbye to my new Saudi friends. One of my students will go one to become only the second woman ever hired by the Saudi environmental services and I enthusiastically recommended her to continue her studies at the doctorate level. Another student became fascinated with weather forecast modeling and I hope he gets to continue running the WRF (Weather Research and Forecast Model) as part of his new duties back in Saudi Arabia. This was an amazing and rewarding experience for me, both academically and culturally. I just wish these poor Saudis could have experienced the United States in a non-pandemic year!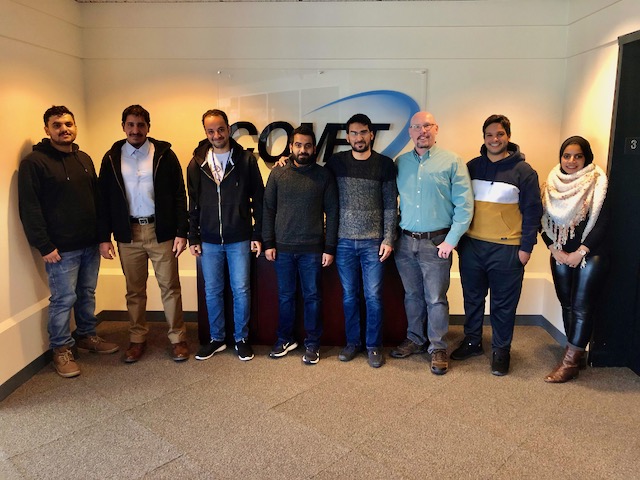 Me with my 8 Saudi students at the beginning of the year.
As for my spare time (of which I have plenty!), it's allowed me plenty of time to enjoy the outdoors…made all the more urgent due to quarantine cabin fever! I bucked the 2020 trend and managed to lose over 20 pounds this year (although holiday eating threatens to walk that back!). I started in on some new model railroad projects as well. After 20 years of arthritis, tendonitis, and bone spurs I finally got my right shoulder fixed with an arthroscopy in November. Recovery has been rapid, and my surgeon expects me to be back on skis by March. I hope to be fishing again by April.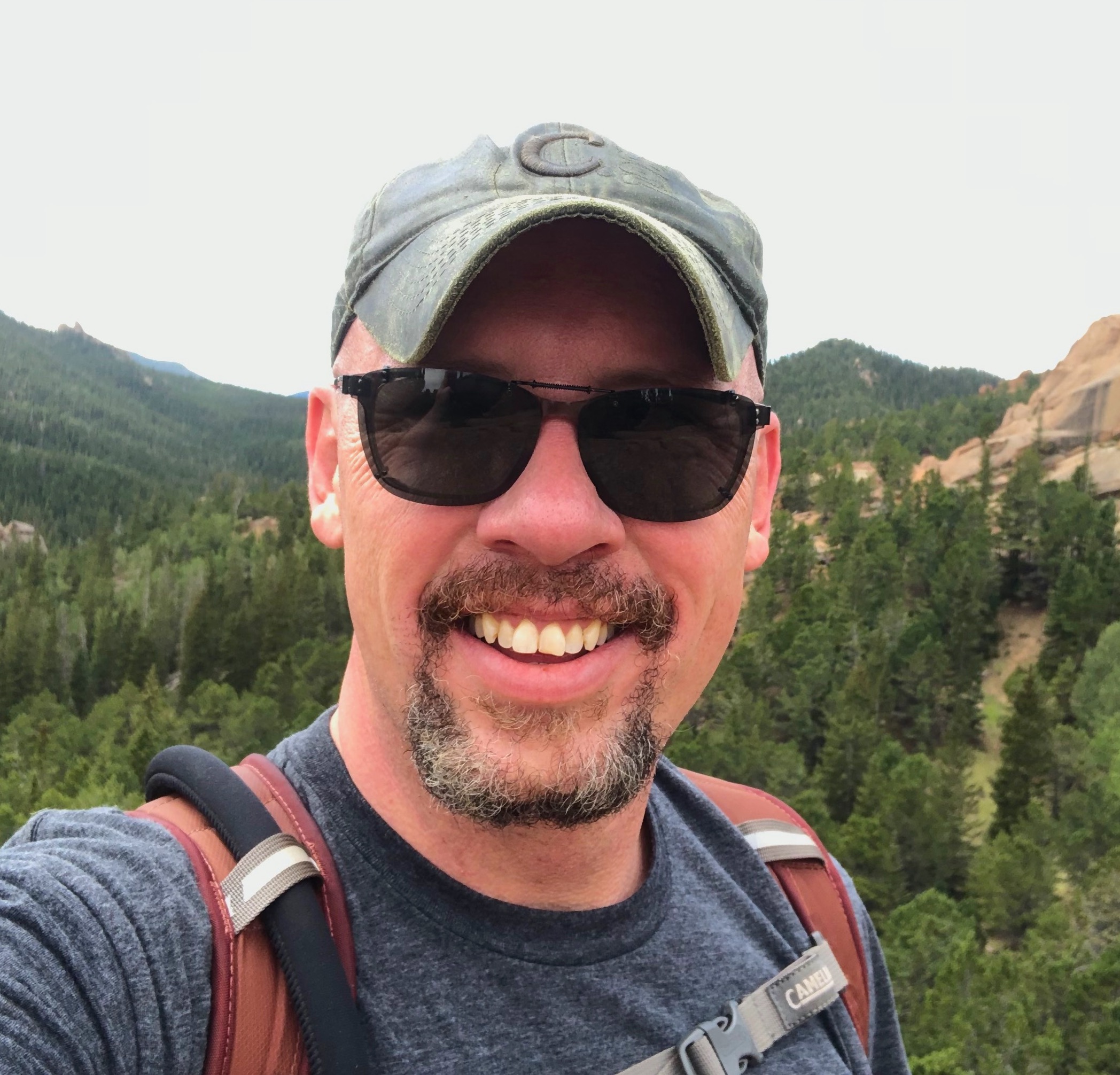 On the Crags Trail, north face of Pikes Peak in August.
2020 could have been worse for me, that's for sure. And after teaching via Zoom for a few months I am sold on the irreplaceable value of in-person learning. Having to ham-fist an in-person semester-long curriculum based on group collaboration into a remote learning scenario with virtually no notice also gave me a deep appreciation for what we're asking of our nation's teachers. We don't pay them enough to deliver one curriculum, let alone three different ones with half in-person, half remote, etc. Teachers, like health care workers, are the unsung heroes of this pandemic…and every day.
---
Patricia:
When I was over here last writing about myself, I was in a world of "unknown". Unknown future in the Air Force, unknown future in Colorado Springs, even. Not long after I had written that piece, I did indeed receive the "nail in the coffin", official correspondence that I would not be extended for a 4th year in my active tour (I wasn't expecting to). So my job search would begin in earnest.
In January I had tossed out a couple resumes and cover letters, thanks to the new skills I had acquired through the USAF Academy's Transition Assistance Program. I got to talk to many many people when I had attended the AMS annual meeting in January in Boston. I was truly flattered at the number of mid- to upper-level management jobs that were (informally) offered to me, the vast majority of which were in Boulder, CO and Norman, OK, unfortunately. Dave and I actually sat the boys down in January and asked how they felt about moving to Boulder. It was not received well.
I truly lucked out by scoring an interview with NORAD headquarters here in town, for a government position as one of the staff meteorologists. I interviewed in March 11th, and received the call on March 13th that I had been chosen!! (About 2 hours after I had received that call, the USAF Academy had made the difficult decision to send home all of the lower-class cadets for an early Spring Break, while keeping the seniors on campus through their graduation.)
I negotiated a start date, a few weeks after I finished my USAF Academy semester. But then the world started getting wonky: we were all driven to working, teaching, and learning from home. My onboarding process met a number of delays and last-minute decrees such as "You require a drug test before starting in your new position. Due to COVID, the last day the drug testing will be available will be <tomorrow>." And then the USAF Academy tacked two more weeks onto their semester! There went the break I was planning between my Air Force career and my civilian career.*
*It was in the heart of COVID-ness, what was I going to do during that time, anyway? I ended up with Memorial Day weekend off.
All this to say, I am now part of the amazing weather team with HQ NORAD and US Northern Command at Peterson AFB, Colorado. Yes, my commute is a little longer, and there some shift work involved, but this is truly a dream come true -- I wanted to remain a meteorologist for my subsequent career after the Air Force, and someone thought I was good enough to do so! I started right after Memorial Day, and so far it's been a great experience. I'm still on the "learning curve" part of things, and COVID throws wrenches into our schedules and manning at every turn, but I feel truly blessed to get to continue with my passion, meteorology, and remain in Colorado Springs.
What about the retirement piece? Yeah, well, I had set a retirement ceremony date of May 8th (which I had tentatively announced on last year's web-newsletter). Dave and I were working on logistical details: I had just booked an amazing venue, the USAF Academy's (relatively) new Polaris Hall atrium, had bought plane tickets and made hotel reservations for the relatives, had decided on catering, and a lieutenant who was helping me out had just finalized the invitation list and confirmed my officiating officer (my dear friend Kasi)....when the notifications of canceling all large gatherings came out.
Due to a combination of COVID paranoia, starting a new job right away, and frustration with the poor timing of it all, I didn't even do a Zoom ceremony. I just washed my hands of all of it. We were able to get refunds on all money committed, and I was able to fade quietly....like a dissipating contrail. I served 25 years, 1 month total...of which about 14 years was in active service.
Usually I take some time here to talk about the travels I get to do during the year, and (believe it or not), I had one business trip to Boston and one vacation with my girlfriends! I remember getting an information card at the airport on Grand Cayman Island about the "Mysterious Chinese Virus" with instructions to call public health if you were feeling symptoms.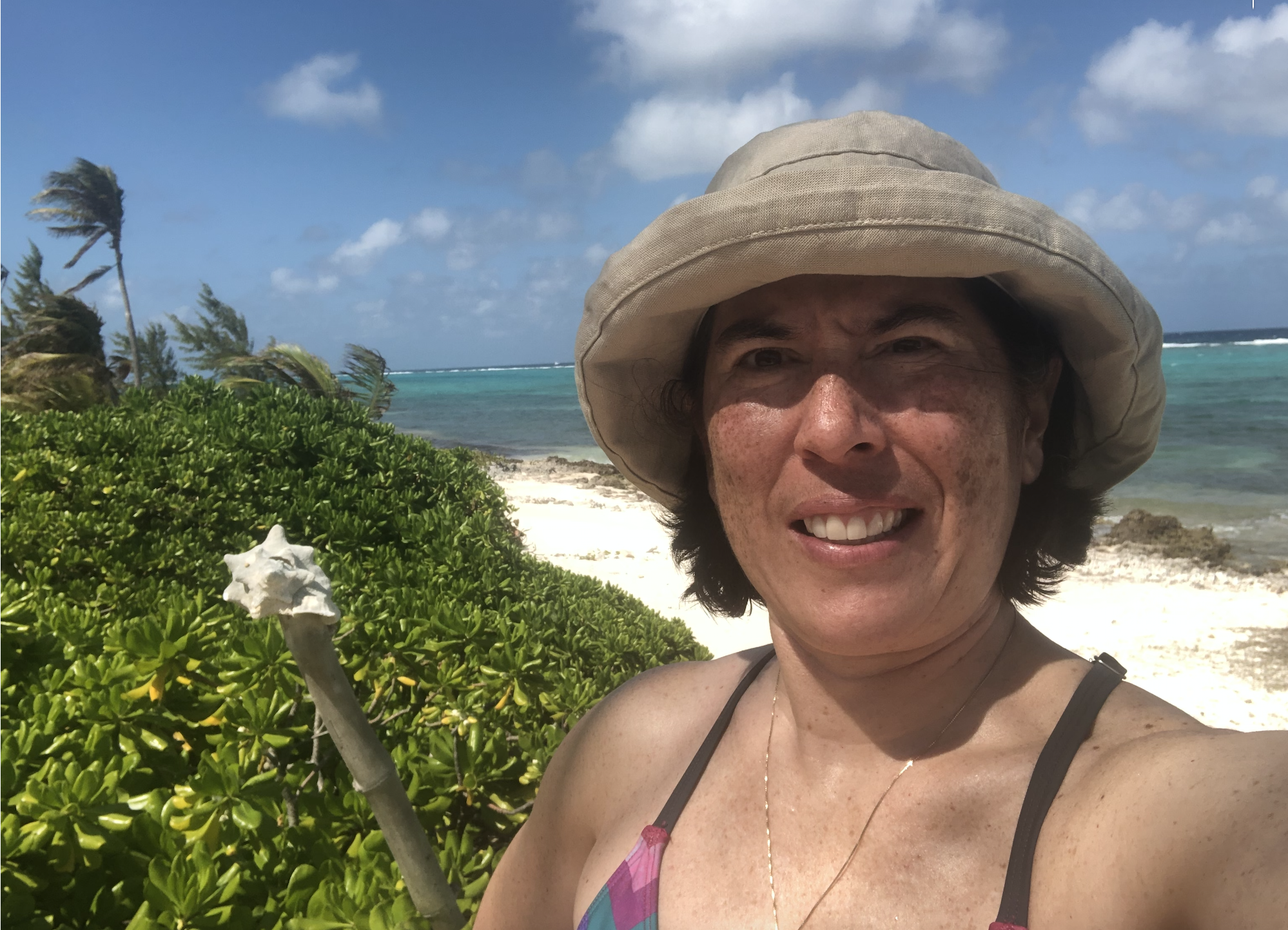 Here a selfie from the patio of our rented beach house on Rum Point, Grand Cayman Island. I was happy just sitting and looking at that view all day.
After that trip, the world closed down and a number of other trips have been canceled.
Otherwise, I've little else to report. We are like everyone else, I'm guessing: counting the seconds until 2020 is finished, basking in the hope that 2021 brings happiness back to my friends and loved ones.
---
Jacob: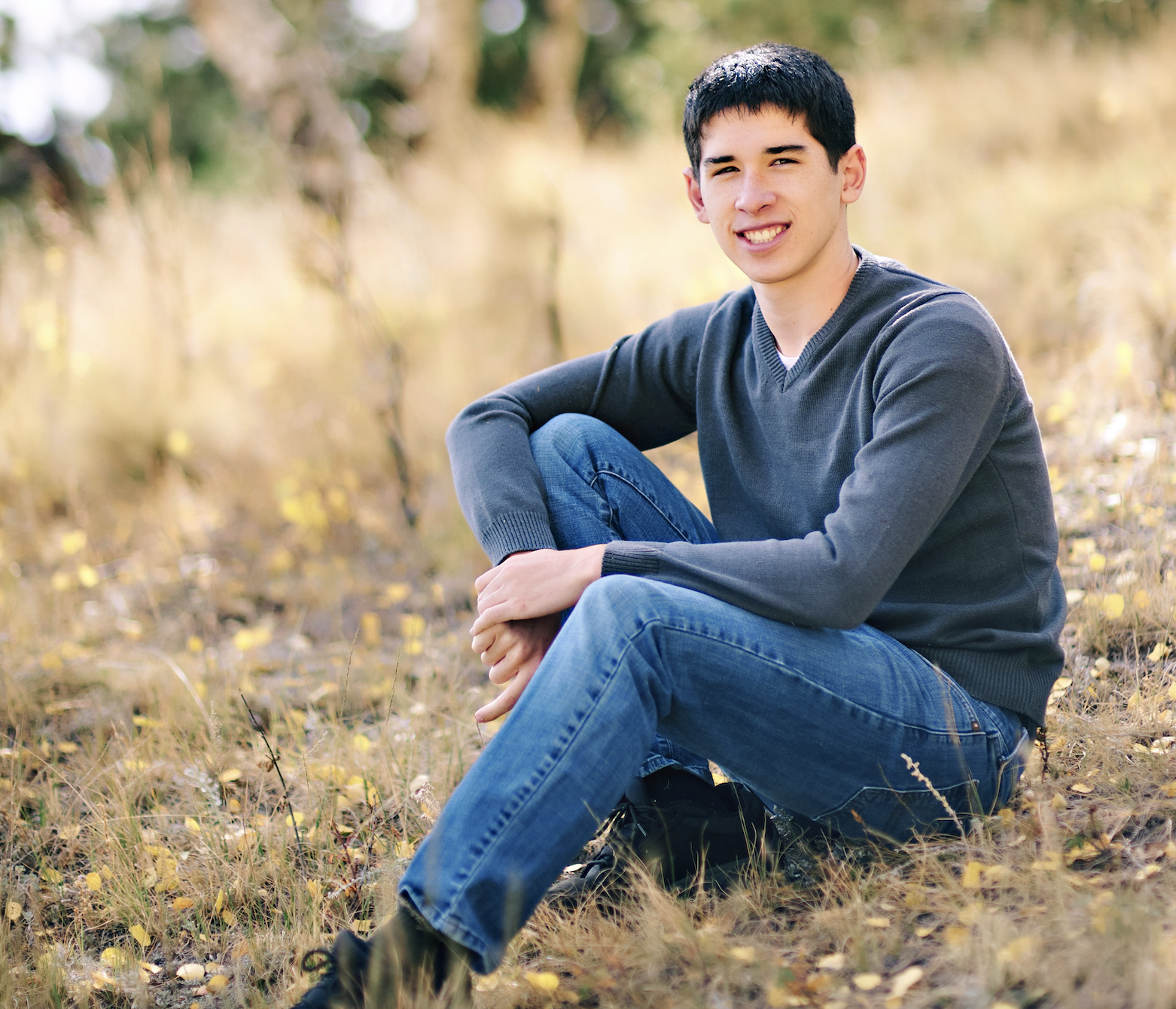 He cleans up well, doesn't he? He had his senior portraits taken among the aspen in September...I couldn't think of a more fitting setting.
Jacob's our 18 year old senior. We feel like it was just yesterday that he was embarking on his first day of Kindergarten in Bellevue, Nebraska.
And now he's got a school schedule filled with science and math, a part time job, and is waiting to hear college and scholarship decisions from Columbia, Georgia Tech, North Carolina State, and University of Michigan (among other schools).
As is the case elsewhere in the country, school has been this precious balance of safety and effective learning. I'm grateful that Jacob is a self-motivated individual, so e-learning from home hasn't been quite as dramatic as it is for many of his peers.
I'm sure many of you saw my social media temper tantrums -- this is Patricia writing -- about Jacob trying to get into an SAT or ACT without the testing center canceling on him. He had FOUR tests canceled between April and August, and we had employed some pretty monumental measures to try to get him into a test, including an offer of help from a friend who works for the College Board (alas, the state of Colorado prevented him from testing even after that help!)

Jacob finally got an SAT under his belt in September and he knocked it out of the park! Jacob has applied to 9 schools, and has heard acceptances back from three of them already. We can't wait to hear from the rest! I know great things are on the horizon for him in 2021, including his high school graduation!
Jacob also recently got a part time job at our local PetSmart, where he's working in the Doggie Day Care and PetsHotel kennel. I can't think of a more perfect job for him.
---
Timothy:
Tim has his learner's permit now and has become a very good driver. He still needs to log a few more hours per Colorado's requirements, but with his 16th birthday around the corner, he should be a licensed driver soon enough. I'm (Dave) usually the chauffeur getting Tim to his various orchestral and Boy Scout commitments but the prospect of handing Tim the keys is pretty exciting. I worry that the local coffee joints might suffer if I'm not there working while Tim's at rehearsals, but hopefully they'll manage.
Tim's big-ticket item this year was the completion of his Eagle Scout project. Like his brother's, the beneficiary was our congregation at Family of Christ Lutheran here in Colorado Springs (a.k.a. the Big Lutheran Church on Baptist Road). Whereas Jacob's project revamped the outdoor classroom for the preschool, Tim's project tackled the youth and outreach programs by building a very large propane-fueled fire pit with a separate tank holder and an underground delivery hose. He had a tremendous amount of help from Scouts in Troop 404 and from members of the church congregation. Pulling this off in the time of COVID-19 made it twice the project it probably would otherwise have been. As of this writing, Timothy's full Eagle Scout application has been submitted and he's awaiting a formal Board of Review to be scheduled. Naturally it'll be virtual...Zoom to the rescue.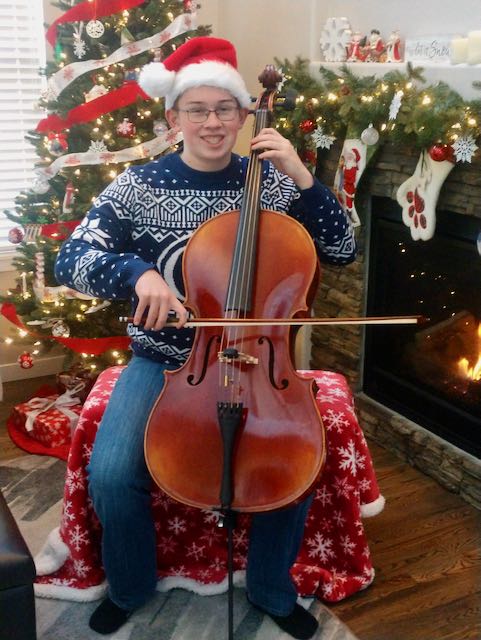 Tim had to stage this photo for his high school orchestra which has been forced to play via recordings and Zoom, as has his Youth Symphony ensemble.
Tim's growth as a musician got a big boost this year when he moved up again in the Colorado Springs Youth Symphony Association to the Ovation ensemble. It's a full orchestra (including winds and percussion) so he's getting to really play the classics, often with the original scores. The audition process was a tight one, but he made it! He's also still playing in the high school orchestra. Sadly, COVID-19 reared its ugly head and after only one of the two concerts this fall semester (recorded without audience and then streamed), the Youth Symphony was forced to abandon in-person rehearsals and the holiday pops concert, one of the highlights of our Christmas season in Colorado Springs. Tim is undeterred and looks forward to playing in person with his ensemble mates as soon as it's safe to do so.
Tim's schooling is going well. He completed his individual research project for the international baccalaureate program at his high school. It was a food science experiment involving multiple subject's reaction to the spice in a particular pepper breed and then how well they responded to various "remedy foods/drinks" to counteract the spice. Tim's still expecting to head to Penn State's Food Science program after high school.
Also note in the photo that Tim is now smiling without braces!
---
Ranger
Ranger's doing very well. We don't know how old he actually is, but based on what the vet sees, he's probably past his 10th birthday at this point. So, he's understandably a little slower and he doesn't hike quite as far (although he powered through an August climb up the Crags trail behind Pikes Peak). He went camping with us three times this year and still loves being outdoors.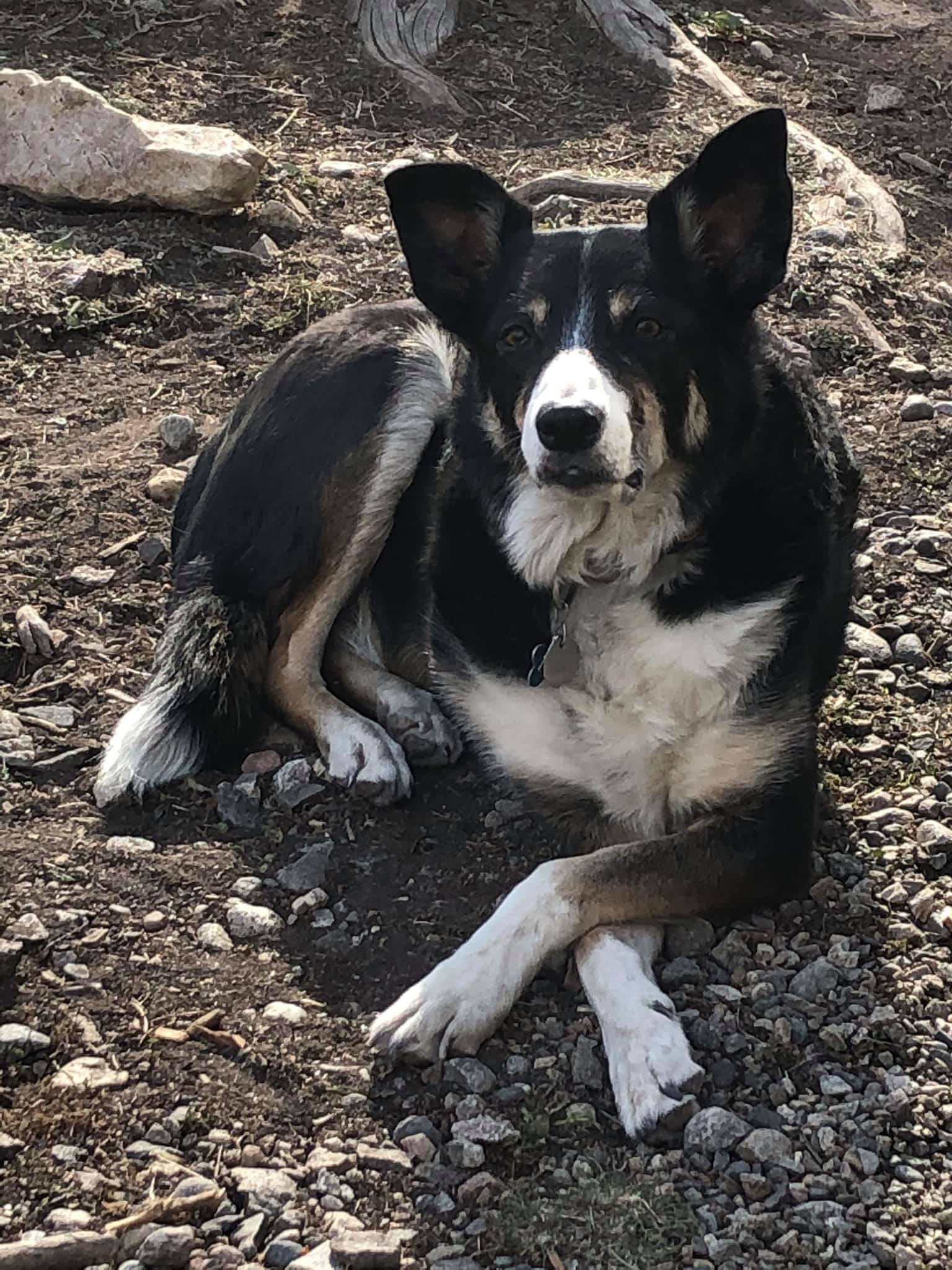 A very dirty Ranger camping with us near Dillon Reservoir outside of Breckenridge
It's not uncommon for older dogs to develop lumps, tags, and tumors, and Mr Ranger developed a hard nodule on his back this year. It grew pretty quickly so it didn't take long for us to notice. The vet diagnosed it as a "spindle cell mass" but was unable to determine whether it was benign or a carcinoma. To be safe, we had it completely removed in November, and to our great relief, the lab concluded it was benign. Ranger--being the happy-go-lucky dog he is and always stoic in the face of pain--didn't complain at all. He had to wear a shirt for two weeks to keep him from scratching the stitches and he's healing up really well!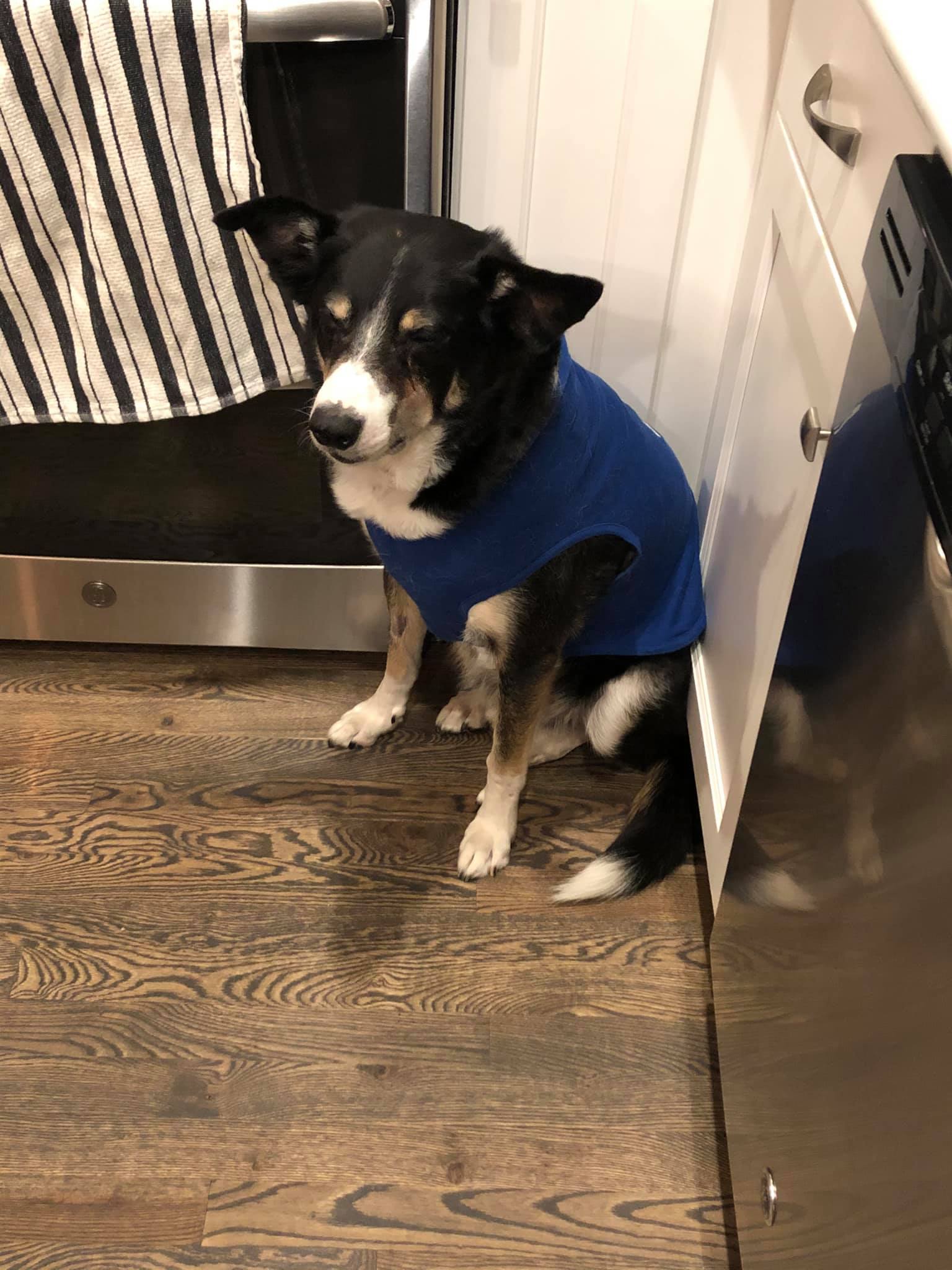 Ranger in his Air Force Academy doggie-hoodie post-surgery, supervising the correct preparation of Thanksgiving dinner.
Life with a border collie is better.
That's it for 2020 from the Vollmers! Here's hoping your 2021 is virus-free, drama-free, and as close to normal as a year can be. Merry Christmas, happy holidays, and have a safe, healthy, and happy New Year!
View My Stats