Happy Holidays from the Vollmers - 2019
1350 Foothills Farm Way
Colorado Springs, CO 80921
(919) 749-5744/5544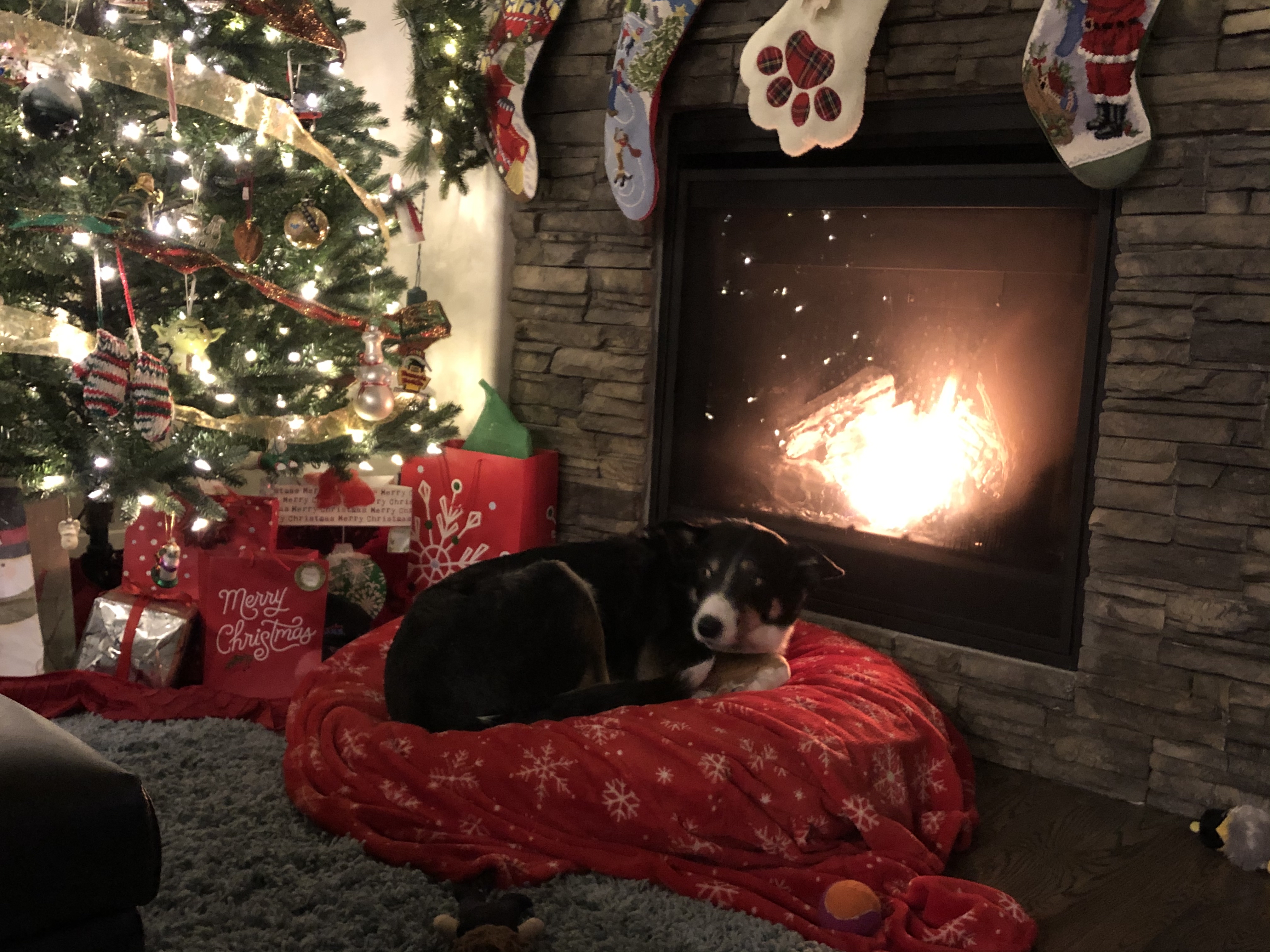 Ranger enjoys some fireplace time while a fresh blanket of snow covers the backyard. It's Christmas in Colorado again!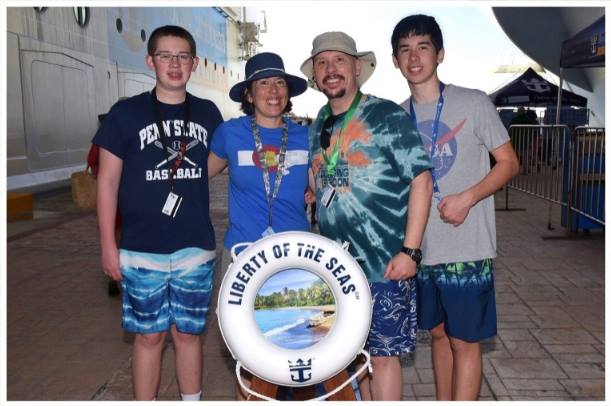 At Cozumel, Mexico in January...a long way from the Colorado high country!
http://www.thevollmerfamily.com
Patricia's Blog: http://www.thevollmerfamily.com/MajorMom
---
2019 marked our sixth year here in Colorado Springs. Many changes are afoot! This was Dave's first full year as a civilian since 1995 as Patricia entered her 24th year of service (not counting ROTC!). Tim started high school and Jacob is taking college classes. It all moves so fast...don't worry if you can't keep up!
As busy as the boys are with their own activities, they had a chance this summer to bond in the New Mexico wilderness. Philmont Scout Ranch--the oldest and best-known of the Boy Scout High Adventure bases--is located in the mountains outside Cimarron, NM. Scouts trek for ten days through that high desert using only their orienteering skills and back-country know-how. Our boys' trek was over 75 miles and included a summit of Mount Baldy and a visit to the National Scouting Museum where they got to see artifacts from Scouting's founding over 100 years ago. They said they worked hard--I don't doubt it!--but the memories, the stories, and the pride made it all worth it and then some. Jacob, by the way, has now achieved Scouting's Triple Crown, meaning he's done all three major BSA High Adventure bases...Northern Tier, Sea Base, and now Philmont. That wasn't Jacob's Scouting only accomplishment this year by a long shot though...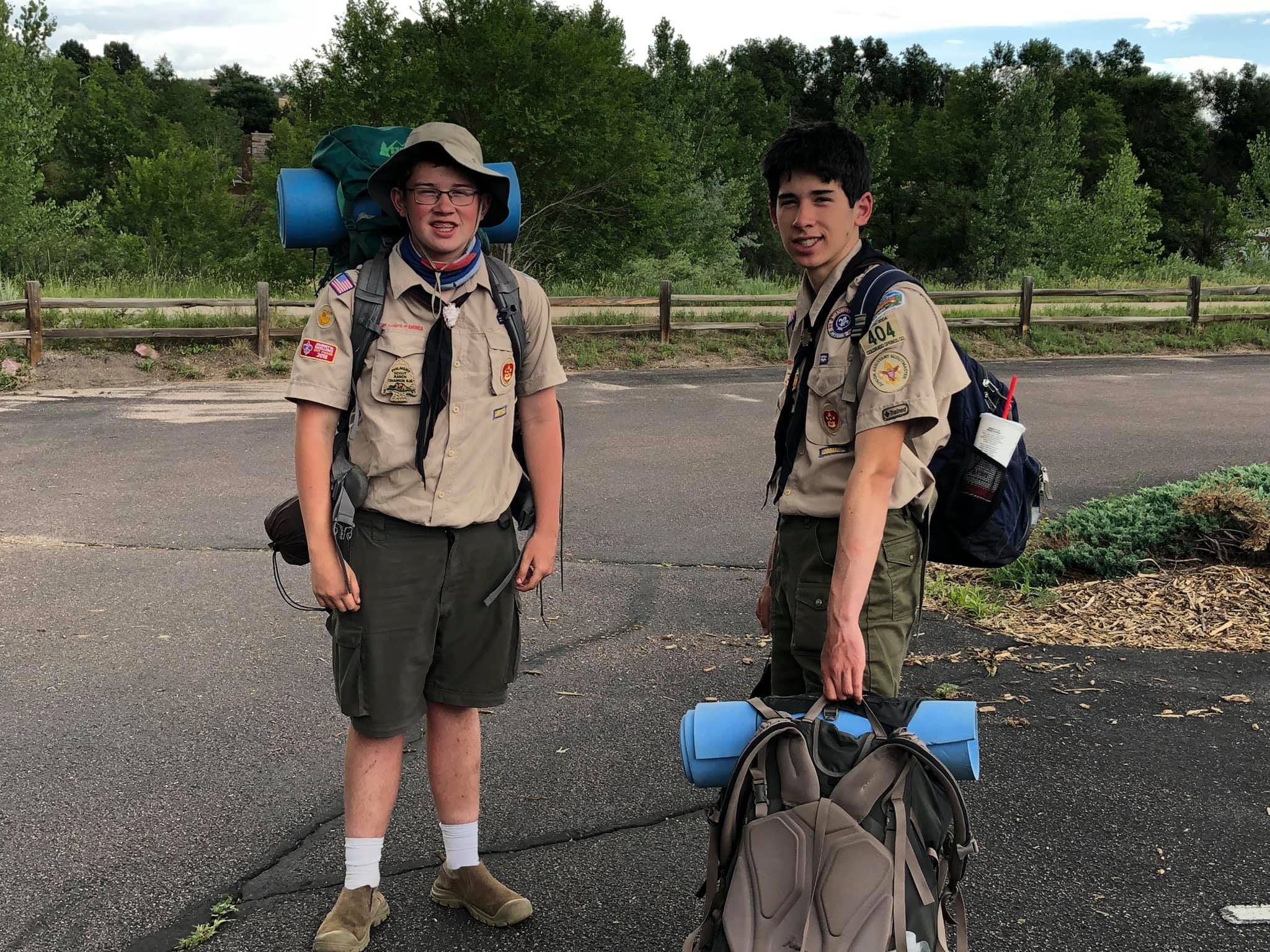 After Tim and Jacob conquered Philmont Scout Ranch, July 2019.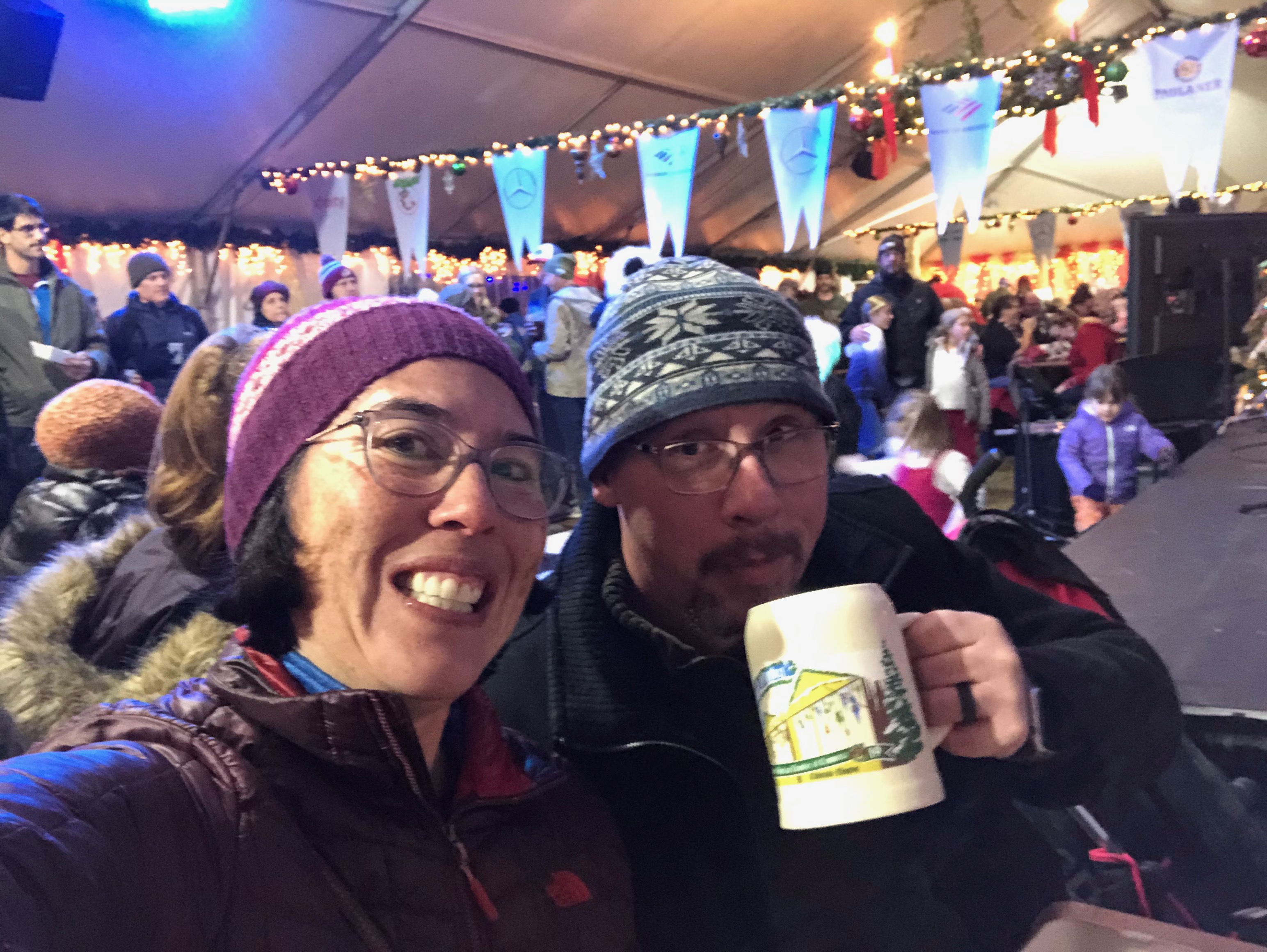 Prost! Dave and Patricia at Denver's German Christkindl Market in December. Outside the warm beer tent was a foot of snow and bitter winds.
Frohe Weihnachten und ein glückliches Neues Jahr!
---
Dave:
I've been a civilian all year, LOL... If you're playing along at home, you know I retired last year after 22 years and 7 months of Air Force service. I was waiting for that big identity crisis I was warned about, but it never came. I love the Air Force and will always be fiercely proud of my service, but it wasn't terribly difficult to shift gears and become a civilian. After some intensive model railroad therapy, I was ready to go back to work. Through an Air Force friend who is now the president of the American Meteorological Society (Mike Farrar), I was put in contact with the UCAR COMET director. Bear with me, it's a heck of an acronym... University Corporation for Atmospheric Research, Cooperative program for Operational Meteorology Education and Training. Whew, that's a mouthful! But ask any meteorologist if they've heard of COMET, and they all will have. Why? COMET builds computer-based training modules, courses, and in-person classes for meteorologists from NOAA, the Department of Defense, a consortium of over 115 institutes of higher learning, and even international governmental agencies. I started in June as a "casual" (part-time) Associate Scientist and instructor. I do much of my work from home (or the nearest coffee shop), but starting in 2020, I expect to be spending significant amounts of timing doing what I love...teaching meteorology in the classroom. The drive to Boulder's not exactly a selling point, but being part of the "dream team" makes it all worth it!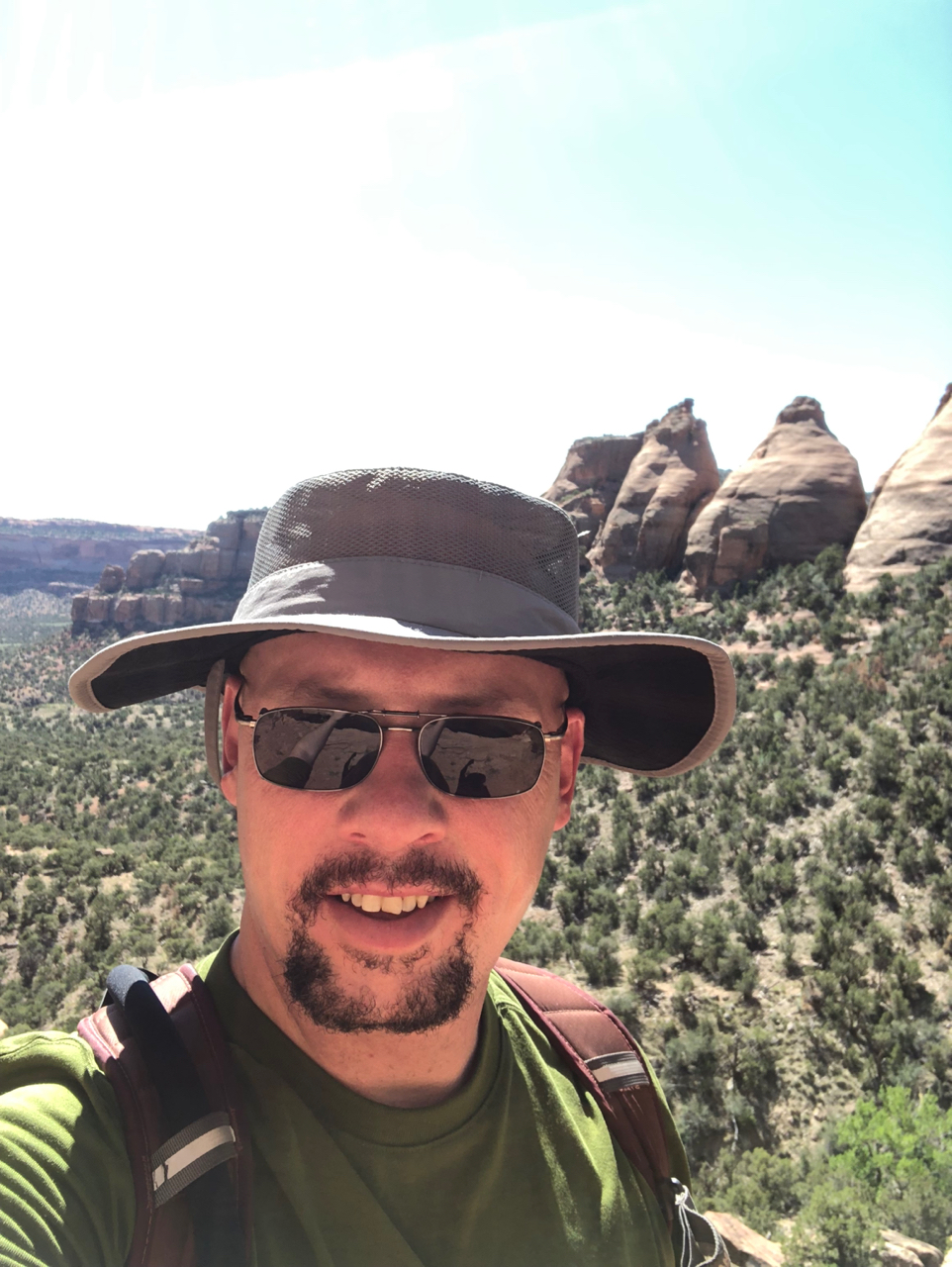 Dave hiking with the family at Colorado National Monument near Grand Junction in July, three weeks before foot and ankle surgery.
On the model railroad front, I've all but finished my 12 x 14 foot rendition of the Rio Grande Southern Railroad's First District. It's gotten a bit of notoriety already... I was approached by White River Publishing to write an article (and shoot the cover photo) for their HOn3 Annual magazine. This isn't my first model railroad article or cover shoot, but it is my first in HOn3.
The 2019 HOn3 Annual featuring Dave's model railroad. On the cover, RGS K-127 #455 leads a Ridgway-bound freight across Bridge 45A at Ophir, Colorado on Dave's layout.
If you've ever wondered what it would be like to shrink down to HO scale (1:87 ratio) and ride a model train, here you go! Enjoy the ride around Dave's HOn3 Rio Grande Southern model railroad!
I've been working on other model railroad projects, including a module for the Slimrail Modular Model Railroad club. Since essentially "finishing" the layout itself (no model railroad is ever truly finished though) I've been working through the backlog of railcar kits I've accumulated over the years. My rail yards and sidings are becoming clogged with railcars and locomotives, so...is an expansion in the future? Time will tell! I've also been invited to advise on the 2023 National Narrow Gauge Convention which will be held in Denver, and my Rio Grande Southern layout is tentatively on the convention tour schedule.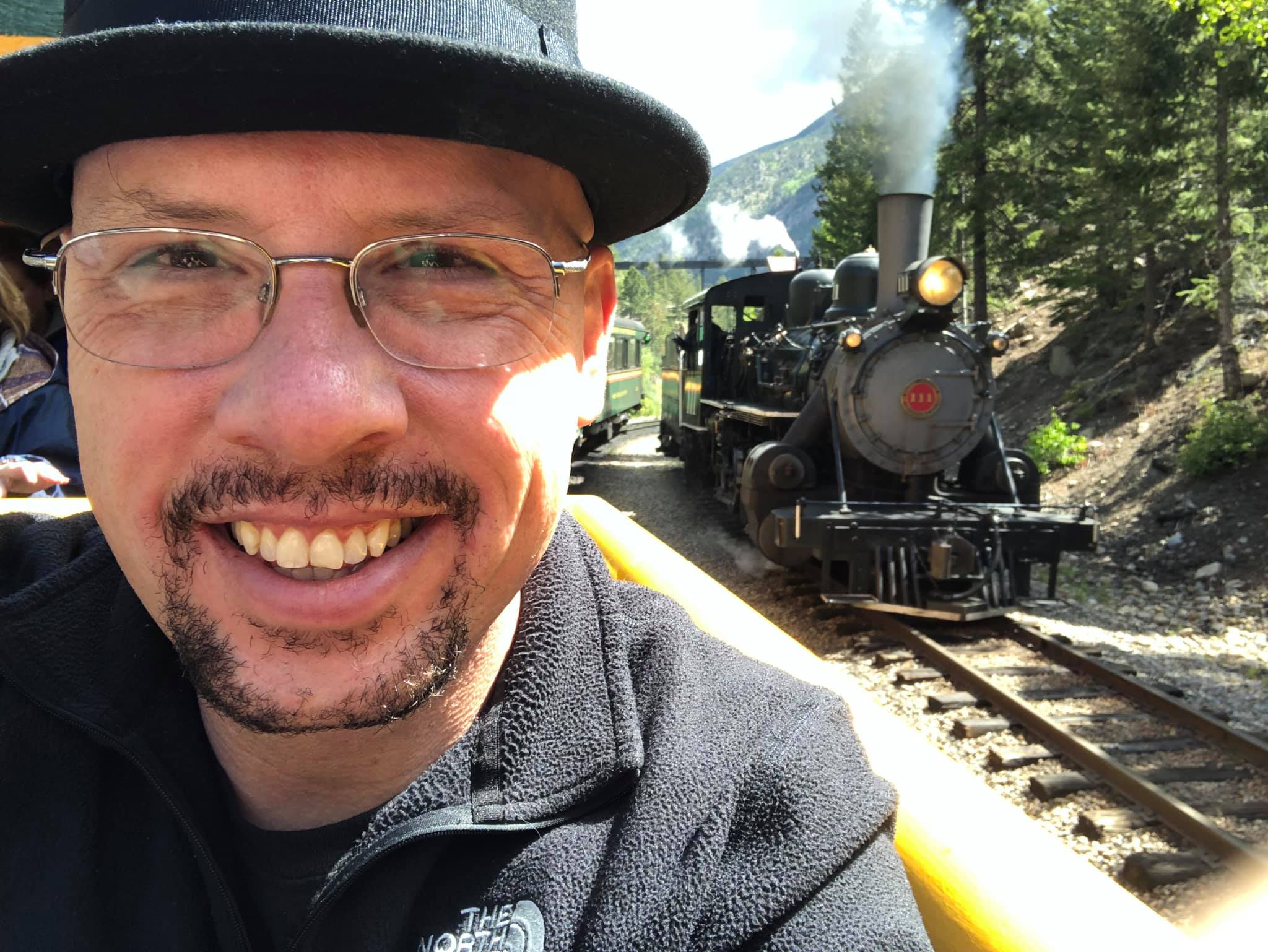 Colorado is Narrow Gauge Country... Here I'm enjoying a day off at the Georgetown Loop Railroad (former Georgetown, Breckenridge & Leadville/Colorado & Southern Railway) with Devil's Gate Bridge in the background.
Of course, it had been a few years since I had a significant surgery, so I thought I was overdue... In July I had a right foot/ankle "tune up" that included everything from a tarsal tunnel release to a bone scraping and ligament scoping. Three incisions at once! After over a year of increasing metatarsal pain and chronic ankle sprains, surgery seemed like the way to go. I'm not 100% yet (feet take forever to heal!) but I'm back to being able to hike on the flat for a few miles with relatively little pain. Skiing...well, skiing is still rough, but that should get better.
---
Patricia
My 2019 was quite similar to my 2018: I'm now halfway through my 3 (and last) year of this active duty tour I've been privileged to do. I will be wrapping up this year, but I don't know really what's next. I was really hoping to know my way ahead before writing this, but for now, I know nothing. I had requested a 1 year extension to the active tour I'm on, but that hasn't been determined yet. I submitted to retire from the Air Force in June, and if the extension doesn't come through, that's the likely way ahead. Hence the verbiage on the Christmas card about it. I've already started a few retirement planning actions, such as beginning a VA claim and setting a date for a modest retirement ceremony (May 8th).

There's a small chance I could get promoted in the Reserves, but I'm not hopeful about this. This is my 4th year meeting the board.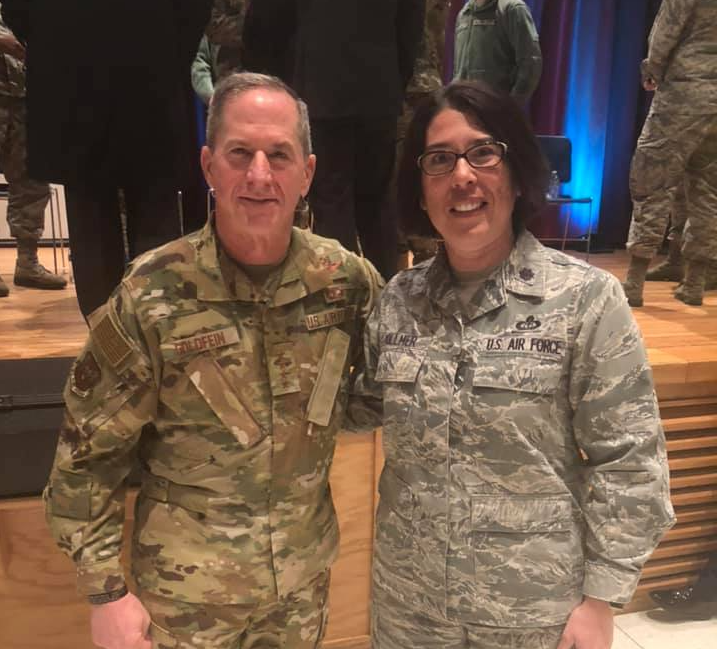 A random photo to help break up my stories. I had the chance to meet the Chief of Staff of the Air Force in February: we discussed Hurricane Michael's devastation of Tyndall AFB in October 2018.
Not long after school was out, Timothy and I started scuba diving lessons together. Tim has the opportunity of a lifetime coming up in March 2020, a Boy Scout trip to the Florida Keys where he'll get to do over 10 dives during his spring break. I offered to take the lessons with Timothy, since he was a bit nervous about taking the lessons on his own, one of the youngest in the class.
Between the two weekends in June and September for the training, Tim knocked it out of the park! He scored a near-perfect score on the written test, and learned every task very well, only having to demonstrate the skills once to the instructors (unlike his clumsy mother).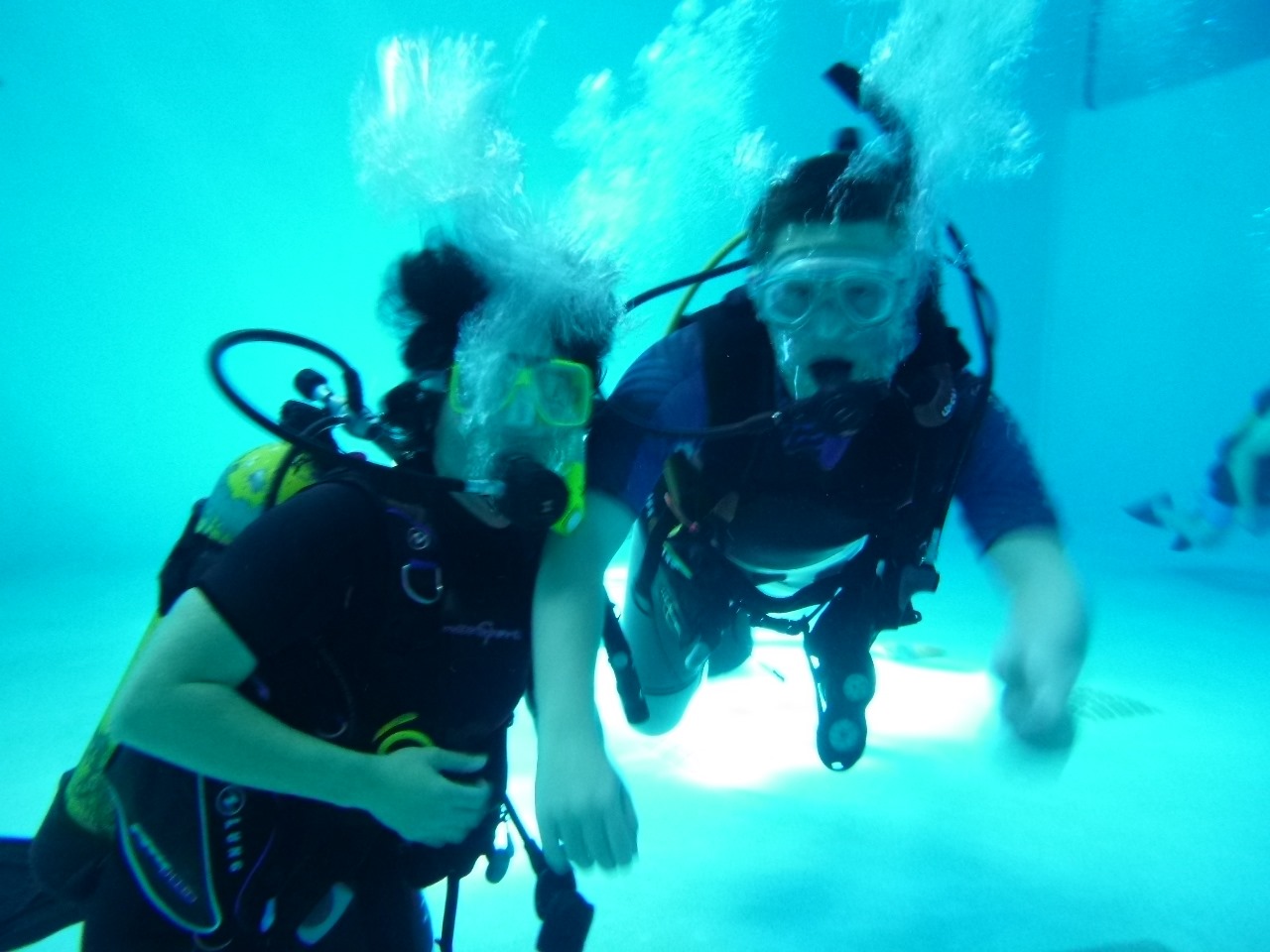 Tim and Mom during Part 1 of scuba training at Underwater Connections, a scuba shop here in Colorado Springs.
Finally, I want to tell you about the chance of a lifetime to join other GeekMom writers at SAN DIEGO COMIC CON in July! I have been with GeekMom since 2011, and over the years my role has migrated from writing more to more behind-the-scenes work (mainly because of my return to active duty). I do proofreading and writer-mentoring more than anything else. But just the same, SDCC gave our blog 4 press passes which meant not only free admission to the events, but also some head-of-the-line privileges to many of the press conferences, panels, and exhibits throughout the event.
I have to admit, the experience was quite overwhelming. Much like attending a large academic conference, you have to plan your events very carefully. I couldn't forget to incorporate travel time between events, and I had to say "no thank you" to some of the opportunities that came up at the last second, like the chance to attend a yacht party with some of the cast and (lesser-known) crew of Avengers: Endgame. Just the same, I got to meet and interview the cast and crew of Spongebob Squarepants, Star Trek: Discovery, The Terror: Infamy, Superstore, TBS's upcoming Snowpiercer, and attend events celebrating The Orville and Brooklyn Nine-Nine. One of my biggest highlights was getting to meet Randall Munroe, the author of the well-known XKCD comics. You can read more about my time at SDCC here: https://geekmom.com/?s=patricia+vollmer+sdcc.
Here are few of my favorite photos, if you didn't see them on Instagram!

From left to right, Mr. Lawrence (Plankton), Vince Waller (storyboard director), me, and Bill Fagerbakke (Patrick Star), of SpongeBob Squarepants. We discussed the show's 20th birthday, their double-layered humor, and something called "Lip Flap".


The SDCC 2019 GeekDad and GeekMom writers at the (most appropriate for us) Shakespeare Pub in San Diego. A wonderful place to meet up!


My adventure on the SyFy Network Trivia Trolley, where we pedaled our way through the streets of downtown San Diego.
---
Jacob: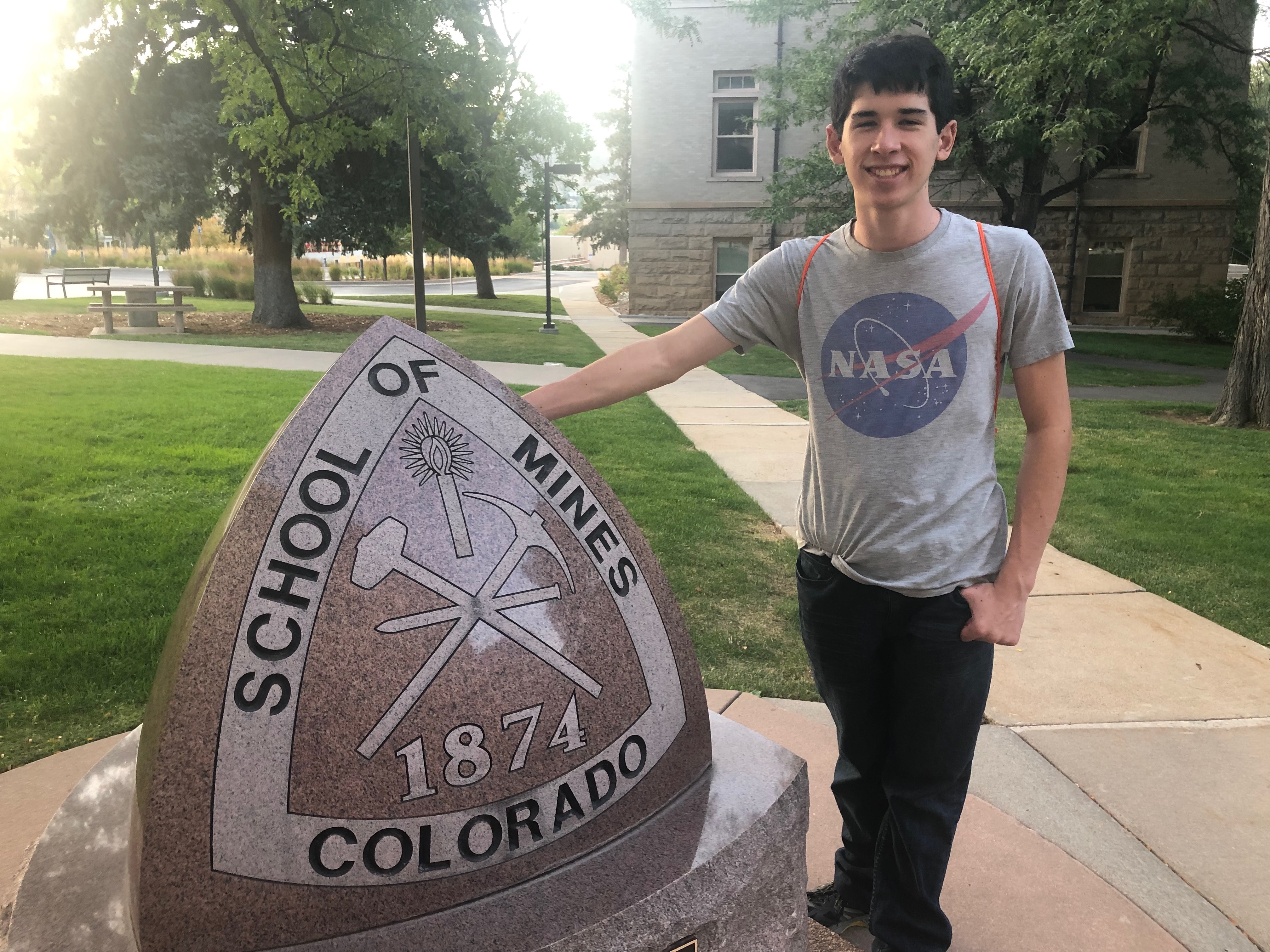 Jacob. Wow. This kid is 17 years old now. This year he became a licensed driver...and for what it's worth, he's a better driver than most in Colorado Springs. So, what does a 17-year-old kid do?
Well... This is the year we started looking at colleges. We've toured the main three he's interested, starting in reverse order of his preference: Colorado State, University of Colorado Boulder, and--his favorite--Colorado School of Mines. He doesn't know what he wants to major in just yet, but it's somewhere in the chemistry-physics-engineering sphere, so the schools he's looking at will be great for him regardless of what he eventually chooses. We think he wants to stay in Colorado to be near the world-class skiing, but he's pretty tight-lipped on the subject.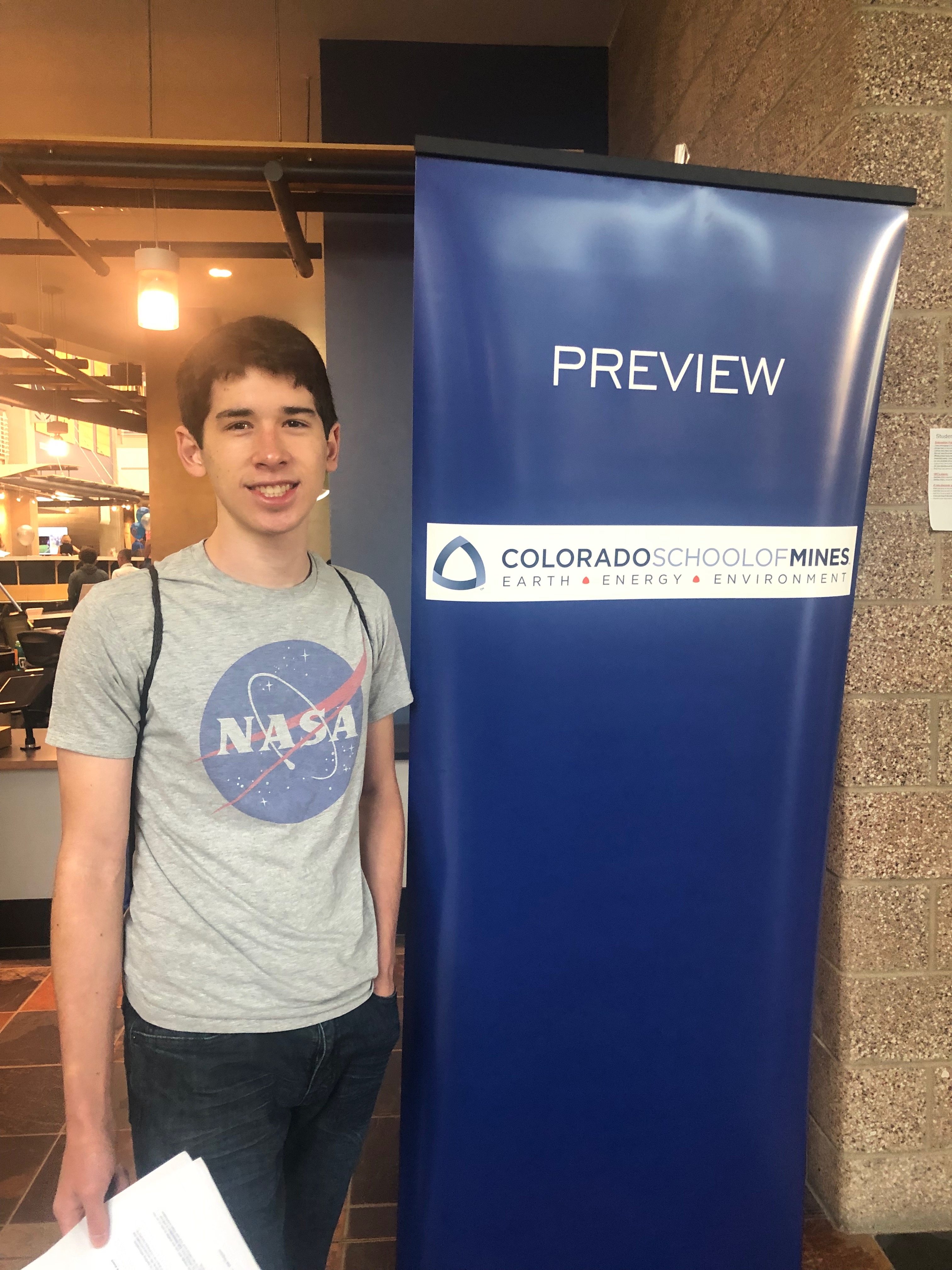 Jacob touring Colorado School of Mines... These are clearly his people. He was excited to learn that their core classwork includes two thermodynamics classes!
OK, now for Jacob's bigger Boy Scout accomplishment. It's big. He earned a rank. THE rank. Jacob is an Eagle Scout! Oh, he's also a big-wig in the Order of the Arrow, Boy Scouting's honor society and he served as a Junior Assistant Scoutmaster, so those are big deals too...but I remember walking him to his first-ever Tiger Scout meeting in Nebraska (Two Springs Elementary School, Cub Scout Pack 464) like it was last week, and now he's an Eagle Scout! Ever a mentor to his brother, he's inspired Tim to start his Eagle project planning as well this year. This old Scouter is proud of both his sons... My father made First Class, I made Star, and now Jacob made Eagle (and has met the requirements for Eagle Palms). I hope the Scouting tradition endures for generations of Vollmers to come.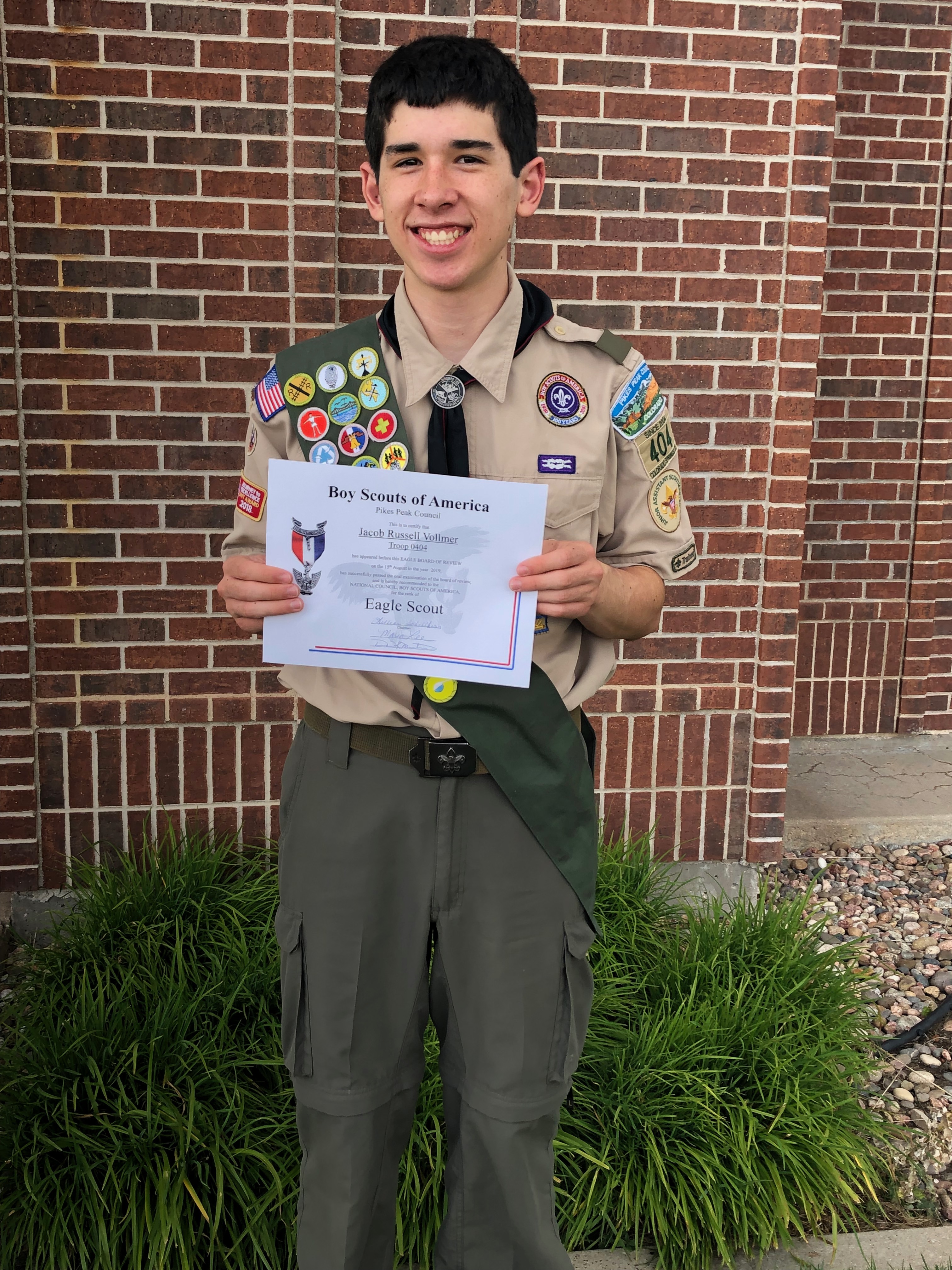 A proud Jacob the evening he successfully passed his Eagle Board of Review.
Jacob may be looking at colleges, but he's also going to one. By his junior year of high school, having completed Calculus II the year previous (integral calculus), he'd essentially "run out of math." So, the next logical option was Calculus III (multivariate and vector calculus), but that's not offered in area high schools, so... Jacob and his new driver's license went twice weekly to Pikes Peak Community College in the evenings for Calc III. Thankfully for next semester, he'll be able to take differential equations online. In the meantime he's also taking physics, so his old man (former professor with the USAFA Physics Department) gets to occasionally bond with his son over kinematics, thermodynamics, and Newtonian mechanics. He laments that his current physics course is algebra-based and looks forward to the calculus-based version next year. After all, Sir Isaac Newton invented calculus because algebra was insufficient to describe the physics he was also inventing (although don't tell Gottfried Leibniz!)... As for Jacob's choices for major, I'm a little biased and I'm kind of hoping he falls in love with physics! I doubt I'll be disappointed in any event.
---
Timothy:
Tim started high school this year. So now we have two high schoolers. Tim's also the tallest in the family now. A whirlwind of music and Scouts, he's as busy as his brother.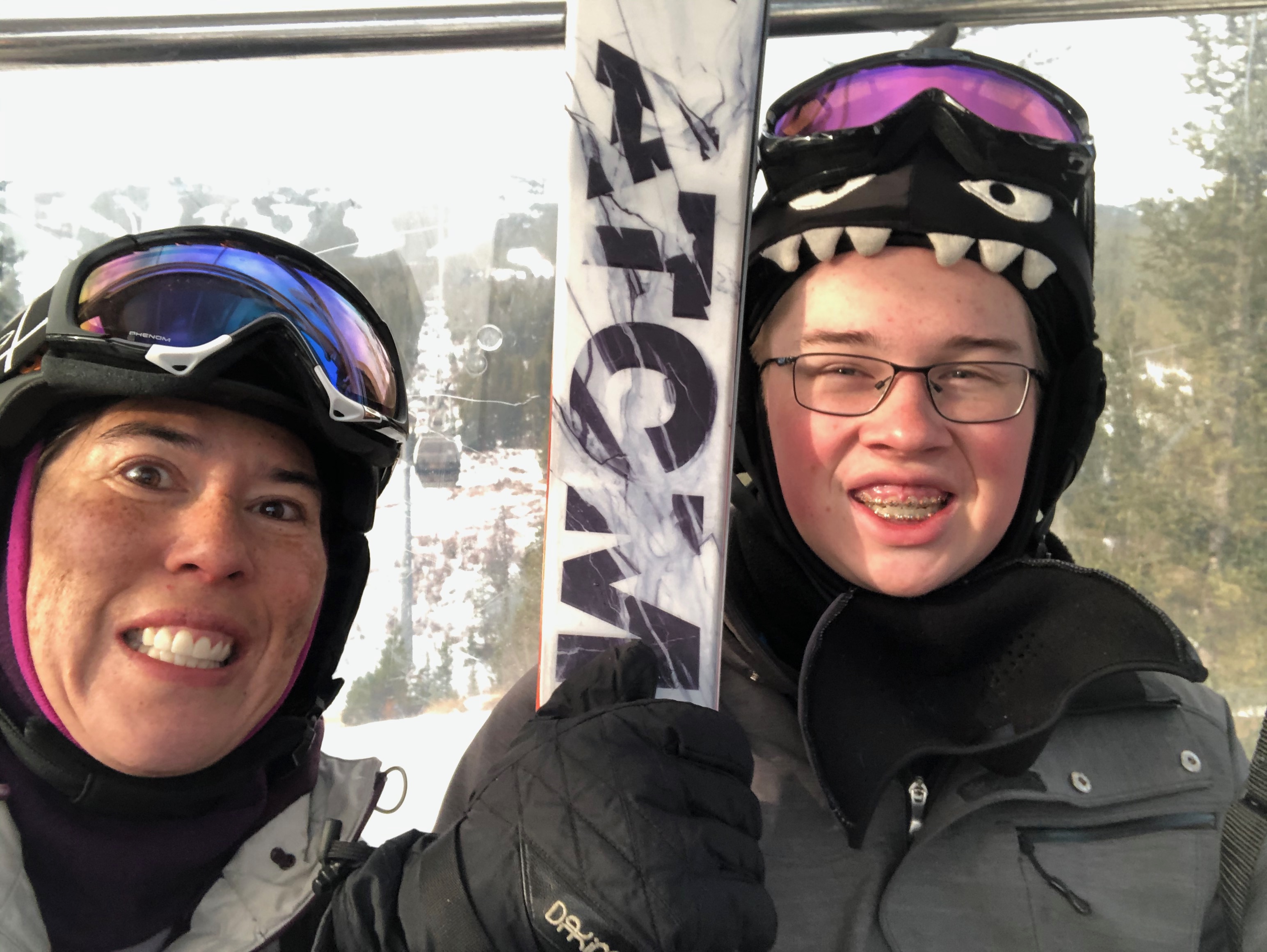 Tim and Mom on the Breckenridge gondola the day after Thanksgiving. Tim was thrilled to break in his new (to him) skis this year.
If there's one activity that has really defined Tim's 2019, it's been music. Tim has done piano and guitar, and while he was always good at anything he tried, neither of those instruments really resonated (musical physics pun) with him. Then relatively late in the game, he decided to take up the cello like his brother. And suddenly everything just fell into place. He began advancing rapidly. In 2018 he auditioned for and was placed in one of the Colorado Springs Youth Symphony Orchestra string groups. He really thrives playing cello: he's now playing in 3 different groups between Youth Symphony and high school music, as well as practicing skills with weekly private lessons.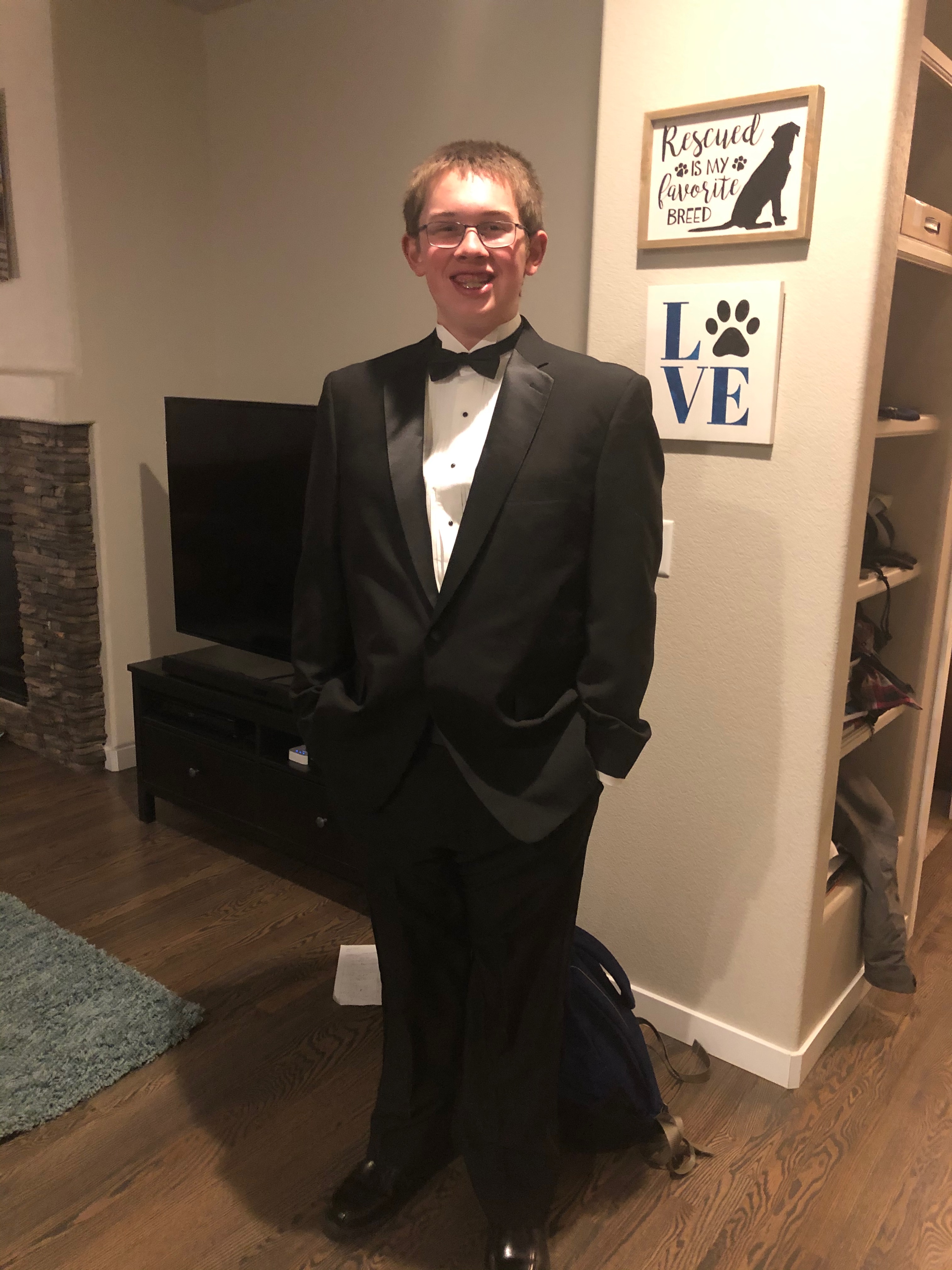 Tim, before one of many, many concerts in 2019. He cleans up nicely, doesn't he?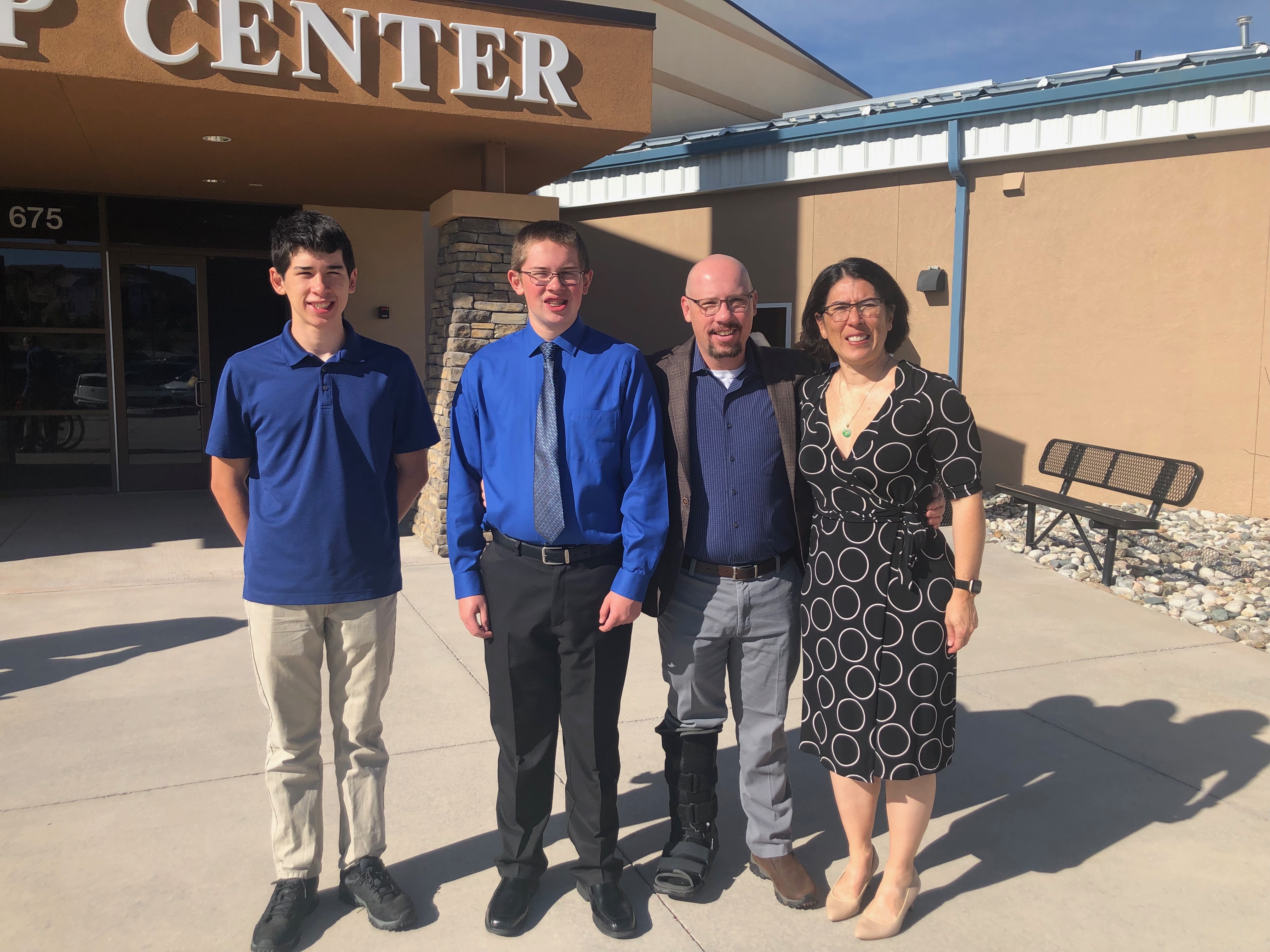 Tim's confirmation.
Another milestone for Tim this year was his confirmation at Family of Christ Lutheran Church. Through an unlikely twist of fate, the pastor who confirmed him (Pastor Mark Moreno) at FoC Lutheran was part of his baptism at Faith Viera Lutheran in Viera, Florida way back in ought five. FoC recently went through the pastoral call process and none other than Pastor Mark answered that call! In a military lifestyle so often devoid of consistency, this was a really neat blessing.
Tim and the Colorado Springs Youth Symphony Association Allegro Strings group at the 2019 holiday concert at the Pikes Peak Center for the Performing Arts.
In Boy Scouts, Tim's now part of the senior leadership patrol. As a Life Scout, he's begun the coordination for his Eagle Scout project. He's also headed to BSA's Florida Sea Base high adventure in March 2020 which will include scuba diving. He and Patricia were scuba certified this year! Tim's always been into swimming and snorkeling, so this was a natural hobby for him.
And so it goes... Tim is now doing the "ground school" portion of Driver's Ed. I'm not sure our insurance bill is ready for two teenage drivers, but time marches on!
---
Ranger
Ranger's been with us over five years now. It's hard to imagine life without him. But, as is the flaw with all doghood, he's beginning to show his age a bit. That said, nothing sends him into full puppy mode like the squeak of a toy or the bounce of a ball!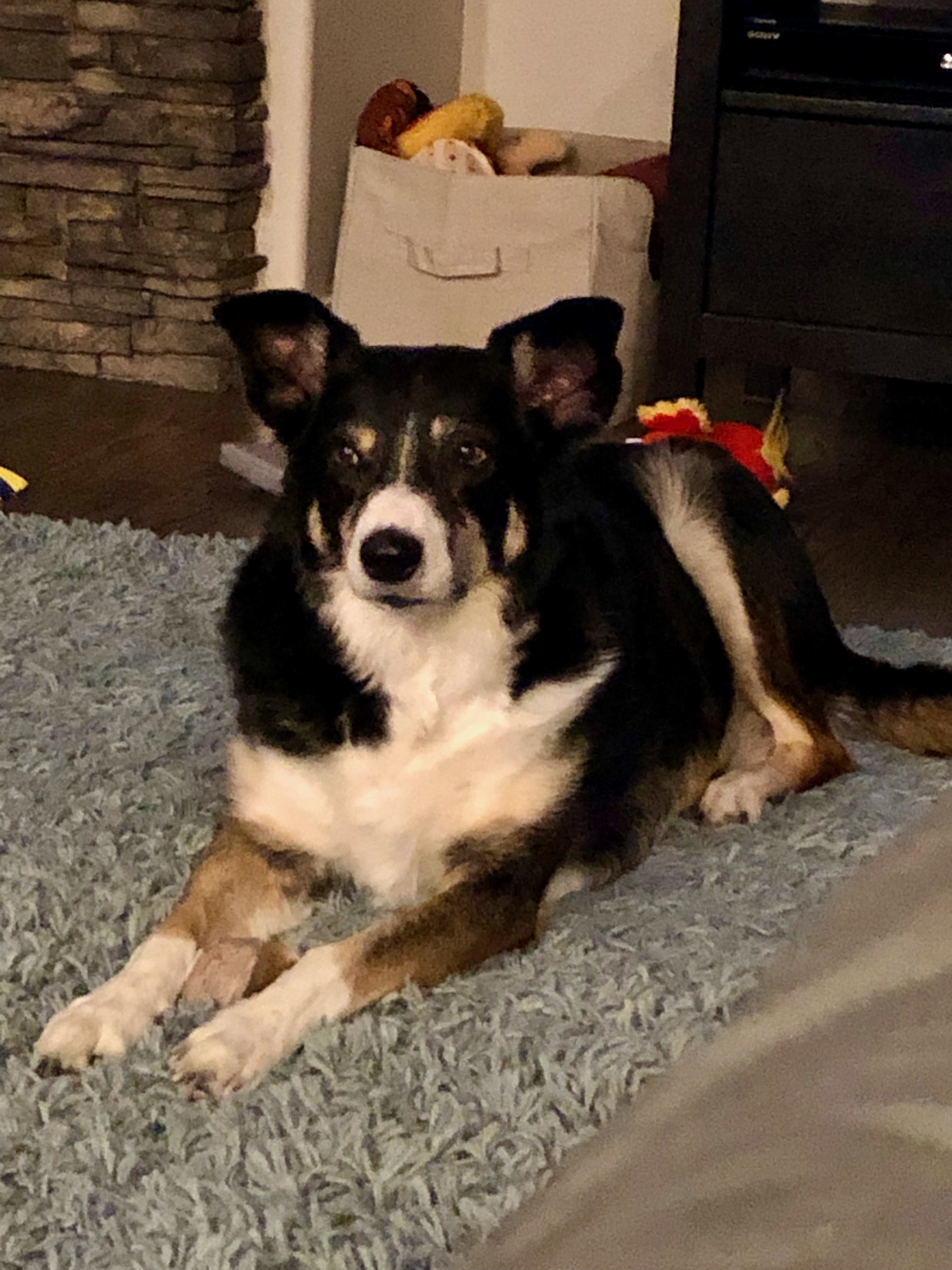 Border collie statue...
This winter started very early and has been relatively snowy. Ranger's not the snow fan that Howie used to be, but he sometimes enjoys it. Nevertheless, with the with the cold and snow, I can't help but feel sorry for him that his bathroom has been snow-covered on and off since the beginning of October.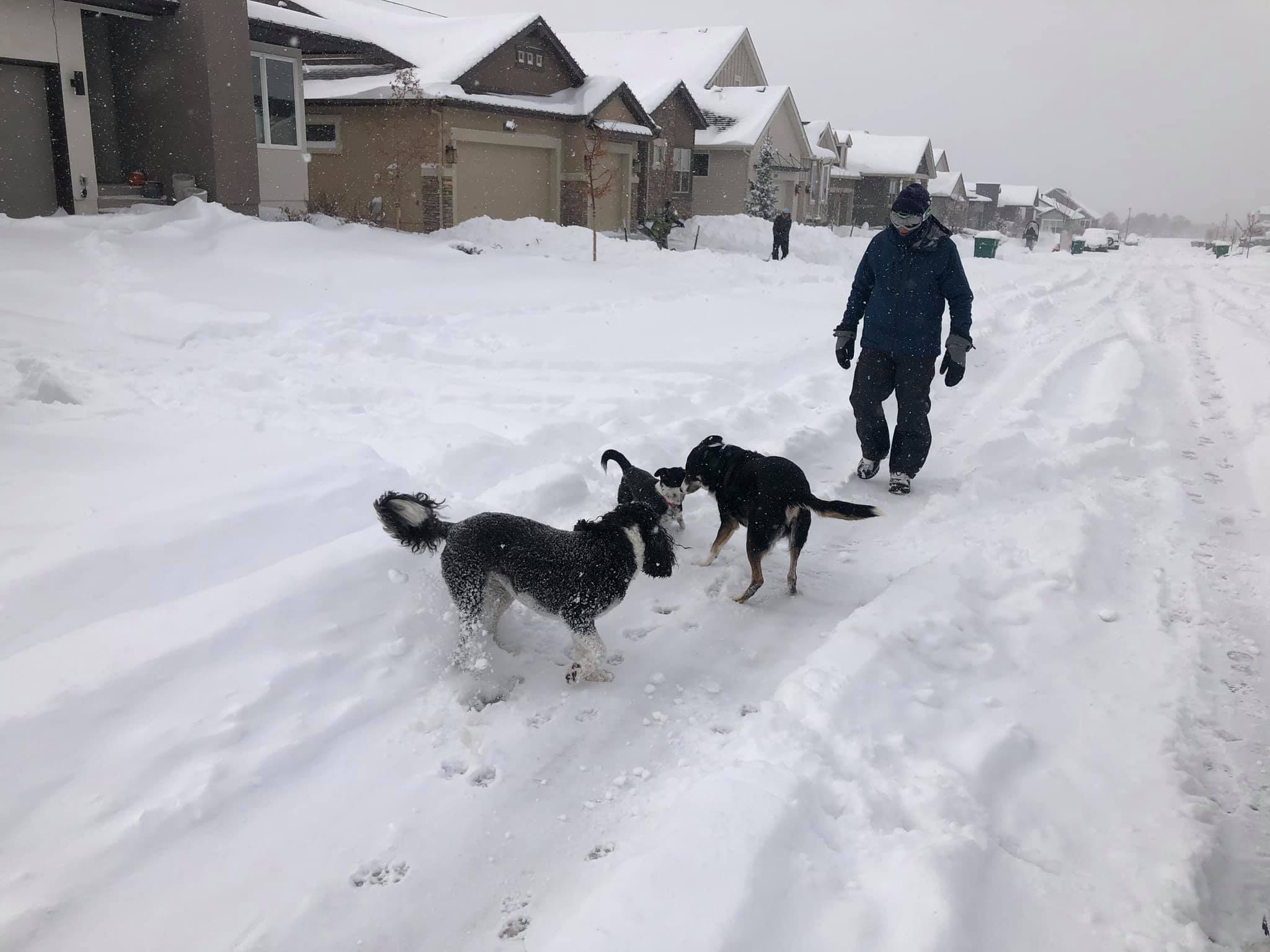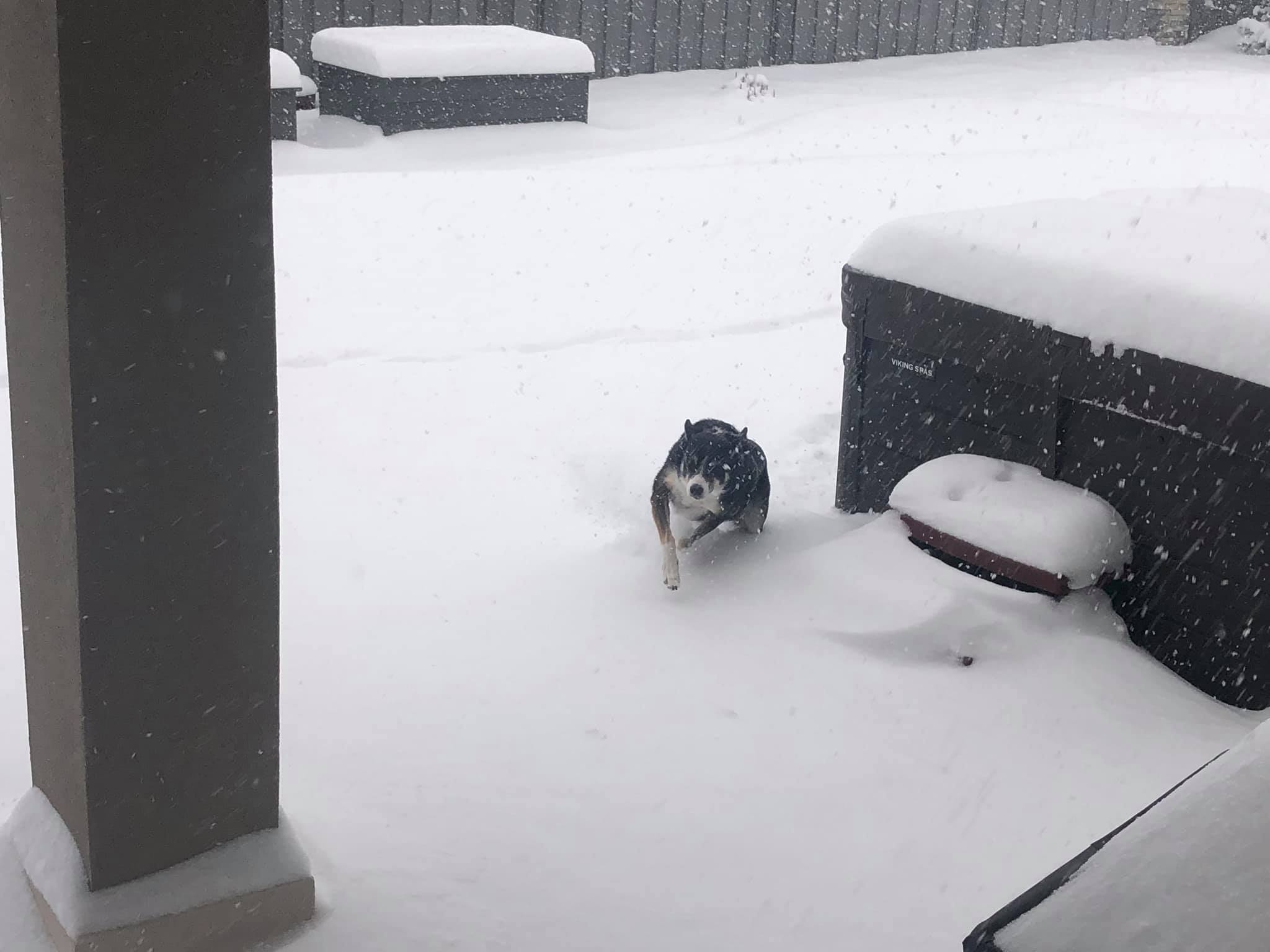 Left: Ranger and the other neighborhood dogs play during the Thanksgiving snow storm. Right: Ranger works his way through snow that's higher than his undercarriage.
Ranger's still eager to go on an outdoor adventure. The sound of his leash jingling is as Pavlov's bell. He's still very much the faithful hiking partner and trailblazer he's always been.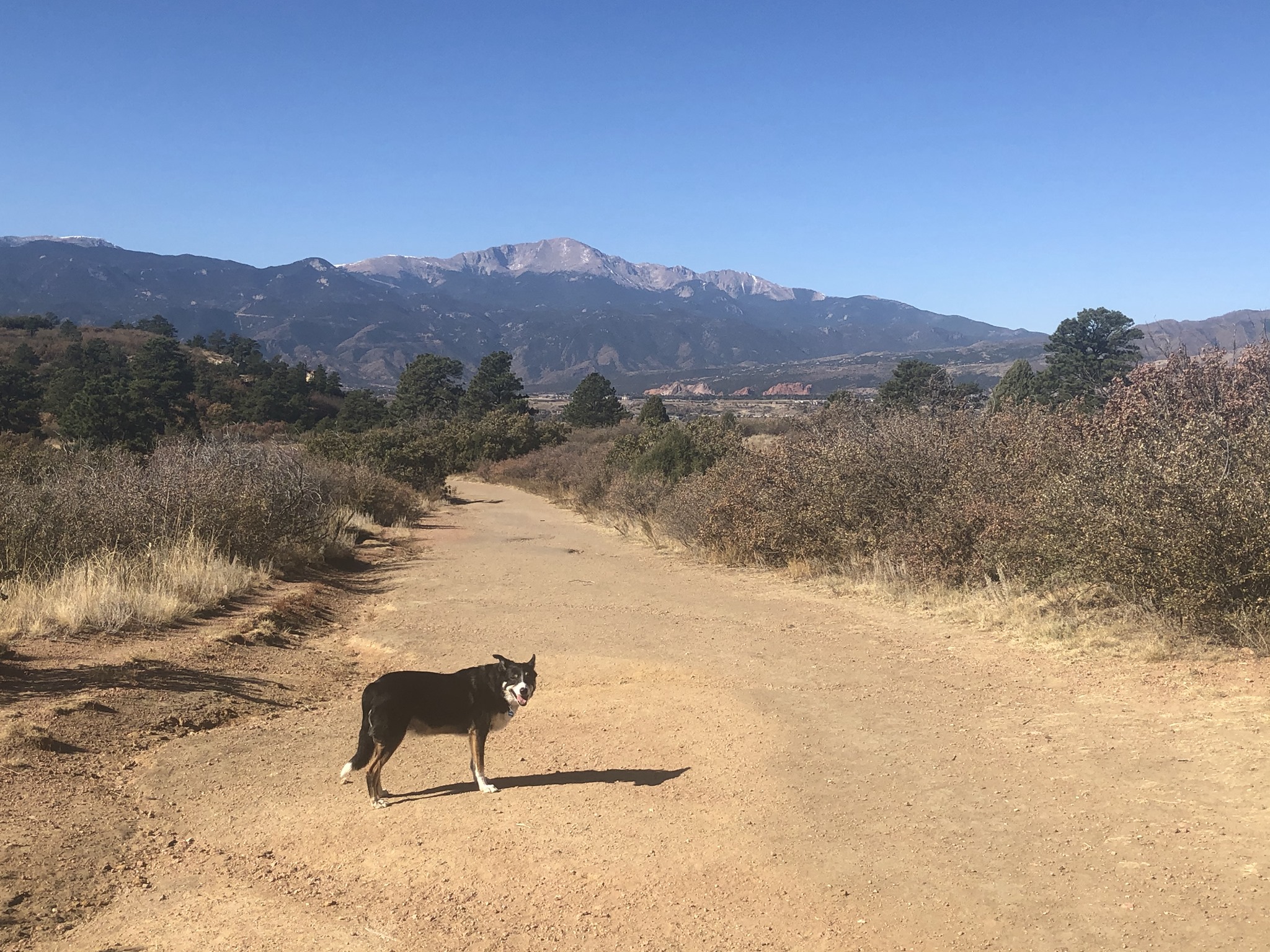 Ranger hiking on a mild October day at Palmer Park...just before winter showed up.
---
Odds N' Ends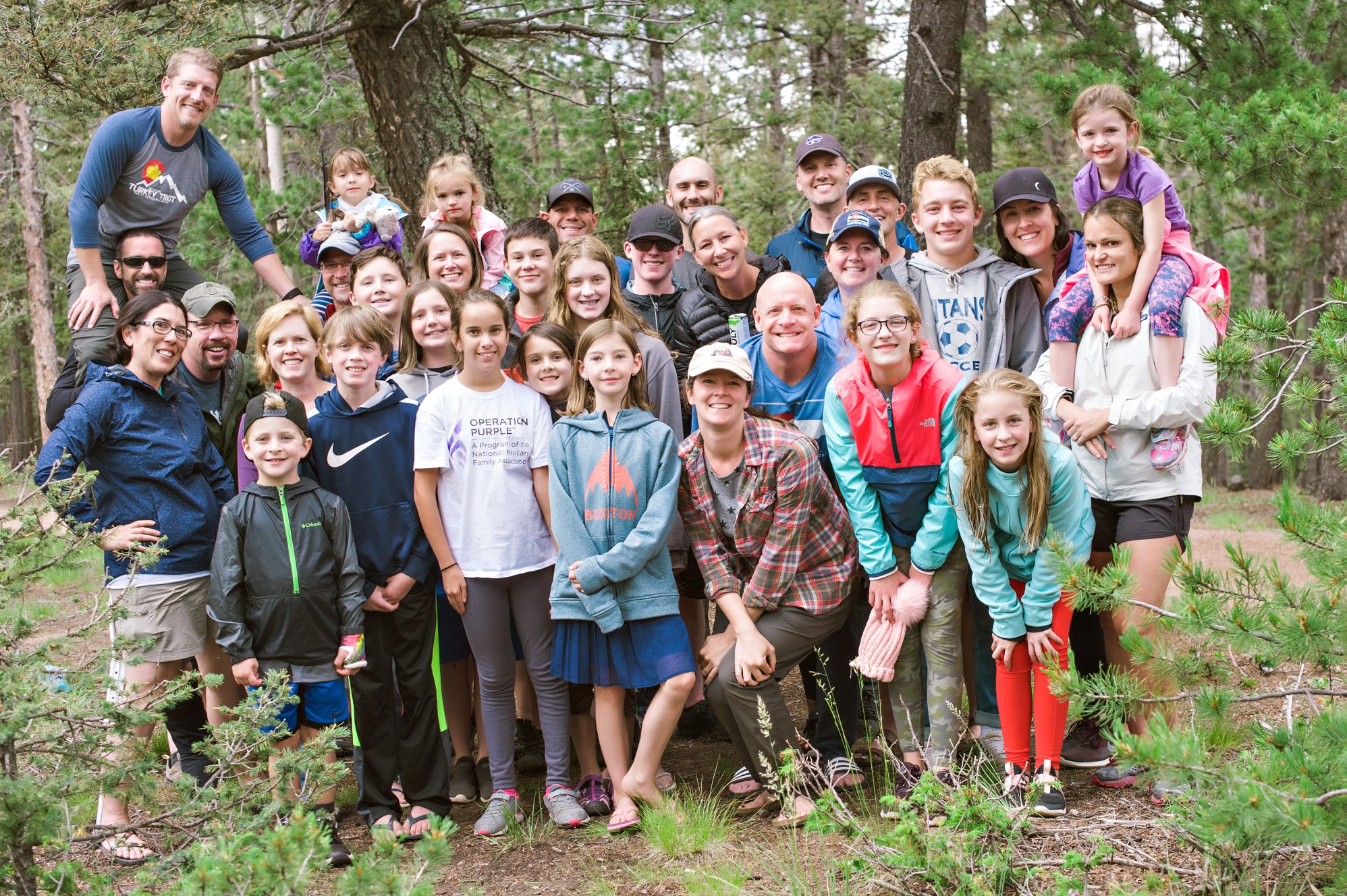 Just like last year, we joined our neighbors at Mueller State Park again this year for a street-wide campout!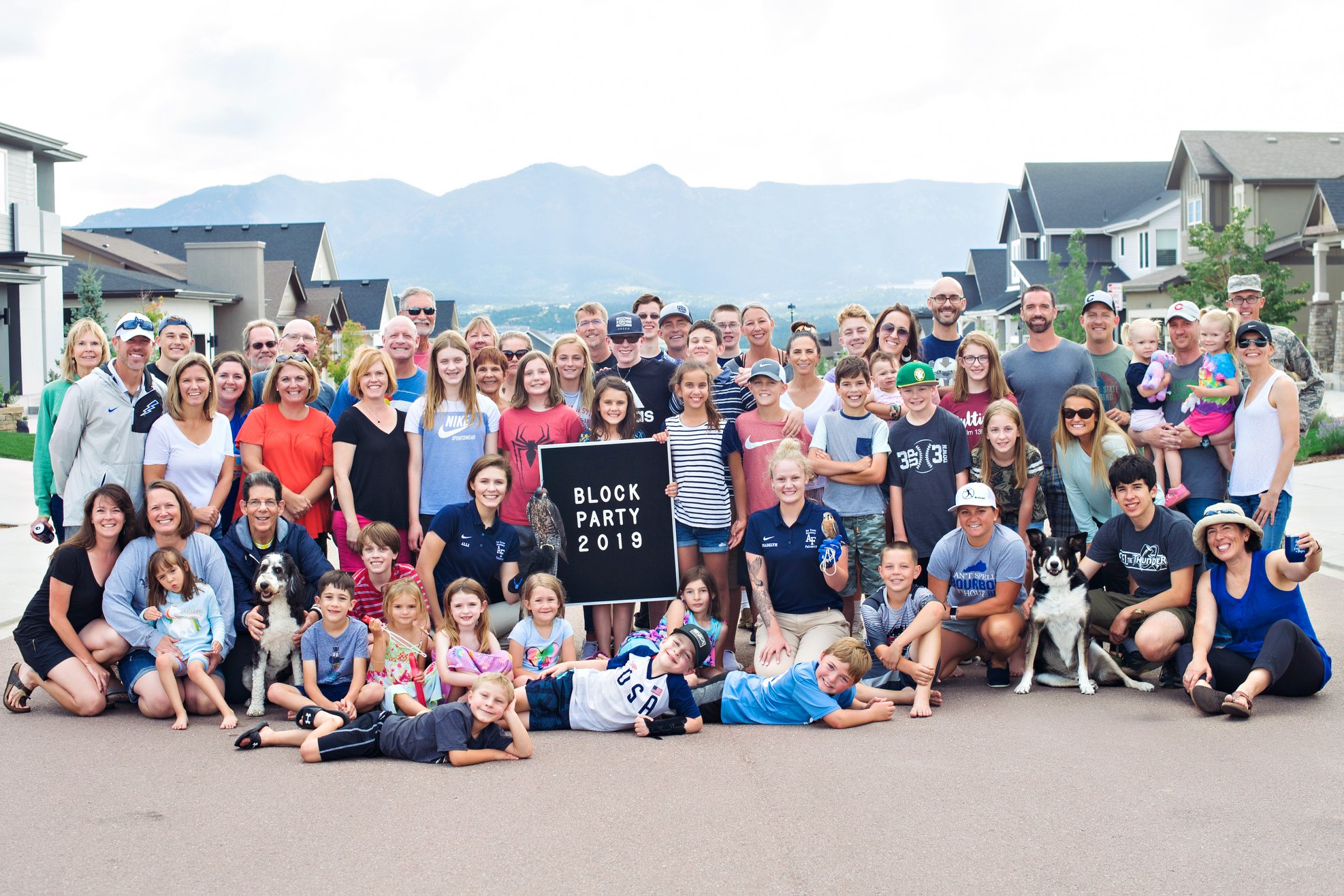 We love our neighbors and our neighborhood!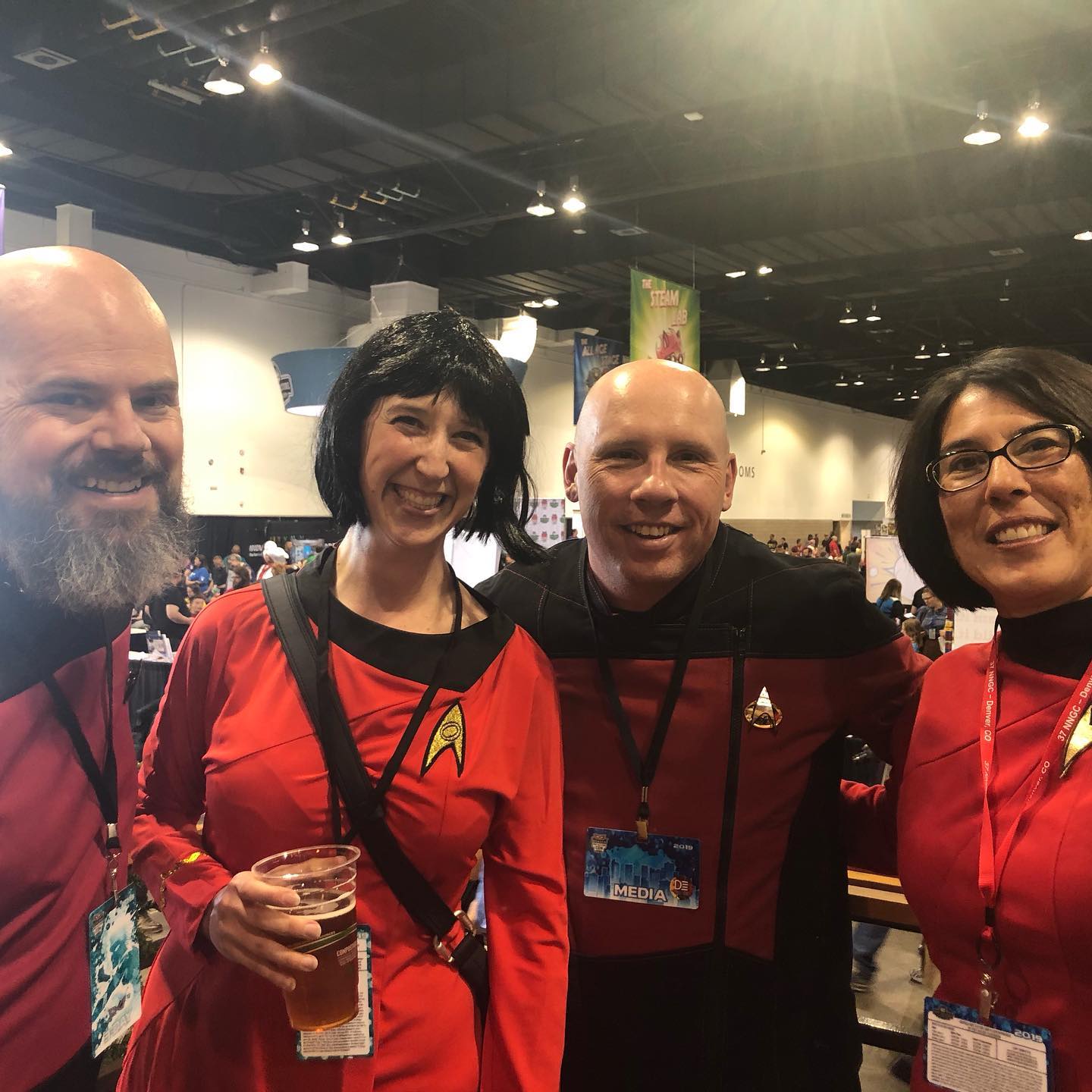 Denver Pop Culture Con 2019! What are the chances of meeting another ST TNG/TOS couple dressed exactly alike? And if you didn't understand the acronyms...well, we forgive you anyway!
---
---