Happy Holidays from the Vollmers - 2018
1350 Foothills Farm Way
Colorado Springs, CO 80921
(919) 749-5744/5544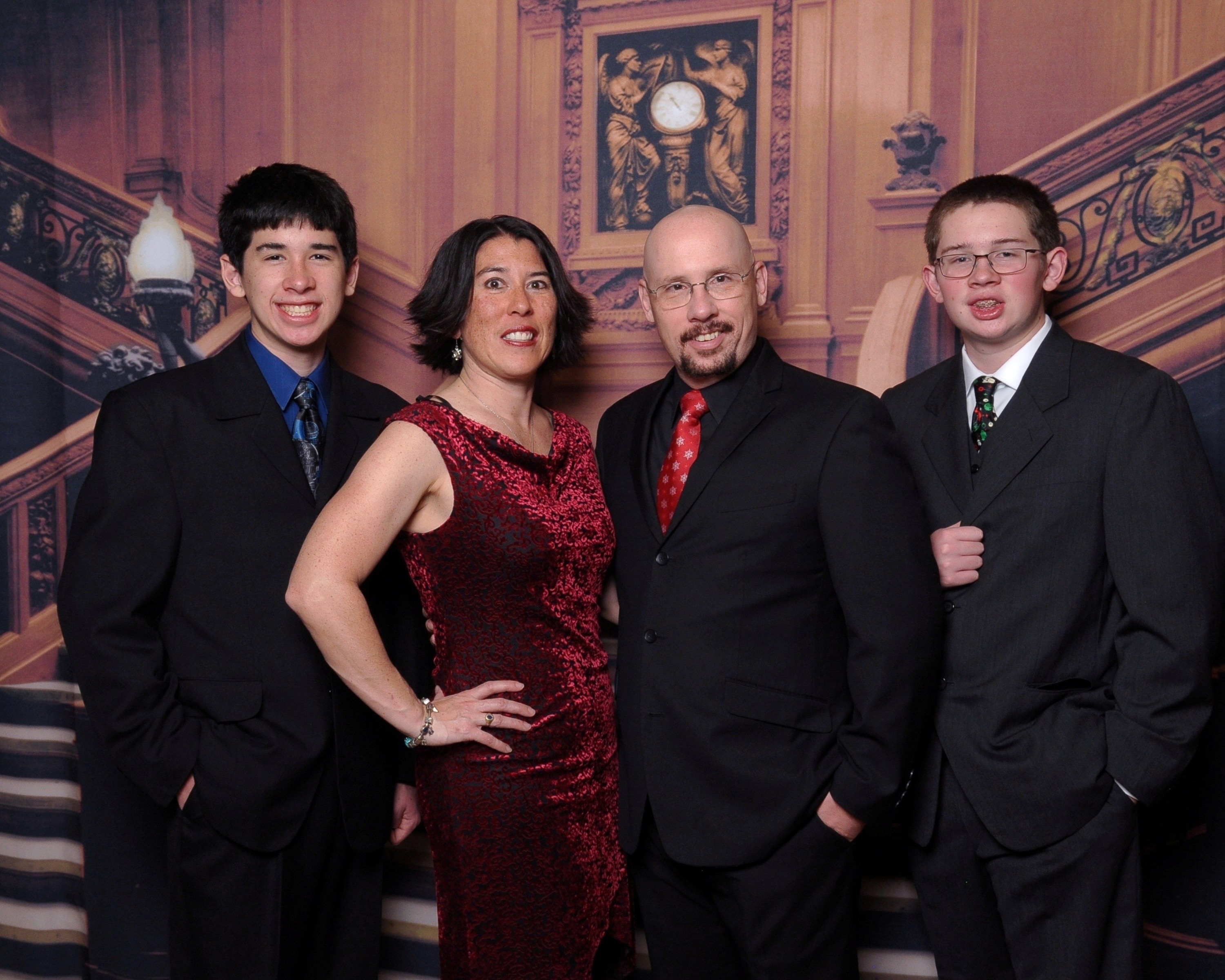 Christmas portrait on the Liberty of the Seas cruise that we took during Christmas week. The boys are now officially taller than their parents.
http://www.thevollmerfamily.com
Patricia's Blog: http://www.thevollmerfamily.com/MajorMom
---
Greetings from the Colorado Vollmers! Another year, another 12 months of transition from a military life to civilian life. At 5 1/2 years, this is longest we've been in a community since we got married in 1995.
Generally speaking, we had a year that was relatively free of catastrophe or moving. The big news is Dave having retired from the Air Force after 22 1/2 years. I'm still teaching at the USAF Academy. The boys continue to make us proud in school, music, sports, and Scouts. Jacob took a Scout trip to the Florida Sea Base in Summerland Key in June, and returned with just as many stories as he had from the Northern Tier canoe adventure in 2017. Timothy had a fun baseball season this past spring, but is now focused on Colorado Springs Youth Symphony, pushing his cello playing to whole new heights. We also hosted many visitors this summer, showing our friends how wonderful Colorado is!
Our family still managed some nice travel opportunities this year, including Spring Break in Hawaii, our annual trip to West Virginia and Pennsylvania to visit the family, and a Christmas cruise to Mexico and Honduras. We also squeezed in plenty of skiing.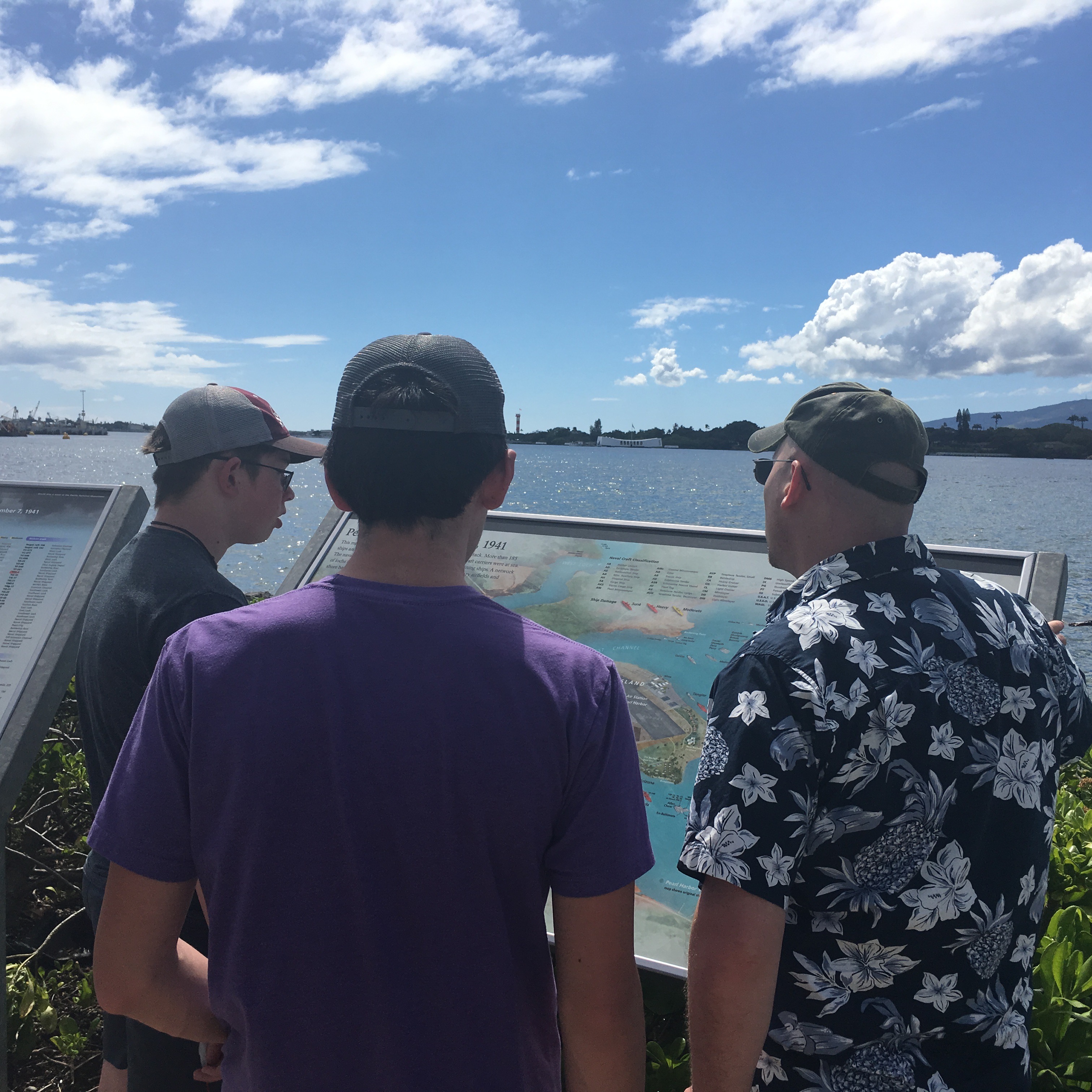 My boys taking in some American history at the USS Arizona Memorial, March 2018.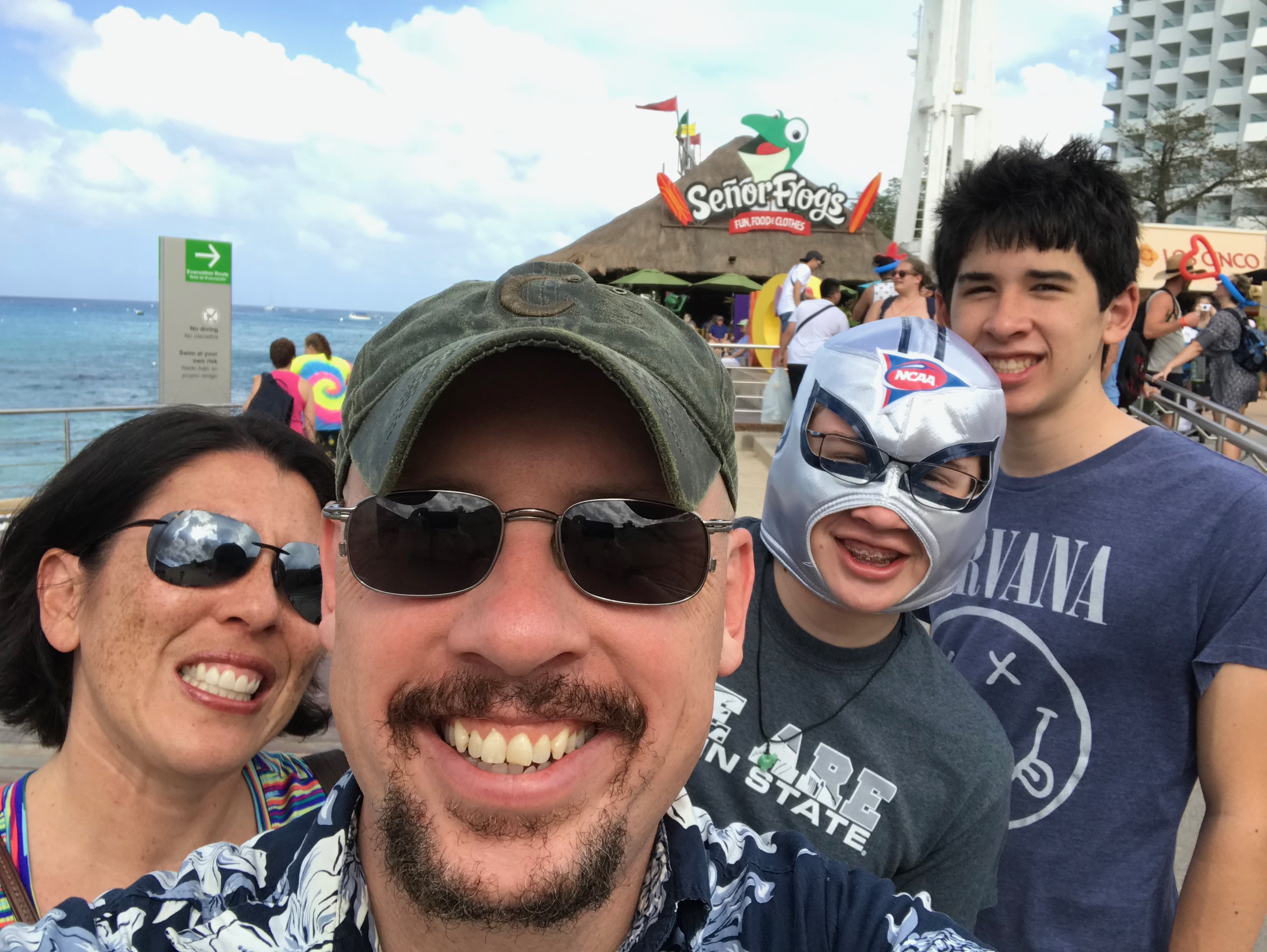 Senor Frogs Selfie, Cozumel, Mexico, December 2018.
---
Dave:
I retired! Yep, after 22 years and 7 months of active duty, I became a civilian. My ceremony in September was almost overwhelming...so many people came! We probably had close to 100 people at the house including family, friends, neighbors, and members of three departments at the Air Force Academy. It was one of the most humbling experiences of my life. I have no regrets about how long I stayed in, and I also have no regrets about getting out when I did...which I guess means I timed it just right! Patricia's return to active duty made the decision easy. In the meantime I started my own little consulting LLC--Weathersix Solutions--named after my old call sign as a 2LT at Fort Polk. I chose to take the rest of the calendar year to relax and "regroup," but now the hunt for more serious employment is on!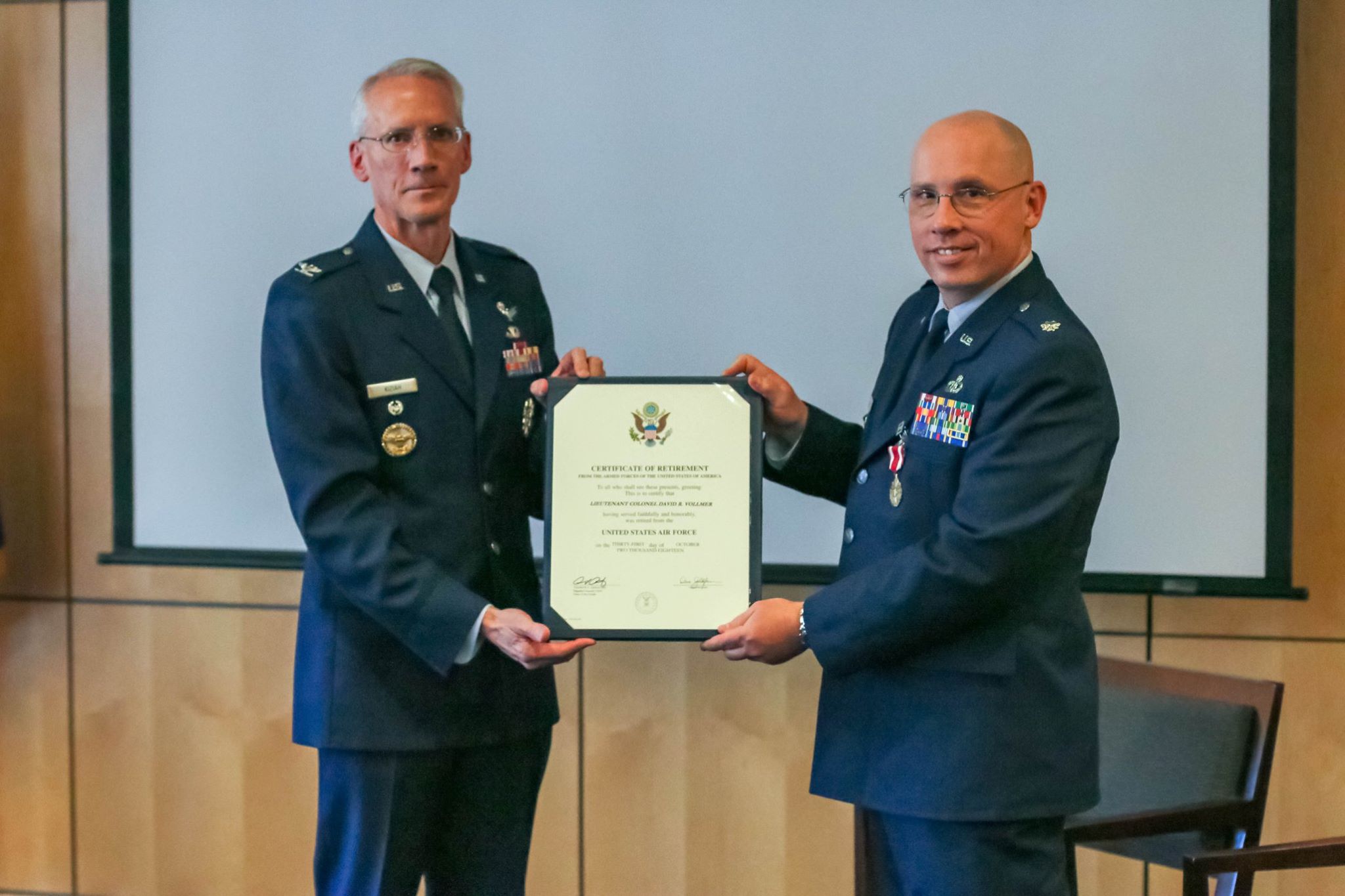 Dave's retirement ceremony in September.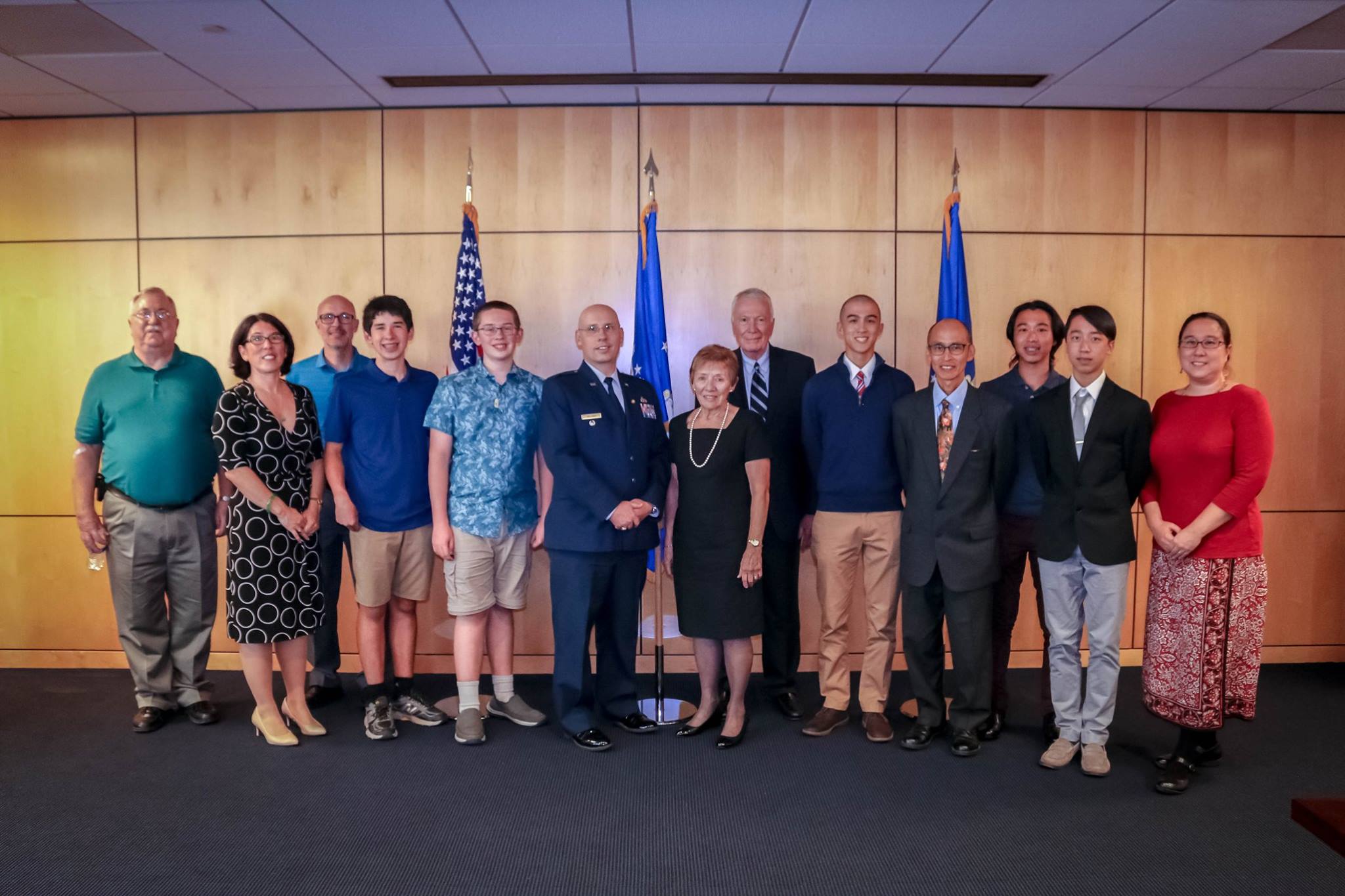 Both sides of the family after Dave's retirement.
I've been using some of my newly-found downtime to make forward progress on my model railroad representing the First District of the narrow gauge Rio Grande Southern railroad during World War II. It's HO scale, but 3-foot narrow gauge (i.e, HOn3) and occupies 12 x 14 feet of space in the basement. This part of the railroad ran from Ridgway, CO to Telluride and Rico, CO, over 10,250-foot Lizard Head Pass. The photo below shows a train crossing my model of Bridge 45-A at Ophir, Colorado. I built it using plans from the real thing.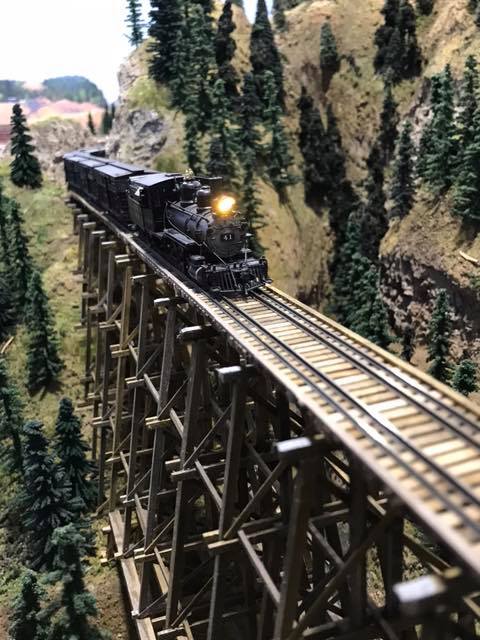 ---
Patricia
I am still doing my teaching and "deputying" duties on the faculty at the USAF Academy. This is my 5th year assigned to the Academy, having done an assortment of roles. Next semester I'm thrilled to be once again teaching meteorology, and I am still enjoying work with the faculty development mission.
I had the honor of commissioning a graduate in May. Our family "adopted" Mauricio after having had him in my calculus class in Fall 2014. I was so flattered that he asked me to commission him. Since the only cadet uniform combination that can truly transition into active duty smoothly is the mess dress, commissionings are done in mess dress.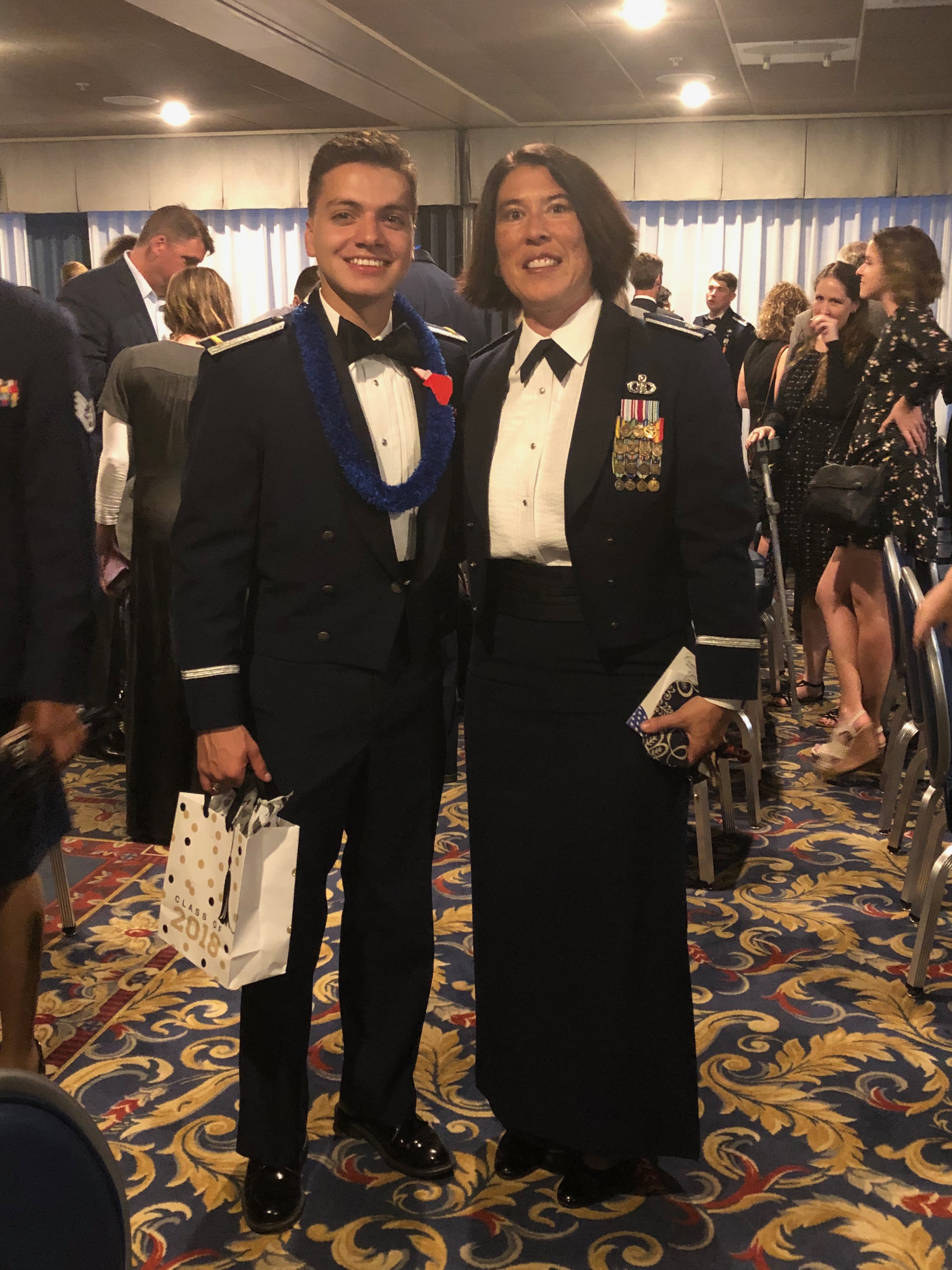 We're so proud of Mauricio, who's now at pilot training in Texas!
I also am still coaching Timothy's middle school math club. We made a great showing at the regional MathCounts competition last winter, and we sent a team to the state competition at University of Colorado for the second year in a row! This year's club is bigger than ever with 16-18 students consistently coming on Wednesdays after school to hang out and do math together. This will be my last school year coaching the club, as Timothy is now in 8th grade and it's time to pass the baton on to another willing parent after 4 rewarding years. I love seeing the students after their time in the club; I run into many of them at high school events and they're so sweet to not be embarrassed to say "hello".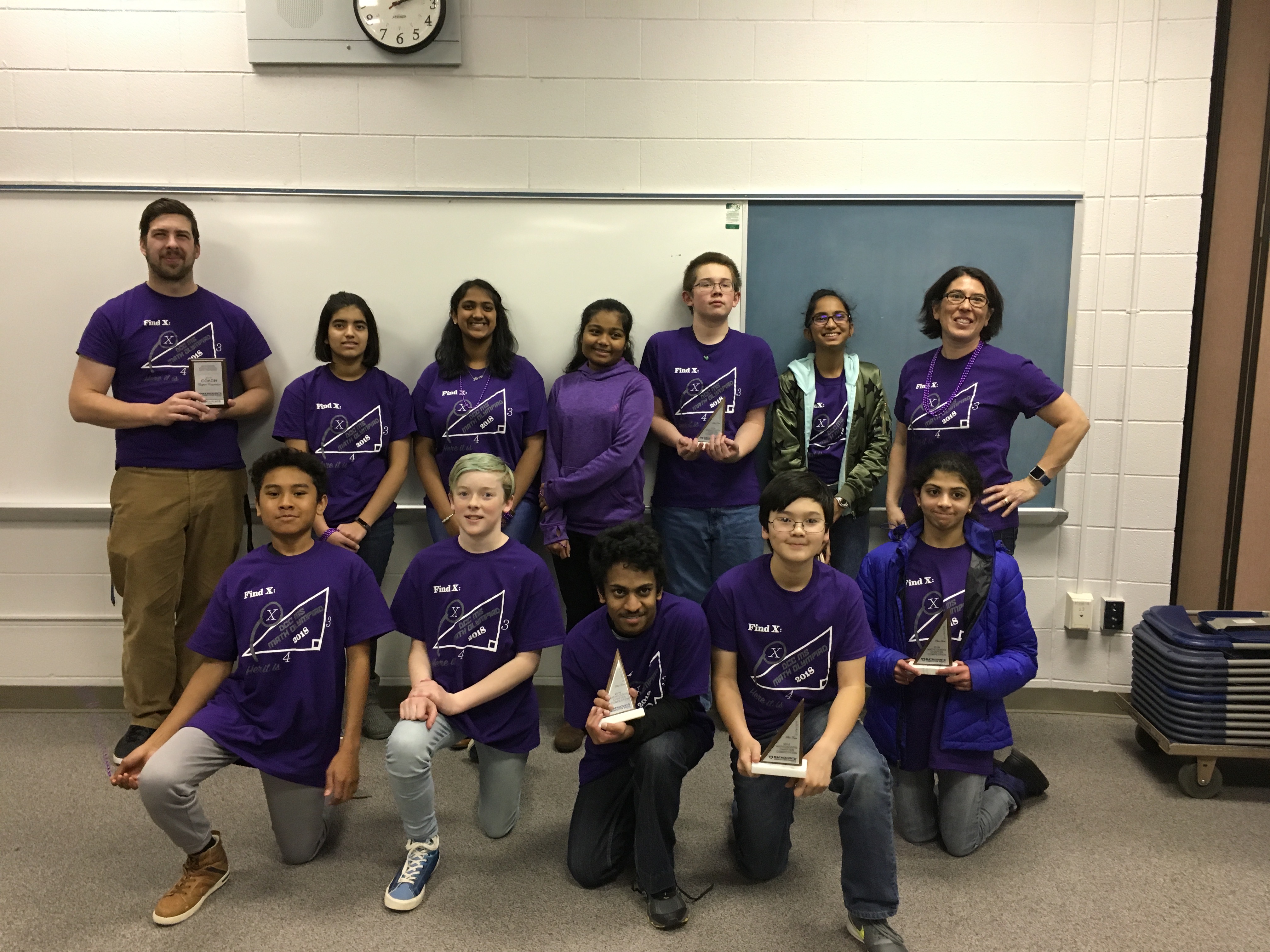 2017-2018 Discovery Canyon Middle School Math Olympiad Team. I'm so proud of this group!
---
Jacob:
Jacob is 16 years old, around 6' tall, and is in 10th grade. He's scheduled to get his driver's license in mid-January: throughout 2018 he has been working hard to get his required 50 hours of practice driving. It's tough to do when most things in our life are within 15 minutes of home.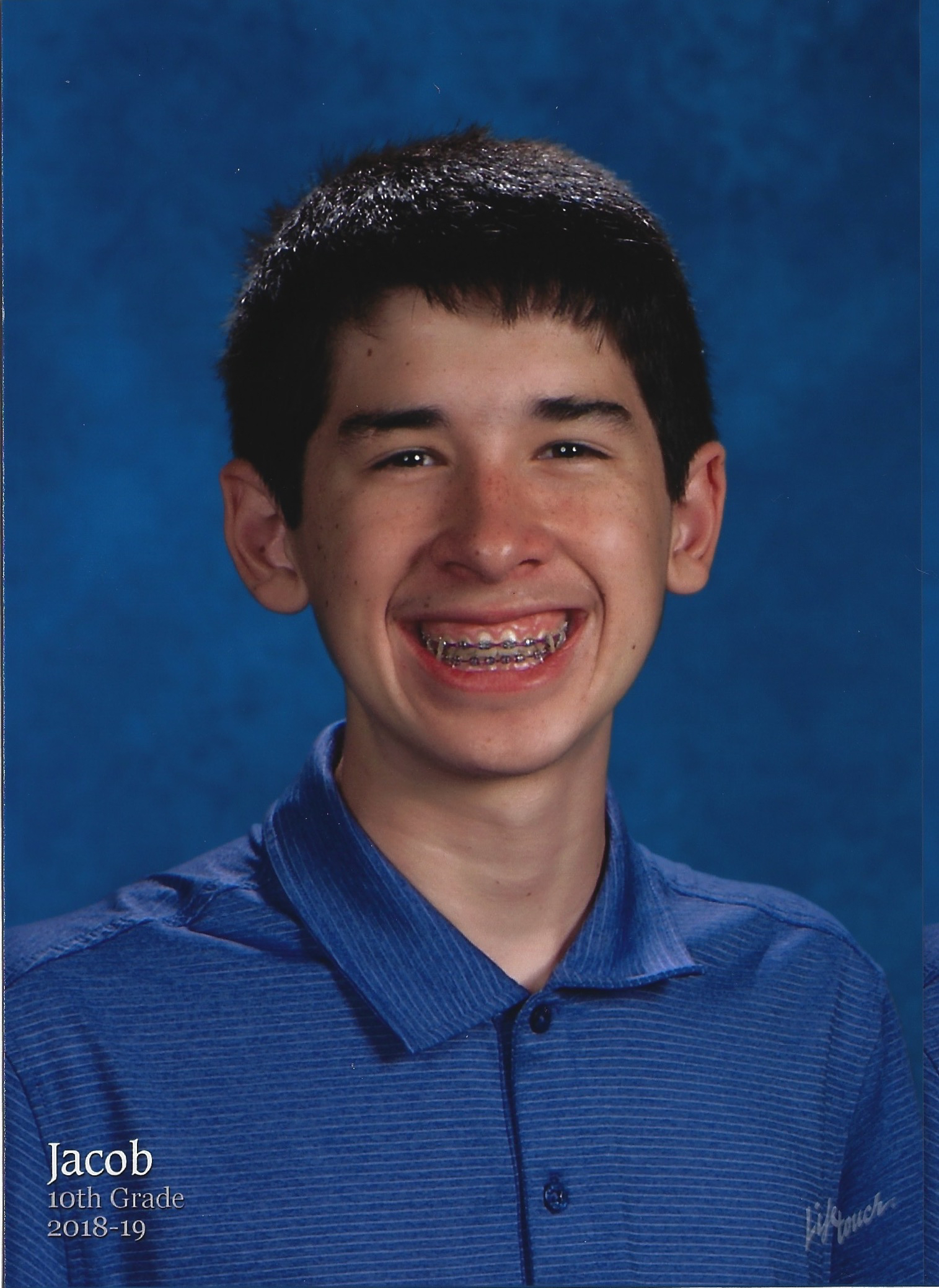 School portrait. The braces came off about 6 weeks after this picture was taken (see picture at the top of the webpage).
Jacob had a busy year with Scouts. He spent a week at the Florida Sea Base in June, and came back with all kinds of fun stories!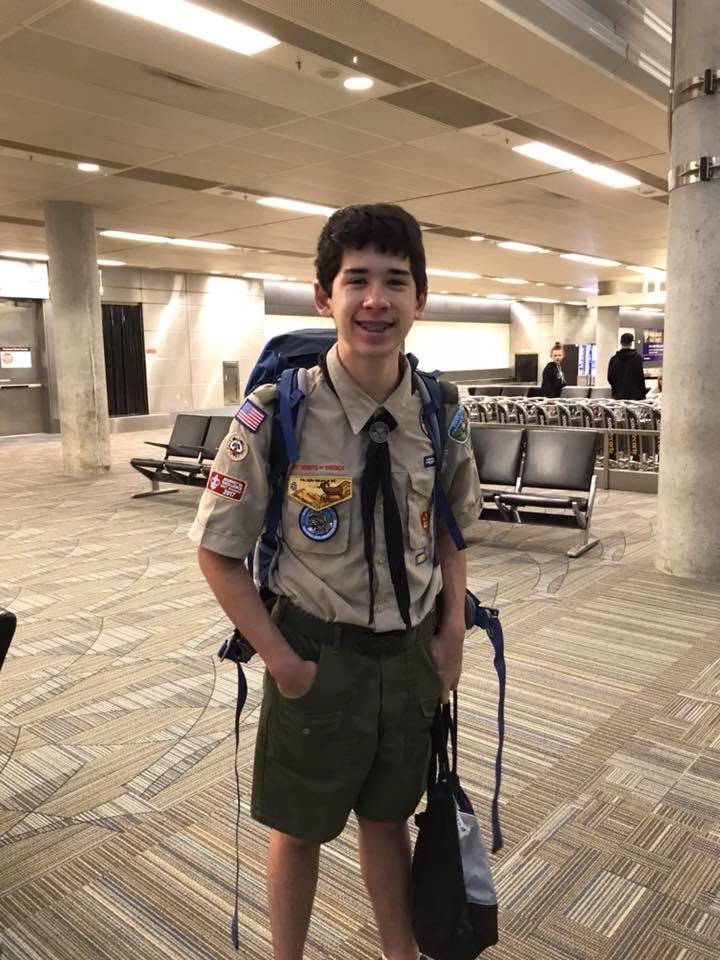 Jacob at the airport in Ft. Lauderdale. Dave flew him down from our PA trip to meet the troop coming in from Denver.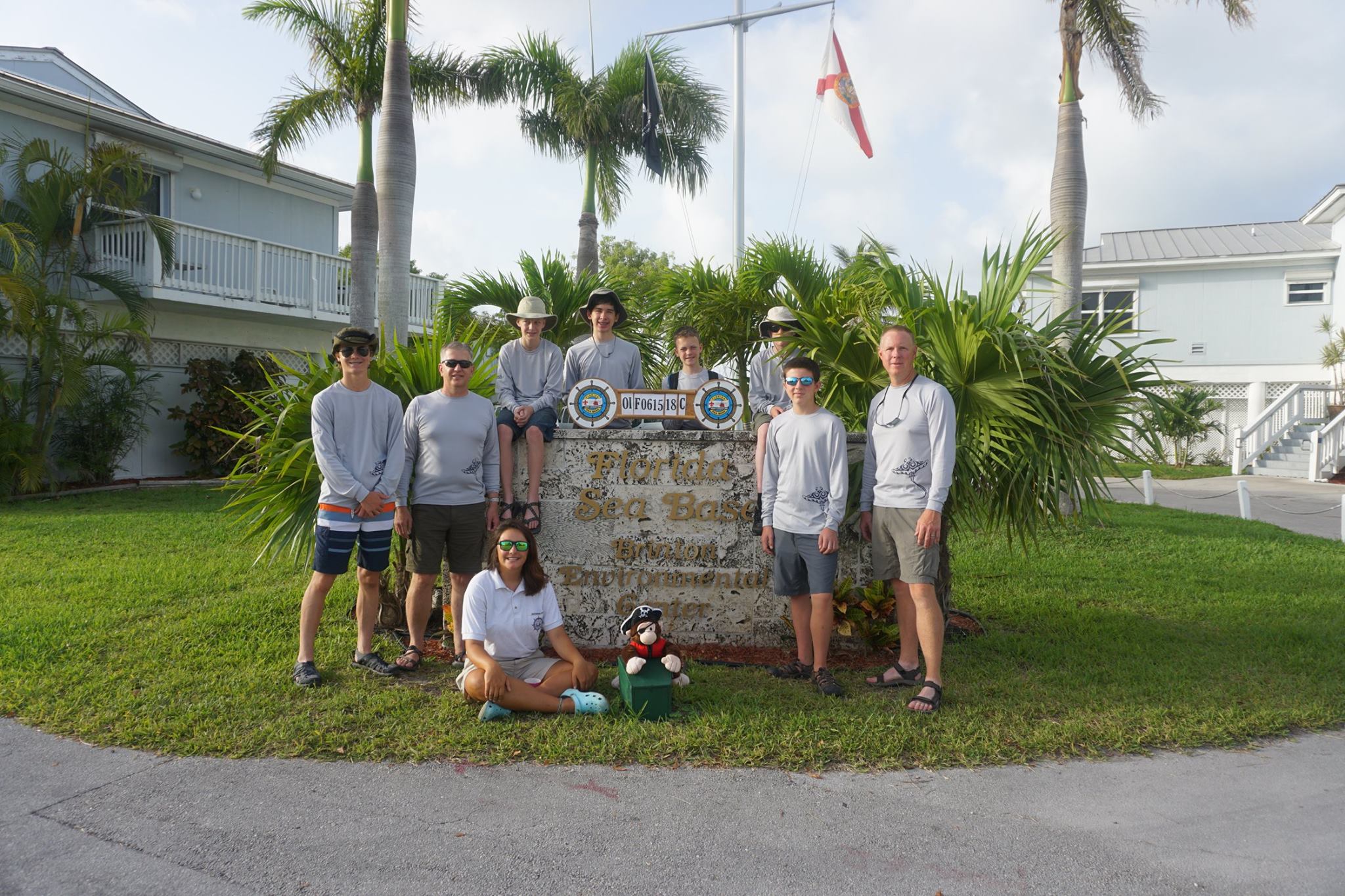 The Sea Base Crew.
As I'm writing this, Jacob is about halfway through his six month term as the senior patrol leader for his Boy Scout troop. He also served as the senior patrol leader for the troop's summer camp group, which this year was around 30 Scouts. After he finishes his sophomore personal project at school, Jacob is going to head straight into his Eagle project. We're very proud of his hard work in Boy Scouts.
This summer? PHILMONT! Both boys are signed up for a mid-July 12-day trek at the Philmont Scout Ranch about 3 1/2 hours from here. We are very grateful that we live so close to this opportunity: Scouts fly in from all over the world to attempt this trek. We are also grateful that we live at the same elevation as the ranch, since, for most visitors, the elevation is the biggest challenge. This spring the boys will be doing their training hikes all over the high country. They are both enthusiastic about the trip and I can't wait to hear the stories.
Jacob is still taking piano lessons, with his teacher working him through Bach's Inventions and Beethoven's "Moonlight Sonata". He's still playing cello in the school orchestra, although that's in jeopardy for next year as his academic schedule continues to fill with math and science classes. I'll leave you with this YouTube video of his high school orchestra playing selections from the Lord of the Rings: The Fellowship of the Ring soundtrack by Howard Shore.
---
Timothy:
Tim will be 14 at the end of January, and is now in 8th grade. As of about August, he is officially taller than his mother....way taller. He's close to 6' tall like his brother. He might even be taller than Jacob now...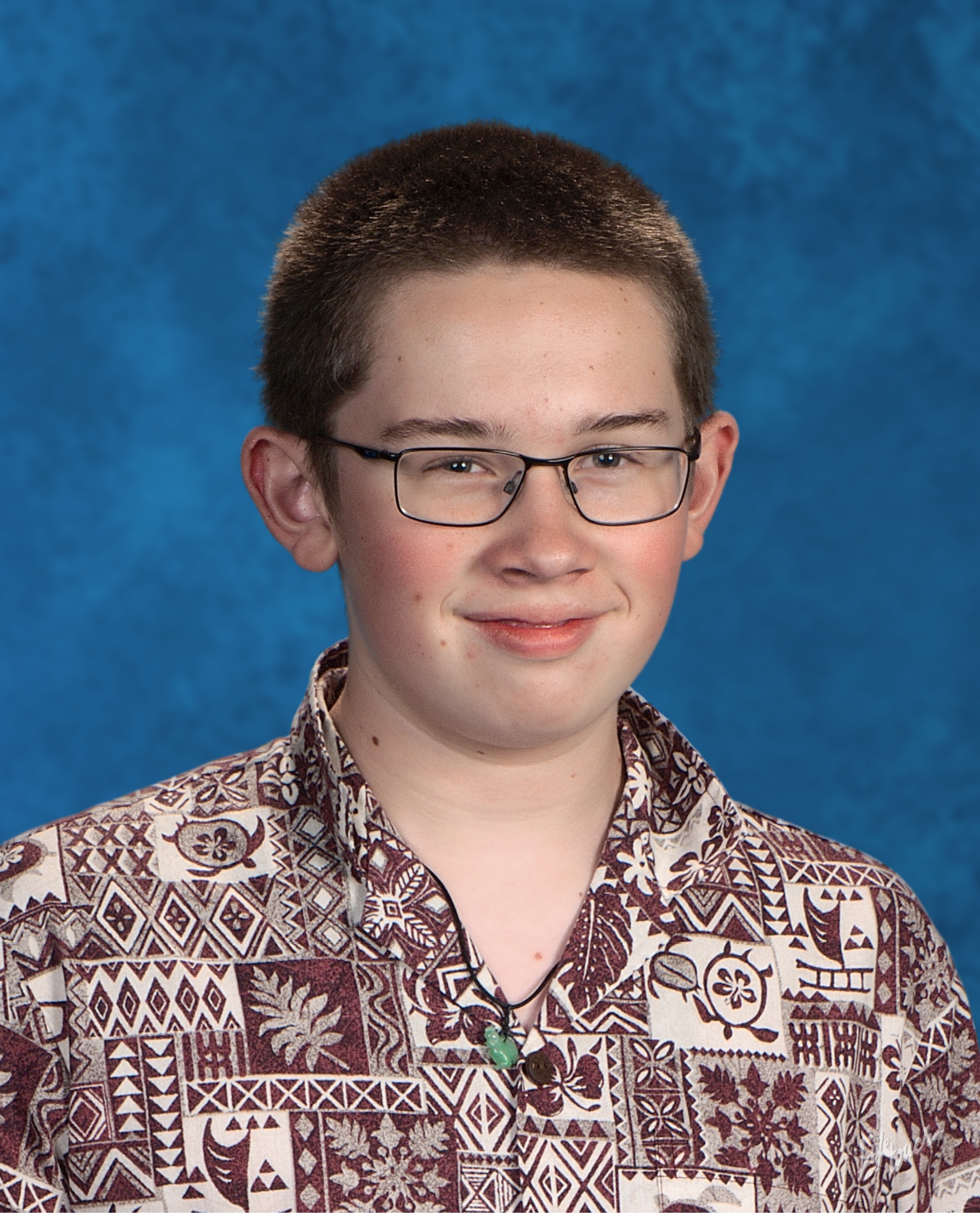 Tim's on a Hawaiian shirt kick right now. I don't mind one bit.
Tim took part a local Little League baseball team this past spring. I don't want to get on a soapbox about how sports is done around here, but suffice it to say that Tim simply wants to have fun playing and hanging with friends. Same as most of the kids on his team. Therefore, they didn't win a single game this season. But it was a great group of kids and parents just the same...he had fun.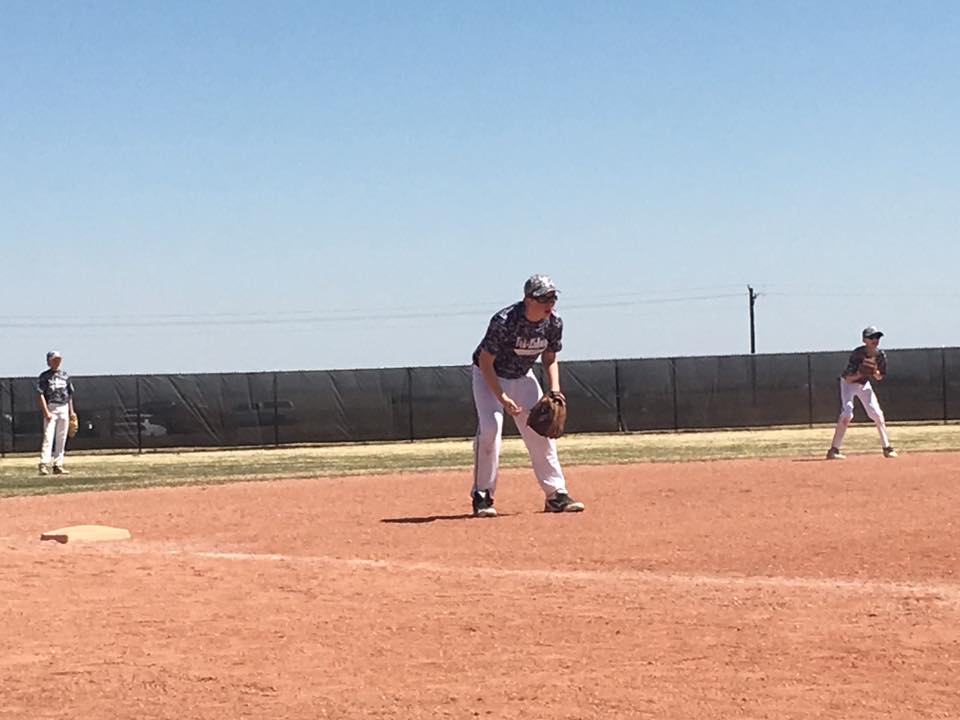 Tim played 3rd base most of the time...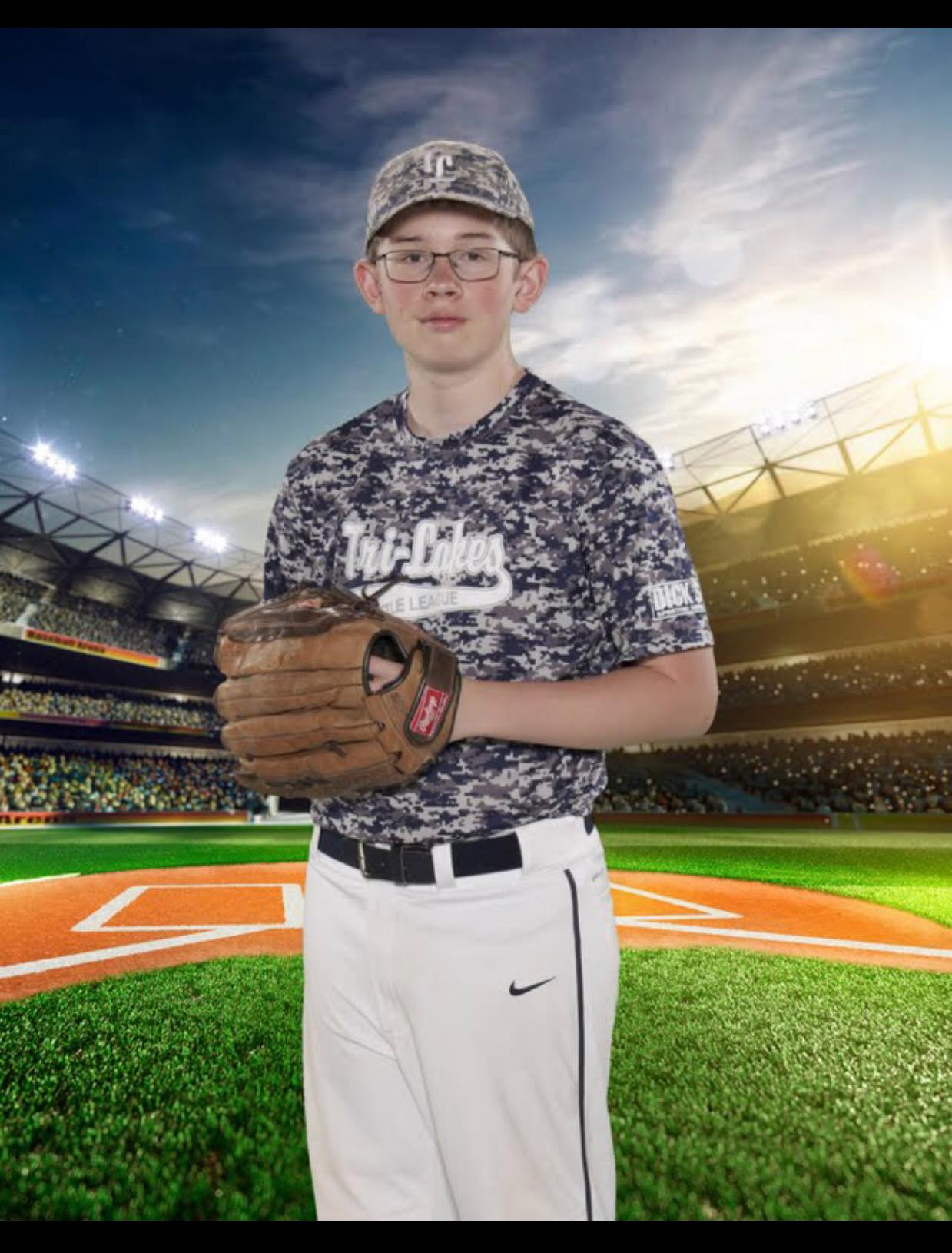 So SERIOUS.
Tim's also on the verge of Life Scout in Boy Scouts, and this spring will continue his training for the Philmont trek.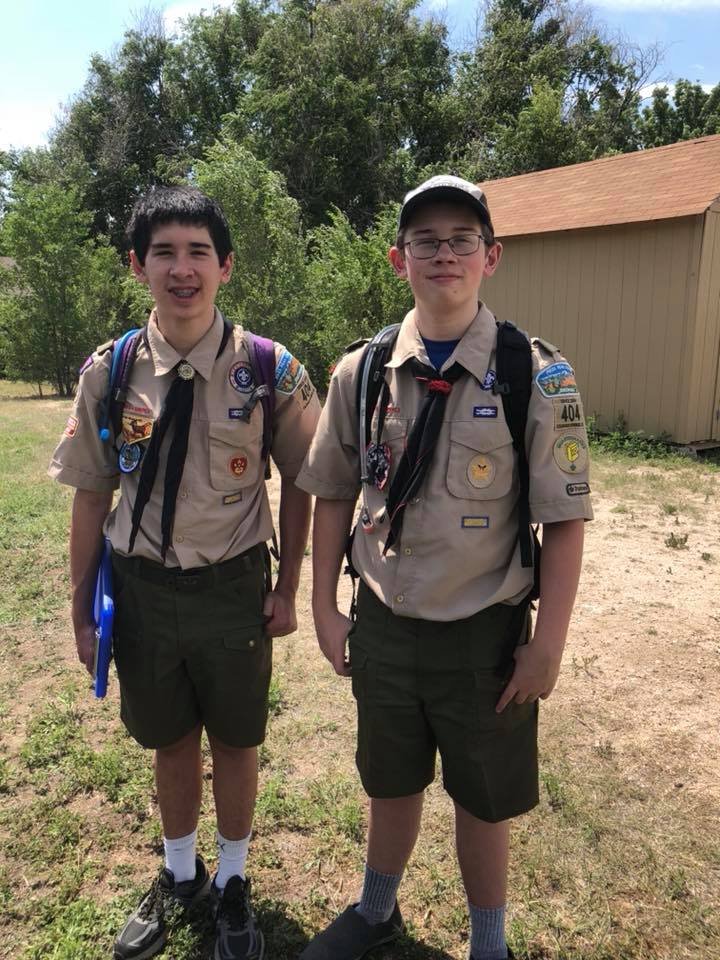 The boys ready for Scout camp at Camp Dobbins, Colorado in July 2018.
As mentioned earlier, Tim had auditioned for and earned a spot in the Colorado Springs Youth Symphony. This is some serious commitment! There's a camp in the mountains in the summer, practices every week, and numerous concerts throughout the year. Tim's been loving it so far, and the music is challenging but he doesn't let that phase him. I love hearing him practice! The group gets to perform at some swanky venues, such as the new performing arts center at University of Colorado, Colorado Springs, as well as the Pikes Peak Center in downtown Colorado Springs. Enjoy a video of one of the Youth Symphony performances from November:
---
Ranger
Ranger continues to bring us joy and laughter. In fact, he brings joy and laughter to our entire street, with the kids always wanting to include him in their play.
Last year I talked about Ranger having weaseled his way onto our couch, where he clearly is the most comfortable. That lasted about a year. Just after we returned from our Christmas cruise, just after 10 days of boarding for Ranger, he had a pretty big overnight #2 accident and then put himself on our couch, thus covering things in #2. So he's now banned from the couch, sorry!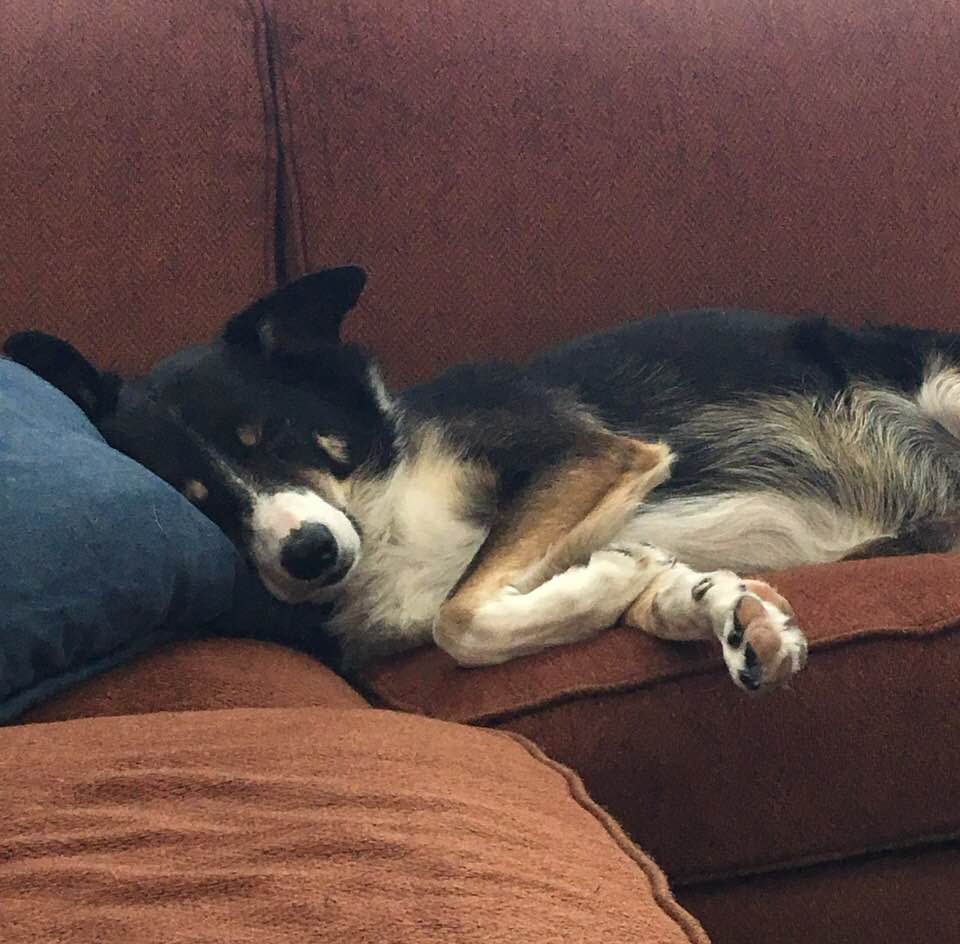 Sorry Ranger, no more couch for you!
Most of his other news is in the form of the travel he was able to take with us. He came along with Dave and me to Mount Princeton in July, and was with us on our street's camping trip to Mueller State Park in August. He still enjoys hiking with the family, although it's clear he's getting older as he wears out sooner than he used to. We think he's around 8-9 years old now, so in many ways he's in that "senior" state of life. I don't even want to think about that....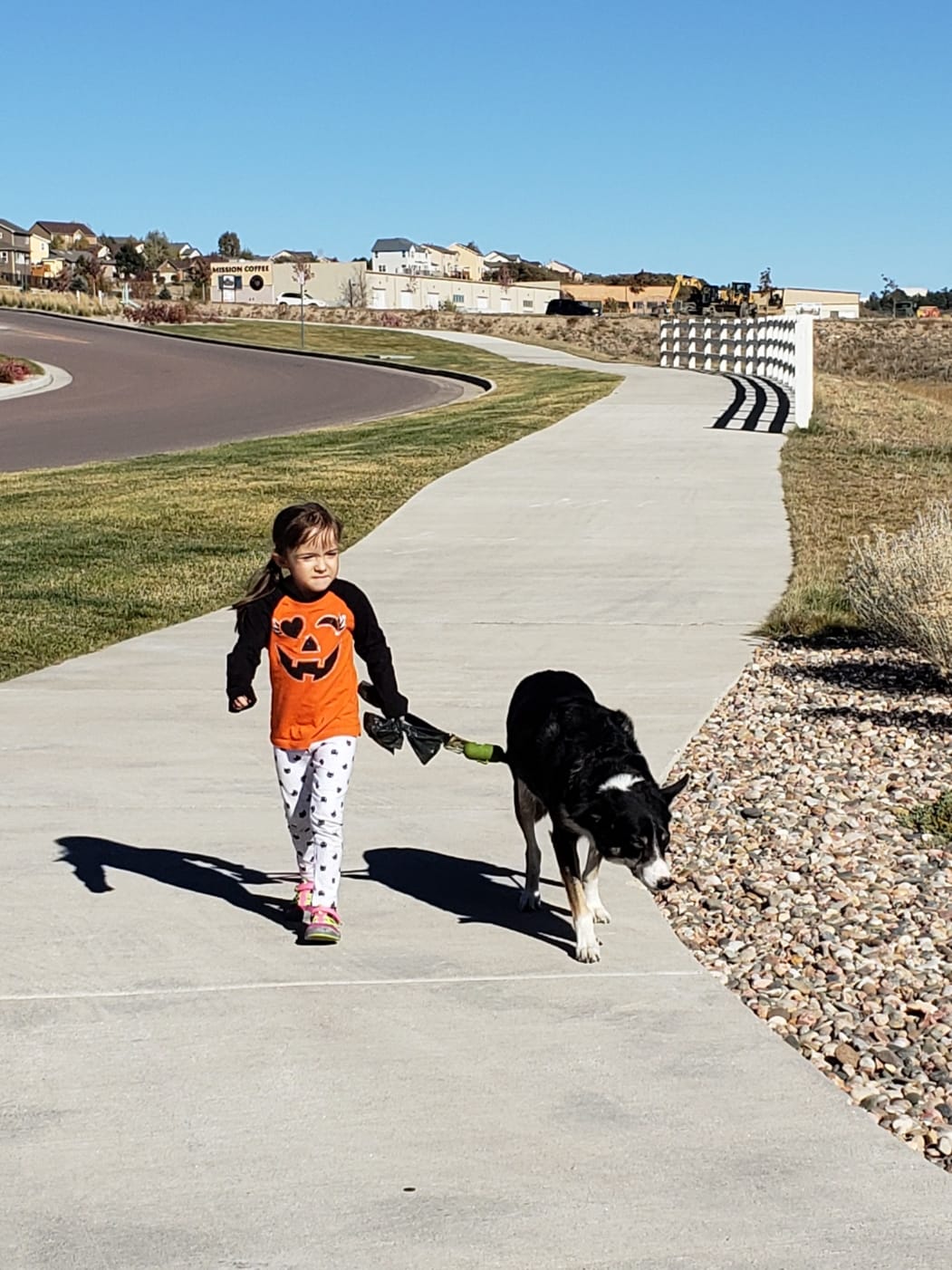 Our neighbors love Ranger and will routinely offer to take him on walks. This is our next door neighbor walking Ranger in October.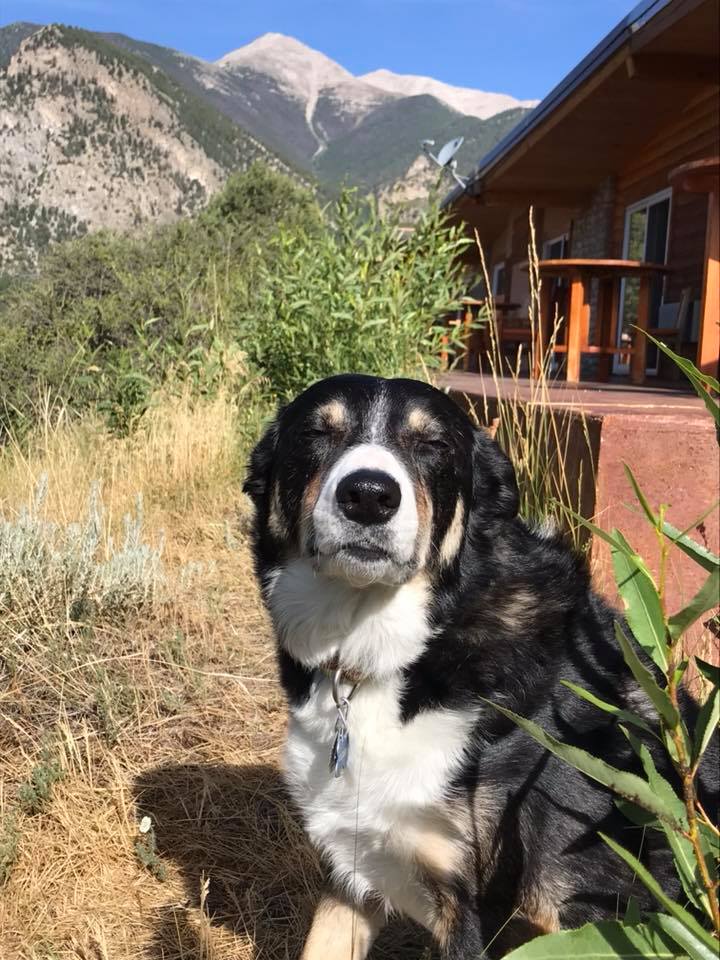 Ranger looking all squinty at Mt Princeton Hot Springs, July 2018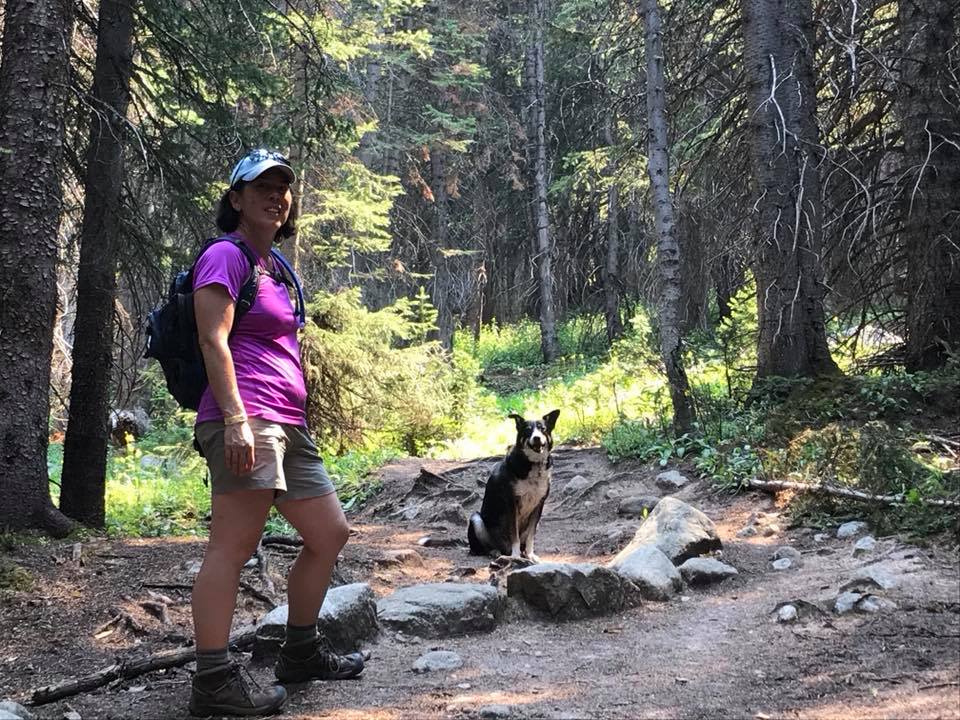 Ranger (and Patricia) on the Windsor Lake Trail, near Leadville, CO, July 2018.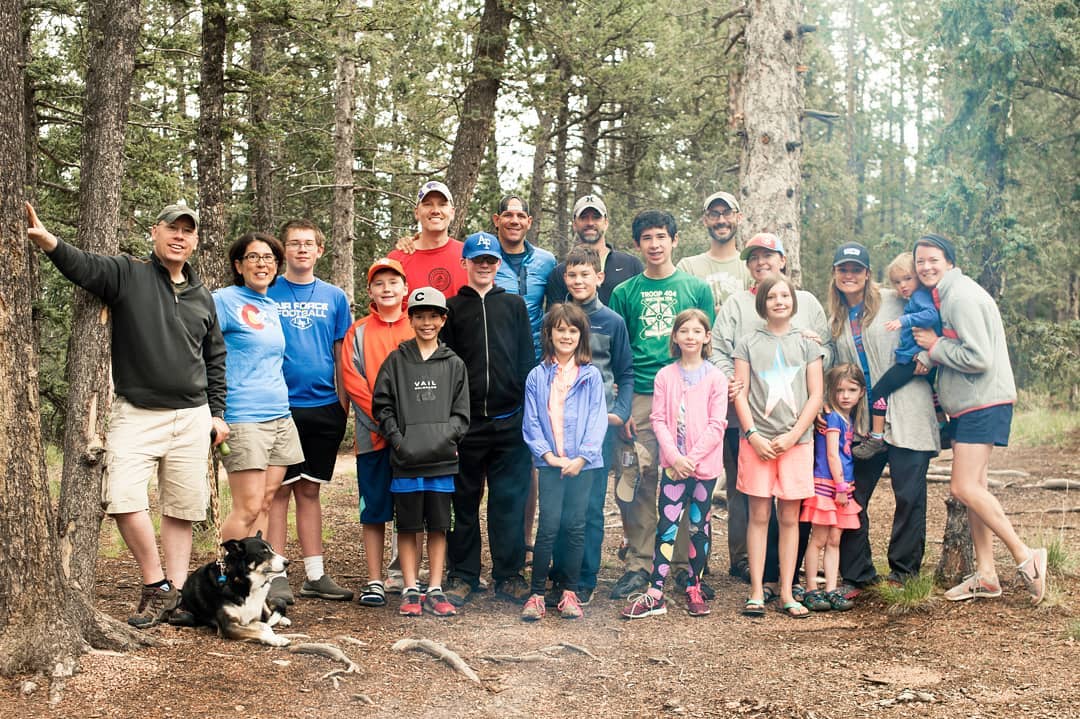 Did I mention how much we love our neighbors? One of our neighbors organized a camping trip last August at nearby Mueller State Park in Divide, CO. We had a great time and Ranger definitely got lots of love from everyone all weekend.
---
---