Happy Holidays from the Vollmers 2017
1350 Foothills Farm Way
Colorado Springs, CO 80921
(919) 749-5744/5544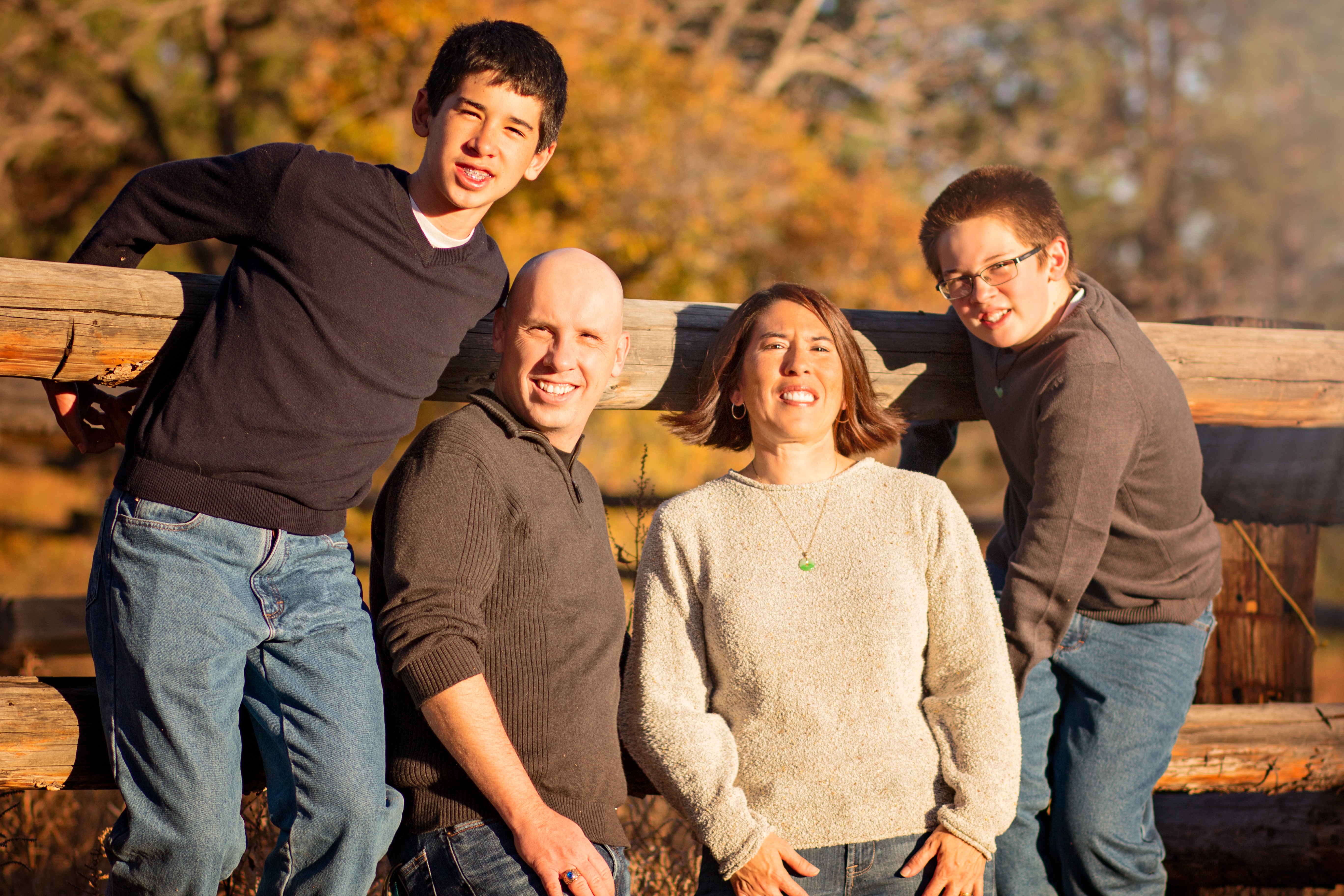 This fall we took the time for some family portraits; we lucked out with some beautiful sunsets and fall colors this year.
http://www.thevollmerfamily.com
Patricia's Blog: http://www.thevollmerfamily.com/MajorMom
Dave's N-Scale Juniata Division Website: http://www.thevollmerfamily.com/Pennsy
---
Greetings from the Vollmers in Colorado! This year our big news is the new house. We had been looking around Colorado Springs for quite some time for a possible "forever house" closer to the boys' school. Since 2014 we had been driving the boys to and from their school and getting closer would make things so much easier. All we had to wait for was the results of Dave's Colonel's board in February.

He didn't get promoted. (I asked not to be pushed for full Colonel by my senior rater...I want to stay here!)

Don't be sad. It's perfectly okay. Seriously. We aren't interested in moving anymore, and a promotion would have come with orders away from Colorado. Dave found out the second week of February about his promotion results, and by the following Monday, we were in a contract for an almost-finished spec home in a new neighborhood in northern Colorado Springs.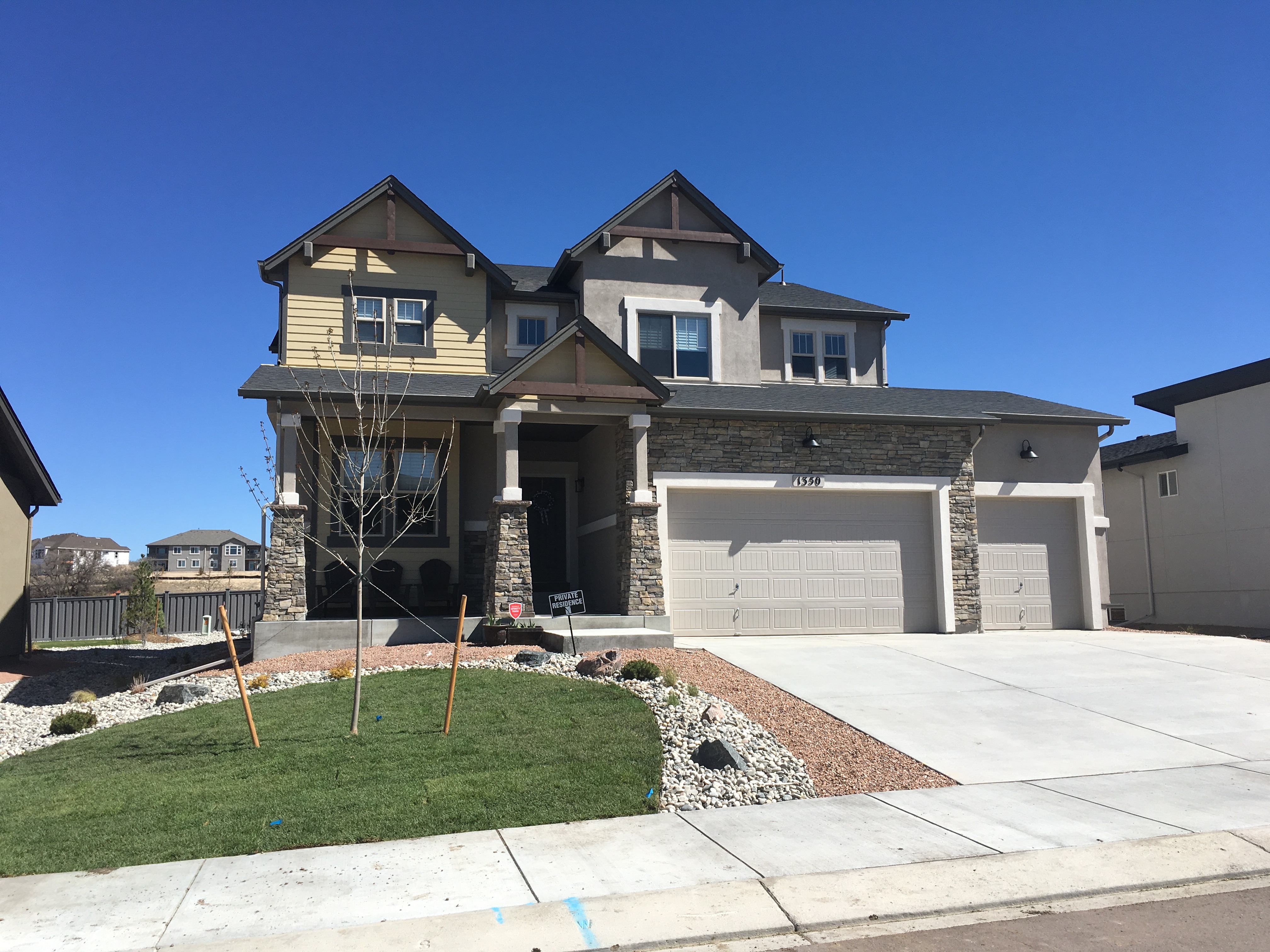 From the day the lawn was put in during the first week of May.
This all happened very quickly, which is often the case when you're trying to find a new house in Colorado Springs these days. If you don't act fast, you might lose out. We were fortunate in that we had a put a lot of renovations into the Stillwell Drive house, using cash that I (Patricia) had earned in my reserve work. In two months' time, and with the help and support of our friend/realtor, Jenn, we were able to quickly sell the Stillwell Drive house, buy the new house, and move during the second week of April.
It's now been about 7 months since the move. We love the house, the new neighborhood, and especially our new neighbors. We are very much looking forward to spending our next [many] years here, definitely to get the boys through high school. It's been quite the adventure being among a group who are all "new to the neighborhood" while this community grows.
The other big news is Patricia's return to active duty, but we'll get to that in a moment.
---
Dave:
The biggest news of the year for me personally came late in the year. I applied for retirement from active duty effective 1 November 2018. By then I will have over 22 years and 7 months of active duty service. With Patricia back on active duty and with lingering chronic pain issues I decided it was time for me to stand down for a little while, recover, and try something new. No details yet on the ceremony, except to say that it'll be here in Colorado Springs sometime in September most likely.
This spring was consumed mostly by getting back on my feet after last November's brain surgery. I quickly went from what I thought would be a light semester free of significant responsibility beyond my single class to leading multiple research projects and returning to the position of Director of Meteorology. In April I flew down to my old unit at Hurlburt Field, FL, the 2d Combat Weather Systems Squadron, to retire on of the MSgts who'd served under my command. I almost didn't make it as on the flight down I was hit with a serious stomach virus, but thanks to RN Lainie Burton--a friend from our Navarre days--a few bags of saline and some anti-nausea meds later, and I was bale to fulfill my duties as presiding officer. The ceremony was broadcast live over the Internet!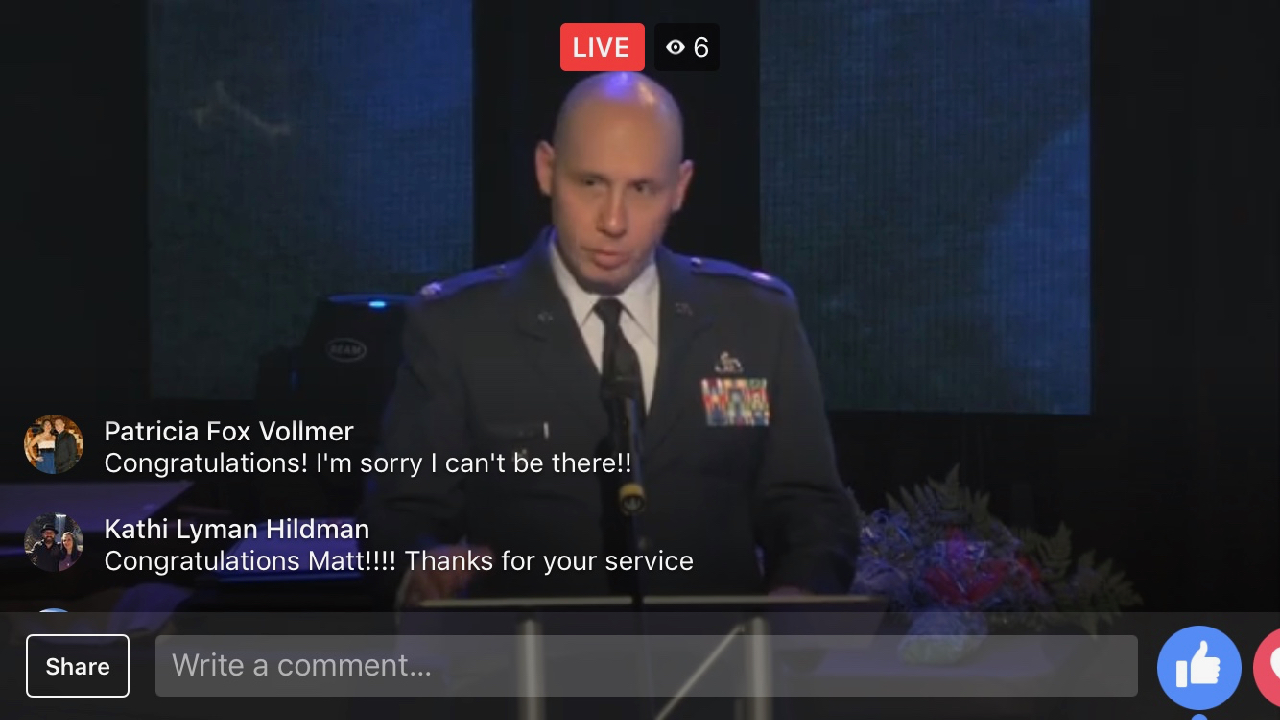 The summer disappeared with only modest headway on my research projects. Before I knew it the fall semester struck, and this time I'm directing two advanced courses, two independent research projects, and a full review of the meteorology curriculum at USAFA. This is my 9th semester teaching at USAFA and officially the longest I've ever been assigned to one base and one organization.
In the health department....I still suffer from Trigeminal Neuralgia, but fortunately things are much better after last year's brain surgery. One major victory was my return to the Faculty Brass Ensemble (a.k.a. the "Dean's Brass") where I've been happily playing trombone in our group with no pain. This disease tried to steal everything from me, and one of the heartbreaking bits was that I could not play music without it causing severe, dibilitating facial pain. I've stolen back almost every aspect of my life and plan to continue living it as I want to, not as a disease dictates.
In model train news I "finished" my N scale rendition of the standard gauge Colorado Midland Railway. The real Midland ran from Colorado Springs to Leadville, Aspen, and Glenwood Springs, CO. It was the first standard gauge railroad to cross the Colorado Rockies and the first major railroad to be abandoned in North America...the last train having run in 1920. My little model is only 2.5' x 5' but you can do a lot in N scale with that space. My version represents roughly 1905.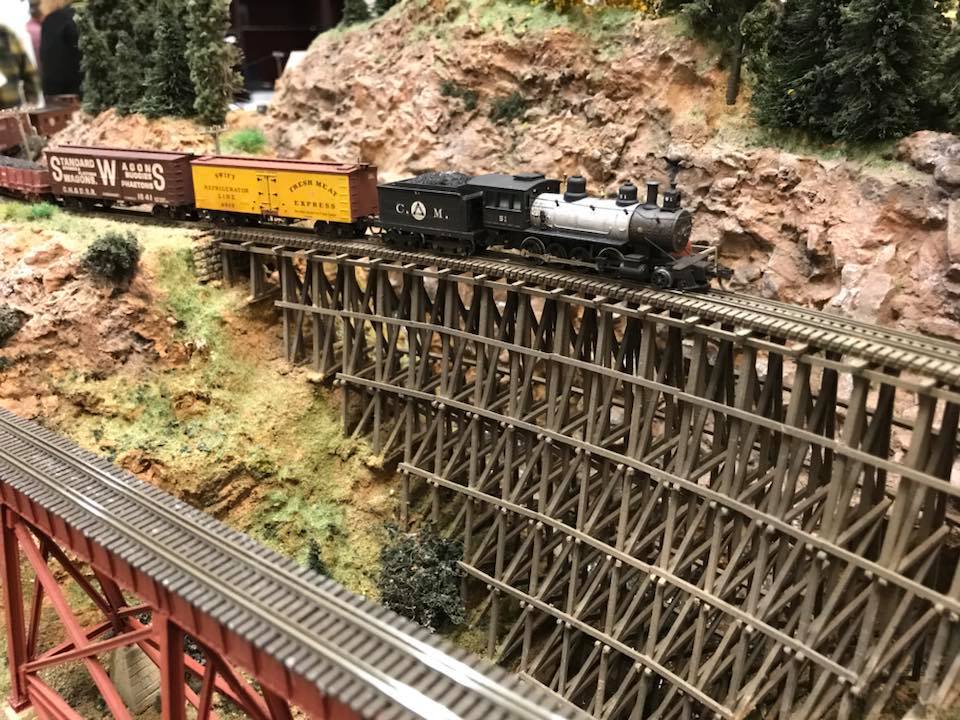 Lastly, a major change came to my model railroading hobby this year. After many years of modeling the Pennsylvania Railroad's 1950s mainline through central Pennsylvania in N scale, I switched scales, eras, locales, and even gauges. My new effort is to replicate the First District of the narrow gauge Rio Grande Southern railroad during World War II. It'll be in HO scale, but 3-foot narrow gauge (i.e, HOn3). This part of the railroad ran from Ridgway, CO to Telluride and Rico, CO, over 10,250-foot Lizard Head Pass. It was a rolling anachronism...ancient steam locomotives and wooden cars at the advent of the atomic age. This project will be the largest model railroad I've ever built at roughly 12' x 14'. As a proof of concept I built a small photo module...
That's really it for me. Patricia covered the new house and all the fun involved in a very sudden move. We love our new neighborhood and all of our new neighbors! The house is great too...and I made sure to stake out part of the new basement for my new model railroad empire!
---
Patricia
Patricia's big news was something she ever-so-vaguely hinted about in last year's newsletter. Around Thanksgiving in 2016 she had applied for a 3-year activation on the USAFA faculty, and in March she was offered a job teaching with the geosciences program. She was hired to teach geography mostly, since she has a lot of geography coursework herself from Penn State, as well as quite a bit of experience with geography topics over her time in the Air Force....
...oh, who am I kidding? I can't stand writing about myself in the third person!
I started in late June, after our trip to West Virginia and Pennsylvania. Within a week of starting, I was asked to move to a different department within the USAF Academy faculty. This department doesn't have a teaching mission of its own, but instead focuses on faculty development, technology integration into the classrooms, and other topics that focus more on the faculty giving cadets the most beneficial learning experiences in the limited time we get with them in the classroom. I still teach geosciences classes, and this fall semester I was teaching many of the same seniors to whom I taught calculus while they were freshmen.
So there you have it. Three years. I will be with USAFA Faculty until summer 2020. The return to active duty was interesting: there were numerous small things that didn't really think about when I accepted this opportunity, such as my returning to a zero leave balance. All these years as a reservist, I've been pretty flexible in planning the dates when I could work vs. when I couldn't. Starting this 3 year tour with zero leave means no traveling for a bit. Also, in a couple of the online systems used to track leave, finances, and medical readiness, some "old" information appeared from the last time I was active duty, including our Melbourne, Florida mailing address, where is where we lived when I was last on active. I thought that was funny.
Before returning to work, I still had a pretty fun-filled first half of the year. My college roommate Megan and her son Aidan visited us in March, and we were able to take a lovely trip to Crested Butte together for some skiing. I was a little embarrassed at how not-as-snowy it was this time around, since the other two times we had vacationed there for Spring Break, the snow was so amazing! I'm also glad the weather cooperated for us in both directions, unlike our crazy 2015 adventure! I had a great time seeing Megan and Aidan again, and yes, I know we owe you guys a trip back on your own turf again soon!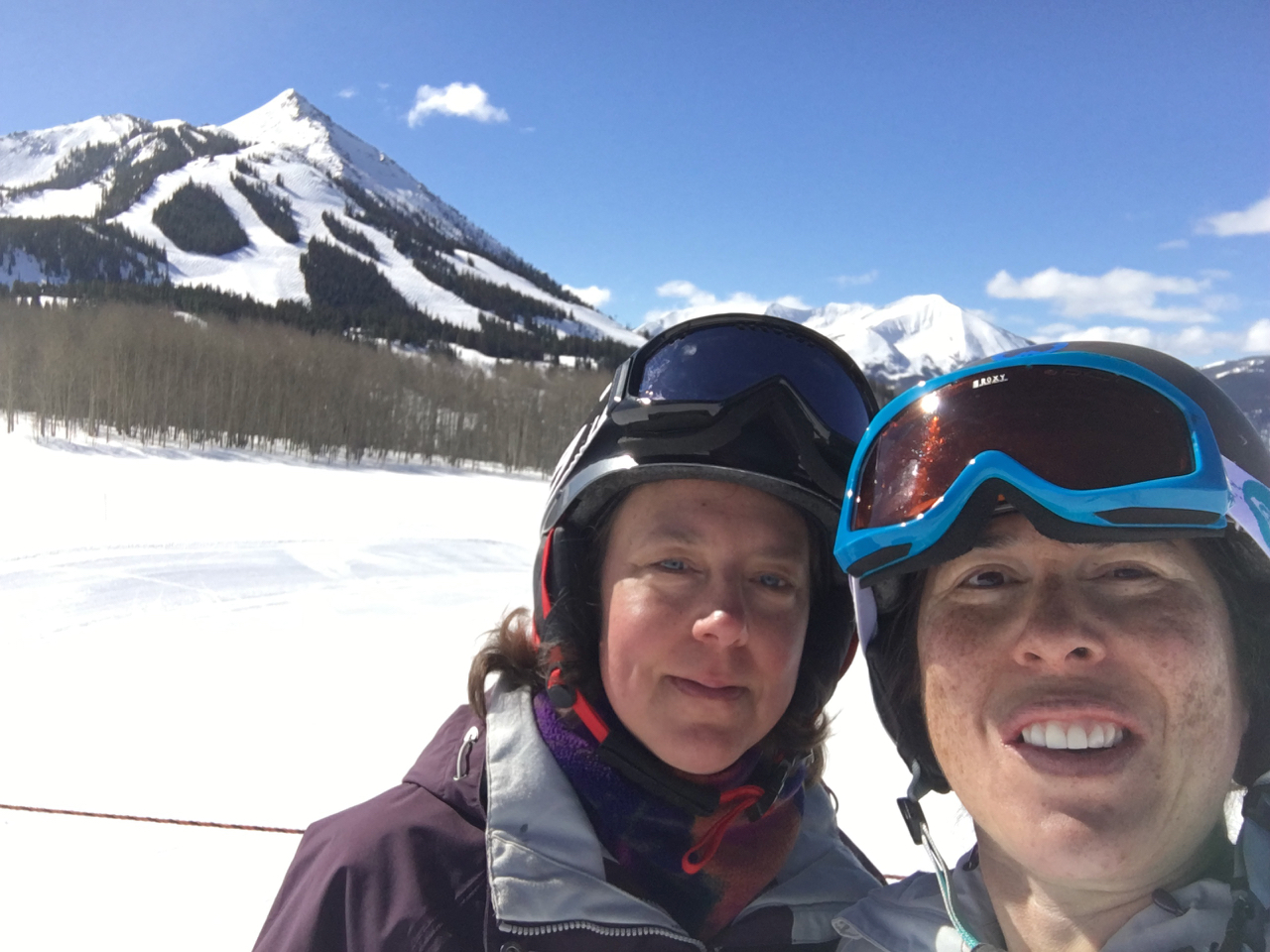 That's the "Crested Butte" behind us. Why do I always look so lousy in selfies?
Also, in early June I took a trip to Melbourne, Florida to attend my dear friend Suzy's Air Force retirement. I couldn't take any photos during the retirement ceremony itself, but we had some fun times before and after the event. I was so thrilled to be able to travel to a friend's retirement; it was my first time being able to do so. It didn't hurt it was beachside in Florida, either.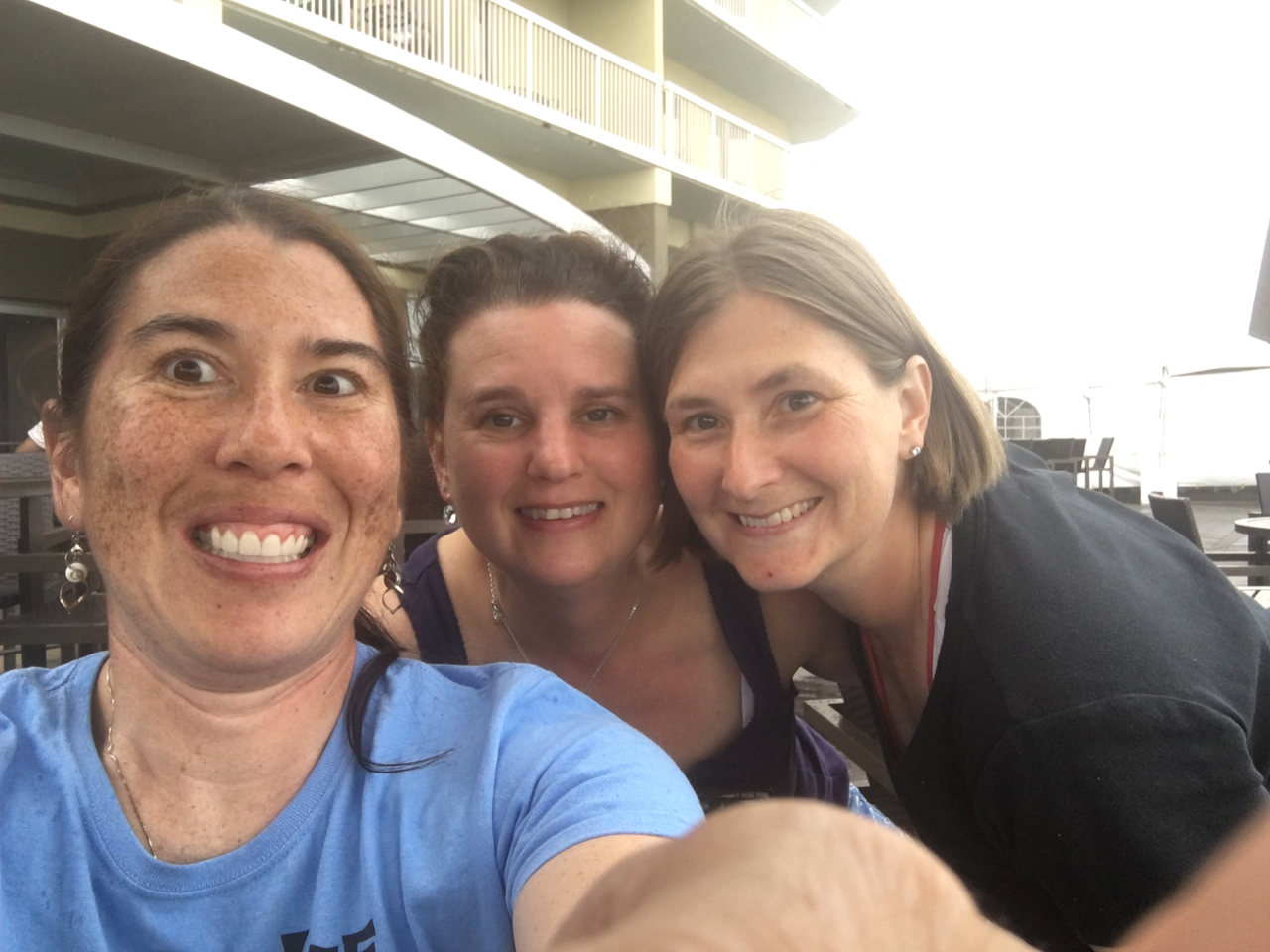 Beach deck selfie with Kasi and Suzy. Again, I look ridiculous, but my friends look lovely!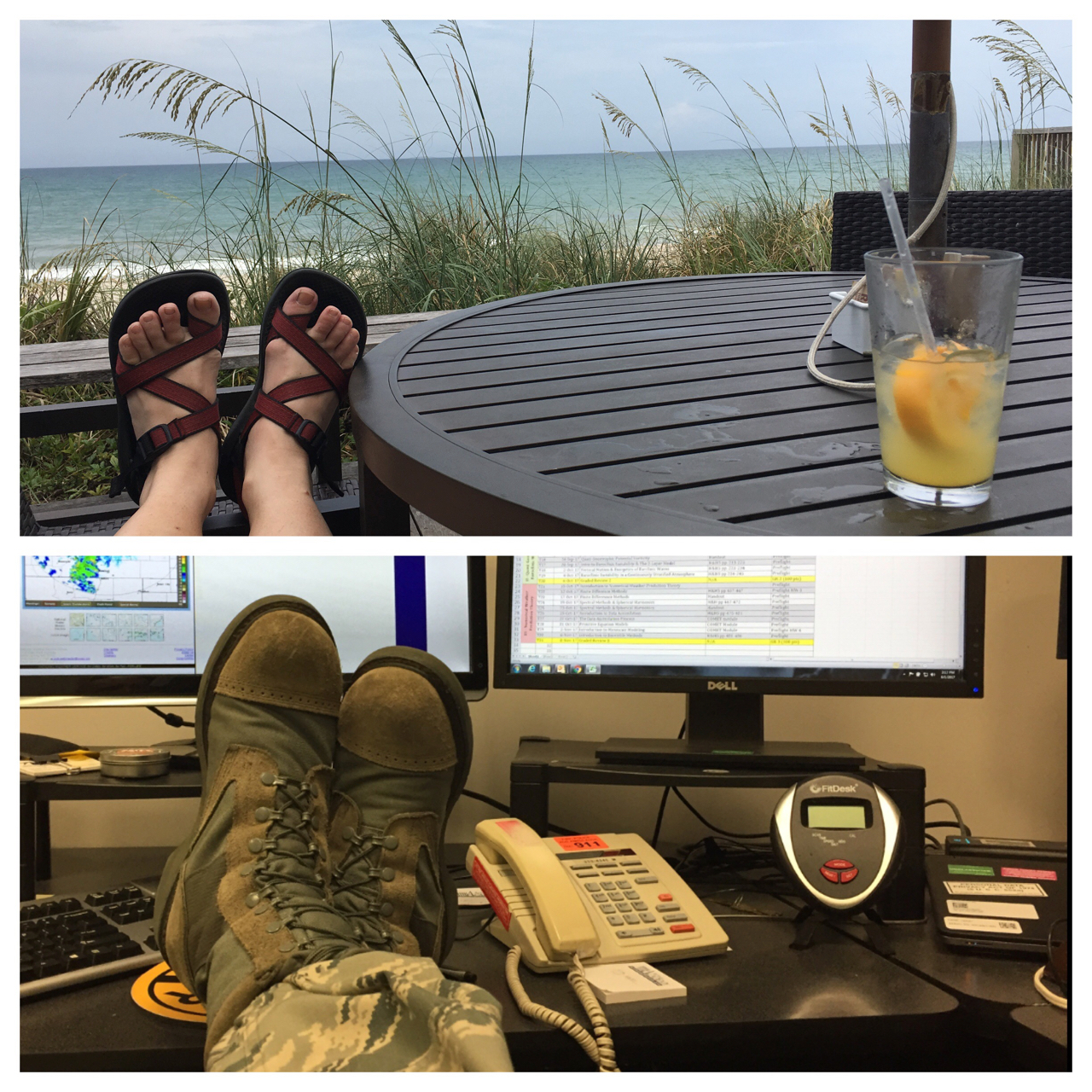 I texted Dave this picture of my feet at the top, and he texted the office photo of his feet as a response. We had fun with this one!
I also want to take a moment to talk about how much I'm enjoying the new friends I've made in our new neighborhood. As I said above, we are all "the new neighbors" with each other, with a constant flow of moving trucks (not to mention landscape trucks and blinds salesman trucks) every 3-4 weeks as the new construction was finishing up. As much as I miss how freely I can travel, there are always opportunities to hang out with our new friends: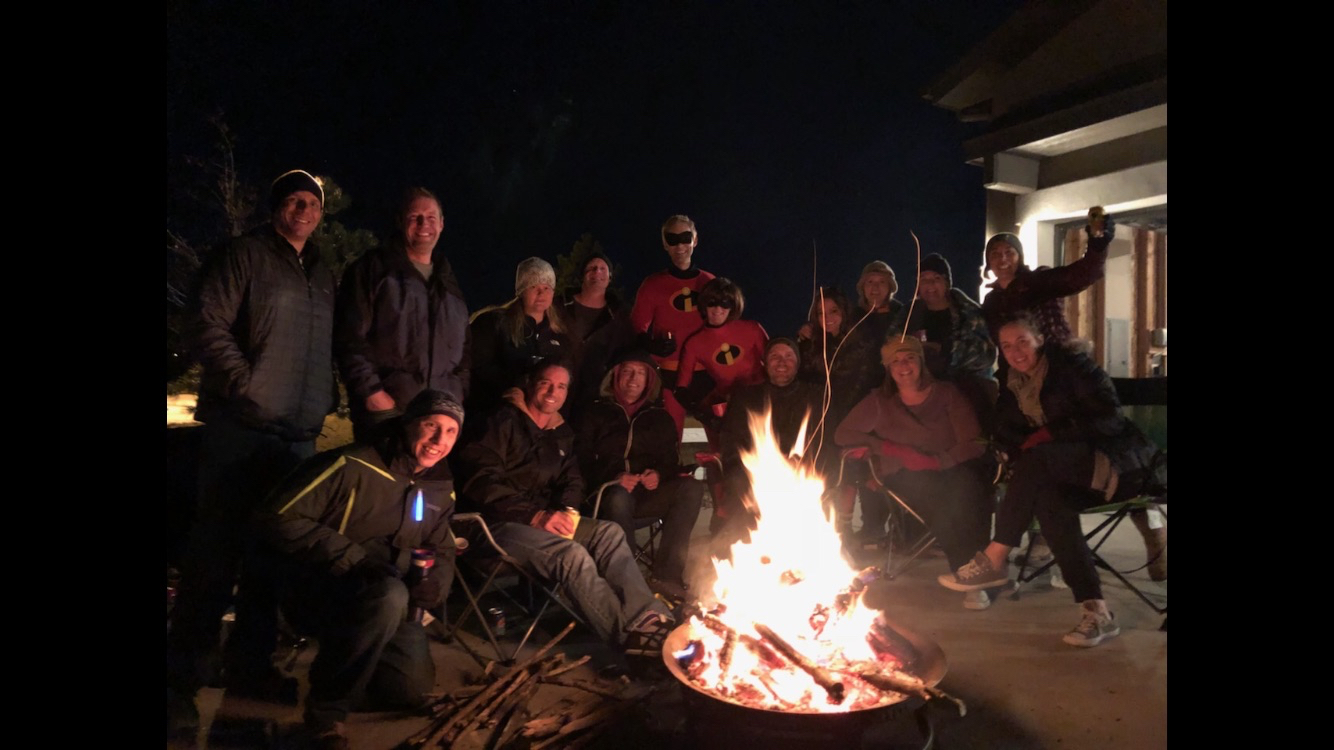 A pre-Halloween bonfire party. Our new neighbors certainly don't suck!
---
Jacob:
Jacob is now 15 years old, in 9th grade, and is between 5'10" and 5'11". Perhaps by the time you're reading this he will be taller, who knows? He grew like a weed this past year. In August, he got braces.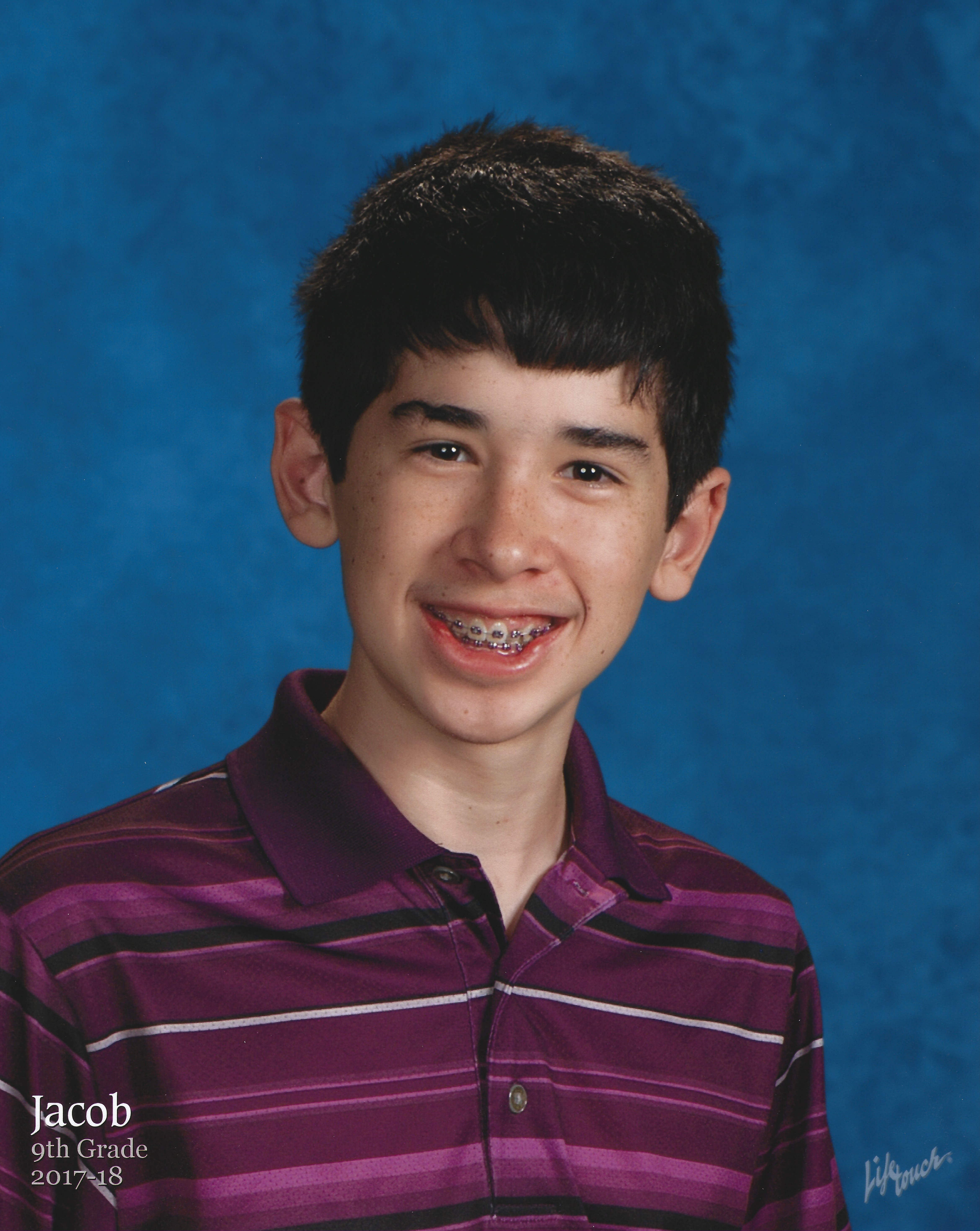 School portrait. Yes, he's in the same shirt as last year, but I think he looks great in purple. It's one of his school colors so he has a drawer full of purple. In the photos below you'll see how often he's in purple. Which reminds me of Samuel L. Jackson.
Jacob had an incredibly busy year, and we are so proud of everything he was able to achieve!
Earlier this winter/spring, while still with the middle school, Jacob crushed it with his math and science clubs! His school's teams made it to the state levels for both the Science Olympiad and MathCounts competitions. The middle school ranked 17th in the state (top half!) at Science Olympiad which was the best performance the school had seen in many years...perhaps ever! As for the state MathCounts competitions, we have called it a "learning experience", since it was the school's first trip to the state competition and it was eye-opening to see the amazing students from some of the math/science schools in the Denver area.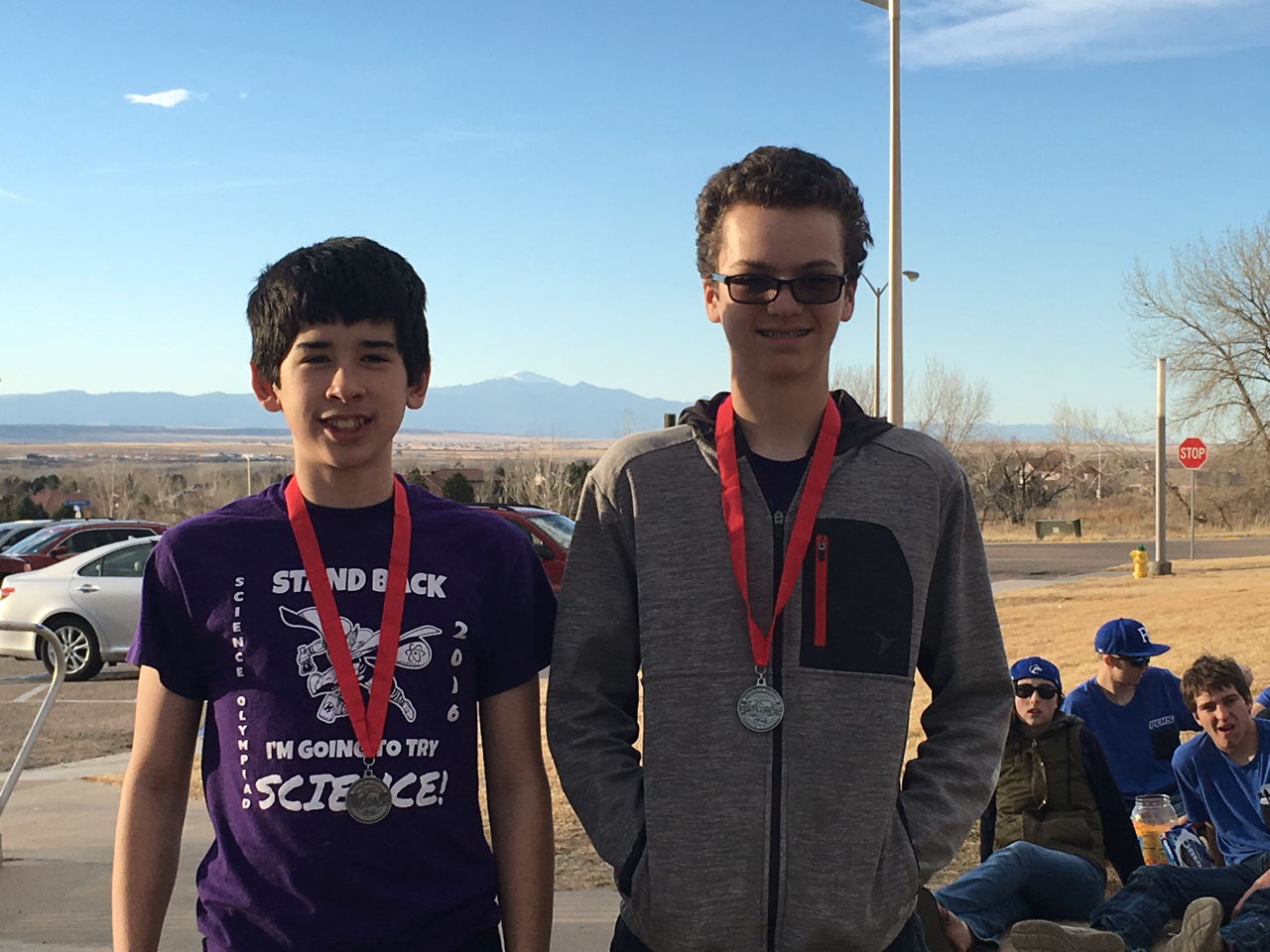 Jacob and his partner having earned medals in the "Meteorology" category at Southern Colorado Science Olympiad. Darned tootin' they ought to have placed in this event, right? They took 2nd place. At States they took 5th place.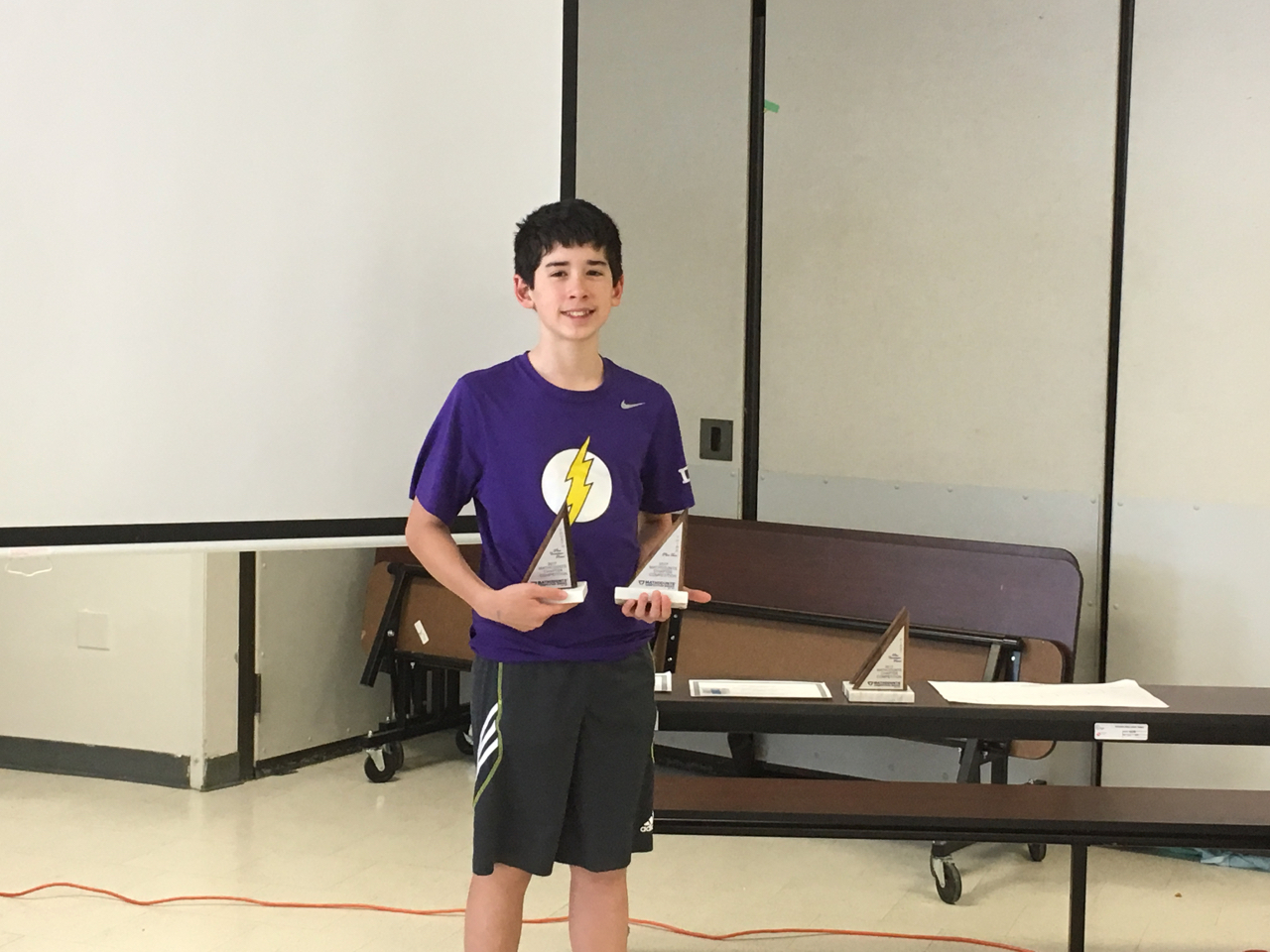 Jacob did amazingly at the Pikes Peak regional MathCounts competition, having finished in 4th place in the individual competition and 3rd place in the team competition.
Over the summer, Jacob had the most amazing adventure heading to the town of Bissett, Manitoba for a week of canoeing at the Boy Scout Northern Tier High Adventure base.
"Where the heck is Bissett?"
That's a GREAT question! I can send you to this map, or you can trust me when I say it's a 3 hour drive northeast of Winnipeg, the capital of Manitoba.
Jacob seemed to have had a great time, and in every photo that the leaders were sending us (1-2 photos per day except when they went "dark" while canoeing) had Jacob with the largest smiles. The group had to take a sailplane into and out of the We sent Jacob with a waterproof camera and he took some lovely photos: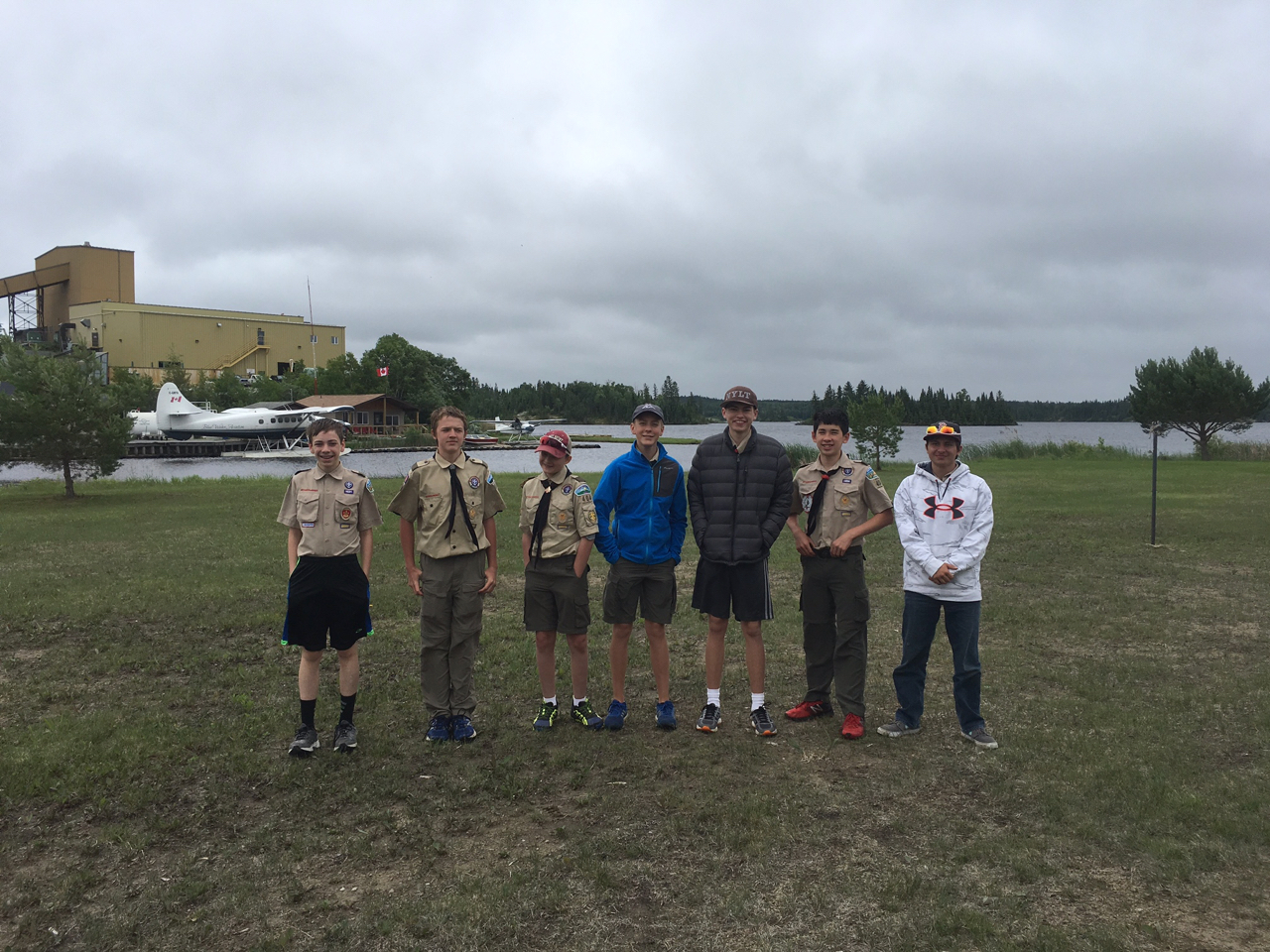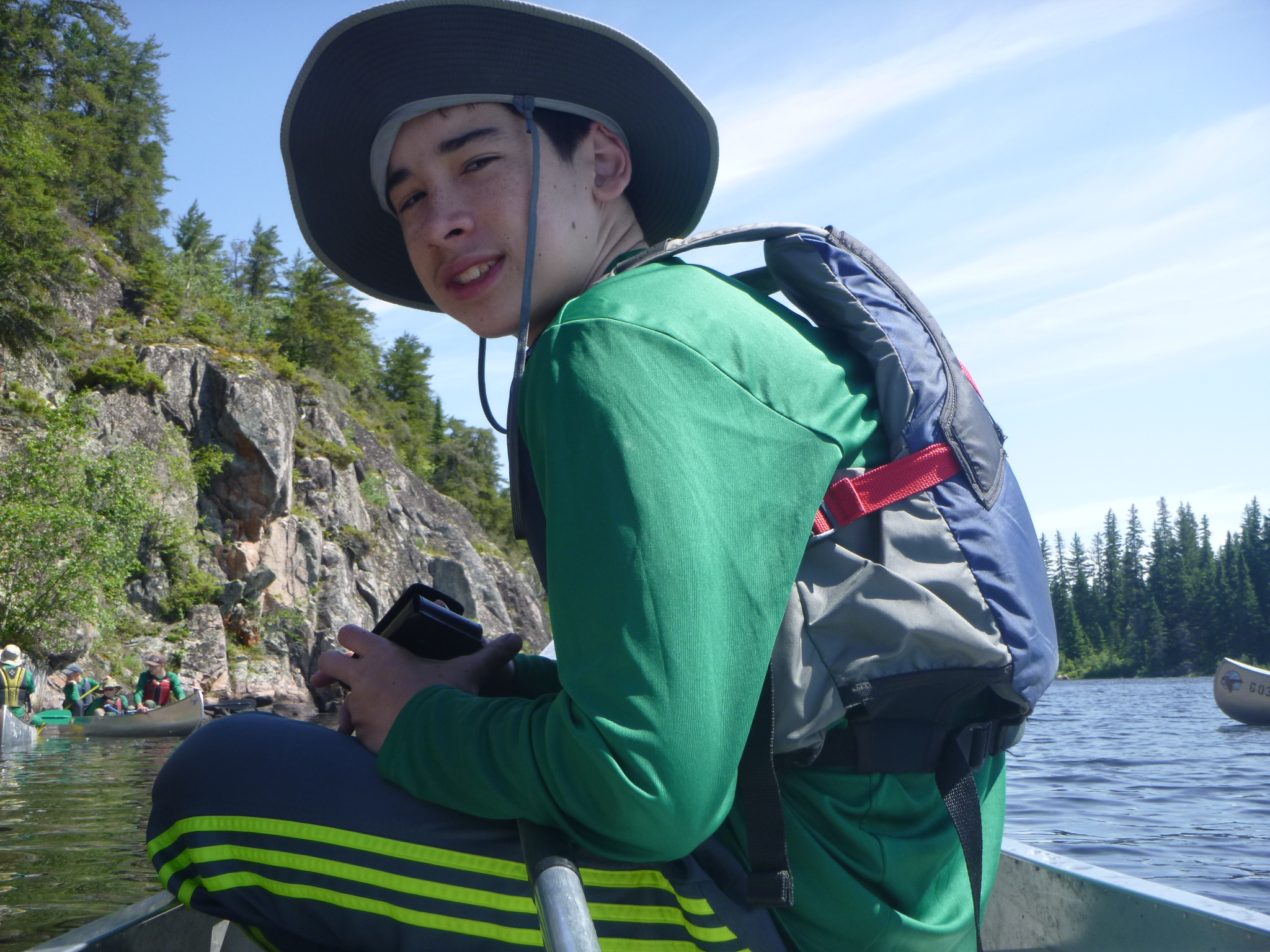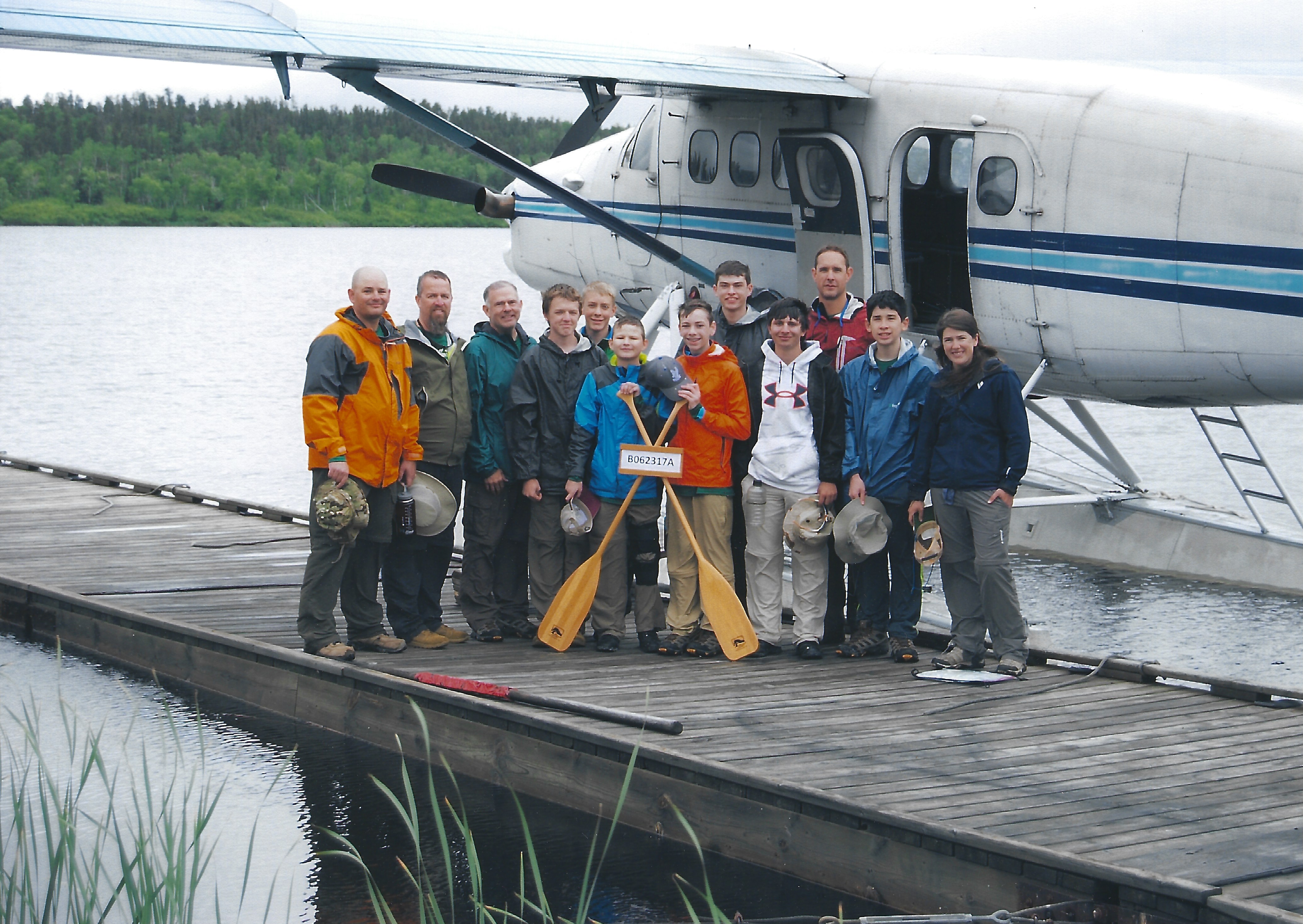 Jacob told us the adventure was tough, but so much fun! He will recommend it to any Scout looking for a personal challenge. There is this story about him taking a step into a boggy area and sinking up to his chest in mud.
Right after Jacob returned, he got to spend a day at Denver Comic Con. He was so happy he had at least one day to see the event, and we had the pleasure of sitting in on panels with Wallace Shawn (The Princess Bride) and Jon Heder (Napoleon Dynamite).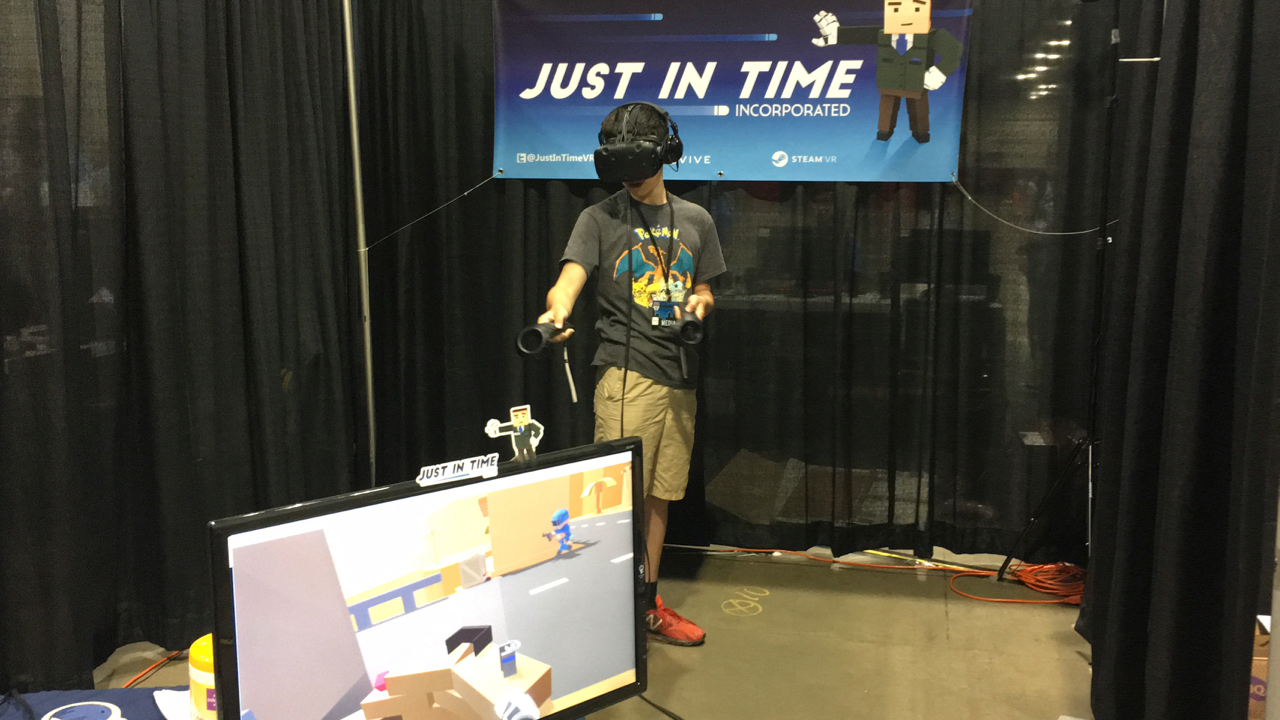 Here's Jacob trying out a virtual reality game at Denver Comic Con.
About a week after returning from Canada, Jacob headed to Scout camp in the Wet Mountains (about 90 minutes south of here) with the rest of his troop. While the Northern Tier trip is expressly for older Scouts (ages 14+), this year the boys' troop had 12 new Scouts join up, mostly crossing over from Cub Scouts...thus making the annual week-long camp a busy experience for our two, especially Jacob who was one of the oldest Scouts on the trip and needed to be a good mentor to the younger Scouts.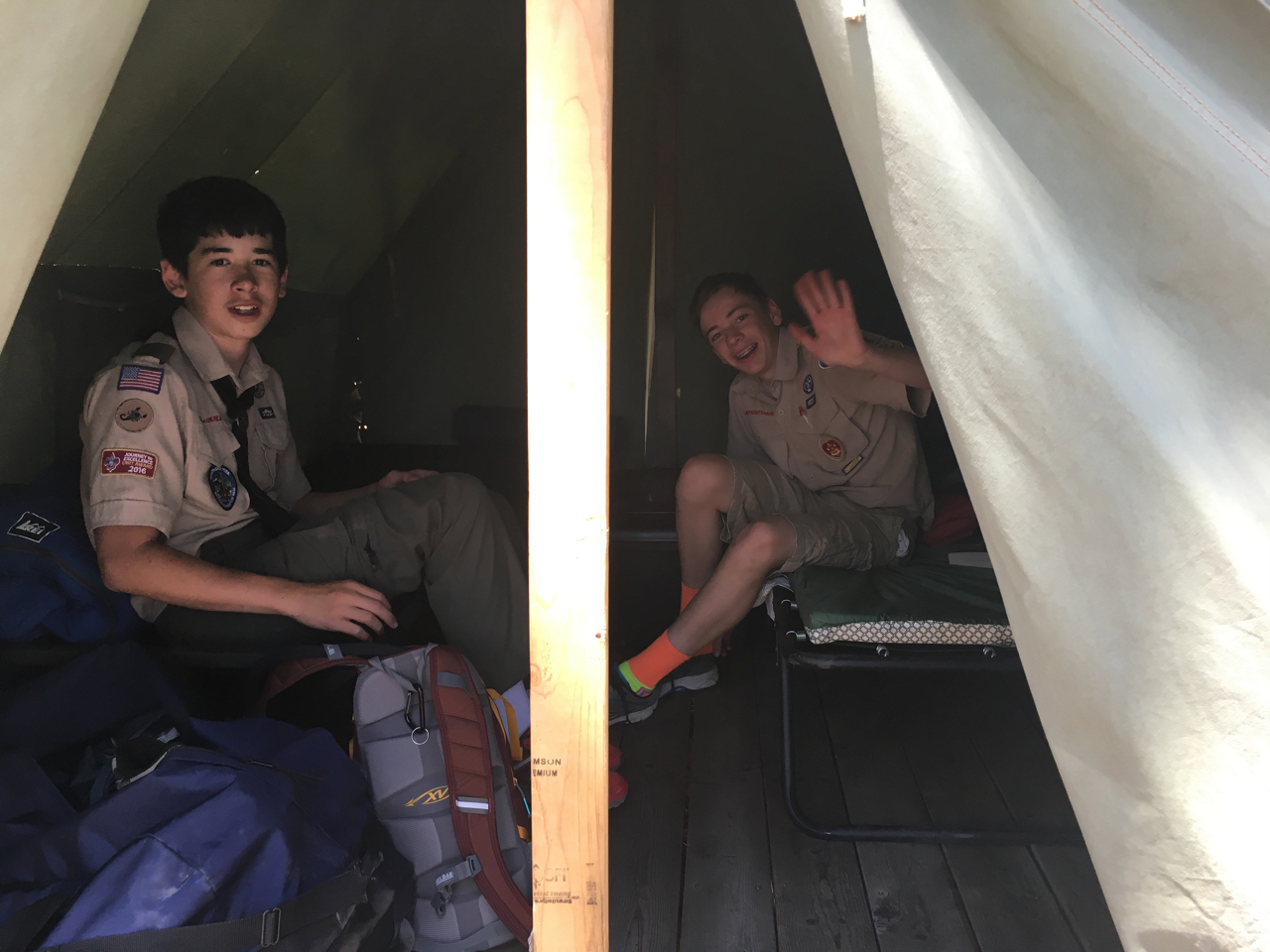 Jacob and his friend (one of the other older Scouts on the trip) at the beginning of the week. Dave and I helped to transport the troop to and from camp, so I was able to get this photo just before we headed out.
Jacob is still working hard on his music. This year he's continuing cello in the high school orchestra. At first his plans were to only participate for one year, fulfilling his mandatory year of fine art class for the high school diploma, but he recently admitted that he enjoys the time he spends with his fellow cellists and is seriously considering continuing on. I'll be thrilled if he does, but I understand if his schedule doesn't allow it -- he's headed towards a pretty complicated schedule: every science class the school offers is appealing to him, he may have to trim other things.
As for piano, the teacher Jacob had since 5th grade retired this summer, so we looked for another teacher. We found a fantastic new teacher who also happens to be a cellist. The catch is that she moved to the other side of the city within a few weeks of Jacob starting, so we have a pretty late lesson on Thursday nights so work around Jacob's after-school activities, our dinner, and the traffic between here and the southern part of Colorado Springs. She's a perfect teacher for Jacob, pushing him much harder with classics by Bach, Beethoven, and Hayden. Hearing him practice, as always, is such a pleasure.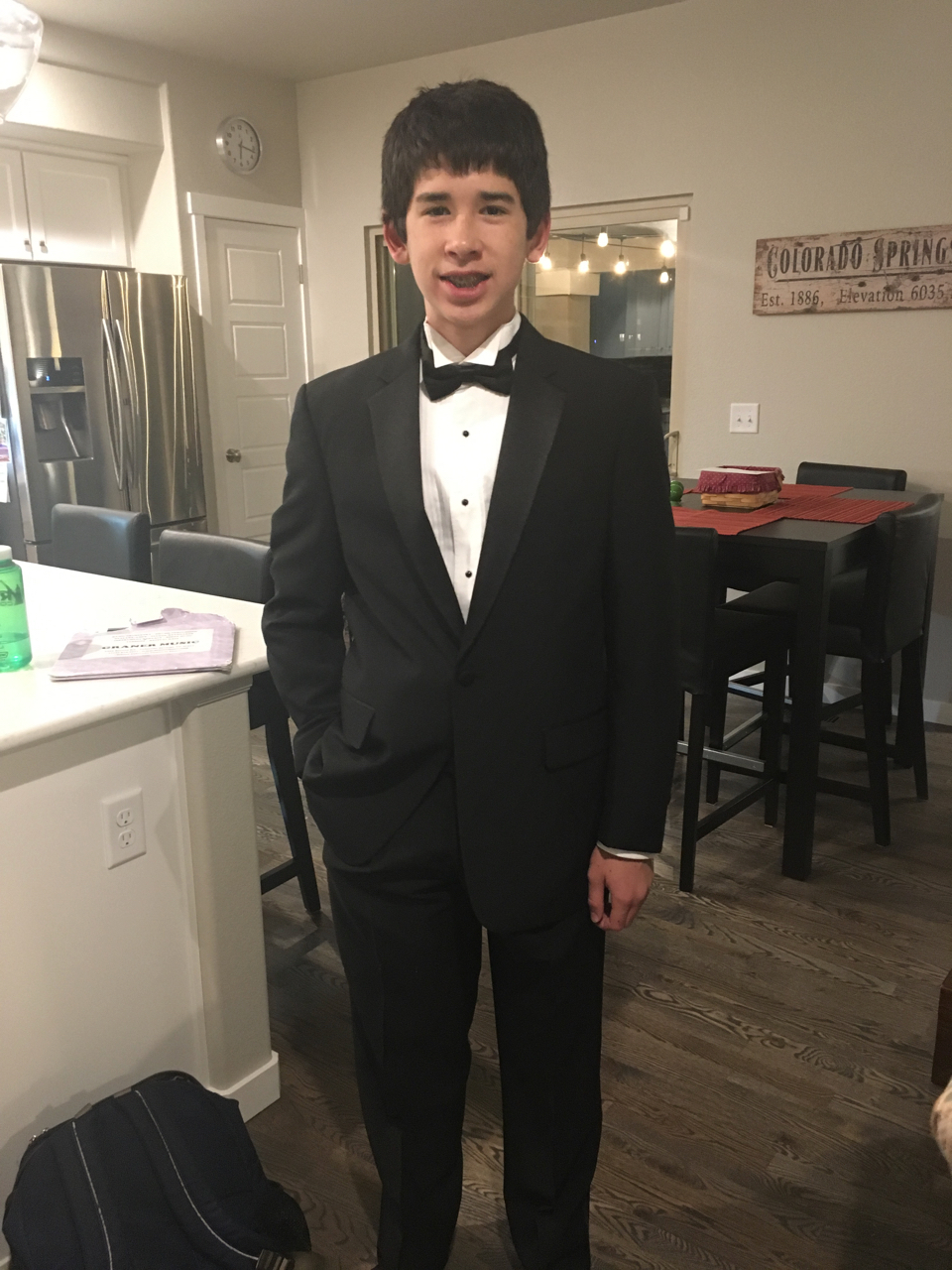 Before his fall orchestra concert, November 8th. Jacob cleans up pretty nicely, doesn't he?
Finally, in August, Jacob completed his two year Lutheran confirmation class. He finished up with a faith statement that was very beautiful to hear.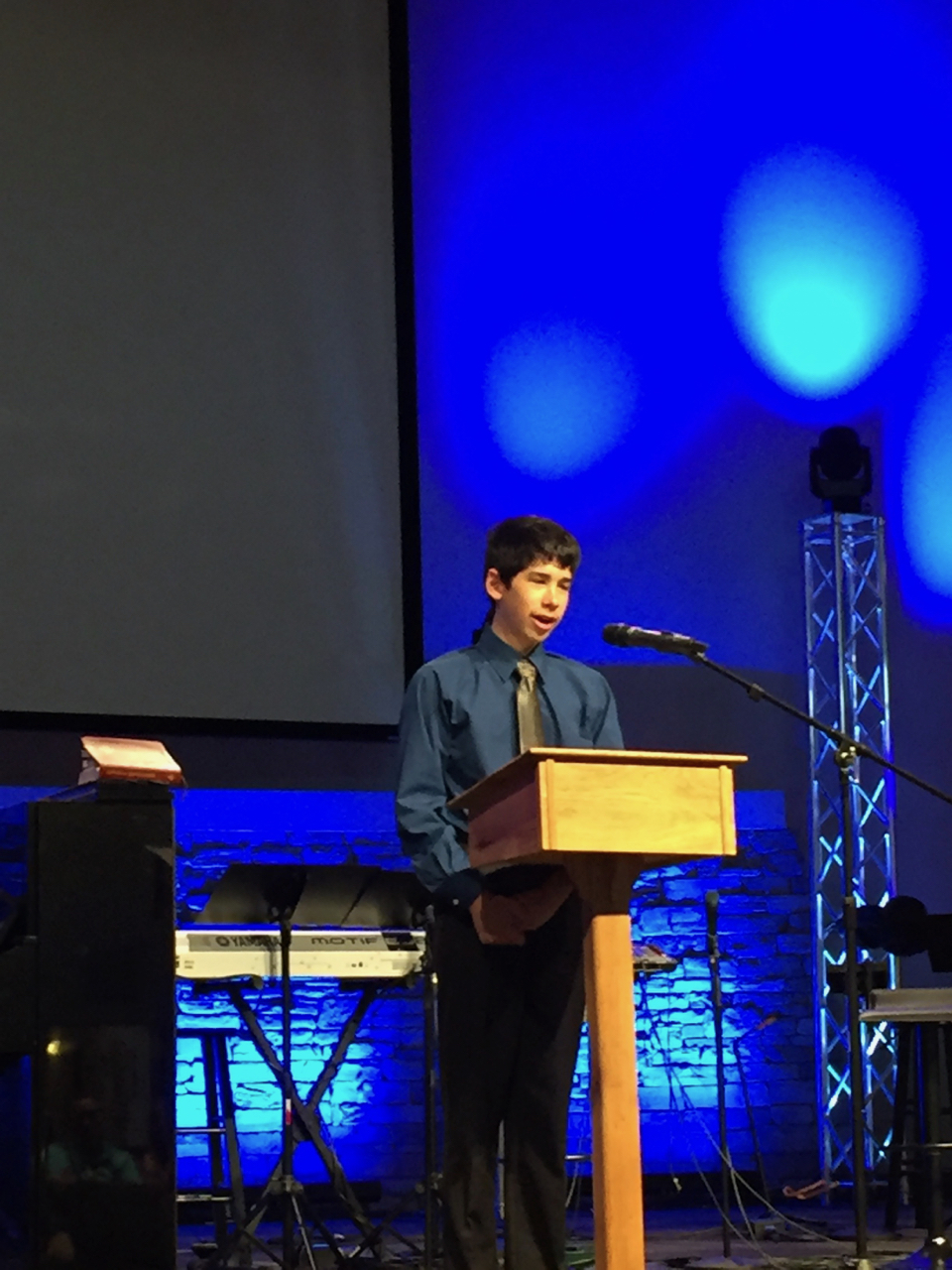 Jacob gives his faith statement on August 26th, Family of Christ Lutheran Church, Colorado Springs.
What does 2018 hold for Jacob? The big thing will be his next Scout adventure: To Florida Sea Base and Big Munson Island!
---
Timothy:
Timmy is 12 years old (almost 13), and is now in 7th grade. As of about August, he is officially taller than his mother.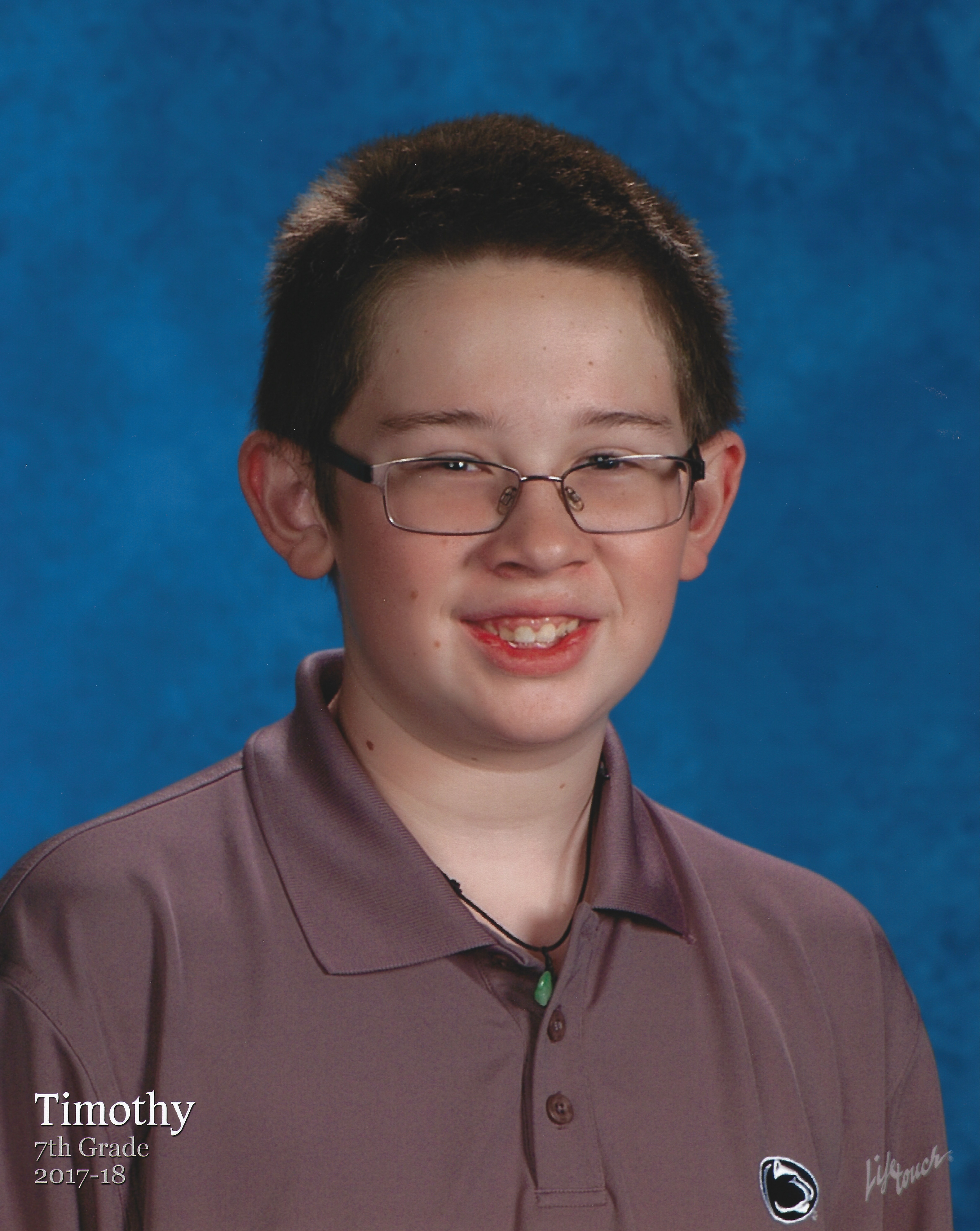 He keeps himself busy with clubs at school. Timmy is still with the math club at school, and last year he also was active in the school's Rubik's Cube club. The school has a very good club, and Timmy has been learning quite a bit from his classmates. His personal record is currently around 1 minute to solve.
In Boy Scouts, Timmy is now a First Class scout, well on his way to earning Star Scout by the first part of 2018. He was a machine with the merit badges this year, having earned seven merit badges over the summer, between backpacking, summer camp, and numerous badge classes.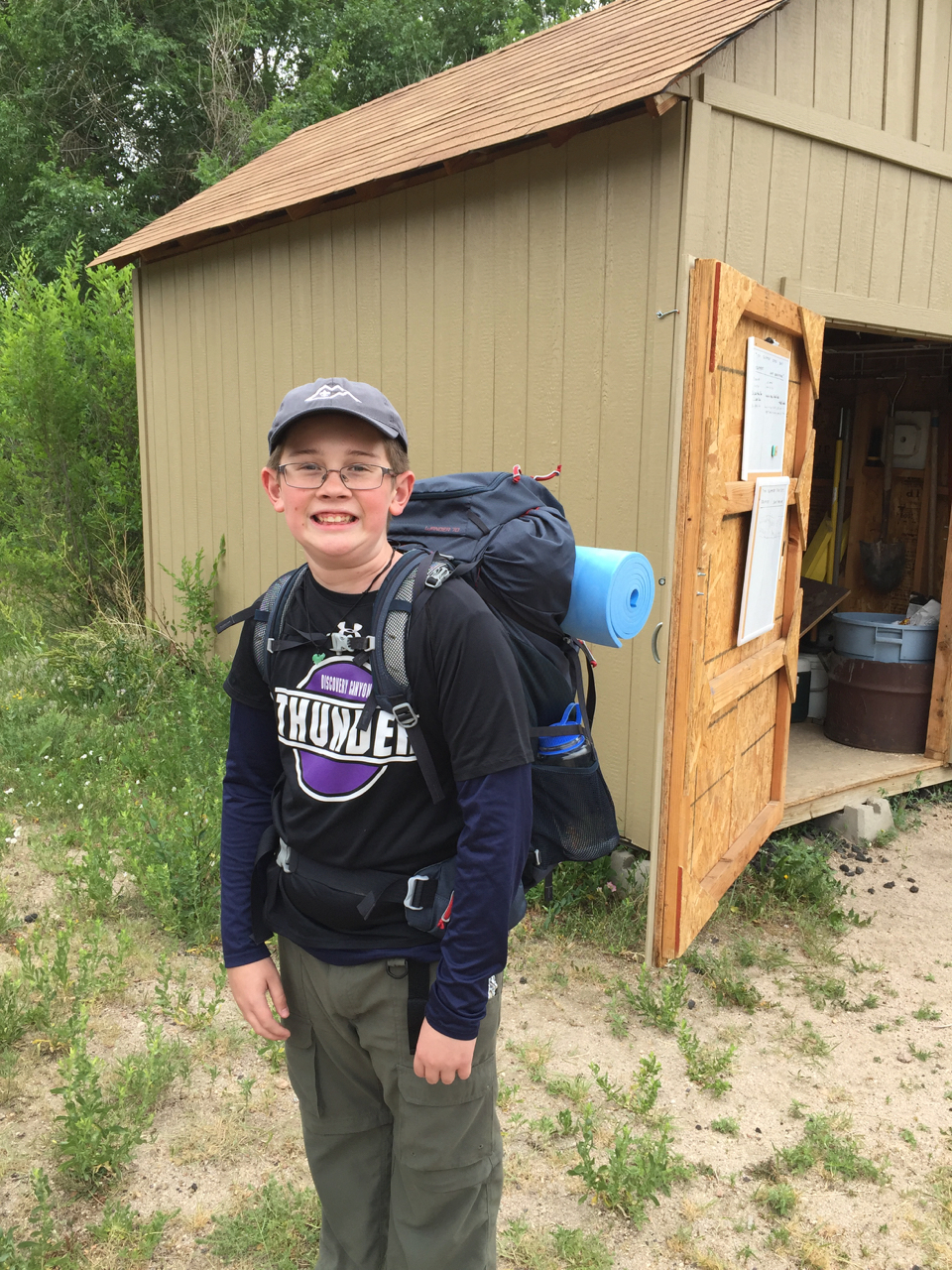 Timmy before a summer backpacking weekend trip. He hiked about 12 1/2 miles over the course of the weekend. For him, that's quite impressive!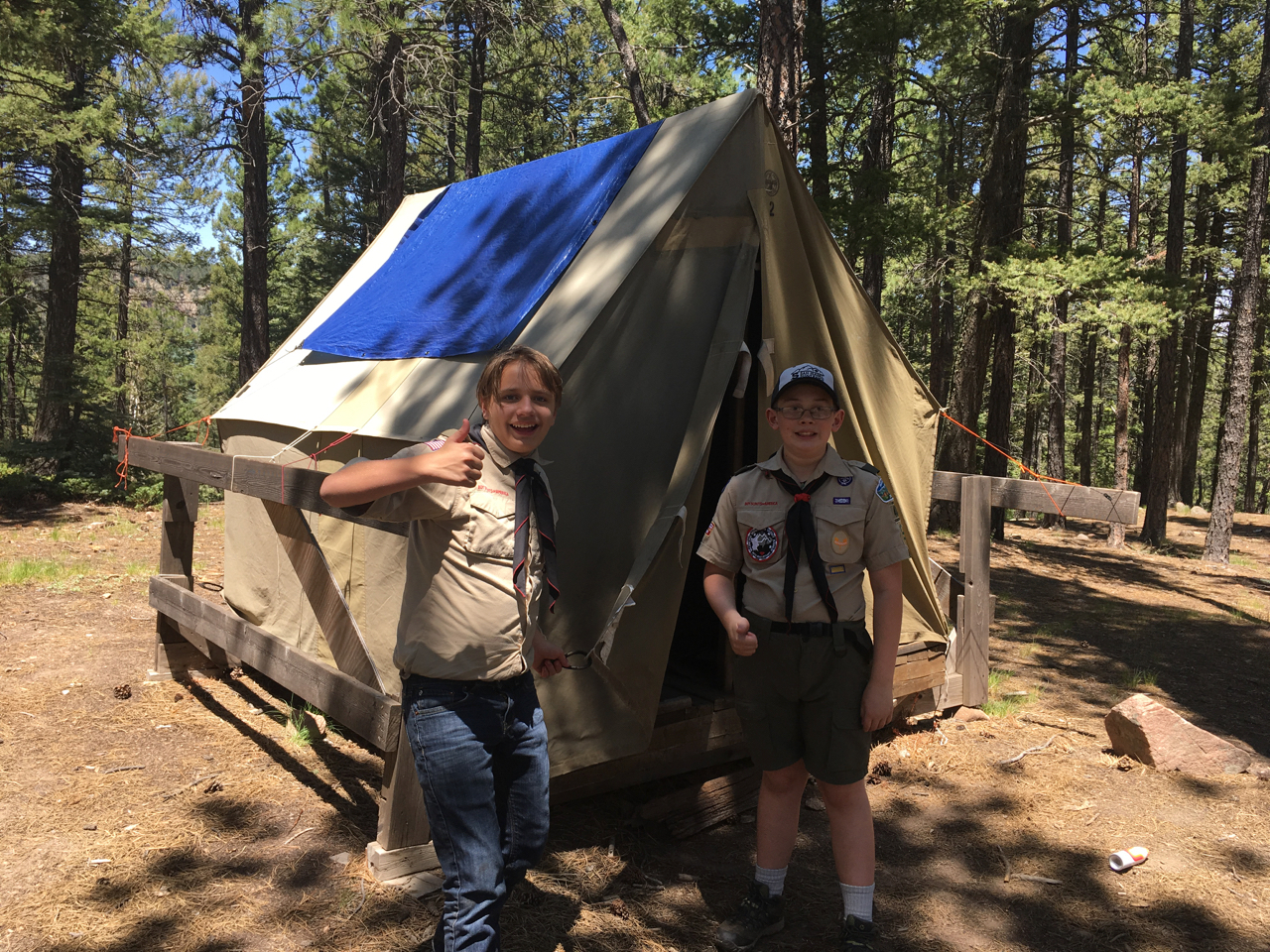 Timmy and his friend at San Isabel Scout Ranch, near Rye, Colorado.
Timmy's big success story this year is his transition from piano to cello. At the end of 2016, Timmy asked mid-year if he could join the school orchestra. He had been taking piano lessons off and on since 1st grade, so he made a case that really the only challenge he would have is the mechanics of playing cello: he could read bass clef, and understands tempo, dynamics, and rhythms pretty well already. The director allowed Timmy to sign up for school orchestra, rearranged his schedule to allow for it, and Timmy asked if he could start private cello lessons instead of piano. So he quit piano and started with a cello teacher who lives in Monument.
It's been amazing this past year! Timmy thoroughly enjoys playing cello: he practices without Mom or Dad nagging him (which was the case with piano and guitar over the years), and his private teacher is this amazing blend of challenge and compassion, which is perfect.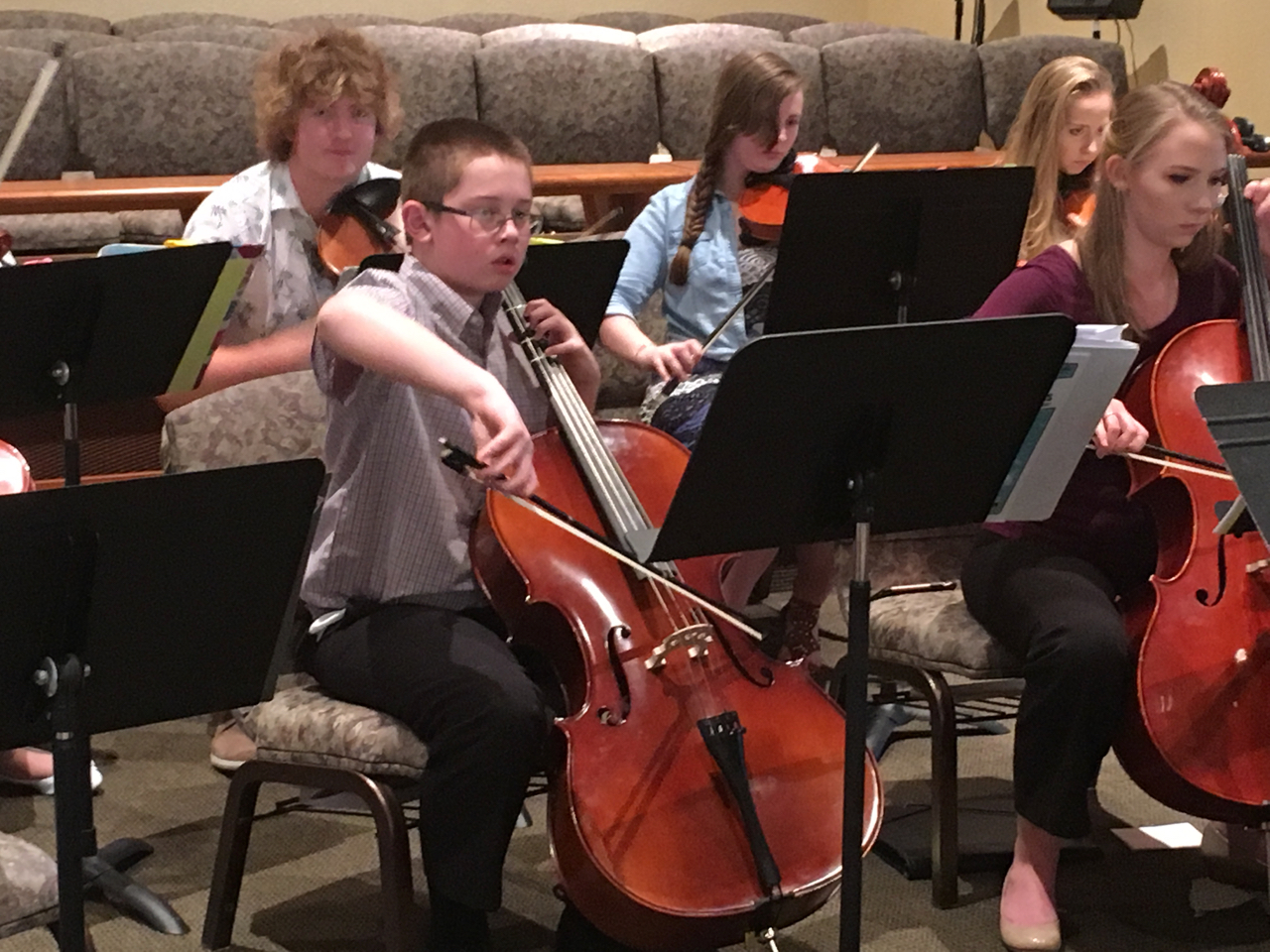 Timmy performing at his spring recital. His teacher does this clever program -- founded by a Denver-area orchestra director -- called "String-a-Thon" where all her students work through a book of ten pieces. She teaches - violin, viola, and cello. They get progressively more difficult -- for the recital, they play all the pieces in order, the more novice students drop out as they reach the more difficult pieces. Timmy was able play with the group on the first seven of the ten pieces after only 5 months of instruction. I'm so proud of him!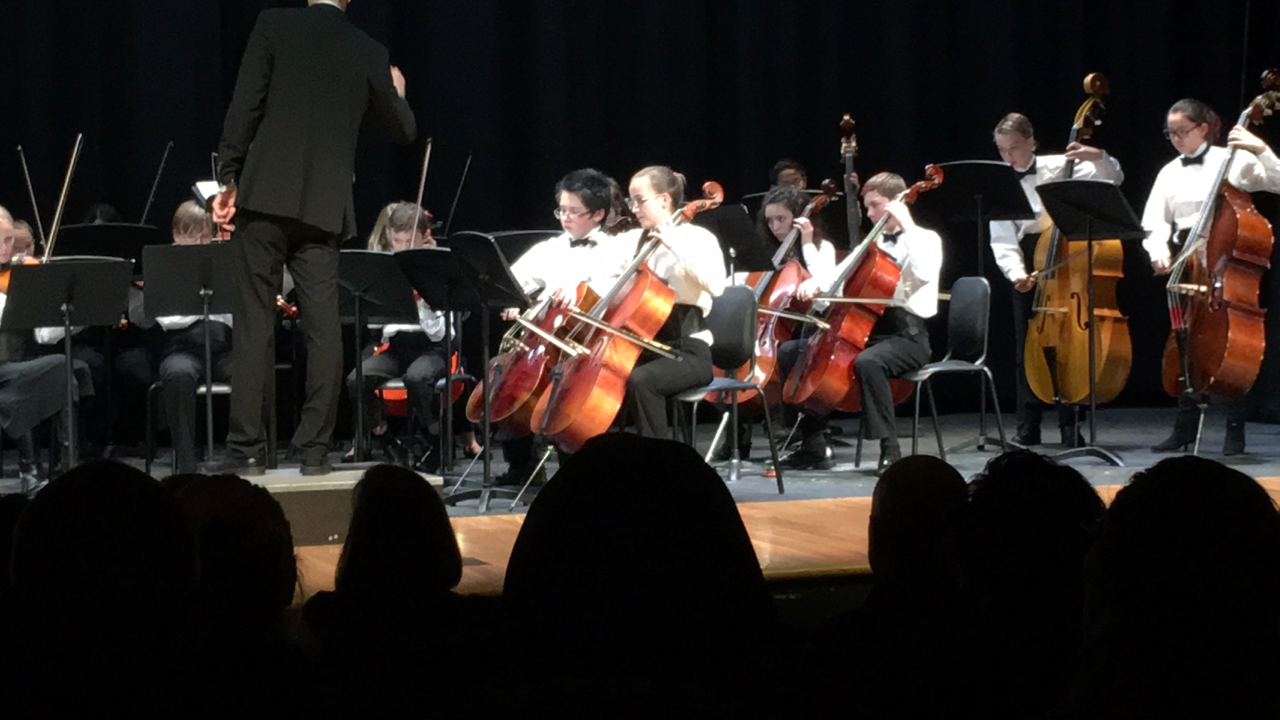 Timmy's fall orchestra concert, November 7th. He's just left of the center of the photo with the blue-black hair (which I'll address in a moment). By the time he reached 7th grade orchestra, he bubbled up to the first stand. Wow!
Timmy's most recent big news in the world of cello is that he auditioned for, and made it into, the Pikes Peak Honor Orchestra, which is like the "Regional" orchestra that I experienced, and "All County" band that Dave experienced. He just learned he made it into the orchestra before the Thanksgiving break, and this past week received all the music for it. He's already practicing quite a bit. He will have about 20 hours worth of practices throughout January, with a concert in early February.
Finally, I figured I'd use Timmy's section to talk about our Denver Comic Con experience. This year the event was over July 4th weekend, and Dave really wanted to go as Duff Man from The Simpsons. So the rest of the family decided to match up to him. I made myself a green Marge Simpson dress, and we convinced Timmy to be a version of Milhouse: Fall Out Boy from the series' Radioactive Man comic book.
Since Timmy had glasses, I figured this version of Milhouse would have been fun and easy for him to portray, but Timmy was rather non-plussed at the idea. He preferred a version of Bart, but that would be very difficult. The entire Simpsons family is actually pretty difficult...because of the eyes. But Milhouse was pretty manageable, thanks to the glasses.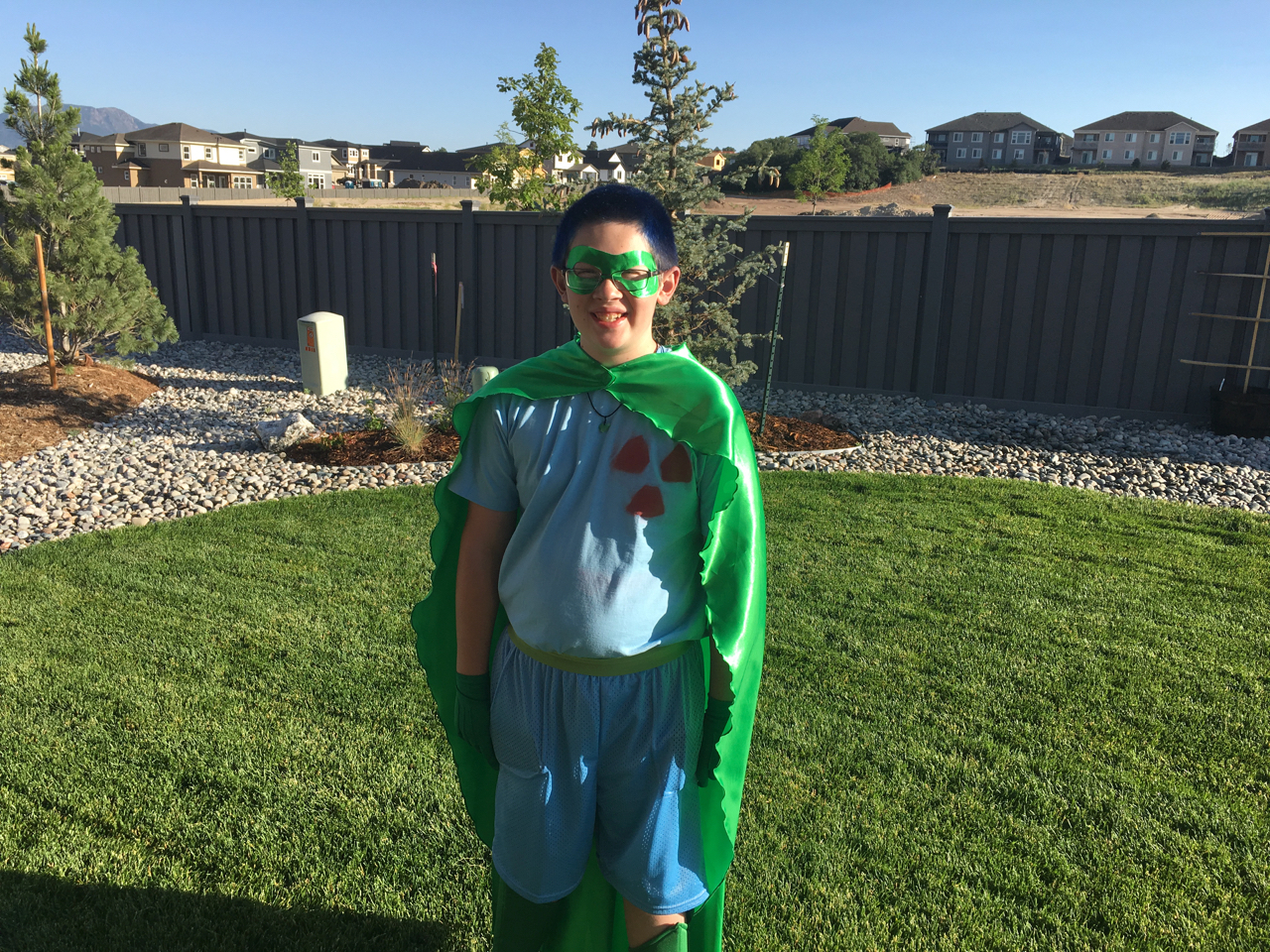 Timmy as Fall Out Boy. Not the most elegant cosplay, but he thought it was fun. His hair is dyed blue, but because he couldn't handle the bleaching very well (it hurt his scalp) you had to look very closely to see the blue.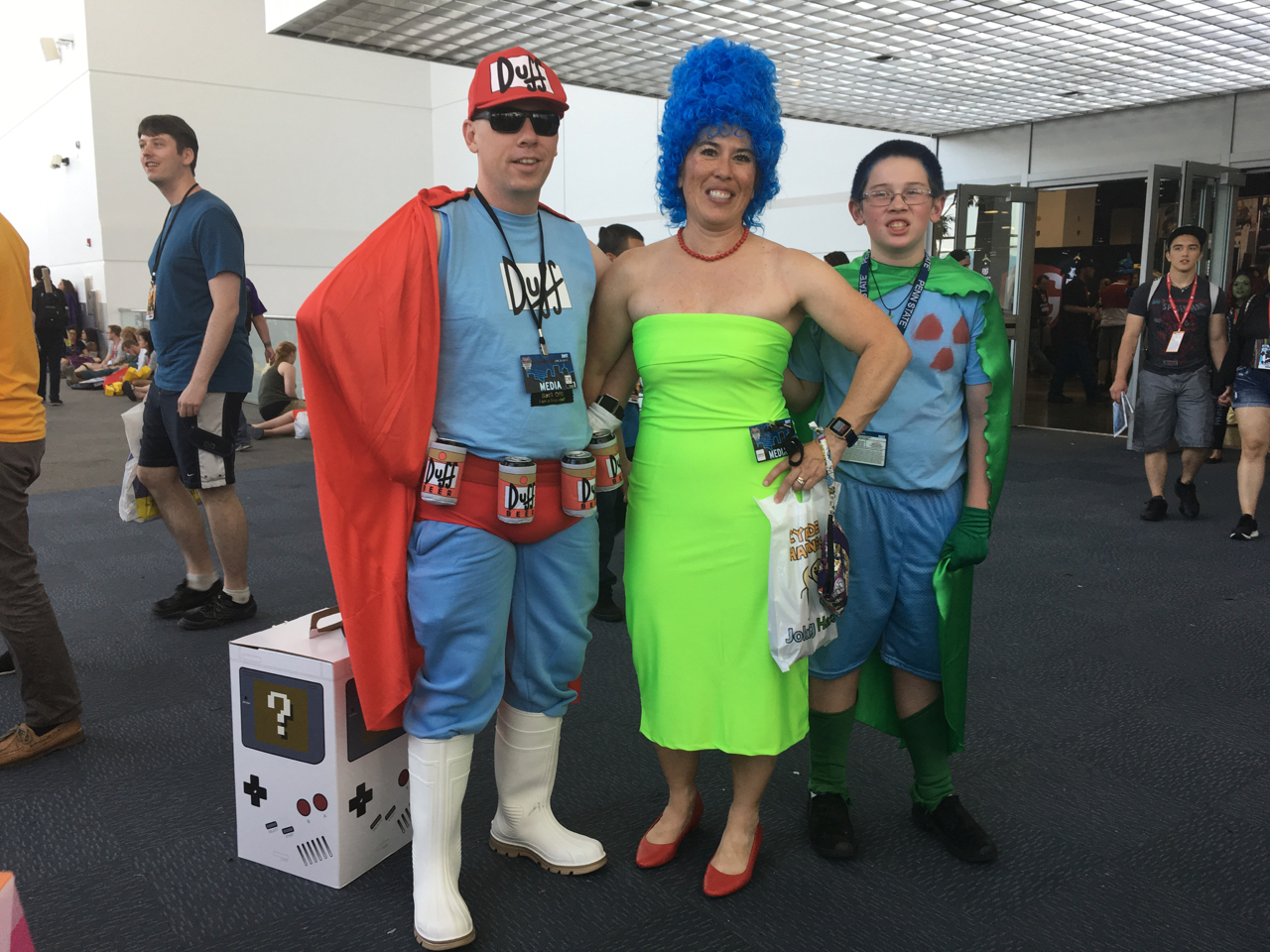 Once again, I was covering Denver Comic Con for the GeekMom/GeekDad blogs, so we had press privileges throughout the event. This meant front-of-the-room seating for panels, and early entry into the convention center.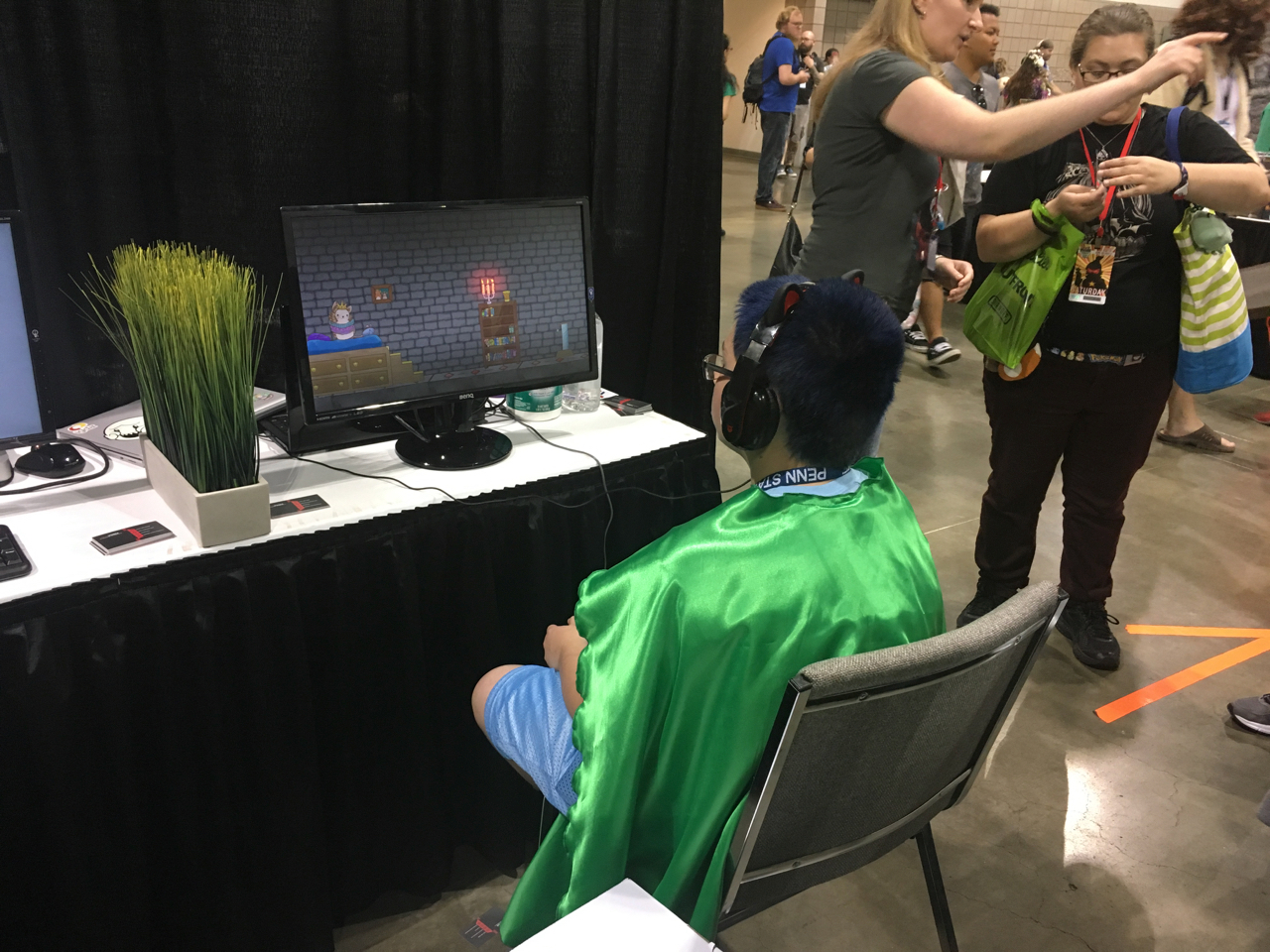 Timmy had the chance to do some video game beta testing, one of the perks of having a press pass. Here he's trying out a game called "A Purrtato Tail", which reminded me of King's Quest, except with kittens. Timmy enjoyed it and was able to complete the entire beta -- just a handful of scenarios -- successfully.
---
Ranger

Our friend Sally took portraits of our family in October, and she had a great time photographing Ranger for us.
This year was one of the most uneventful for Ranger. Trust me, this is a good thing. No slicing-open of paws, no garbage gut, the hypothyroidism is under control, no poop trails across the bedroom carpet. His health seems to be in decent order now, and he is truly enjoying a spoiled-rotten life as a Vollmer dog.
The move across town in April was Ranger's first with the family. It might be his only move, a far departure from Howie who had six homes with us. He took it quite well. Our current yard isn't fenced yet, and we are grateful that Ranger isn't the kind of dog that runs away when given the opportunity. He knows his yard and sticks to it pretty well. We have enjoyed taking walks around the new neighborhood as streets are getting paved and houses are getting built.
Ranger is quite popular among the kids on the street. Our neighbors with kids have elementary- and middle school-aged kids (I think Jacob is the second oldest kid living at home at our end of the street), and when Ranger comes outside, the kids come flocking to pet him and say "Hello". It's cute as can be. Our next door neighbor has adopted Ranger as their family dog too, hoping the kids won't ask for their own dog anytime soon.
At the first part of the year, it was incredibly warm in our part of Colorado, and since I (Patricia) wasn't working, I took advantage of as many trips into the mountains with Ranger as I could. I don't do anything terribly risky, in case one of us gets injured. I stick to locations that others might frequent. We visited several new hiking spots, such as Ute Valley Park, Red Rocks Canyon Open Space, and Pulpit Rock. I had a lot of fun trying to get Ranger into selfies. It isn't as easy as it sounds...at all!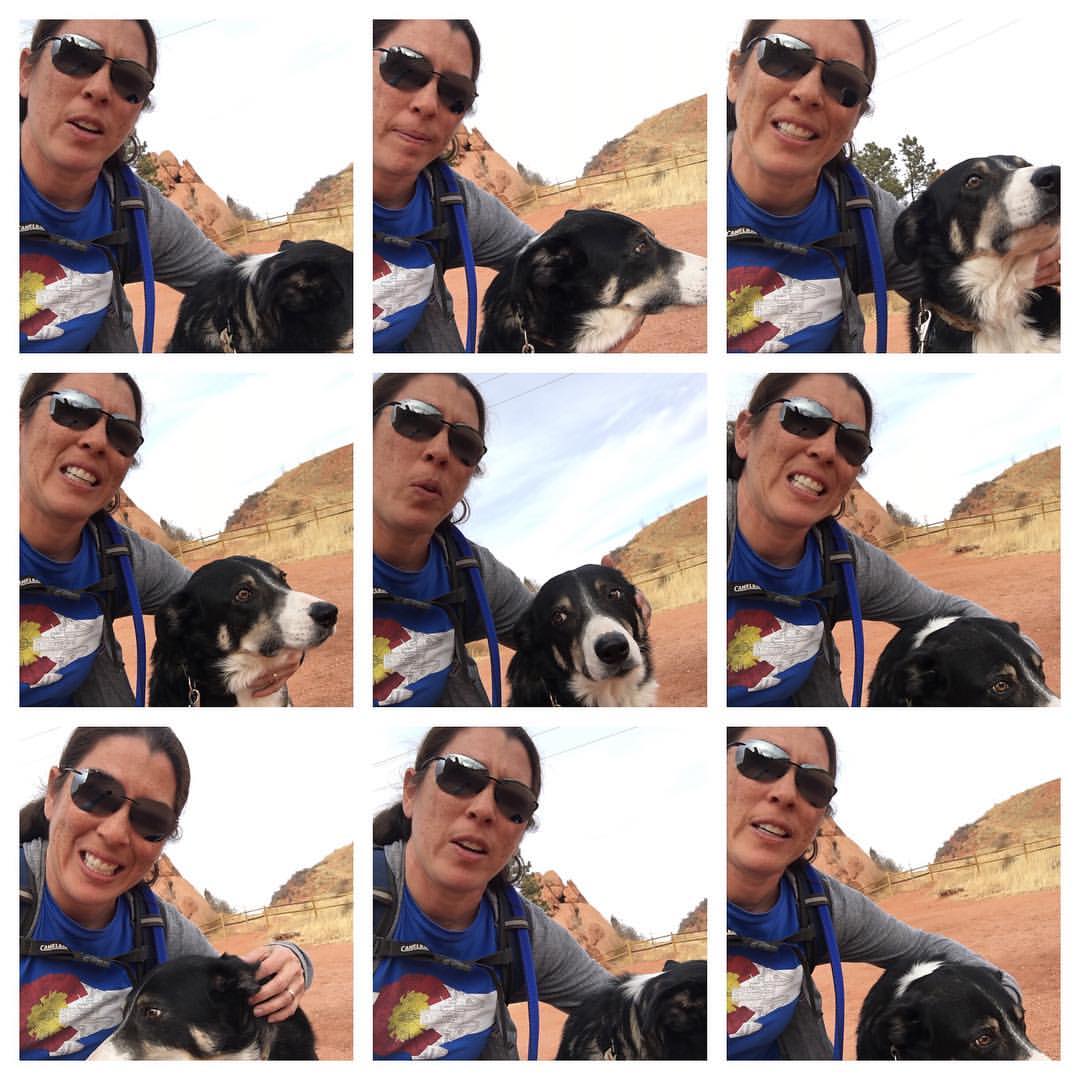 My attempts at a selfie with Ranger. Red Rocks Canyon Open Space, Colorado Springs, February 7th. Note that I'm in a long-sleeved t-shirt in February!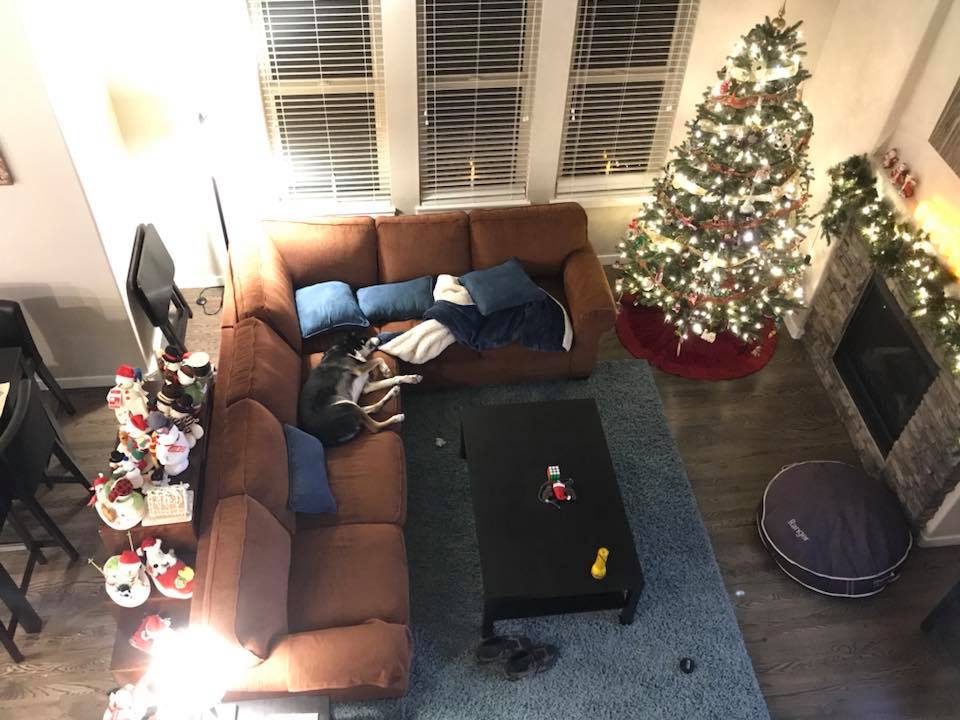 We have this "catwalk" on the 2nd floor of our new house, which gives us a view down to the family room. Note Ranger has helped himself to our couch. He now spends a LOT of time in this spot. This is a recent change that I'm personally mixed about -- while I'm happy he's comfortable, he has a bed (it's in front of the fireplace) and he's shedding on our couch now. We haven't figured out how to undo this habit...or if we will undo it. As I said, he's spoiled rotten!
---
---
Merry Christmas!