Happy Holidays from the Vollmers 2016
4745 Stillwell Dr.
Colorado Springs, CO 80920
(919) 749-5744/5544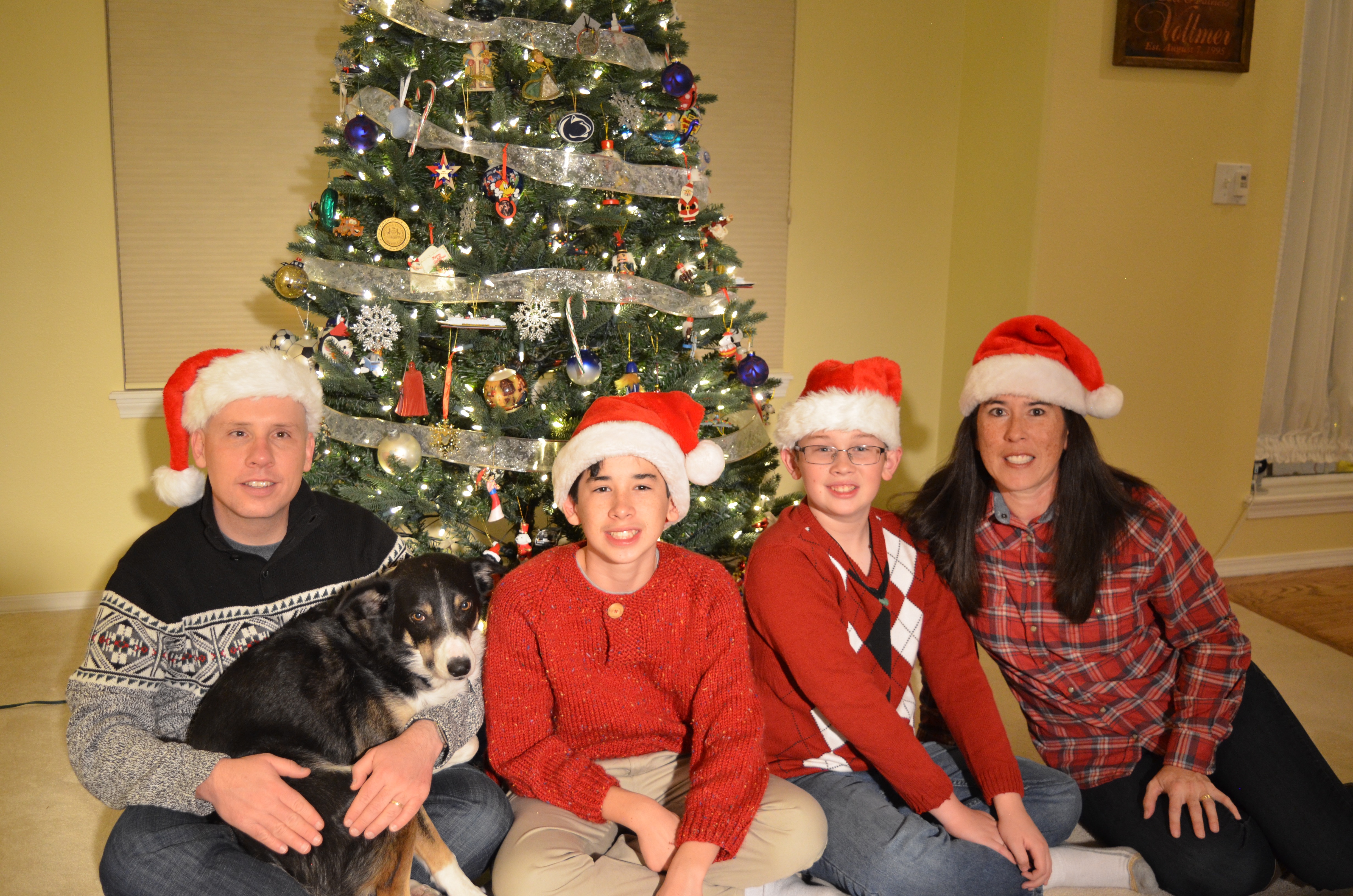 This year we opted for an indoor picture. We took this on November 21st, the day before Dave's brain surgery.
http://www.thevollmerfamily.com
Patricia's Blog: http://www.thevollmerfamily.com/MajorMom
Dave's N-Scale Juniata Division Website: http://www.thevollmerfamily.com/Pennsy
---
Greetings from the Vollmers in Colorado! Most of you already know that the big news is going to be about Dave's brain surgery to fix his trigeminal neuralgia this past November. But we had some other things happen up till then. Read on about our goings-on (from Patricia's point of view, I'm not even going to try to keep it third person).
---
Dave: Outstanding Academy Educator, Trigeminal Neuralgia victim...
Dave continues his teaching in the physics department at the Air Force Academy. This is his 4th year of teaching and as of this fall, has broken our record for being assigned to the same unit for the longest amount of time. As of this writing, it's about 3 years, 5 months. Our previous record was 3 years, 4 months at Patrick AFB, Florida. We have no plans to move anytime soon. He made a commitment to be here to see his Class of 2017 advisees to graduation (note I said "commitment", not "guarantee", because Air Force): Dave is pretty certain he'll see that to fruition. He ventured into new territory this semester, teaching the Physical Meteorology sequence for the first time, which includes radiative transfer, thermodynamics, and cloud physics. As I'll discuss later, he had to step down from work for his surgery around Thanksgiving. He looks forward to being back in the classroom next semester.
As mentioned on the back of the Christmas card, Dave was awarded the Outstanding Academy Educator Award last spring for his work with the Physics and Meteorology programs. One faculty member was chosen from each of the teaching departments. We couldn't be more proud!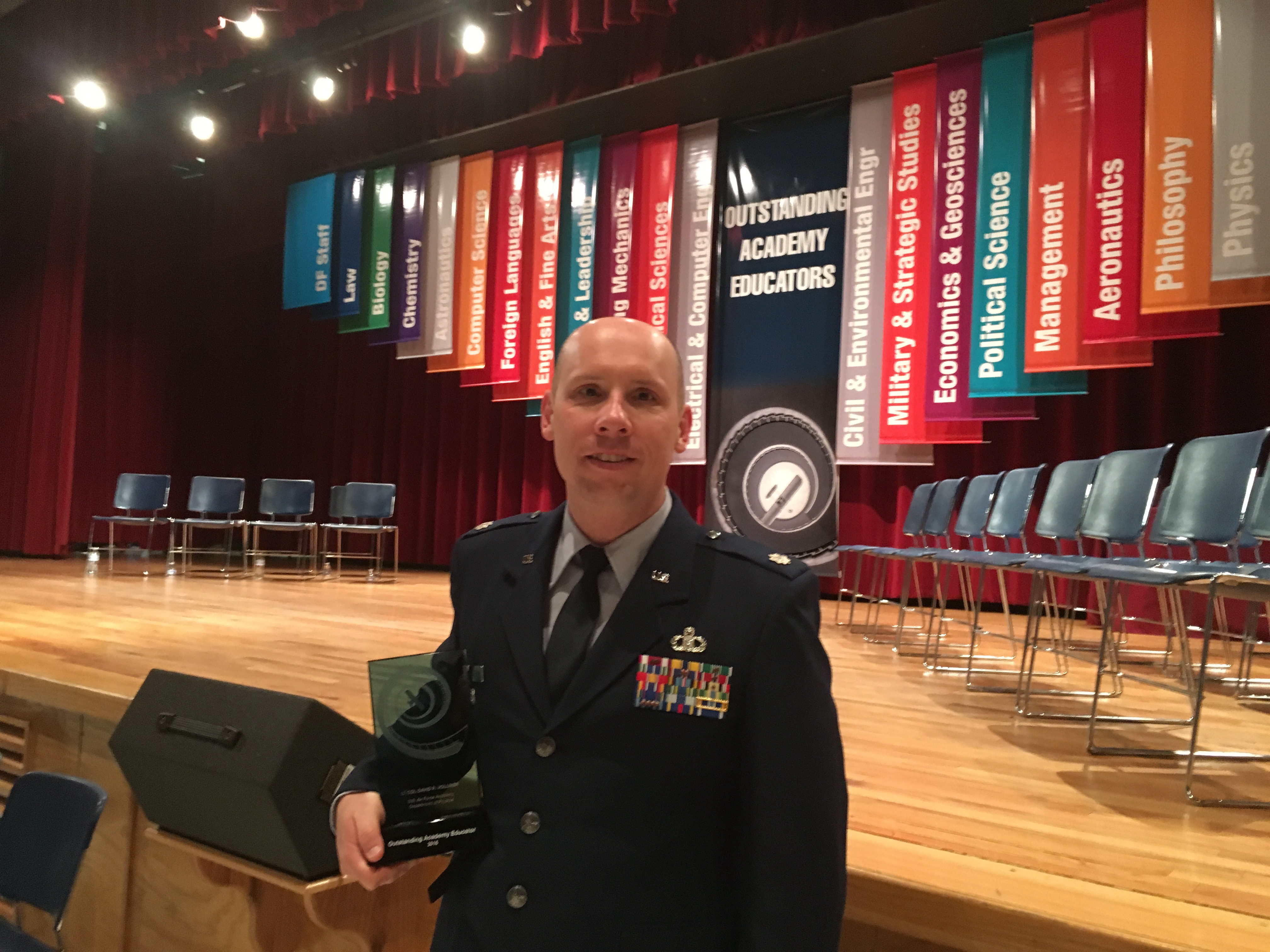 In model railroad news, Dave spent time throughout the year working on his now THREE model railroads: the N-Scale Juniata Division, the N-Scale Colorado Midland, and the G-Scale backyard Rio Grande Southern. The train room is getting pretty crowded, so he needs to come up with a creative way to fit both layouts into his train room without constantly bumping them and knocking over locomotives and rolling stock. Even if you aren't on Facebook, you can visit his public Facebook pages where he updates fans on improvements to the Juniata Division, construction of the Colorado Midland, and sometimes he discusses seasonal work on the Rio Grande Southern in those pages. In addition, Dave's uploads to his Juniata Division Facebook page transfer to his personal blog, linked above. Enjoy a video of the garden railroad in action, taken in October. Subscribe to our family's YouTube channel for more videos.
Dave did quite a bit of service with the Boy Scout troop again this year, but had to step down in the fall to focus on fixing his trigeminal neuralgia. He chaperoned the group on several camping trips and activities, including the week-long camp at Medicine Mountain Scout Ranch in Custer, South Dakota in July. The boys had a great time! Check out the photo album here.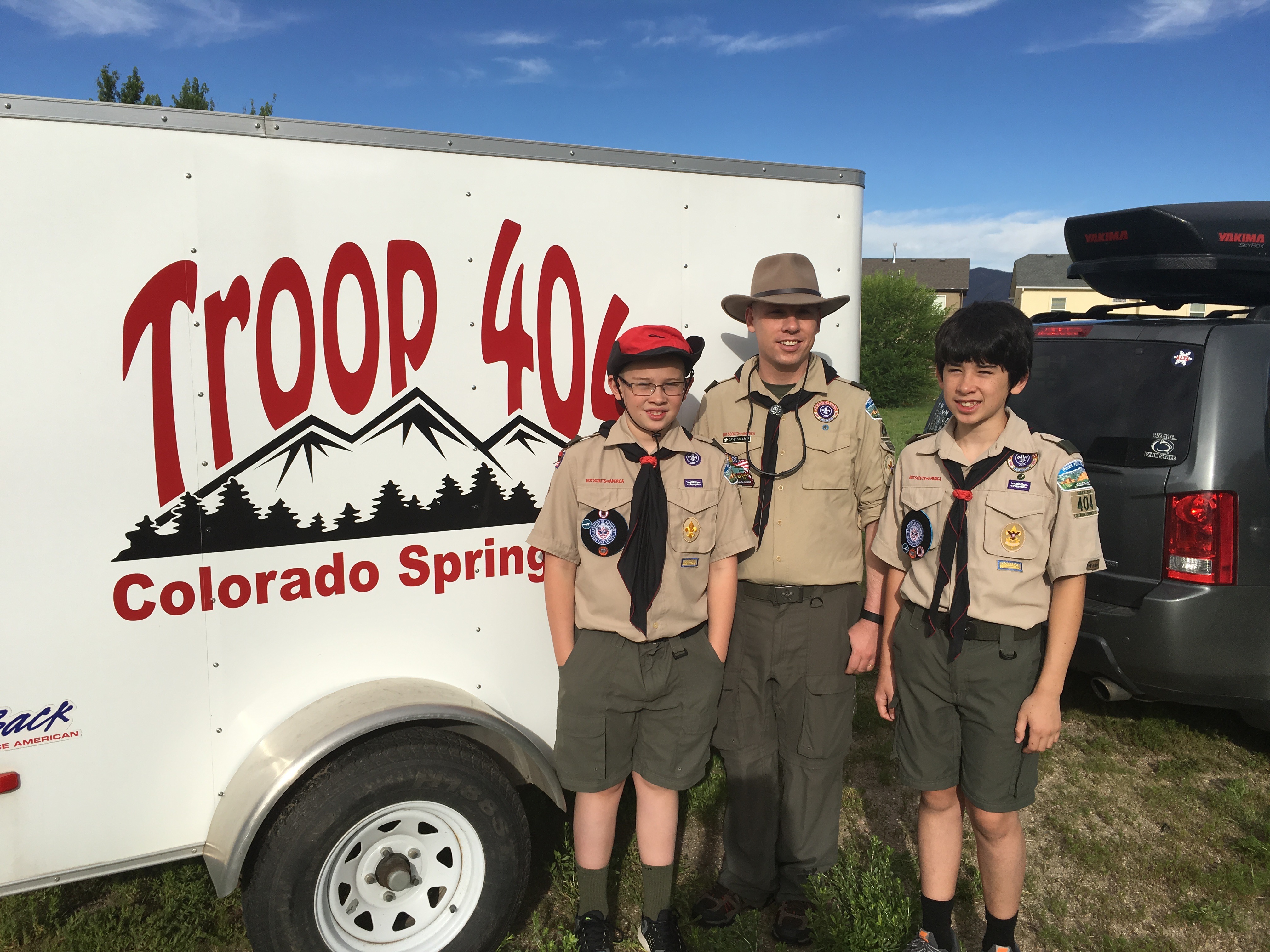 The boys just before leaving for their week of Scout Camp in mid-July.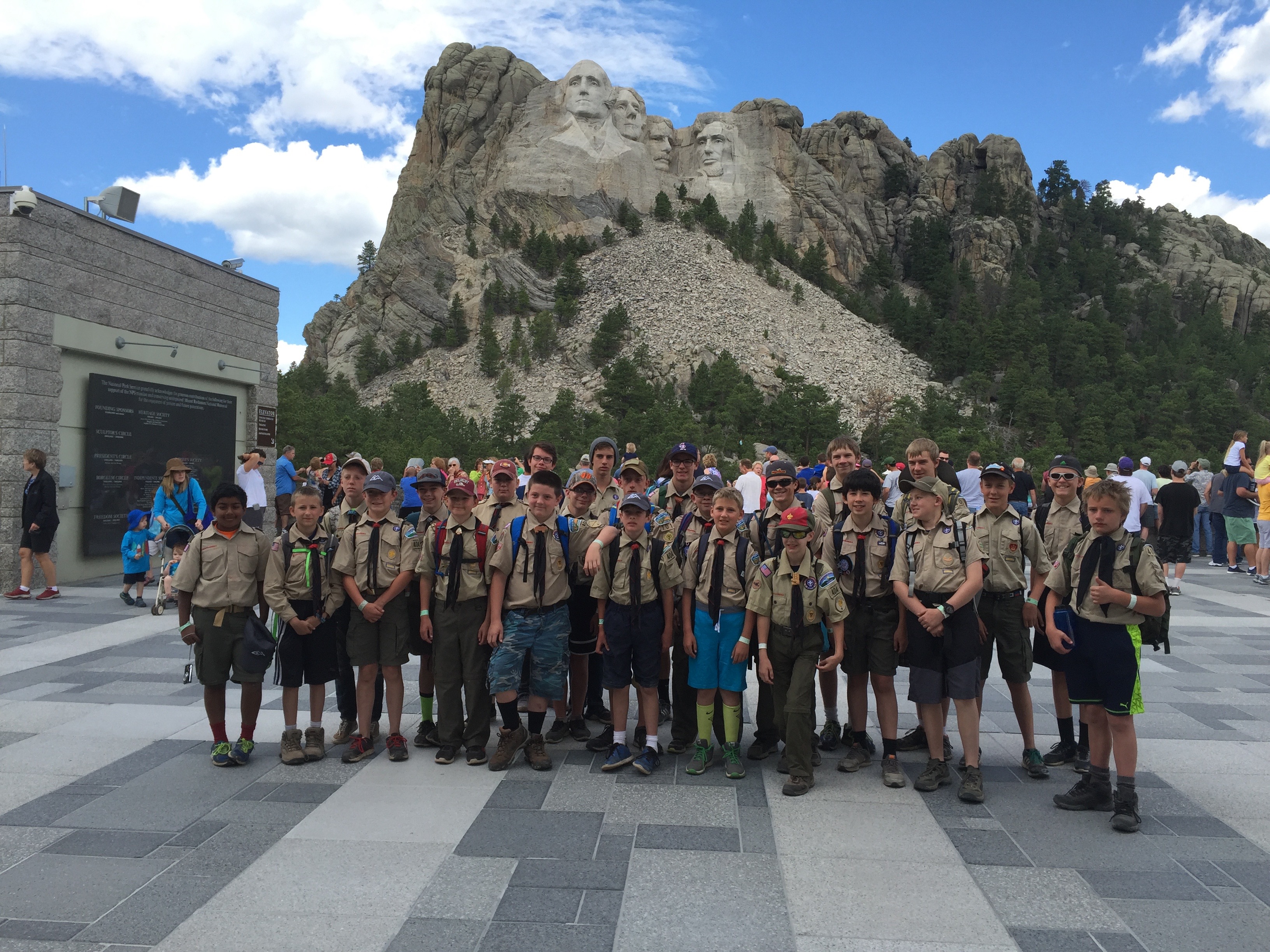 Here's the troop spending the day at Mount Rushmore.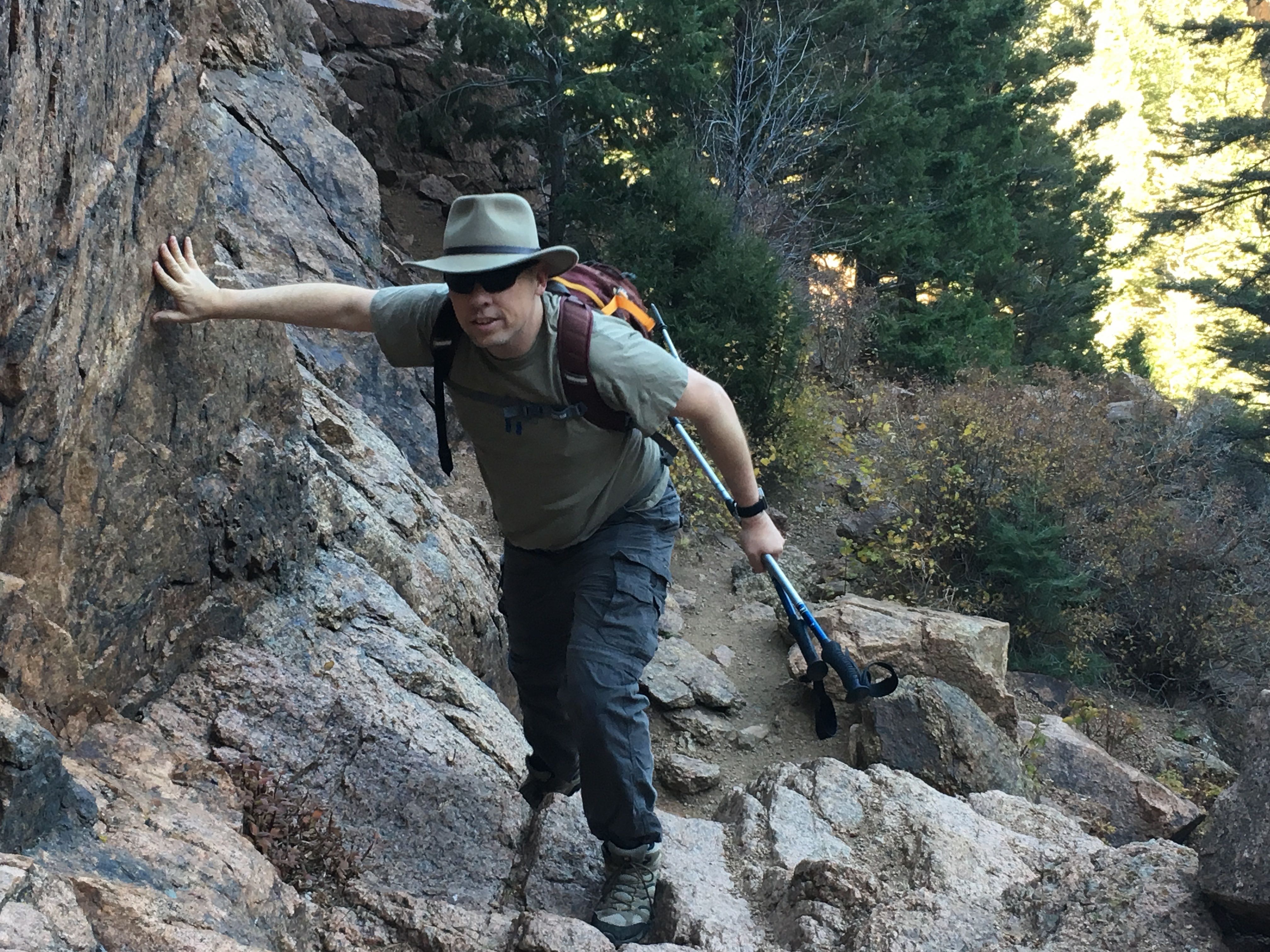 Even with all the trigeminal neuralgia, Dave craves his hikes into the mountains. This is on the Stanley Canyon trail west of the Air Force Academy in October.
Starting in the fall, some nerve pain in Dave's face started really bothering him to the point he needed an MRI to try to figure out of something more dire was going on. It was: there was evidence in the MRI of a condition known as trigeminal neuralgia, which is when there is compression in the 5th cranial nerve, also known as the trigeminal nerve. The 5th cranial nerve exists on both sides of the head. It originates at the brain stem and extended in three branches (hence the name), terminating at three areas of the face: near the eye, near the sinuses, and near the jaw. This is a very sensitive nerve, so compression by a blood vessel on this nerve results in randomly-timed, electric shocks to the face.
The pain Dave was experiencing became more and more pervasive, and Dave soon had to minimize his duties at work and step back from many other things in his life. This disease doesn't kill people, but the distractions is causes really makes a mess out of peoples' lives and can result in depression and suicide. You can learn more about the population that suffers from this disorder through the Facial Pain Association.
To be honest, none of us in the family had heard of this condition, but over time we learned that many of us had known people with the condition. It was encouraging for a neurologist to quickly zero in on the cause of Dave's pain, upon looking at his MRI. Dave did his research and learned there are numerous possible solutions/controls to the condition: medication, radiation, and surgery. The medication doesn't really solve the problem, but for many sufferers, it will keep the intensity of the pain at bay. Dave tried the medication for about 8 weeks, and it was pretty brutal; he attempted three different medications and two of them affected his cognitive function: not good for a college professor. He was pleased that both the neurosurgeon he met and the radiation oncologist (who he met with to discuss the radiation option) suggested he'd be a good candidate for the surgery.
The surgery is known as microvascular decompression, or MVD for short. It is classified as a brain surgery, although the neurosurgeon doesn't penetrate the brain itself. A small hole is drilled into the skull, the dura is opened up, and the protective membrane is cut open to expose the trigeminal nerve. The neurosurgeon can physically separate the nerve from the offending blood vessel, and can also perform some stimulations of the nerve to help it not trigger from the pain so much.
Dave went in for the surgery on November 22nd, and was home at lunchtime on Thanksgiving Day, November 24th. He had to say an early "goodbye" to his students, which was tough...but he'll see them again next semester. The medical team is indicating to Dave that the procedure is successful, but it takes time for the nerve to heal and for the trigeminal neuralgia pain to truly cease: a matter of months, for some patients. So we have to be very patient. Of all the surgeries Dave has had (and he's had a LOT), this one is the slowest recovery. Dave has good days...and often they're followed by not-so-good days. As the head is healing, involving the numerous layers that have been cut open, the pain comes in waves at different locations on his head. He gets very fatigued easily. There are bouts of nausea, also. Because of this intensive recovery experience, we are grateful that he's been granted 6 weeks of recovery time. He should be back in the classroom in time for the next semester to start in early January.
---
Patricia
I was able to teach for the first half of the year, serving as a long-term sub for two math classes during the spring semester, and then I taught statistics during summer school. The work was (as always) rewarding, but my time with the math department had to soon come to a close. Due to the numbers of reservists teaching at the Air Force Academy, I had been sitting "double-billeted" for the past 2 1/2 years. I received notification that I could not continue my "double-billeting" beyond the 3 year anniversary of my joining the math department (November 23rd).
So it was time to make some decisions. I could seek a transfer or retire (I've been with the Air Force for 21 1/2 years). Frankly, I didn't want to retire. I enjoy my Reserve time quite a bit and there are many places where I could serve. I got a lead to work with the Admissions Liaison Officer team, assigned with the Admissions section of the Air Force Academy. The transfer became official in early November, but I had the chance to work with them for 7 weeks on special projects in August and September. I learned my new job, and helped out with some projects. Then in November I had the chance to return to the faculty, but not the Math Department, to work on a few more projects.
So for now, I am doing the Admissions Liaison Officer work, which is pretty quiet, since I was assigned several high schools in western Colorado. I've interfaced with a few families, but there aren't many students out in that part of the state applying to the Academy or AFROTC. We'll have to see if there are ways I can outreach next year.
There are some other Air Force Reserve opportunities I'm waiting to hear about -- stay tuned to see if I get them.
Otherwise, other than working, I've filled my time with traveling and getting the kids to all the activities they're doing. Read on about the kids (after a few photos).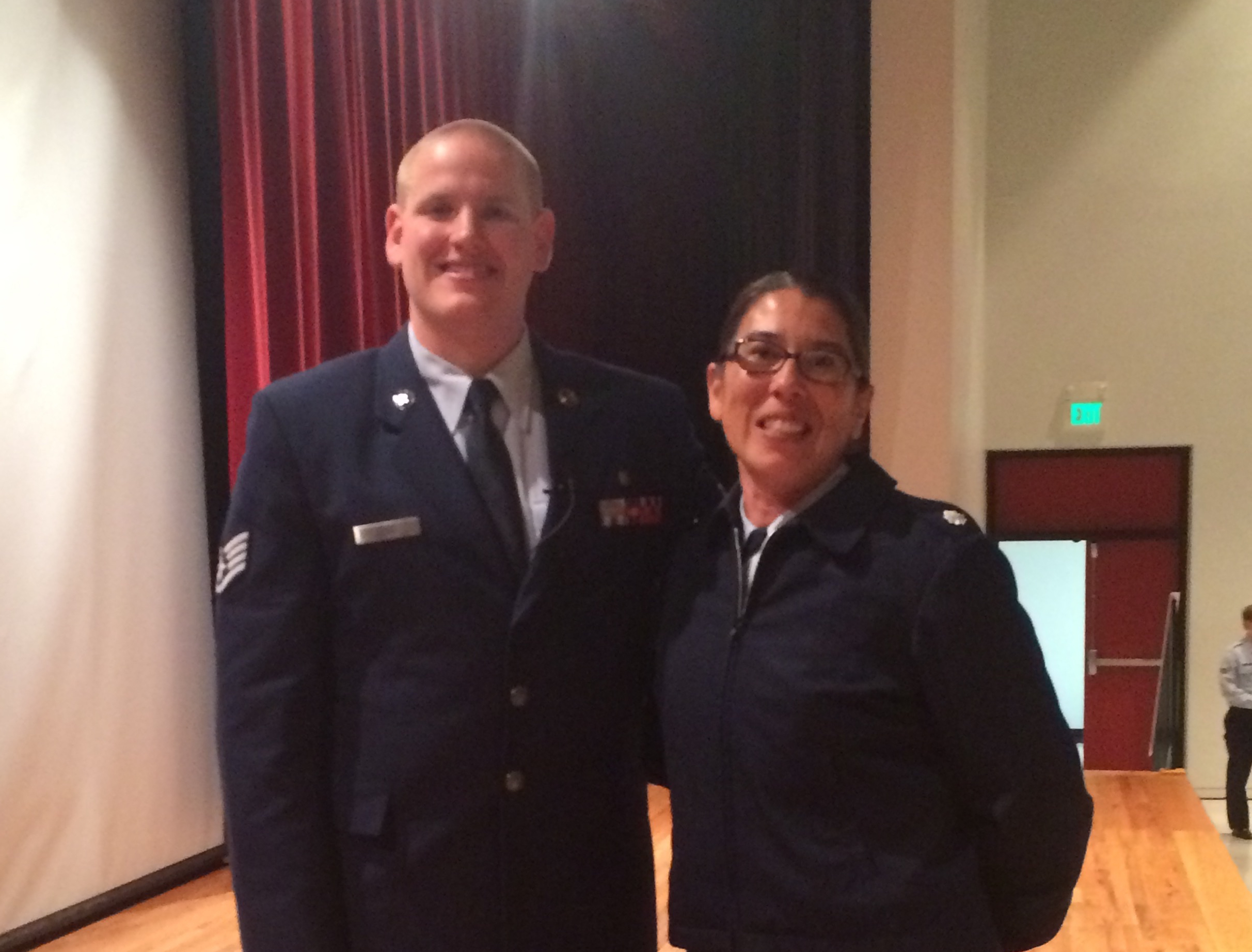 I had the honor of listening to, then meeting and chatting with, SSgt Spencer Stone, who you might know from such thwarting of terrorist acts as the 2015 Thalys Train Attack. I asked him about being allowed to keep the Chevy Camaro he was given on the Jimmy Kimmel Show last year (yes, the USAF allowed it!). He's a humble young man who was just trying to stop something bad from happening.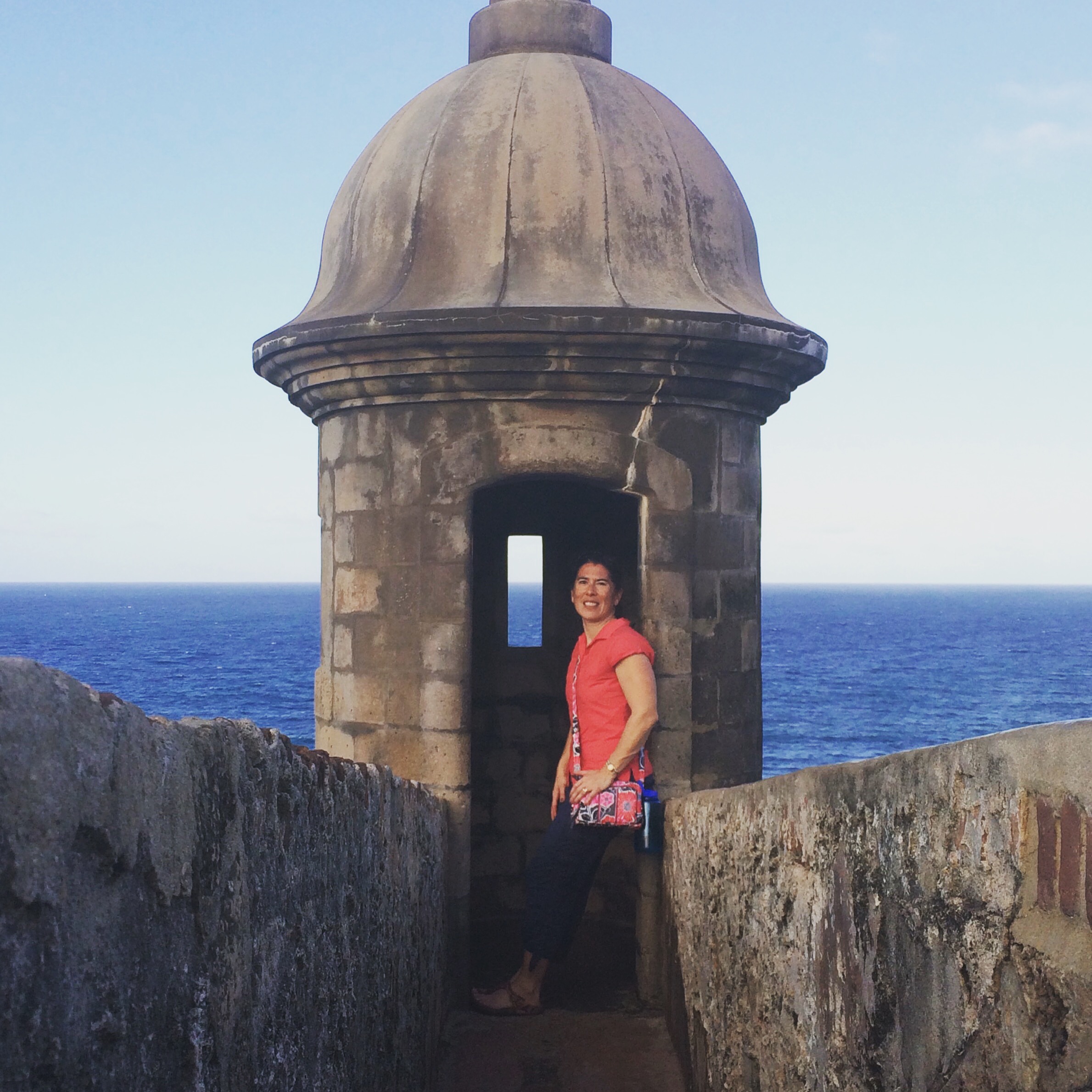 Here I am at Castillo San Felipe del Morro, San Juan, Puerto Rico, February 2016. I'll speak more about what I was doing there further down.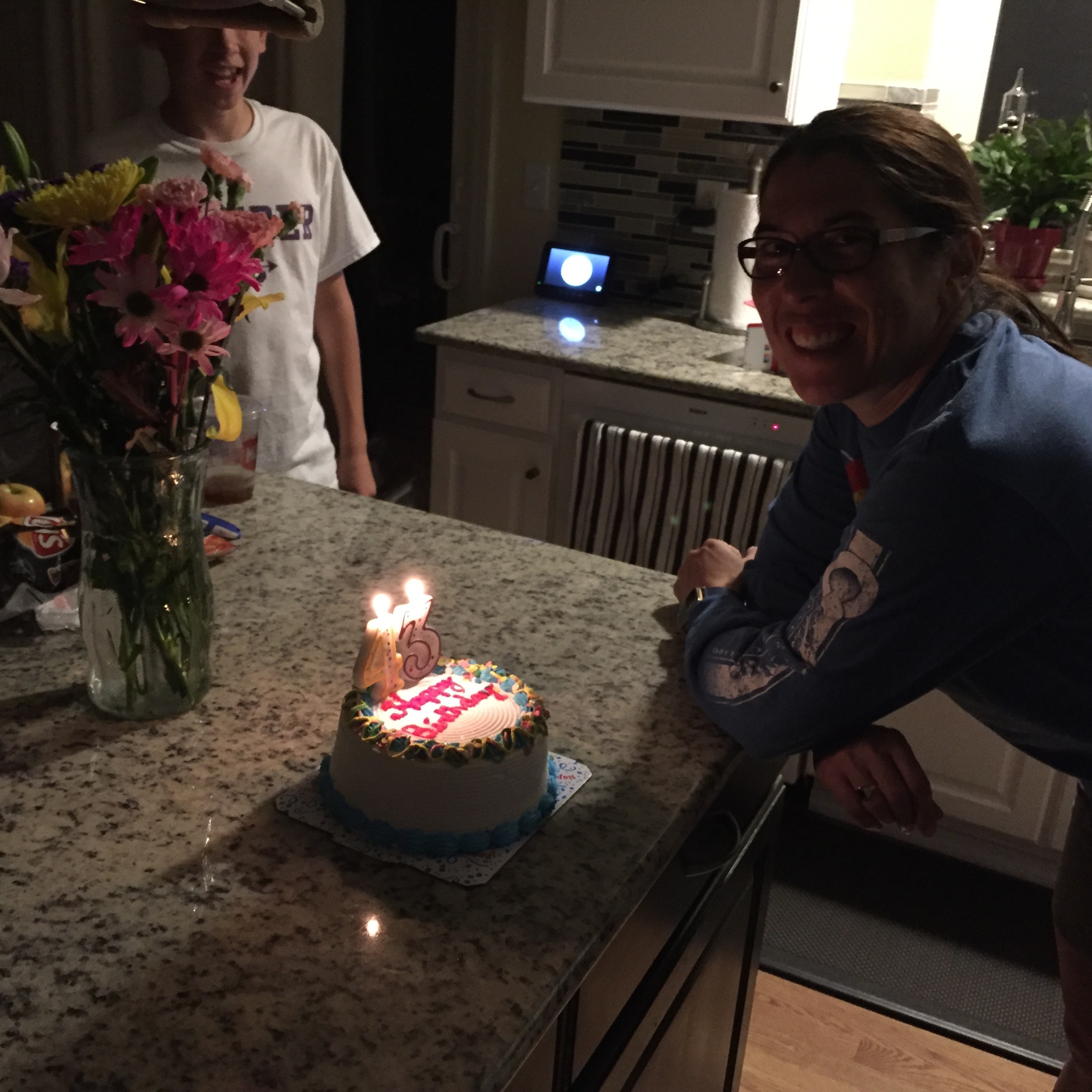 Just one more: I turned 43 in September. The boys gave me flowers and a Carvel birthday cake, my favorite!
---
Jacob is now 14 and in 8th grade. His schedule has been busy with classes, Boy Scouts, piano, orchestra, cross country, Science Olympiad, and math club. Not all at once, at least. Jacob does a great job keeping up with his responsibilities on his own, and you can tell how much it pains him when he has to ask for help on something. I'm proud of his work ethic.
Jacob is a First Class Boy Scout right now, and will probably be awarded Star Scout by the end of January. He's pulling double-duty for his troop right now, serving as both the quartermaster and a patrol leader. He tried cross country for the first time this year with some friends and had a good time. He isn't the fastest on the team but he enjoyed trying to establish his own personal records (PRs). The courses here are TOUGH with the hills and rocky trails, and he had some allergy issues on a couple of the routes.
He still is active in his piano lessons and playing cello in the school orchestra. Jacob really enjoys the music and doesn't want to quit either program, although with high school coming up, he might need to make that tough decision soon. I don't envy that. Here's a video from Jacob's fall orchestra concert.
This is the time of year that both Math and Science Olympiads are starting up for him. He's already attending the weekly Math Olympiad meetings (that include competitions 1-2 times per month) and really enjoys the cool math topics they explore, such as "modular math" and combinatorics. I (Patricia) am helping out the mathematician who runs the middle school math club (she's on the AF Academy math faculty) so I get to see some of the cool things the kids are doing. It's exciting to have a math club with nearly 20 students who consistently come every week, too. Jacob had the chance to participate in the regional MathCounts competition here, but didn't place high enough to go to the state finals (one of his friends on the school team did make it!) Jacob once again had the chance to advance to the state Science Olympiad competition at the Colorado School of Mines up the road in Golden in March. We were hit with a pretty wicked blizzard and got stuck in Golden for an extra 24 hours! Thankfully the hotel had a pool, which was filled with Science O kids from all over Colorado who were similarly stranded.
Finally, Jacob started confirmation classes at a Lutheran church here at the beginning of the year. We started him midway through the first year of the two year program (trying to find a church home here was a long process, for another time), and it was so encouraging for him to recognize several school classmates in the class. We're very glad to be members of this church now, the youth programs are amazing! Jacob has a winter confirmation retreat coming up out in the "high country" (i.e., the mountains west of here). He's excited for these opportunities.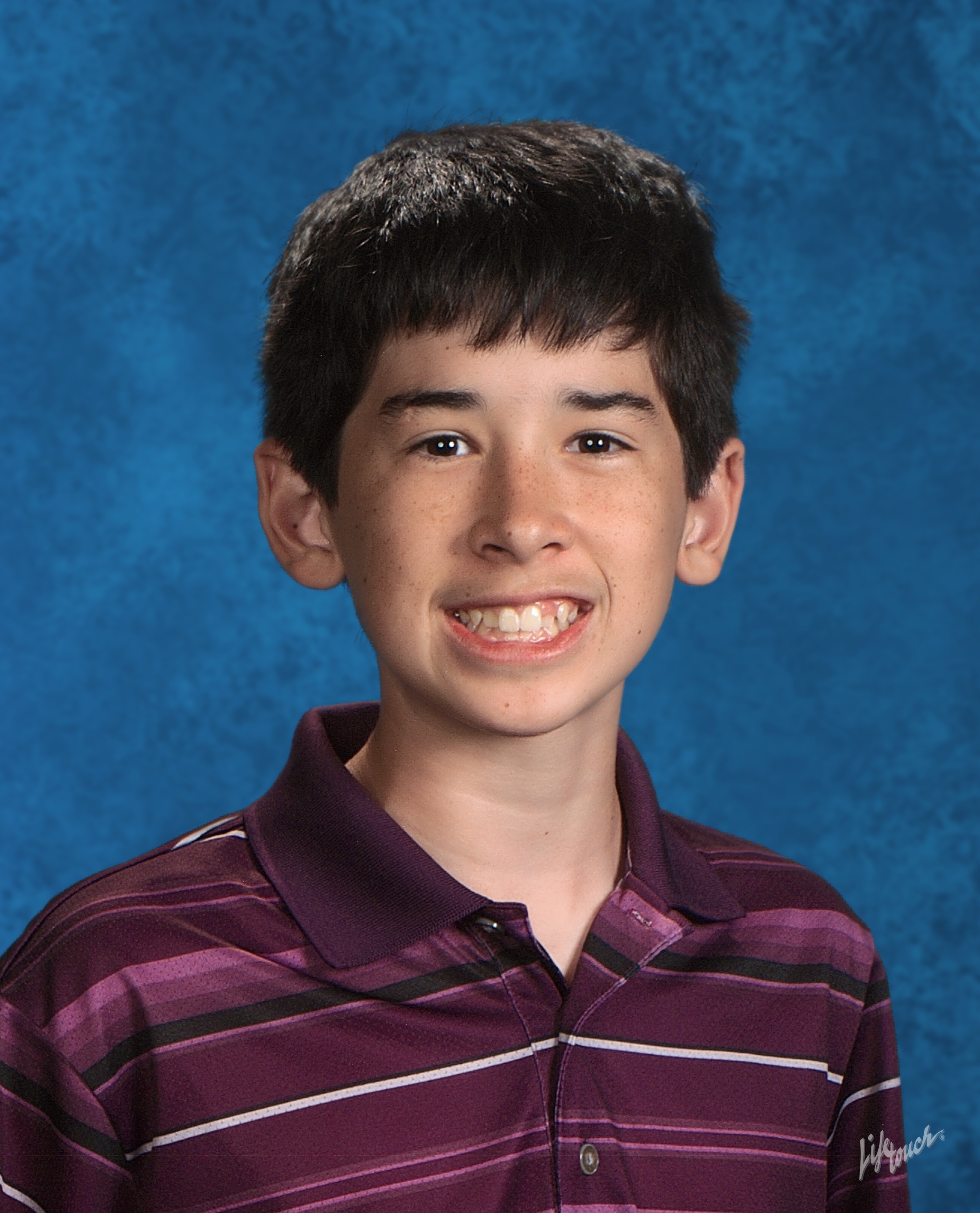 Jacob's 8th grade school picture.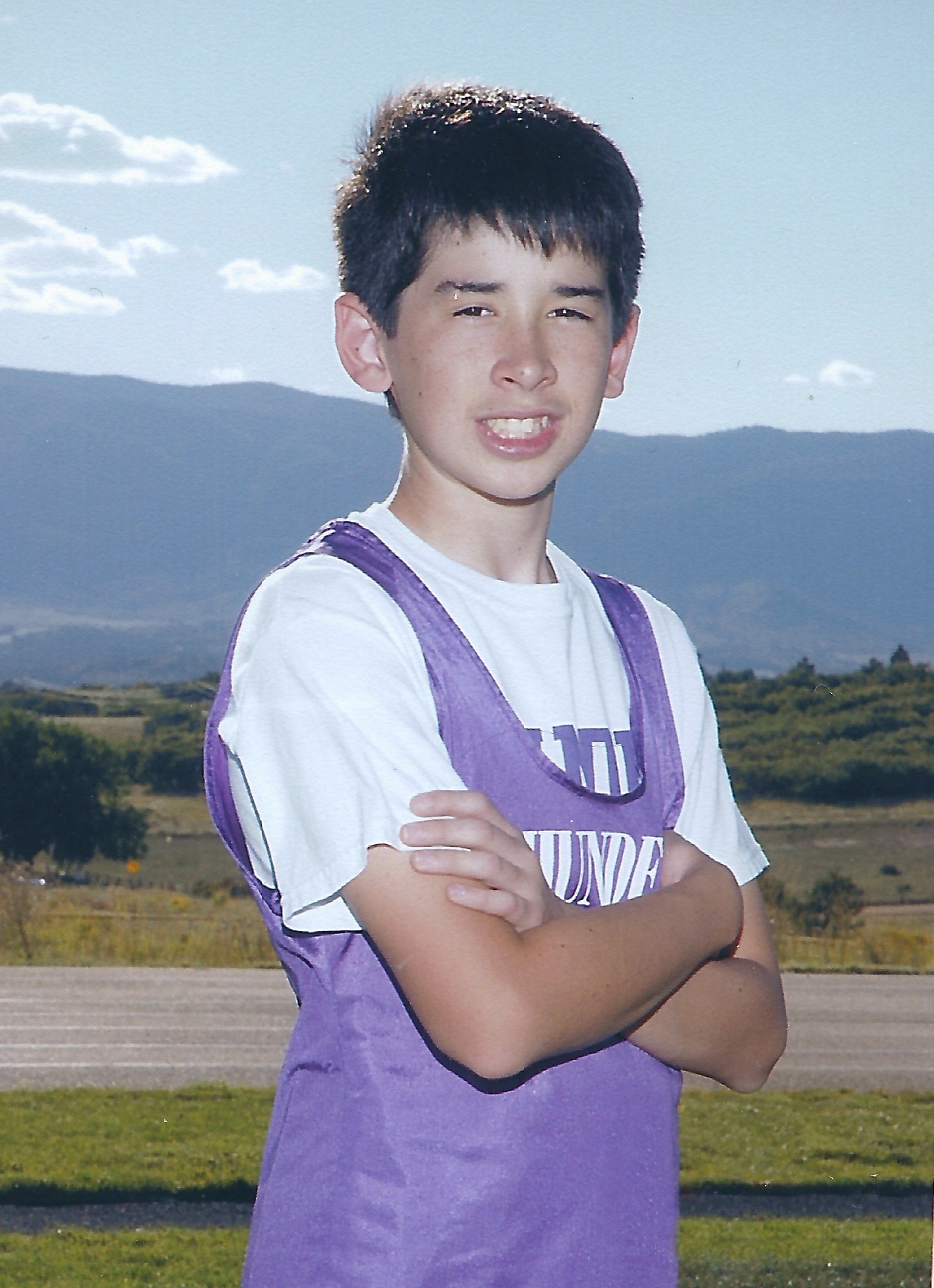 Jacob's Cross Country portrait...he looks SO GROWN UP here!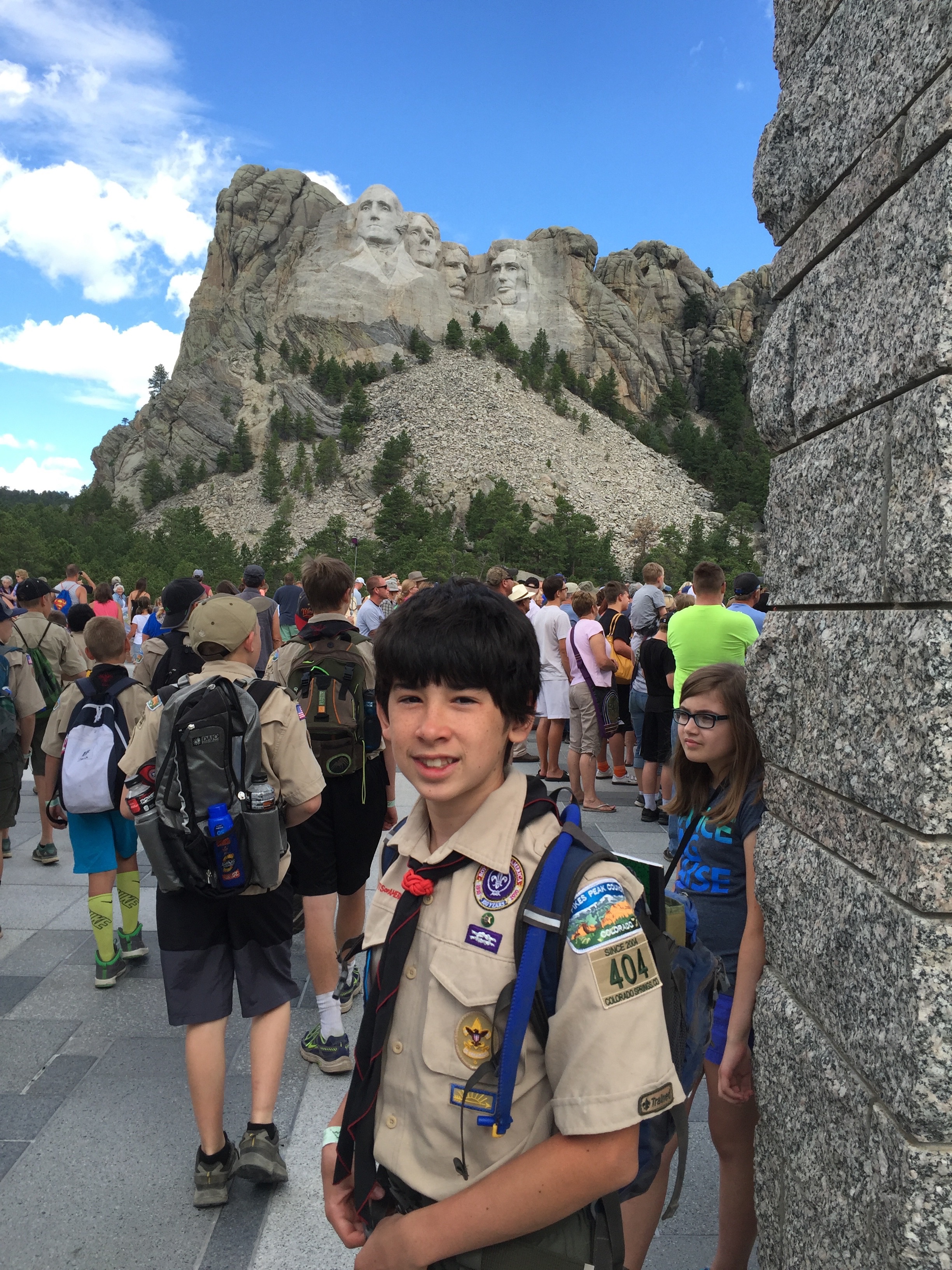 Jacob at Mount Rushmore, July 2016.
---
Timmy will be 12 in January and is now in 6th grade at the same middle school as his brother. He had the daunting task of adjusting to a new school, new friends, and a complicated block schedule with 8 different teachers. It was quite a learning curve for him, but as of this writing, he's figuring it all out and handling things decently. He has some organization issues he's still ironing out, but as long as he's learning from his lack of organization, I'm okay with it. Timmy has been busy with school, Boy Scouts, piano, Rubik's Cube club, math club, a short wrestling program, and choir. No, not all at once.
Timmy crossed over into Boy Scouts this year and leaped at the new opportunities with incredible enthusiasm. He made it to Tenderfoot scout in time for summer camp in July, and as of this writing, he's very close to being finished with Second Class. He has taken to tagging along with Jacob for some of the merit badge classes, and has learned quickly that some of the merit badges might be better when he gets a little older. He's currently pushing through through several tough ones (Citizenship in the Community!) and it's nice to see my two sons serving as competition for each other.
Timmy tried out wrestling this year for the first time. His school has a competitive team for 7th and 8th graders; 6th graders are invited to practice with the team. Timmy did the practices with the teams and enjoyed learning the techniques, but his chief complaint is that as a 6th grader, he's the size of...and was matched up against...many of the 8th graders who had a lot more experience. He came home after practices pretty tired. The jury is out if he's going to do this again next year.
As for music, Timmy has resumed piano lessons and was (involuntarily) placed into the 6th grade choir as a class this semester. He had no preference to which art/music class to take when he had the chance to decide over the summer, so that's where he ended up. He likes it well enough, but then in mid-November he asked if it was too late to join the school orchestra to play...you guessed it!...cello like his brother. Just before Thanksgiving he made the request to the middle school orchestra director and the director, Mr. Mathews, was very willing to work with him to catch him up to the other 6th graders. Mr. Mathews is going to help change Timmy's schedule to accommodate his joining orchestra next semester, and we already made arrangements for his in-school cello rental. He can borrow Jacob's at-home rental to practice at home.
Timmy continues to love math and is now the only 6th grader with the middle school Math Olympiad club. He holds his own in the group, which is so cool to see. Sometimes it worries him that he's the youngest one there, but I make it clear that it would make him a stronger part of the team as a 7th and 8th grader.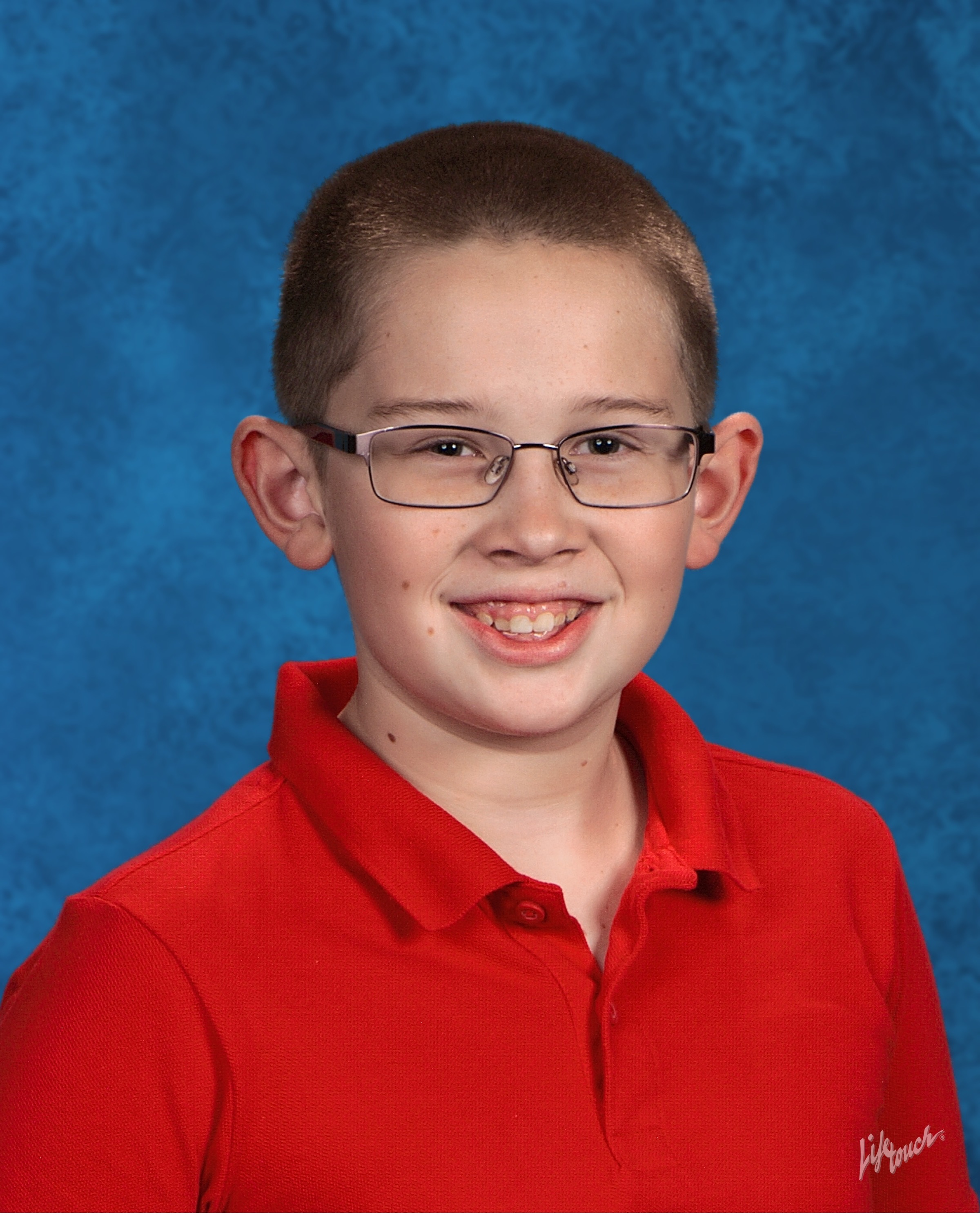 Timmy's 6th grade portrait.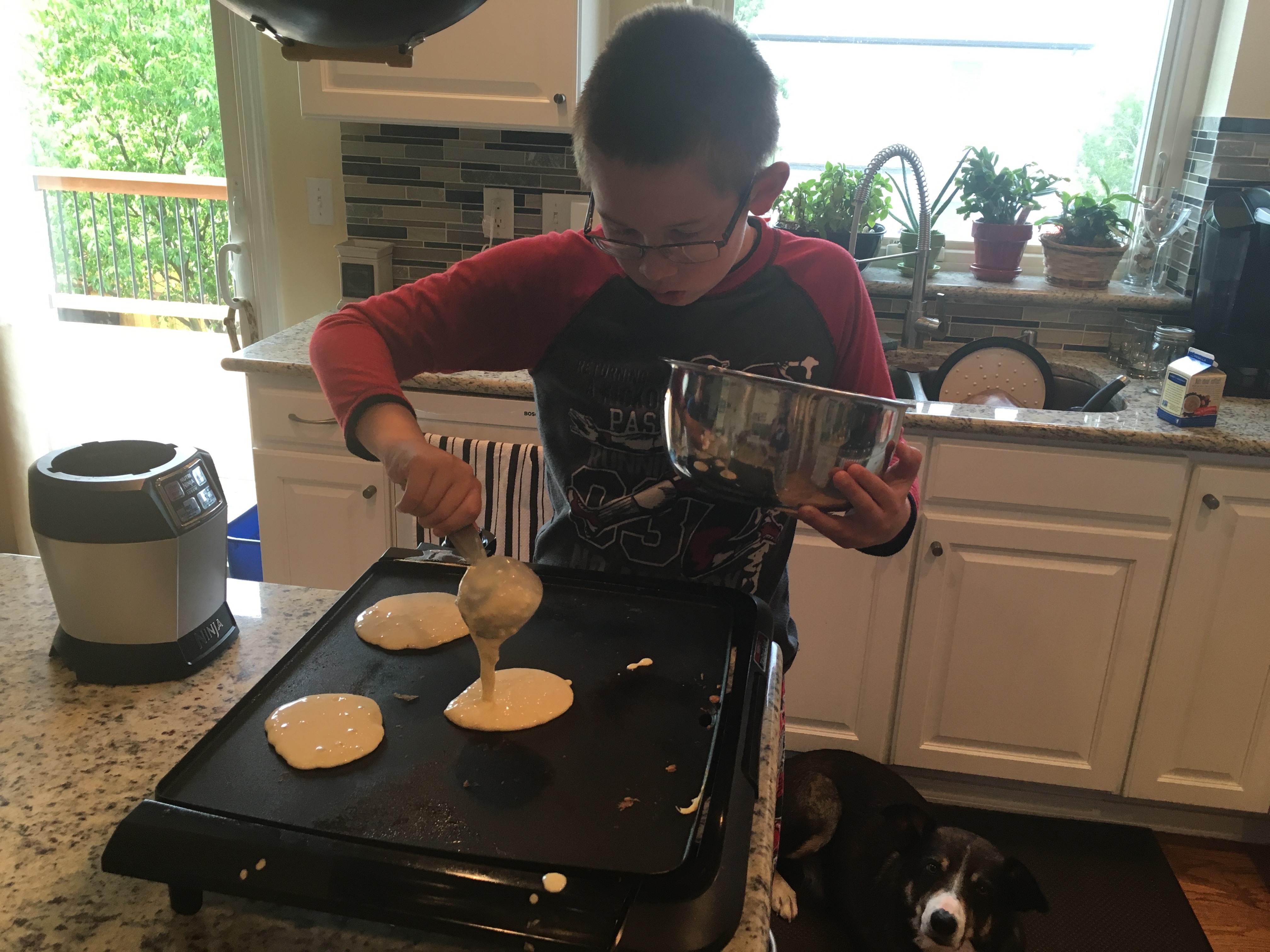 Timmy loves helping us cook. Here he is making weekend pancakes for the family, with Ranger nearby hoping for some of it to hit the floor.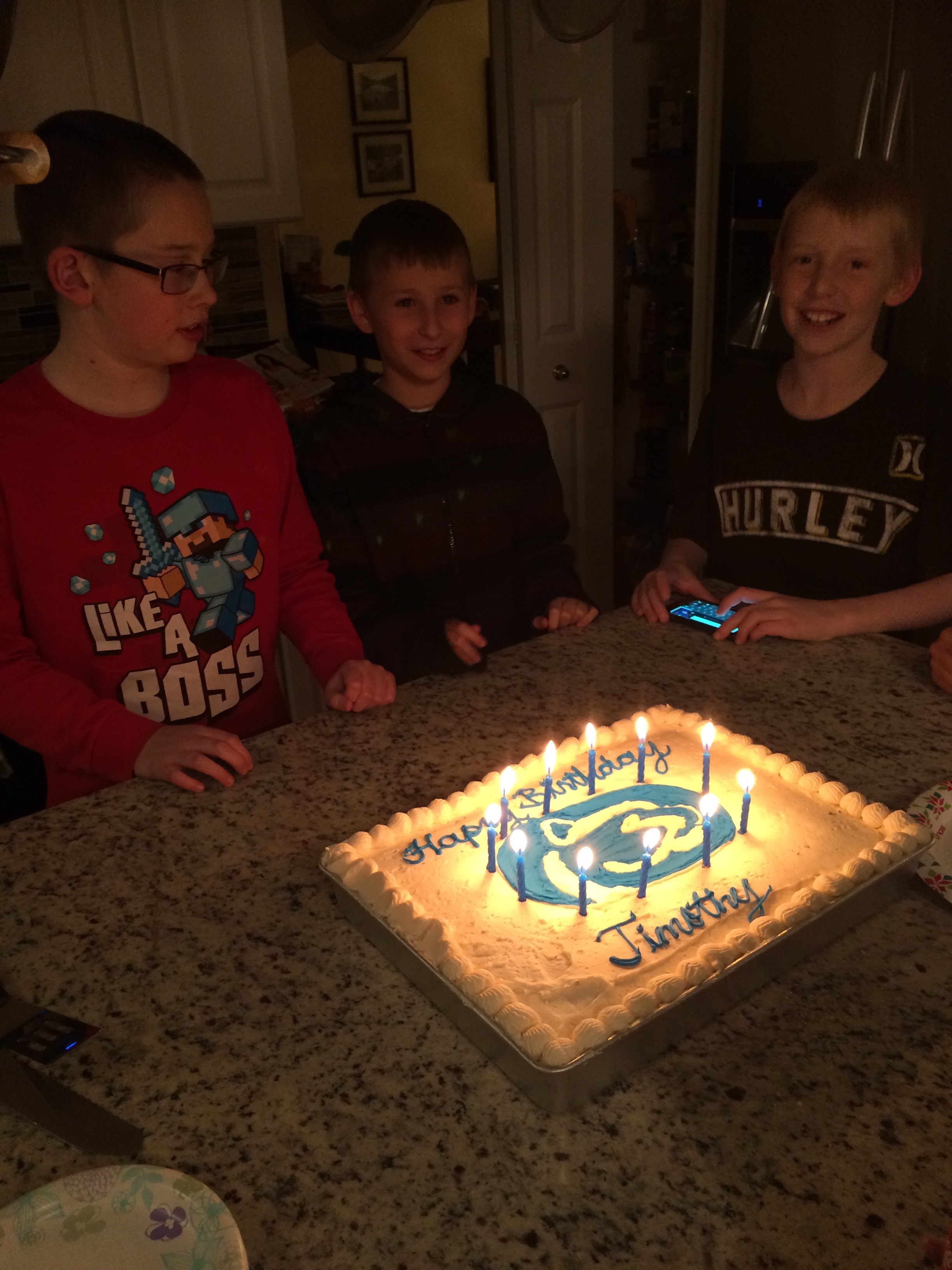 Timmy had a sleepover for his 11th birthday, which I much prefer over the other options around the city for a wintertime birthday. Yes, that's a Penn State birthday cake for him!
---
Ranger
At the beginning of this year, we learned why Ranger was putting on the weight I had mentioned in last year's newsletter. He has hypothyroidism! The vet put him on a pet-version of Synthroid and <poof!> just like that his weight started to return to normal (he's lost about 12 lbs. this year!) and his energy returned.
We continue to bring Ranger with us on our hikes throughout Colorado. Especially now that he's lost the weight he's able to join us on some pretty tricky hikes.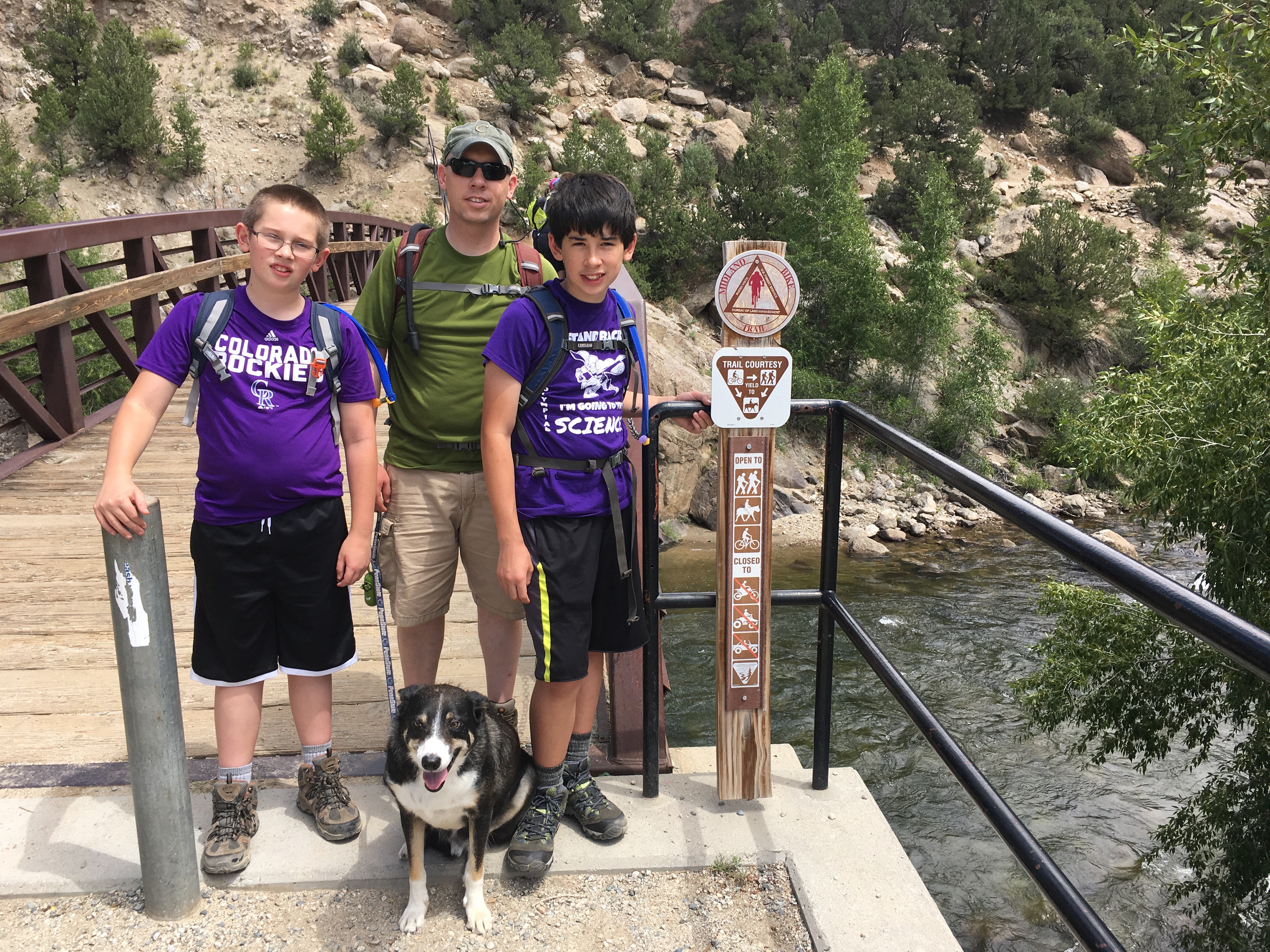 In August we did some hiking in the mountains above Buena Vista, CO. Ranger was able to join us. This is the footbridge crossing the Arkansas River.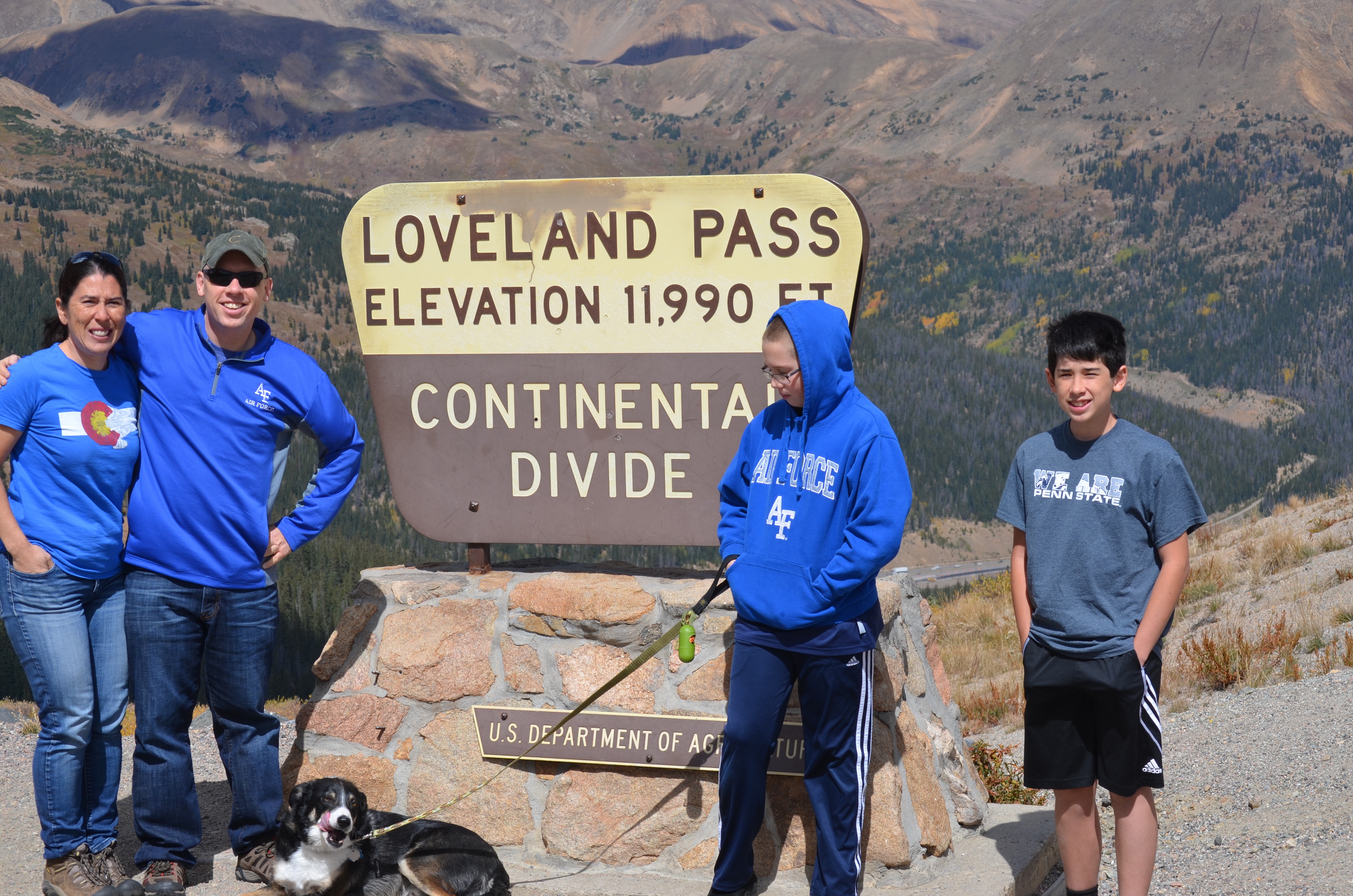 In September we took a drive around central CO to enjoy the aspen. We didn't do a ton of hiking on this trip, but Ranger came along so he didn't have to be home by himself all day.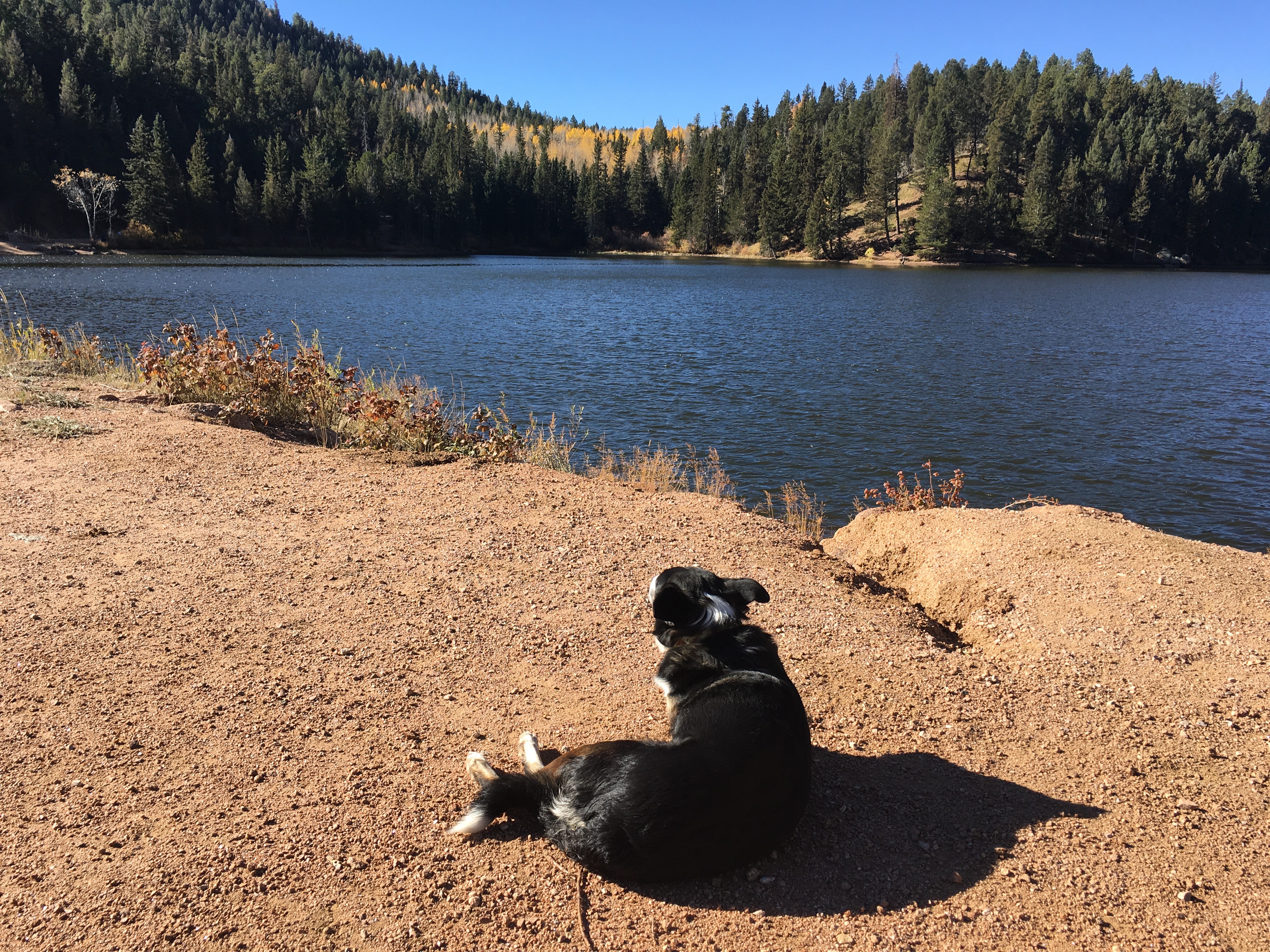 Dave, Ranger, and I took a hike through Stanley Canyon up to the Stanley Reservoir on Columbus Day.
---
And here is the part of the newsletter where we discuss some of the traveling we did this year. We had many opportunities to travel around the state...and around the country!...but I think we're going to be done for a while, as Jacob's schedule fills up this summer with church and Boy Scout events.
Weekend in Breckenridge, January
We were suckered into one of those condo deals. "We'll provide a weekend in Breckenridge if you will listen to a pitch on owning property in Breckenridge!" So we did it, and managed to get into the condo the weekend of the Ice Sculpture Festival. We had never spent time in Breckenridge although we had driven through the town numerous times on the way home from skiing nearby. It was an idyllic experience, complete with snow showers, sledding, and a whiskey tasting!

Did we buy into a condo at Breckenridge? No, but we came very close. The investment would have been a good one, but we simply can't justify the incredible costs to ski at Breckenridge when we can get just-as-good skiing at the smaller, less-touristy mountains.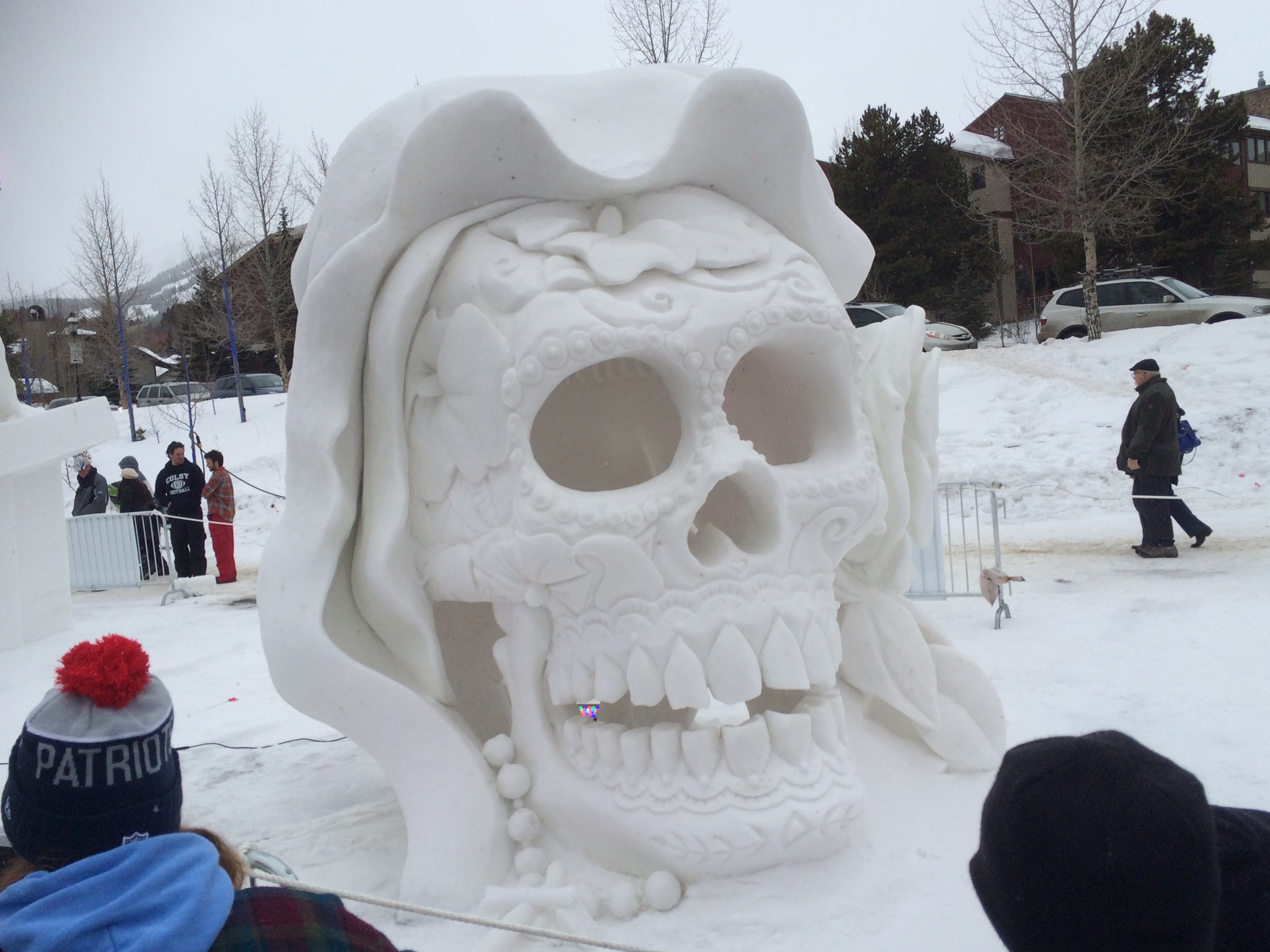 There were a couple dozen sculptures to see, and you can see them yourselves here at this link to the full photo album.

We visited a sledding hill in town and had a ton of fun! On the way home from this weekend, Jacob admitted that he wished we had skied at Breckenridge. Believe it or not, we haven't skied there yet...maybe we'll do it soon.
Patricia went on a Caribbean cruise, February
I didn't advertise this a ton because it was by invitation, but a dear friend retired from the Air Force at the beginning of 2016, and to celebrate, a group of us joined her on an eastern Caribbean cruise. We were all stationed together at Patrick AFB: which was my last active duty assignment. A core group of us is still very close, and it was wonderful to get together for the week.
We had to fly into San Juan, Puerto Rico to meet the cruise ship, and from there we visited ports on the islands of Tortola, Dominica, Martinique, St. Kitts, and St. Thomas. It was very interesting to see these tiny Caribbean islands, and we learned a lot about the history and recent economy of these islands also. It was refreshing to spend time in warmth and sun, and the only thing missing from the experience was getting to share some of it with the boys. I'm picking just a few photos of my trip, but this was hard to boil it down to just a few.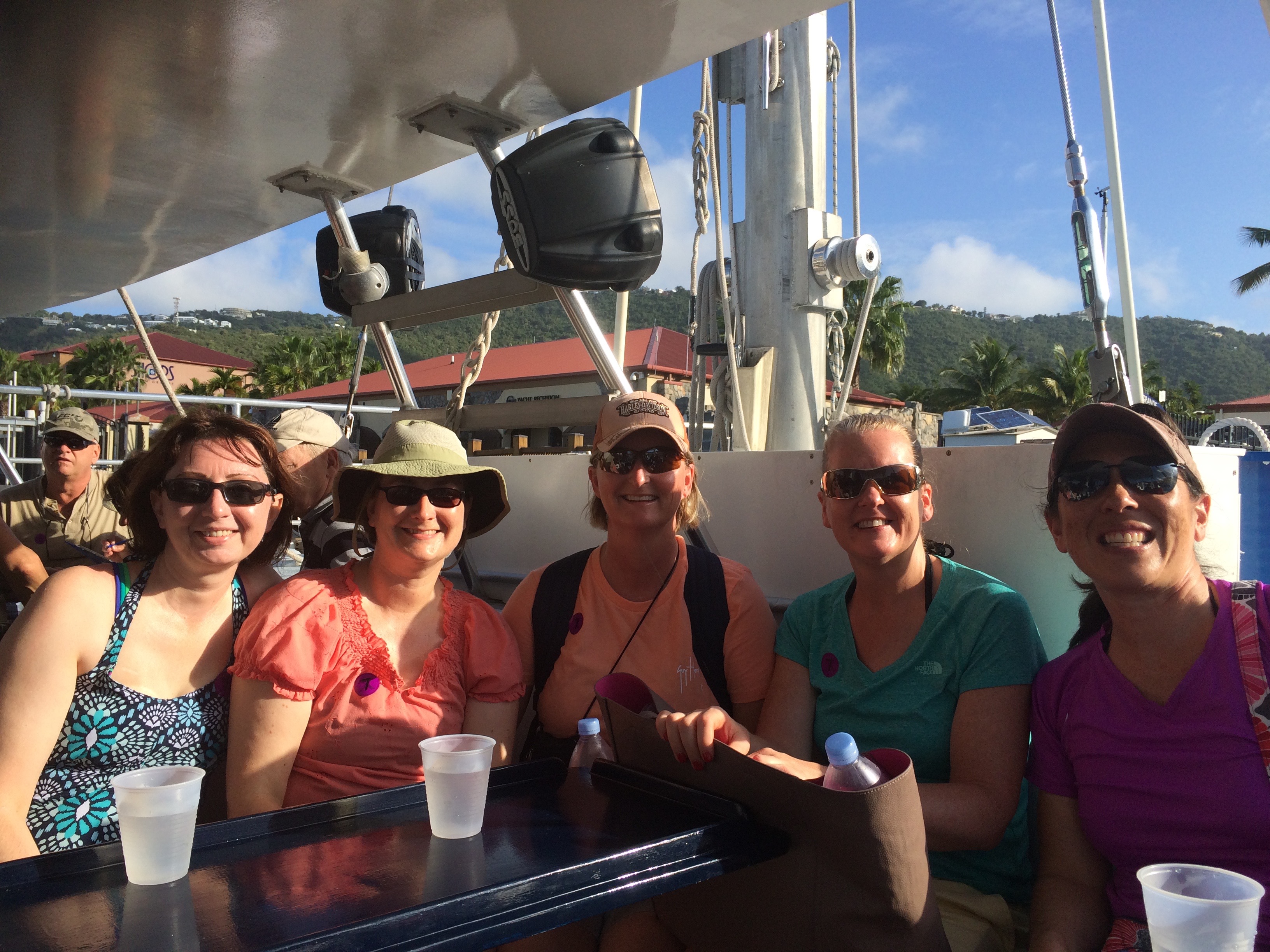 Our group preparing to embark on a catamaran snorkeling tour in St. Thomas. My favorite photo of this entire trip!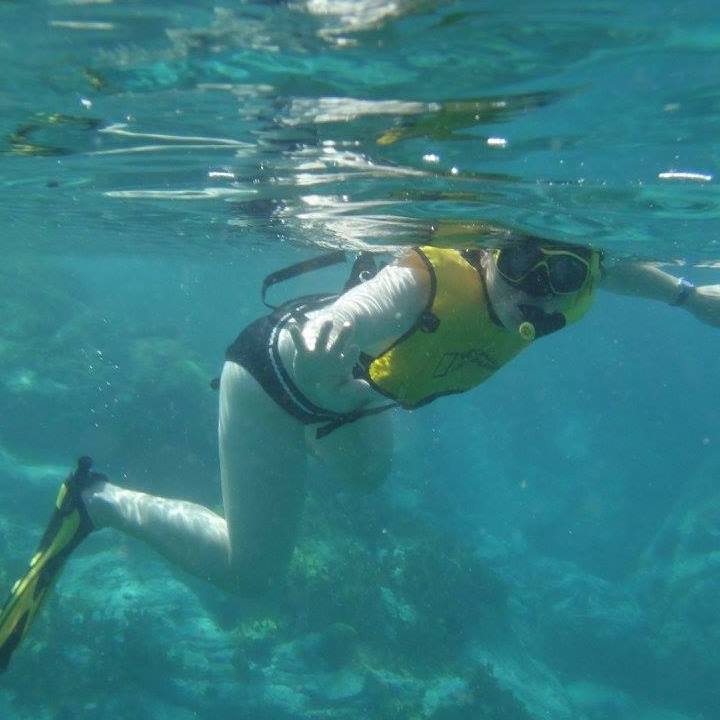 Snorkeling in St. Thomas. We were exploring over a sunken ship.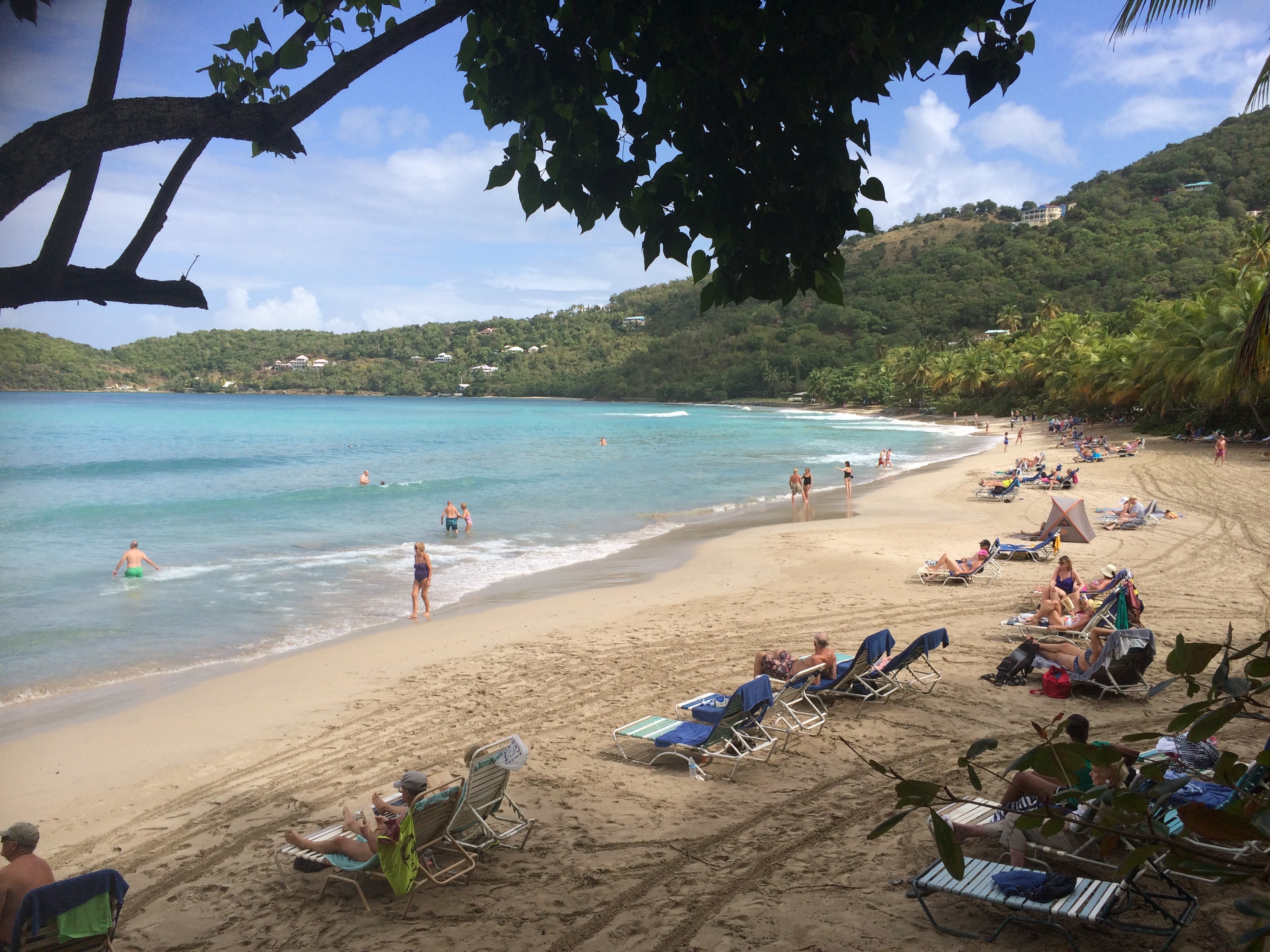 Brewer's Bay beach on Tortola. We took a cab a significant distance away from the cruise port to find a less-crowded beach. It was perfect!
Spring Break at Crested Butte, March
We visited Crested Butte for the first time in 2014 and fell in love with it. We found one of the condo complexes very welcoming for pets, so after the not-so-smooth Spring Break in Park City last year (very little snow), we returned to CB in 2016. This was Ranger's first time coming with us.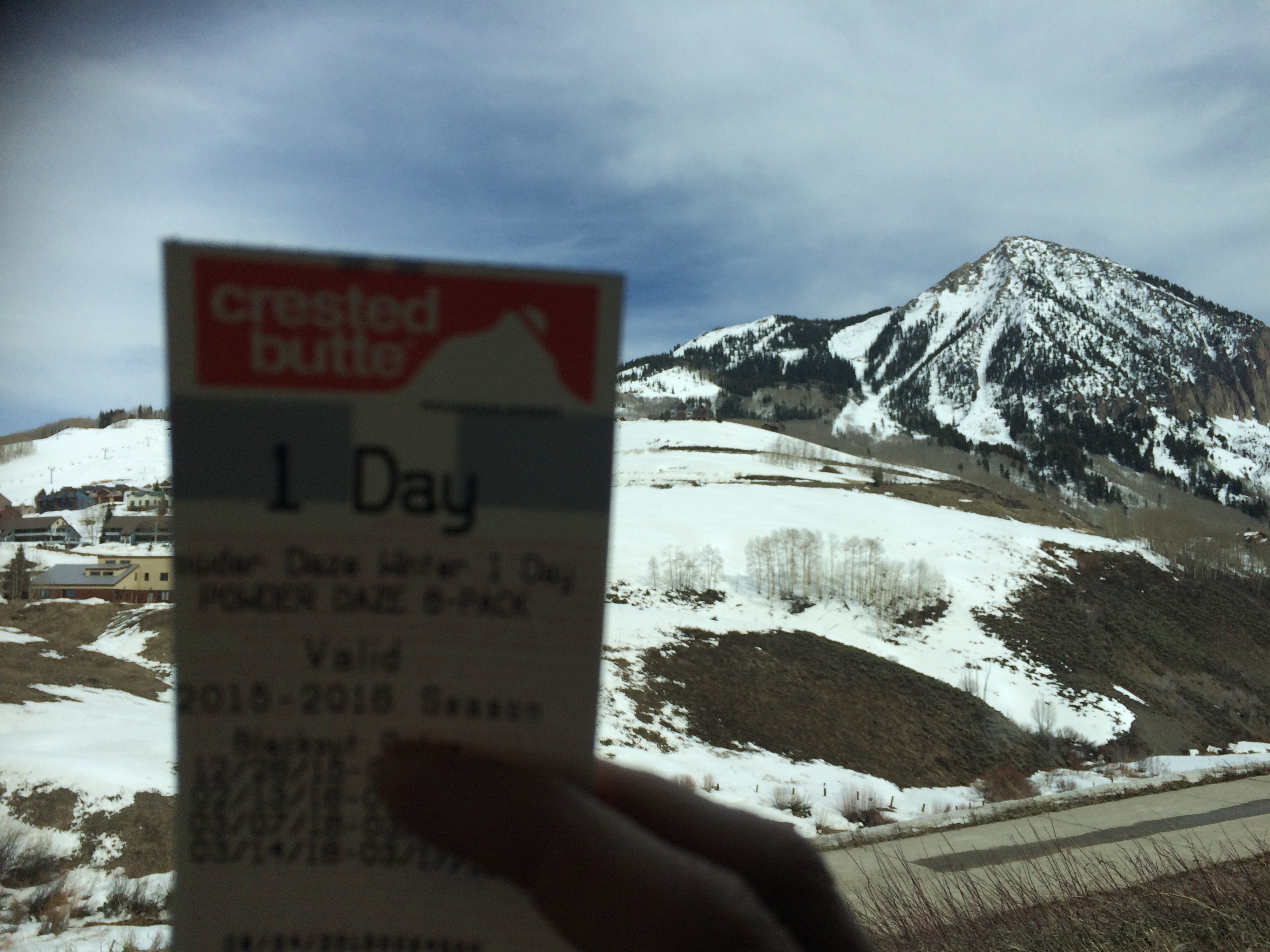 My not-so-great attempt at capturing the CB logo with the real thing.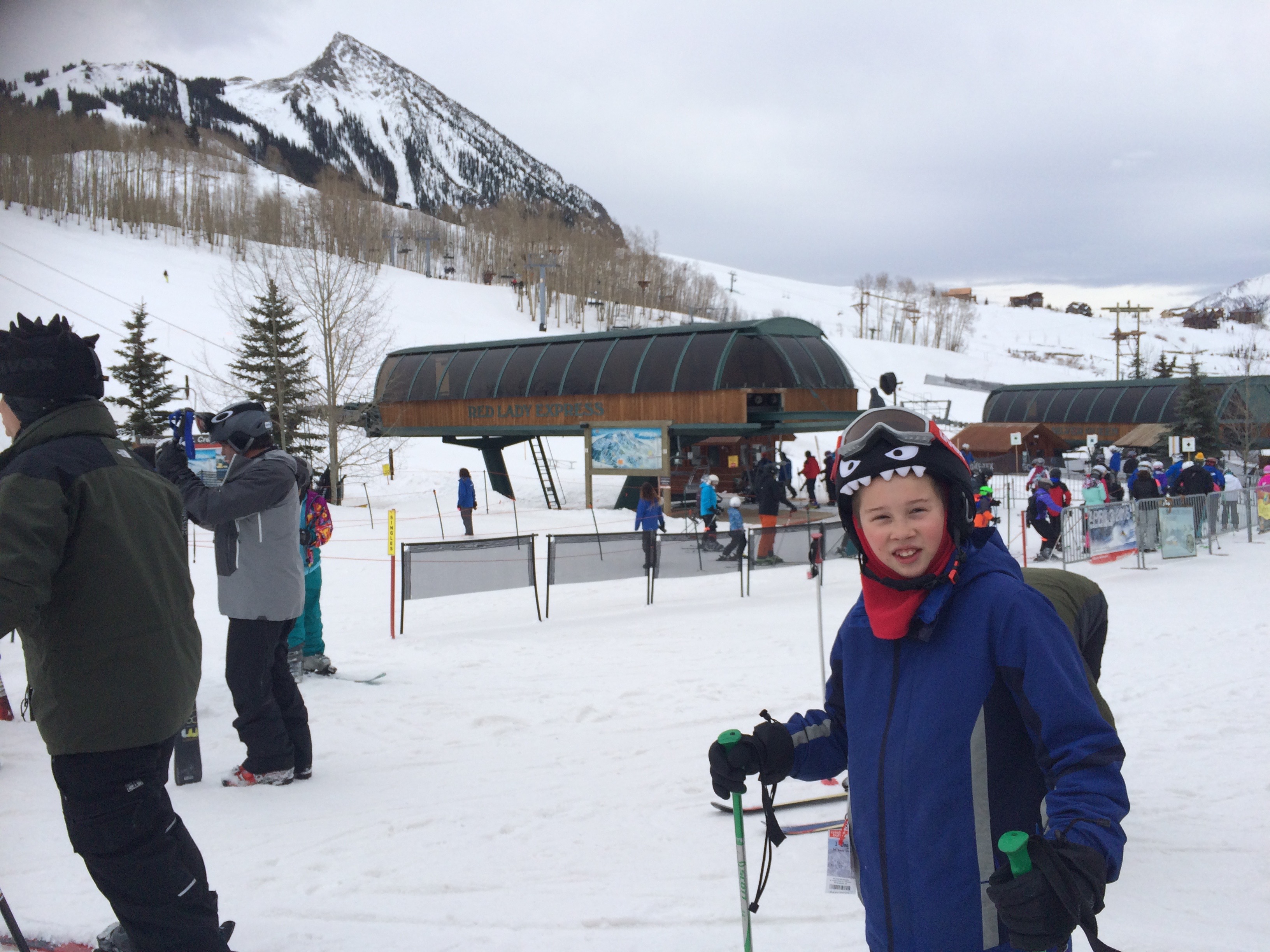 Timmy with the Crested Butte behind him.
The Monumental Road Trip: NC, WV, and PA
For the first time, we drove from Colorado to the east coast to visit the family. My primary motivation for this was wanting to visit three different states, and spending nearly a month traveling. Renting a vehicle from Baltimore airport was going to cost more than the plane tickets! Dave couldn't take off as much time so he flew to Baltimore and met us partway through the roadtrip.
So here we go! First we had the longest part of our travels, the 2.5 day drive from CO to my sister's house in NC for our nephew's high school graduation.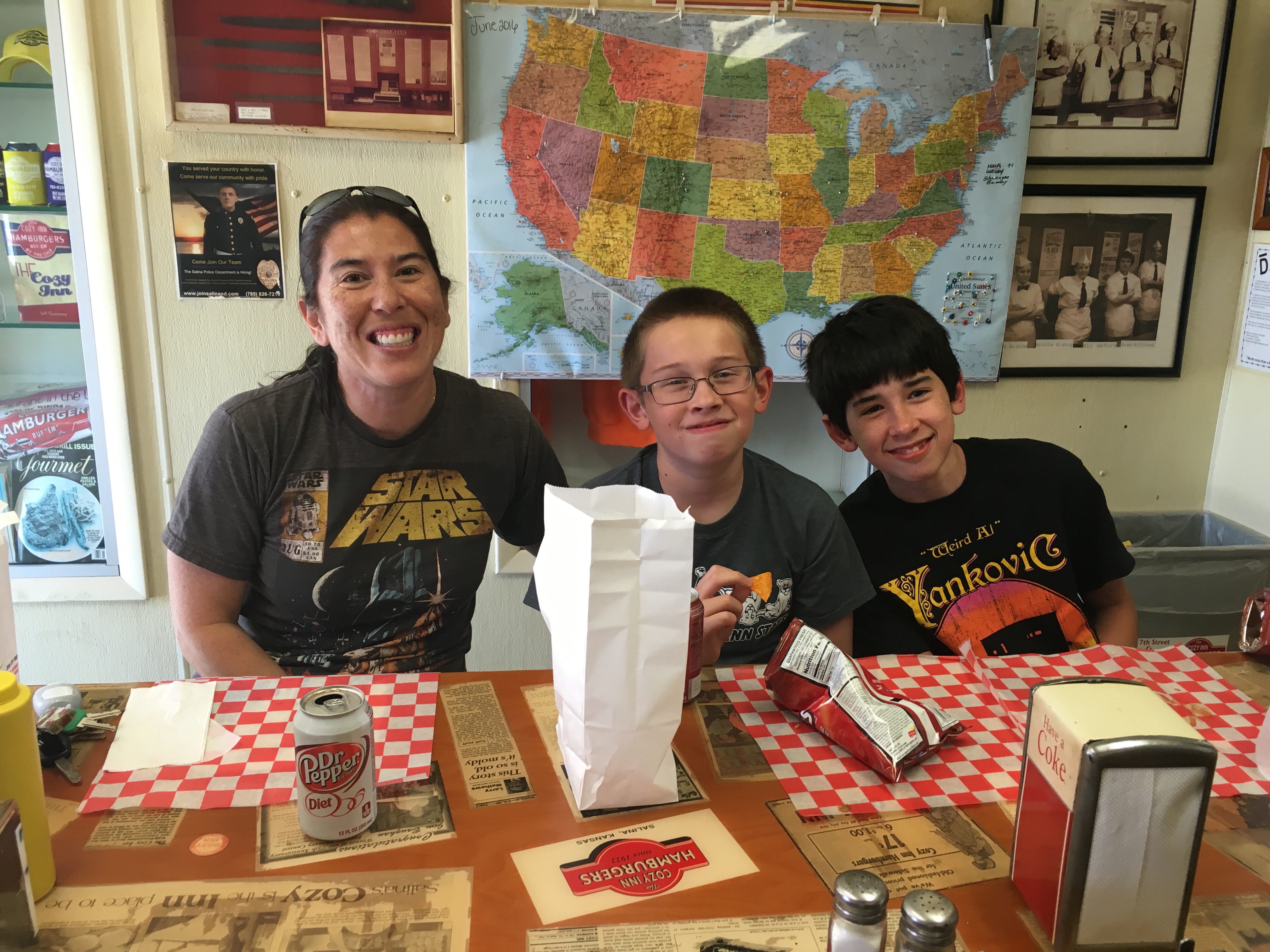 The boys will consider this a highlight of our eastbound travels: lunch at the famous "Cozy Inn" in Salinas, KS. We got there late enough that there was space for the 3 of us indoors, out of the incredible heat.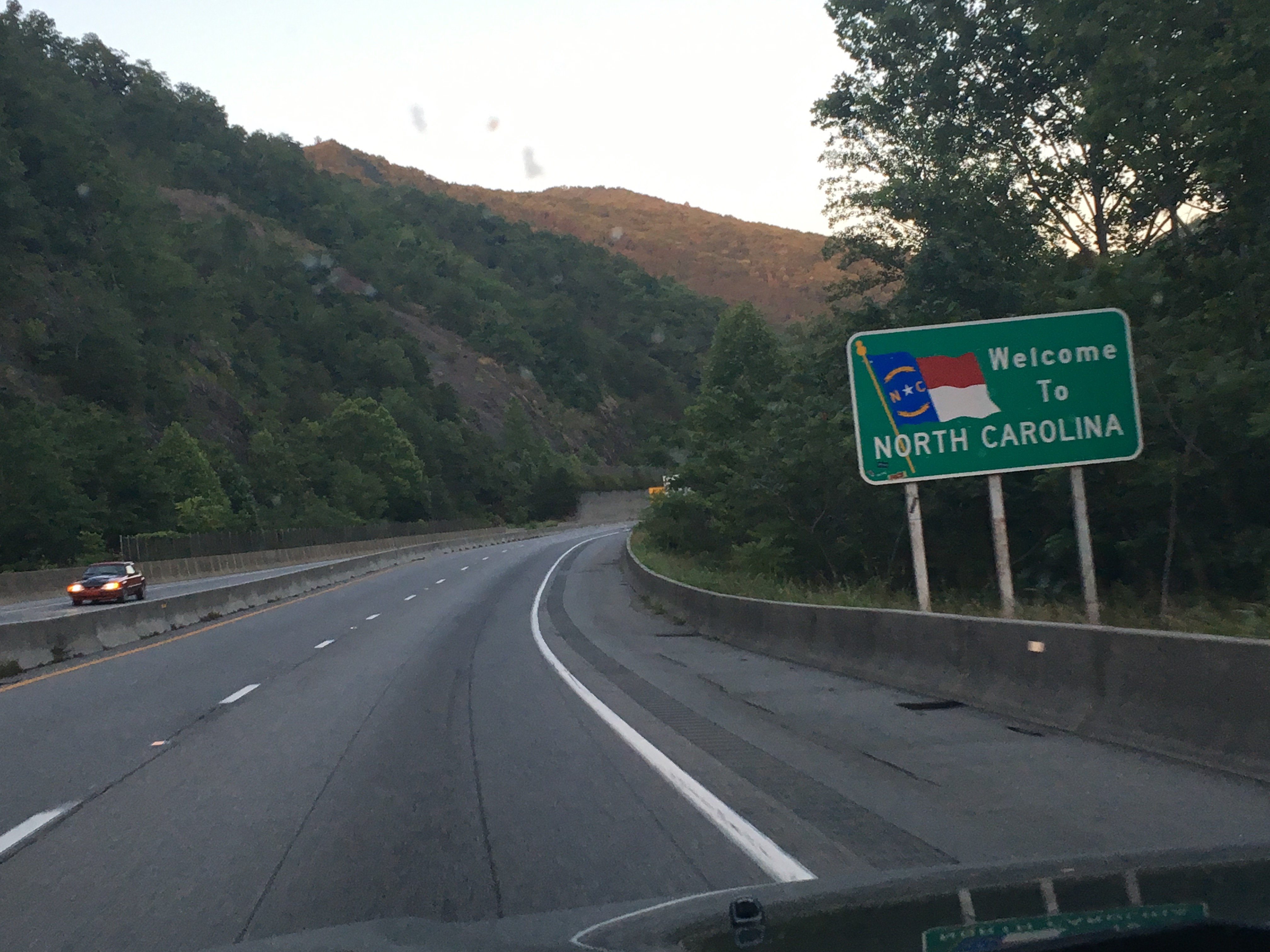 We entered NC just before sunset, but still had about 4 hours till our destination.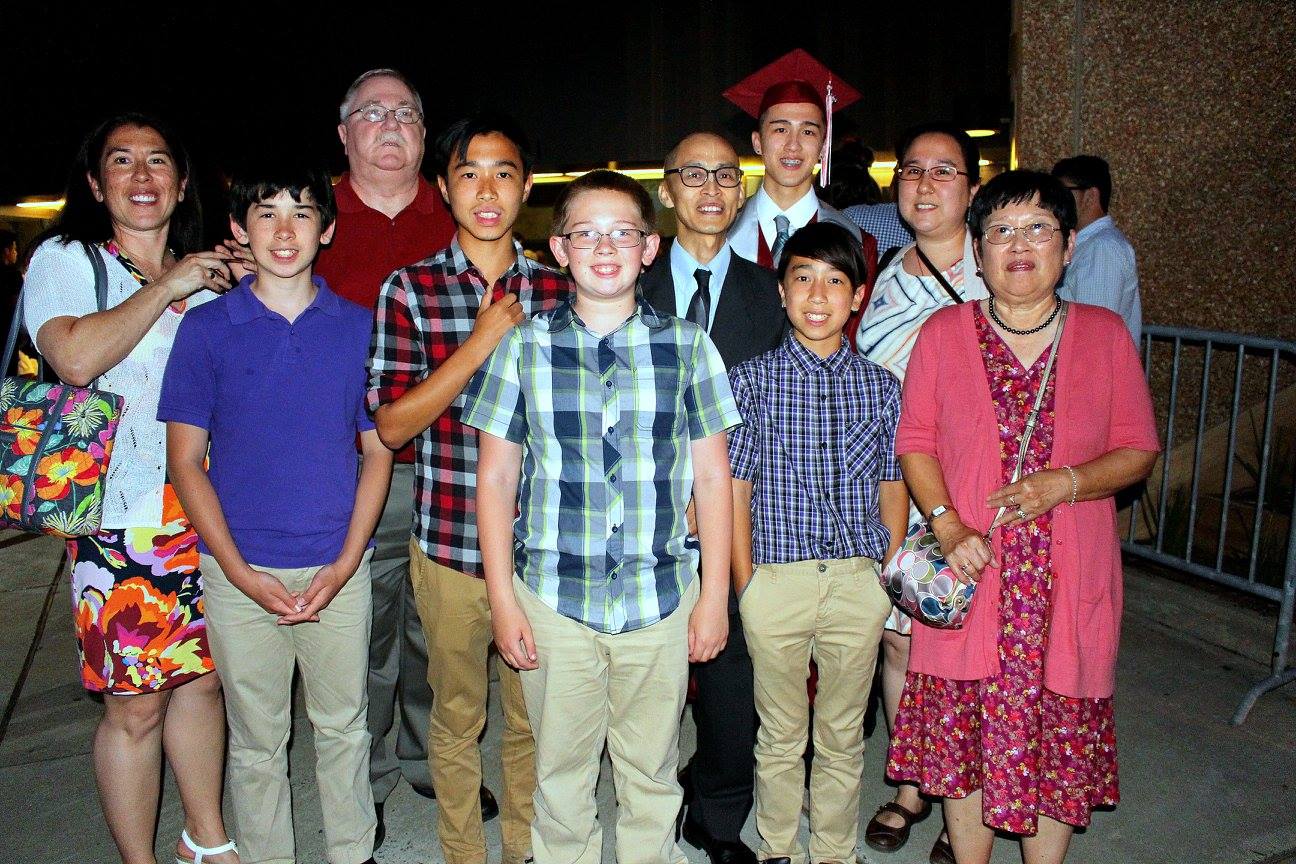 Why Timmy is front and center, I don't know. But our nephew, the grad, is in the back row (because he's so tall) in his mortarboard. Congratulations!
After our adventures in Hillsborough, I took the boys to visit friends in eastern NC, and we surprised the boys with a trip to Kure Beach! They hadn't been to the beach since 2013.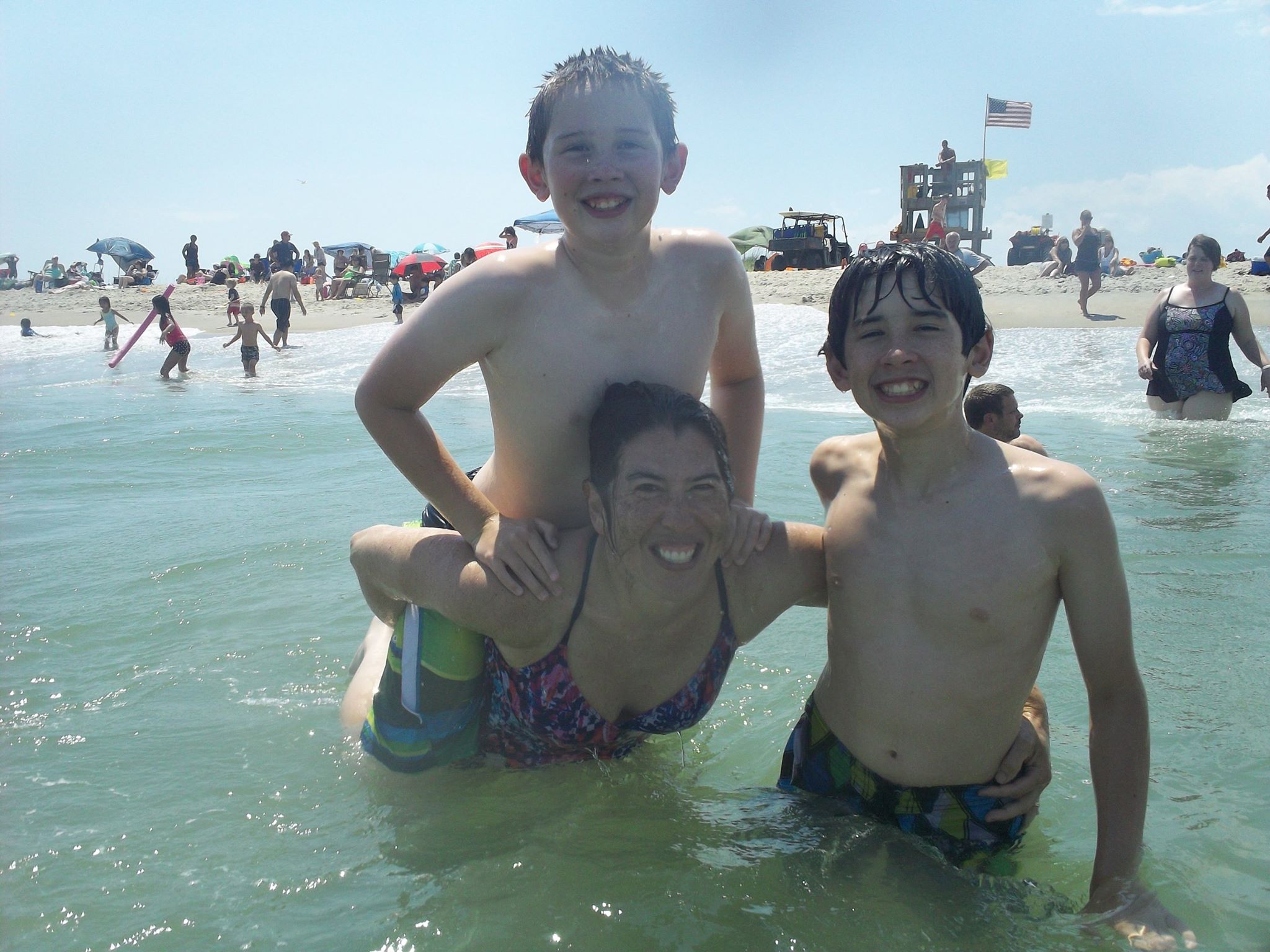 Kure Beach, NC, June. The beach ALWAYS makes my boys really happy...we had a great day with friends. Photo credit: Maryann Miller.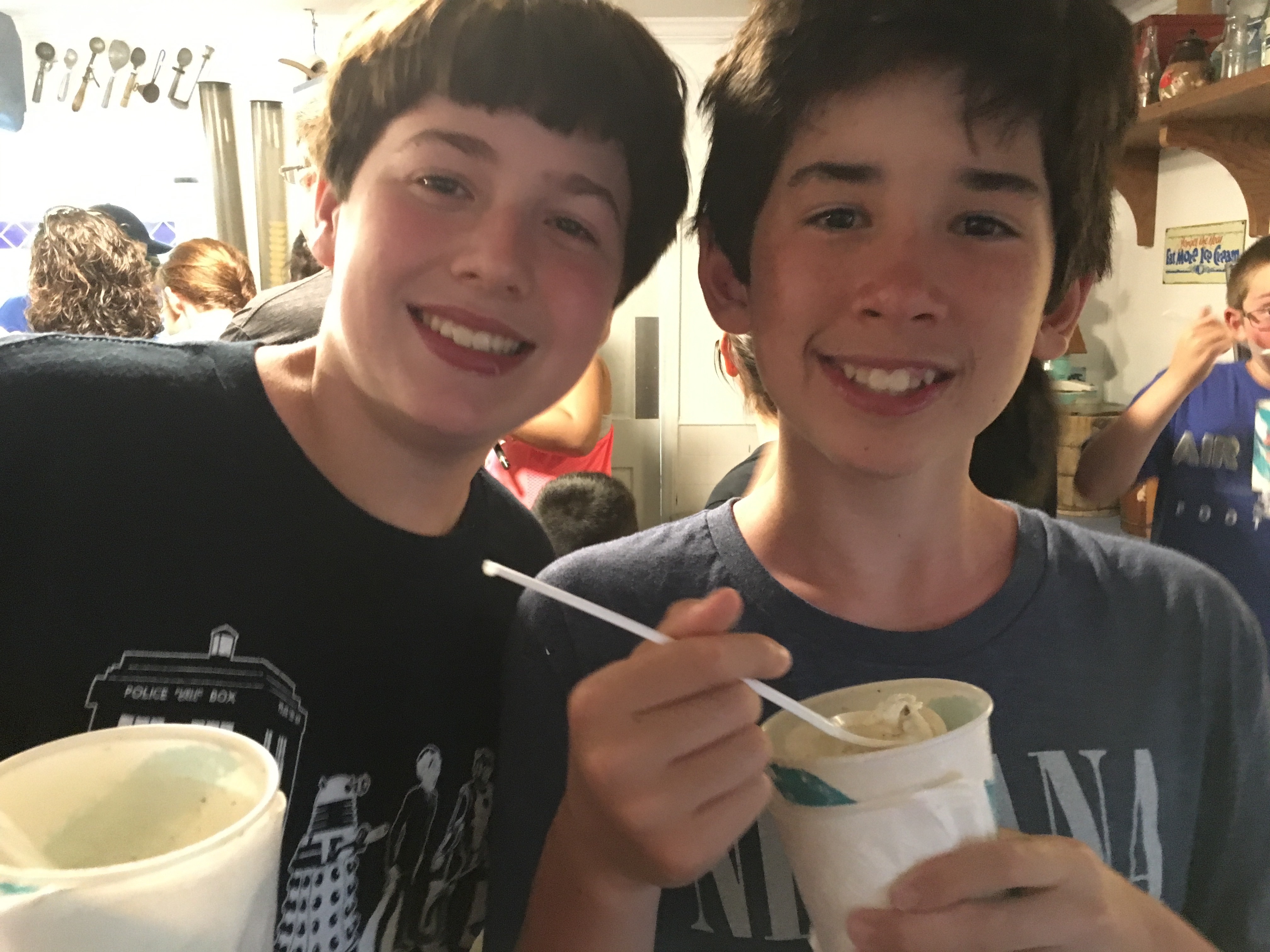 Joey and Jacob were the best of friends when we lived in NC from 2005-2008. Which would have made them ages 3-6. In this photo they're 13...and despite the time apart (3 military tours!) they had a great couple of days together.
The next part of our trip was up to West Virginia, where Dave and my sister's family met us at my parents' house and we did some sightseeing together. The highlight was our trip to
Gettysburg National Battlefield,
which our sons had not seen.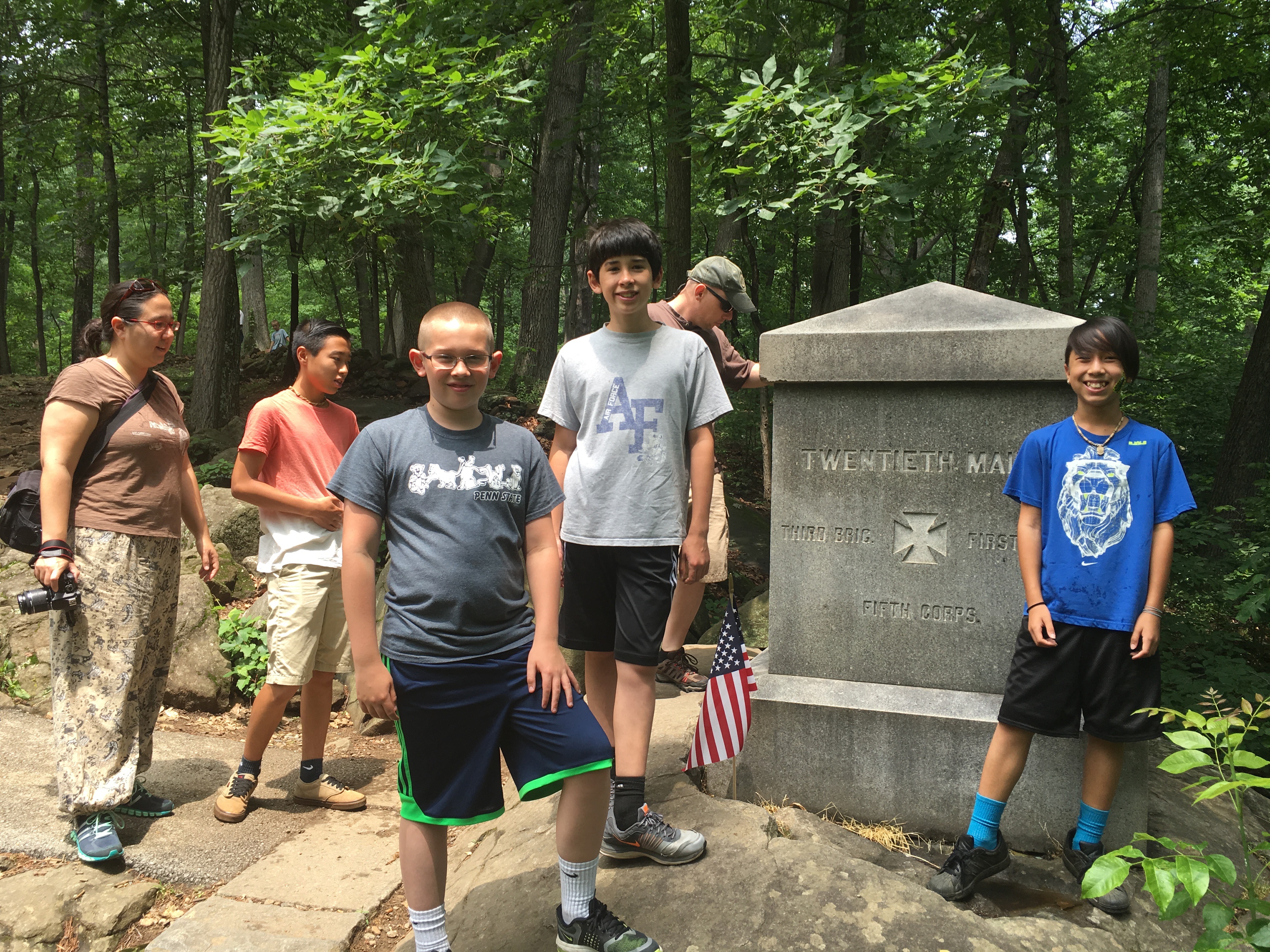 We took the self-guided auto tour and visited all the classic stops, such as Little Round Top. Dave was in his element, and our nephews enjoyed listening to Dave discuss the battle.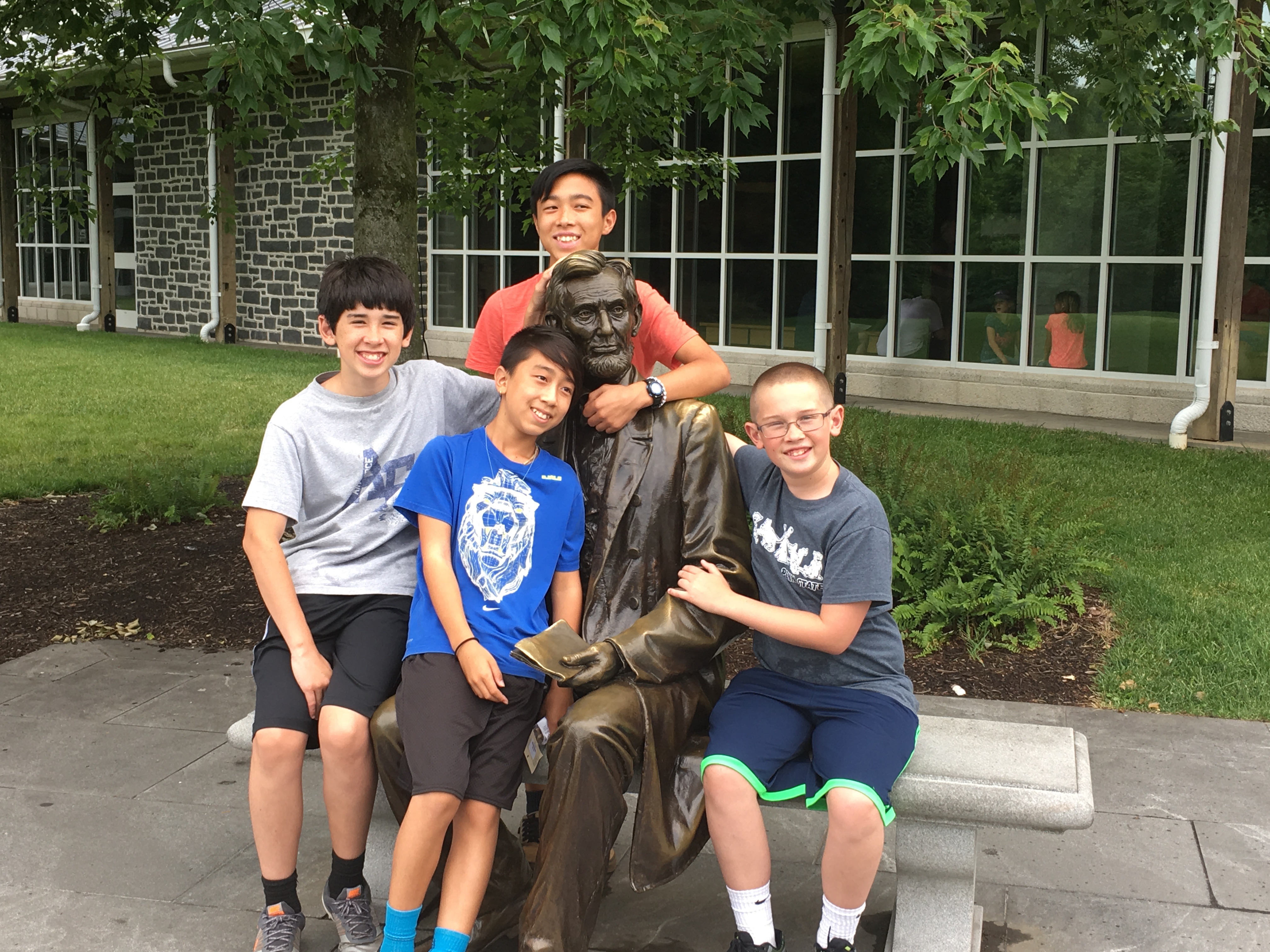 Next on our itinerary was our trip to PA for Dave's family reunion and some time with his parents in Lancaster. This reunion will be remembered as "The One Where Timmy Broke His Front Tooth", so between Dave and me, we had to miss some of the day with Timmy at an emergency dentist getting a temporary repair until his home dentist could permanently bond it.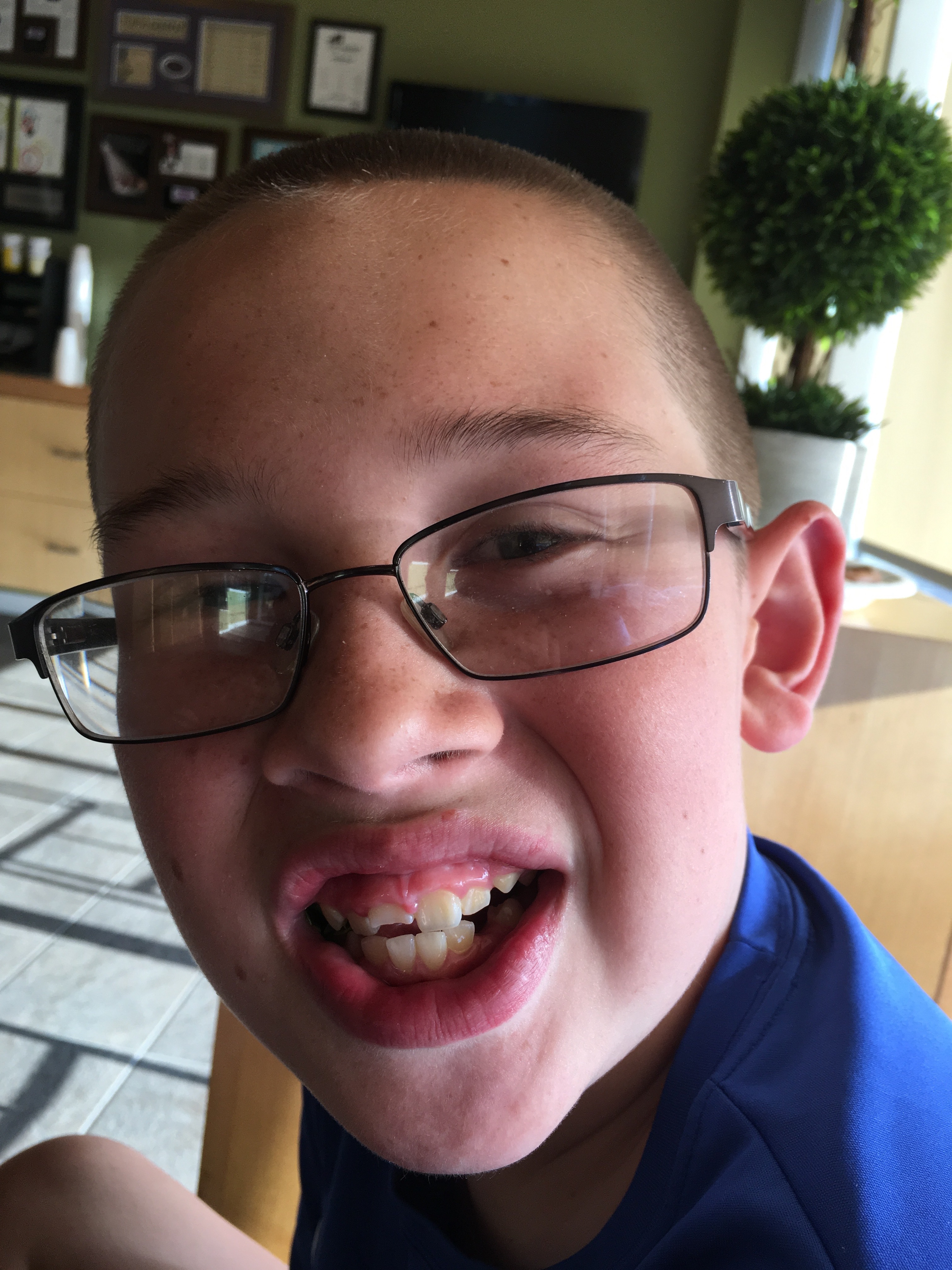 Poor Timmy -- he fell onto a metal ladderball ladder and chipped his front tooth. It received a temporary repair until we got home the following week.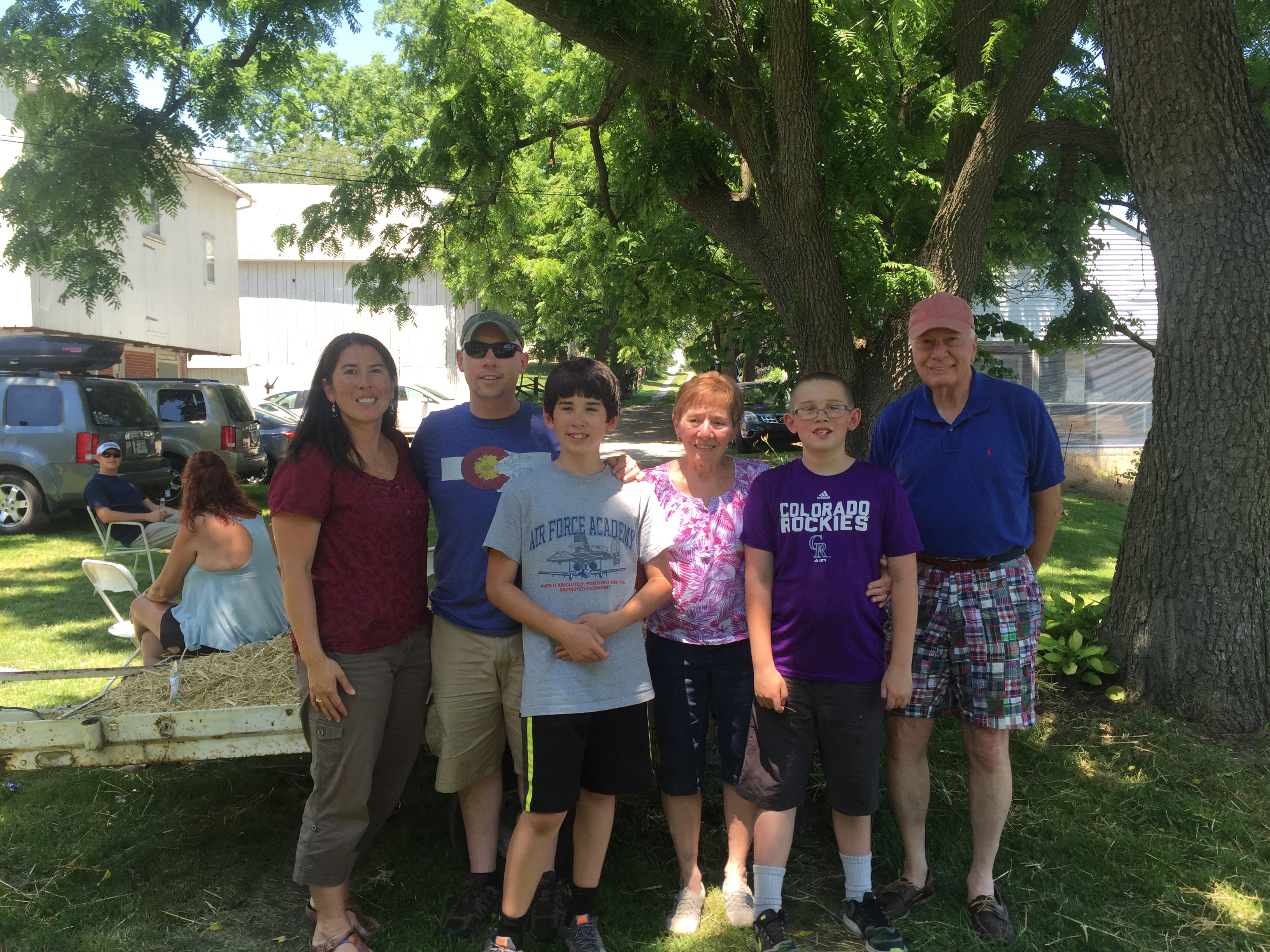 June 2016, with Dave's parents. The boys grew this past year!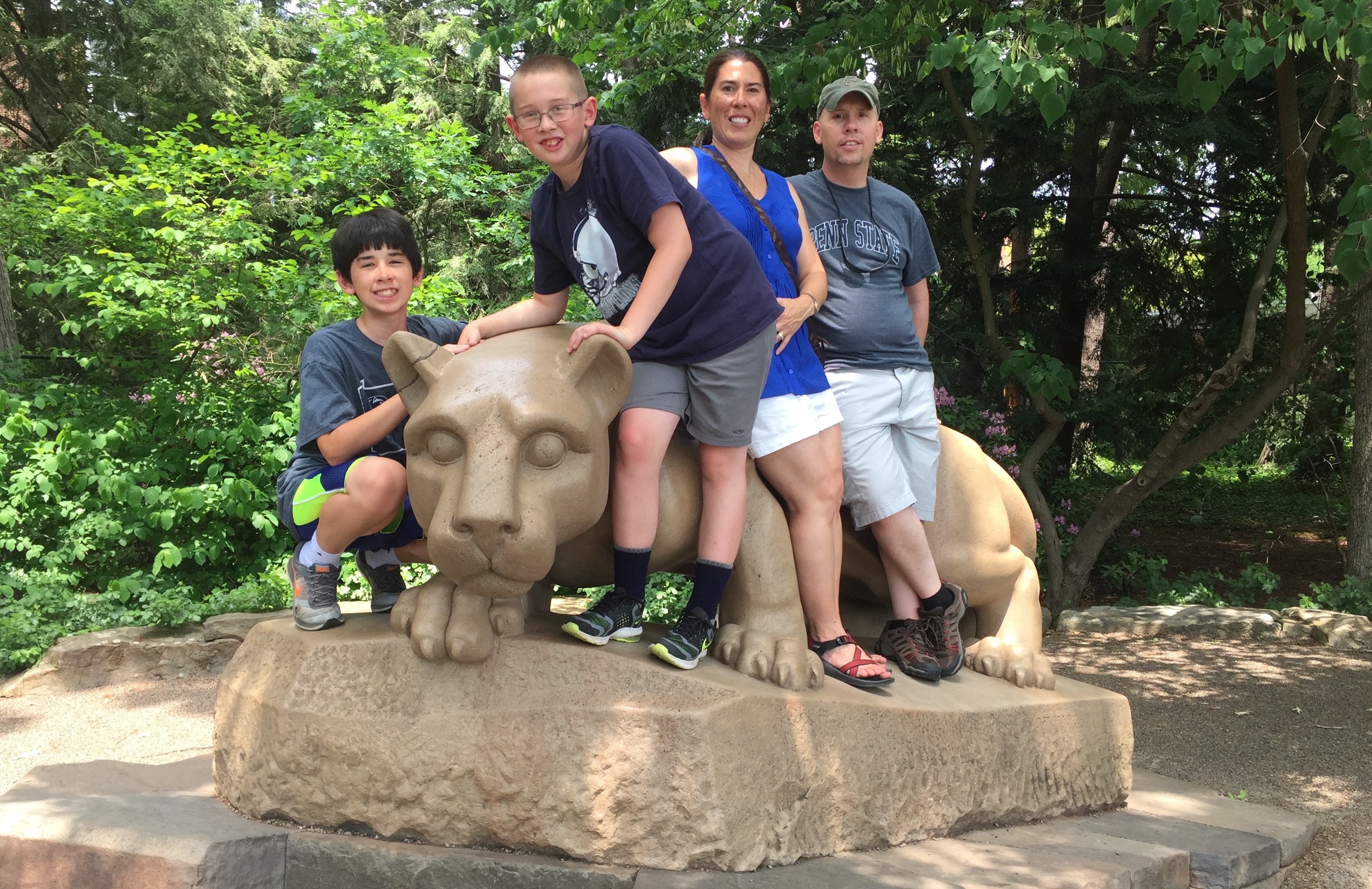 We managed to sneak in a day trip up to Penn State, which made Timmy very happy...he wants to go there for college (which makes Dave and me pretty happy, too).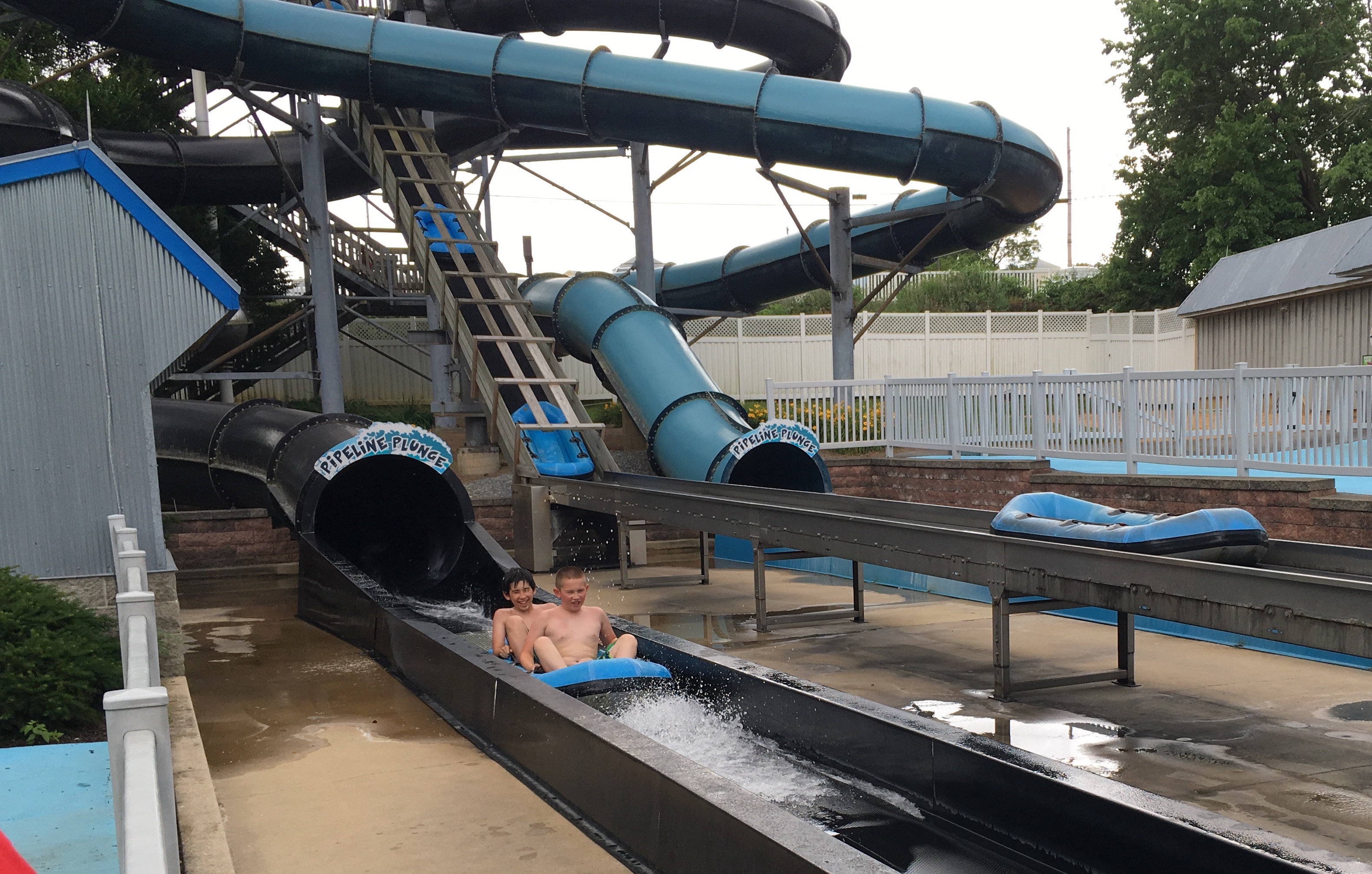 We took the boys to Dutch Wonderland in Lancaster. It's a small amusement park that was probably a bit too young for the boys, but we had such fun riding the rides and enjoying the water park.
It was time to start heading westward again, this time with a stopover to visit our friend Lisa in St. Louis. We enjoyed taking the boys to the City Museum.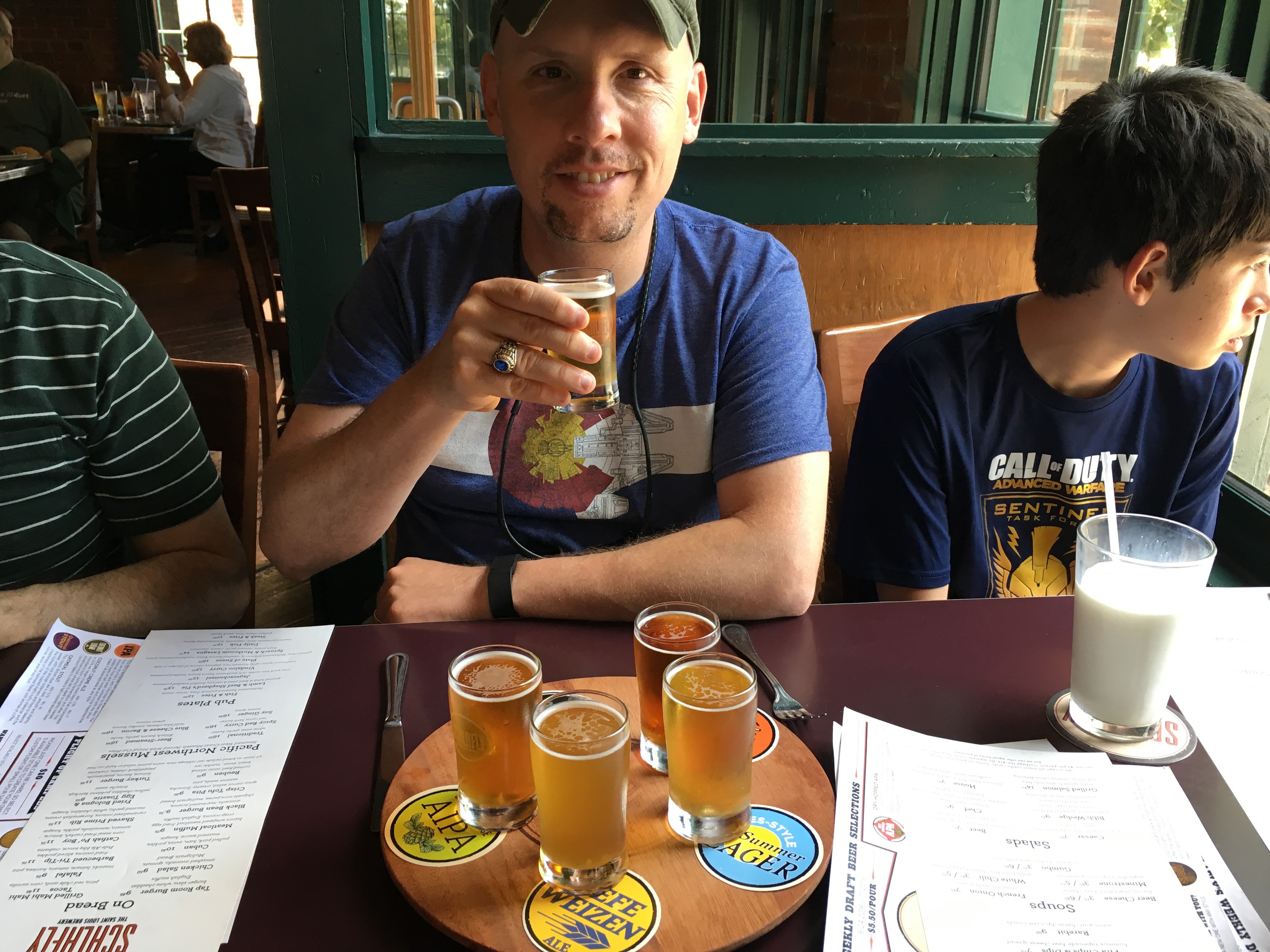 Enjoying a flight at Schlafly Brewing in St. Louis. It's nice to see St. Louis folks can enjoy something other than Anheuser Busch.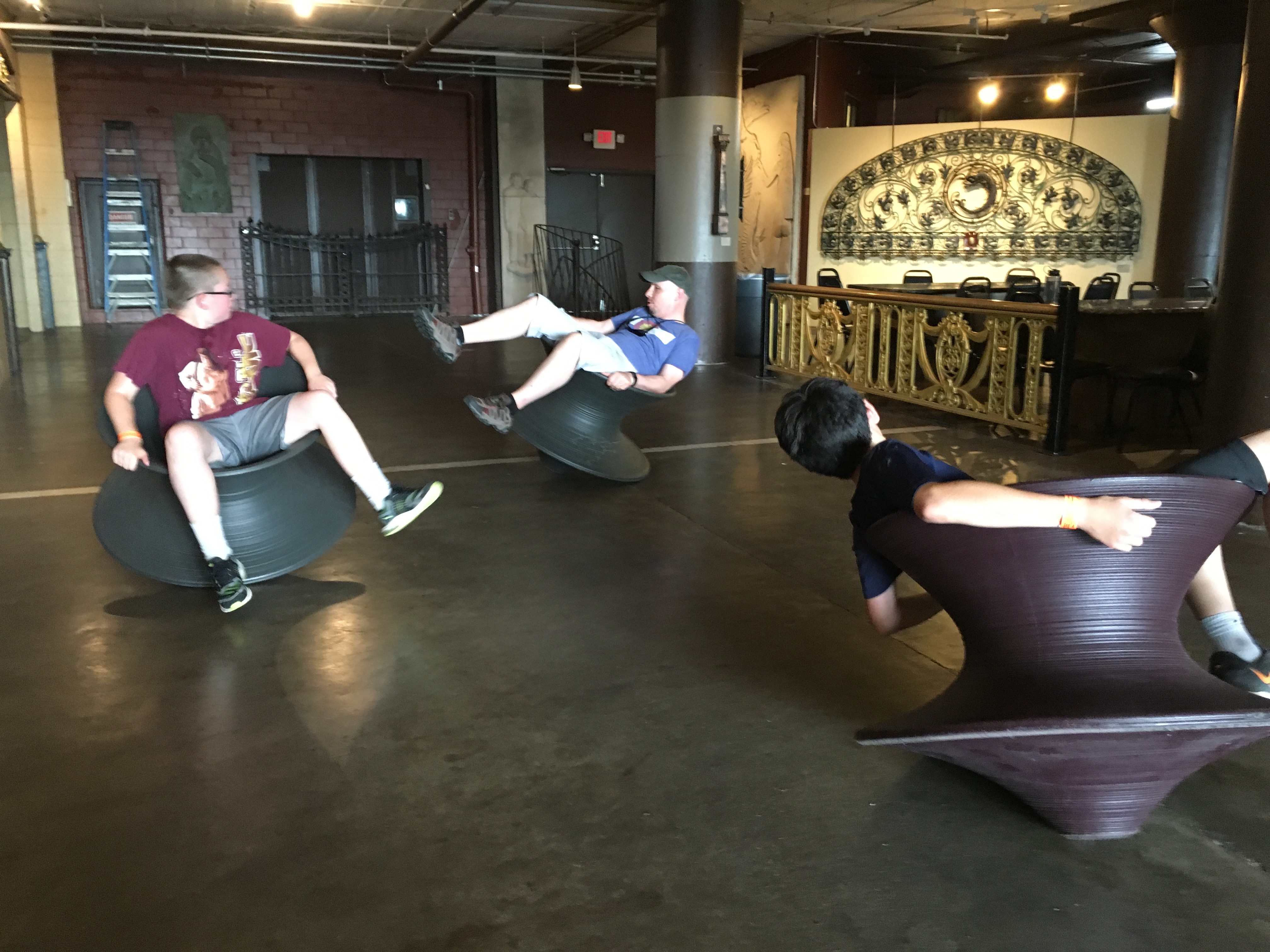 The City Museum is a haven for repurposed items to turn into art. We had a wonderful time visiting. These "chairs" spin around and you always feel like you're going to fall over, but you never do.
Medora, North Dakota, July 2016
"What? Why did you have to go to North Dakota?"
Blame our friend Paige. She wanted to check "North Dakota" off as the 50th state she would visit. I was in the same boat, so I joined her. At first we were coming up with ways for Dave to keep all 4 of our sons so Paige and I could road trip up and back, but then the boys started expressing interest in seeing North Dakota so 6 of us ended up going. We drove to the town closest to Theodore Roosevelt National Park, Medora, ND. The area is quite beautiful, and apparently not many people think to take a vacation there so you don't deal with crowds such as at Yellowstone or the Grand Canyon. There were never lines or waits for tables at restaurants. But if you need something like McDonald's or a Walmart...forget it.

Timmy got a selfie stick for his birthday, so we brought it along. It came in handy quite a bit. This was a tough picture to take because the phone wanted to adjust the lighting to our faces, which would have washed out the gorgeous glacier behind us.

---
Merry Christmas!